The Fall season is the perfect time of year to decorate the house. Here are a few ideas that are relatively inexpensive for fall living room decor.
It's time to start thinking about how to cozy up your living room home decor for the cooler months ahead. If you're like most women in their 20s and 30s, though, you're probably on a tighter budget. That doesn't mean your home has to look like it, though! With a bit of imagination and some fall colors, you can give your place a cozy fall makeover without breaking the bank.
You can also go the neutral color route so you can enjoy this seasonal space for longer. I recently wrote 5 ways to bring neutral Fall decor to your home that I think you will find helpful on this topic to transform your ideas on living room fall decor.
Here are some fall living room decor ideas for inspiration to get you started.
This post contains some affiliate links. I may earn a small commission if you make a purchase through one of these links. See more information in my disclosure policy.
1. Bring the Outside In
Adding natural elements to your living room is a great way to bring the outside in and add some cozy fall vibes. Pinecones, leaves, wheat, berries, twigs, pumpkins, and gourds are all affordable and easy-to-find decorations that can help transform your space.
Pinecones are a natural and rustic way to add texture to your space.
You can find them at your local craft store or even go on a nature hike and collect them yourself! They make a great addition to floral arrangements or simply scatter them around your room for a touch of nature to add to vignettes. You could use these elements of nature in the form of a garland or a fall wreath.
Fall leaves are another great way to add some color and natural beauty to your living room in places like your mantel.
You can find leaves of all shapes and sizes at your local park or even just outside your door. They make a pretty decoration when scattered around on the floor or tucked into vases or bowls.
Twigs are also a great, budget-friendly way to add some natural texture to your living room. Bundle them together with some ribbon or use them as part of a floral arrangement. They're also perfect for adding interest to bare branches in your winter decor.
Pumpkins and gourds are classic symbols of fall.
You can find these at any grocery store or pumpkin patch in the fall months. They make adorable decorations when clustered together on a coffee table or mantelpiece, or even used as part of a Thanksgiving or fall centerpiece.
2. Add Throw Pillows and Blankets
Fall is a time for cozy comfort. There's nothing like snuggling up on the couch in a warm blanket with a good book and a few soft throw pillows. This year, add some budget-friendly fall decor ideas to your living room to create a cozy look for the season.
One way to add cozy charm is by adding throw pillows and blankets to your sofa.
You can find colorful pillows and blankets on clearance at stores like Target or Walmart in the weeks leading up to the fall. Or, if you prefer, you can make your own DIY throw pillows and blankets using fabric from your favorite fabric store.
Adding throw pillows and blankets is an easy way to add some seasonal flair to your living room without spending a lot of money.
So why not give it a try? Add a few throw pillows and blankets to your sofa today and enjoy the cozy autumn vibes.
3. Light Some Candles
Fall is a great time to add cozy touches to your living room decor. One easy way to do this is by lighting some candles. Not only will this make your living room smell nice, but it can also add a touch of warmth and comfort.
If you're looking for budget-friendly fall living room decor ideas, lighting some candles is a great option.
You can find candles in a variety of colors and scents, so you can choose the ones that best match your decor. Candles can also be used to create a focal point in your living room or to add extra warmth on a cool autumn evening.
To add even more ambiance, try using lanterns to house the candles to add a cozy vibe.
So if you're looking for a quick and easy way to add some fall flair to your living room, light some candles and enjoy the cozy atmosphere they create.
4. Reconsider Your Lighting
Fall is a great time to cozy up your living room with some new decor. But before you go out and spend a fortune, reconsider your lighting. One of the best and cheapest ways to add some Fall flair to your living room is to switch out your lightbulbs.
Think about using warmer, softer lightbulbs this season.
They can really set the mood for Fall and make your living room feel extra cozy. You can find these bulbs at most hardware stores or online, and they're usually pretty affordable.
So if you're looking for a quick and easy way to give your living room a Fall makeover, consider changing your lightbulbs!
RELATED: 21 Budget-Friendly & Cozy Fall Decor Ideas For The Home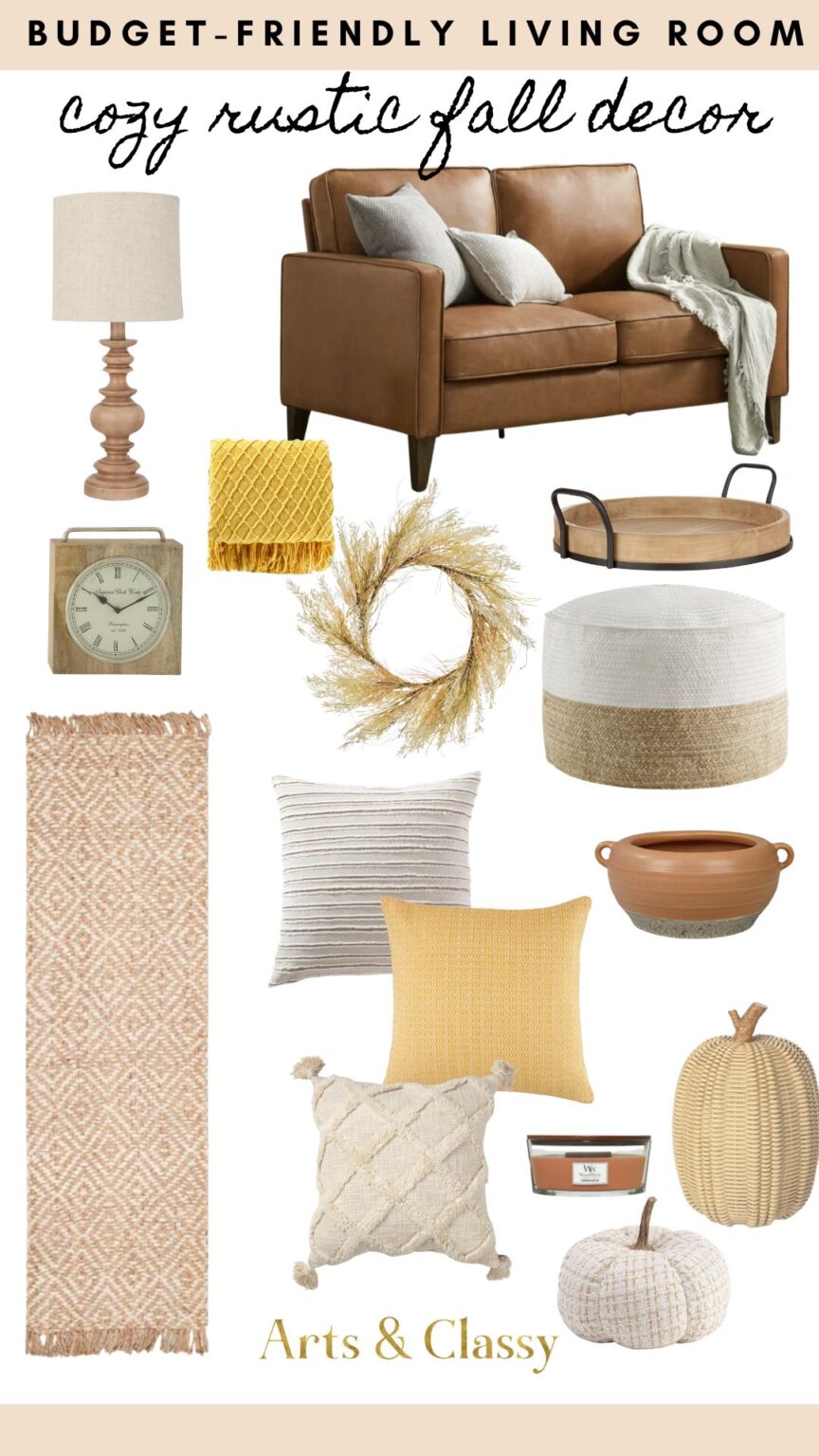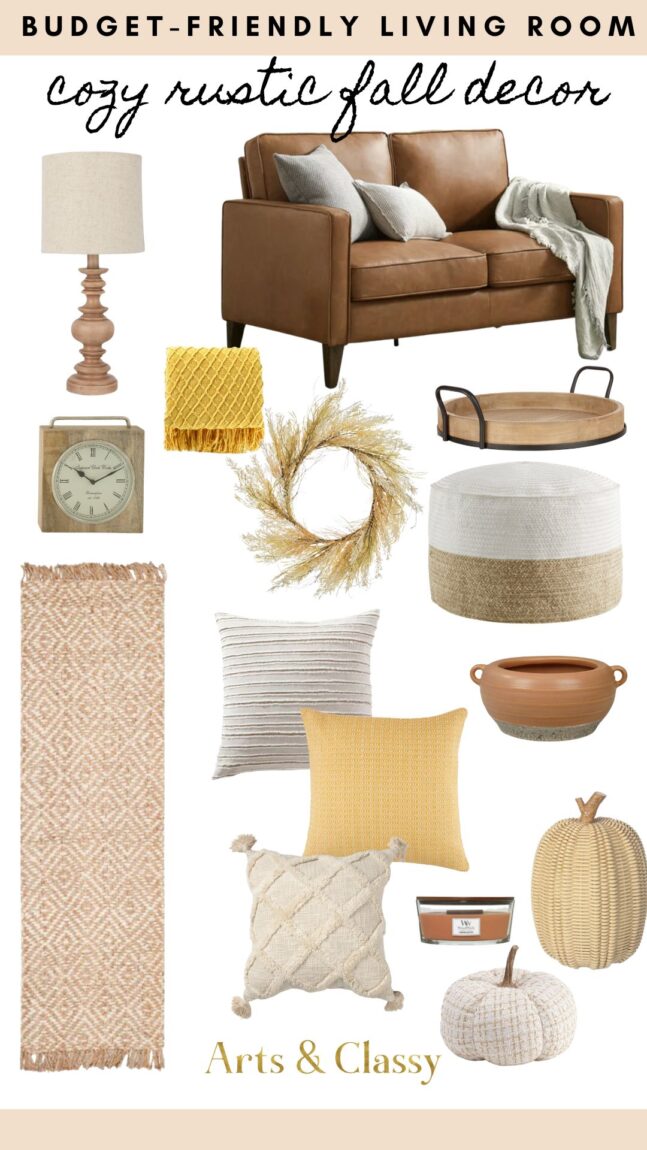 ---
SHOP THIS FALL DECOR FOR YOUR LIVING ROOM

---
With just a few simple changes, you can give your home a warm and inviting makeover that will make it feel cozier all season long—without breaking the bank! So put on some Fall tunes, light a few candles, and get started today!