Autumn's Palette: 39 Fall Outdoor Decorating Ideas for a Perfect Fall
Hey there, fellow DIY enthusiasts! As the vibrant leaves of autumn start to tumble and the air turns crisp, it's that wonderful time of year again – fall. And what better way to embrace the season than by transforming your outdoor space into a cozy haven filled with warm hues and inviting scents of autumn?
How can I decorate the outside of my house for fall?
Join me on this creative journey as we explore 39 extraordinary fall outdoor decorating ideas that will not only welcome the changing season but also fill your home with the spirit of fall.
Whether you have a spacious front porch, a modest balcony, or a sprawling backyard, there's something here for everyone. So grab your favorite pumpkin spice latte, gather some inspiration, and let's embark on this exciting DIY adventure together to beautiful fall porch decor.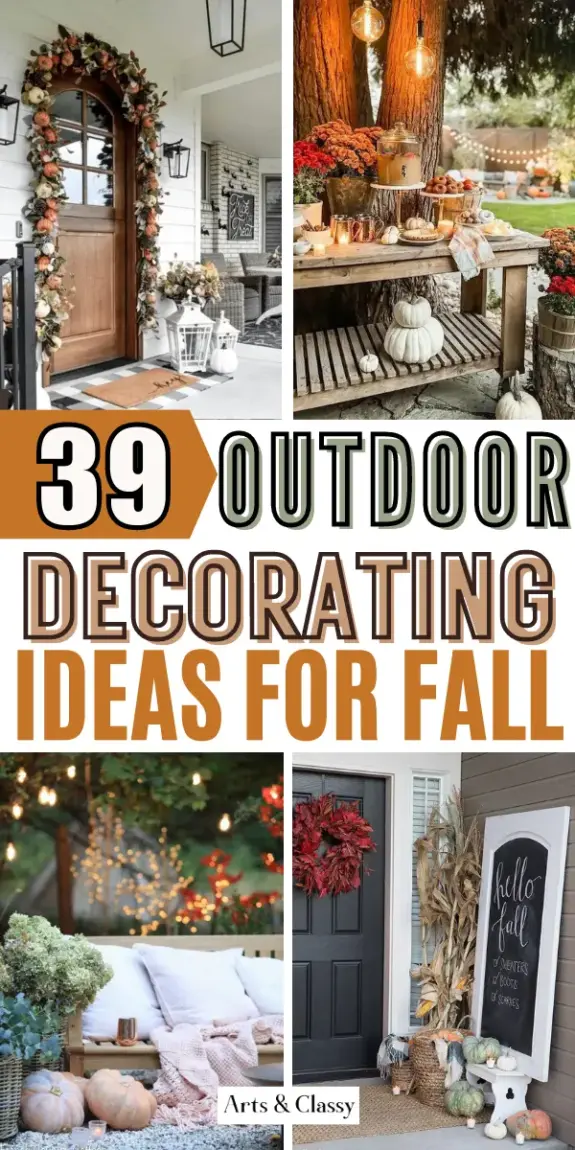 This post contains some affiliate links. I may earn a small commission if you make a purchase through one of these links. See more information in my full disclosure policy.
1. A Welcoming Wreath
Let's start our outdoor decorating adventure at the very threshold of your home – the front door. And what better way to make a welcoming statement than with a stunning fall wreath? Consider using grapevine as the base and adorning it with fall foliage, miniature pumpkins, and colorful berries. A wreath not only greets your guests but also sets the tone for your entire outdoor space.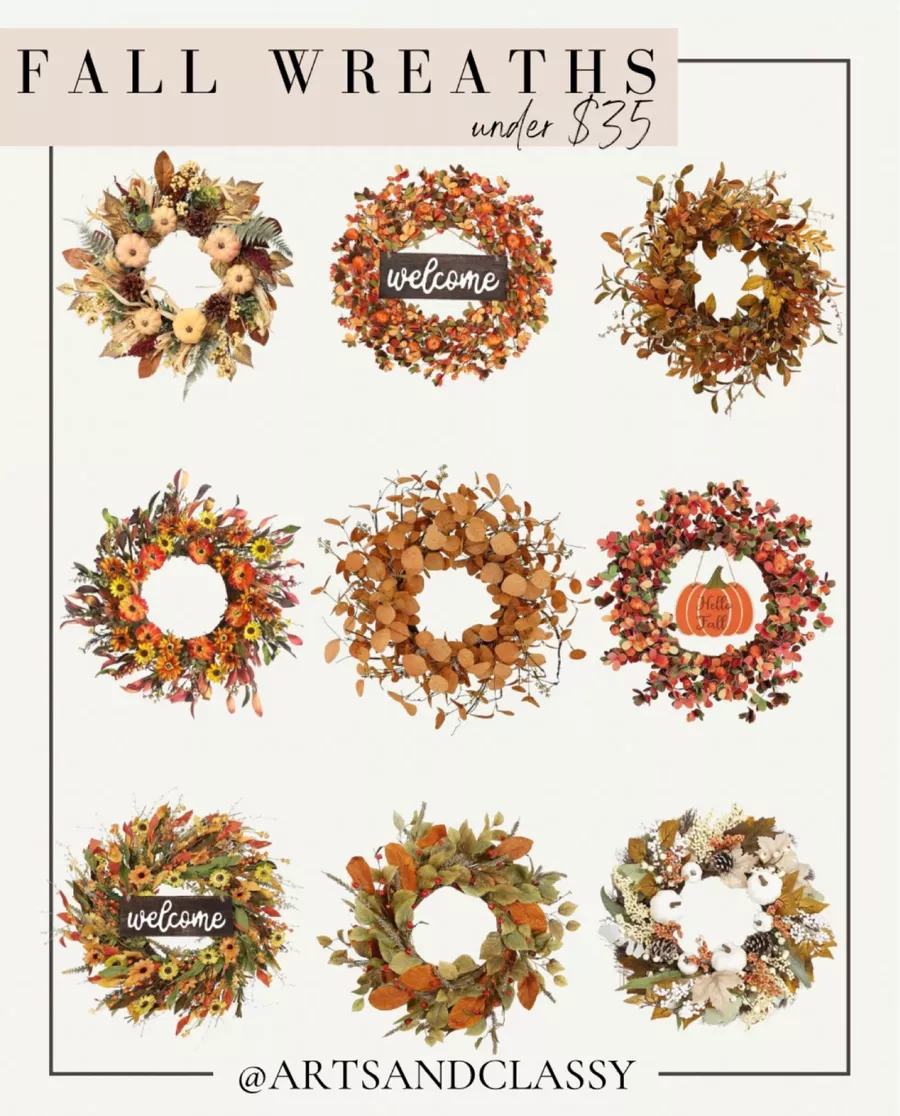 2. Pumpkin Paradise
There's no denying the charm of pumpkins in autumn. Incorporate white and orange pumpkins in various sizes to create a classic and timeless display. Place them on your front steps, arrange them on tables, or even stack them into playful pumpkin towers. Pumpkins are like nature's ornaments, and they never go out of style.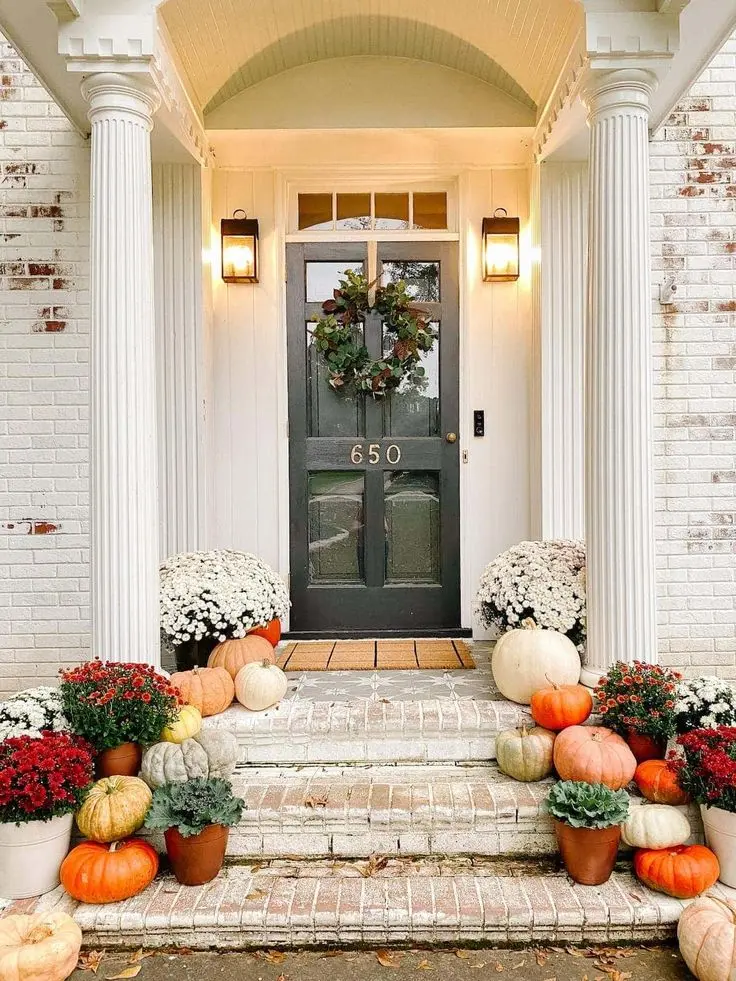 3. Harvest Vibes
Don't forget the hay bales! They add a touch of rustic flair to your porch or outdoor seating area. Scatter them around, use them as seating, or stack them to create a unique backdrop. You can even let your kids have some fun with hay bale art by painting them in vibrant fall colors.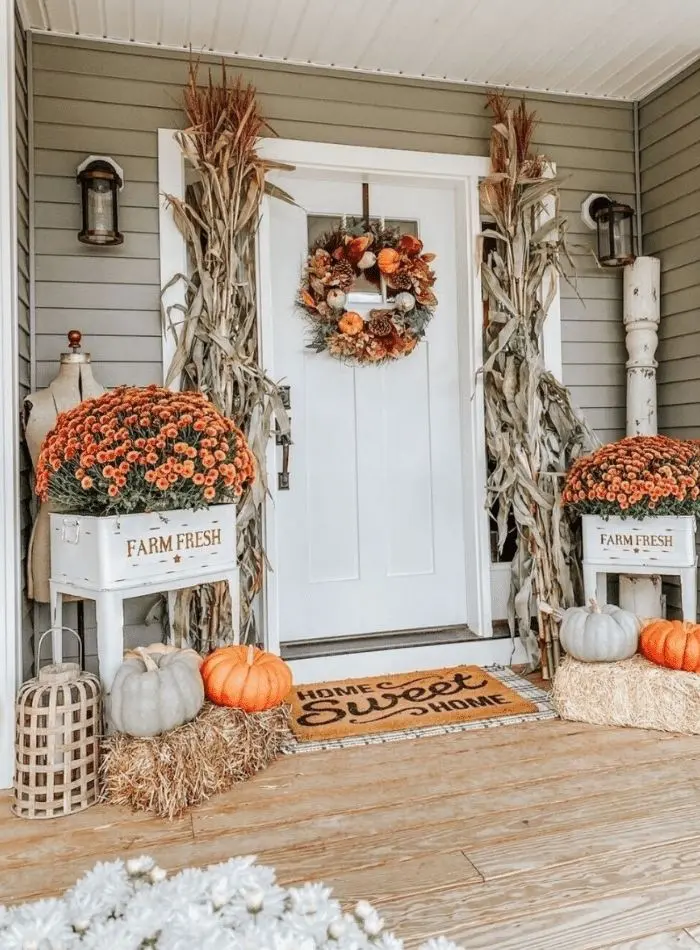 4. Lantern Magic
As the days grow shorter, lighting becomes essential for creating a warm and inviting atmosphere. Place lanterns with LED candles strategically throughout your outdoor space. These lanterns not only provide a soft glow but also add a touch of enchantment to your evenings.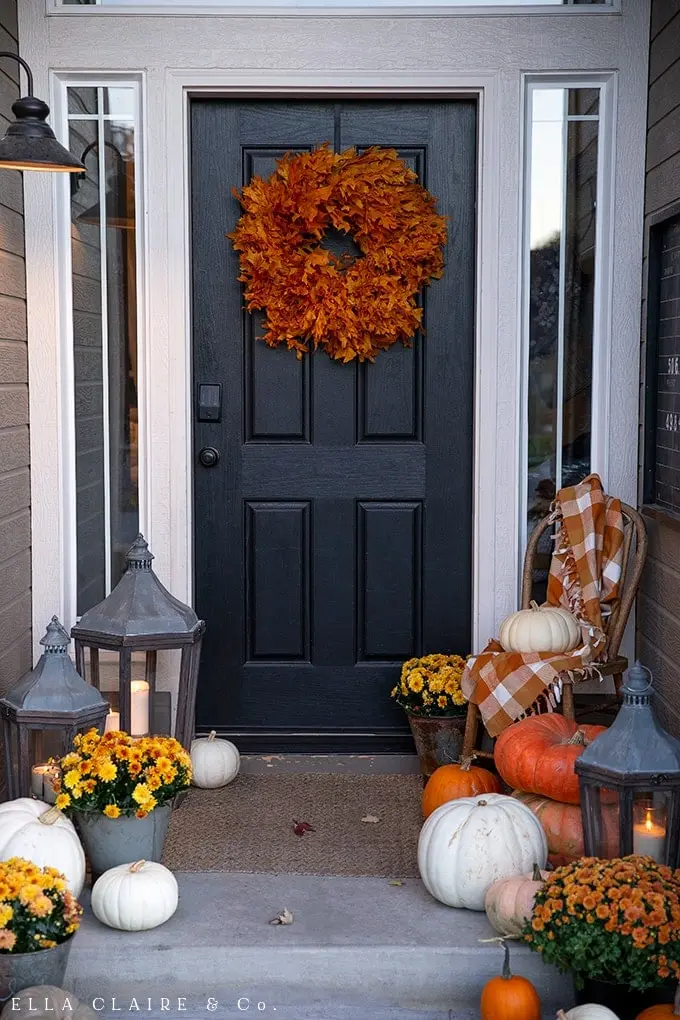 5. Potted Perfection
our planters and pots don't have to be empty once summer ends. Fill them with vibrant fall outdoor decorating ideas, like mums and marigolds, along with ornamental grasses for texture and height. These planters will not only breathe life into your outdoor space but also provide a burst of color.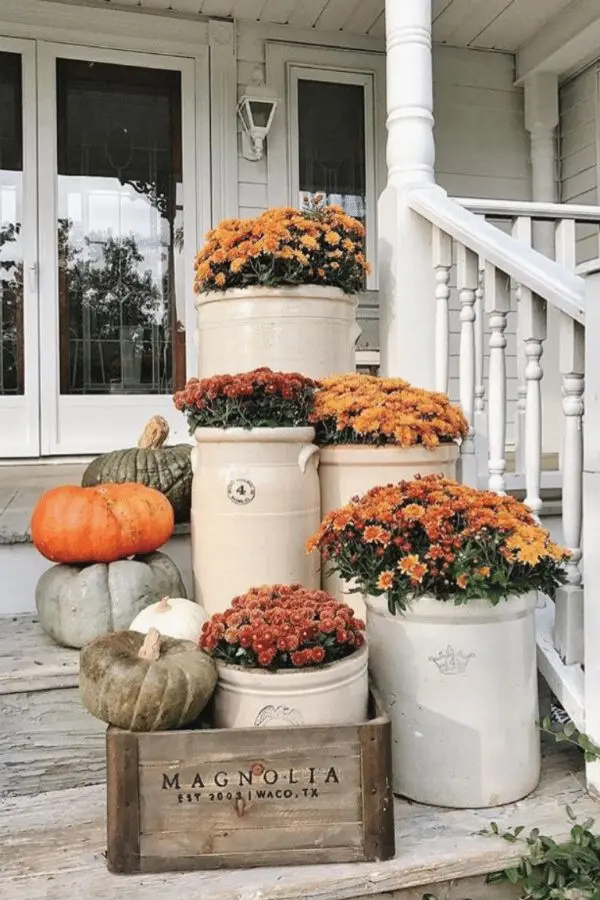 6. Pumpkin Topiaries
Why stop at single pumpkins when you can create stunning pumpkin topiaries? Stack pumpkins of varying sizes and colors to form unique focal points. Top them with gourds, flowers, or even mini lanterns for an extra touch of elegance.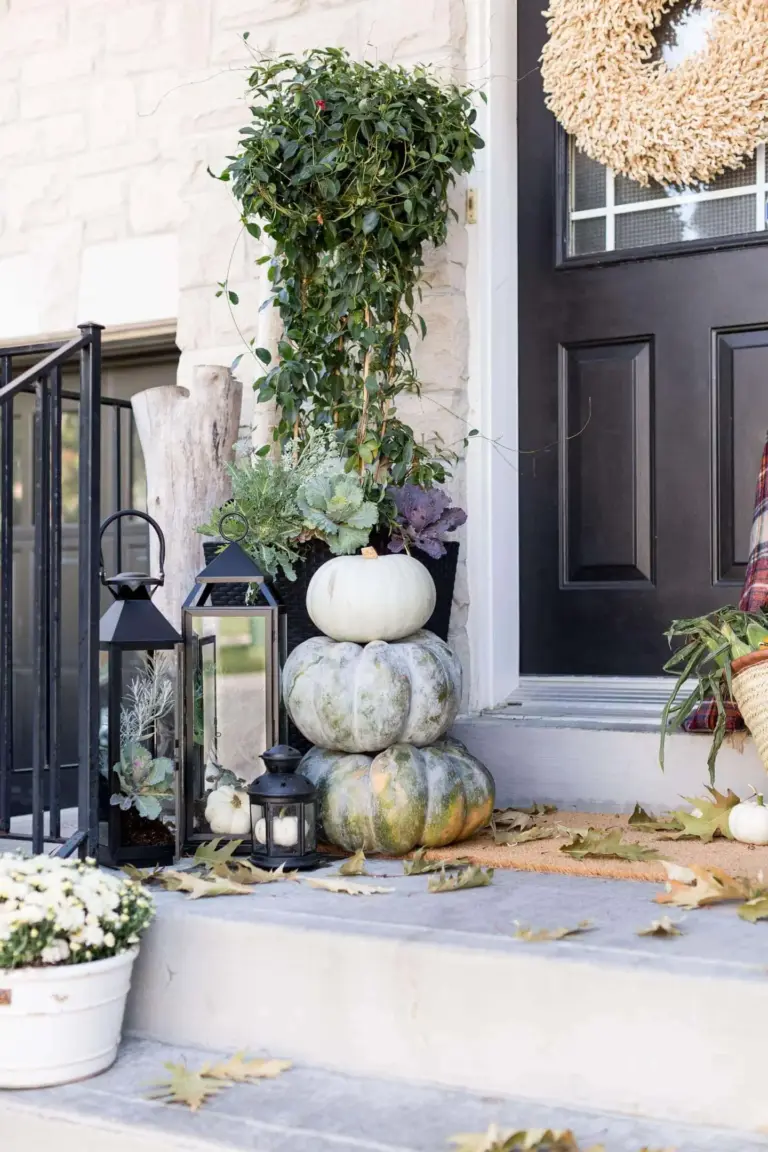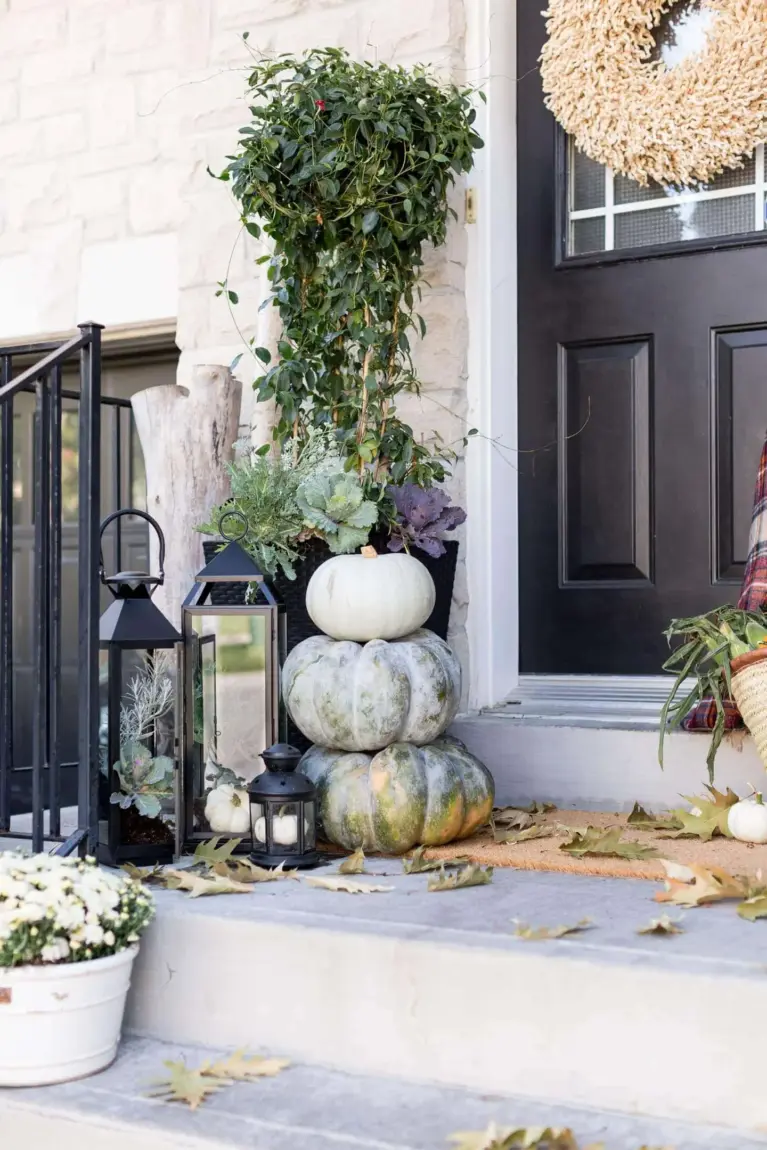 7. Cozy Seating
Fall evenings are meant for unwinding outdoors, wrapped in a warm blanket with a cup of tea in hand. To create a cozy seating area, invest in comfortable outdoor furniture and adorn it with fall-themed cushions and blankets. Add a touch of whimsy with autumn-inspired throw pillows.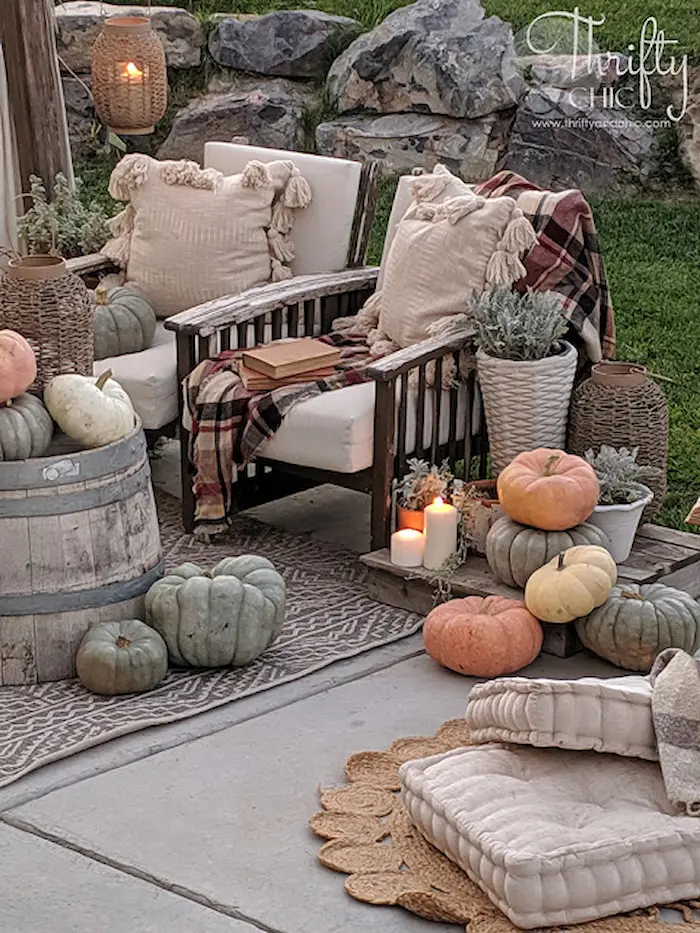 8. Candlelit Evenings
String lights may be the stars of summer, but fall calls for the soft, flickering glow of candles. Hang strings of twinkling lights for added charm, and scatter candles in hurricane lanterns or mason jars to create a magical ambiance. Don't forget to include some scented candles to fill the air with the delightful fragrance of fall.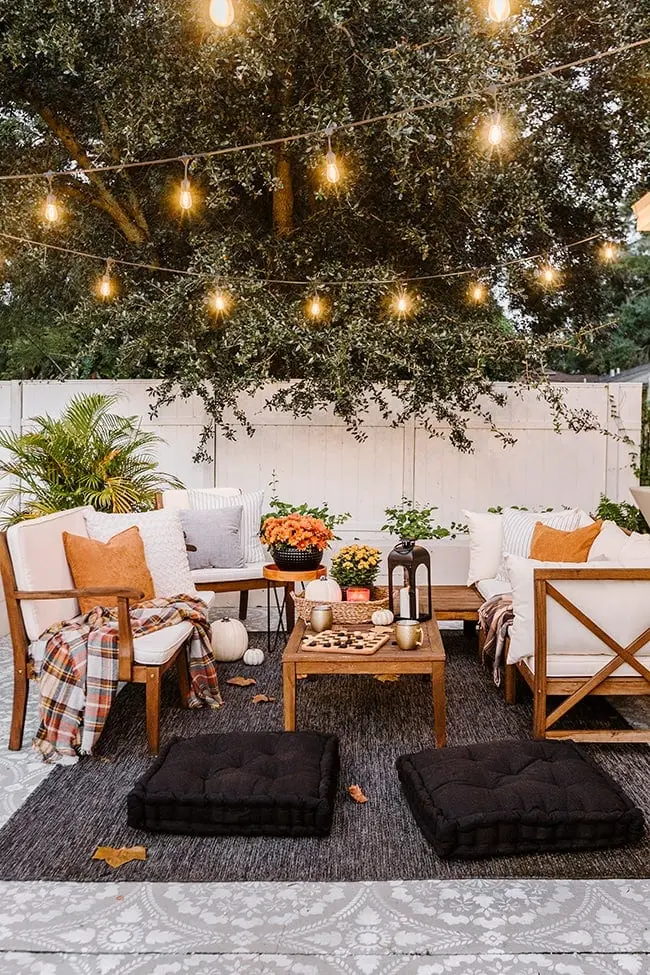 9. Creative Doormats
Your front door sets the stage for your outdoor space, so why not make a playful statement with a creative doormat? Choose one with cute fall sayings or intricate patterns that reflect the season. It's a small touch that can make a big difference in welcoming your guests.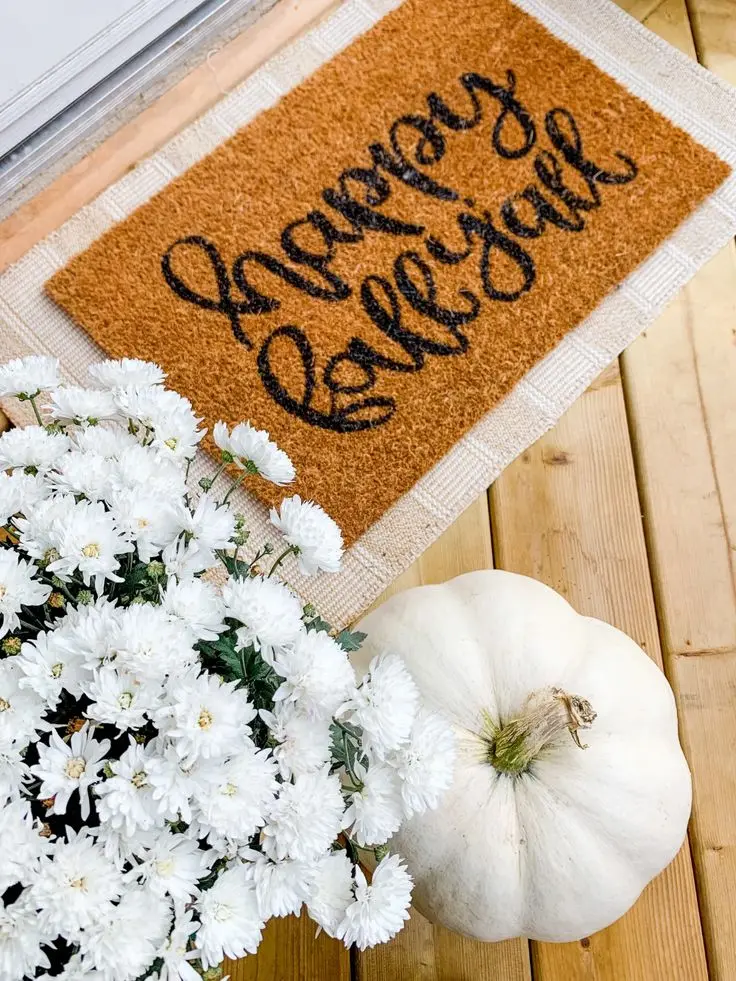 10. Dazzling Door Decor
Your front door is like the canvas of your outdoor masterpiece. Paint it in warm fall hues like burgundy or deep orange to create an inviting backdrop. Consider adding a decorative wreath hook to easily switch out wreaths throughout the season. And speaking of wreaths…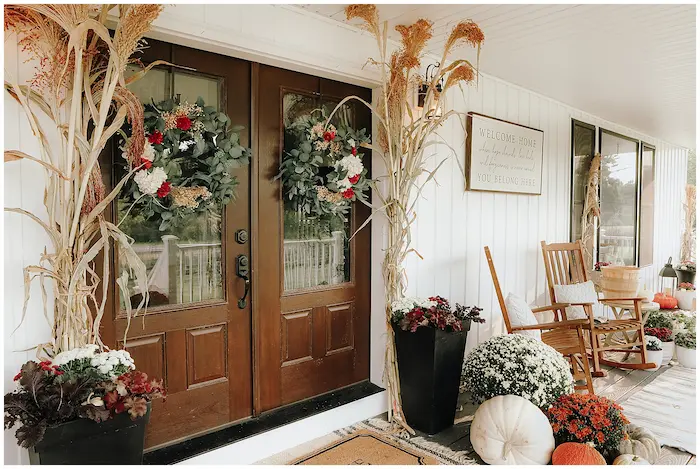 RELATED: Cozy Home Vibes: Fall Decor Finds Under $50 You'll Adore
11. Nature's Bounty
Incorporate natural elements like cornstalks, acorns, and pinecones into your outdoor decor. Bundle cornstalks together and secure them with twine to create a rustic focal point. Scatter acorns and pinecones on tabletops or in baskets for a touch of nature's bounty.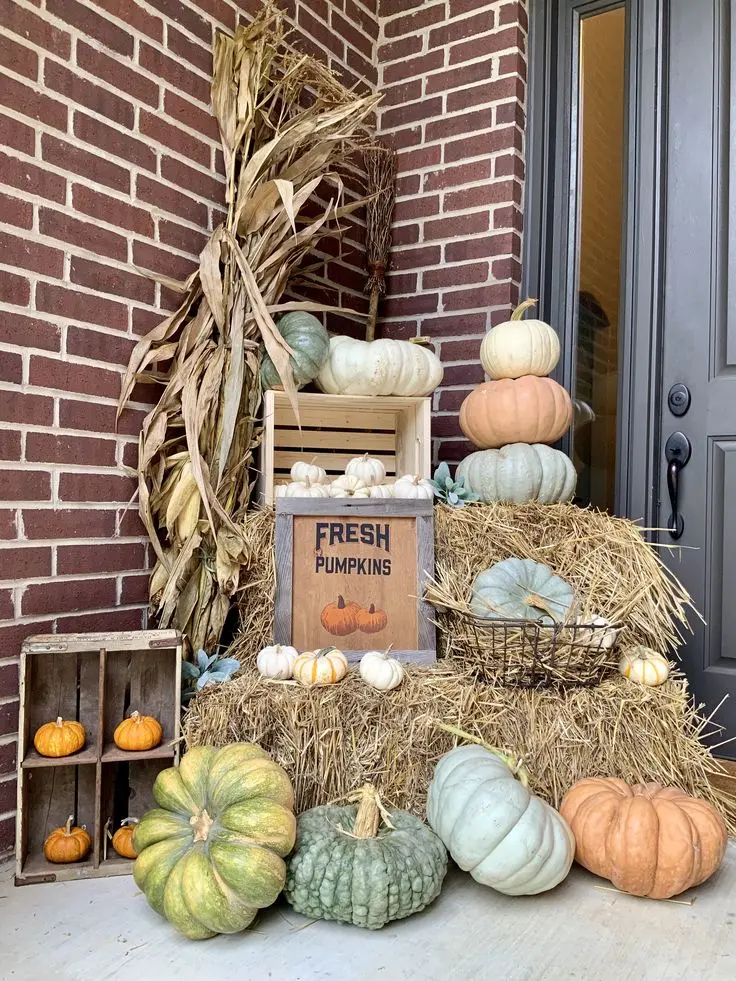 12. Scarecrow Friends
No fall outdoor scene is complete without some friendly scarecrows and corn stalks. These whimsical characters add a touch of playfulness to your decor. Place them strategically on your porch, in the garden, or even sitting on hay bales.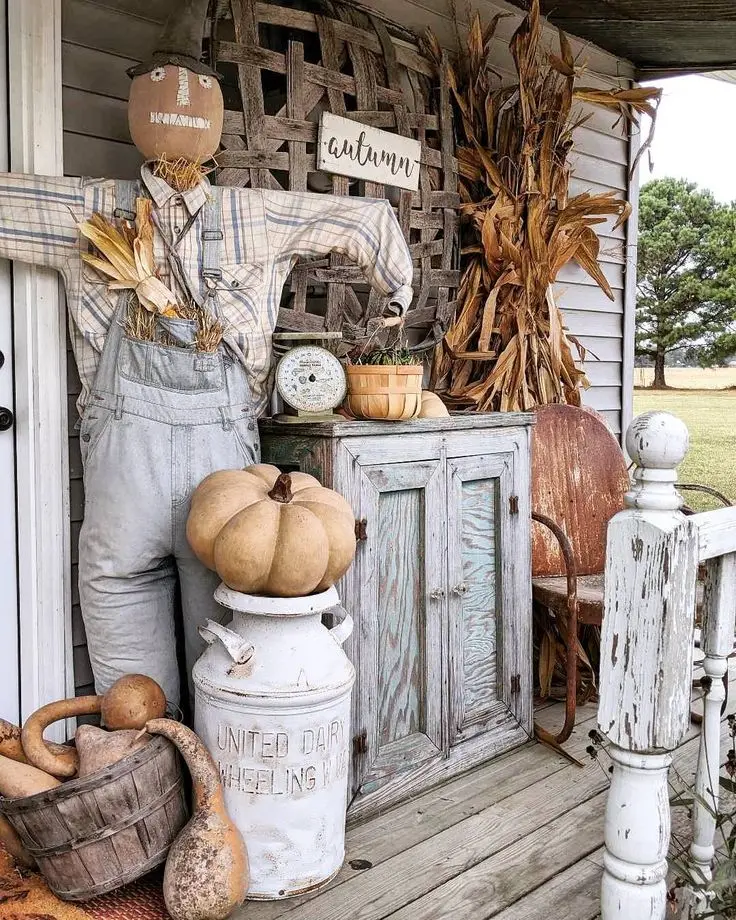 13. Basket Beauties
Hanging baskets filled with fall flowers or gourds can add a delightful touch to your outdoor space. Choose baskets with different shapes and sizes, and fill them with seasonal flowers like fall mums, pansies, and marigolds. You can also place small pumpkins or gourds in the baskets for a pop of color.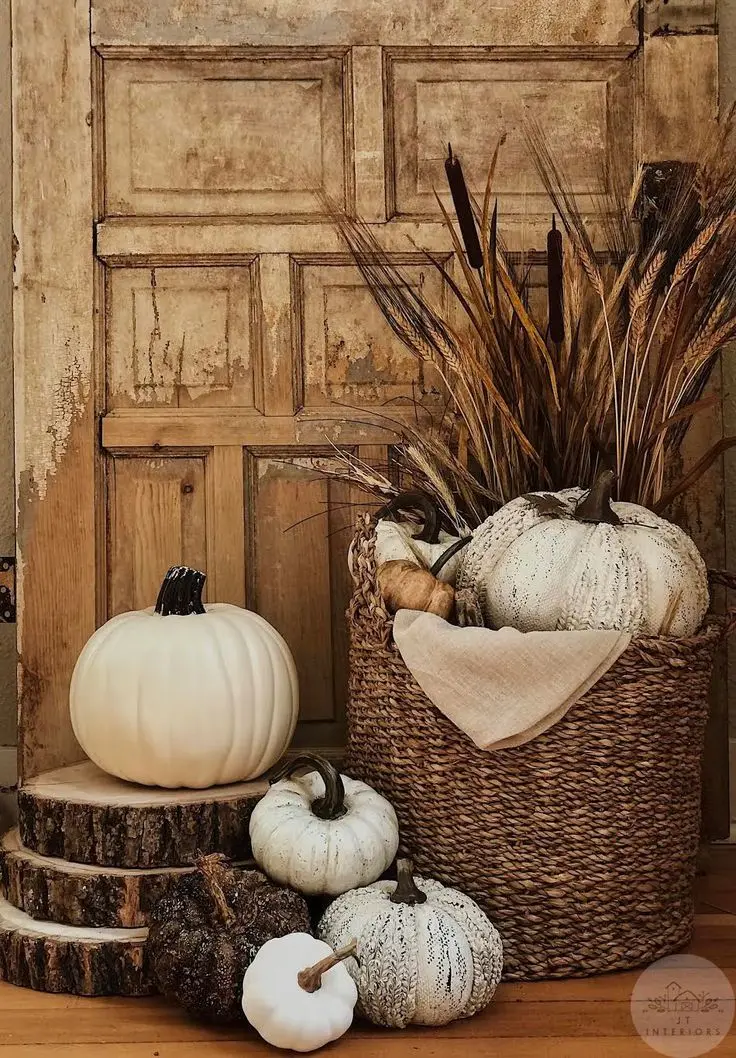 14. Garland Glamour
Decorating your railings with fall garlands is an elegant way to embrace the season. Opt for garlands made of faux fall leaves, berries, or even burlap for a touch of rustic glamour. Use zip ties or twine to secure them in place, and don't forget to add a bow or two for extra flair.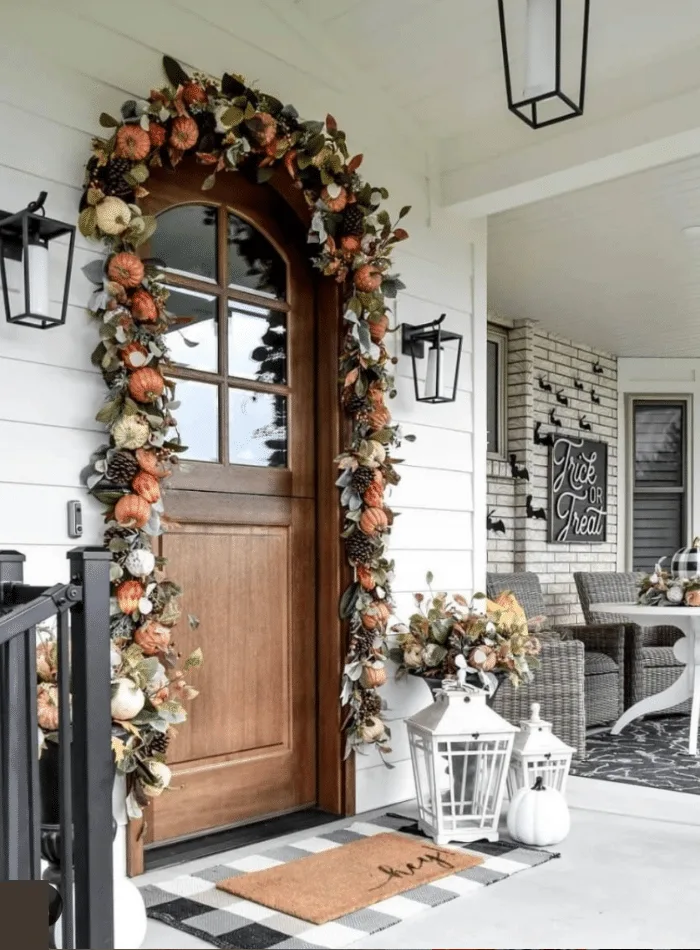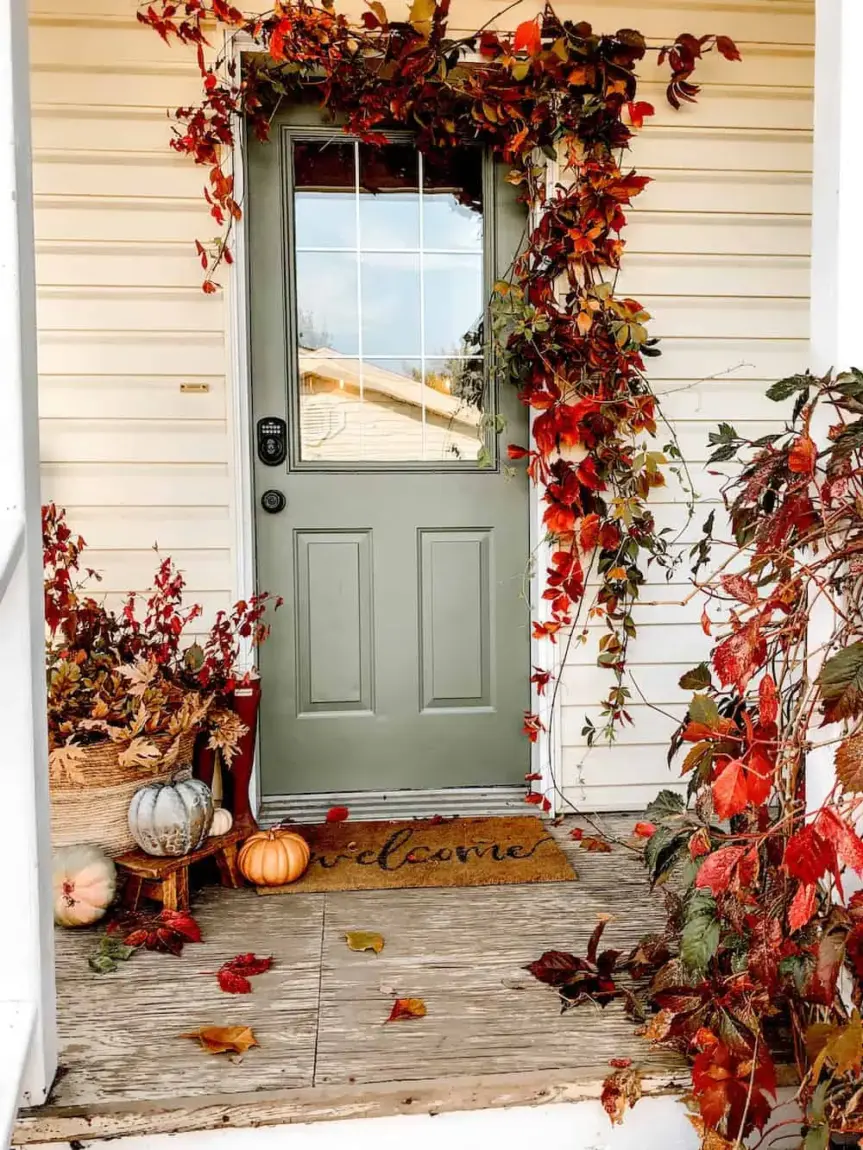 15. Wheelbarrow Wonder
Do you have an old wheelbarrow lying around? Repurpose it into a charming display for your outdoor space. Fill it with pumpkins, gourds, and even some fall flowers for a touch of nostalgia and whimsy. A wheelbarrow garden is sure to become a conversation piece.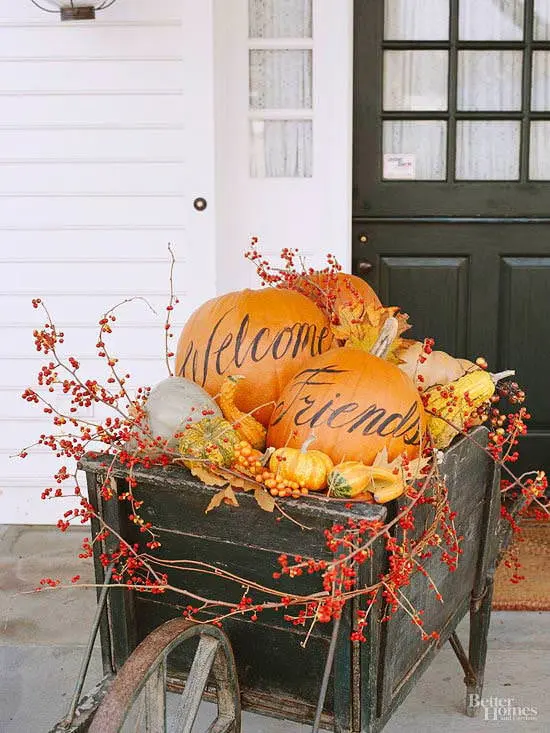 16. Wooden Accents
Wooden signs adorned with autumn quotes or phrases can add a touch of rustic charm to your outdoor decor. Hang them on doors, fences, or walls to infuse your space with character. You can even get creative and craft your own wooden signs for a personalized touch.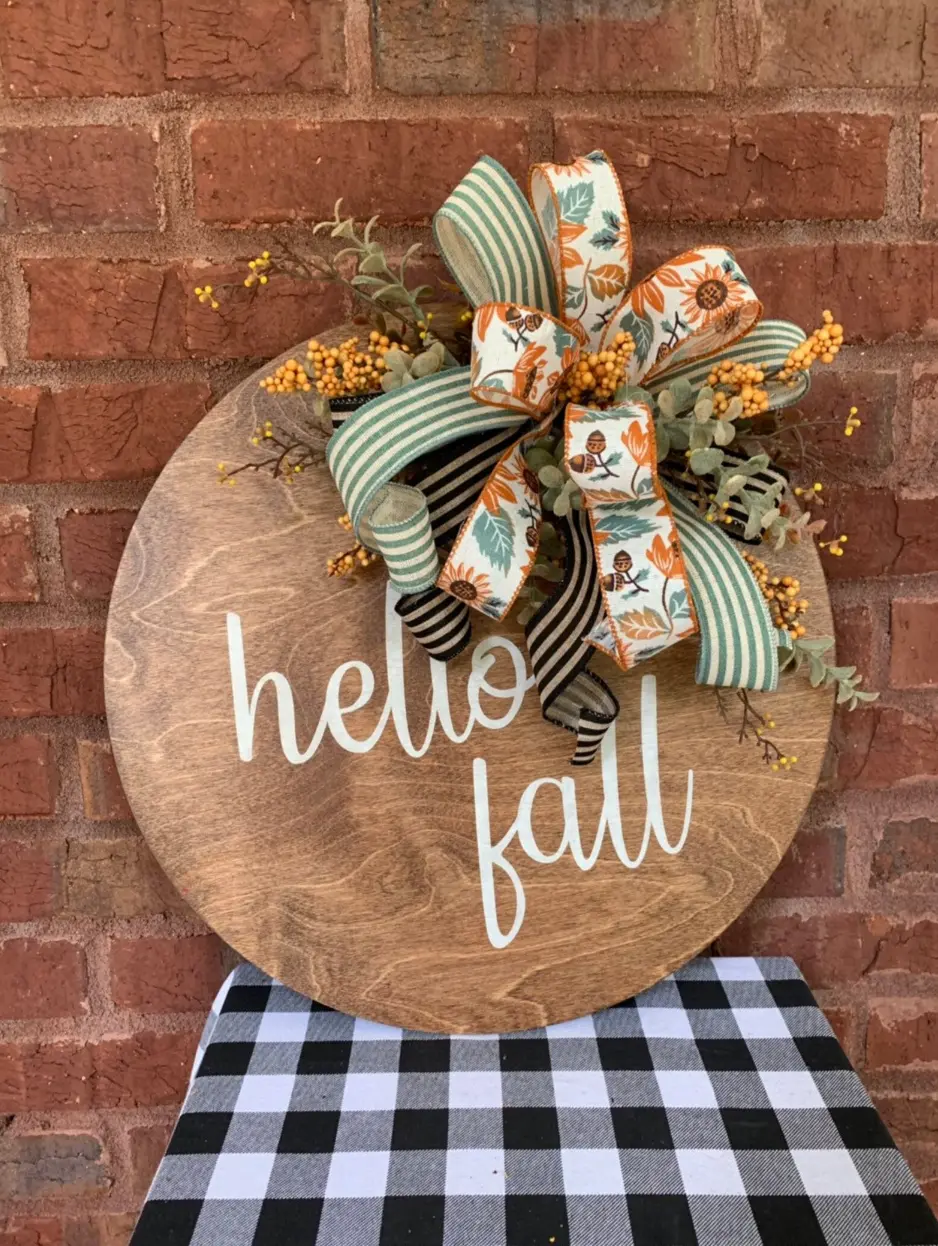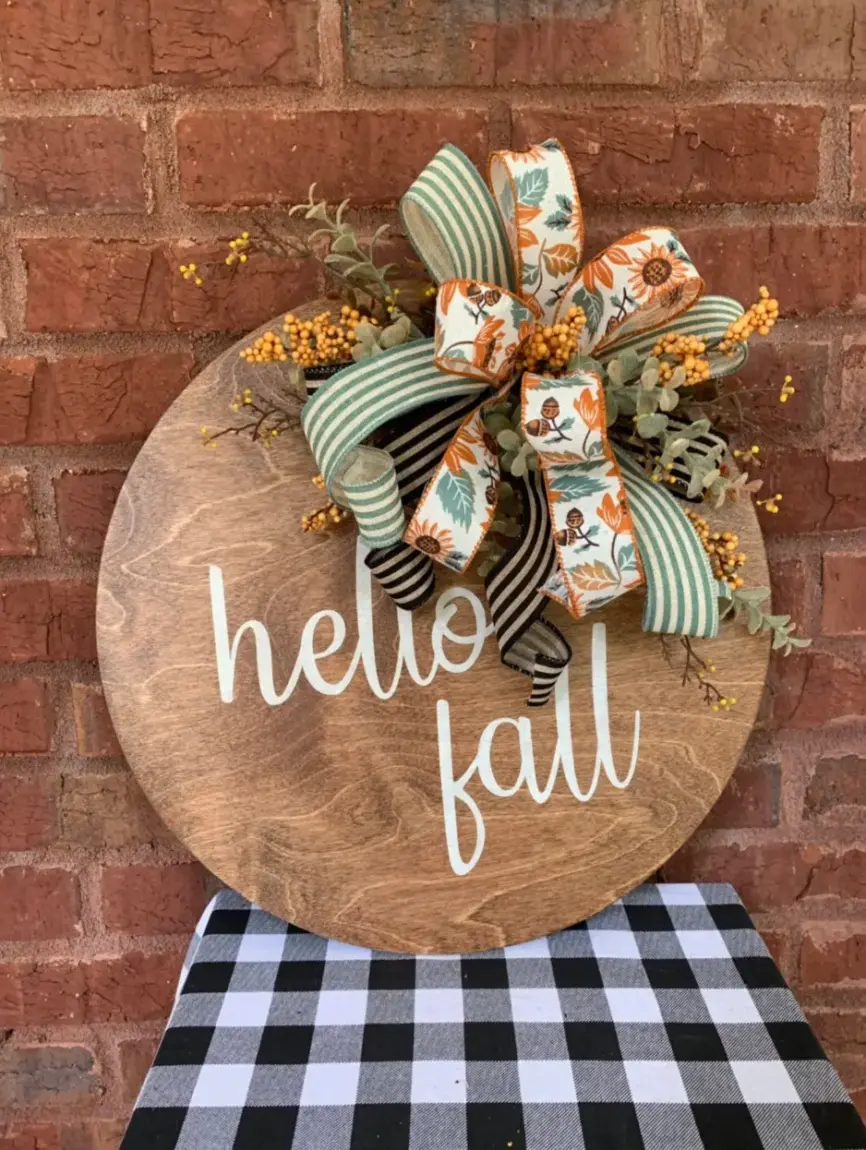 17. Gourd Galore
Mix and match different varieties of fall outdoor decorating ideas, like gourds, to create a textured and visually appealing display. From tiny ornamental gourds to larger ones with unique shapes and colors, gourds add a playful and organic element to your outdoor decor. Place them in baskets, on tabletops, or alongside pumpkins for a bountiful look.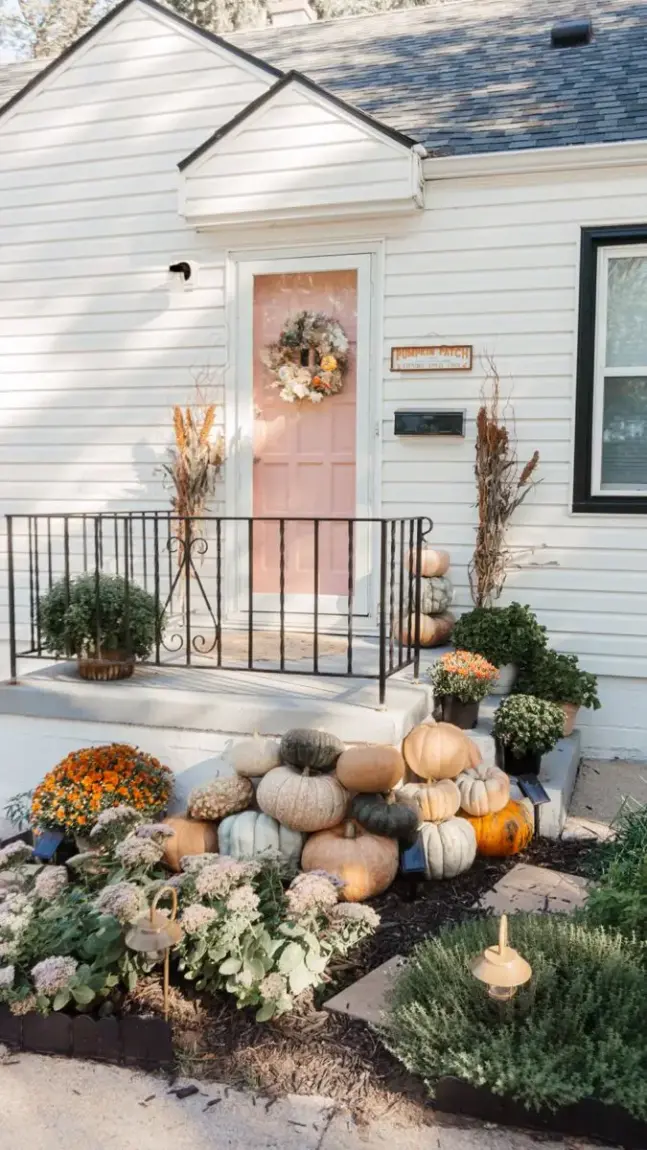 18. Blanket Fort
One of the joys of fall is cozying up under a warm blanket with a good book or a steaming cup of hot cocoa. Create a cozy reading nook in your outdoor space by arranging comfortable seating, layered with fall-themed cushions and blankets. It's the perfect spot to relax and enjoy the crisp autumn air.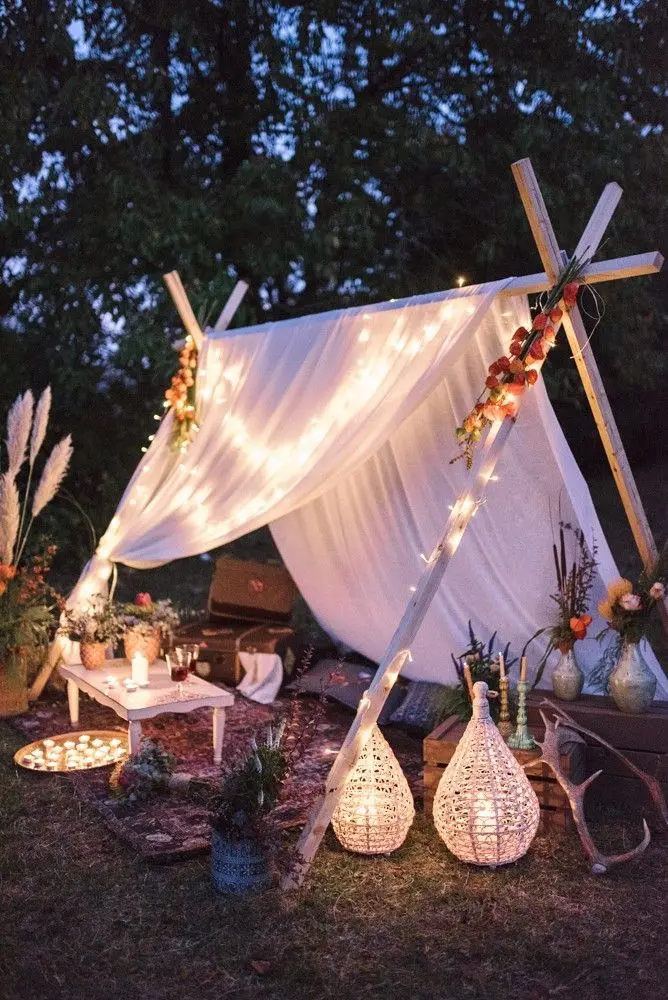 19. Scenic Views
Don't forget to frame your outdoor space with the stunning colors of fall foliage. If you're fortunate enough to have trees in your yard, let the natural beauty of the season shine through. The vibrant reds, oranges, and yellows of the leaves provide a picturesque backdrop to your outdoor oasis.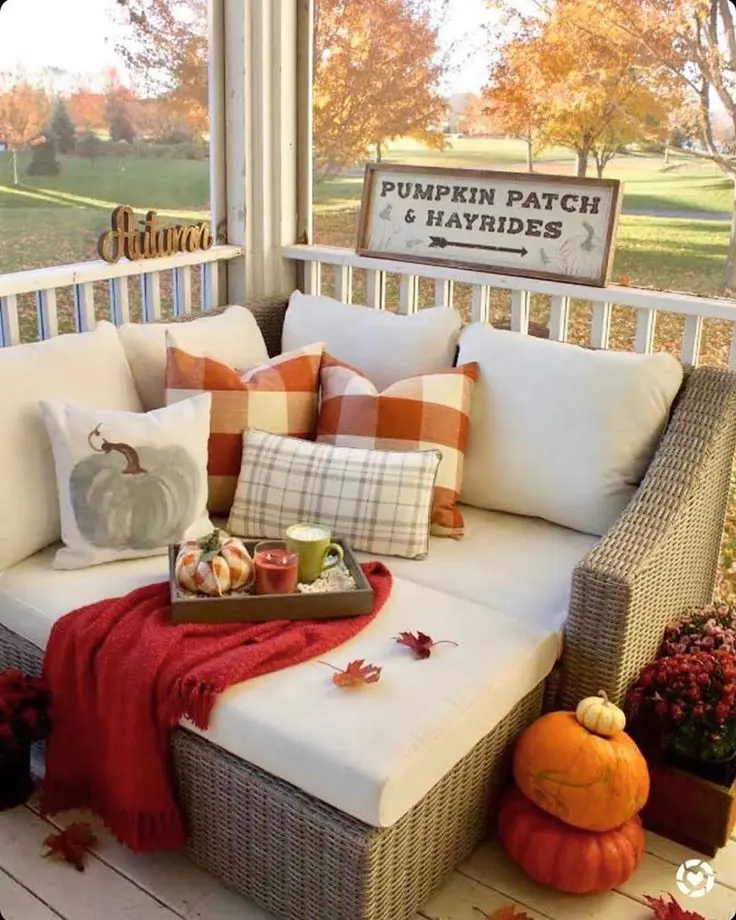 RELATED: Warm Your Heart with These Stunning Neutral Fall Decorations
20. DIY Lanterns
Why settle for store-bought lanterns
when you can craft your own? Get creative with mason jars, twine, and autumn leaves to make unique lanterns that reflect your personal style. Add LED candles for a warm and welcoming glow that will make your outdoor space magical, especially after the sun sets.
21. Rustic Elegance
For a touch of rustic elegance, consider adding burlap bows and ribbons to your outdoor decor. These simple accents can transform your space into a charming and cozy haven. Tie them around planters, chairs, or even your front door handle to infuse your decor with a warm, homespun feel.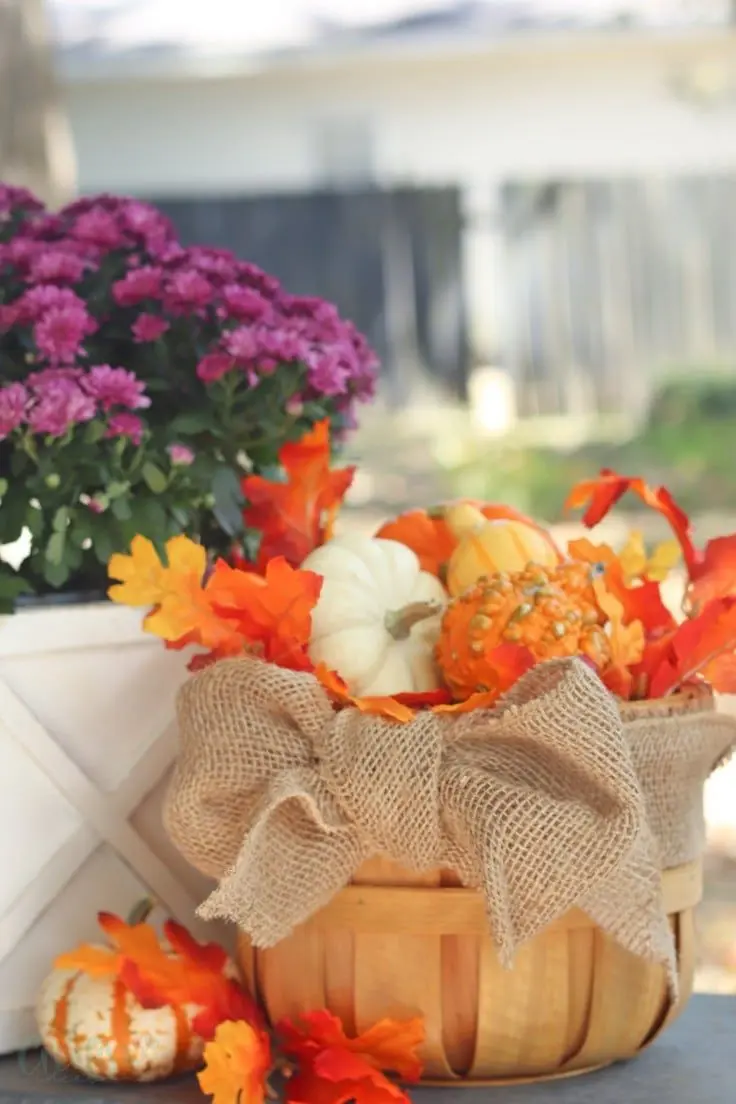 22. Fairy Lights
String lights may be a staple, but fairy lights can bring a touch of magic to your outdoor space. Hang them in the trees or drape them along fences and railings. As they twinkle softly, they create a whimsical and enchanting atmosphere that's perfect for fall evenings.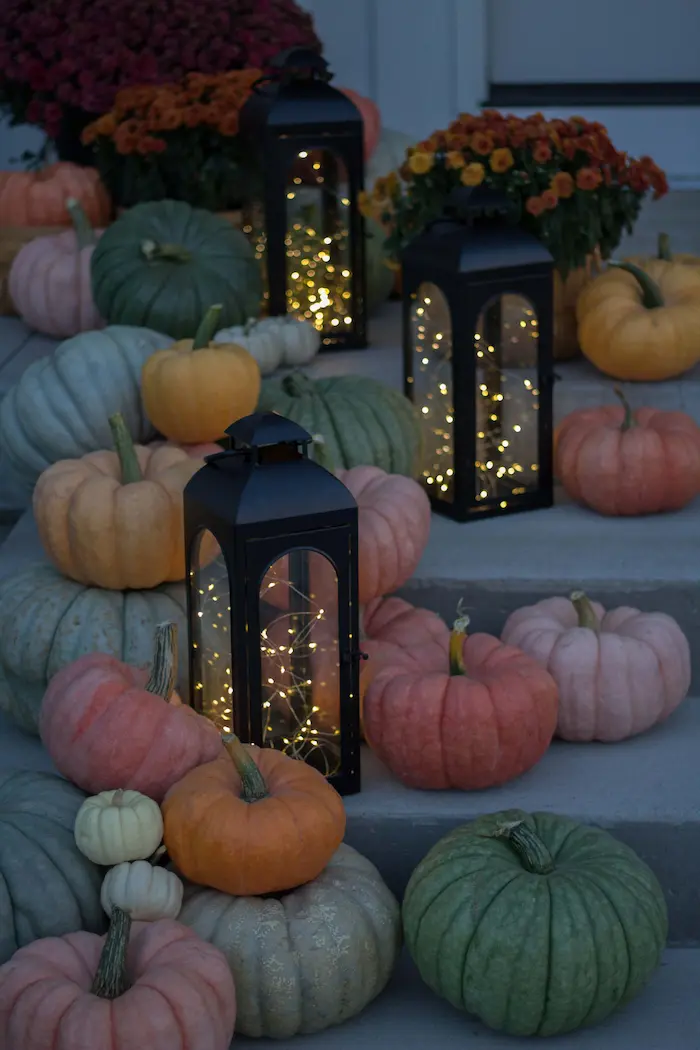 23. Pumpkin Spice Everything
Who can resist the scent of pumpkin spice during the fall season? Infuse your outdoor space with the delightful fragrance by lighting pumpkin spice-scented candles. Place them strategically around your seating area to create a warm and inviting ambiance that appeals to all the senses.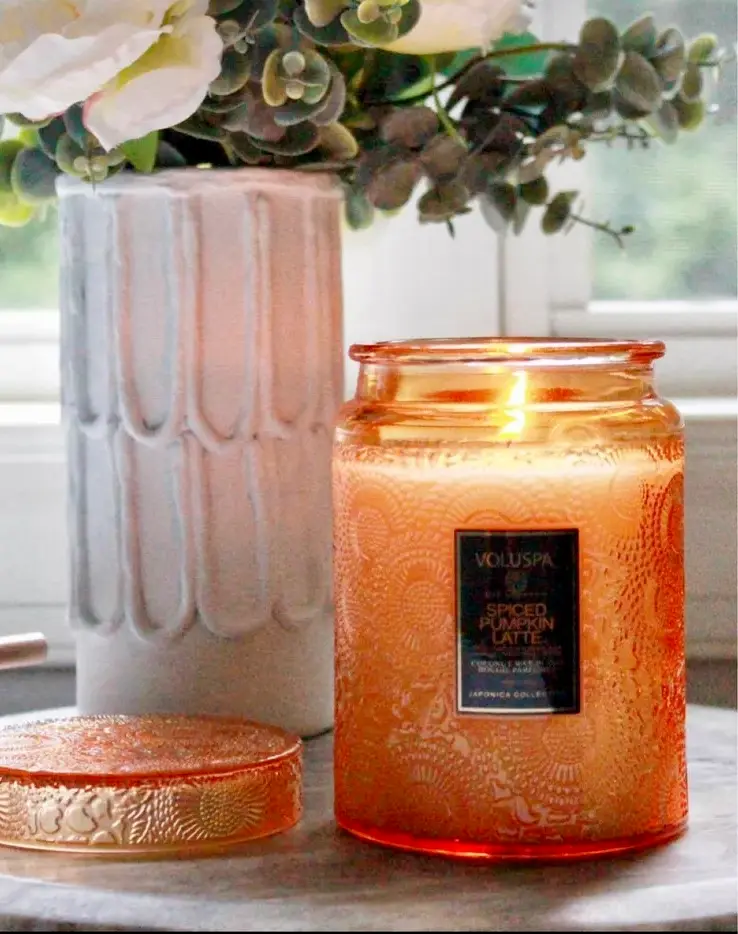 24. Family Fun
Fall is the season for family traditions, and pumpkin carving is a classic one. Set up a pumpkin carving station in your outdoor space with pumpkins of various sizes and carving tools. It's a wonderful way to bond with loved ones and create memorable jack-o'-lanterns to light up your evenings.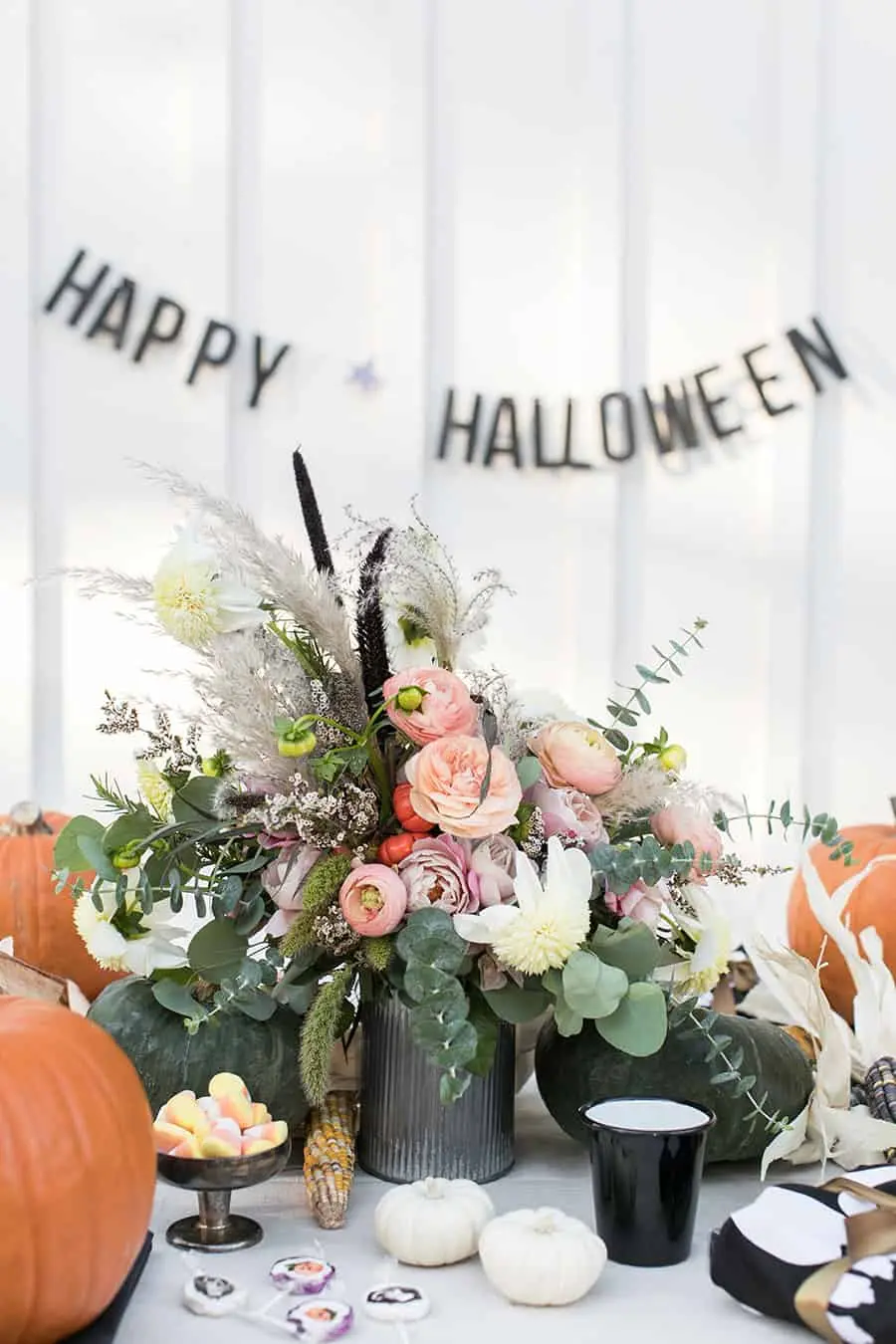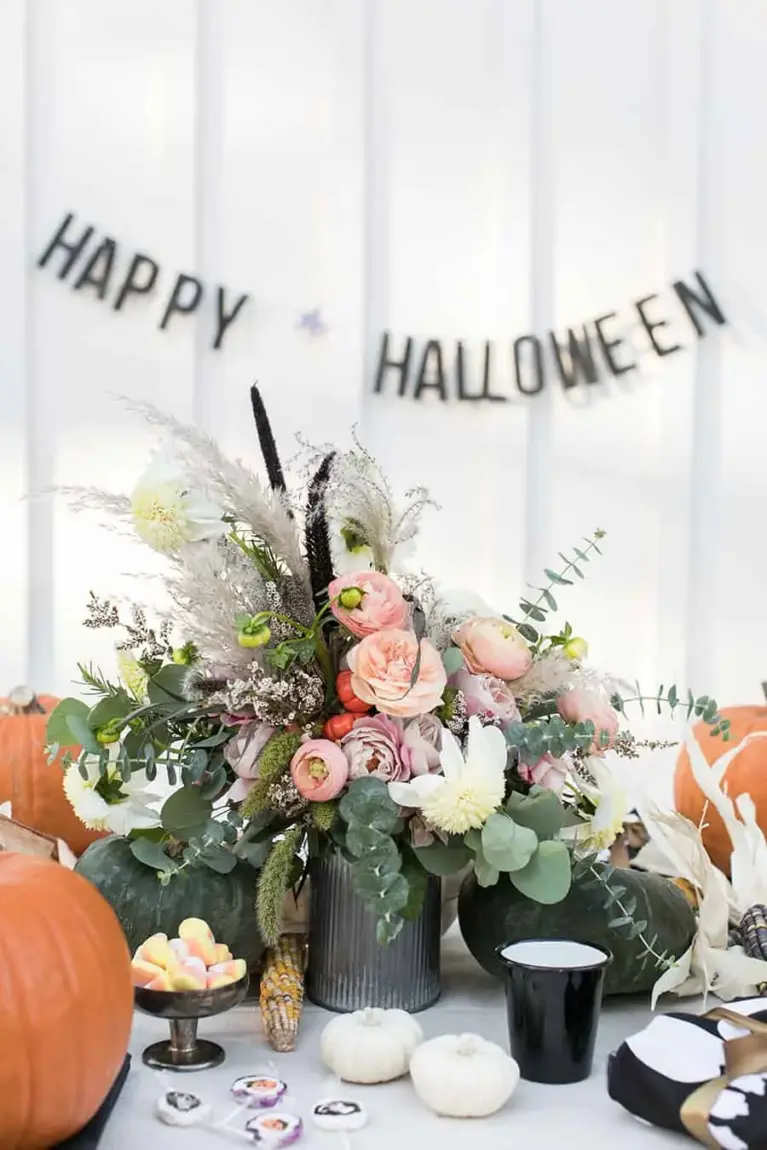 25. Cozy Corners
Create cozy corners in your outdoor space by arranging seating areas with comfortable chairs and blankets. Set the stage for relaxation with a selection of fall-themed books that invite you to curl up with a hot beverage and escape into the world of literature.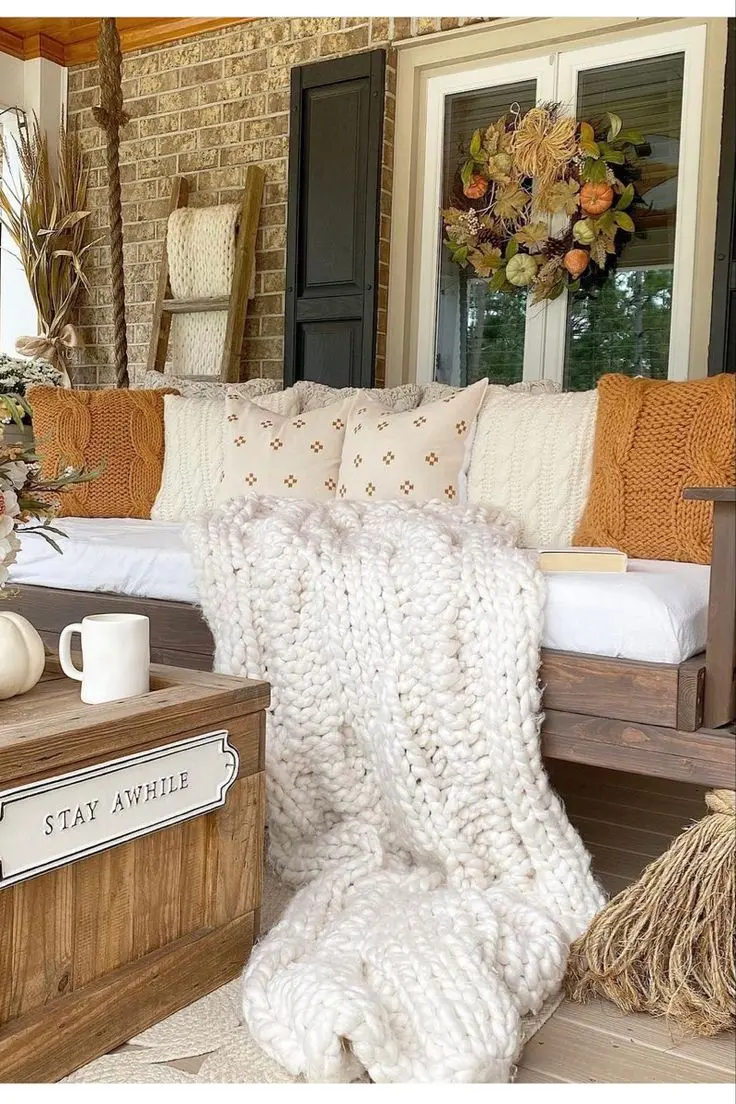 26. Sweet Treats
Don't forget to indulge your taste buds with the flavors of fall. Offer your guests warm apple cider, pumpkin pie, and other seasonal treats. Set up a small table with mugs, plates, and a thermos filled with a comforting beverage. It's the perfect way to make your outdoor space feel like a cozy autumn café.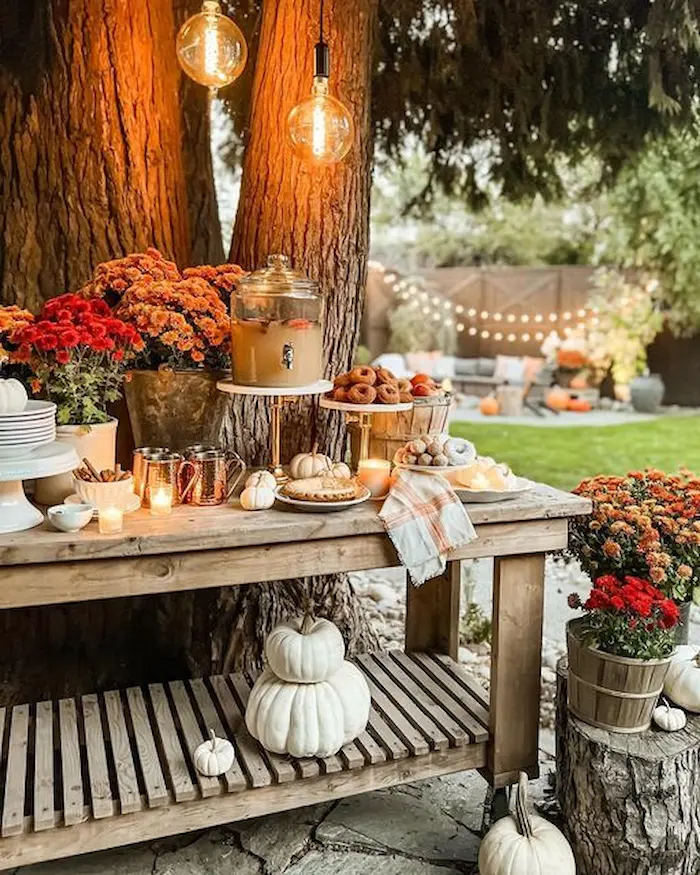 27. Festive Banners
Elevate your fall outdoor decor with festive banners and flags. Choose banners featuring autumn leaves, pumpkins, or charming fall sayings. Hang them from your porch, balcony, or garden fence to add a pop of color and a touch of whimsy to your outdoor space. These banners not only celebrate the season but also provide a delightful visual element that can be easily customized to suit your style.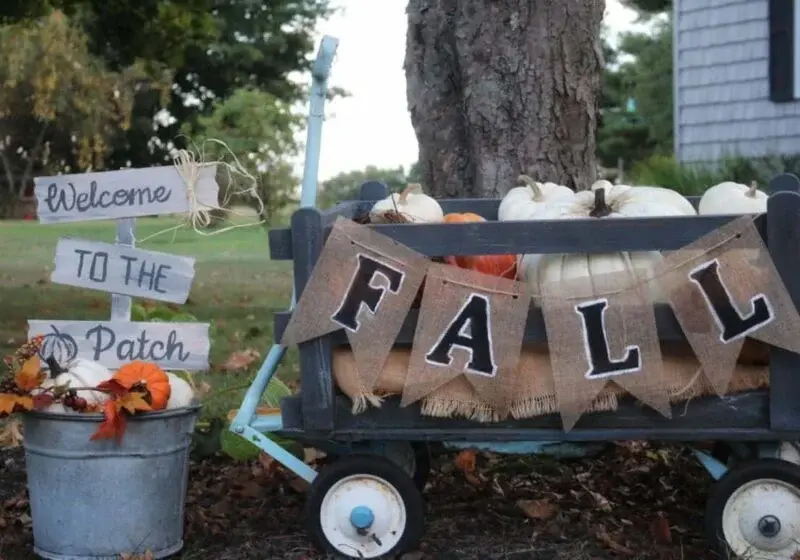 28. Lawn Decor
Extend your fall decor to your lawn for a cohesive and inviting look. Scatter-friendly scarecrows, pumpkins, and even faux leaves around your yard. These touches of autumn on your lawn will provide a warm welcome to guests and passersby.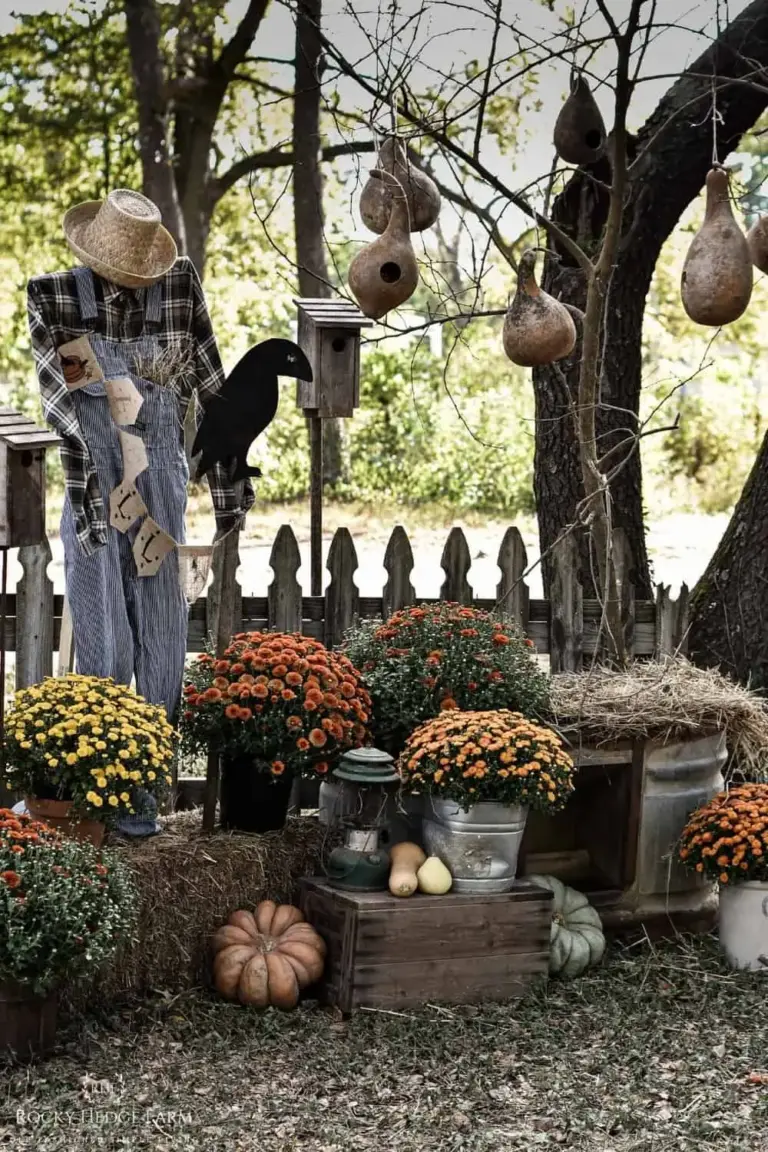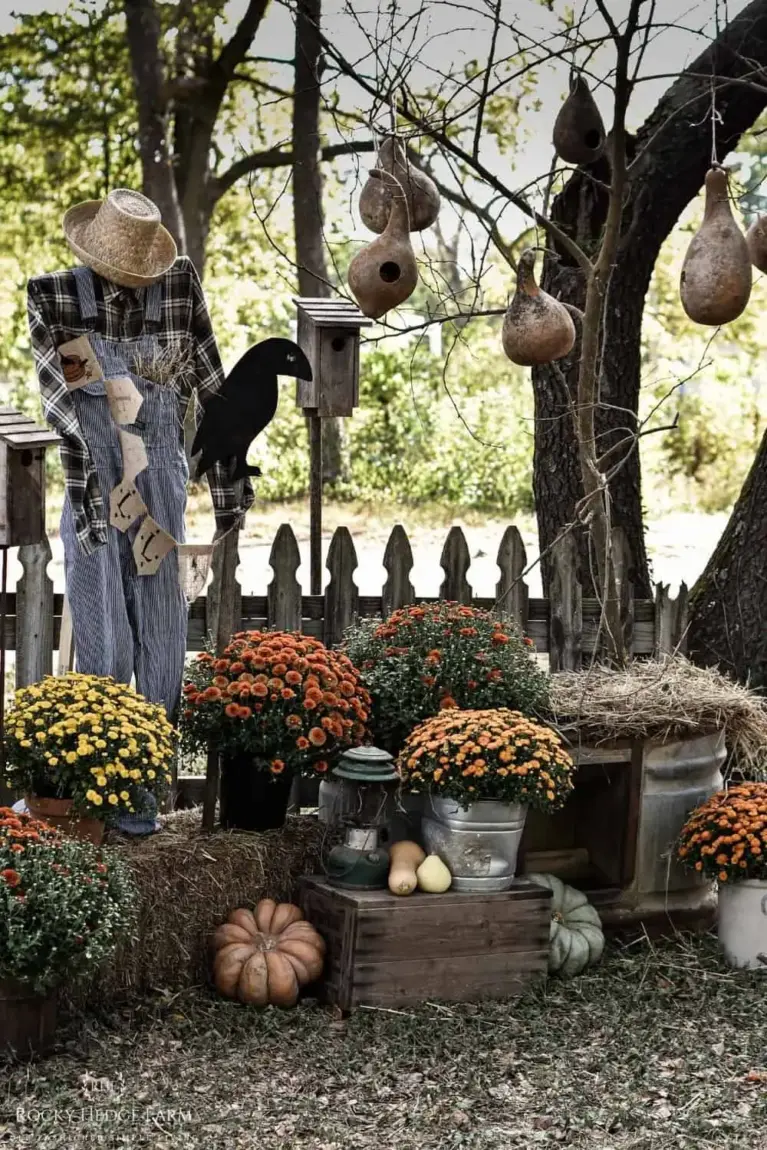 29. Elegant Centerpieces
If you have an outdoor dining table, make it the focal point with elegant fall outdoor decorating ideas centerpieces. Consider using wooden crates filled with pumpkins, candles, and seasonal flowers as the centerpiece. Add a table runner and place settings with fall-themed dishes for an elegant touch.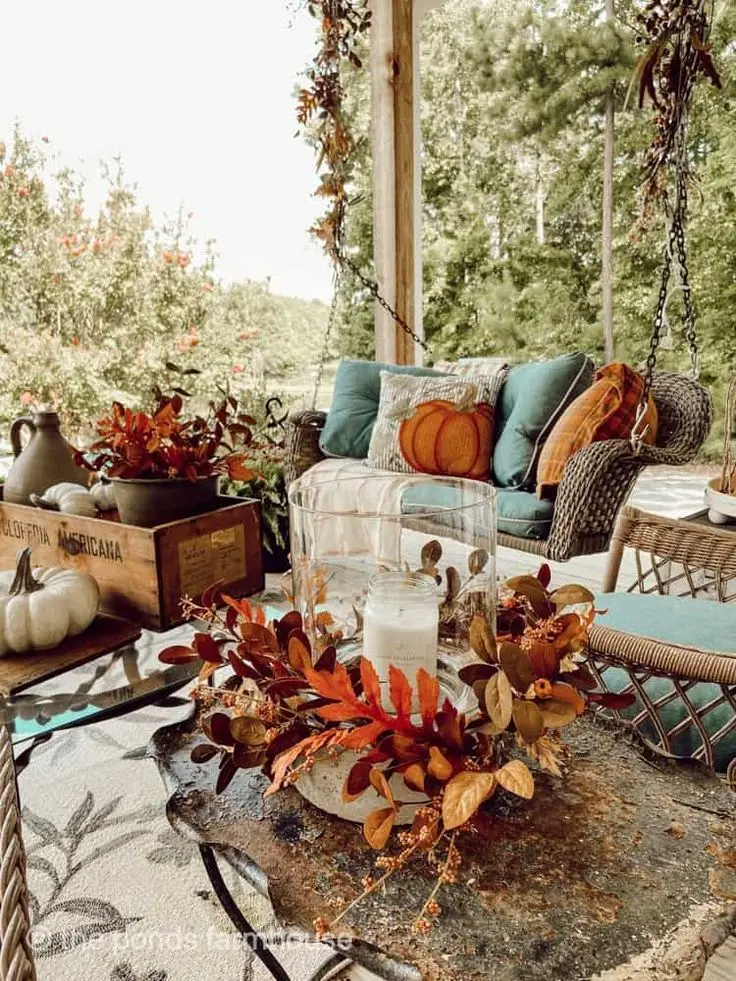 30. Leaf Confetti
Add a touch of whimsy to your outdoor space by scattering colorful fall leaves as decor. Gather leaves of different shapes and colors and use them to create patterns or designs on tables, steps, or pathways. It's a simple yet charming way to celebrate the beauty of the season.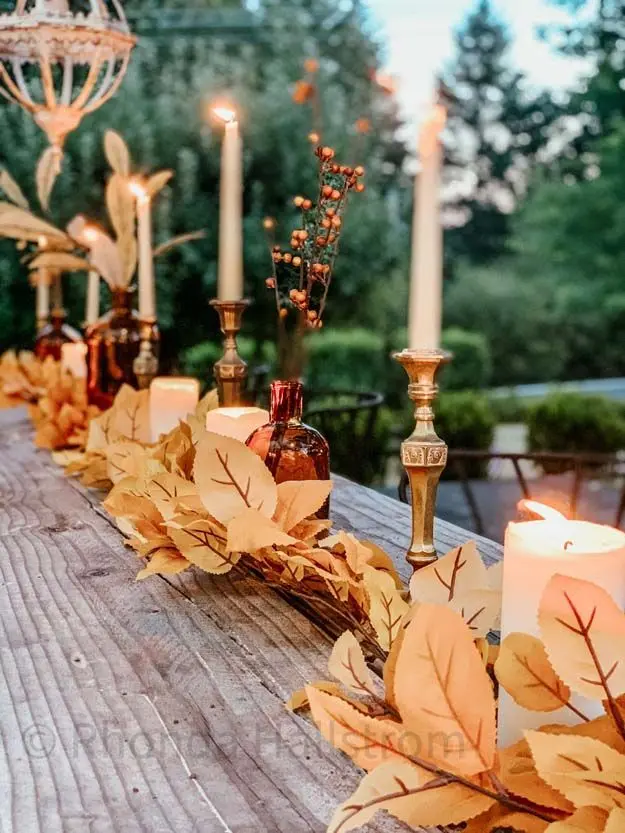 31. Warm Welcome
Set the tone for your outdoor space with a cute 'Welcome Fall' sign placed by the entrance. Whether it's a rustic wooden sign, a chalkboard with handwritten messages, or a decorative plaque, a warm welcome ensures that your guests feel instantly at home.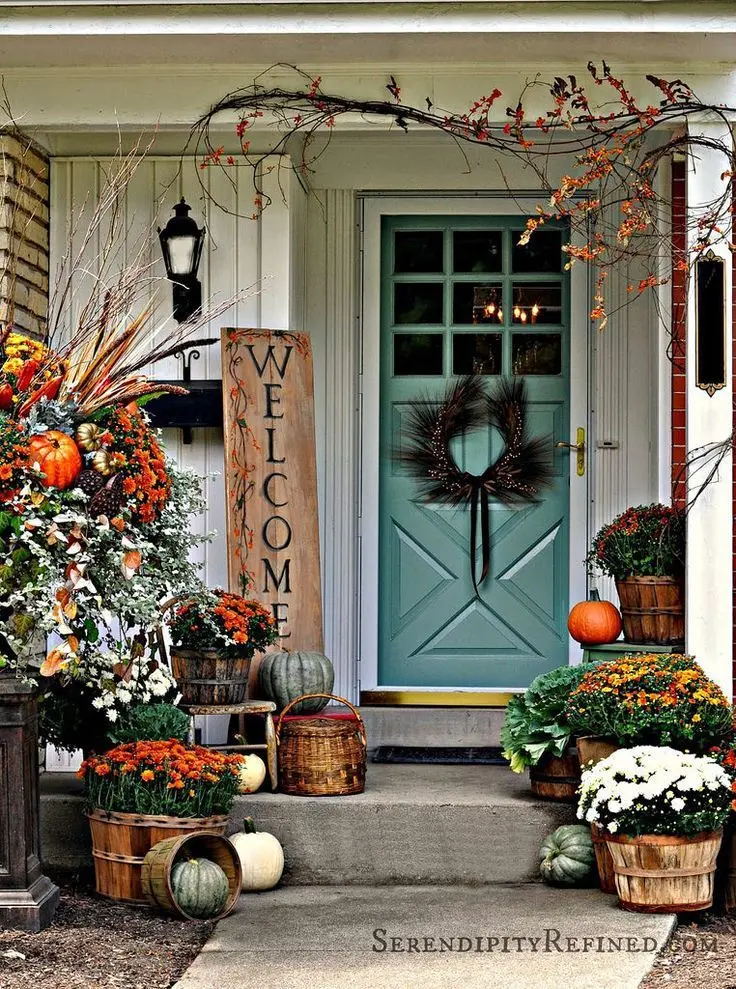 32. Potted Herbs
Incorporate potted herbs into your outdoor decor for a fresh and aromatic touch. Herbs like rosemary, sage, and thyme not only provide fragrance but also add greenery to your space. Place them in decorative pots and arrange them on tables or near seating areas.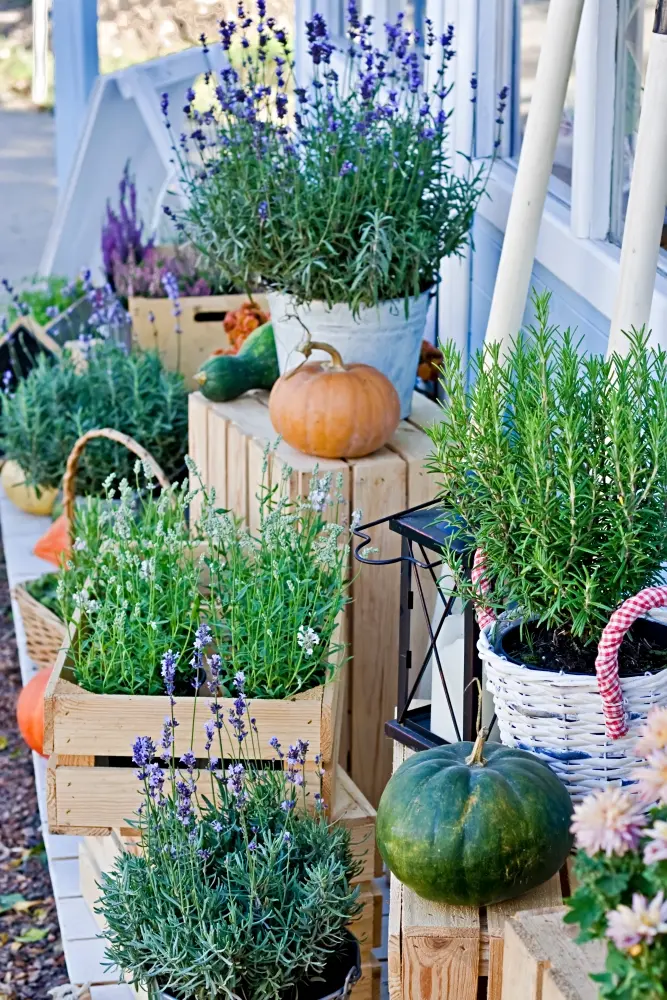 33. Doorstep Drama
Give your doorstep a creative makeover by painting it with chalk paint. Chalk paint offers a unique canvas for seasonal artwork or messages. You can change the design with the changing seasons, ensuring that your doorstep always reflects the time of year.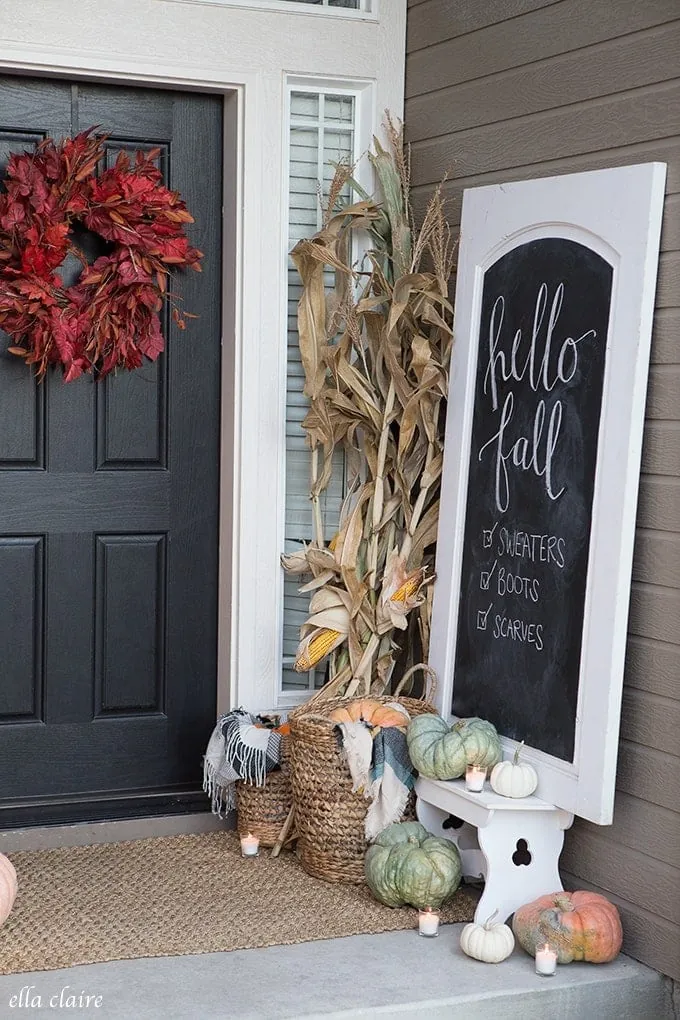 34. Fairy Tale Elements
Add a touch of whimsy to your outdoor space with fairy tale-inspired elements. Think toadstool stools, fairy lights, and even a miniature fairy garden. These playful touches create a magical atmosphere that's perfect for enjoying crisp fall evenings.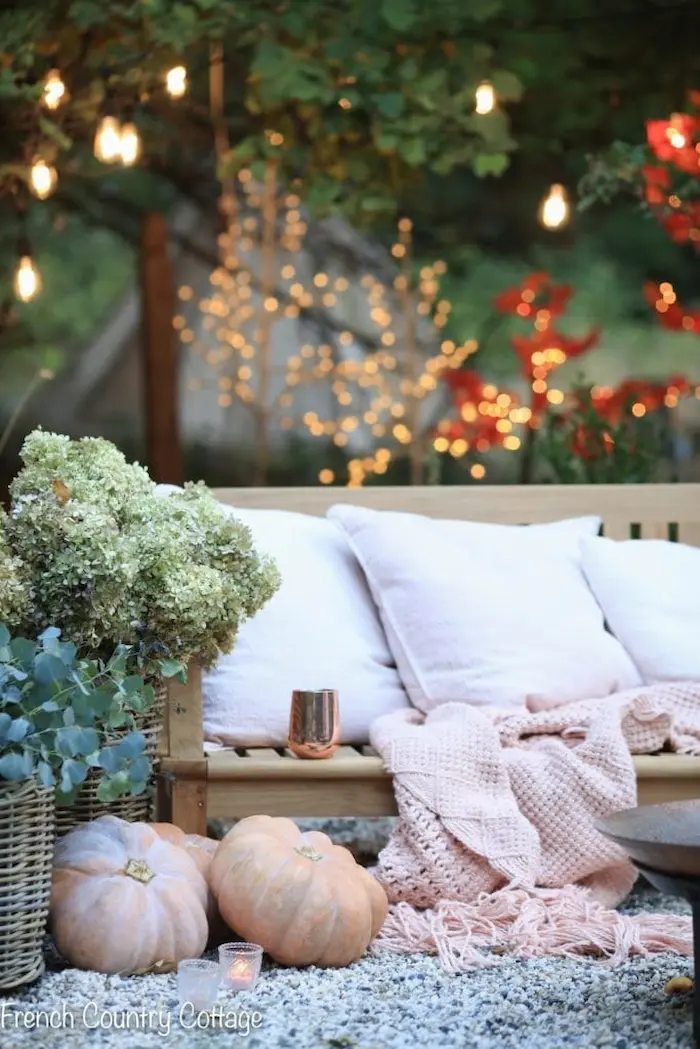 35. Solar Lights
For an eco-friendly touch, use solar-powered lights to illuminate your outdoor space. Solar lights are not only energy-efficient but also come in various styles, from string lights to pathway markers. They charge during the day and provide soft, ambient lighting at night.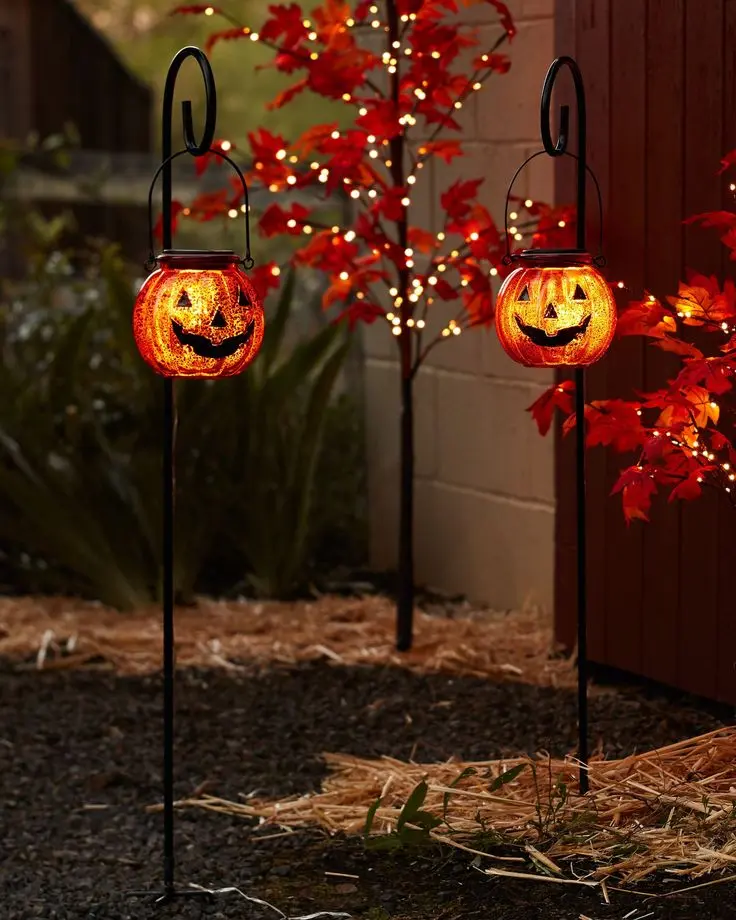 36. Festive Outdoor Seating
Create a welcoming outdoor seating area that embodies the spirit of fall. Arrange comfortable chairs and a weatherproof sofa, and adorn them with cozy cushions and blankets in autumn hues. Include a rustic coffee table where you can place seasonal decorations like pumpkins, candles, and a vase of fall flowers. This outdoor seating arrangement not only provides a perfect spot to enjoy the crisp fall air but also adds a touch of cozy elegance to your outdoor space.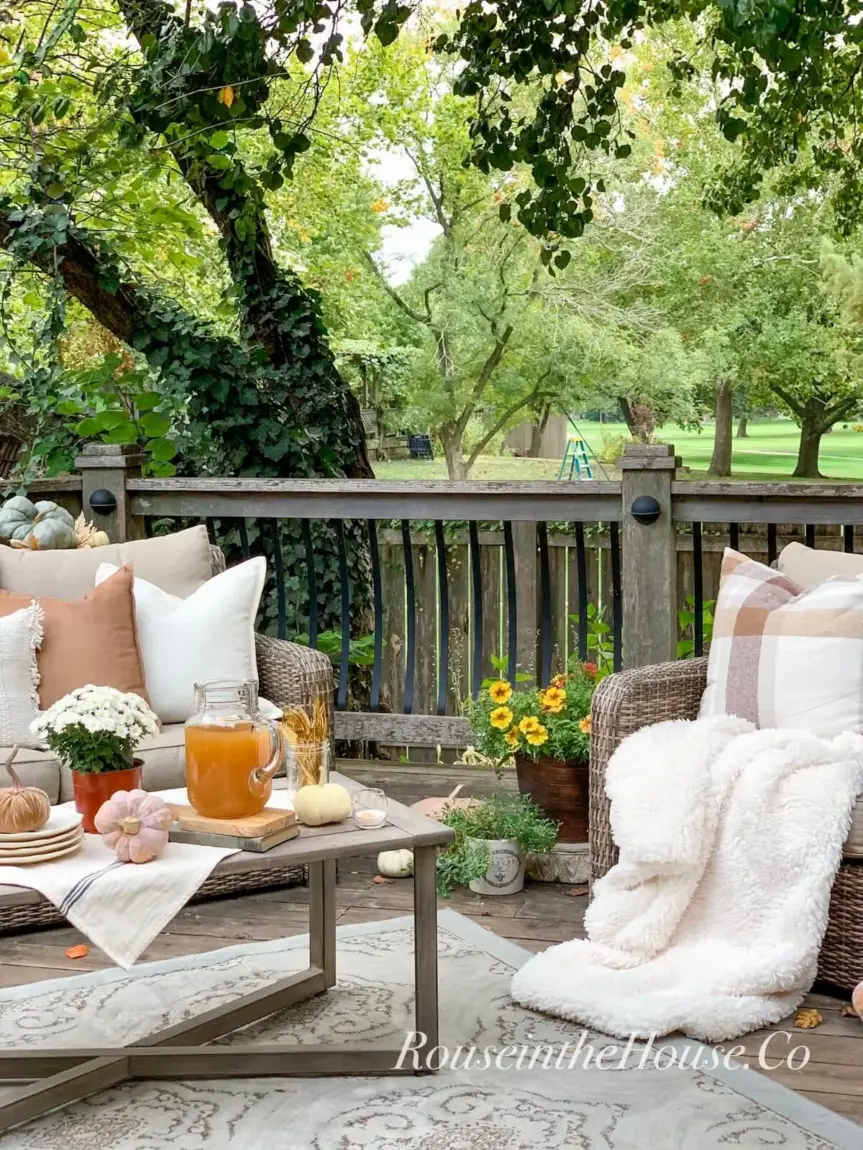 37. Floral Baskets
Hanging baskets filled with fall flowers can add a burst of color to your outdoor space. Choose baskets of different sizes and shapes, and fill them with seasonal flowers like pansies, marigolds, or chrysanthemums. Hang them from hooks or brackets for a vibrant display.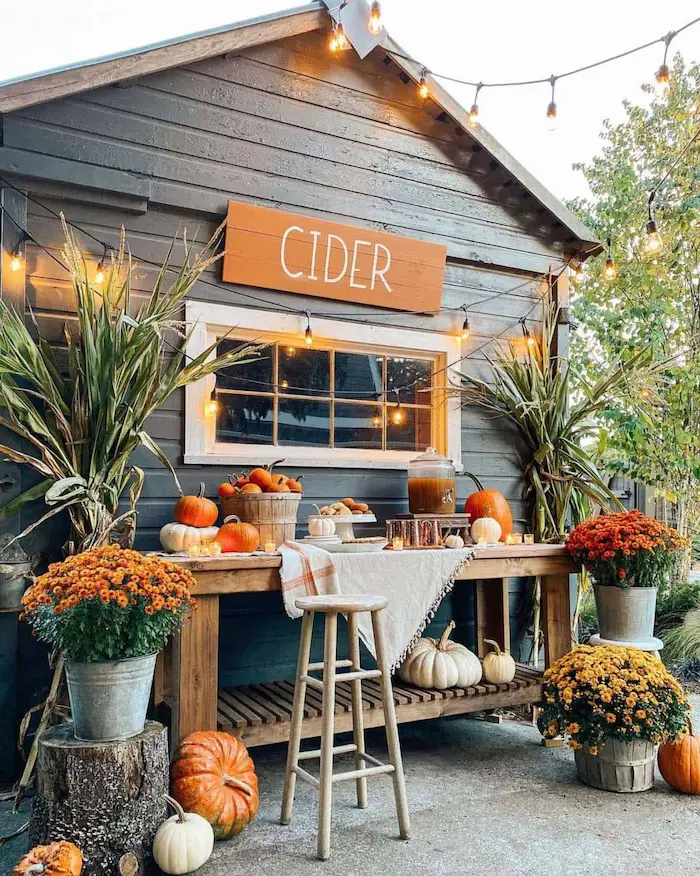 38. DIY Cornucopia
Craft your own cornucopia centerpiece for Thanksgiving by arranging gourds, small pumpkins, and fall foliage in a horn-shaped basket. This classic symbol of abundance and harvest will make a stunning addition to your outdoor dining table.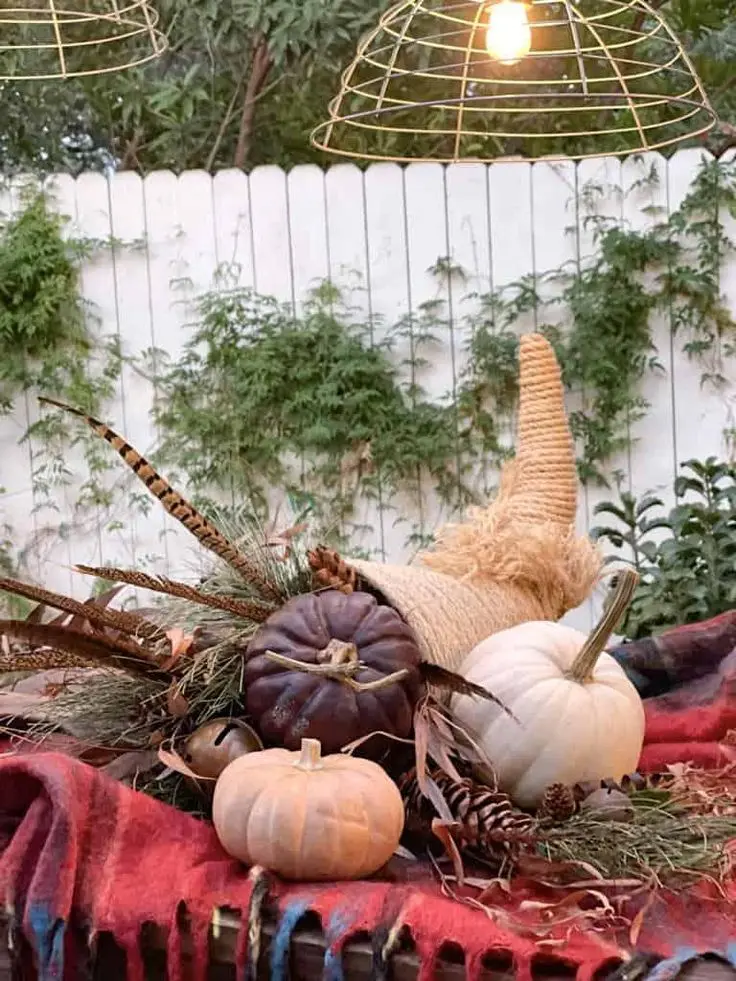 39. Evergreen Elegance
Extend your fall outdoor decor into the winter season by incorporating evergreen elements. Consider adding wreaths made of pine branches and pinecones, or placing potted evergreen trees on your porch. These touches ensure that your outdoor space remains inviting and beautiful even as winter approaches.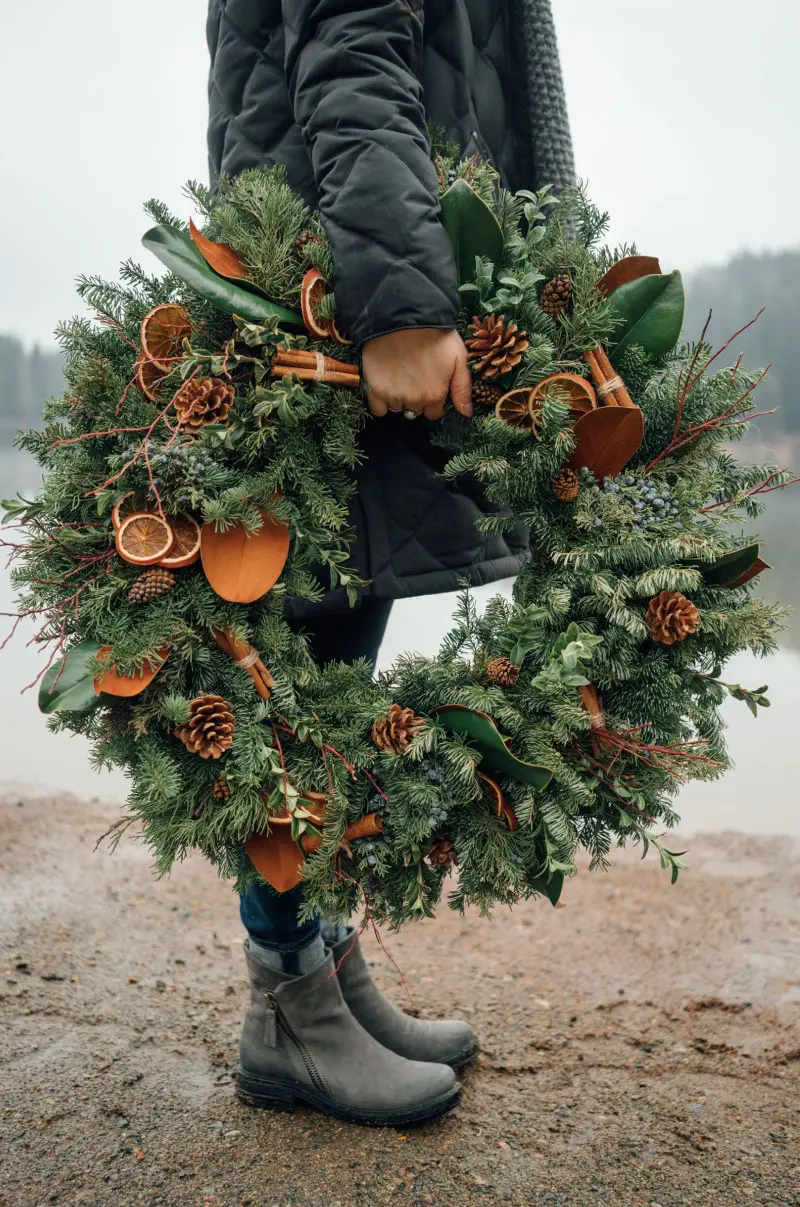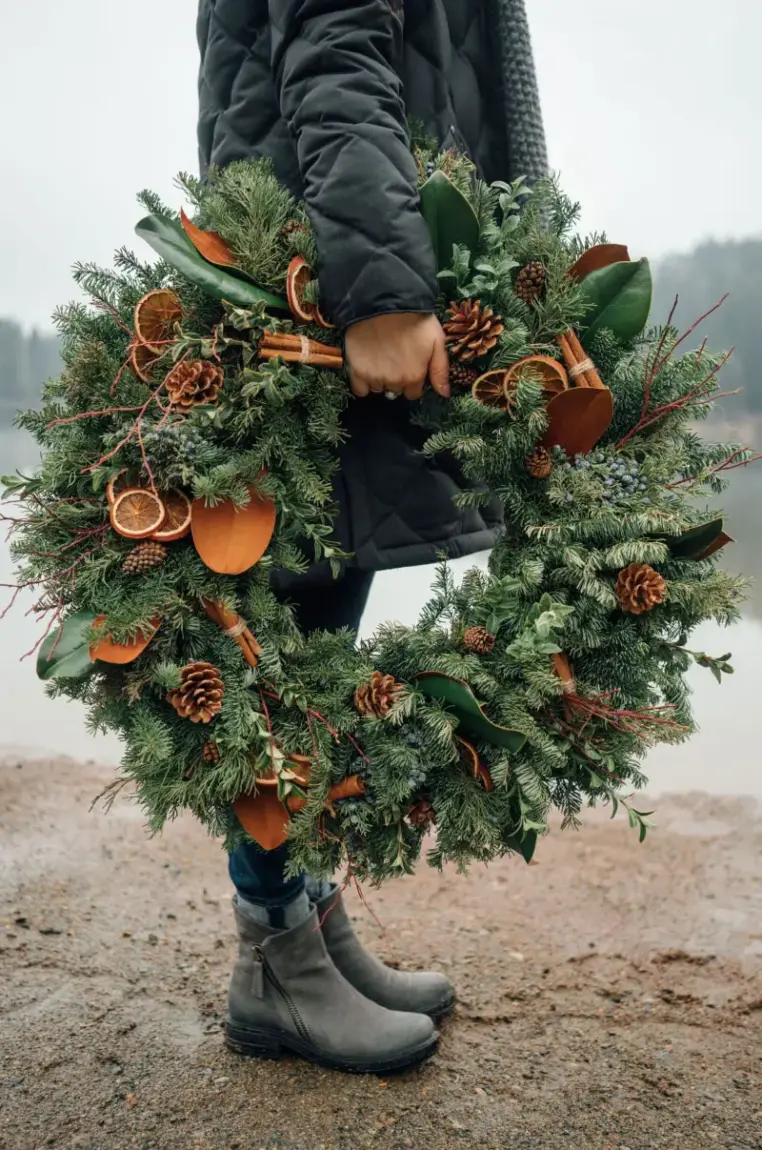 As we wrap up this autumnal odyssey through 39 fall outdoor decorating ideas, I hope you've found inspiration to transform your outdoor space into a fall wonderland.
Remember, the beauty of DIY is that it allows you to infuse your unique personality and style into every project. So, go ahead and mix and match, try out new ideas, and make this fall season a truly memorable one.
With the crisp air, cozy blankets, and a cup of warm cider, you can bask in the beauty of your outdoor haven. It's not just about the aesthetics; it's about creating lasting memories with loved ones, savoring the moments, and relishing the simple pleasures of this magical season. From welcoming wreaths to charming lanterns, from the rustic allure of hay bales to the elegance of wooden accents, these fall outdoor decorating ideas are your guide to celebrating autumn in style.
Thank you for embarking on this journey with me. Your feedback and comments are always welcome, and I can't wait to hear about your own fall decorating adventures. Until next time, keep DIY-ing and embracing the beauty of every season. Happy decorating, and may your fall be filled with warmth and creativity!
If you loved these outdoor fall decorations to add some curb appeal, you may also like: