Effortless Chic: Achieve a Stylish Fall Vibe with These Easy Decorating Hacks
Hey there, fellow fall decorating enthusiasts! As the leaves start to dance their way to the ground and that cozy chill finds its way back, you know what time it is – fall! 🍂 And let's face it, we all want our spaces to scream "autumn wonderland" with fall foliage and fall colors without breaking the bank or our backs. That's where I come in, armed with a pumpkin-spiced latte and a bunch of ingenious fall decorating ideas and hacks.
So, grab your fluffiest blanket, and let's dive into these easy-peasy ideas that'll have your home embracing fall faster than you can say "sweater weather."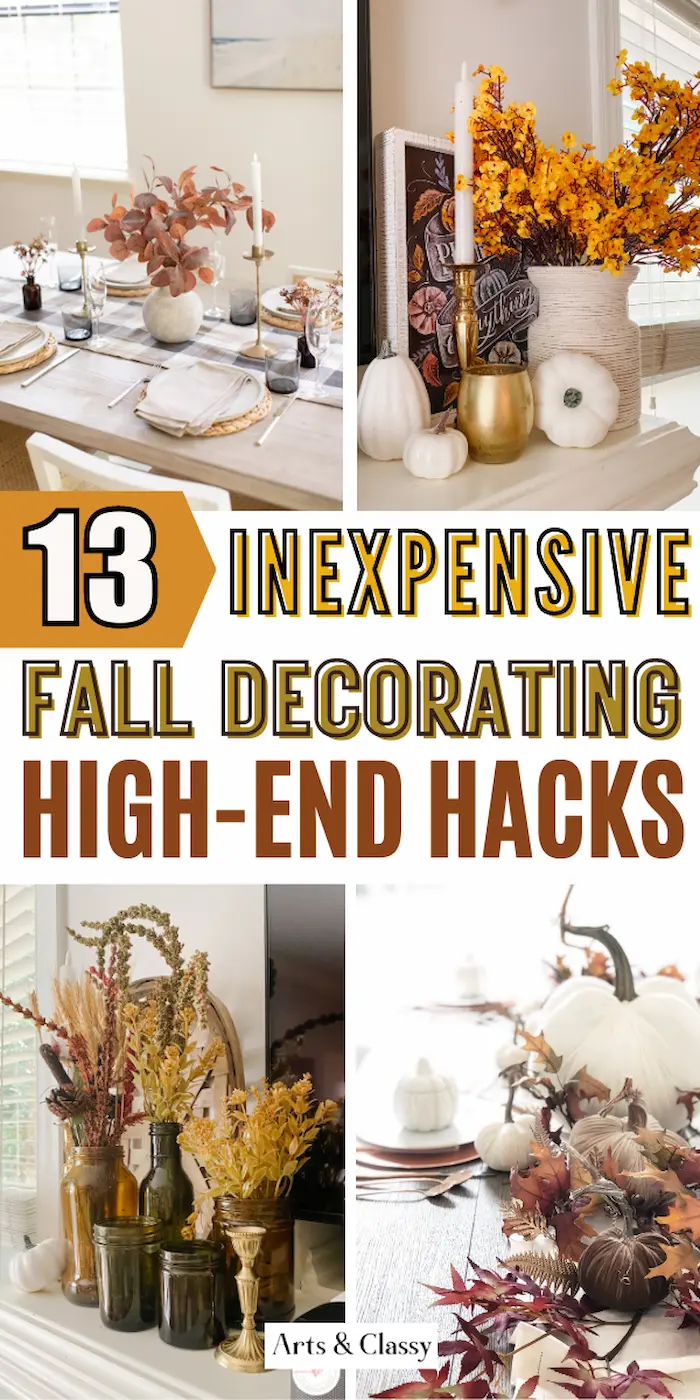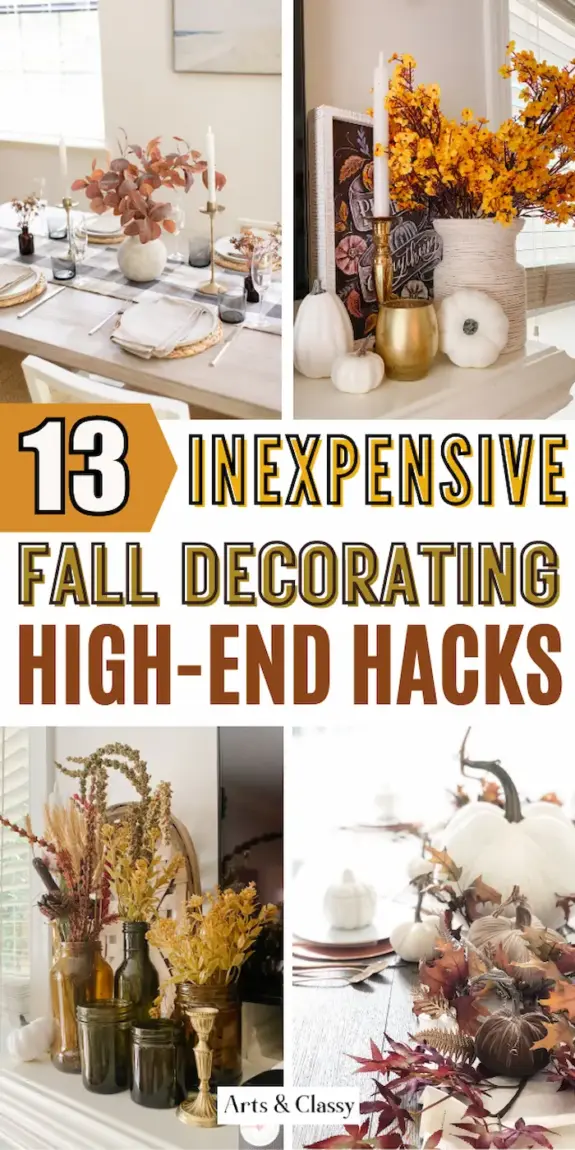 This post contains some affiliate links. I may earn a small commission if you make a purchase through one of these links. See more information in my full disclosure policy.
1. Peel-and-Stick Magic: 🍁
Yearning for vibrant walls that echo the essence of fall? Fret not, for I've got the ultimate solution that demands no sweat or paintbrush. Peel-and-stick wall decals are your key to a swift and stunning transformation. From enchanting leaves to adorable pumpkins, these decals infuse warmth and rustic charm into your space, effortlessly embracing the season. The cherry on top? These decal designs are a haven for renters seeking fall decorating ideas – no commitments or strings attached (literally). Your walls will revel in the fall makeover, and you'll revel in the simplicity of it all.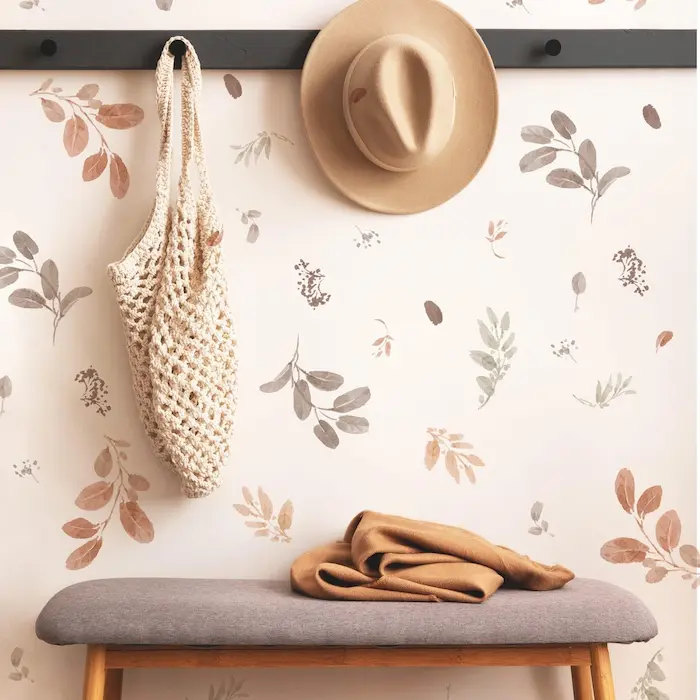 2. Fold and Conquer: 🏡
Let's face it, space is a precious commodity, especially for us apartment dwellers. But fear not, for I've got a trick up my sleeve that'll have you conquering this challenge with finesse. Say hello to foldable fall decorations – the heroes of limited spaces. Think versatile wreaths, charming garlands, and even adorable mini scarecrows that effortlessly bring autumn vibes into your home.
And when the season bids adieu, simply fold them up and tuck them away – like a magic trick that grants you more room for those spontaneous dance parties. It's time to fold and conquer, my friends!

3. Frugal Finesse: 💰
Feeling like your wallet's joined a dance party? No worries, I've got your back! Let's delve into the world of thrift stores and dollar marts – secret havens overflowing with fall treasures that won't break the bank. Whether you're eyeing vintage vases or seeking rustic candle holders, you're in for a treat.
These spots are the remedy for your budget blues, allowing you to deck your space with autumn allure without undergoing a pumpkin-spice-induced financial crisis. It's frugal finesse at its best – your wallet will thank you for these thrifty treasures.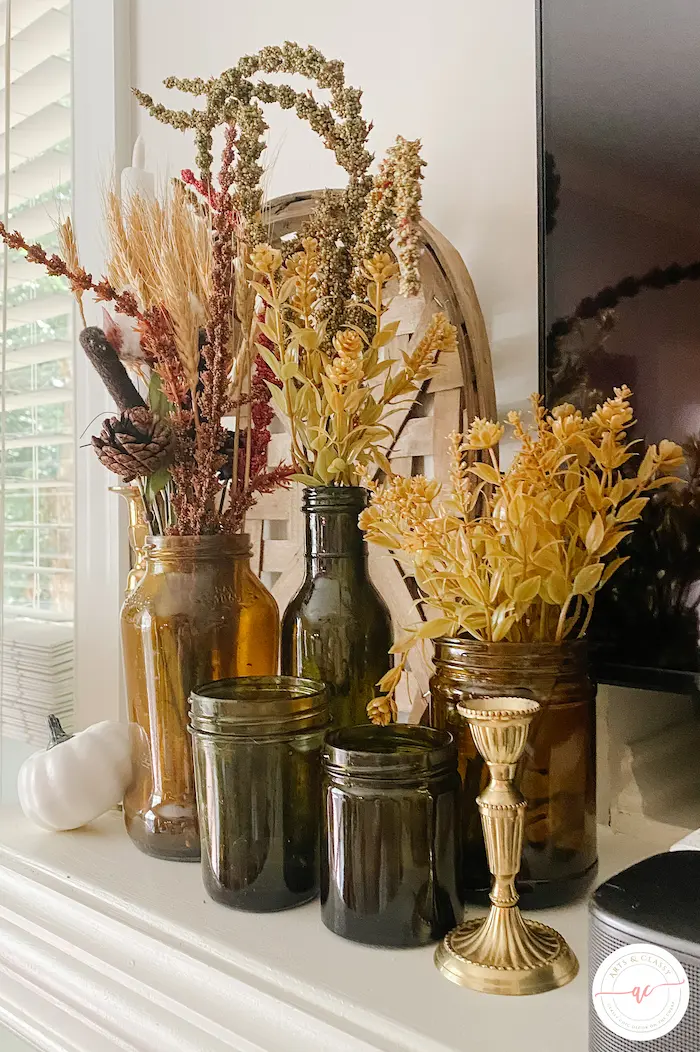 4. Quick Crafts, Big Impact: ✂️
Ah, the relentless dance with time – it's a tricky one, isn't it? But fear not, my friends, for I've got the perfect solution to win over the time crunch while still treating your space to a dose of fall charm. Enter quick crafts with massive impact – your go-to remedy for embracing fall without making time for your arch-nemesis.
Fancy a gallery wall adorned with printable autumn art or the beauty of DIY paper leaf garlands? With just a weekend's worth of crafting, you'll transform your space into a scene straight out of a fall romance novel cover. Quick, captivating, and oh-so-rewarding – it's the ultimate answer to your fall decorating ideas amidst your busy schedule.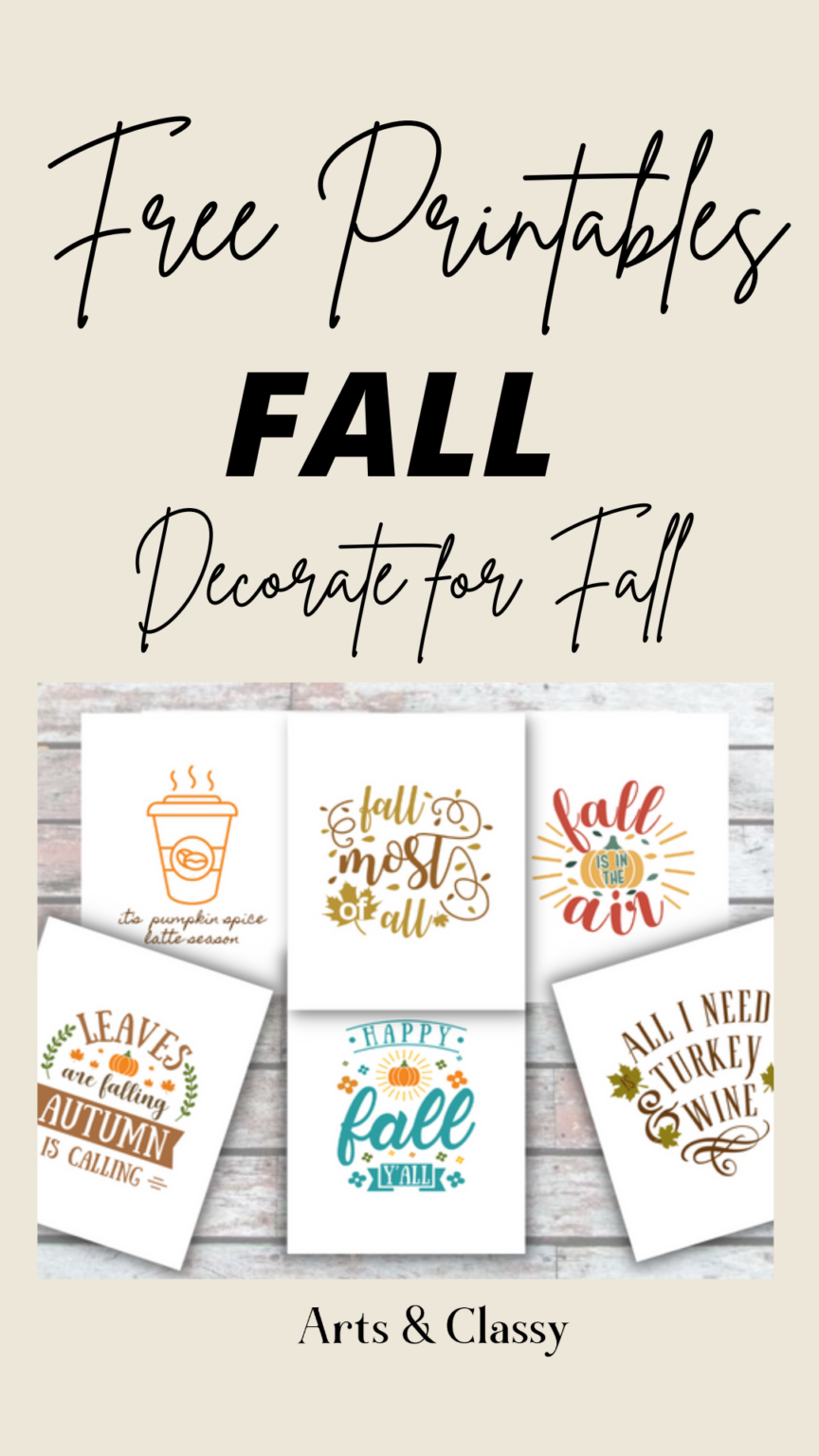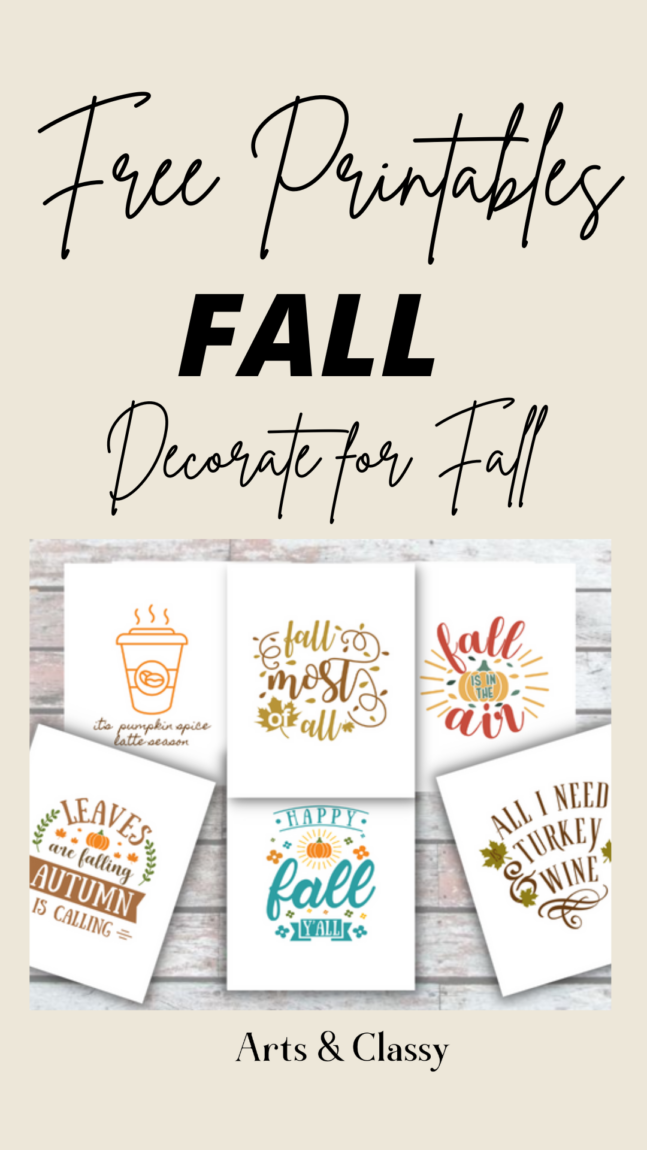 5. Nature's Bounty Centerpiece: 🍂
Ready to let nature's bounty shine as the star of your fall decor show? Lace-up those walking shoes and venture outdoors to gather the treasures that autumn bestows upon us – fallen leaves, rustic pinecones, and charming branches. With these elements in hand, you're well-equipped to craft a centerpiece that celebrates the season's beauty.
Arrange them with care in a rustic container like baskets, a dough bowl, or a transparent glass vase, allowing the splendor of fall's offerings to take center stage. It's a nature-inspired masterpiece that effortlessly becomes your instant fall focal point, igniting your space with the warm allure of the season. Your table will thank you for this touch of natural elegance, making it an essential part of your fall decorating ideas.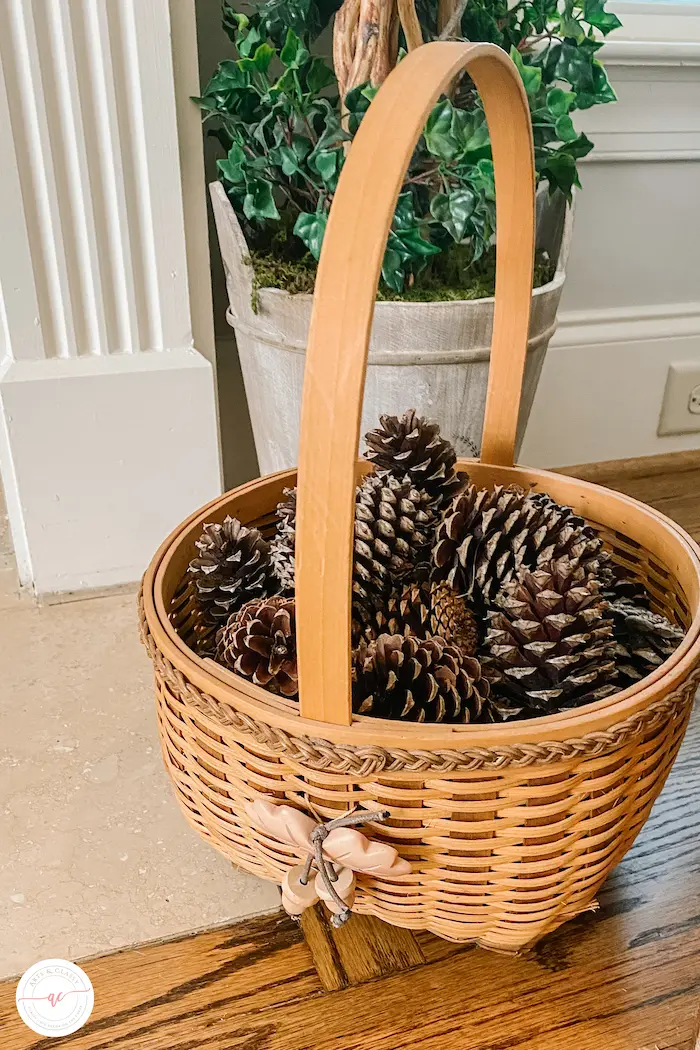 6. Pillow Power: 🛋️
Ready to work some pillow magic and transform your living space into a cozy fall haven? It's all in the power of the pillows, my friends! Bid farewell to your regular throw pillows and say hello to their autumn counterparts – ones adorned in the rich hues of the season or boasting textures like plush faux fur and snug knit.
This simple swap holds the key to creating a fall atmosphere that wraps you in warmth and comfort. Who knew that such a small change could make such a big impact? It's pillow power at its finest, and your couch is about to become the coziest spot in the room. Get ready to snuggle up and bask in the fall ambiance you've created.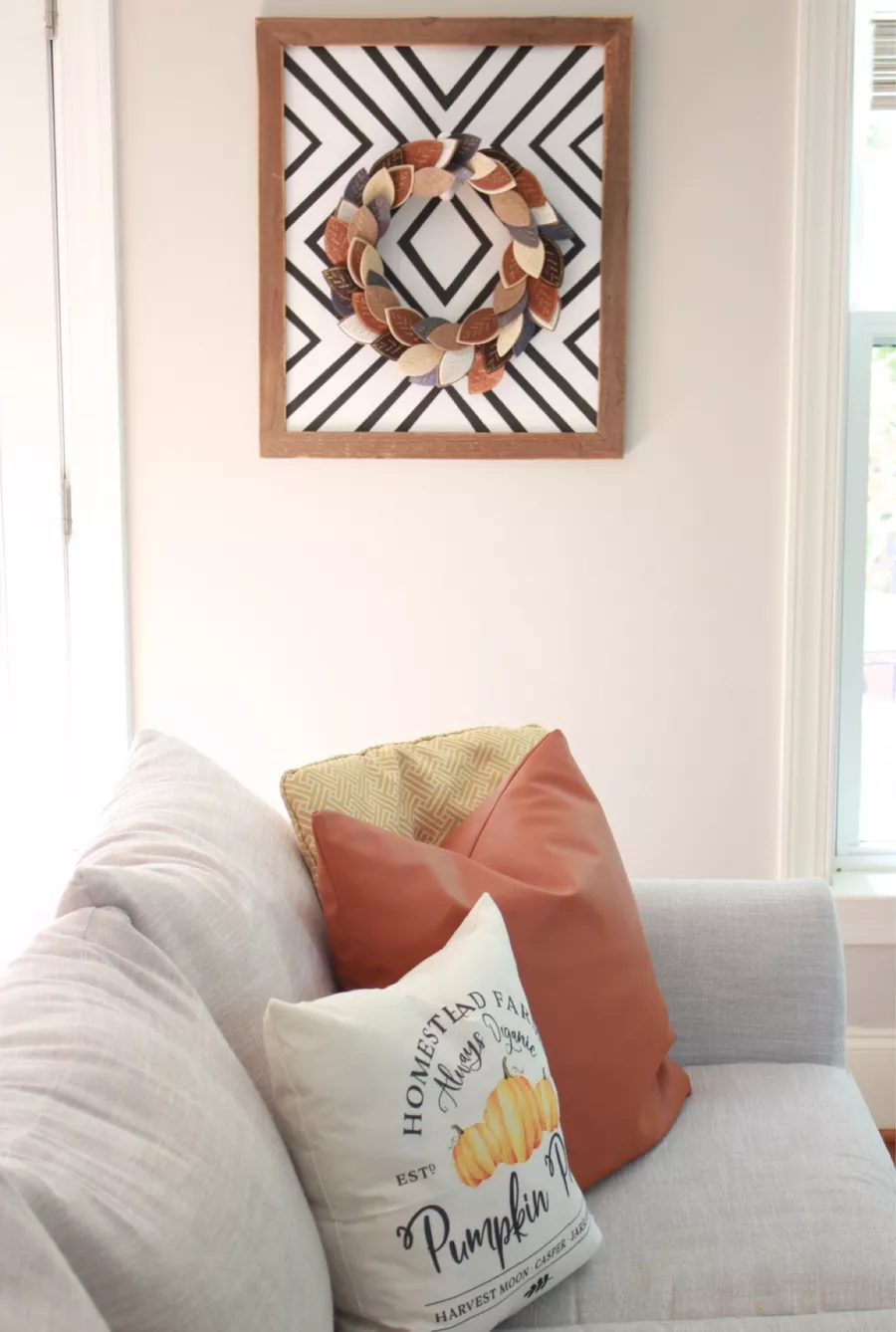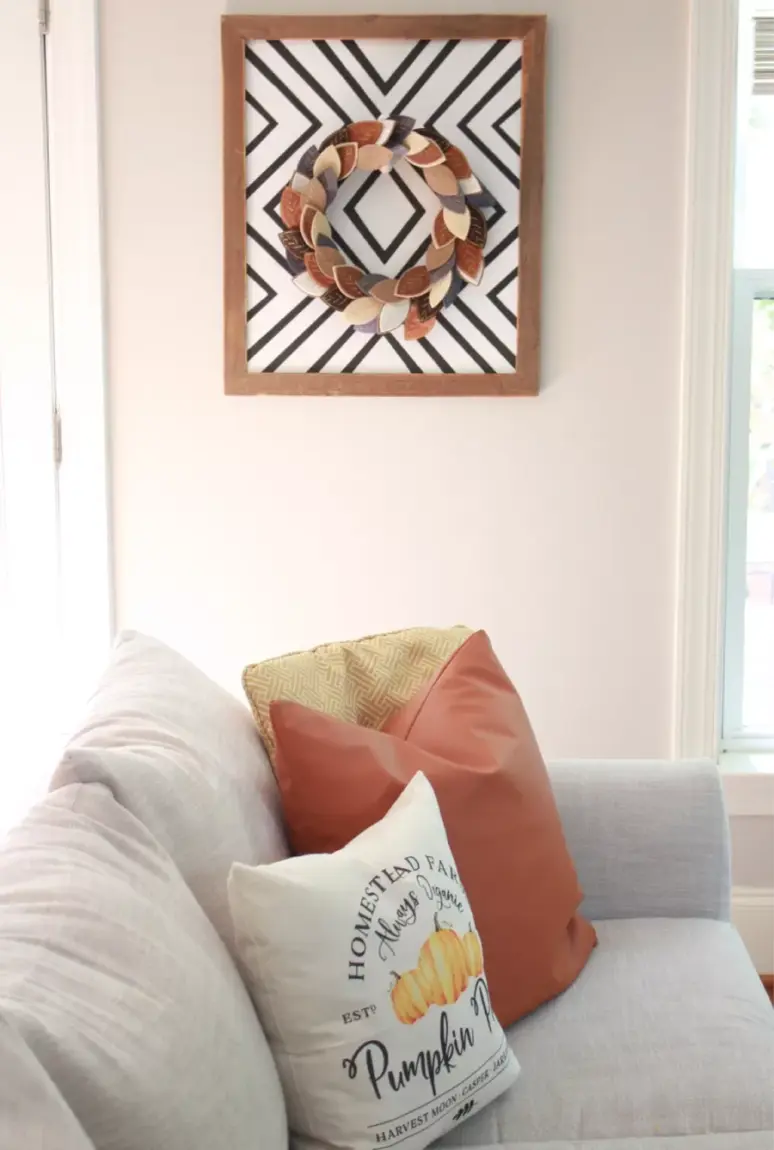 RELATED: People Love DIY Farmhouse Wall Art – How to Look for Less
7. Doorstep Delight: 🚪
Looking to create a warm and inviting welcome for your guests this fall? It's all about that doorstep delight, my friends! Embrace your inner DIY guru and craft a fall-themed doormat that exudes the spirit of the season. How? Grab a plain coir mat and unleash your creativity with stencils. Paint a cheerful "Hello Fall" greeting or a charming autumn design that sets the tone even before your guests step inside.
This simple yet impactful touch is like a prelude to the coziness awaiting them beyond the threshold. So, whether they're friends, family, or the delivery person, they'll feel the fall magic from the very moment they arrive at your door. It's doorstep decor that radiates charm and warmth – the perfect introduction to your fall decorating ideas.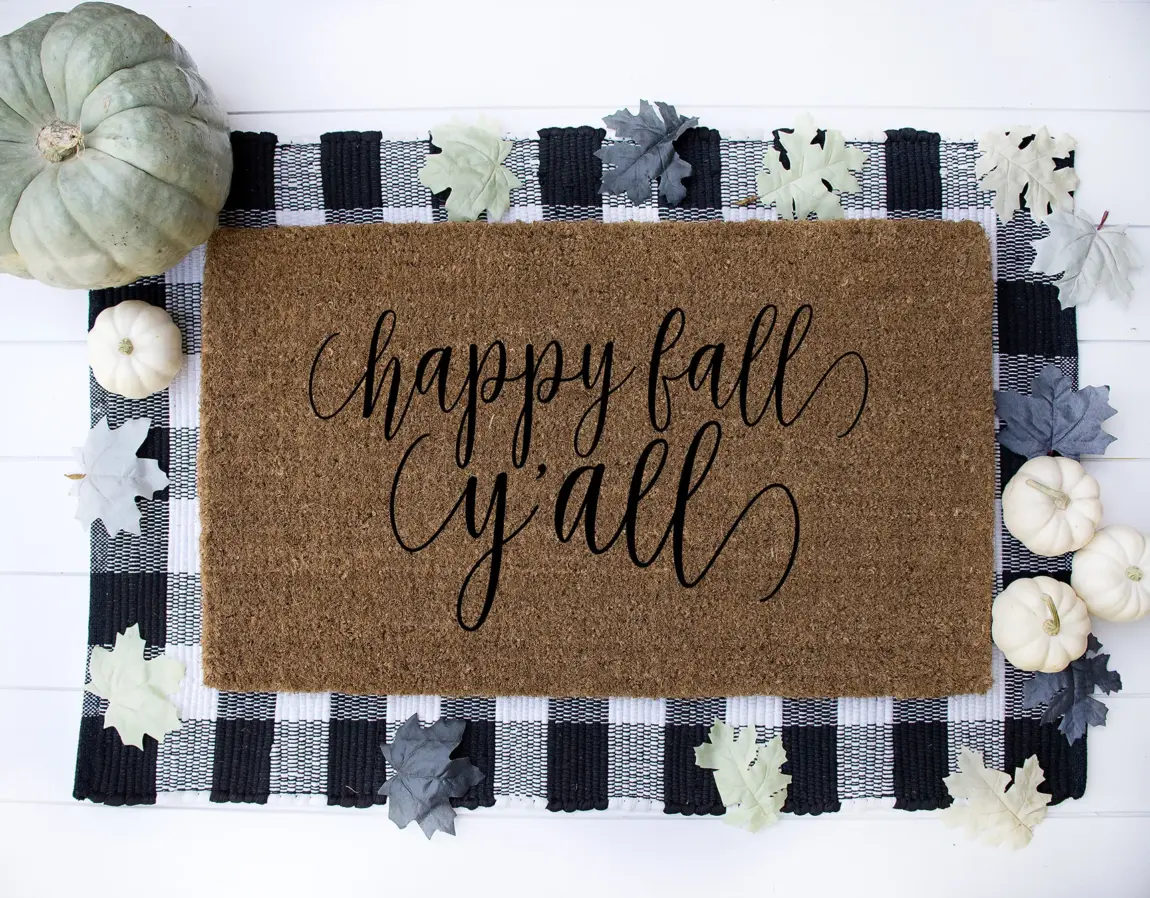 8. Mason Jar Magic: 🍯
Ready to work some enchanting magic with everyone's favorite rustic friend – the mason jar? It's time to elevate these humble glass wonders with a dash of fall flair. Picture this: mason jars dressed up in burlap, adorned with twine, or graced with delicate lace. These simple touches transform them into charming candle holders or vases that radiate fall elegance. And where to showcase these delightful creations? Your windowsill or mantel, of course!
Their warm glow and rustic charm will infuse your space with an instant touch of autumn allure. Imagine the cozy ambiance they'll bring to your evenings as they flicker and dance. It's mason jar magic that takes your fall decorating ideas to a whole new level of charm and sophistication.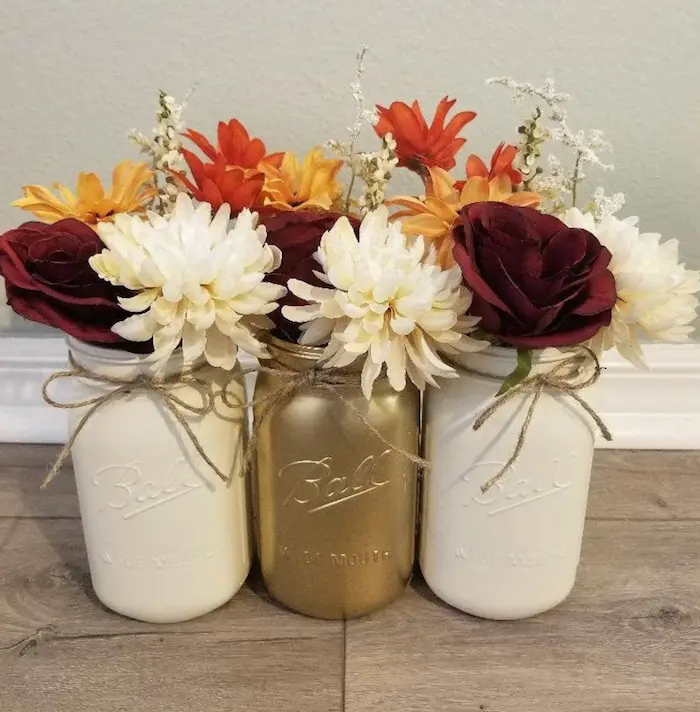 9. Chalkboard Charm: 🖋️
Calling all creativity enthusiasts – it's time to unleash some chalkboard charm and infuse your space with the essence of fall! Got a chalkboard or a framed mirror? Perfect! Grab those trusty chalk markers and let your imagination run wild. Draw fall-inspired messages, jot down heartfelt quotes, or doodle whimsical motifs that capture the spirit of the season. The best part? It's versatile and changeable, offering a dynamic way to express your fall fervor.
Whether you're in the mood for cozy sayings or playful doodles, this decor idea adapts to your seasonal whims. So, as the leaves change, so can your chalkboard masterpiece. It's an ever-evolving canvas that keeps the spirit of fall alive and dynamic in your home – a must-have for your fall decorating ideas repertoire.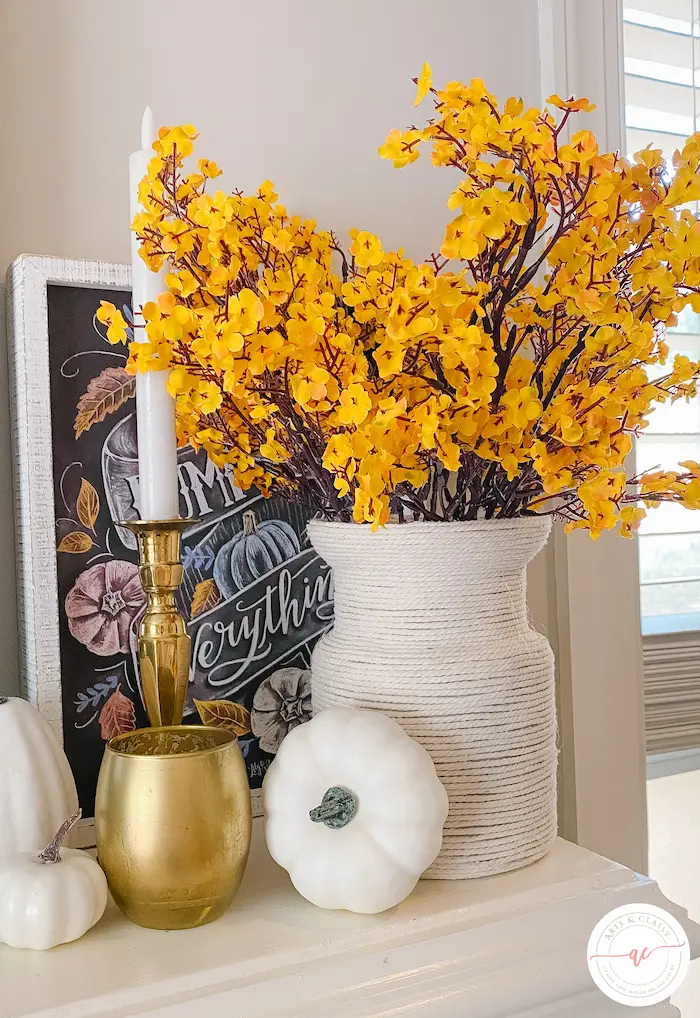 10. Harvest-Inspired Dining: 🍽️
Ready to turn your dining table into a scene straight out of a fall harvest celebration? Let's dive into some harvest-inspired dining magic! Imagine this: a stunning centerpiece that combines the charm of mini white pumpkins, the rustic allure of gourds, fall flowers, acorns, and the warm welcome glow of candles. It's an arrangement that beckons guests and family to gather 'round, transforming every meal into a feast that echoes the spirit of autumn's bounty.
Whether it's breakfast, brunch, or a heartwarming dinner, this inviting setup adds a touch of enchantment to every bite. The ambiance is nothing short of a harvest-inspired symphony, where flavors, scents, and decor harmonize to create an experience that's both comforting and unforgettable. So, clear the table and prepare to create a dining masterpiece that's a true testament to your fall decorating ideas.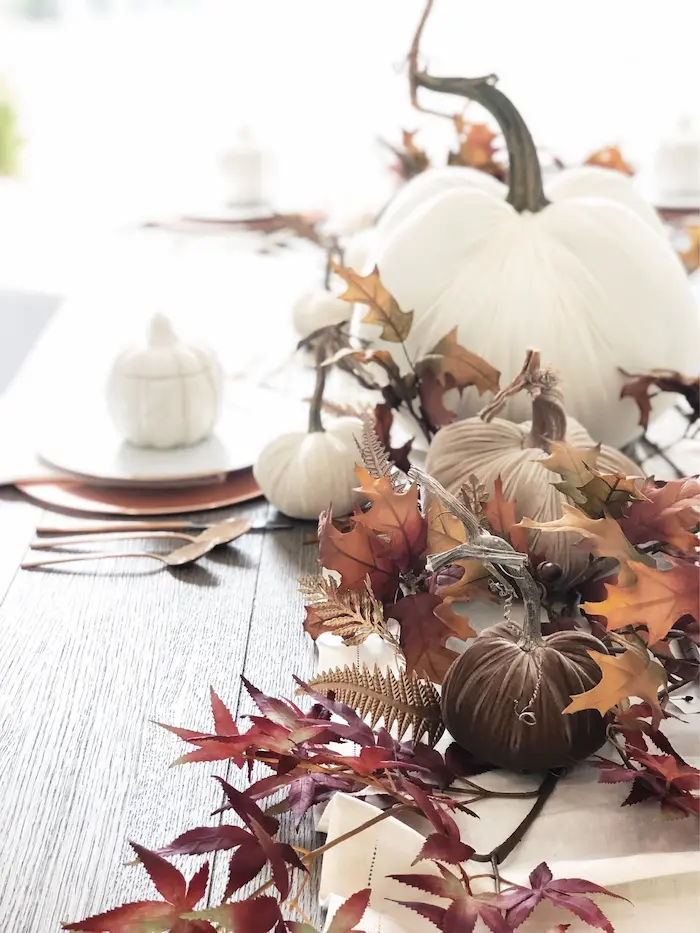 11. Rustic Table Runner: 🍽️
Yearning to infuse your dining table with that quintessential fall charm? Look no further than the rustic table runner – your ticket to effortless elegance! Picture this: a burlap or plaid fabric runner cascading down your table, instantly introducing fall's beloved patterns and textures. It's a small yet mighty touch that captures the heart of the season, setting the stage for countless memorable gatherings.
Whether you're hosting a cozy dinner for two or a festive family feast, this runner serves as the backdrop that ties everything together. The rustic beauty it brings is like a warm embrace, welcoming your loved ones to savor the flavors of fall in a space that's both stylish and inviting. So, roll out the runner and let the fall festivities begin – your table is ready to showcase your fall decorating ideas in all their glory.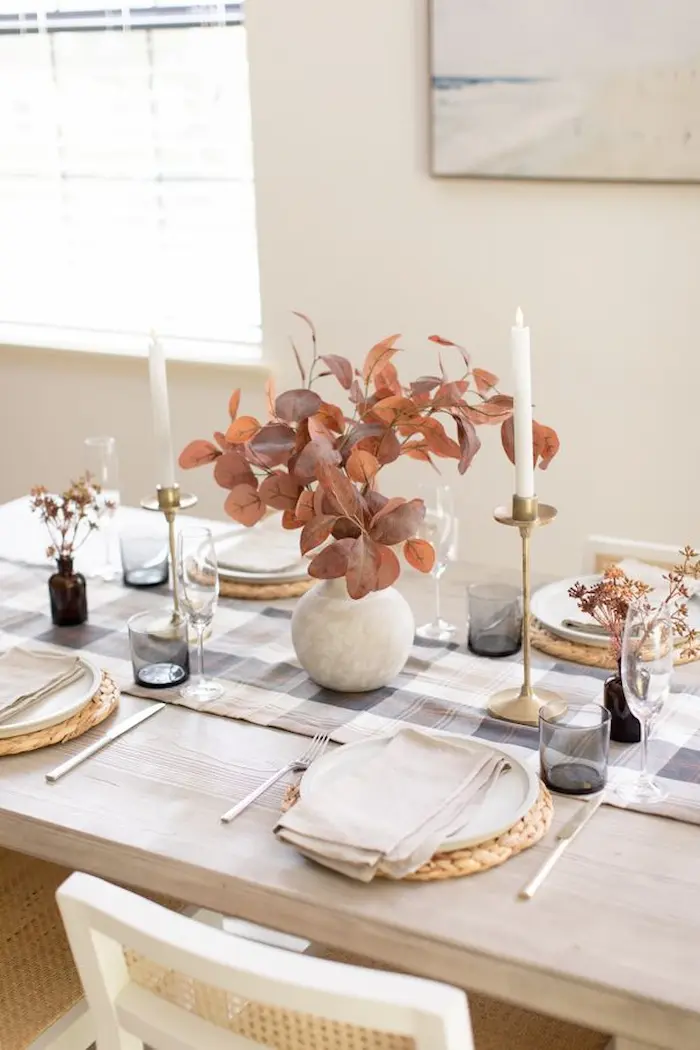 12. Fold-and-Stow Wreath 🍂
Craving fall vibes but facing the space struggle? Say hello to your ultimate space-saving savior – the fake fall wreath! This ingenious creation seamlessly marries fall charmed with practicality. Imagine a wreath that's ready to embrace autumn's essence at a moment's notice, and just as swiftly, folds up for easy storage.
It's the perfect answer for apartment dwellers seeking to infuse their spaces with seasonal magic without spatial sacrifice. Whether your abode is cozy or compact, this fold-and-stow wreath effortlessly finds its place, adorning your front door or wall with a burst of fall radiance. Get ready to celebrate the season without compromise – because even in the tiniest of spaces, fall's spirit can shine brilliantly.
Check out a recent easy fall diy wreath that I made!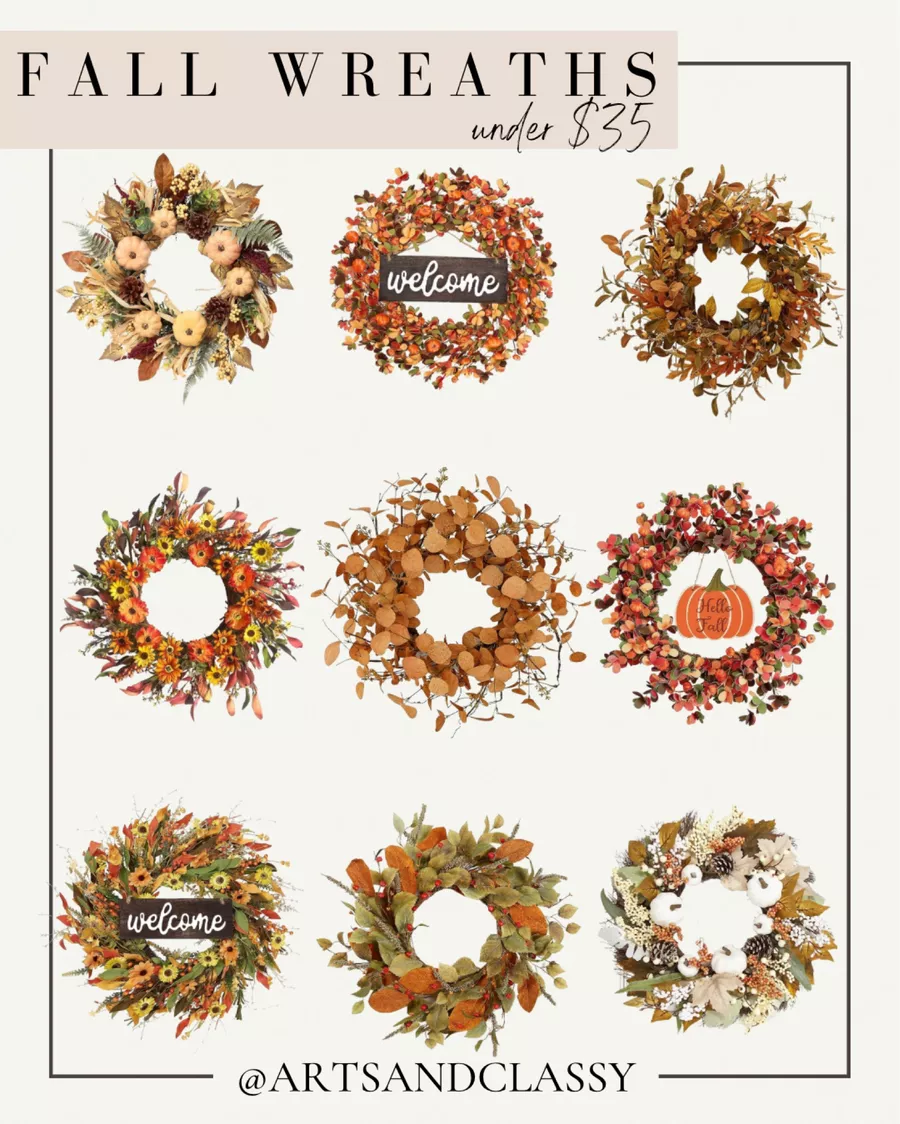 13. Thrifty Treasures Candle Holders 🕯️
Calling all savvy decorators with an eye for frugal finesse – it's time to unlock the potential of thrifty treasures! Imagine stumbling upon dollar-store or thrifted candlesticks or candle holders that hold the promise of fall enchantment. With a touch of creativity and a sprinkle of DIY magic, you'll transform these humble finds into stunning fall centerpieces that steal the spotlight. Throw in some orange eucalyptus, fall candles, and a lantern and you have a cute coffee table centerpiece for the changing season.
It's a symphony of frugality and fabulousness, where your keen eye for value combines with your knack for style. These candle holders, once unassuming, become symbols of your ingenuity, elevating your space with their warm glow and autumn allure. Get ready to embrace the thrill of turning thrift store gems into fall decorating ideas that evoke admiration and amazement.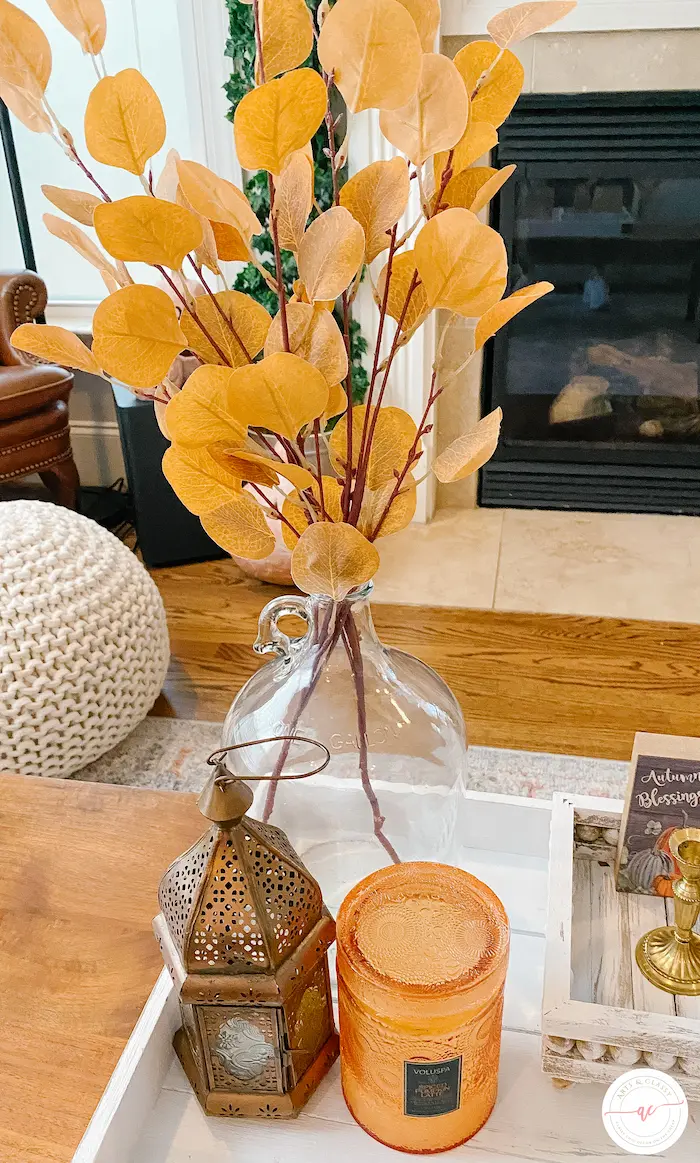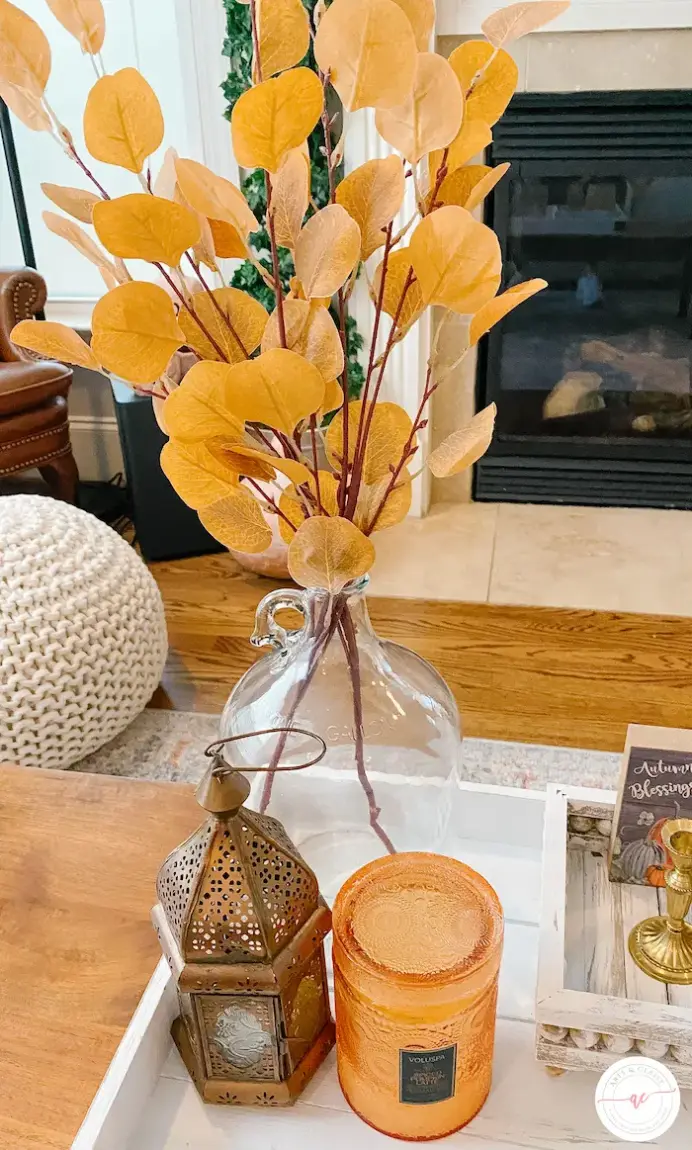 So there you have it, pals! Fall decorating ideas that are practically as easy as warming up your pumpkin-spiced latte. Your space will be cozier than a bear hug, and your wallet will thank you.
Until next time, keep your interiors stylish, keep it fall-tastic, and keep rocking that flannel! 🍁🍁
Make sure you are following me on Instagram, Facebook, Pinterest, YouTube, Hometalk, and TikTok for more inspiration and ideas on how to decorate your home!
If you enjoyed this post about Fall decorating ideas, you may also love: