Entryway Elegance: 35 Fall Decor Ideas to Greet the Season
Hey there, fellow DIY enthusiasts and fall fanatics! As the leaves begin their mesmerizing transformation, and the unmistakable scent of pumpkin spice fills the air, it's that delightful time of year to usher the warmth and beauty of autumn into your home. Your entryway, the very first impression of your abode, is the perfect canvas for creating a welcoming haven that captures the essence of the season.
Today we are talking about inspiring and gorgeous entryway fall decor ideas!
So, gather 'round as we embark on a creative journey to discover an array of enchanting entryway fall decor ideas. With these 35 inspirational and stylish suggestions, you'll have the tools to infuse your entryway with the cozy, rustic charm that defines this magical time of year. Let's make your entryway a true reflection of fall's allure!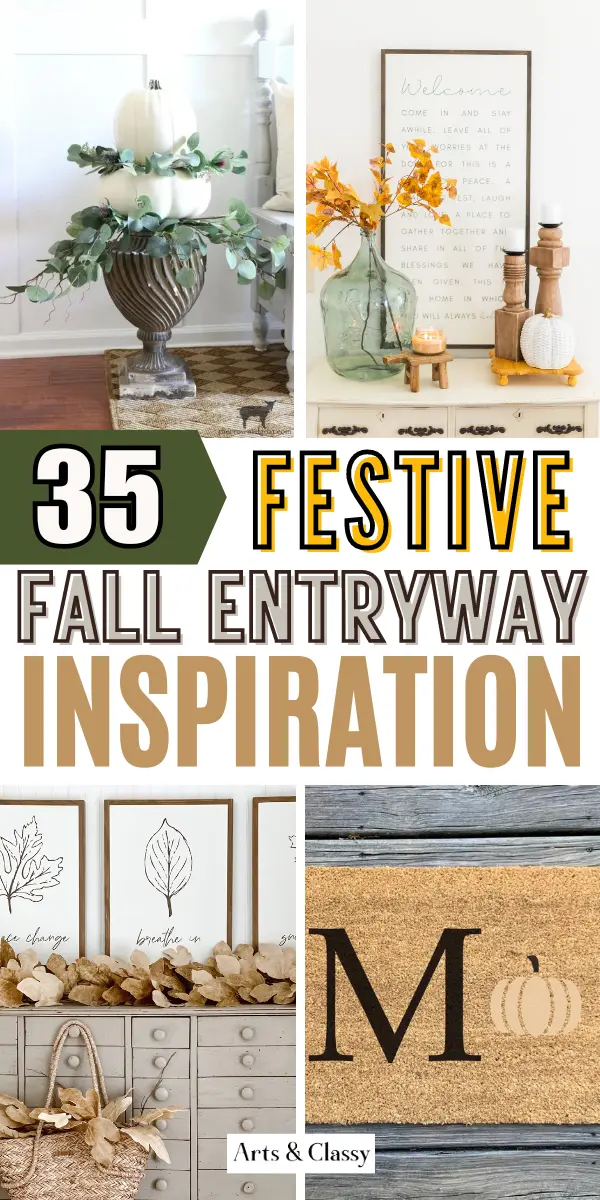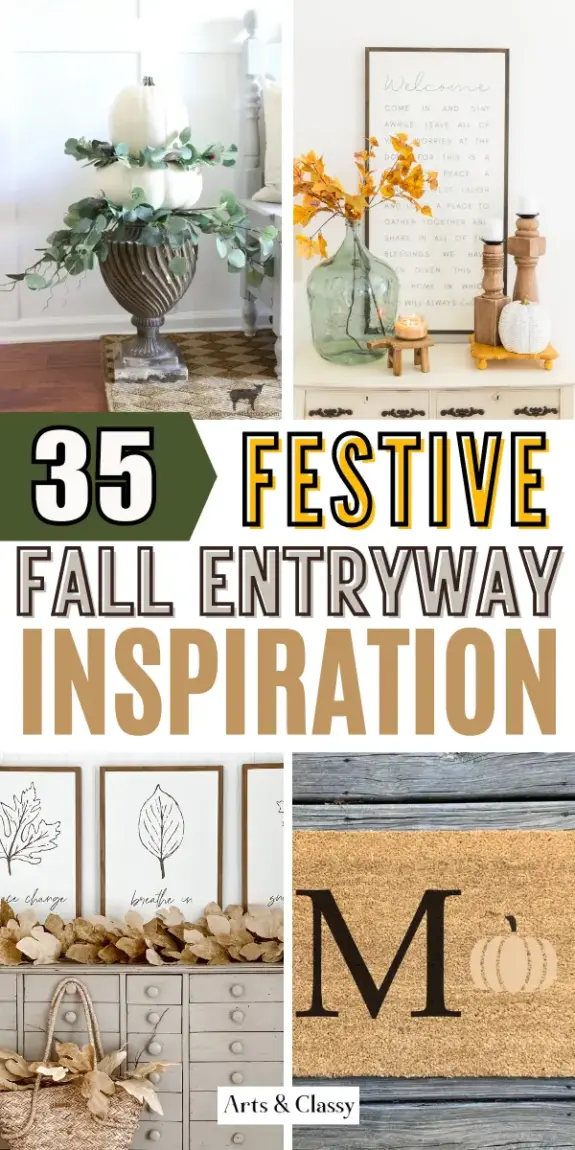 Creating a Cozy Entryway
1. Warm Welcome
Start with a fall-inspired welcome mat for a front porch featuring pumpkins and leaves. It's the first thing your guests will see!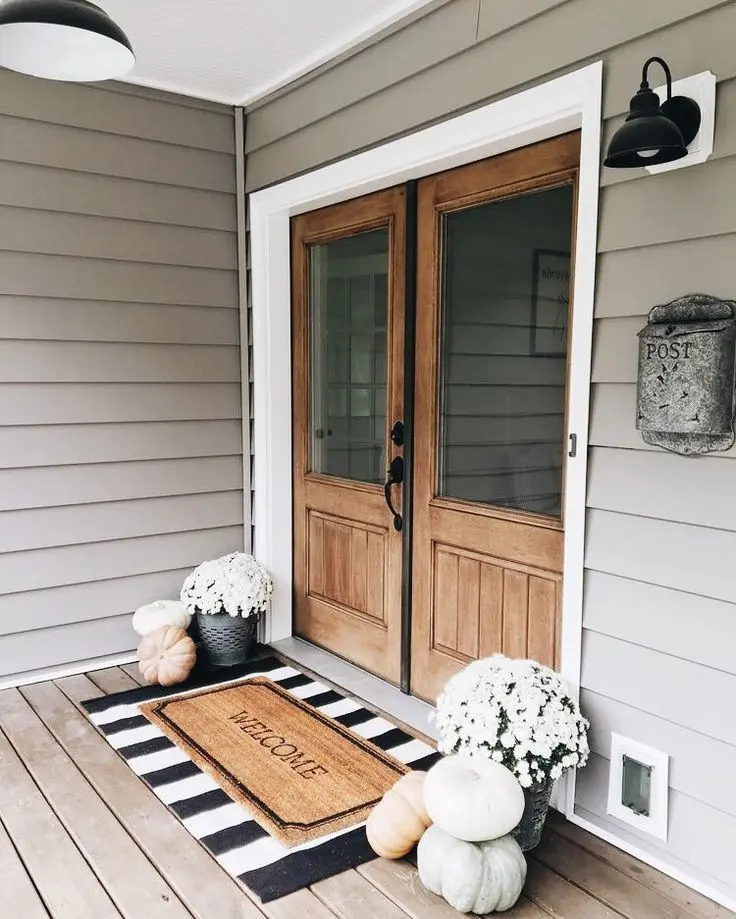 2. Pumpkin Parade
Arrange a variety of pumpkins in different shapes and sizes at your doorstep. White pumpkins add an elegant touch.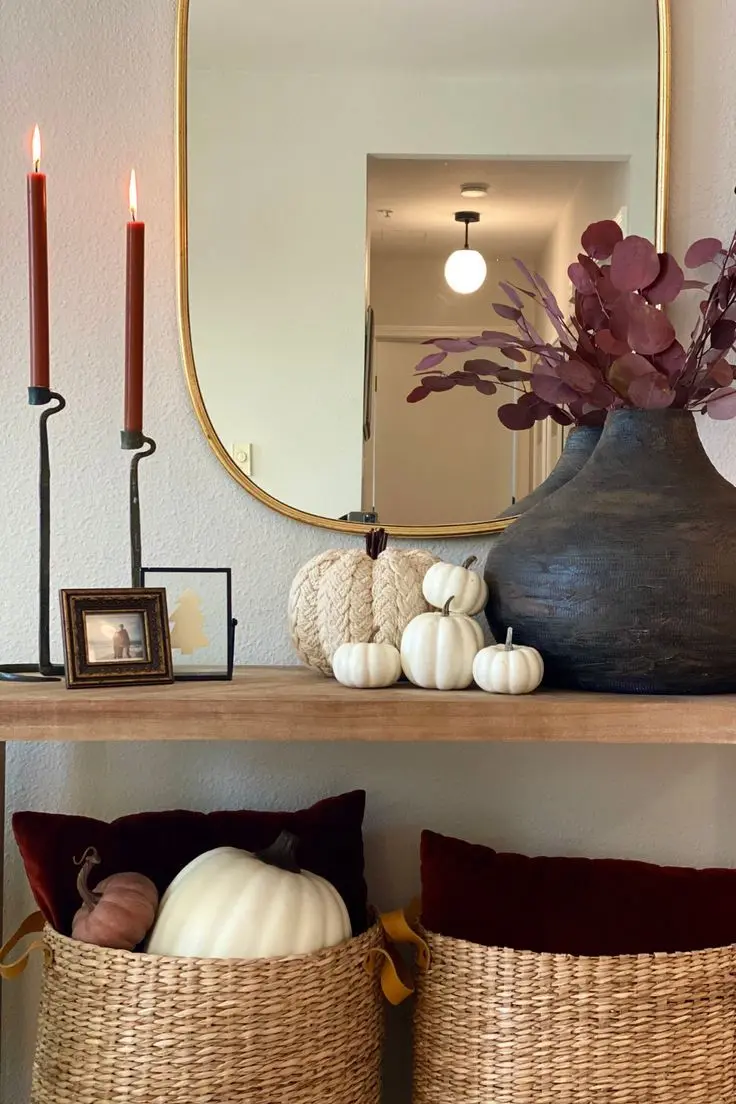 3. Leafy Details
Incorporate artificial or real autumn leaves into your entryway fall decor ideas for a natural vibe.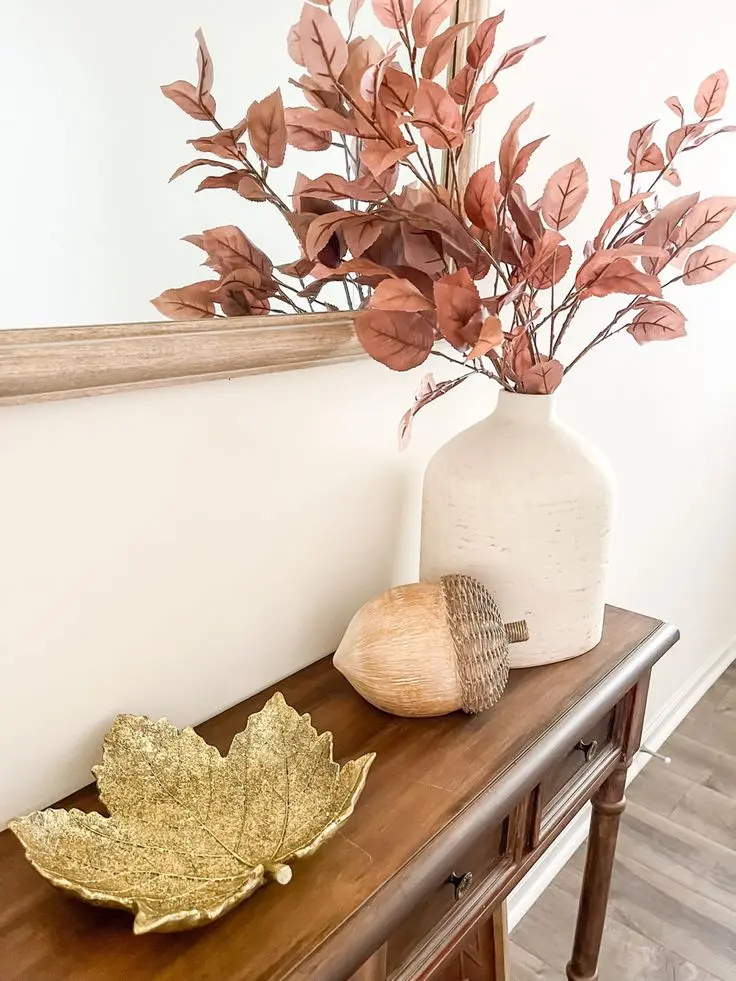 4. Fall Wreaths
Hang a fall wreath on your front door, incorporating elements like twigs, berries, and mini pumpkins.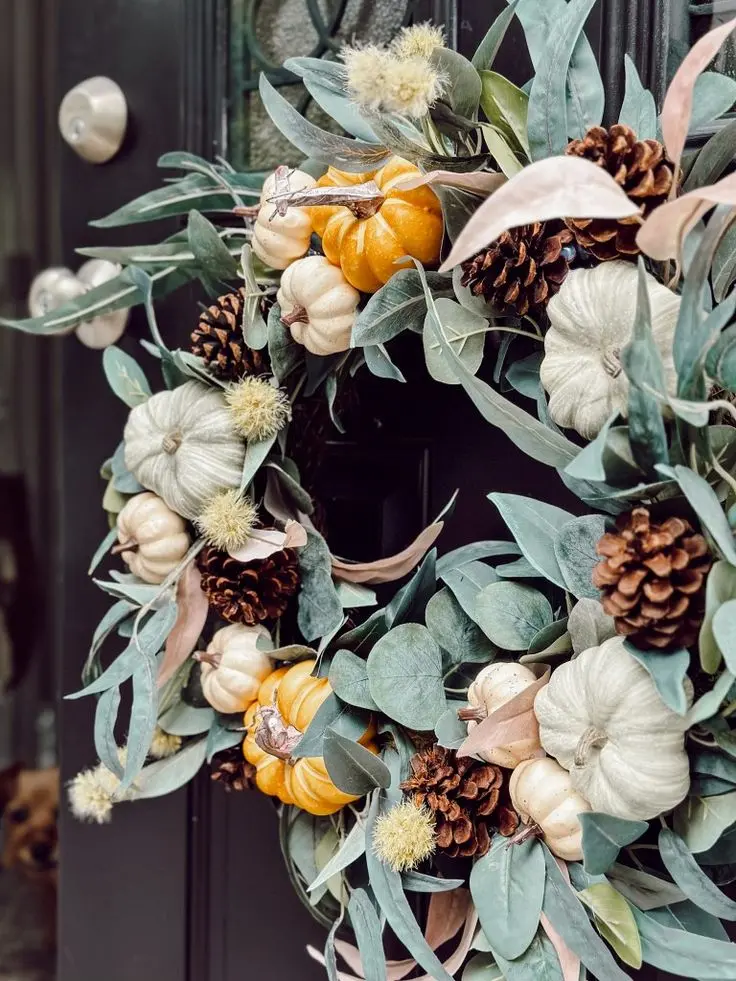 Choosing a Fall Color Palette
5. Rich Hues
Embrace the fall color palette with shades of deep orange, rustic red, and golden yellow.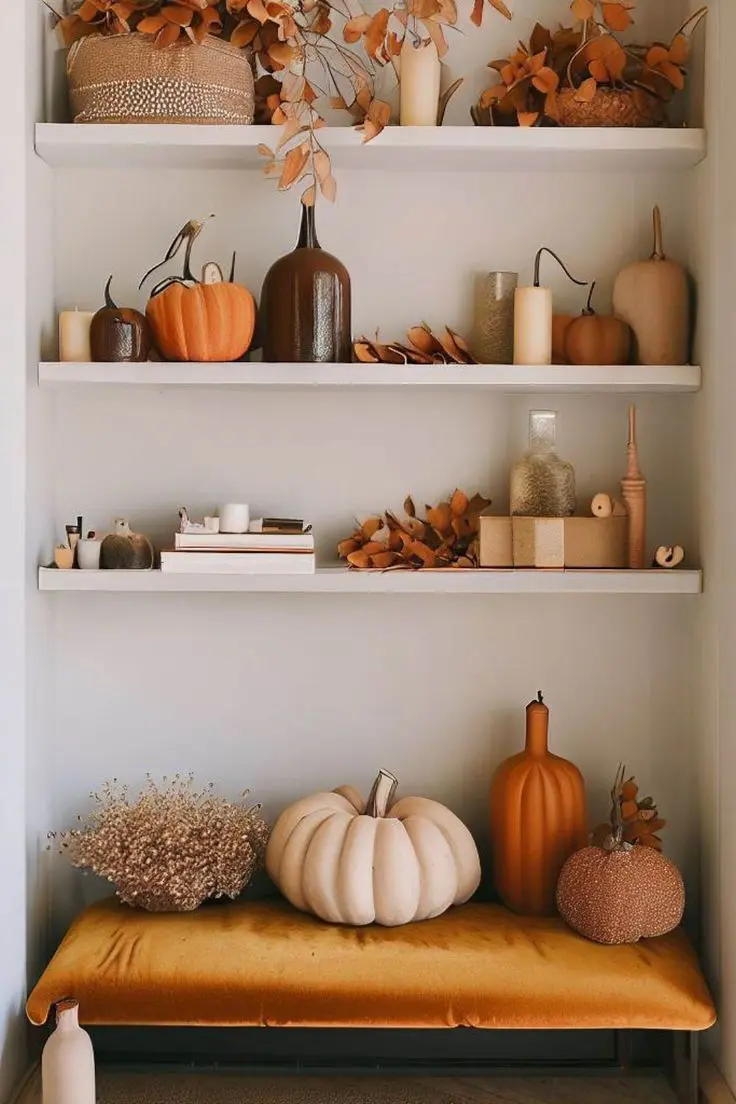 6. Layered Doormats
Add interest with layered doormats in coordinating fall colors.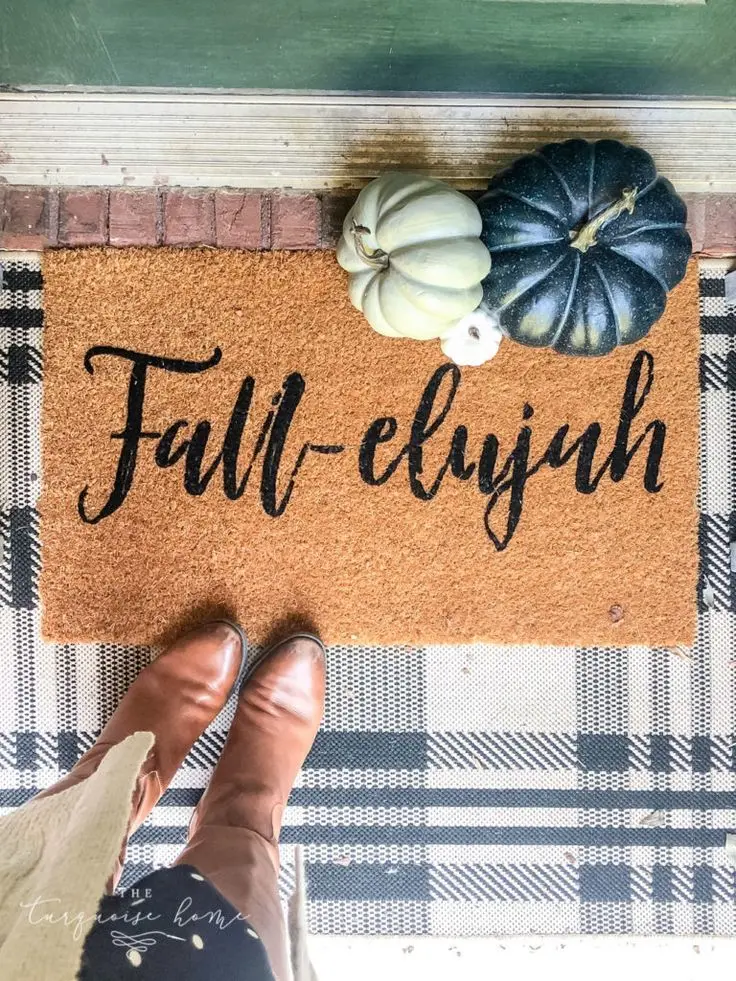 Cozy Elements
7. Blanket Basket
Place a basket of cozy blankets by the door for chilly evenings.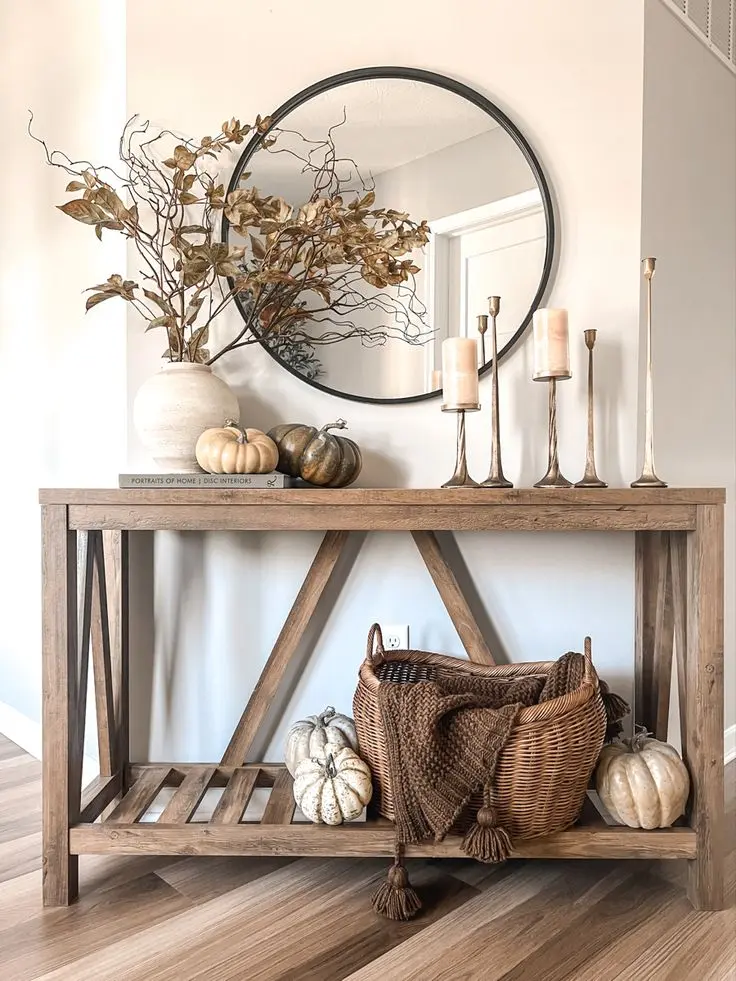 8. Pumpkin Spice Scent
Light a pumpkin spice-scented candle for a warm, inviting aroma.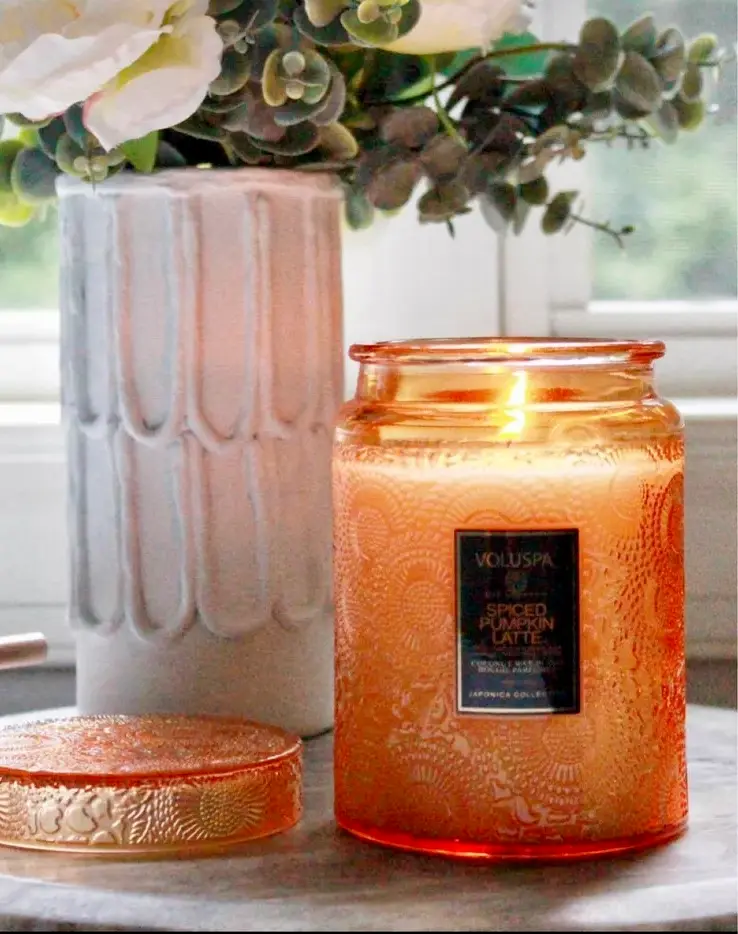 DIY Projects
9. Customized Doormat
Craft your own doormat with stencils and paint in fall patterns.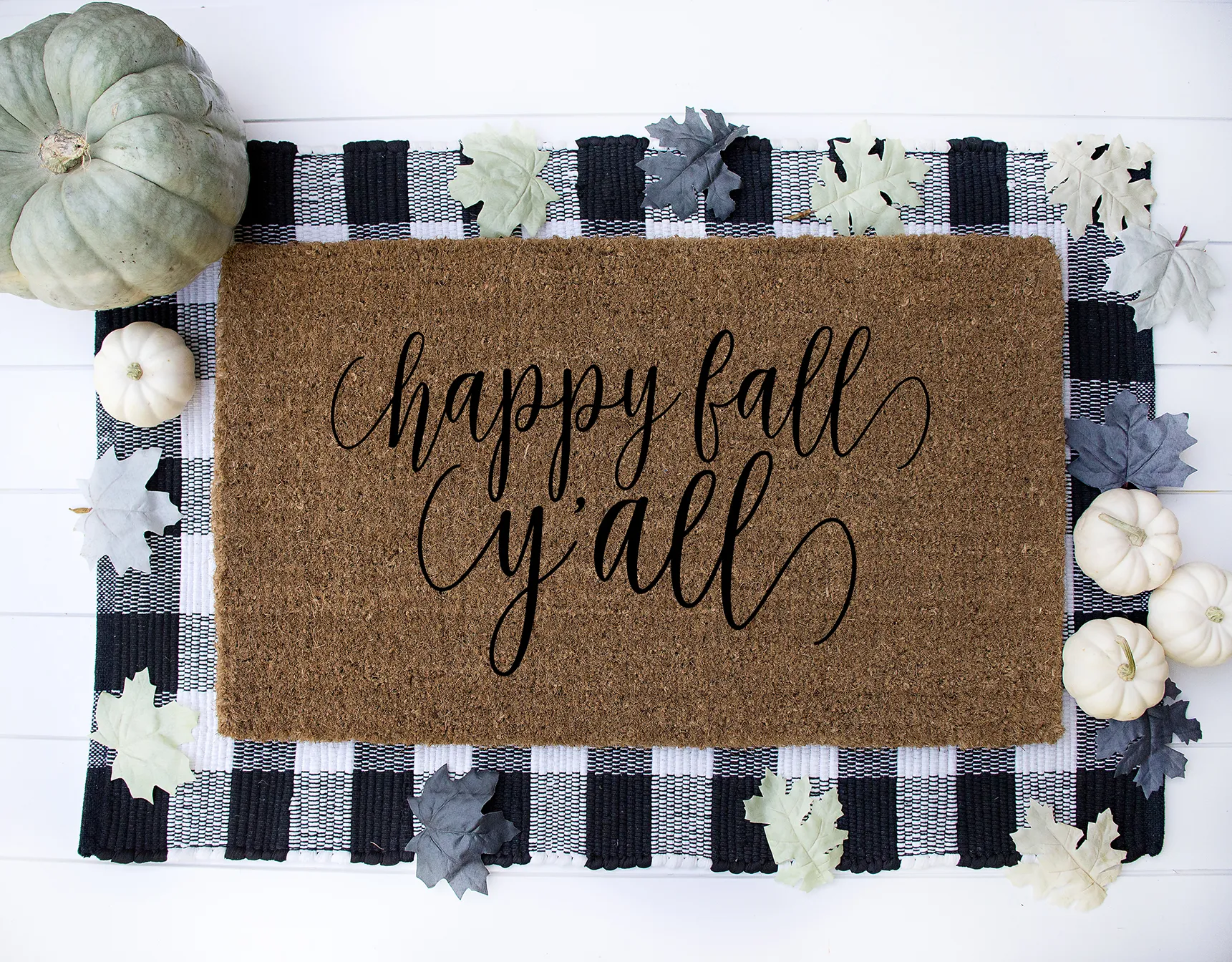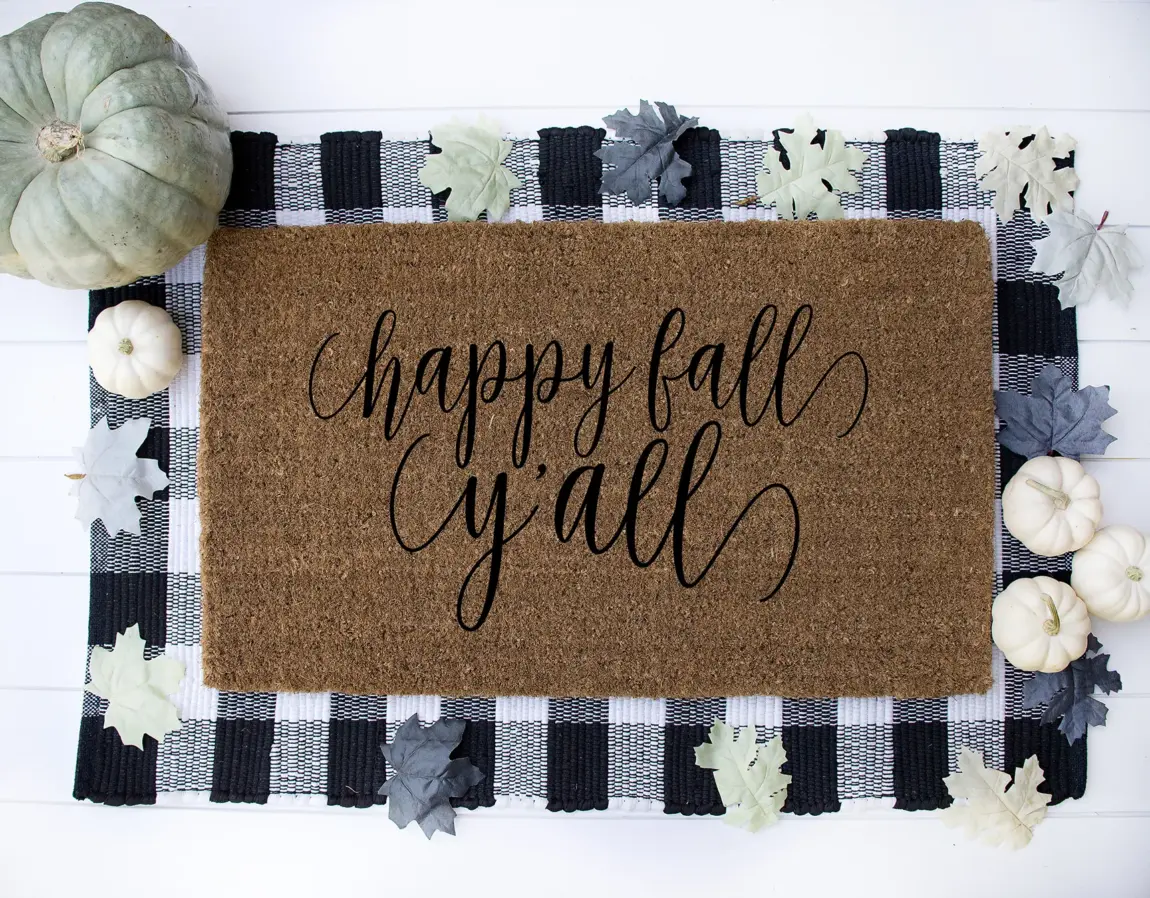 10. Mason Jar Lanterns
Create DIY lanterns using mason jars and LED tea lights. Hang them for a magical glow.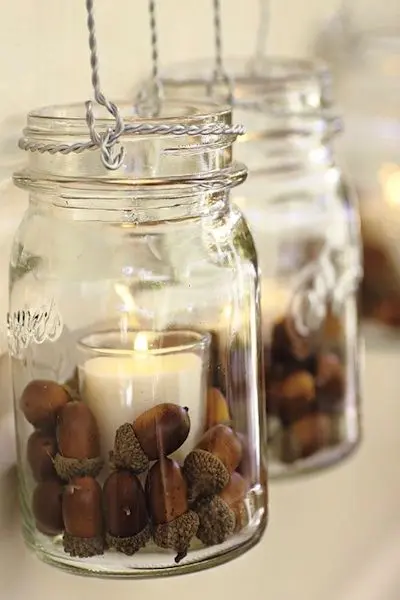 Fall Floral Arrangements
11. Harvest Blooms
Arrange bouquets of sunflowers, mums, and wheat in decorative vases.
Accessorize Your Entryway
12. Cushioned Seating
Add a small bench or seating area with plump cushions for comfort.
13. Pumpkin Topiaries
Stack pumpkins to create charming topiaries in your entryway.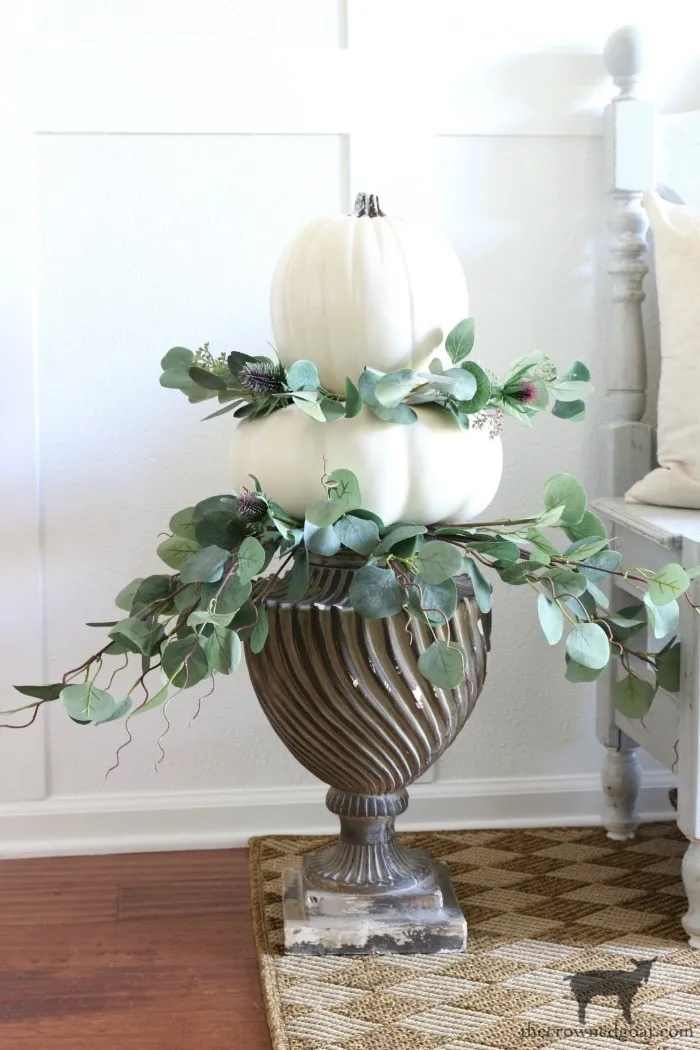 Clever Storage Solutions
14. Shoe Organization
Use rustic crates or shelves to keep shoes and boots tidy.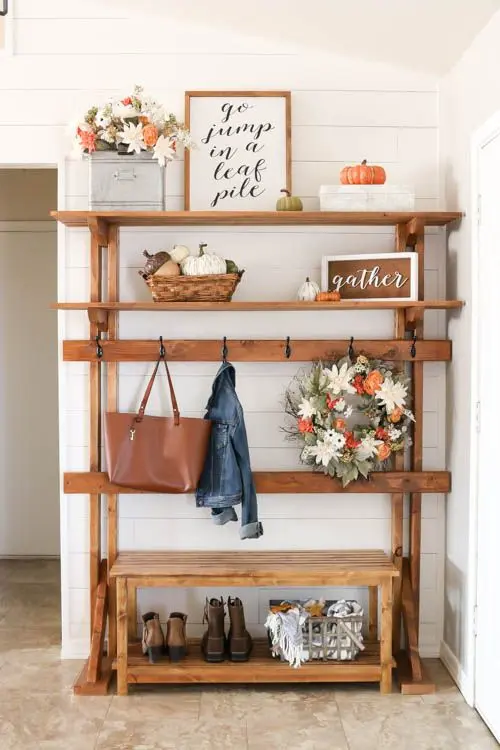 15. Wicker Baskets
Incorporate wicker baskets for storing umbrellas and other essentials.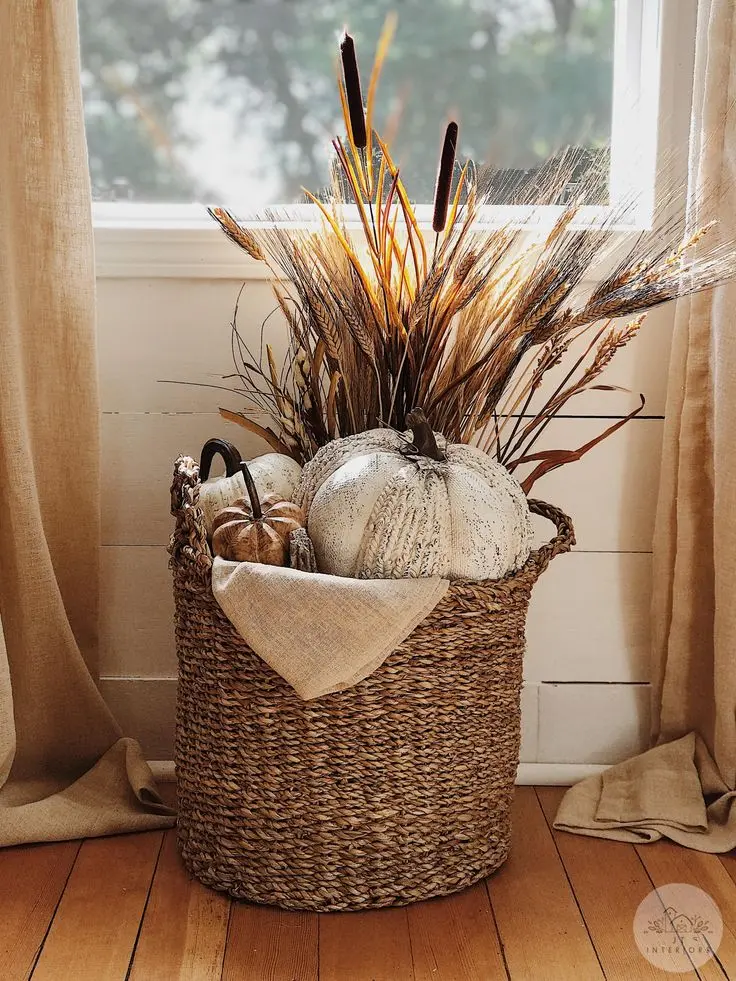 Fall-Inspired Art
16. Autumn Artwork
Hang fall-themed art or prints on the walls.
Personal Touches
17. Family Photos
Display framed fall family photos to add a personal touch.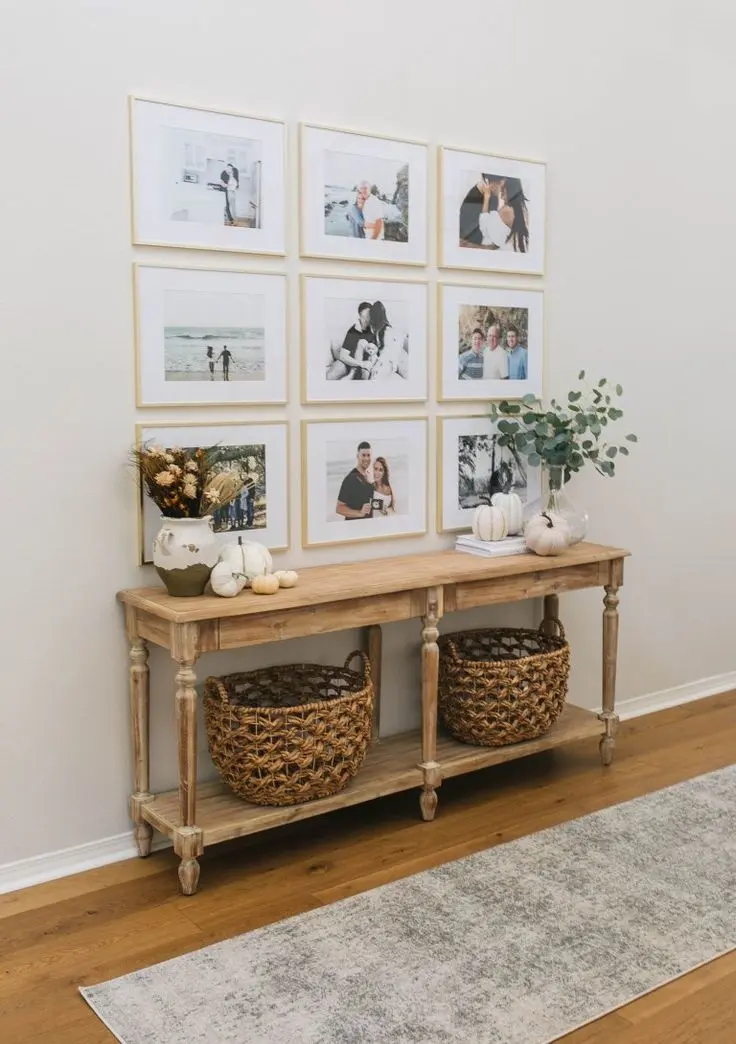 18. Seasonal Quotes
Frame quotes about autumn to inspire and delight your guests.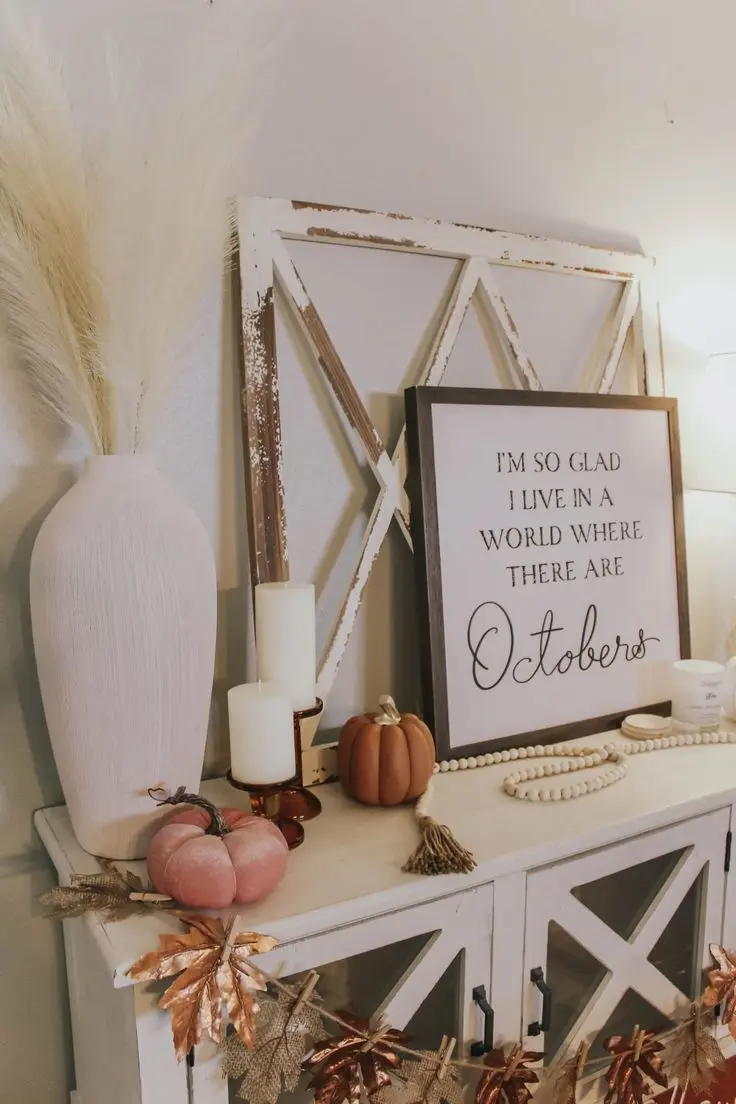 Fall Garland Magic
19. Leafy Garland
Create a garland with artificial leaves and hang it around your entryway.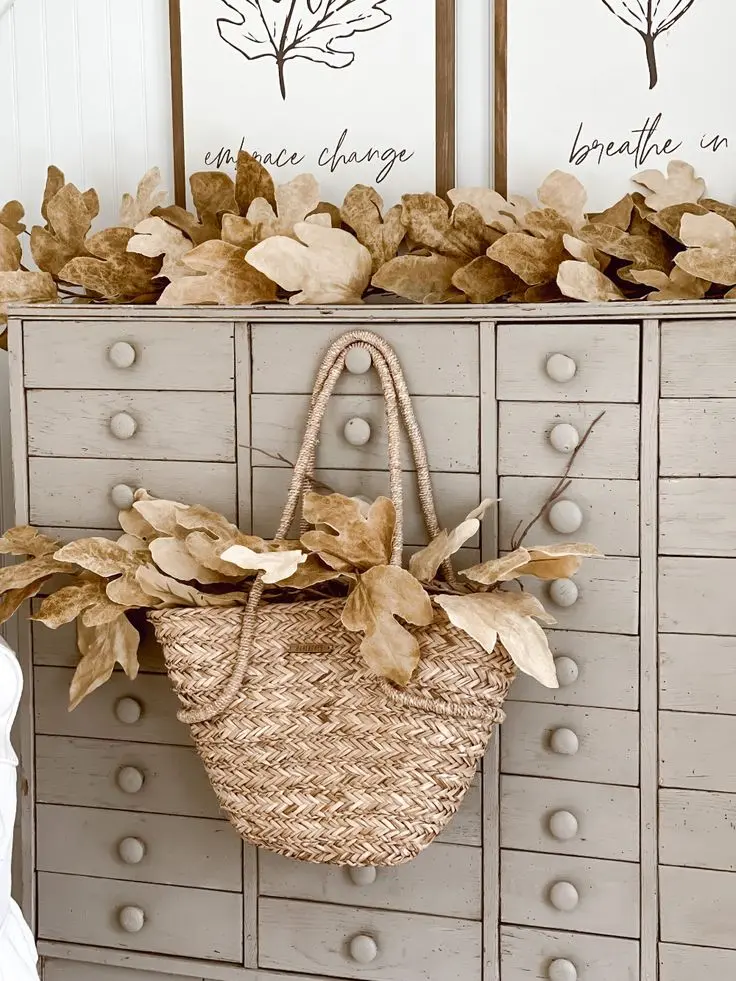 Unique Door Decor
20. Rustic Wooden Sign
Craft or purchase a wooden sign with a warm fall message.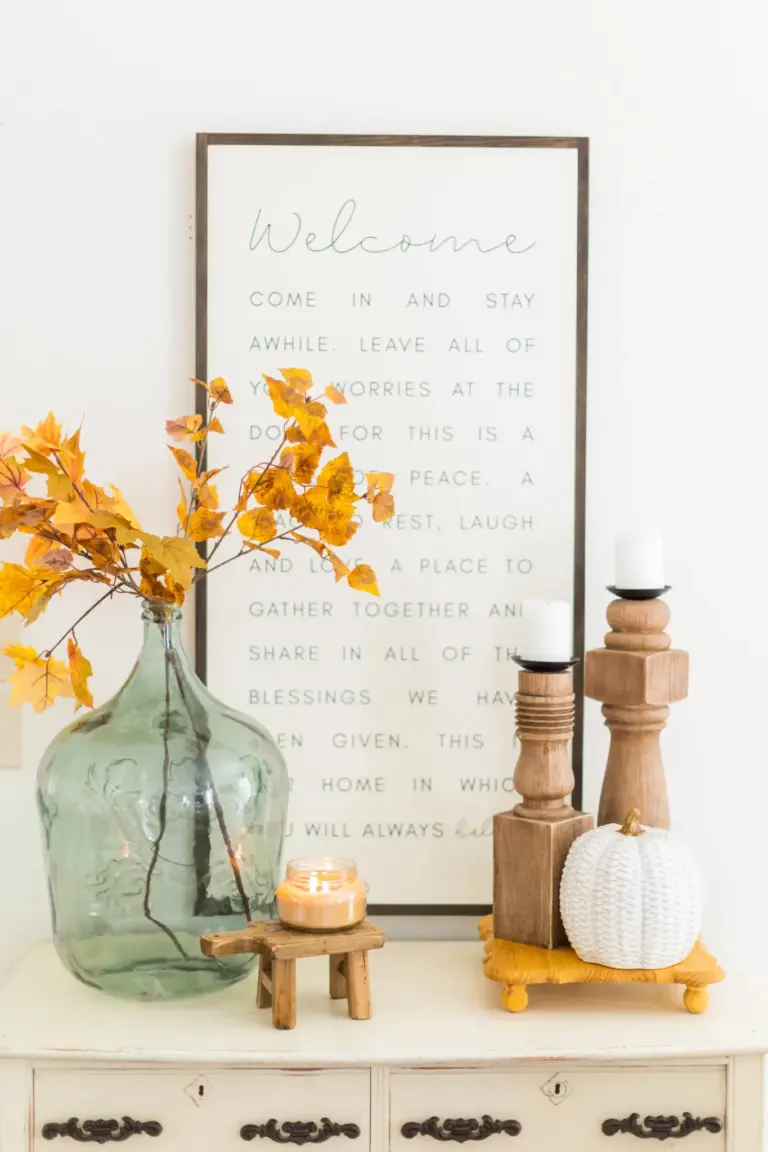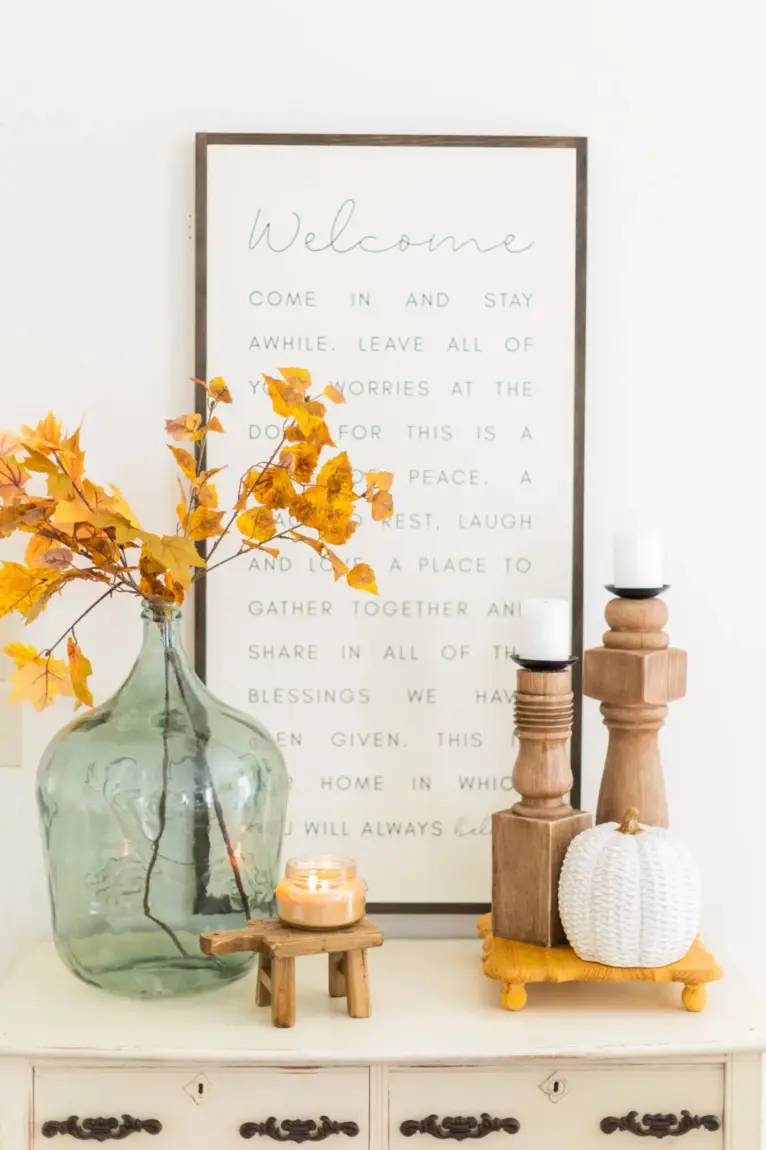 21. Monogrammed Door Mat
Personalize your entry with a monogrammed doormat.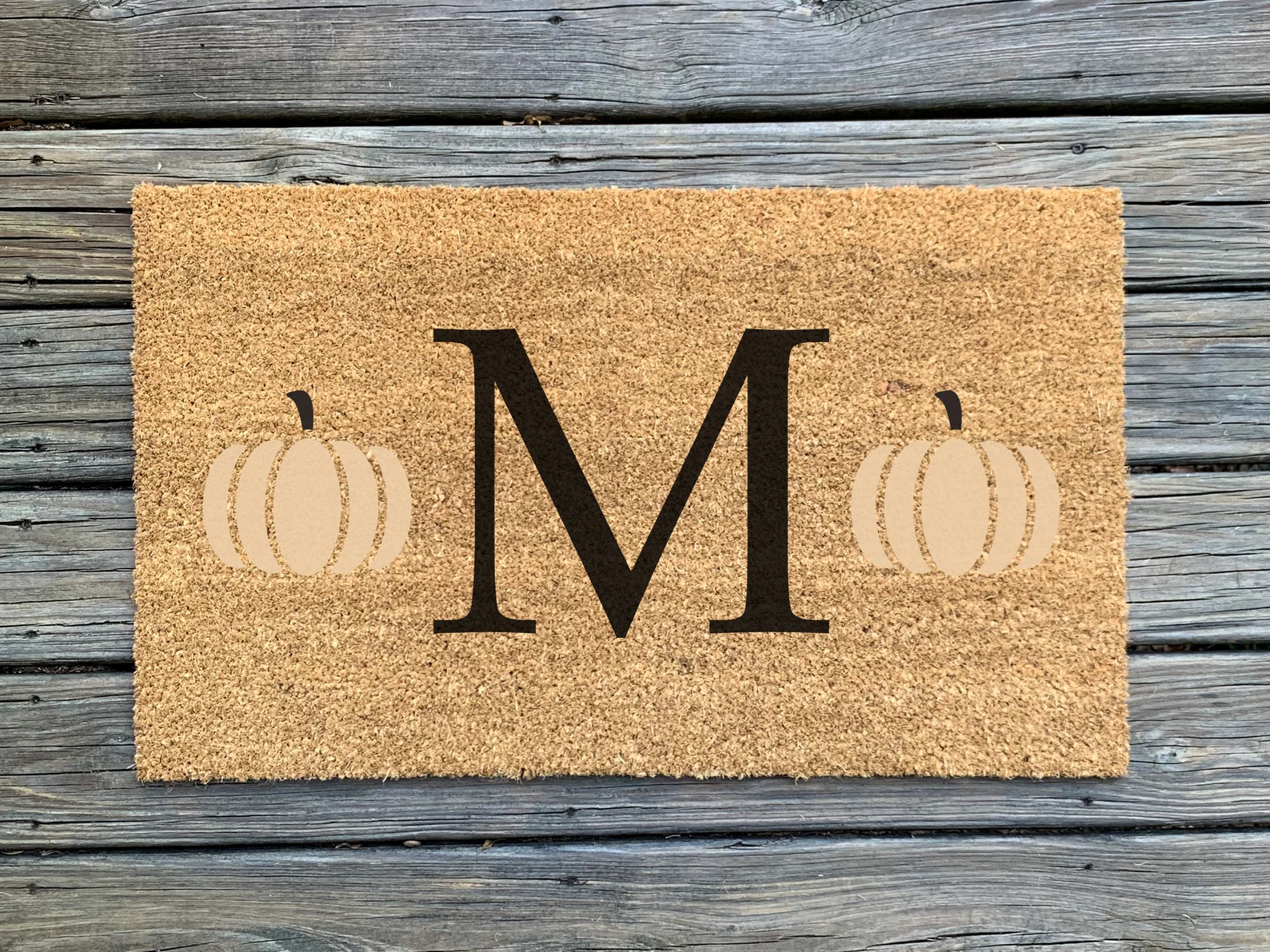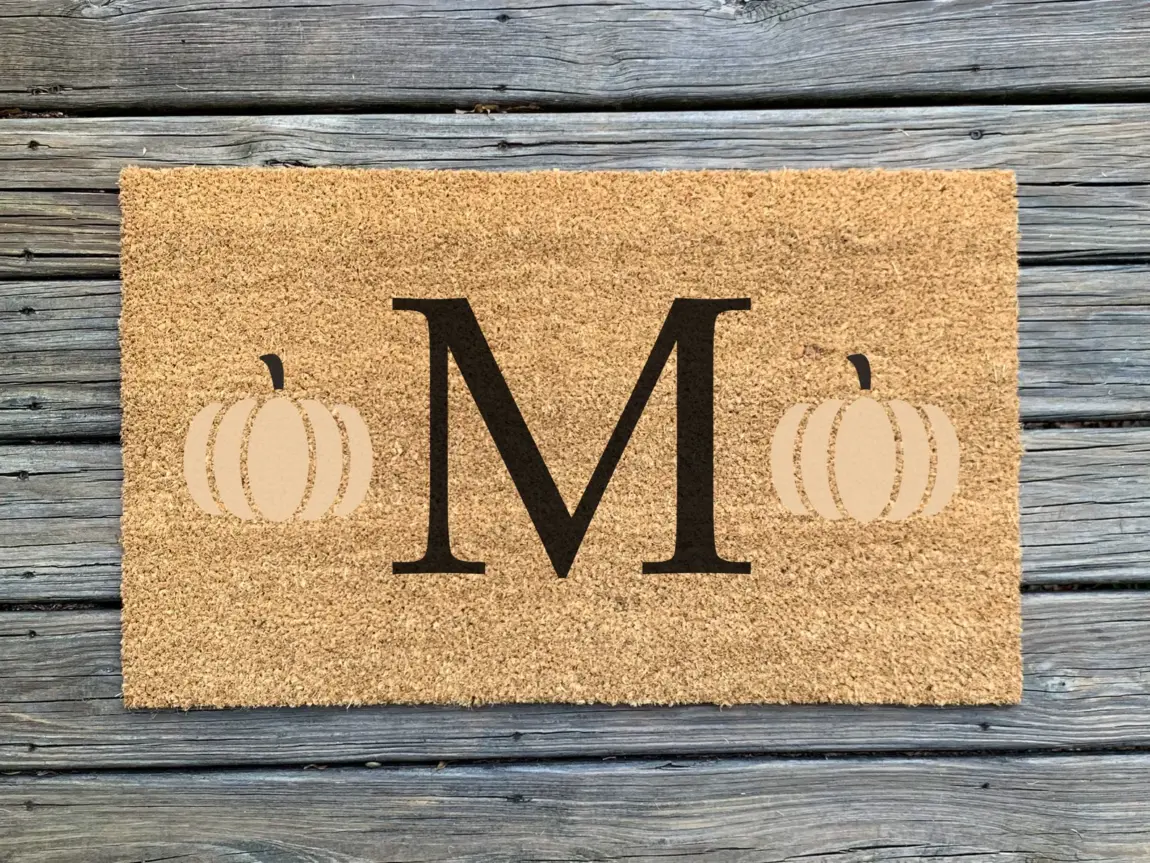 Budget-Friendly Fall Entryway Decor
22. Decorate on a Dime
Explore the world of budget-friendly fall decor by repurposing items you already have or finding affordable alternatives. Consider using things like:
Fall Foliage: Gather fallen leaves from your backyard or a nearby park to create stunning DIY leaf garlands and wreaths.
Thrifted Treasures: Scour thrift stores and consignment shops for unique and affordable fall decor pieces, such as vintage lanterns, rustic baskets, or decorative plates.
DIY Magic: Tap into your creative side with easy and cost-effective DIY projects. Paint pinecones, make your own decorative throw pillows with budget-friendly fabric, or craft a custom doormat using stencils and inexpensive paint.
Seasonal Swap: Rotate your existing home decor items to give your entryway a fresh, seasonal look. A cozy fall throw blanket from the living room or a rustic wooden tray from the kitchen can work wonders.
By decorating on a dime, you can embrace the beauty of the fall season without stretching your budget. These thrifty ideas will not only save you money but also add a personal touch to your entryway decor. Happy decorating!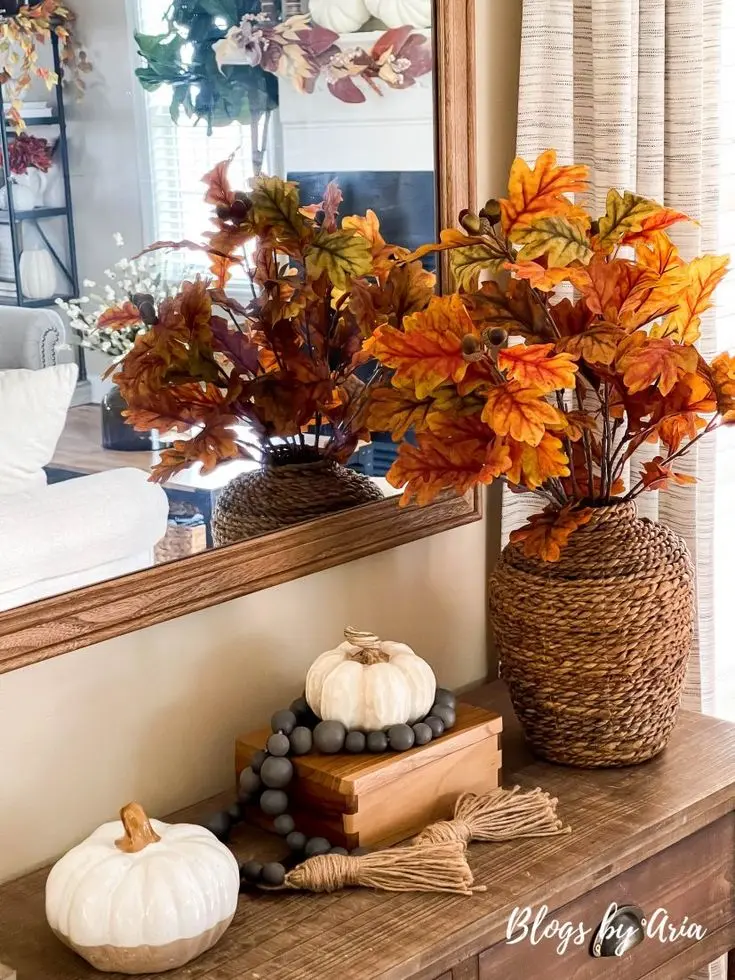 Celebrate Fall Holidays
23. Halloween Decor
The transition from fall to Halloween with spooky decorations as October approaches.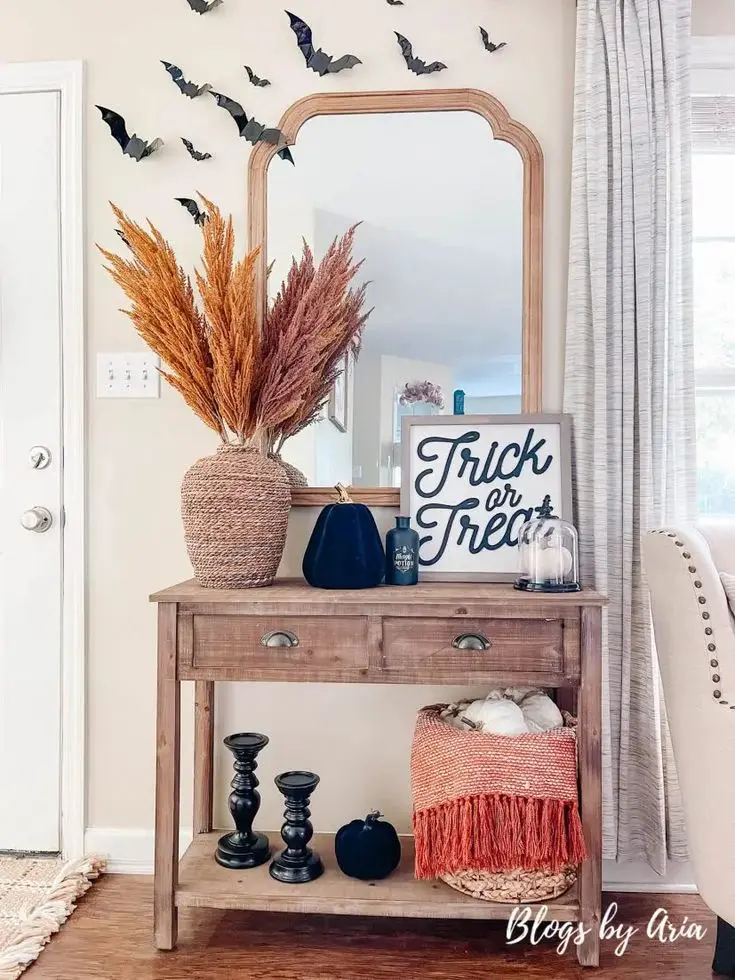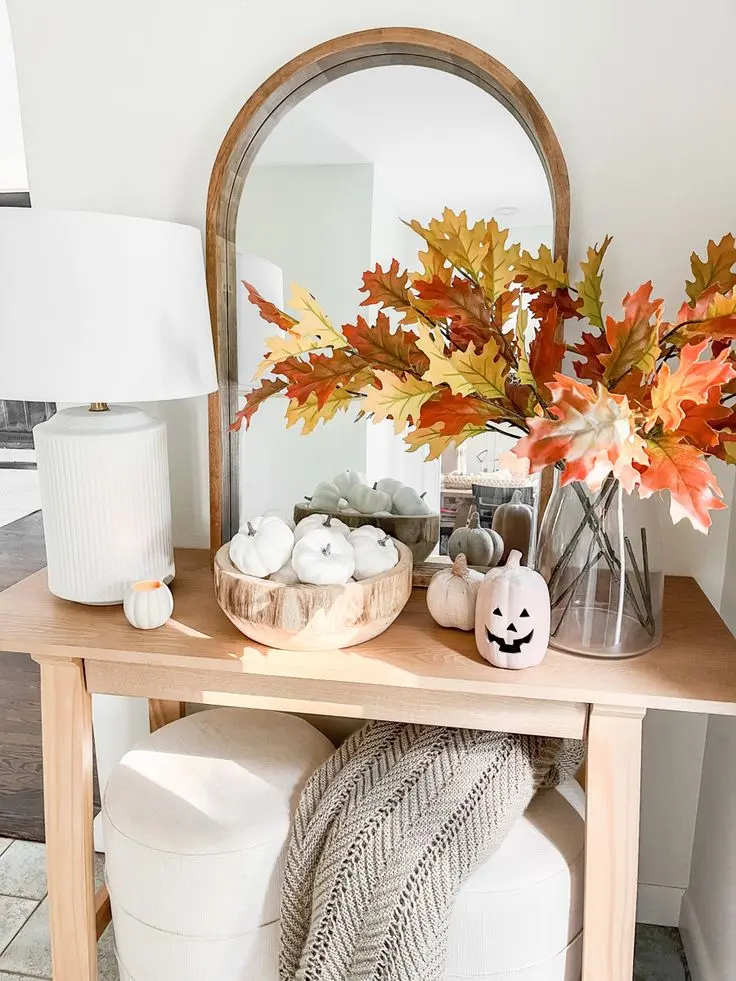 24. Thanksgiving Accents
Add Thanksgiving-specific decor as November draws near.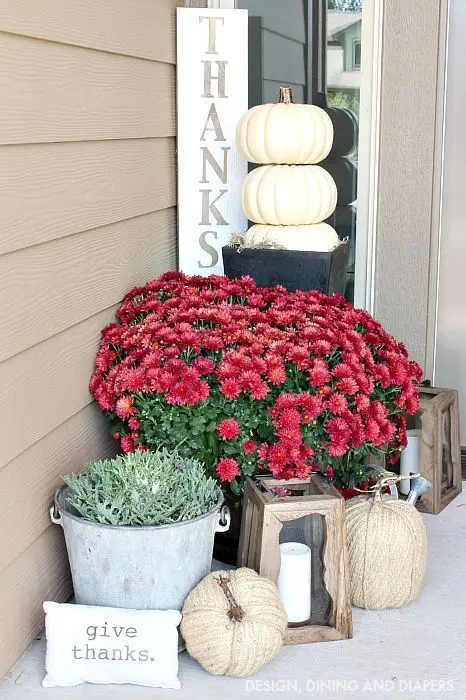 Seasonal Swag
25. Floral Swag
Decorate your door with a fall floral swag for a fresh twist.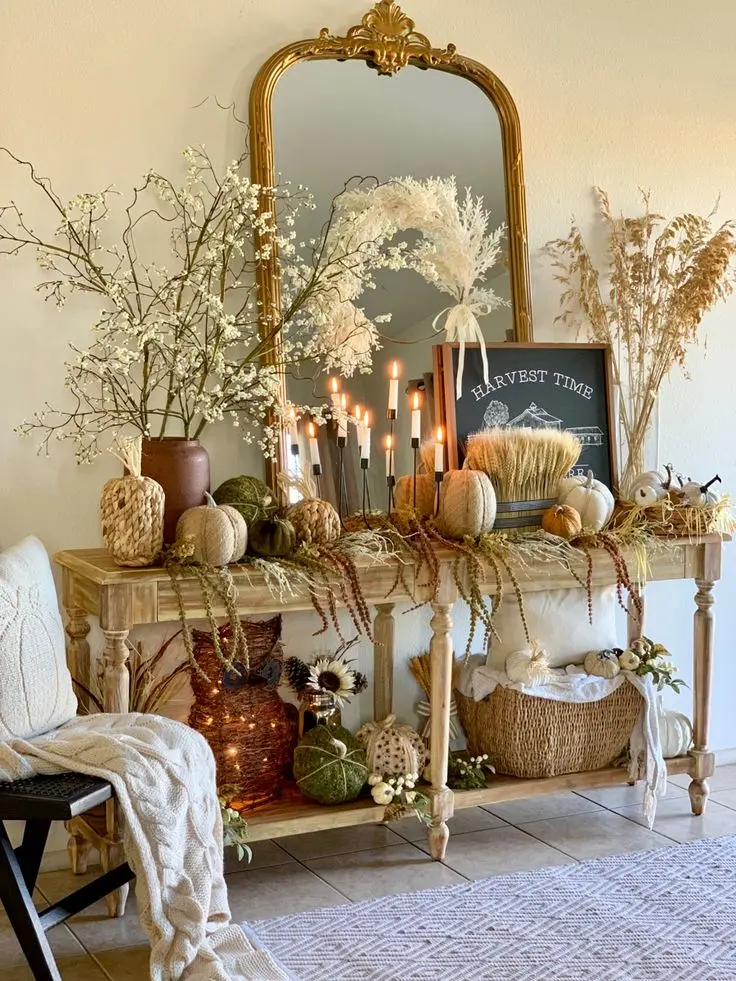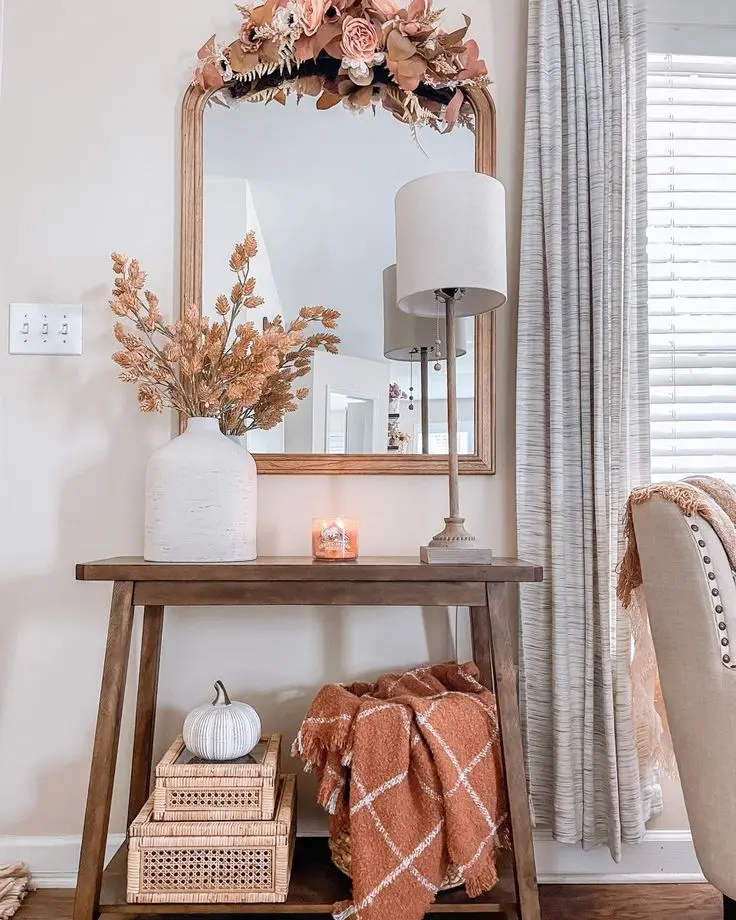 Repurpose Old Furniture
26. Antique Finds
Transform vintage furniture pieces into entryway treasures with a fresh coat of paint.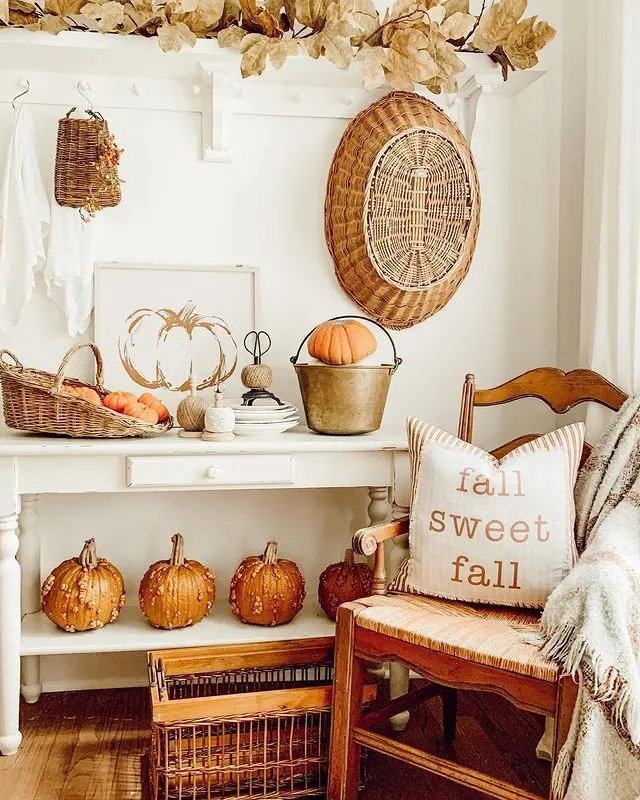 DIY Fall Crafts
27. Handmade Pinecone Decor
Collect pinecones and turn them into charming fall decorations.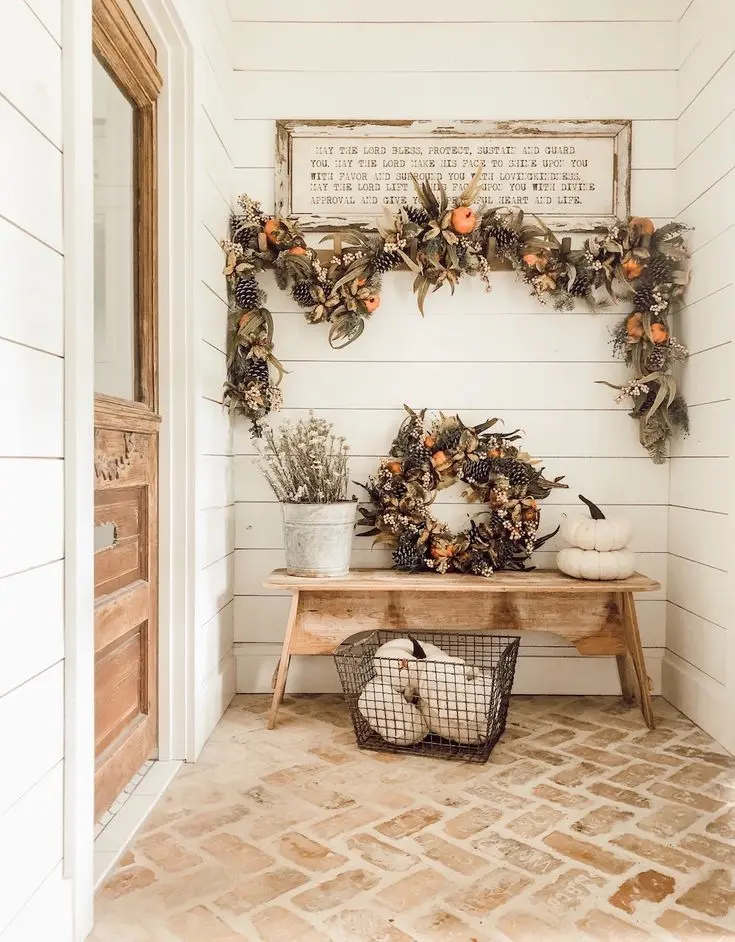 28. Acorn Art
Create art pieces using acorns and twine.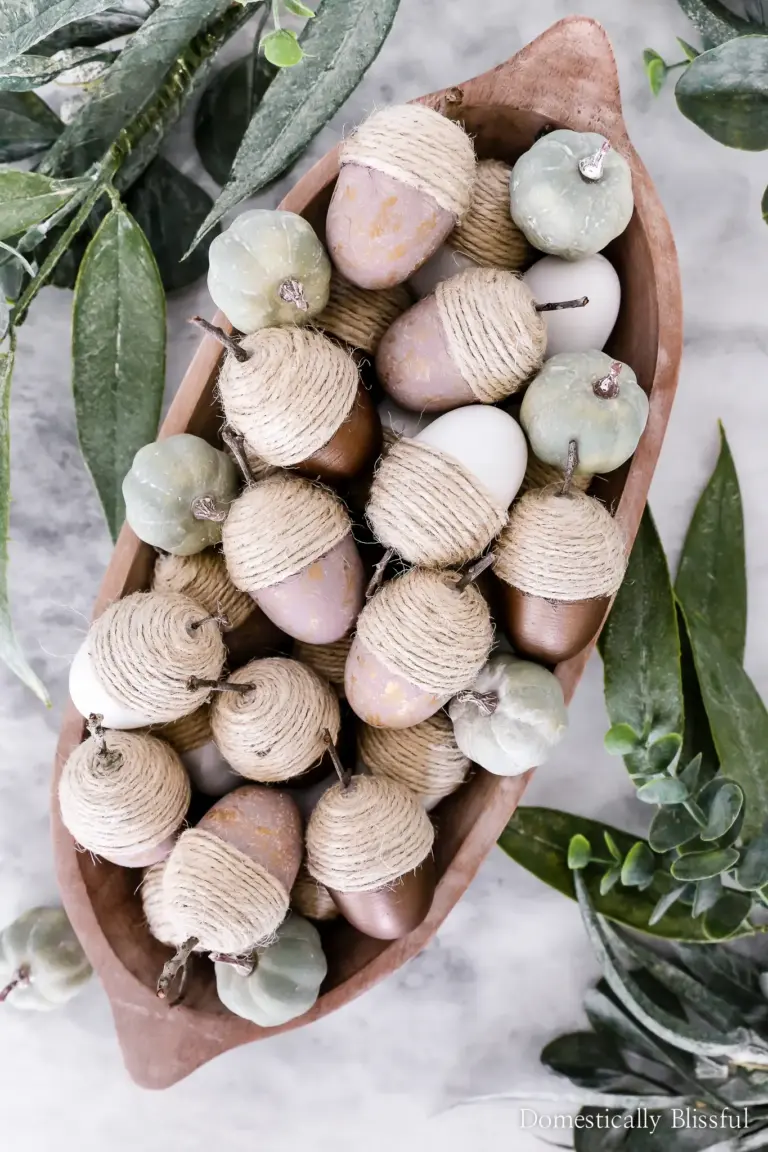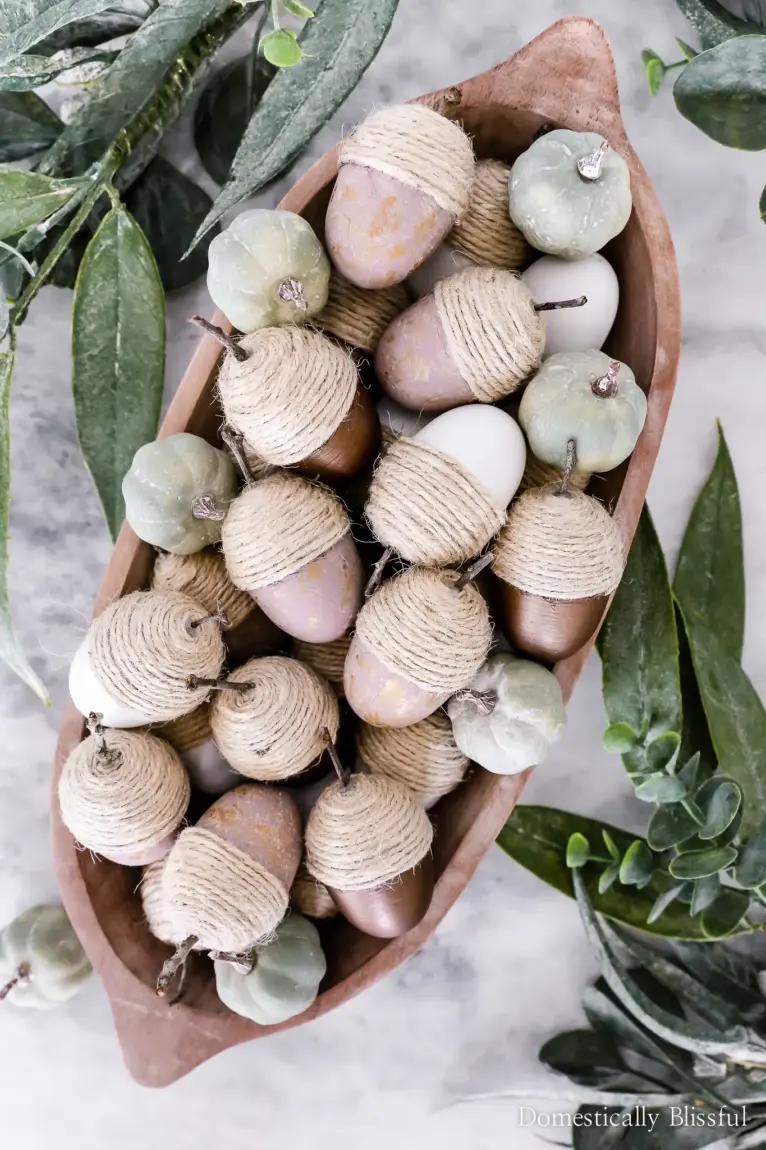 Warm Lighting
29. String Lights
Hang string lights around your entryway for a magical touch.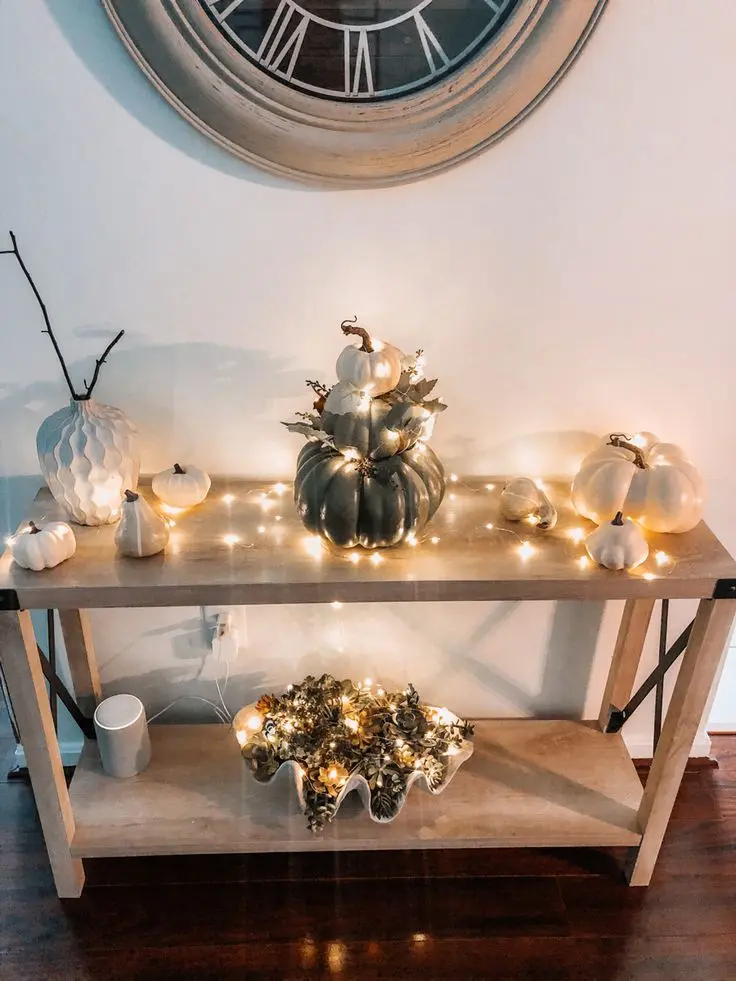 Welcoming Accents
30. Autumn-Inspired Details
Elevate your entryway's charm with subtle yet impactful autumn-inspired accents. Consider these ideas: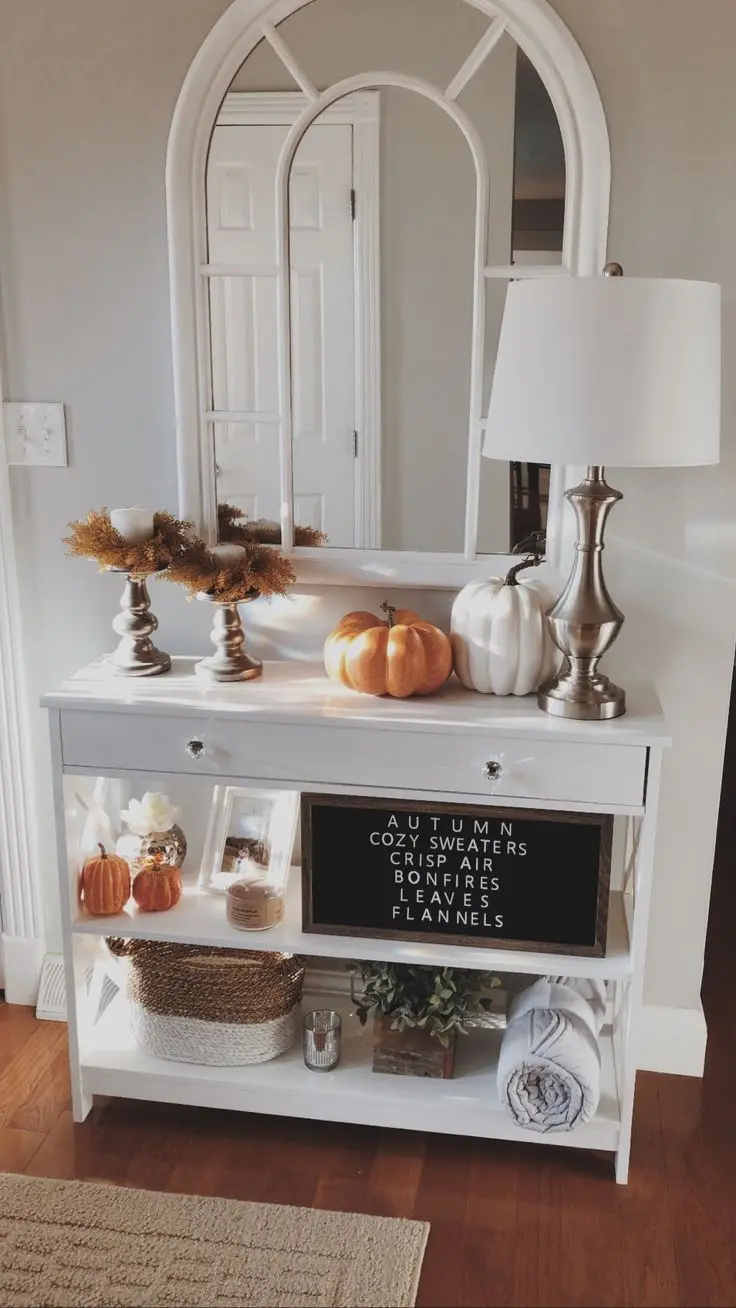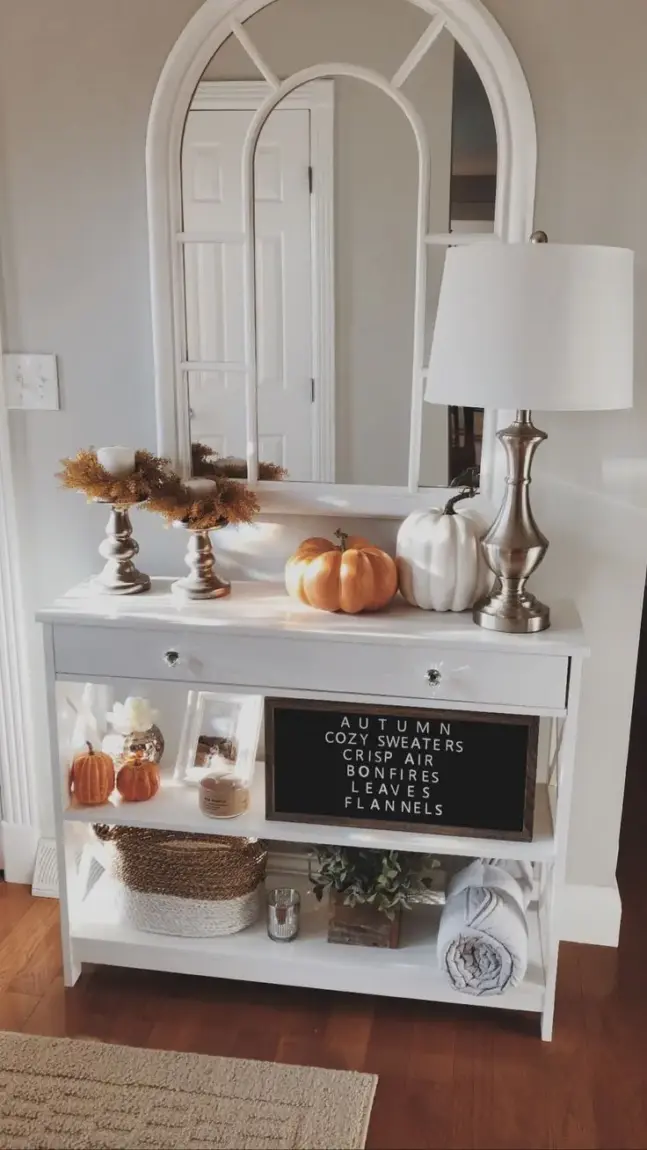 Seasonal Artwork: Swap out existing artwork or photos for fall-themed pieces. Look for nature-inspired prints or muted autumn color palettes.
Textured Throws: Drape a soft, textured throw blanket over your entryway bench or seating to add warmth and coziness.
Faux Florals: Display faux fall floral arrangements in rustic or neutral-colored vases for a touch of nature indoors.
Candlelight Ambiance: Arrange unscented, neutral-toned candles on a decorative tray for a warm and inviting atmosphere.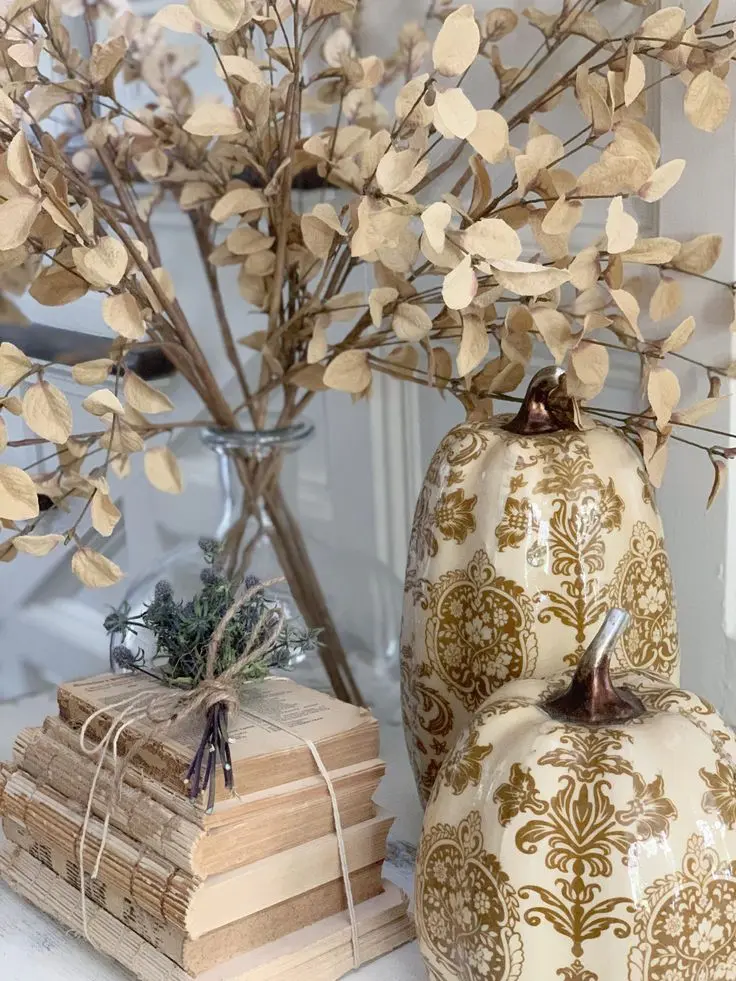 By incorporating these welcoming accents, your entryway will exude the beauty of the fall season in a neutral and elegant manner. Enjoy creating a serene and inviting space for your home.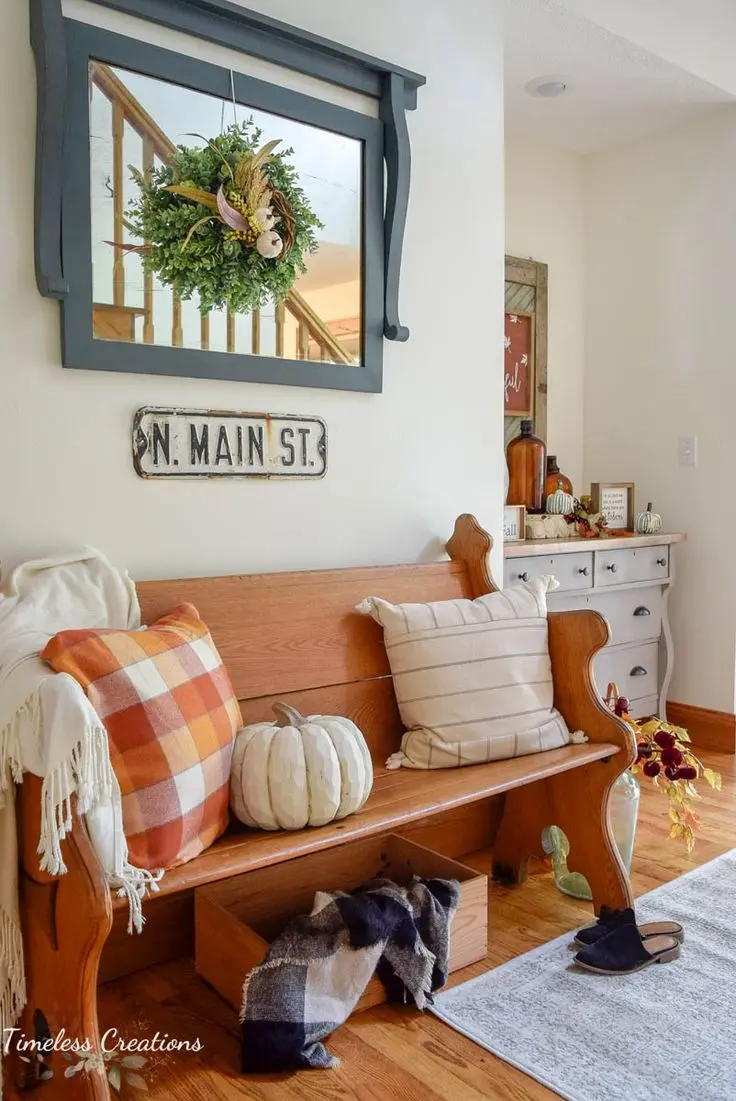 Entryway Mirror Magic
31. Mirror, Mirror
Hang a mirror to make your entryway feel more spacious and welcoming.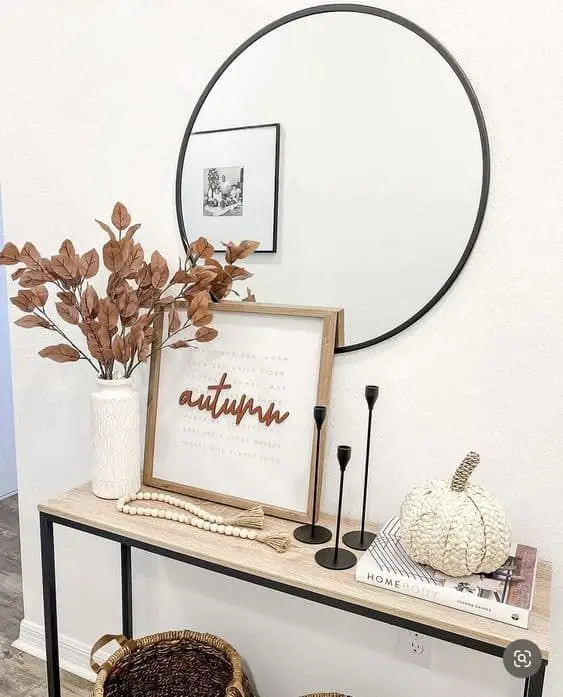 Create a Stunning Entryway Vignette
32. Vignette Display
Arrange a vignette of fall-themed decor items on a console table.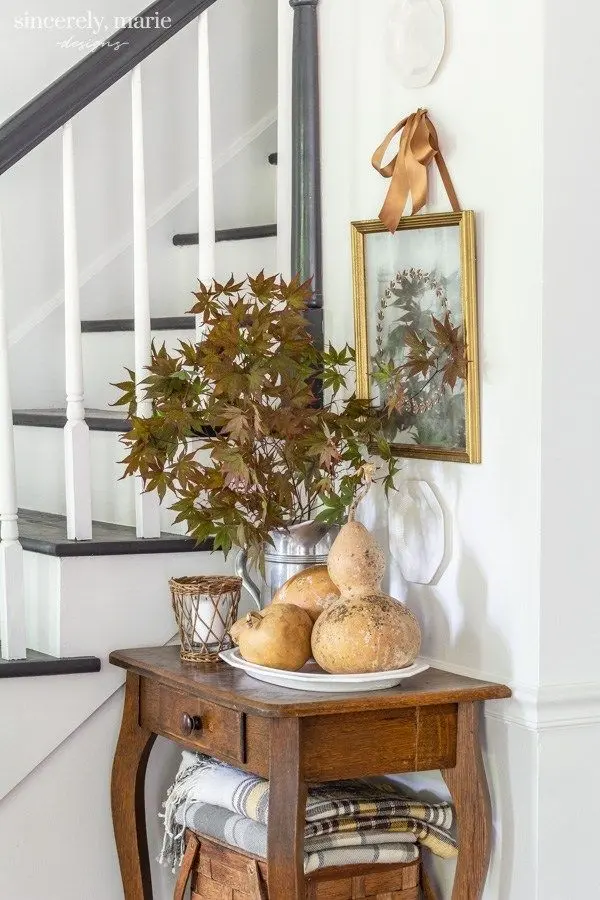 Year-Round Elegance
33. Transition to Winter
Easily adapt your entryway fall decor ideas to welcome the winter season.
34. Evergreen Wreath
Swap out the fall wreath for a timeless evergreen one.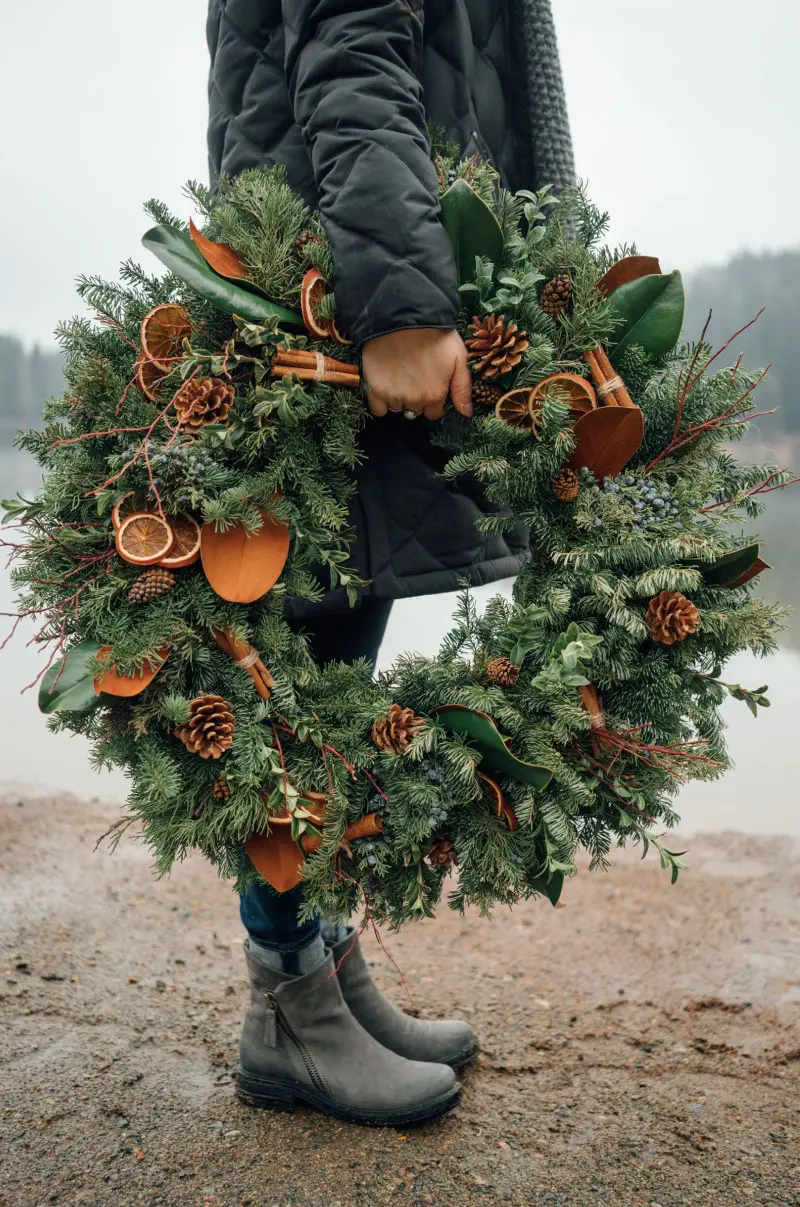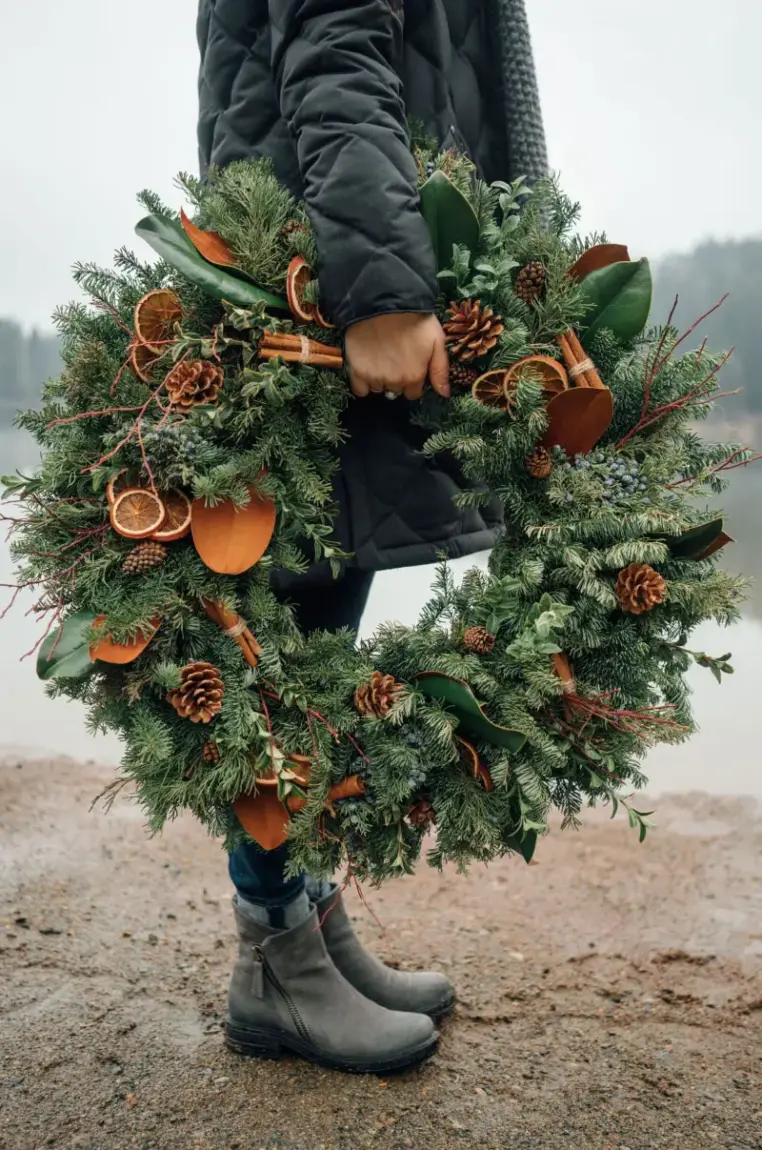 35. Year-Round Joy
Keep a joyful, welcoming atmosphere in your entryway throughout the year.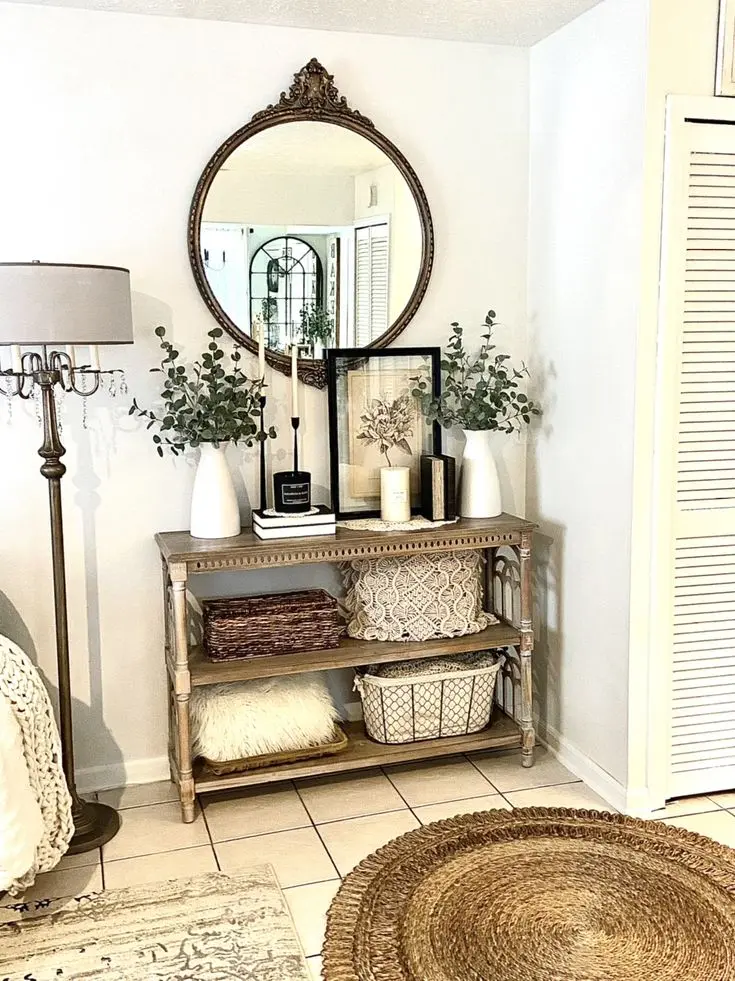 There you have it, a comprehensive guide to making your entryway an elegant and inviting space for the fall season. Whether you're a seasoned DIYer or just looking to add a touch of autumn charm, these ideas will surely inspire you.
So, grab your pumpkin spice latte, roll up your sleeves, and let's make your entryway the coziest spot on the block!

If you enjoyed these entryway fall decor ideas, make sure to check out these other fall posts below: