Gift Ideas for a Coworker
The holidays are approaching and that means that we are approaching crunch mode for gift shopping. If you work full time at an office, then you probably needs some gift ideas for a coworker or two on your list.
Luckily for you, I have put together the ultimate gift ideas for a coworker in a gift guide form. I have a very diverse work background and I have worked in offices, which helped me curate this gift guide.Since you spend most of your week with your coworkers, why not give the ones you like a little something for the holidays.
If you have coworkers with a personality, this gift guide will help you hone in on the perfect present for them on a budget.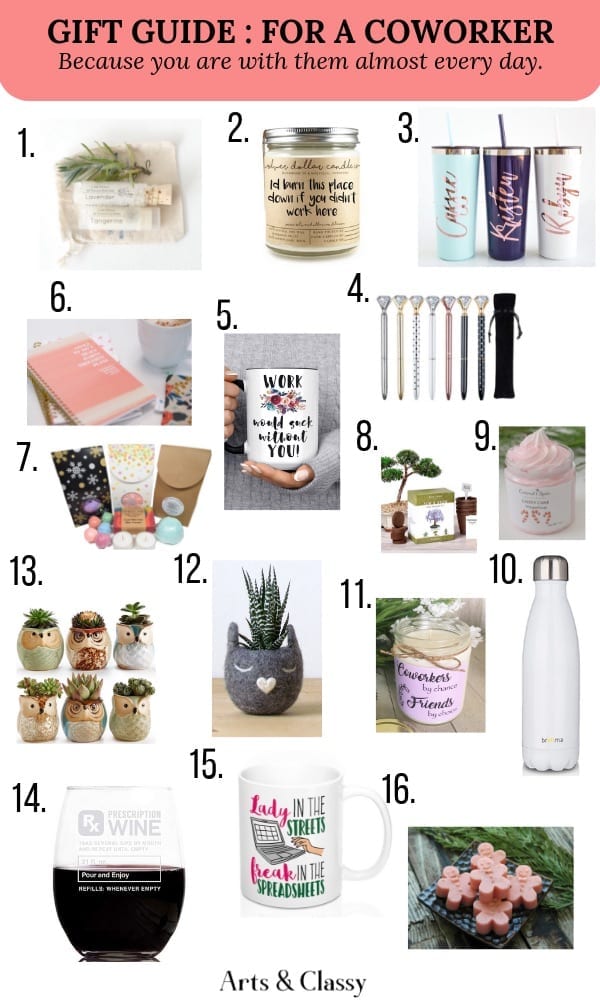 This post contains some affiliate links for your convenience. Click here to read my full disclosure policy.
1. Bath Salt and Lip Balm Set – Simple and says you care. It's even organic. 
2. Coworker Candle Gift – Who doesn't love a good candle? Especially with this messaging "I'd burn this place down if you didn't work here."
3. Tall Tumblers with Straws for Hot or Cold Drinks – These cute tumblers can be used for a variety of beverages and fit perfectly in cupholders + custom name on the side makes it more personal.
4. Diamond Pens Beautiful Metal Pen (Set of 7) – What female doesn't love a big diamond on the top of their pen? Get a set of 7. 
5. Work Would Suck Without You Mug – This mug is so sweet. A great gift for your work bestie.
6. Daily Bullet Journal Style Planner – For your coworker that loves to plan and journal, this would make a great gift!
7. Custom Small Gift Bag – If you aren't sure what to get your coworker, these custom bags should be a perfect solution for a gift.
8. Bonsai Garden Seed Starter Kit – Easily grow 4 types of miniature trees indoors. If you have a coworker that loves nature or one that is more spiritual, this Bonsai garden start kit will be perfect. 
9. Candy Cane Whipped Soap – Doesn't this soap look inviting? Perfect and simple holiday coworker gift.
10. Stainless Steel Travel Bottle for Hot & Cold Drinks – Great solution to make sure your coworkers are getting enough water or coffee each day. 
11. Coworker Soy Candle – All I need to say is… candle = perfect gift.
12. Grey Cat Planter – I love the idea of planting little succulents in these cute little cat planters.
13. Owl Pot Ceramic Flowing Glaze Base Serial Set – I love owls and these little planters are also a cute way to get a few coworkers presents on a budget. 
14. Prescription 21 oz Stemless Wine Glass – This stemless wine glass says it all. 
15. Lady In The Streets Freak In The Spreadsheets – For those of us with accounting friends.
16. Gingerbread Men Soaps (Set of 5) – Another holiday budget gift option since it is sold in a set of 5.

Also, if you are in full gift shopping mode for the holidays, check out the free printable holiday shopping list that I made for you to download and print.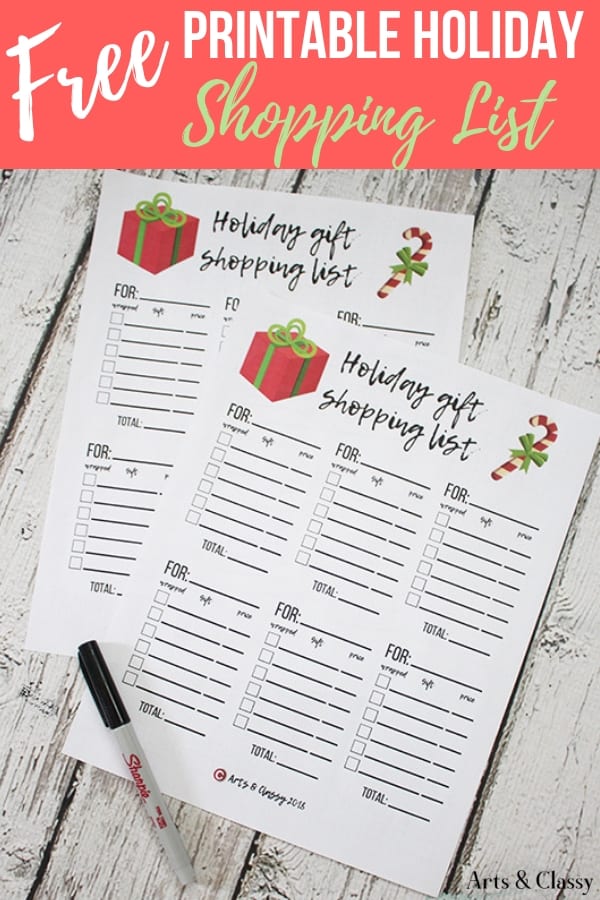 I hope this gift guide helps you with your gift shopping efforts. I would love to hear which item is your favorite that you would want to receive in the comments below.
If you liked this post you may also like:
Until next time…