There are so many gifts for cat lover out there, and I wanted to make sure to curate the best gift guide for you! The holidays are quickly approaching!
Since I am always staying mindful of budgets because you probably have a lot of people on your list. Being the cat lover that I am, I am starting with gifts for cat lovers under $25.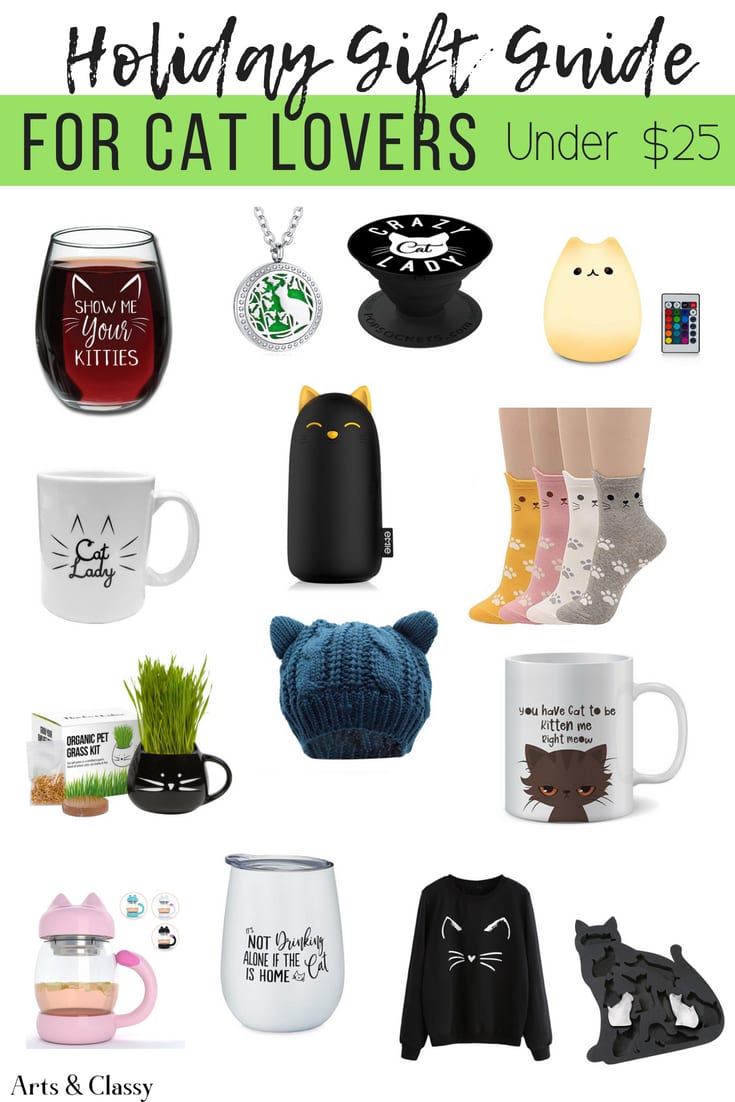 This post contains some affiliate links for your convenience. Click here to read my full disclosure policy.
Whoever the cat lover is in your life, these gifts for cat lover ideas will be appreciated!
Not only will the be something that fits your budget, but any of these options would be used in a heartbeat! Did I mention you can get all of these items on Amazon? Save yourself a trip to the store. Your time is important!
Check out the image below in conjunction with the numbered list to be taken to each item.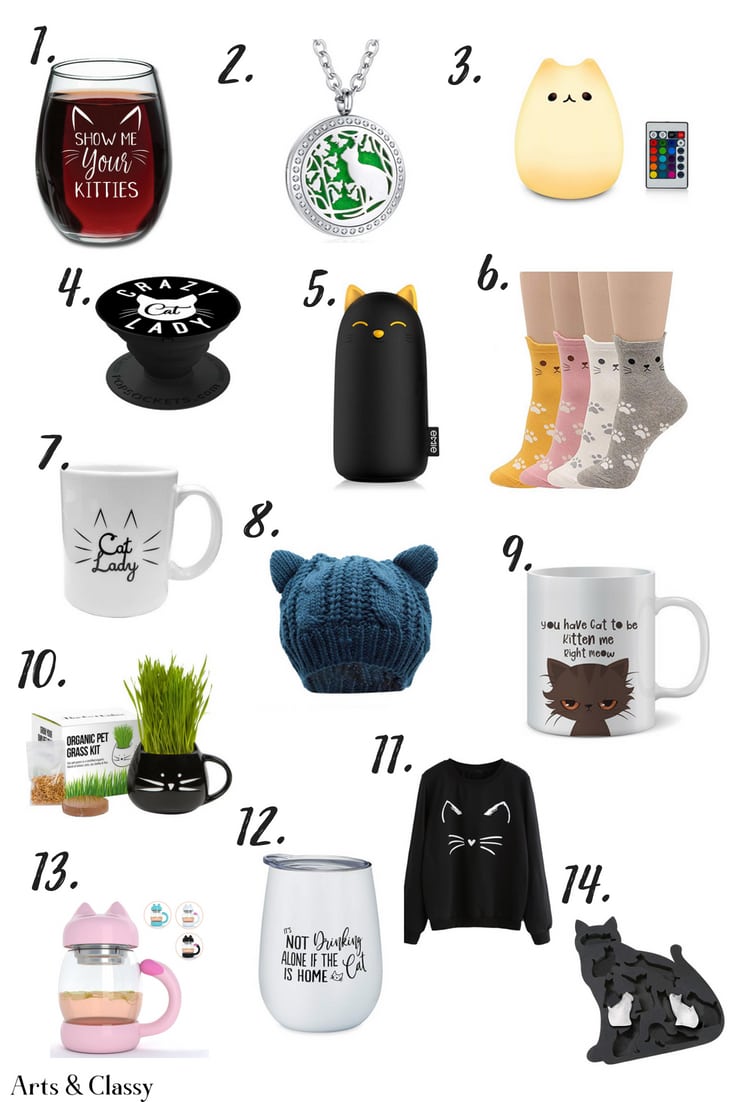 For a wine lover this cat wine glass has some fun humor infused into it. At under $15 this would make a great gift for a co-worker or a friend.
Aromatherapy can be super helpful to anyone! Daily use of essential oils benefits so many. If you have an essential oils buff in your life or someone that needs to de-stress… this would make a great gift at $10.99! There is also a coupon attached to this one, so even more savings!
Nightlights aren't just for kiddos. Adults can benefit from them too! Check out the cuteness of this cartoon cat nightlight that changes colors with a remote. At under $17 + a coupon to save even more, I may need this nightlight. lol
I am obsessed with Pop Sockets and have been using one for about 3 years now. Ever since I discovered them at a blogging conference, I have had one attached to my phone case. They have holders so you can mount your phone in your car or wherever you wish. This specific Pop Socket says it all. I love it! It may need to be my next one. Under $15 and would make a great gift for any crazy cat lady in your life.
For a sibling or that quirky friend that loves funny socks, these cat socks have a lot of personality. Just under $13!
I am obsessed with mugs and I know I am not the only one. This cat lady mug would make a great co-worker gift for the office. This item is under $10 and is available for Prime shipping on Amazon. 
The colder months are approaching and every cat lover would love to rock their own cat ears. Let them bundle up this year and next with this adorable cat ear beanie! It comes in a variety of colors and is under $11.
For the days that shit just happens, this mug would be a great gift for a co-worker or a friend. Under $13!
This would make a great gift for anyone with a cat. Feline's love cat grass and it really helps with hairball control! They can grow their own and then use the mug/planter after they re-pot the cat grass. This item is just under $17. 
Give the gift of warmth to a friend with this sweatshirt. It comes in a variety of colors and price ranges between $10-$17 depending on the size.
This wine tumbler is great for the outdoors like camping etc. It's insulated and kind of acts like an adult sippy cup. For the cat lover in your life that loves the outdoors and wine… this would make a great gift. It is under $23. 
This tea mug has a lot of fun cat personality. If you have a coworker or friend that loves tea then this would make a great gift for them. The mug includes a removable strainer/infuser in the mug. It also comes in different colors. It is priced at under $15 because it is on sale!
Kitty lovers rejoice with this amazing cat-shaped ice cube tray. These cat-shaped ice cubes would look great floating in a punch bowl or kitty-inspired cocktails. Get one for any cat lover in your life! Under $12!
So which one of these gift ideas for cat lover is your favorite? Let me know in the comments below!!
If you liked this post, you may also like: