Thank you Facebook Marketplace for sponsoring this post! Today I am sharing how to earn extra money flipping furniture on Facebook Marketplace. There's something for everyone!
At the beginning of each year, I am in full goal-setting mode for what I want to accomplish. I have big financial dreams and now I am just trying to create my plan to accomplish them. Earning extra money by finding furniture to flip isn't has hard or complicated as it sounds plus it's a creative outlet that can be quite fun to master.
One of the biggest pieces of advice I give to people looking to start a career online is to make sure you have many different streams of income so you are not relying heavily on just one. That is why learning how to earn extra money as quickly as possible is so important.
You never know if things will change, and if you put all your eggs into one basket, you could end up in full stress mode trying to make ends meet.
RELATED: How to Make Money on the Side By Flipping Furniture
I am a furniture flipping DIY blogger, and I love to find furniture curbside (or for really cheap) to makeover. Not only does this create content for my site, but it has created a new stream of income for my business.
Tip #1 – The Backstory + Where To Buy Cheap Furniture
When I first started my blog back in 2012, I was solving the problem of not having a budget for decorating my rental in LA. All my money was going to rent and necessities each month.
I was using the furniture I flipped to implement in my own home design. Some of my favorite places to source furniture became quite diverse. I found these types of pieces from family, craigslist, the trash, thrift stores, the penny saver, garage sales, yard sales, and flea markets. You would be surprised how many quality pieces and furniture in good condition show up in these types of places.
As my style has evolved, I didn't know what to do with those furniture pieces. I started experimenting with Facebook Marketplace. If you aren't familiar, Facebook Marketplace is a place on Facebook where you can buy and sell items easily.
Tip #2 – Download the Facebook App and Know About The Local Market
It's convenient to use an app I already have installed on my phone instead of having to download a separate app (and create a whole new profile). I feel more secure doing research on each person I am working with via their public profile because there is more information on people.
When I began this journey, I dabbled in purchasing low-cost furniture pieces on the app. I am always amazed at what people are selling and giving away for free. Another cool feature is that the main source of communication on the app is via Messenger, which I love. It's easy to get ahold of the person you are working with on each transaction.
A recent DIY projects was an antique furniture table. It was wood drop-leaf side table. I picked it up for free from my previous landlord. This piece of furniture was a little damaged, had scratches, and had some other imperfections but nothing that couldn't be fixed.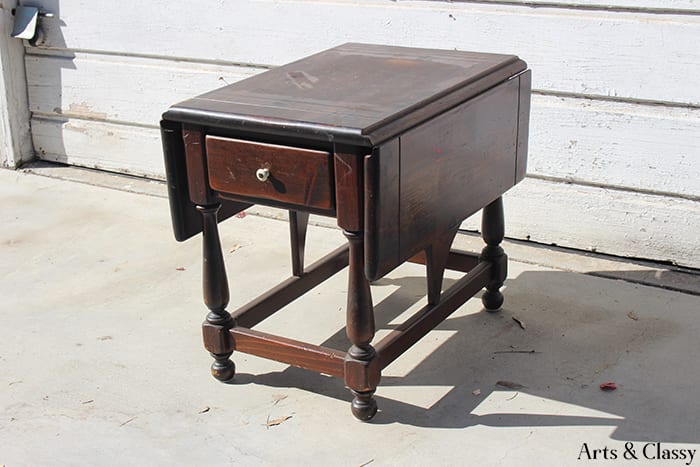 After some DIYer's TLC…
sanding
a couple of coats of chalk paint with a paintbrush
a decorative stencil
new hardware
a clear wax finish
Tip #3 – When you List a Piece
When you are listing your furniture flips or other decor, think like a search engine. How will people find this gem of yours? Use keywords in your title and description of the items. Use keywords that describe the the item visually and functionally.
Tip #4 – Set a Price But Be Flexible
When you are Flipping Furniture on Facebook Marketplace you have to be flexible with your pricing. I always ere on the side of pricing a little higher, knowing people will probably message me with lower offers. This helps me bridge that gap to still get a price I would be happy with for my work. Unless you have a place to store furniture, then stay flexible when offers come in to you. I don't have too much space to store back stock so I am a motivated seller.
Tip #5 – After You Close The Sale
Once any sale on Facebook Marketplace is complete, there is a prompt to rate the buyer and seller. Both parties can share their experience with the transaction. Those ratings help you gain more trust for future sales.
I usually offer cash, Venmo, or Messenger payments to my buyers so it's flexible for people if they don't have cash. Most people don't realize that you can make safe payments with Facebook. It's so easy to set up and the transaction posts immediately. This makes learning how to earn extra money so much more simple.
This side table is now ready for resale and to be listed for sale on Facebook Marketplace. Something you will want to consider when reselling and attracting potential buyers, is good photos!
Pro Tip: Make sure you take clear and great photos of the item from all angles and bonus points if you stage it.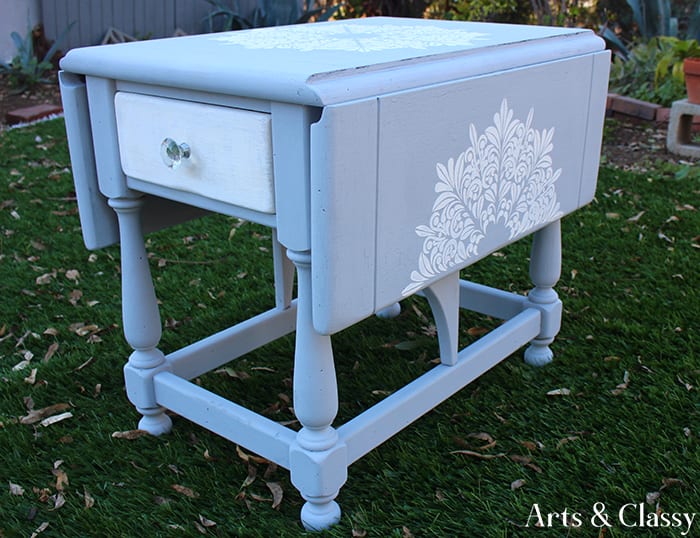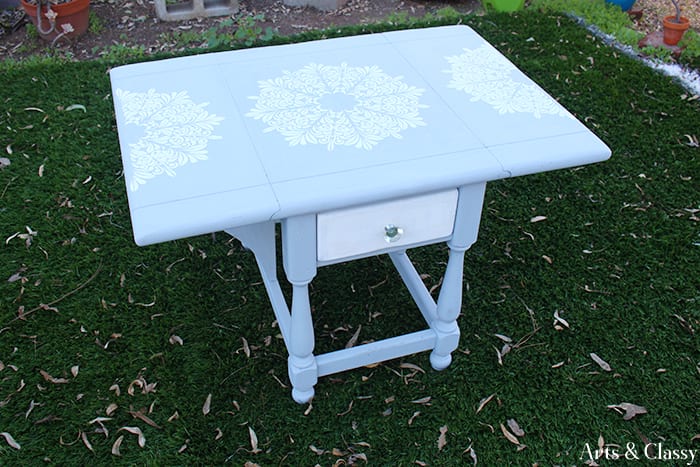 Check out this video tutorial of my process of listing furniture to sell on the Facebook App.
Not only have had success selling flipped furniture on Facebook Marketplace, but I have also successfully decluttered my home from items I no longer needed before a move. I love sharing how to earn extra money working from home and seeing what people can't see. It's has proven to be a great side hustle.
Some examples of other smaller items I have sold successfully to make extra cash are:
Artwork
Wine cooler
Vacuum cleaner
Carpet cleaner
Photography lights with umbrellas
Hand-painted china plates
Teapots
Wine rack
Evaporative cooler
Mattress
Bar cart
Storage unit piece
I am planning on making my side hustle as a furniture flipper quite lucrative. I believe that everyone deserves to have custom furniture on a reasonable budget.
On top of that learning how to earn extra money from home is a super valuable skill to have. I hope you found this helpful to teach you how to earn extra money working from home. You have to think outside the box.
No matter what you are selling to make extra income, Facebook Marketplace is an amazing and quick way to accomplish your goal. What do you plan to sell? Let me know in the comments below.
If you like this post, you may also like…