I am a little late in finally posting my holiday home tour, but I am happy to be posting it. If you are new to Arts & Classy, I recently moved into a 3 bedroom house from a small 500 square foot apartment. After unpacking and getting settled, I had shoulder surgery. I have been in recovery mode ever since.
The fun part of decorating this year was combining decorations with my guy. We decided to decorate the living room this year the day before my surgery. We will be visiting his family this year out of state for the holidays so we didn't want to get too crazy with the decorating. We have an eclectic living room but I am trying to decorate with a mid-century modern emphasis.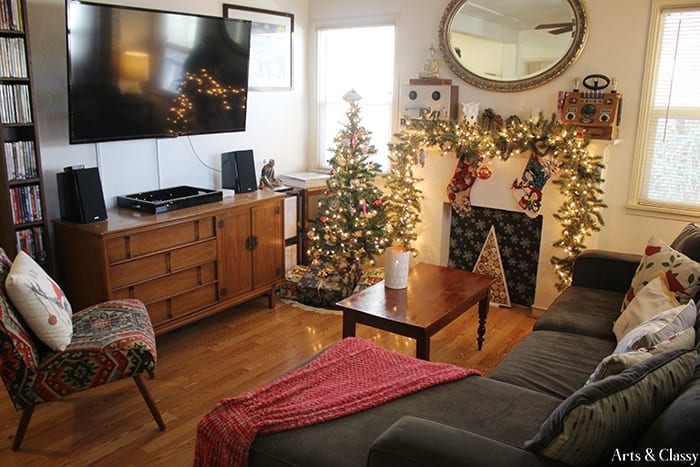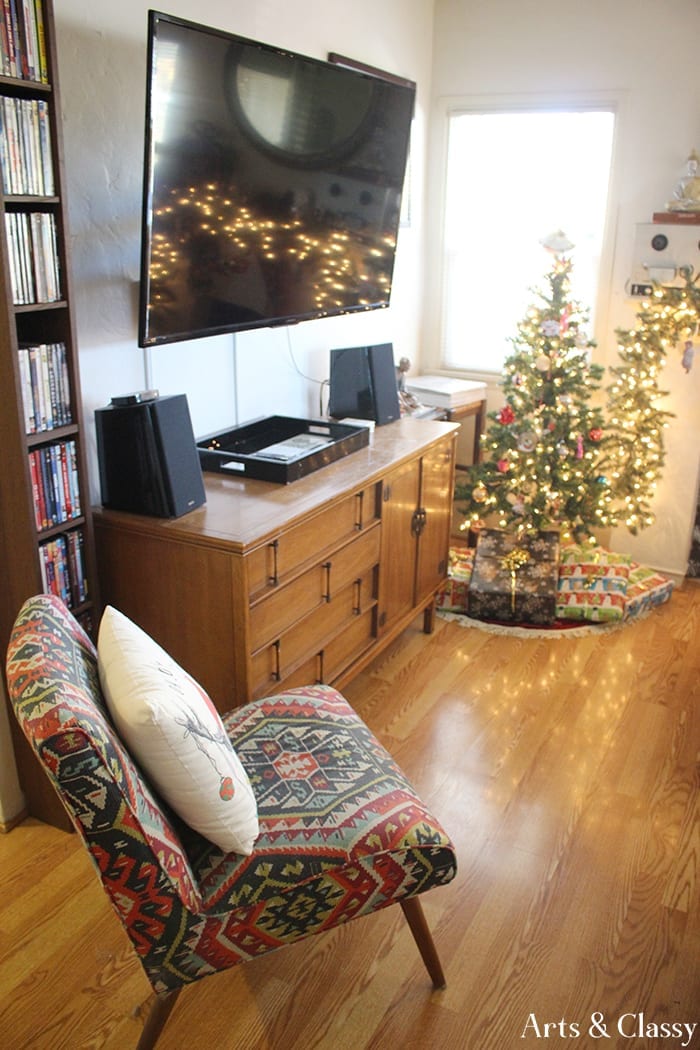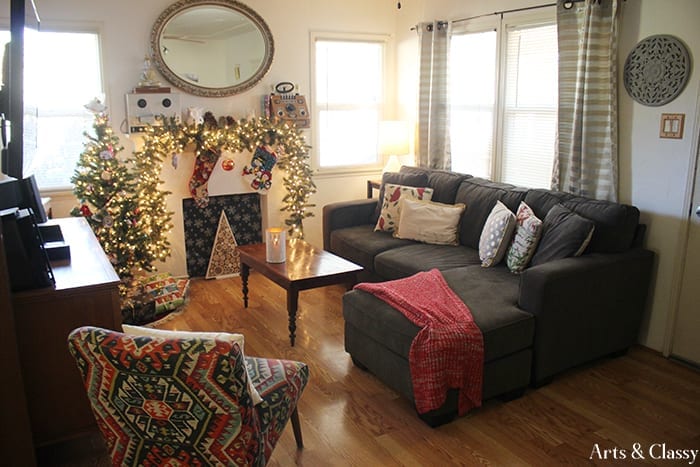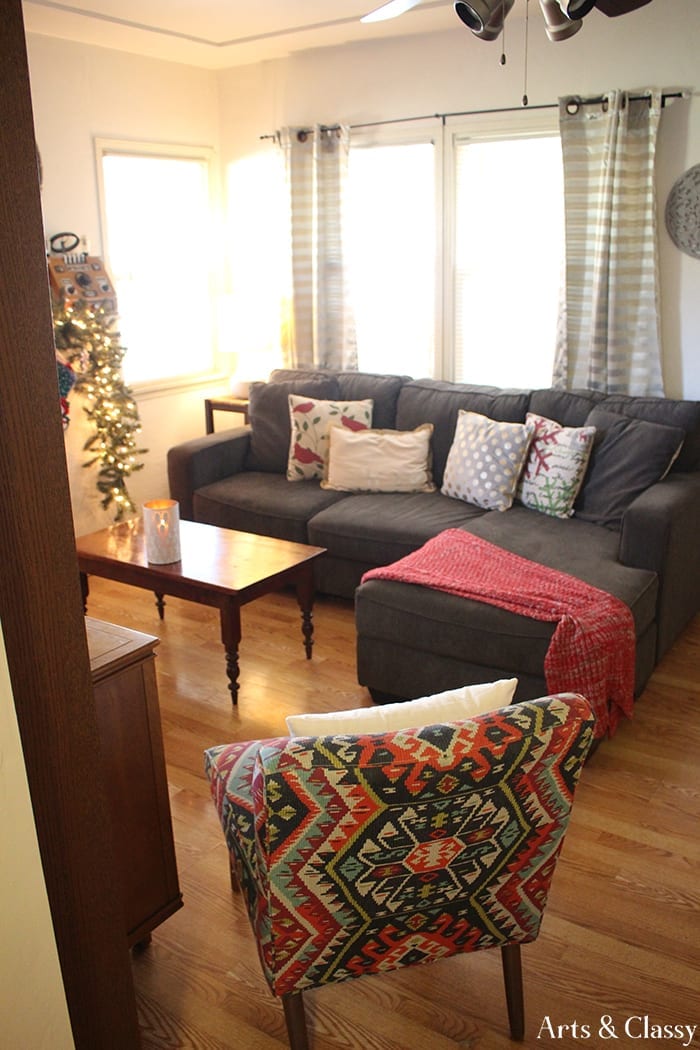 This post contains some affiliate links for your convenience. Click here to read my full disclosure policy.
When it comes to holiday decorating, my #1 tip to keep the decorating simple and on a budget is swapping out accent pillows. They are super easy to do and find at any store or online.
In a recent blog post I wrote, 10 Tips on Home Decorating for Christmas on a Budget, I talk about many ways you can turn your home into a holiday oasis without spending a lot of money. If you are interested in where I got the red throw blanket, it's actually a mermaid tail blanket!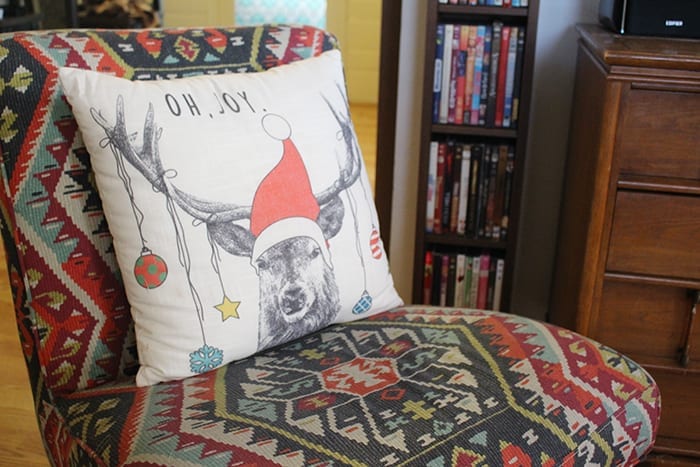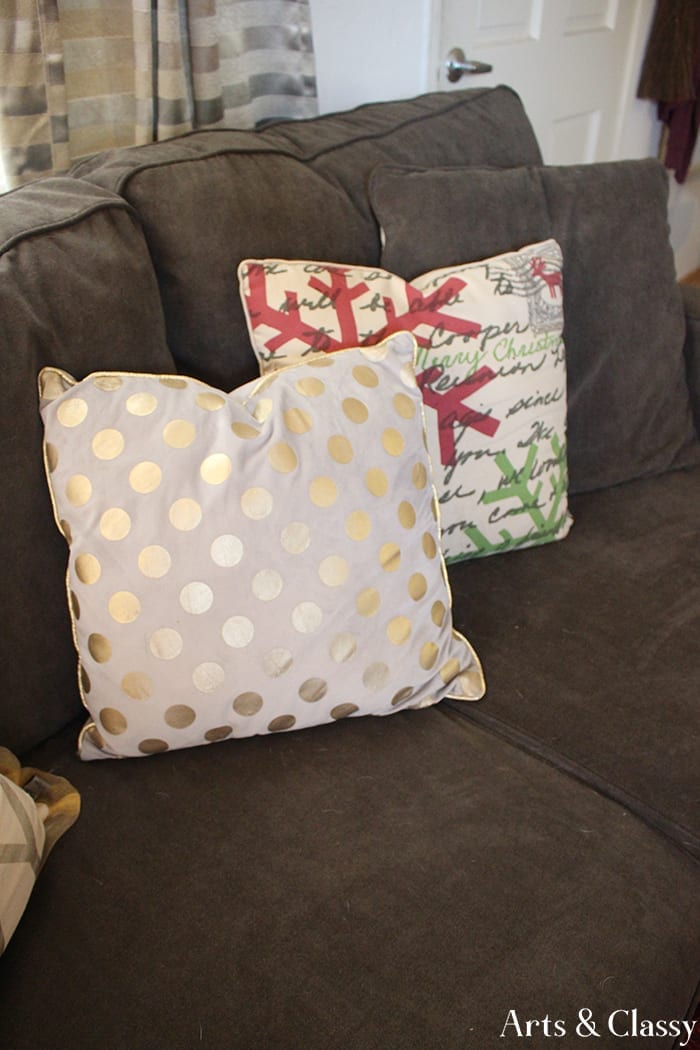 My guy had a cute fake Christmas tree and I had a ton of ornaments. How perfect is that? I used to attend an ornament party every year which is how I have accumulated so many.
I also have some beautiful vintage ball ornaments that were given to me when I helped decorate the Ellen Show for their 12 Days of Giveaways episodes back int 2012. Our theme was Vintage Christmas and our florist did an amazing job sourcing all the vintage ornaments and elves on shelves.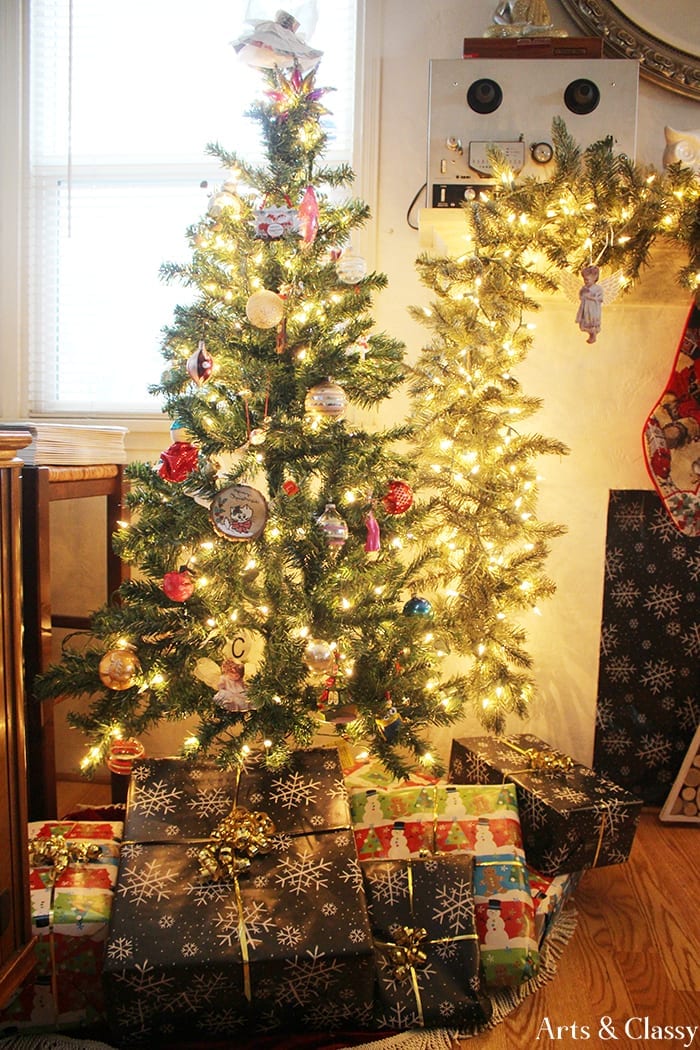 The gorgeous spruce garland hanging on the mantel was also from the Ellen Show. I feel so lucky that I was able to keep these treasures. We added two stockings to the mantel to give it a traditional festive look.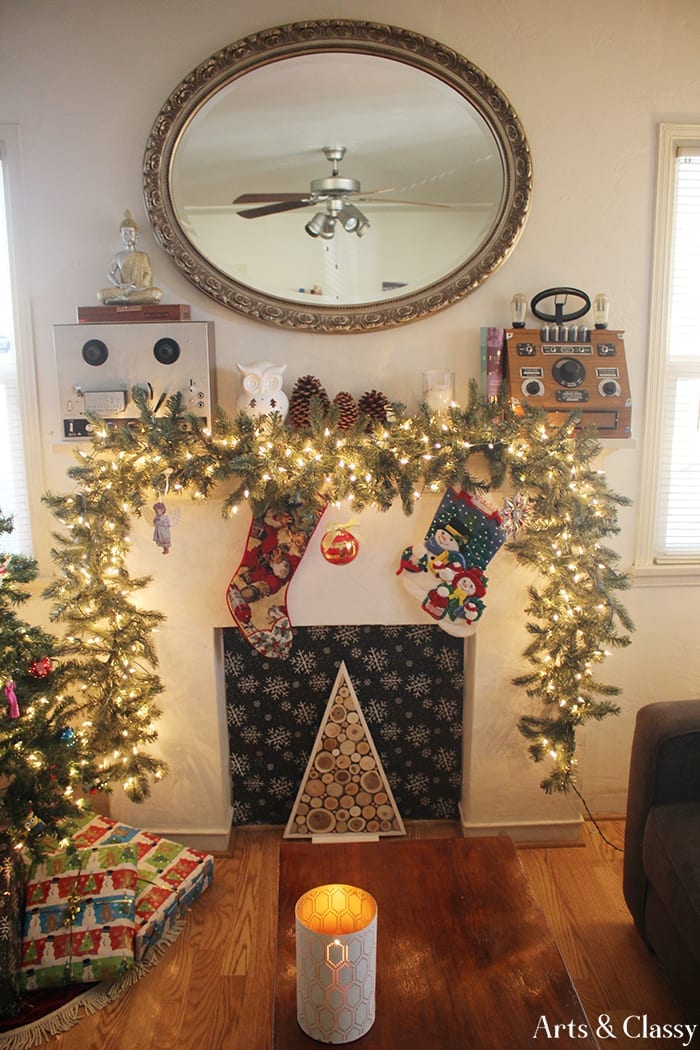 On top of the mantel is some vintage recording equipment. My guy is a musician and he loves vintage touches like this. I added a Christmas owl and 3 pinecones from recent trips we have taken to Big Bear and Mount Pinos for hikes. I pick up a pinecone where ever we hike as a little memento. Here is a similar owl I found online. I couldn't find the exact one that I found at HomeGoods a few years ago.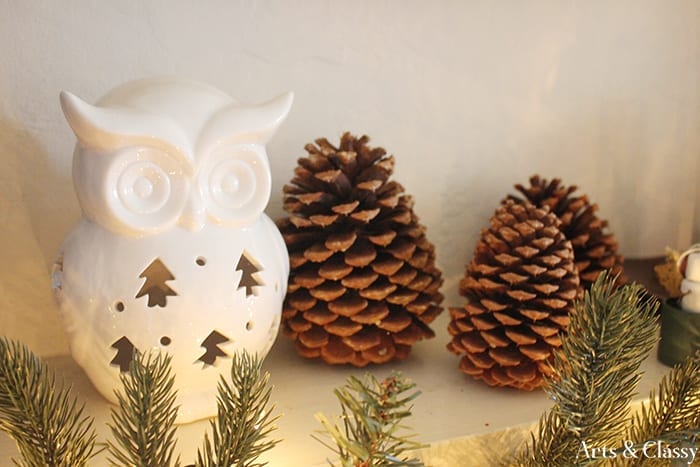 My mom also gifted me and Mike this cool wood slice tree decor that her friend makes that worked perfectly in our decorative fireplace. I am trying to find out if she sells this wooden tree online so I can share that link with you. I think this tree is adorable. I decided to use wrapping paper cut to size as a background behind the tree to really make it pop.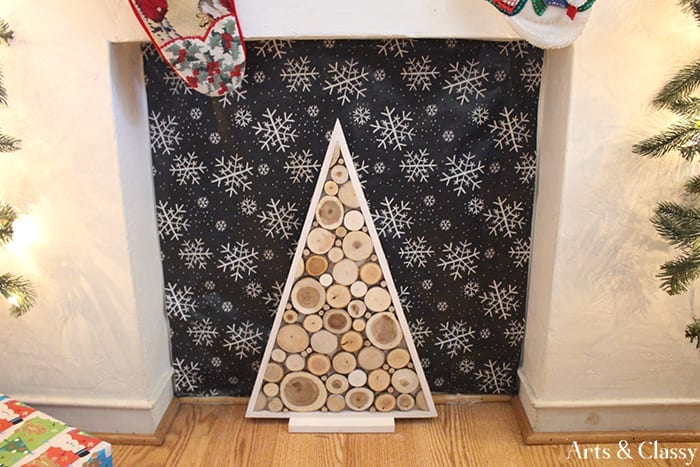 Another gift from my mom was a beautiful Christmas wreath for our front door. This wreath is fake but it looks real and I am happy that we can use it for future holidays.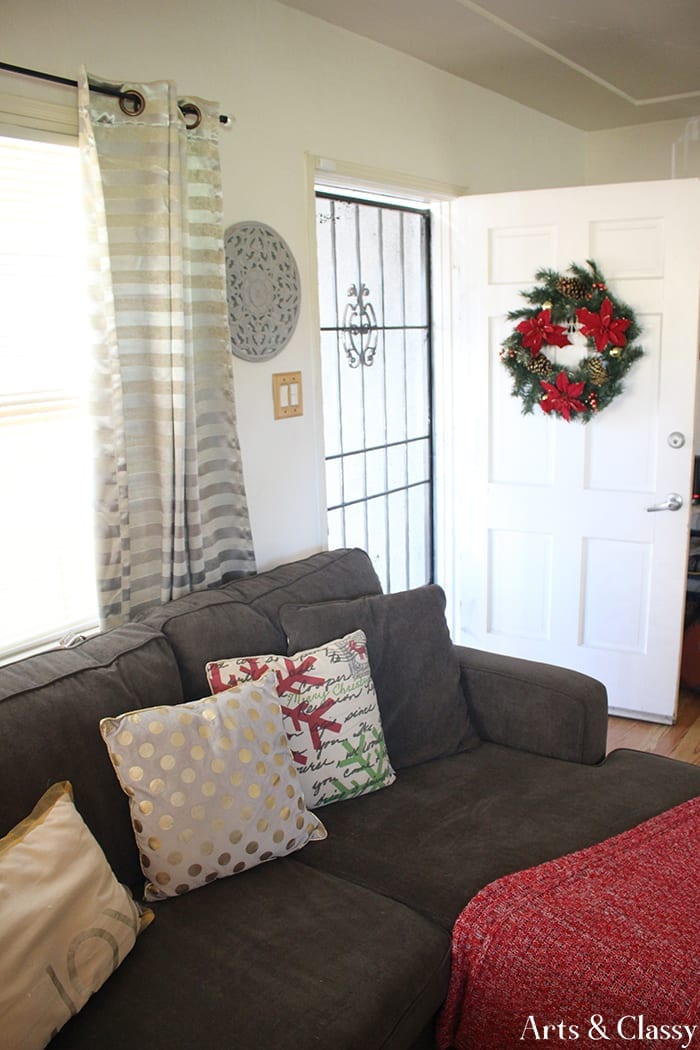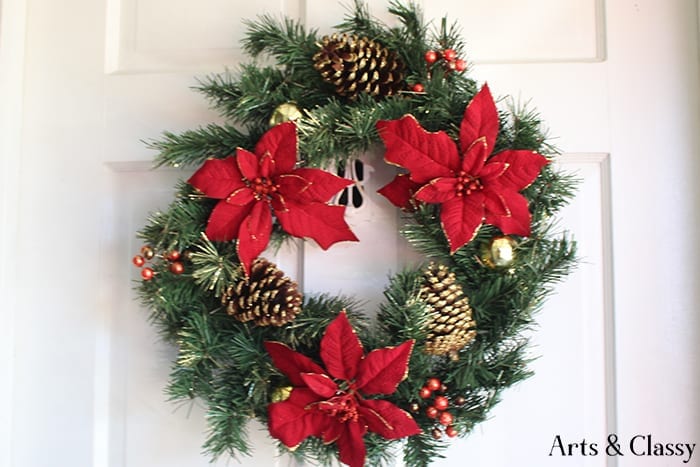 Since I have been recovering from my surgery, looking at festive Christmas decorations has been boosting my mood every day.
Let me know what you think of this living room holiday home tour in the comments below. I hope this inspires you to decorate your home on a budget this year.
If you liked this post, you may also like: