Here are 10 home decorating for Christmas ideas + free printables. 'Tis the season to start decorating for the Holidays and Christmas specifically.
Each season I am a big fan of decorating my home to match my current style. I am not really that into big tacky holiday decorations. I like to keep it subtle and elegant. This is why I am so excited to be writing this post today because I found some amazing creative home bloggers/designers that are on the same wavelength as me!

This post contains some affiliate links. I may earn a small commission if you make a purchase through one of these links. See more information in my full disclosure policy.
Check out these 10 home decorating for Christmas ideas on a budget.
1. Get Thrifty & Keep it Simple
One of my favorite places to shop for inexpensive Christmas decorations is thrift stores and dollar store. You can find all types of treasures for a super reasonable price, from Christmas to ornaments and knick-knacks, to mason jars and baskets. They can all be used as staples in holiday-themed decor.

Image + Source Credit: Crafts By Amanda
2. Do it Yourself
Why pay the big bucks for home decor items when you can do it yourself? That's kind of the point of this blog. I am all about DIYing anything I can. It's fun and easy to get creative and make your own Christmas decor. When you do it the DIY way, you can pay a fraction of what you would pay buying at the store.
It doesn't have to be complicated either. I love the concept of the DIY candle holder below with evergreen leaves glued to the glass. It looks so elegant and chic!

Image + Source Credit: HandiMania
Also, you can gather a lot of incredible DIY inspiration from Dollar Tree Christmas DIY projects. You can find so many good ideas that you could make a reality the same day. Plus, were you aware of Dollar Tree's DIY crafters section? This was new information for me and it has changed my world. I am very excited to add more DIY holiday home decor while staying on a small budget.

Image + Source Credit: The Thrifted Nest
3. Use What You Already Have
The easiest way to spend money on Christmas decorations is to use items you already have on hand. Dig out the red items from your Valentine's Day or your patriotic stash.
Combine them to decorate your home in traditional red. Perfect example…This paper straw wreath is so cute! You can find paper straws online for less than $10.

Image + Source Credit: Style At Home
Another cute idea would be to add a ribbon or bow to a plant in your home to give it a simple and festive feel.

Image + Source Credit: Creekline House
A home decor idea that I am a big fan of is to take ornaments and use them as vase filler in a decorative vase or an apothecary jar to use as holiday decor.

Image Source + Credit: Pinterest
4. Keep it Simple and Minimal
Decorating your home for Christmas on a budget doesn't have to be complicated. You can make it as simple as a small basket of shiny ball ornaments. That can work well and add plenty of color for a table or centerpiece.
You could even add some pine branches to a large vase with a couple of small ornaments for a splash of holiday zest. Sometimes it's small touches like these that can bring your holiday décor up a notch or two with little effort. It looks elegant yet keeps it simple and can blend in easily with existing decor.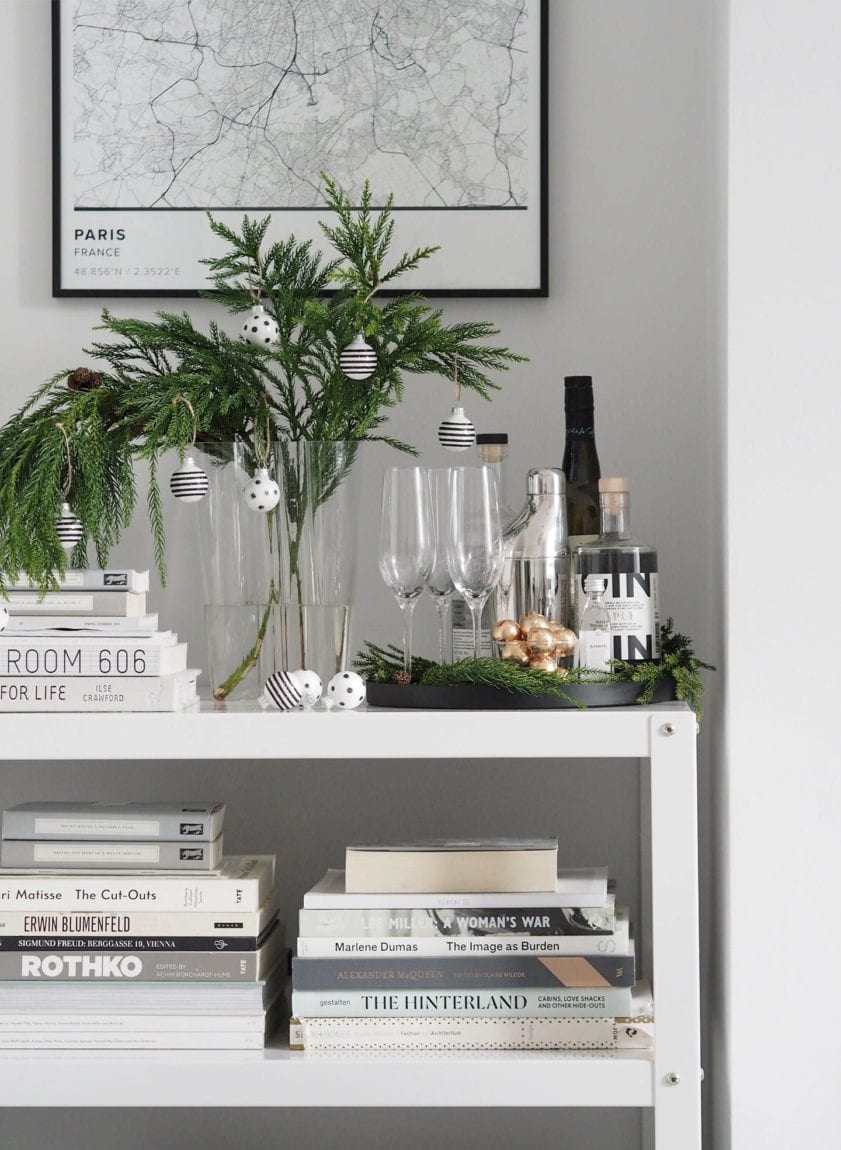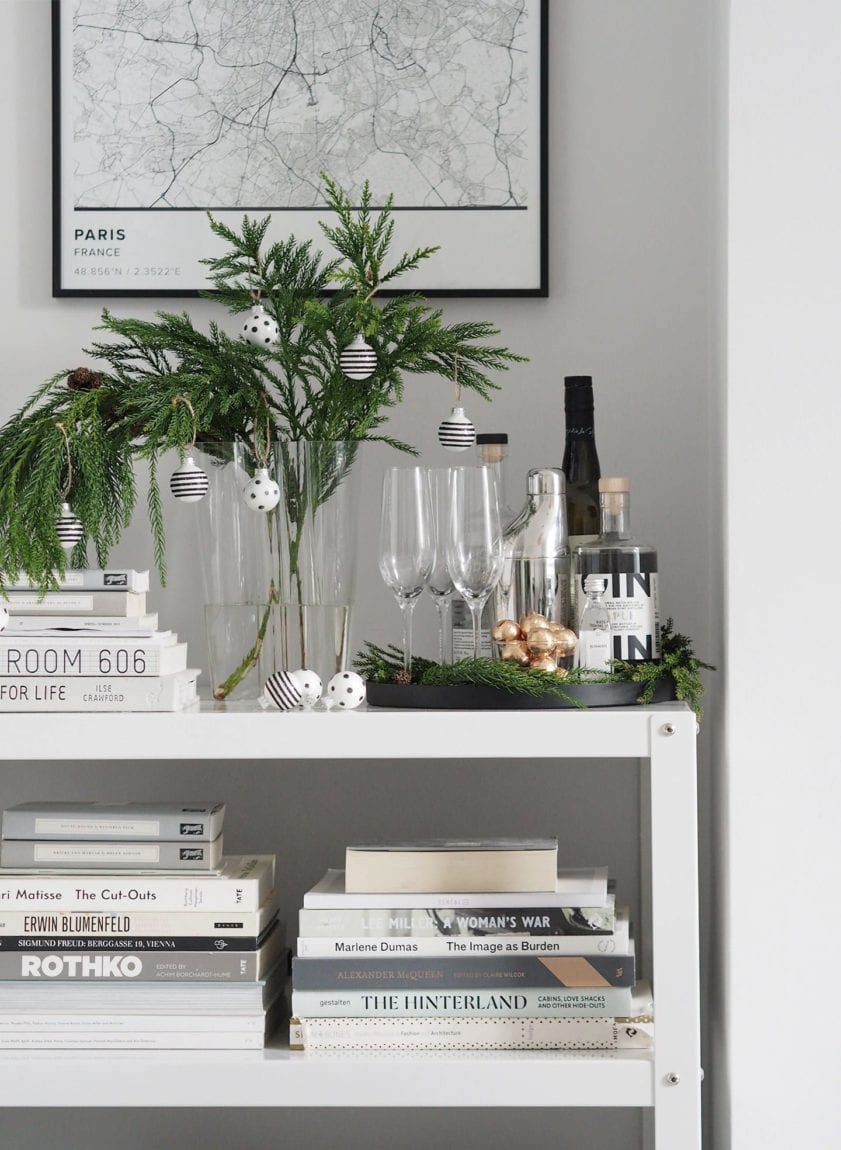 Image + Source Credit: Cates Hill
5. Pick Certain Spaces to Decorate
A simple way to work on your home decorating for Christmas ideas is to limit the space you decorate. You do not need to decorate your entire home for the holidays. I don't care what the magazines say.
Save your money by decorating only the rooms that are most visible to your guests or the rooms you spend the most time in. This could be your living room, kitchen, and entryway.

Image + Source Credit: Pine and Birch Co.
6. Lights Always Help
Good lighting for your holiday décor is a must and is easy to do. It can make your space go from boring to elegant. Holiday candles and string lights cast a glow around your space that creates a cozy ambiance.
I love how this mini Christmas tree was used almost as a side table. I love the lighting it emits. This space definitely seems more cozy and festive now.

Image + Source Credit: Our Hand Crafted Life
7. Go Small
You don't need a huge tree or big over the top decor to really make an impact. Focus on the details and how big or small your space is and make your Christmas decor reflects that.
For a small apartment, a small tabletop tree like this one is perfect.

Image + Source Credit: Designthusiasm
8. Use Mother Nature
Save money by using free natural elements that you can get from your yard or a local park. All compliments of Mother Nature herself and instant holiday décor.
You can also pick up pinecones and acorns from your yard. Put them in a basket and add some ornaments or a bow and you have instant holiday decor.

Image + Source Credit: Evolution of Style Blog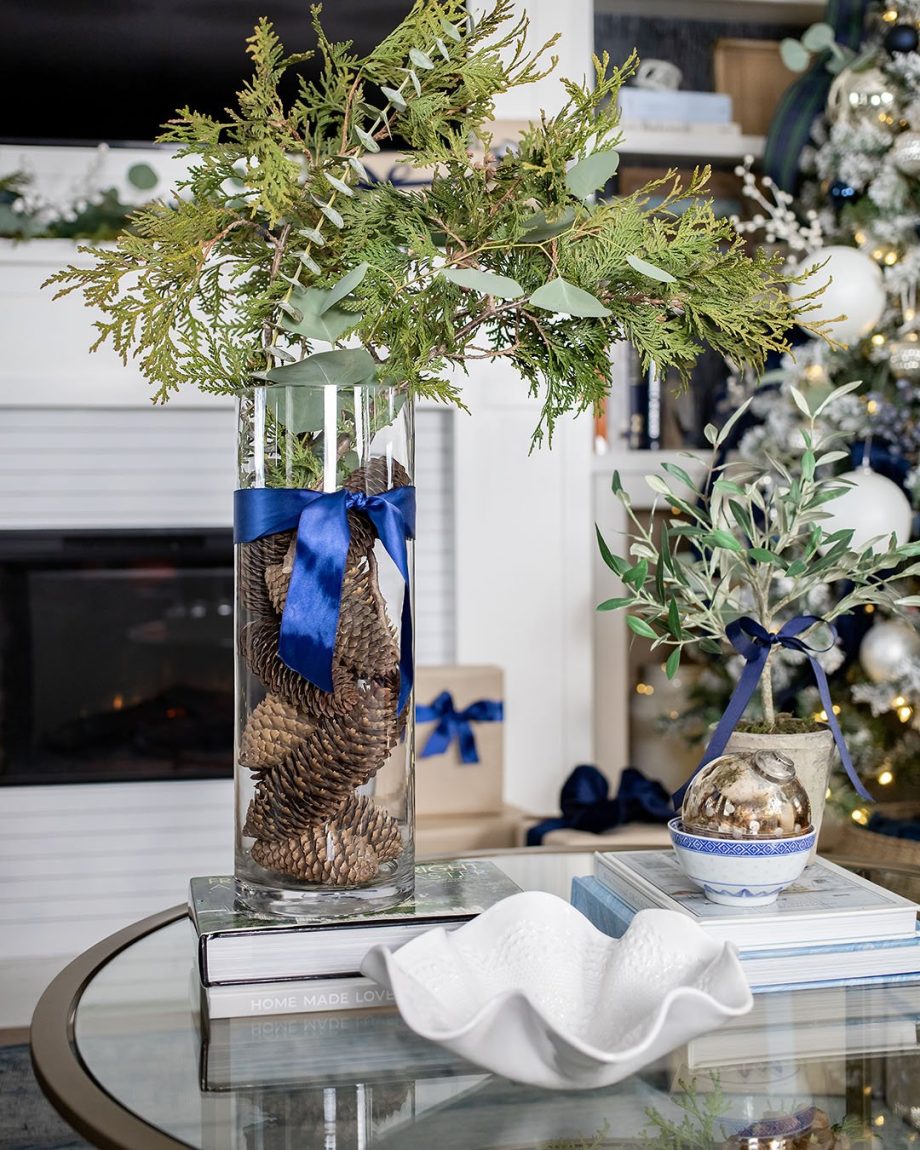 Image + Source Credit: Creekline House
9. Use Old Items in a New Way
I love using things like old olive baskets to use with holiday decor. This works for literally any season. But for Christmas specifically… these Christmas trees are adorable and a great way to meet guests.

Image + Source Credit: On Sutton Place
10. Shop After Christmas Sales/Clearances
If you have had your eyes on some expensive home decorating for Christmas ideas like an elaborate garland or a beautiful large fake tree, the best time to buy it would be after Christmas. Then you can use it next year.
There are so many shopping deals at the end of season clearance sales! You can easily store the items I get for 75-90% off the regular purchase price for later use. Score!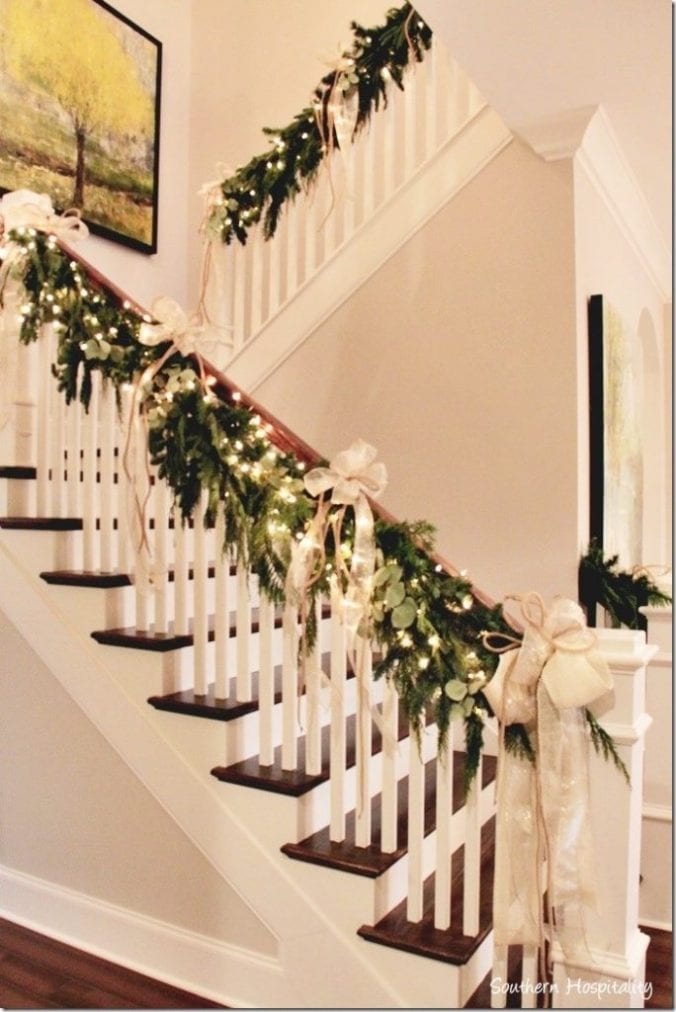 Image + Source Credit: Southern Hospitality
Here are some more related home decorating for Christmas ideas you will definitely enjoy.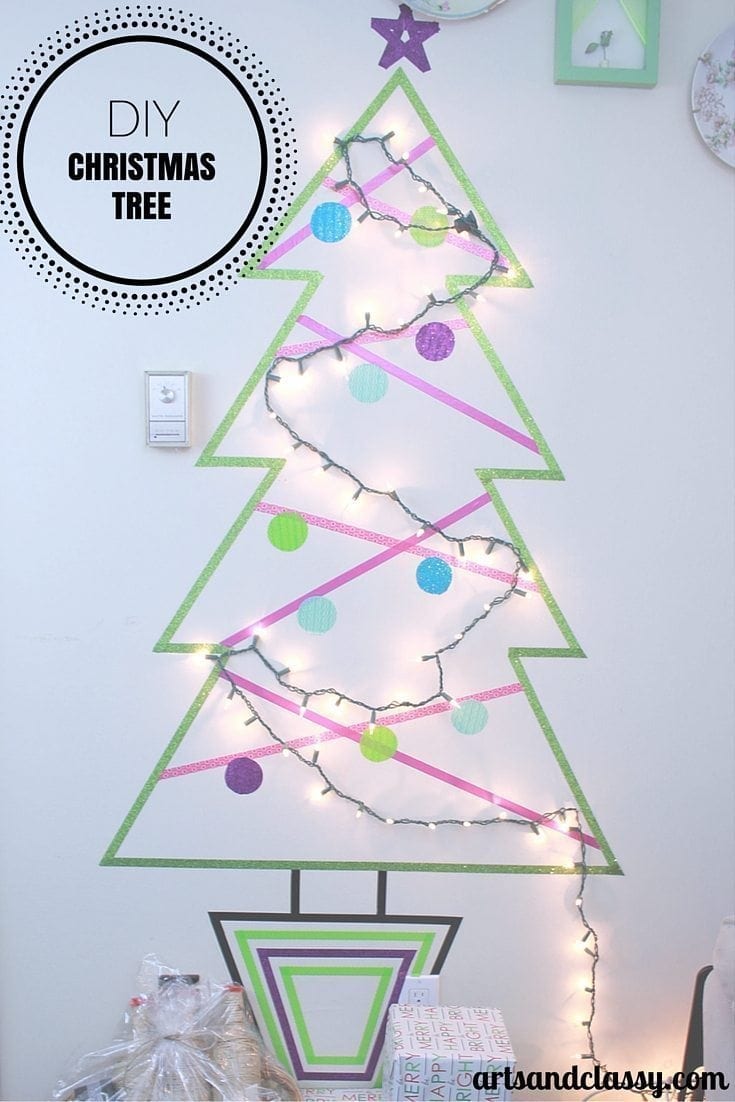 What are some ways you love to decorate your home for Christmas on a budget? Let me know by leaving a comment below.
Also… I made you something! Check out 5 FREE Christmas Printables that you can download and print to add to your home decorating for Christmas ideas!