[Oct 27th] Favorite Things Friday: Trending Weekly Favorite Finds!
Hello, fabulous readers! It's that time of the week again – Favorite Things Friday, and I'm here to spill the beans on some fabulously fall-tastic weekly favorite finds from my LTK shop. As the unofficial start of pumpkin spice season, this edition is packed with cozy decor, clever kitchen solutions, and a little extra organization magic.
So, grab your scarf and prepare to be amazed by these weekly favorite finds!
This post contains some affiliate links. I may earn a small commission if you make a purchase through one of these links. See more information in my full disclosure policy.
1. Cozy Up with Harvest Fall Decor:
First on the list is a little fall decor that's gourd-geous and flying off the virtual shelves. And guess what? It's on sale now! This cute harvest fall decor is here to pumpkin spice up your living space. Find out why it's this week's best-seller and snag it while the savings last.
2. Anchor Your Kitchen with Glass Storage:
Say "Ahoy!" to your new favorite kitchen companion. The anchor glass storage jar is one of this week's best sellers, and it's airtight, which means your snacks will stay as fresh as a sea breeze. And the best part? It's a treasure under $10! Get the scoop on why it's a kitchen essential.
3. Step onto Luxury with Waffle Weave Bath Mat:
In the world of bath decor, this waffle weave bath mat reigns supreme and it's been a favorite for many weeks now. I've had the pleasure of stepping onto its luxurious embrace in my master bathroom, and let me tell you, it's a game-changer. Discover why it's this week's most loved find and a must-have for your bath oasis.
4. Organize and Conquer with ADHD Daily Planner:
For those of us who might get a little squirrelly when it comes to staying on track, this ADHD daily planner is a lifesaver. I found it on Amazon, and it comes with a bunch of stickers and organization tools. It's like a personal assistant that fits in your bag. Uncover the magic behind this week's most loved find.
5. Brighten Up Your Day with Tula Skincare:
Last but not least, let's give those peepers some love. The brightening eye balm from Tula skincare is one of this week's most loved finds, and it's like a ray of sunshine for your under-eyes. I'll reveal why it's a game-changer for your skincare routine.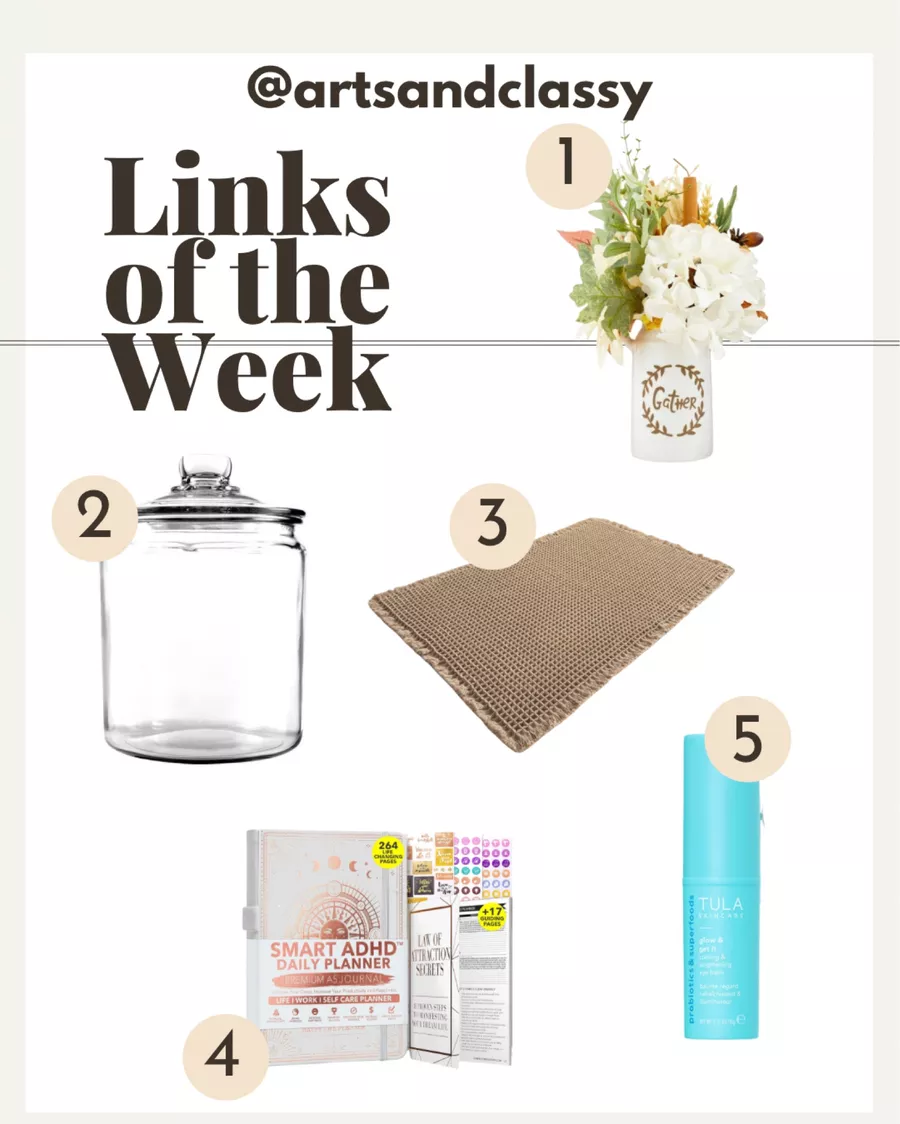 And there you have it, this week's lineup of autumnal treasures that are making my heart do a little happy jig.
Whether you're embracing the cozy vibes or seeking practical solutions, these finds have got you covered. Stay tuned for more seasonal inspiration next Friday, and until then, keep sipping that pumpkin spice latte, my dear readers!
Make sure you are following me on Instagram, Facebook, Pinterest, YouTube, Hometalk, and TikTok for more ideas on how to decorate your home!
If you liked these weekly favorite finds, you may also like other trending items found from weeks past: