The Life-Changing Dated Rustic Bathroom Makeover You Can't-Miss – #Phase1
Are you looking for the perfect bathroom makeover for your rustic Tuscan bathroom? Me too! You can't miss the empowering and life-changing journey of my dated Tuscan bathroom makeover. In this post, I'll talk about the beginning design process and its challenges, the before-and-after transformation, and the best tips and tricks to transform your dated Tuscan bathroom into a modern rustic piece of art. Join me on my Master rustic bathroom makeover journey and get ready to be amazed.
Making this whole bathroom makeover happen on a budget has been the biggest focus. If you want to see more of my planning including my moldboard, check out The Ultimate Guide to Designing a Dreamy Modern Farmhouse Master Bathroom. I am making over this master bathroom in different phases since I am not a bathroom designer with a crew of people to tackle this project all at once.
What is a rustic look in a bathroom?
A rustic bathroom has materials that look like nature – like wood, brick, and stone. It has an inviting balance of warmth and cool tones that give it a cozy, natural feel.
Design Challenges
First let me start off by saying, our bathroom is AMAZING! My husband and I fell in love with it and it is by far the biggest bathroom I have ever had. No complaints there. But what I will say is that our home was built in 2009 and the fixtures and finishes are very much from that time. I am always the person hat sees potential in a space and wants to improve my surroundings.
With this makeover, the first challenge was to decide if I wanted to get new mirrors or simply find a way to make the mirrors look better. Essentially giving is a rustic bathroom decor makeover.
The second challenge was the vanities. I was trying to decide on the right action to take with them. Did I want to paint or stain them? Well, painting won because I knew staining was going to be a bigger project. My back just couldn't handle it. lol. Plus, painting could be a nice way to add rustic charm and a pop of color instead of the dark stain they were originally. I wanted the vanities to be a focal point in this rustic design.
The third challenge for this modern bathroom makeover is to replace the hardware. I plan on completing a full replacement in Phase 2, but for now, I thought spray painting the current hardware gold would be a great short-term solution.
Supplies I used for this rustic bathroom design project:
Sherwin Williams Semi-Gloss Paint – Color "Let it Rain"
Rustoleum Gold Spray Paint
Kilz Primer
Small Paint Roller
Angled Paint brushes
Sand Paper
Screwdriver
Makita Power Drill
MirrorMate "Cherokee Barnwood" Frames x 2
Tired of the Same Look
How to update a Tuscan style bathroom?
If you want to transform your traditional Tuscan-style bathroom into a modern farmhouse look without breaking the bank, there are a few simple steps you can take. Start by changing out the hardware such as towel racks and faucets – look for pieces with a more modern and refined look. Next, choose new lighting that fits the style. Consider a statement chandelier or a unique vanity fixture. To add rustic flair add texture, and use materials like wood, tile, and stone. You could paint the walls, add a shiplap feature wall, or update the floor with patterned tiles. Finally, accessorize with rustic touches like woven wicker baskets for towels, or a vintage-style mirror. With just a few small changes, you can have a modern farmhouse bathroom in no time!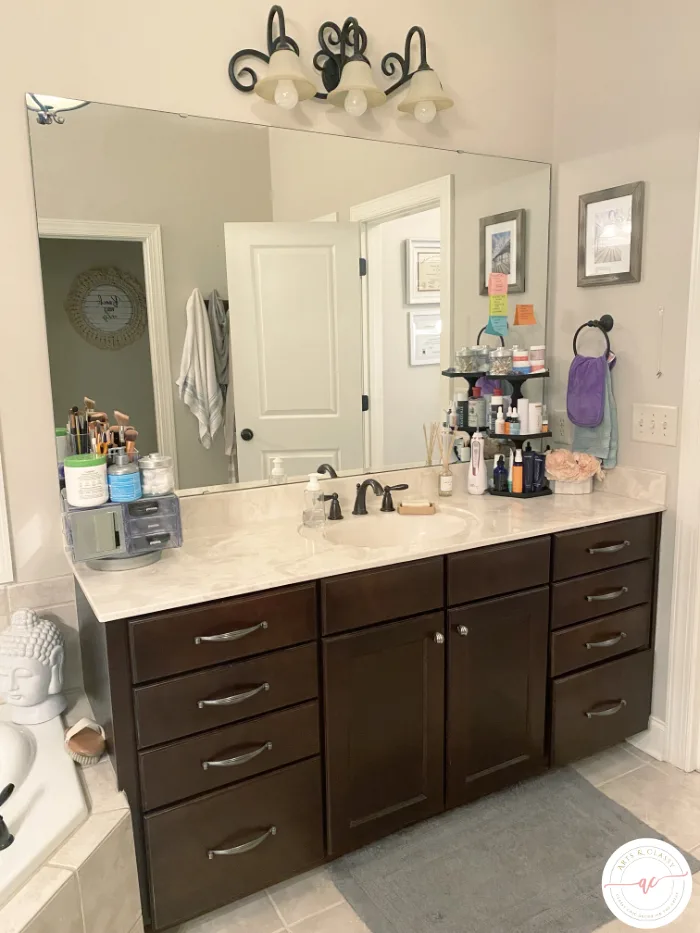 What I Did to Transform the Bathroom
You might be asking yourself…
How do you modernize a dated bathroom?
Well, to look at the big picture updating a dated bathroom need not necessarily involve doing a full-scale renovation. By adding modern hardware, fixtures, and styling touches, one can give a bathroom a modernized, farmhouse look with a beachy vibe.
To achieve this, replacing fixtures like the sink and bathtub, painting vanities, updating hardware like knobs, pulls, and towel bars, and incorporating styling touches like natural fiber rugs, light fixtures, and season accents can all help in modernizing a bathroom.
The key takeaways:
A full renovation is not necessary to modernize a dated bathroom.
Painting vanities and current hardware. (until I get new hardware)
Updating hardware and fixtures can make a big difference in giving the bathroom a modern look.
Incorporating styling touches like rugs, light fixtures, and seasonal accents can help in modernizing a bathroom.
The Before-and-After Transformation
I transformed my bathroom by painting the vanities, cabinets, and drawers. I also spray-painted the old hardware and added natural wood mirror frames. Now, my master bathroom is one step closer to having a wonderful rustic makeover.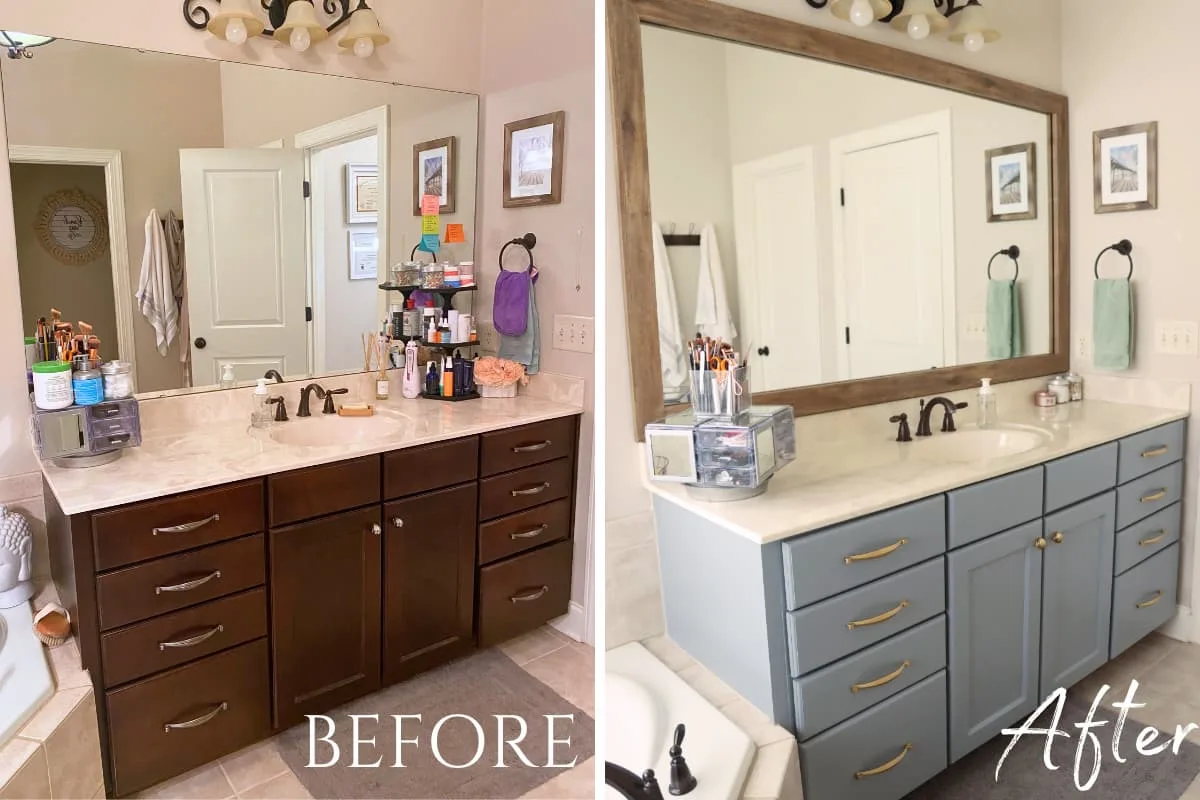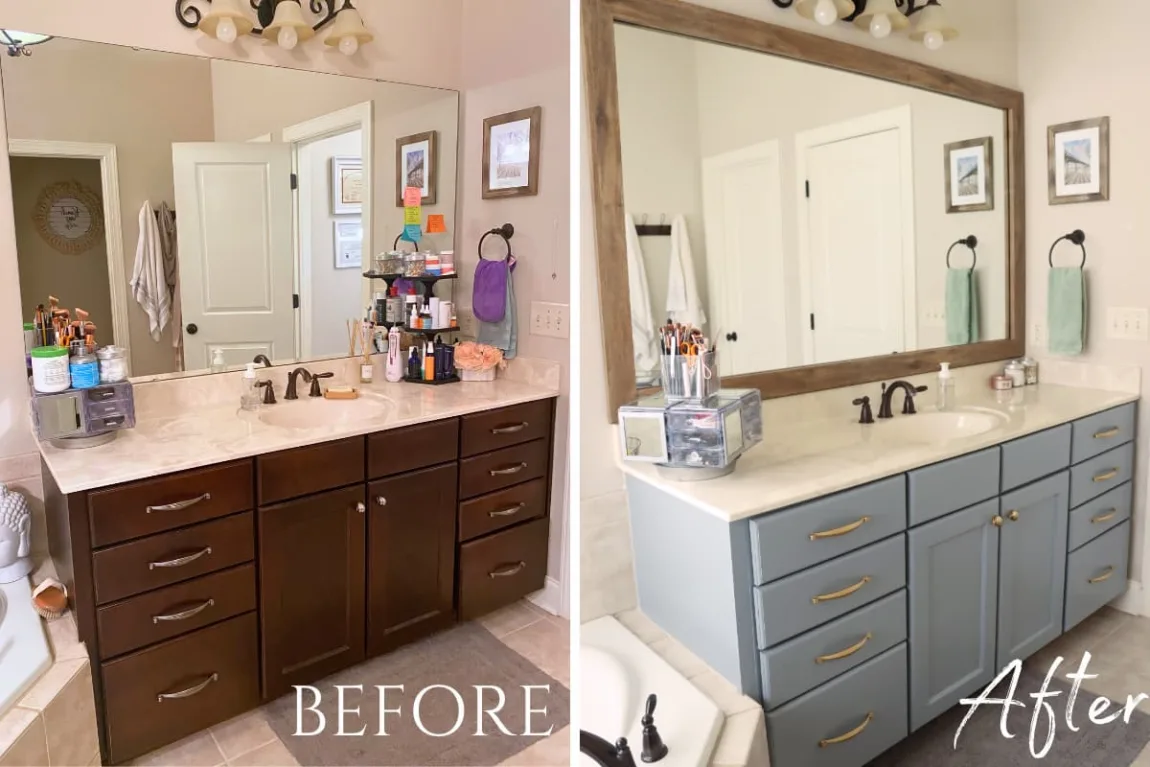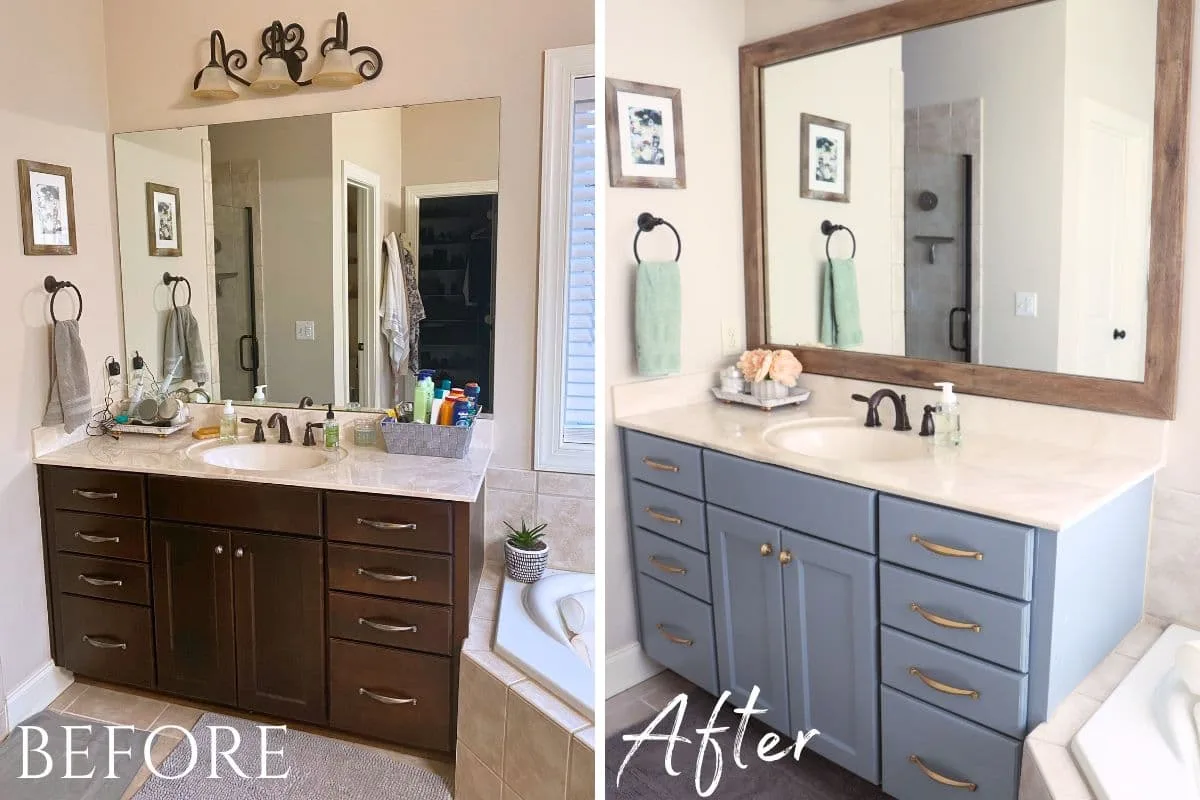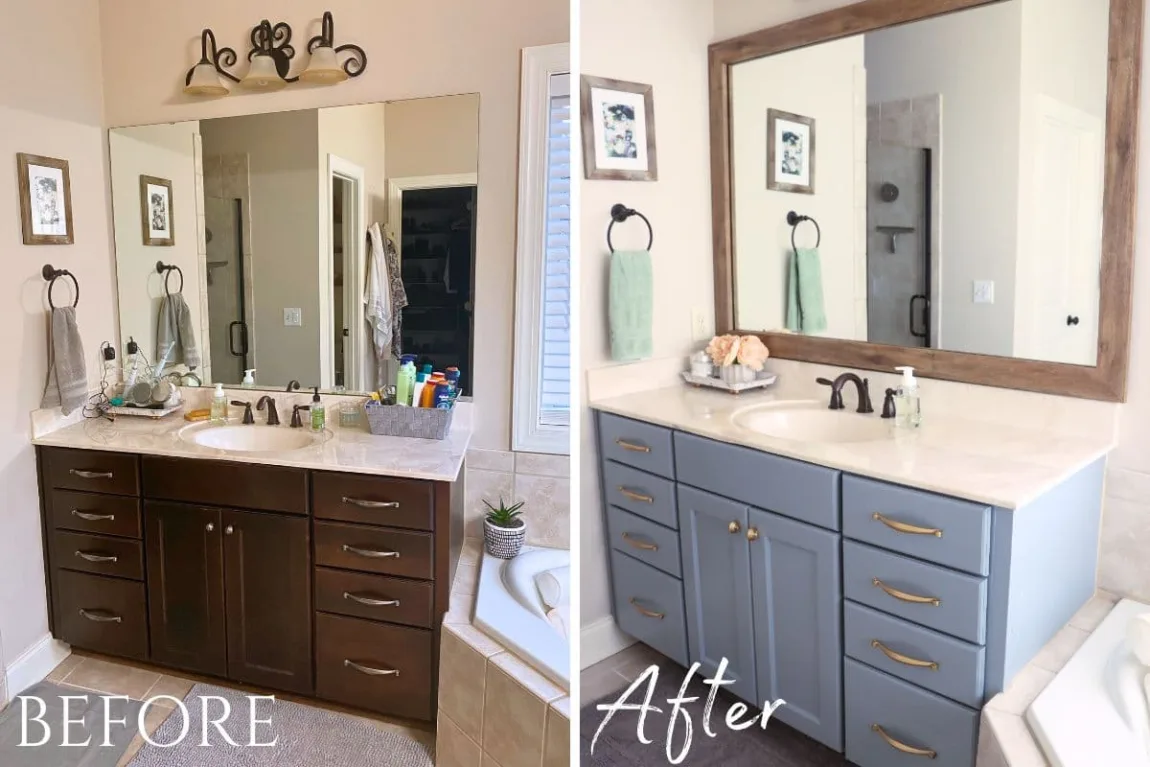 Best Tips and Tricks
Phase 1 of my dated Tuscan bathroom makeover journey has been inspiring and empowering. With the help of some creative ideas and a bit of hard work, now my bathroom looks more modern and rustic. This is only the first step in the makeover process so make sure to stay tuned for updates that I make to this space.
Here are more shots of my master farmhouse bathroom vanity with a wood mirror frame.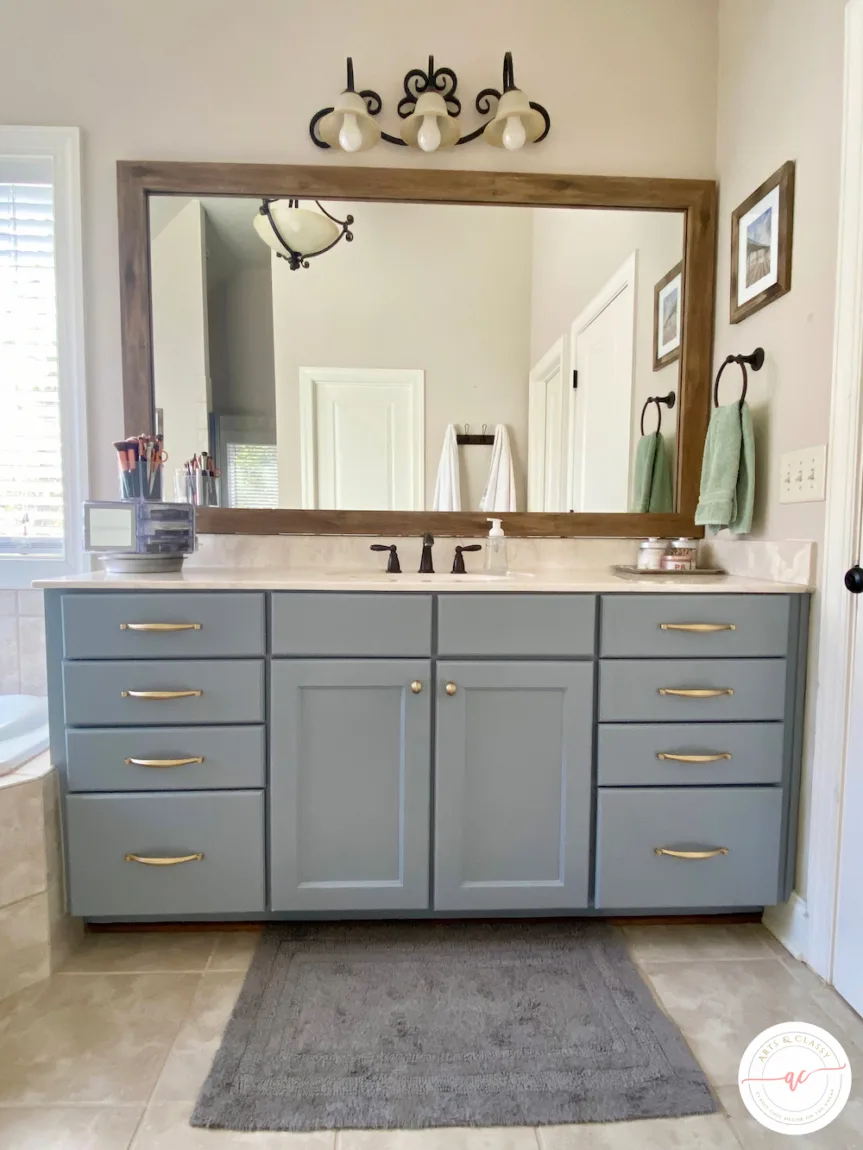 More shots of my husband's master farmhouse bathroom vanity with a wood mirror frame.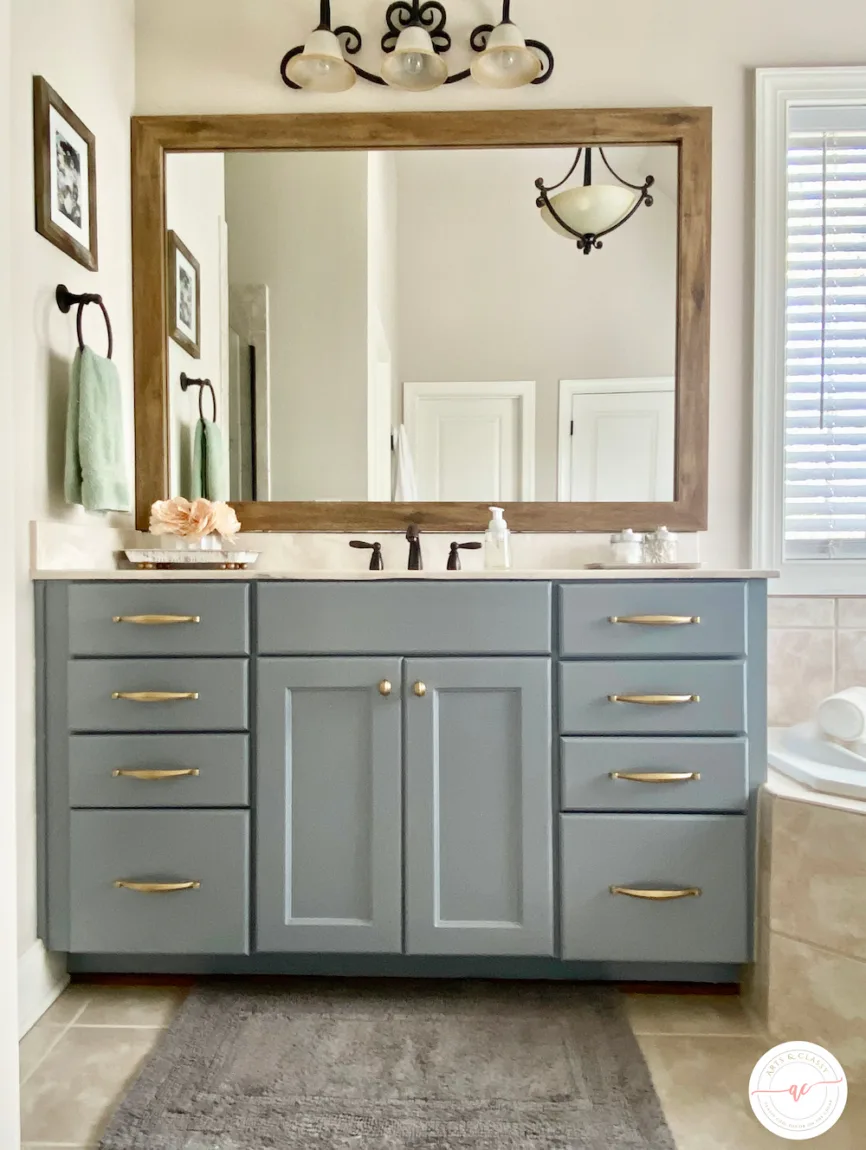 Here is a sneak peek at the Oasis rustic bathroom ideas process I have in my plan for this year.
Phase 2 will be updating the vanity countertops (giving it a faux marble makeover), faucets, and hardware.
Phase 3 will be painting the floors and tile around the tub.
Phase 4 will be updating the light fixtures above the vanities.
Phase 5 will be painting the floor tiles in the water closet.
Phase 6 will be painting the remaining floor tiles in the bathroom space.
Phase 7 will be adding finishing decor touches like natural materials, antiques, towels, a shelf or two, storage, toiletries accessories, and spa-like and beachy rustic-style decor.
By taking into consideration the design challenges, the importance of a new look, and the best tips and tricks, we know that this bathroom makeover project was a success.
What do you think about the rustic bathroom design transformation of adding some farmhouse styles to my dated Tuscan bathroom? Leave a comment below and share your thoughts about the makeover project.
If you like rustic bathroom design ideas, then you might also like: