8 Essential Tips for Decorating a Navy Blue Bathroom on a Tight Budget
If you have arrived at this post, you may be curious to learn more about how to decorate a navy blue bathroom. Let alone, one a budget! Do you dream of relaxing in a spa-like oasis, but dread the high bathroom design price tag that comes with it? Well, good news! You can turn your dull navy blue bathroom into a personal haven without breaking the bank.
You don't have to be an interior designer to make this happen. In this article, I am sharing 8 simple and affordable ways to achieve the spa-like navy bathroom you crave.
From upgrading your lighting to incorporating greenery for a natural touch, I've got you covered. This could be for a powder room, guest bathroom, small bathroom, or master bathroom makeover. So, let's dive in and transform your bathroom into a luxurious oasis without breaking the bank.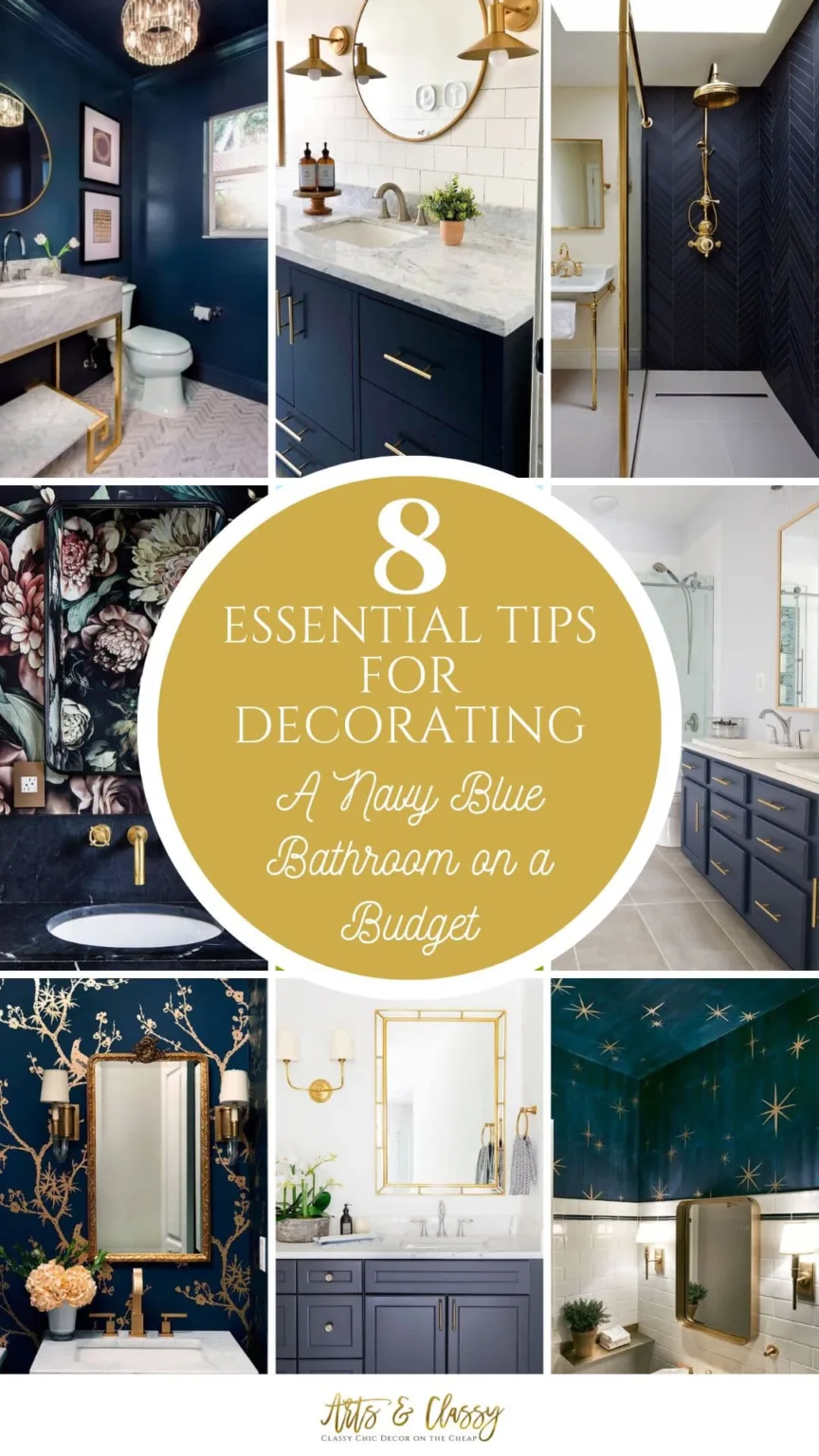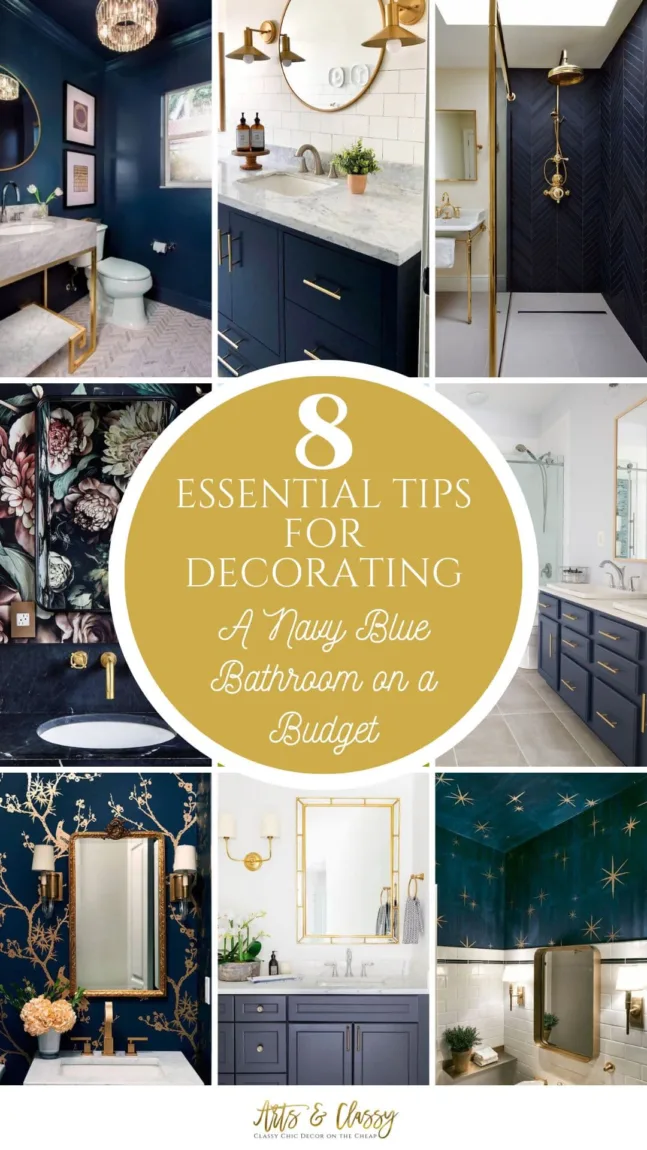 This post contains some affiliate links. I may earn a small commission if you make a purchase through one of these links. See more information in my full disclosure policy.
1. Upgrade Your Lighting
One way to create a spa-like atmosphere in your bathroom is to upgrade your lighting. Ditch the harsh, overhead light fixtures and opt for soft, ambient lighting instead. Install dimmer switches so you can adjust the brightness to your liking. Add candles for a warm glow and a relaxing scent. You can also incorporate LED strip lights around your mirror or vanity area for a modern touch. With the right lighting, you can create a soothing and tranquil environment that will make you feel like you're at a luxurious spa.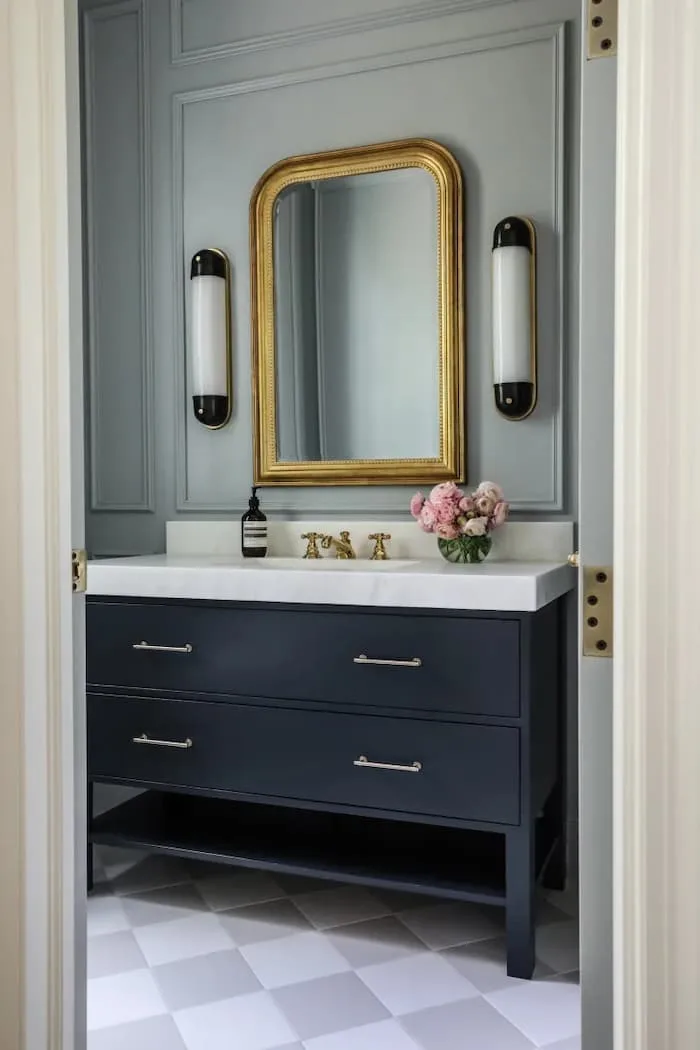 2. Incorporate Spa-Like Decor
To truly transform your navy blue bathroom into a spa-like oasis, it's important to consider the decor. A few simple additions can go a long way in creating a relaxing and luxurious atmosphere.
How do I make my bathroom look like a spa on a budget?
First and foremost, invest in some high-quality fluffy towels in neutral tones such as white or beige. These will not only look luxurious but feel soft and comforting against your skin. Incorporating natural elements such as plants and stones can also add to the spa-like ambiance. Consider adding a small potted plant or some strategically placed stones or pebbles on a tray. Not only will they add a touch of nature to your space, but they can also improve air quality and promote relaxation.
Lastly, don't forget to pay attention to the smaller details. Display your bathroom essentials such as cotton balls and q-tips in clear glass jars or containers for a sleek and uniform look. Consider investing in a new soap dispenser and toothbrush holder in a chic and modern design.
By incorporating these simple and affordable decor elements, your navy blue bathroom can truly become a spa-like oasis. Plus, with the addition of greenery in the next section, you'll have a complete natural retreat in the comfort of your own home.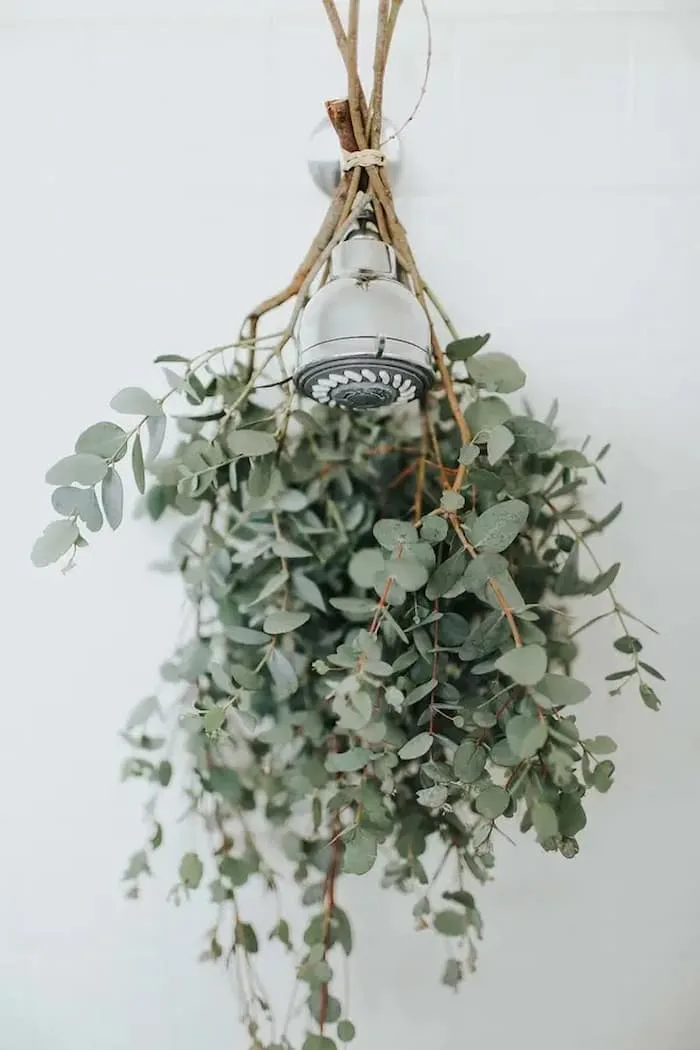 3. Marble Countertops
Marble countertops can provide the luxurious look you desire without the expensive price tag. The DIY marble countertop trend is on the rise, with many people opting for the elegant look of marble without paying the hefty price tag. Those familiar with DIY projects will be pleased to hear that installing marble for the countertop is a fairly simple process that can be done with a few tools.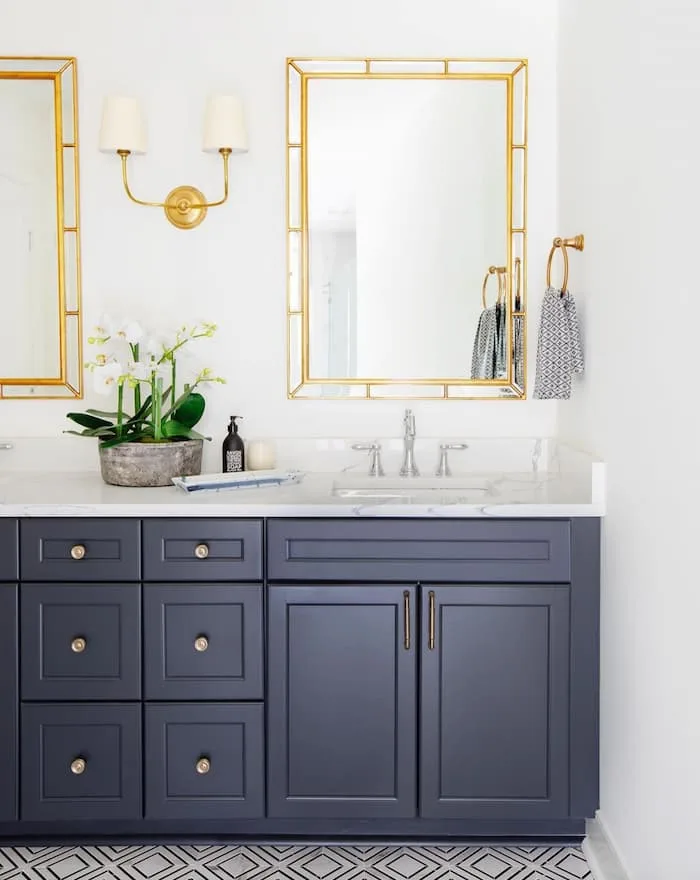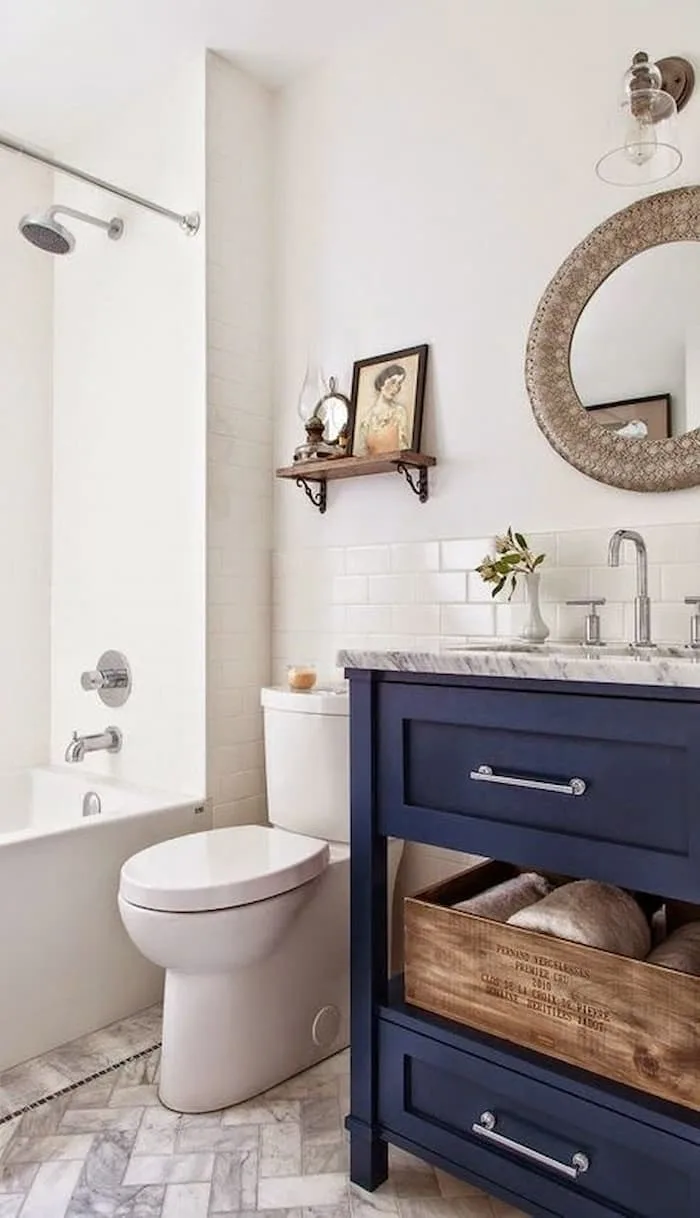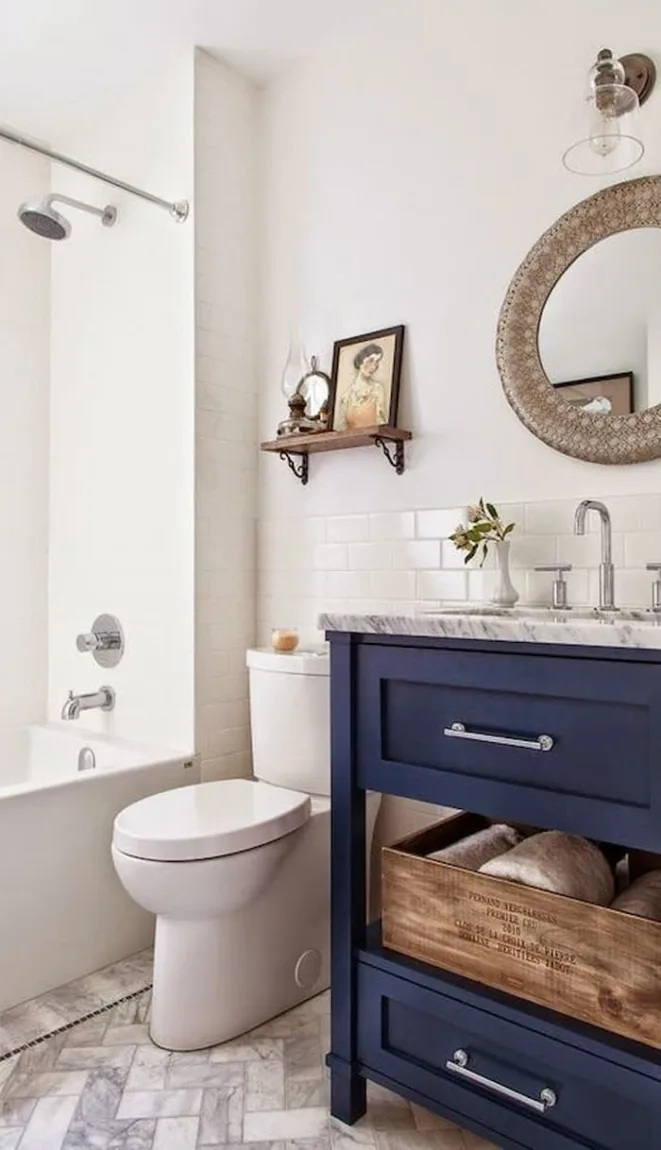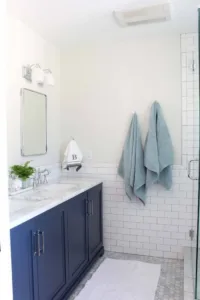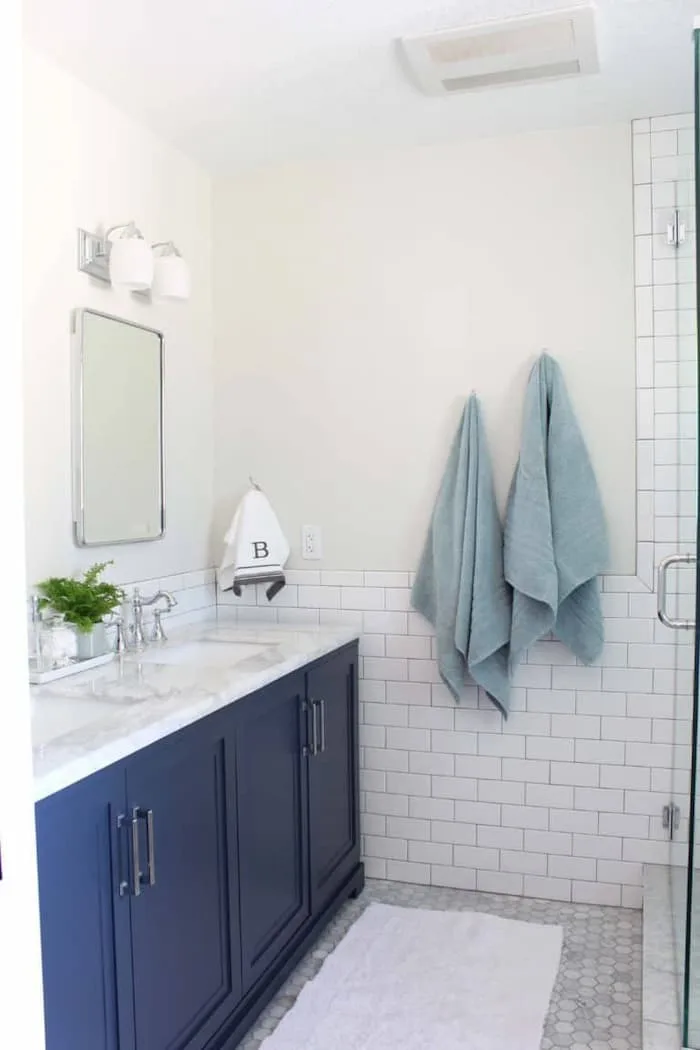 The DIY marble countertop process takes a few hours, depending on the size of the area, and can be a great addition to any bathroom. Not only will it give the bathroom a luxurious look, but it will also save money that can be used for other projects or put away for savings. In addition, the user will be able to customize the marble countertop to their own desired look and feel. With the right supplies and a few hours of work, you'll have an elegant, customized look that's sure to impress anyone who visits.

4. Change Out the Hardware
When it comes to navy bathrooms, many people are of the opinion that an upgrade in fixtures will require a large investment and a lot of time. Fortunately, upgrading the finishing touches doesn't have to be the case. Even with a limited budget and limited time, creating a spa-like oasis in your bathroom is completely achievable, and updating the bathroom hardware can be a surprisingly easy way to do it.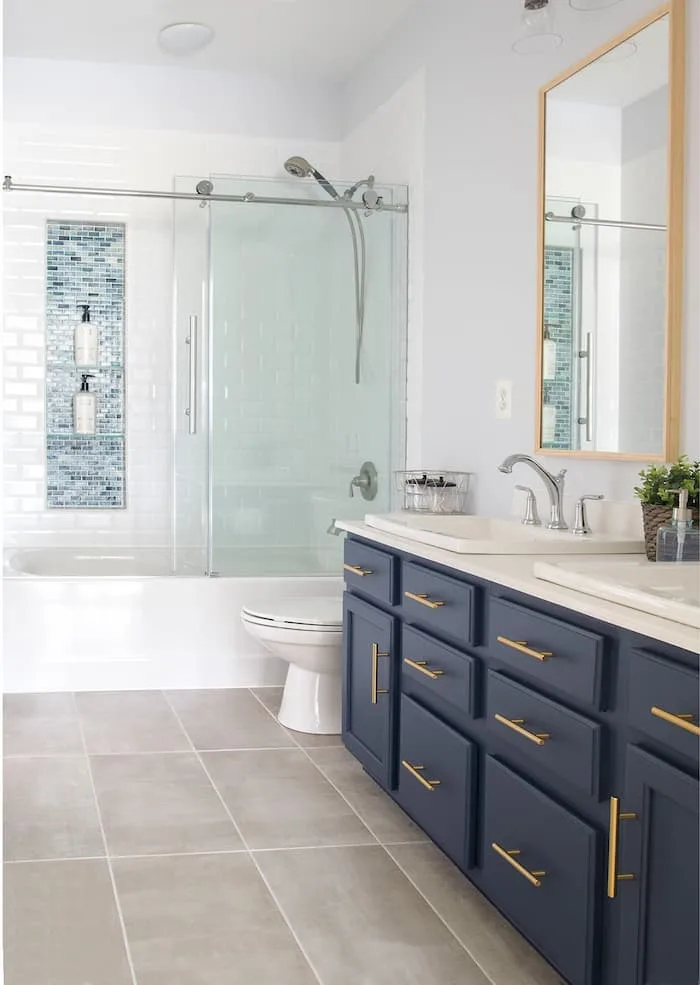 One of the easiest places to start is with the fixtures. A new set of taps for the sink and bath can give a bathroom an entirely different look, and because there are so many different styles and options to choose from, it's easy to find something that fits the aesthetic you're looking for. Choose fixtures in lighter metals such as chrome or brushed nickel for a modern look. Looking to achieve an old-world feel? Consider oil-rubbed bronze or copper. The possibilities are virtually endless, so it's easy to find something that fits your vision.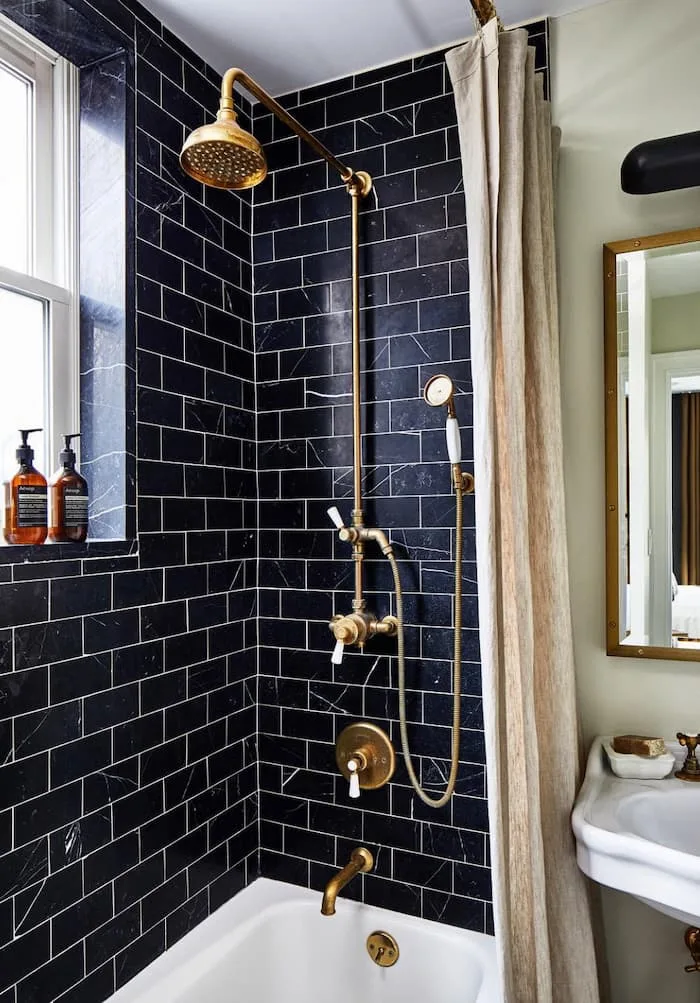 Another relatively easy upgrade can come from swapping out the towel rods. Like fixtures, there is a wide range of styles when it comes to towel rods and it's fairly easy to install them yourself. Instead of standard bars, you can opt for swing arms, go with a more ornate option with intricate detailing, or even choose something with a built-in shelf to maximize space.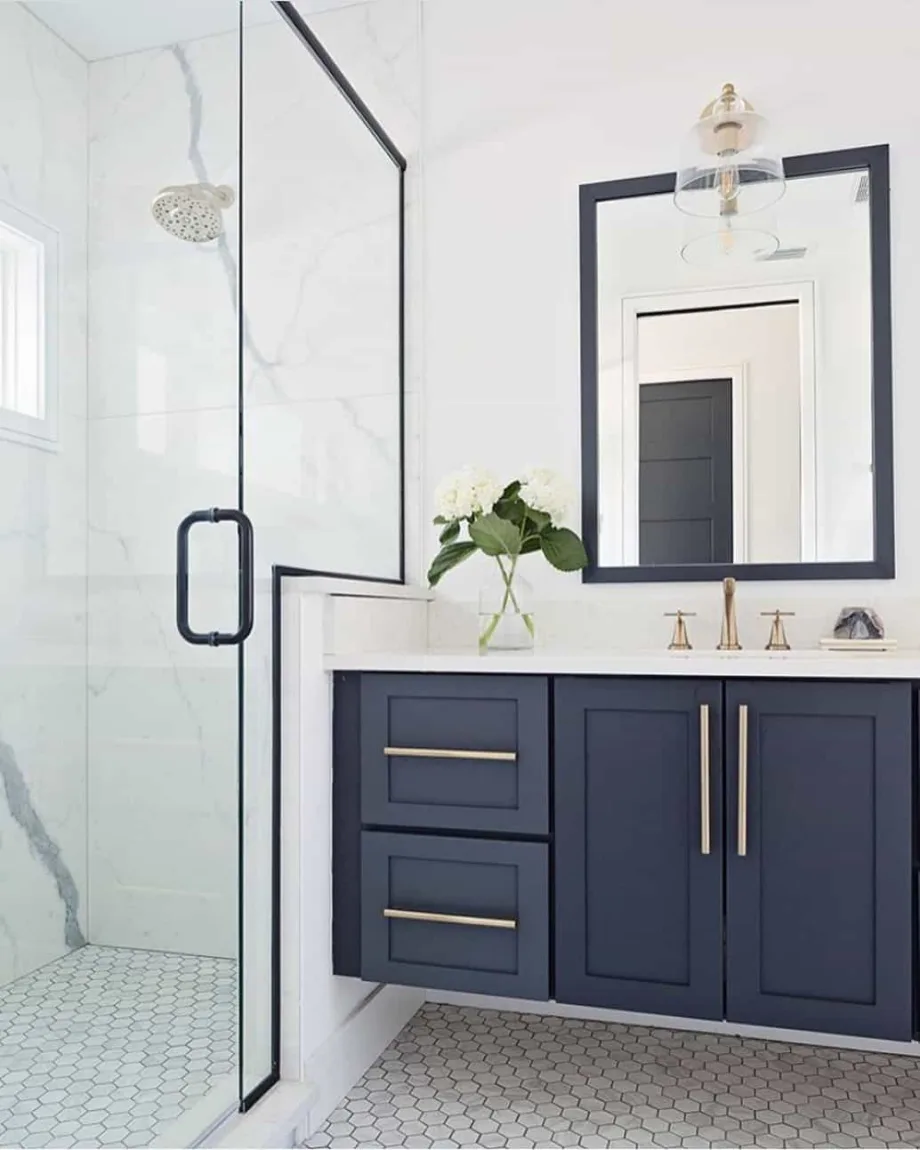 5. Wallpaper
Reviving your bathroom doesn't have to be intimidating; in fact, adding a few simple touches like paint or wallpaper can easily turn a plain room into a luxurious spa-like space. Learn how to decorate a navy blue bathroom by imagining stepping into a chic oasis with relaxing hues and textures, an atmosphere that you can escape to without ever leaving your home.
What color goes good with navy in a bathroom?
Adding paint or wallpaper can instantly transform your bathroom, making it feel larger and brighter. Creative use of color and pattern can help to draw the eye, while bold or subtle contrasts can add a unique style. A contrasting border wall and ceiling can instantly add sophistication, while an accent wall can draw attention to a favorite area. For a more subtle look, choose a coordinating palette of hues and shades throughout the room.
Wallpaper is a wonderful way to bring texture and visual interest to the room. From natural wood designs to glittery stone effects, the possibilities for wallpaper are seemingly endless. And for bolder patterns and prints, keep them to a minimum by using it on one wall or just an area, creating a focal point in the space
Ultimately, painting or wallpapering your bathroom is a great way to add a personal touch and transform the atmosphere. But it doesn't have to cost a lot of money or be hard to do. With the right tools and a little creativity, you can easily transform your bathroom into a luxurious spa-like oasis without breaking the bank.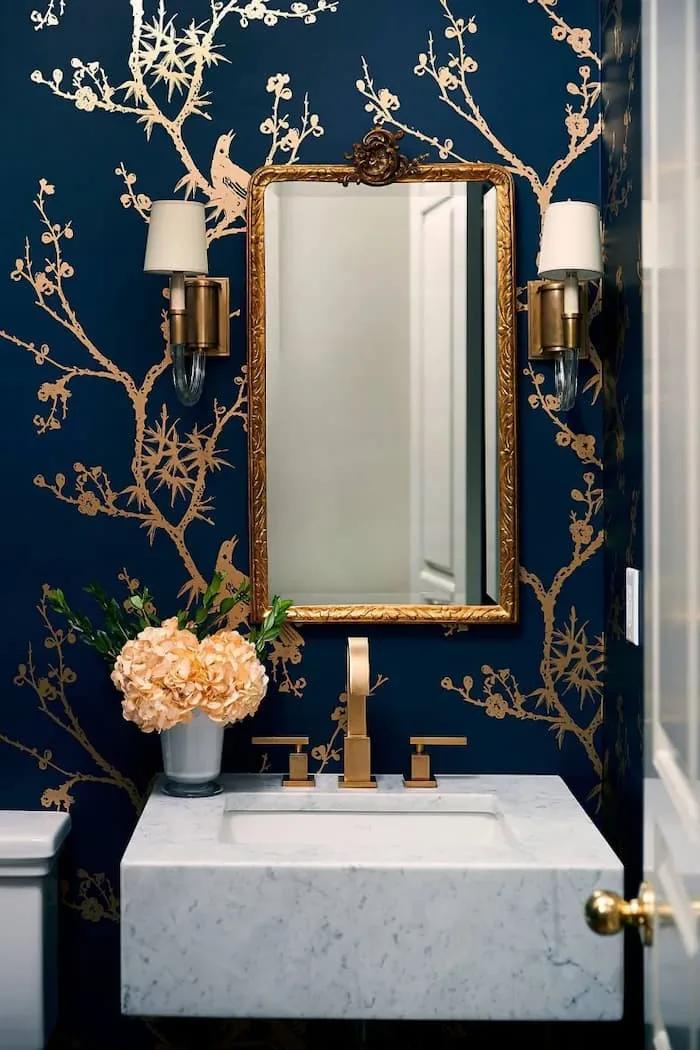 6. Add Greenery for a Natural Touch
Adding a touch of greenery can go a long way in bringing an organic element to your navy blue bathroom. Plants not only help to purify the air and create a sense of calmness, but they also add a pop of color to the otherwise neutral space.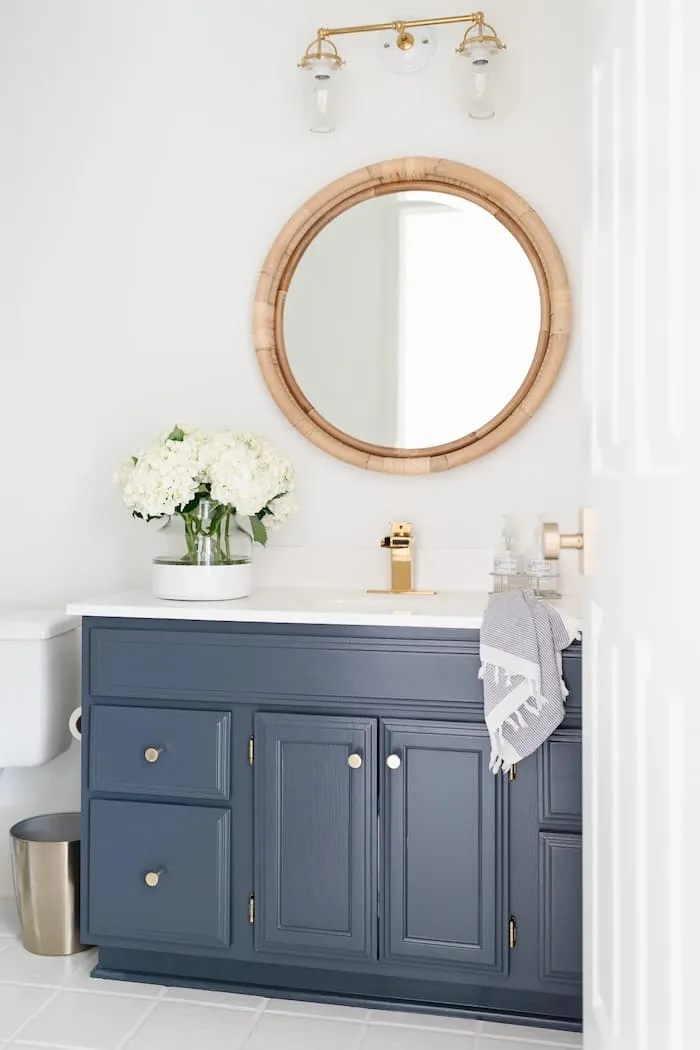 How can I make my bathroom cozy for cheap?
Consider adding a small succulent to your bathroom counter or installing some floating shelves to display a few hanging plants. If you're worried about maintenance, opt for low-maintenance plants such as snake plants or spider plants. With the addition of greenery, you'll have a natural retreat to relax in after a long day.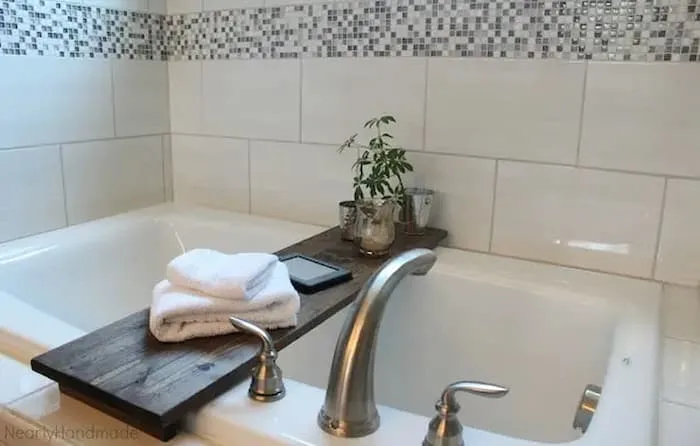 7. Maximize Your Storage Space
To truly create a spa-like oasis in your navy blue bathroom, you need to maximize your storage space. Clutter can quickly detract from the serene atmosphere you're trying to achieve, so finding ways to keep everything organized and out of sight is key. Consider adding shelves or cabinets to store hand towels and toiletries. A shower caddy or built-in niche can be a great solution for keeping shampoo and soap off the floor. And don't forget about your vanity – adding drawer organizers can help keep makeup and other small items from becoming a jumbled mess.
Investing in stylish storage solutions can also add to the overall aesthetic of your bathroom. Consider a woven basket for storing towels or a sleek metal shelf for displaying decorative items. With the right storage in place, your bathroom will feel more inviting and open, making it the perfect place to unwind after a long day.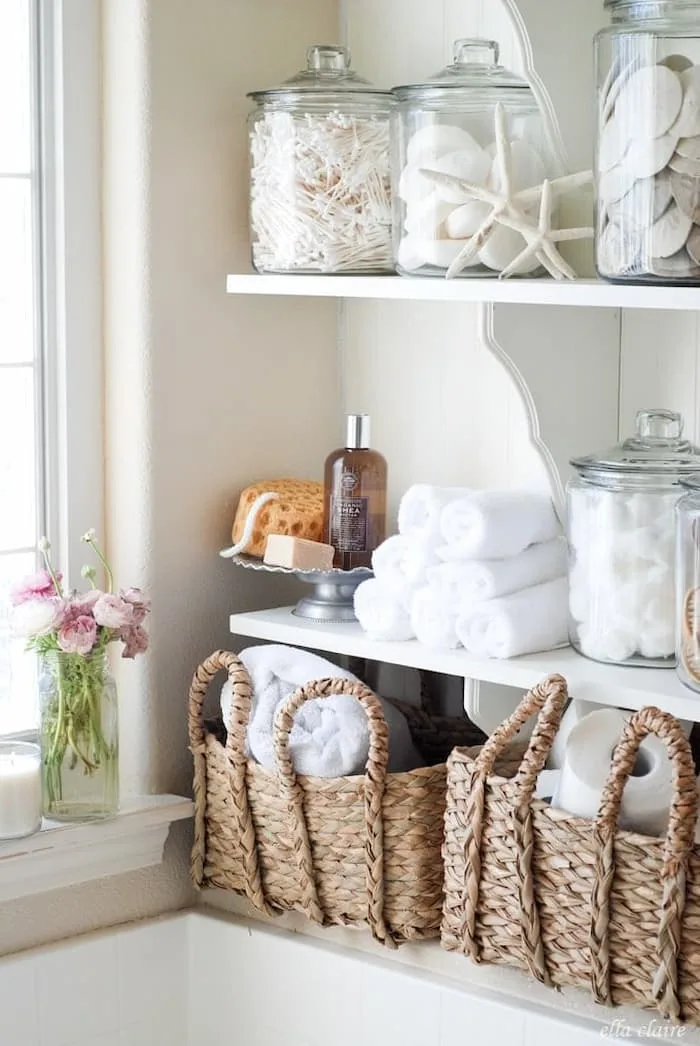 Adding stylish storage solutions to your bathroom is definitely a great way to elevate its overall look and feel. From woven baskets to sleek metal shelves, the possibilities are endless when it comes to organizing your bathroom essentials. And not only does it help with the organization, but it also creates an inviting and open space that's perfect for relaxation.

8. Invest in Luxurious Bath Linens
But if you're looking to take your bathroom transformation to the next level, investing in luxurious bath linens could be the answer. This is one of the easiest ways to learn how to decorate a navy blue bathroom! Soft, plush towels and bath mats can make every shower or bath feel like a spa-like experience. Plus, they also add a touch of elegance to your bathroom decor. Especially when you learn how to fold them as the spas and hotels do!
When choosing bath linens, consider investing in high-quality materials like Egyptian cotton or bamboo. They're known for their softness and durability, making them a worthwhile investment in your daily routine. And with so many colors and patterns to choose from, you can easily find ones that match your existing decor or add a pop of color to your bathroom.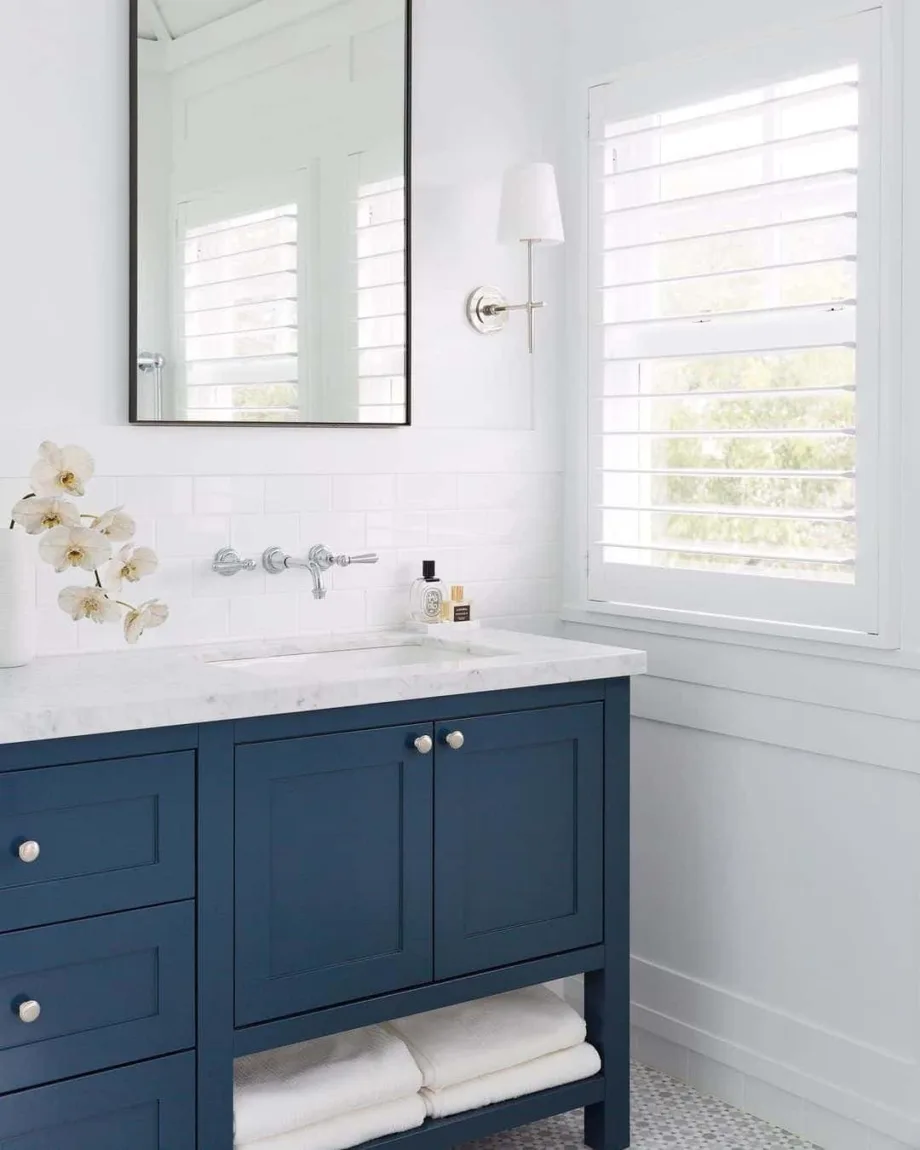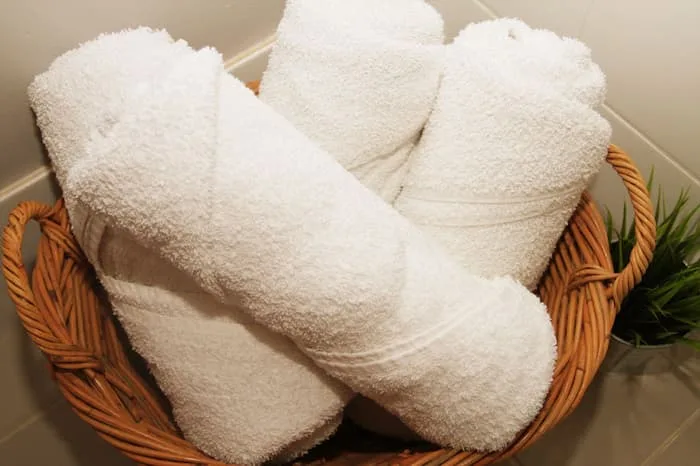 This is my personal favorite of all the navy blue bathroom designs that I found and I had to share it. Saving the best for last!
Also, I created an inspirational mood board if you are looking to add any of these elements to your bathroom. Saving you time!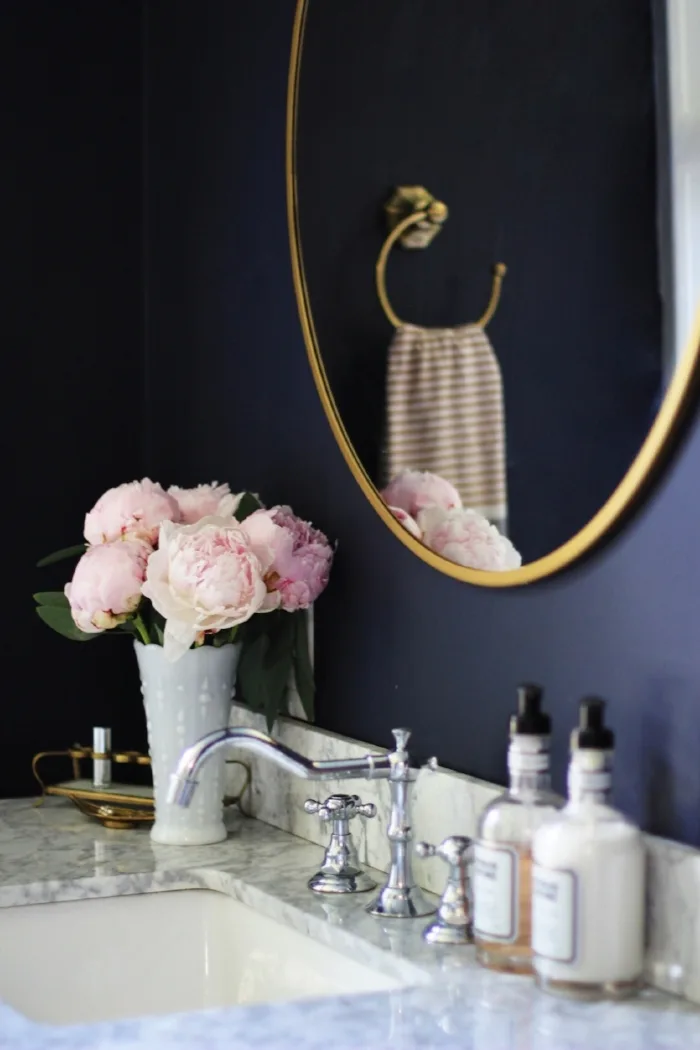 Transforming your bathroom into a relaxing and spa-like oasis doesn't have to break the bank.
With a few simple and affordable upgrades, like stylish storage solutions and luxurious bath linens, you can create a relaxing retreat right in your own home. Making your bathroom look like a spa doesn't have to cost a lot of money or be hard to do.
I hope you now feel confident about how to decorate a navy blue bathroom on a budget!
Upgrade your lighting, decorate with art and frames, hang a shower curtain, paint the walls, add some plants, use your storage space wisely, and get cozy bath linens – these things can turn your bathroom into a peaceful and comfortable place for you to relax. Remember, don't be afraid to experiment and make it uniquely yours. As you get started on your bathroom transformation today, keep in mind that making small changes can make a big difference. So go ahead, indulge yourself in your new spa-like oasis!
If you liked the navy blue bathroom ideas from this post, you might also like: