15 Stunning Bathroom Remodels – Make the Most of a Small Space!
Looking for a great bathroom remodeling project? Want to learn how you can make your bathroom amazing? These 15 gorgeous bathroom remodels ideas will help you squeeze maximum design style into a small space. Dig in and enjoy.
However, you don't have to settle for a boring design or a cramped space. Use these ideas to step out of the box and turn it into a stunning new bathroom. Want to turn your bathroom into a spa-like space? Get your paintbrush and a few inspirational ideas from my favorite bathroom designs.
Bathroom design can be a challenge when it comes to remodeling, but with a little creativity, you can have a stunning space that is perfect for your needs.
From simple updates like new paint or tile to more drastic changes like adding a new vanity or bathtub, there is something for everyone here. The average cost of a bathroom remodel of a smaller size is between $5,000 and $11,000. But it really does help with your home's resale value.
But if you are really DIY savvy and handy, you may not need to hire a contractor, etc. You can save money in exchange for your own labor and supplies. So don't wait any longer – get started on your perfect bathroom remodel today! You don't have to be a bathroom designer to make these upgrades and remodels happen.
This post contains some affiliate links. I may earn a small commission if you make a purchase through one of these links. See more information in my disclosure policy.
1. Clean, Polished Bathroom Cabinets
The bathroom is often one of the first places that guests see when they enter your home, so you want to make sure it's looking its best. One way to do that is by having clean, polished bathroom cabinets. Not only will this give your bathroom an updated look, but it will also help to reflect light and make the space appear larger.
If you're planning a remodel, consider investing in new cabinets for your bathroom design.
If you're looking for other remodel ideas, don't forget about the installation and if you have enough space for double sinks then jump on that! A fresh coat of paint or new hardware can make a big difference.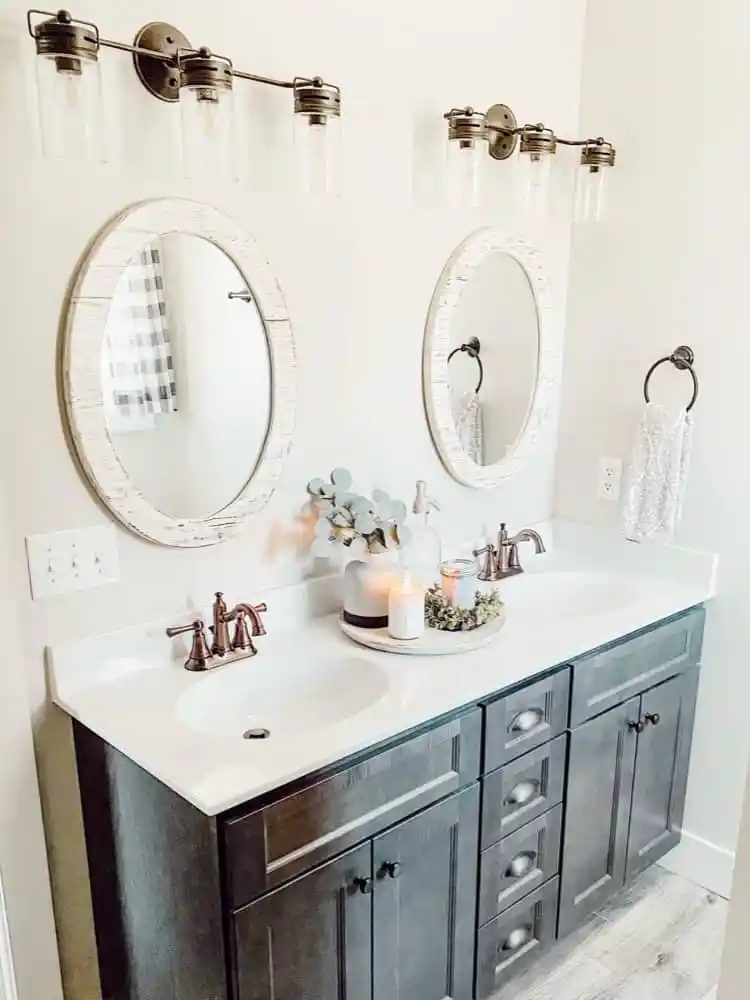 2. Stunning Bathroom Shower Curtains
A bathroom is one of the most important rooms in a house. It's a place where you can relax and unwind after a long day, and it should reflect your personal style. One of the easiest ways to give your bathroom design an update is to switch out the shower curtain. A new shower curtain can completely transform the bathroom design and look of the room, and it's a relatively inexpensive way to give your bathroom a makeover.
There are lots of different styles of shower curtains to choose from, so you're sure to find one that fits your taste. Whether you're looking for something classic or modern, there's a shower curtain out there that will perfect your bathroom.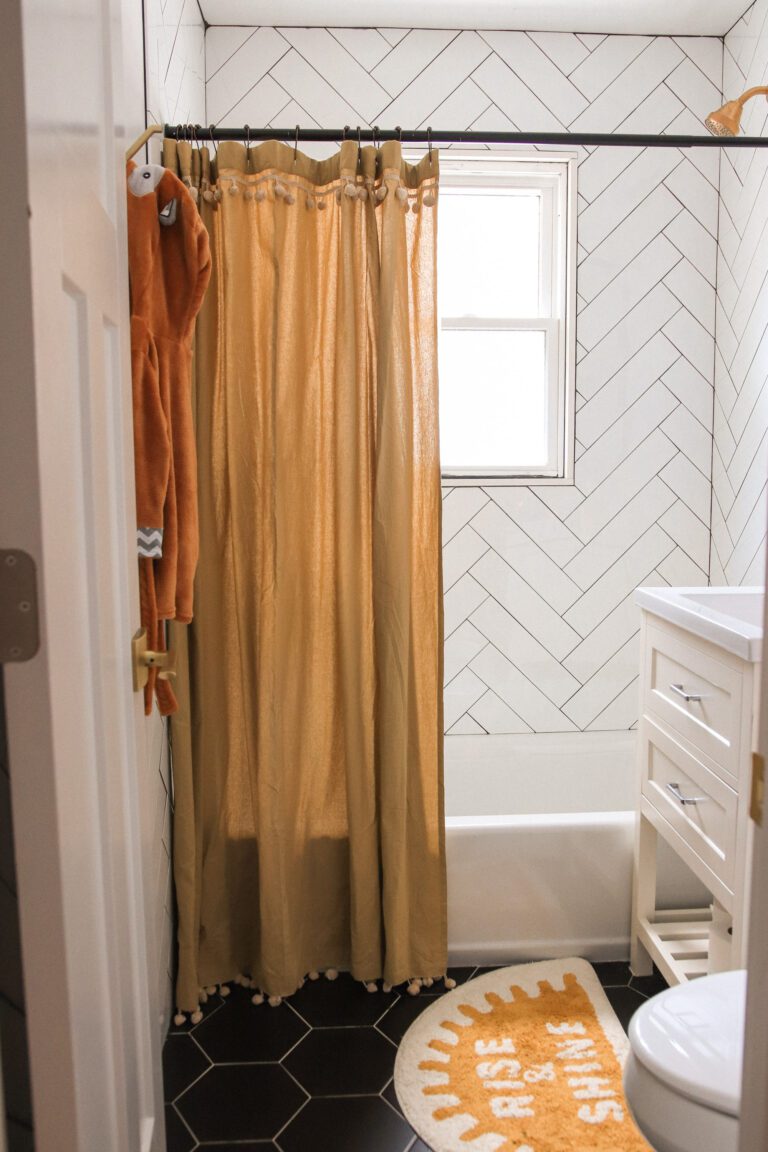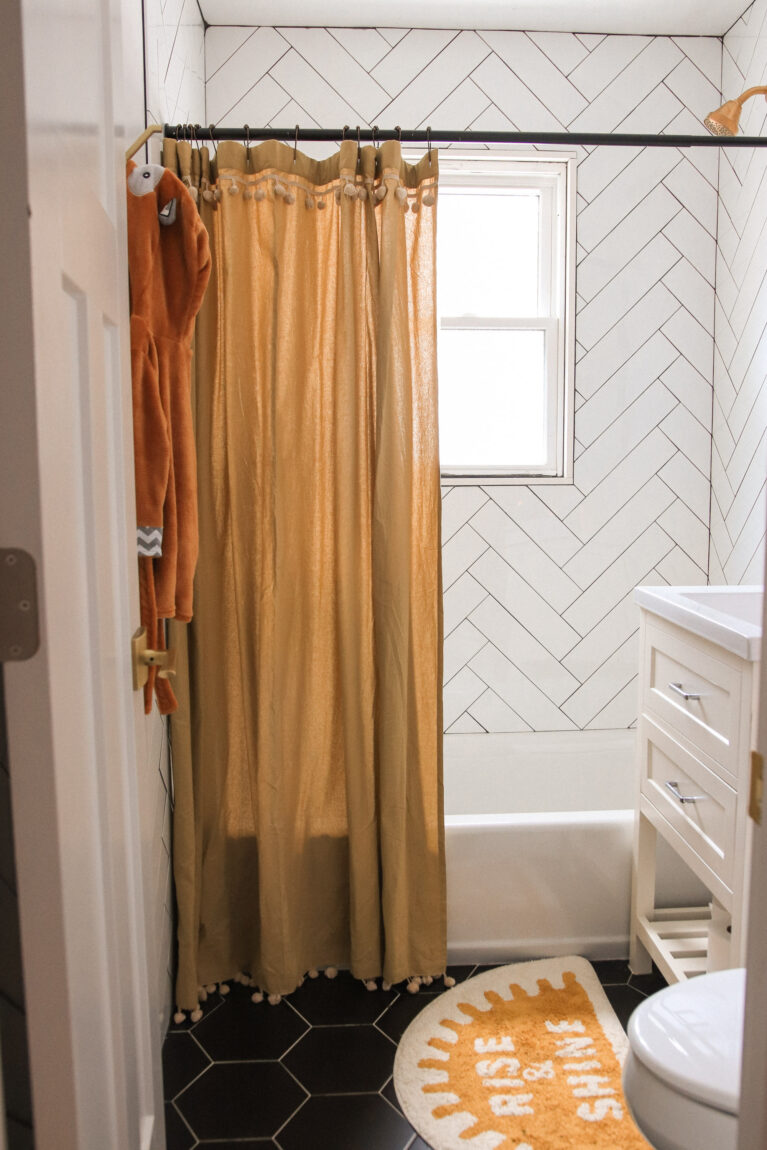 ---
SHOP SIMILAR SHOWER CURTAINS

---

3. Small Bathrooms Can Still Be Beautiful
When it comes to your bathroom you may be asking yourself "How can I make a small bathroom look nice?" When it comes to bathroom remodels, size doesn't always matter. In fact, some of the most beautiful bathrooms are tinier and more intimate. While a large bathroom remodel can be impressive, it can also be expensive and time-consuming.
Small bathroom remodels and a powder room, on the other hand, can be just as stylish and luxurious – without the hefty price tag.
If you're planning a bathroom remodel, here are some ideas to get you started:
Go for bold colors and patterns. Tiny bathrooms are the perfect place to experiment with bold hues and statement feature wall-making patterns. From wallpaper to paint, go big and make a statement.
Choose luxury finishes. Just because your bathroom is little doesn't mean you have to skimp on quality. Select high-end finishes like marble countertops, brass fixtures, or custom floor tile work to give your bathroom an upscale feel. Reflective surfaces will help brighten up an intimate bathroom.
Add storage solutions. One of the challenges of remodels is finding enough storage space. Solutions like floating shelves or medicine cabinets can help you stay organized – and keep your bathroom looking clutter-free.
With a little creativity, these types of bathroom design remodels can be just as luxurious and stylish as their larger counterparts. So don't be afraid to think outside the box – your dream bathroom awaits!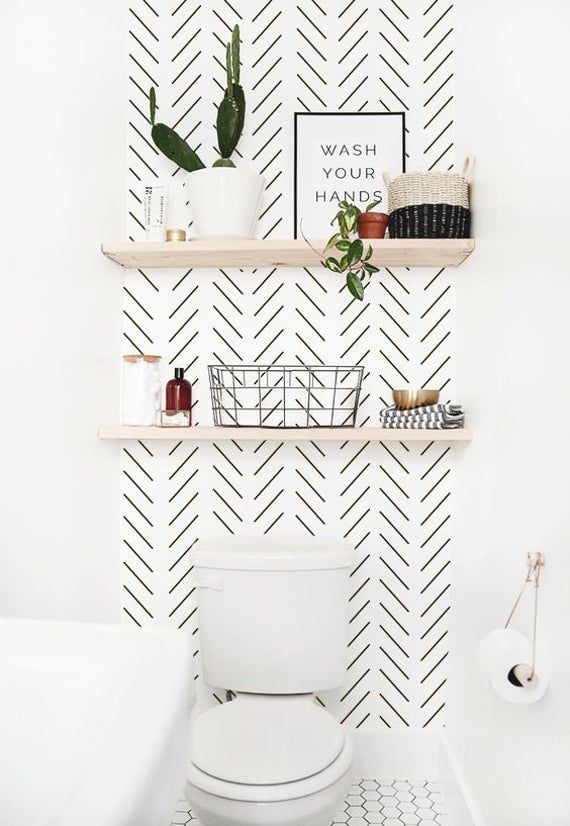 ---
SHOP LUXURY DECOR FINISHES

---

4. Choose an Appropriate Size Vanity
You have to consider your layout and square feet. Many people choose vanities that are too large for the space. This can make the space feel cluttered and cramped, and it can be difficult to find a place to put things. Instead, choose a vanity that is the appropriate size for the room.
This will leave plenty of space for storage and ensure that the bathroom feels open and airy. It's one of the most important bathrooms remodel ideas to keep in mind, especially if you have a tiny space.
By choosing the right size vanity, you can make a big difference in the overall look and feel of your bathroom design.
Bathroom lighting and vanity light fixtures are also something to consider when picking your vanity. Depending on the size of your space and style, you want to find a mirror and a light fixture that complements it. You don't want something overwhelming or too large for the vanity area. If you have a window in your bathroom, utilize it! A light-filled room seems bigger and brighter. That will make it more inviting.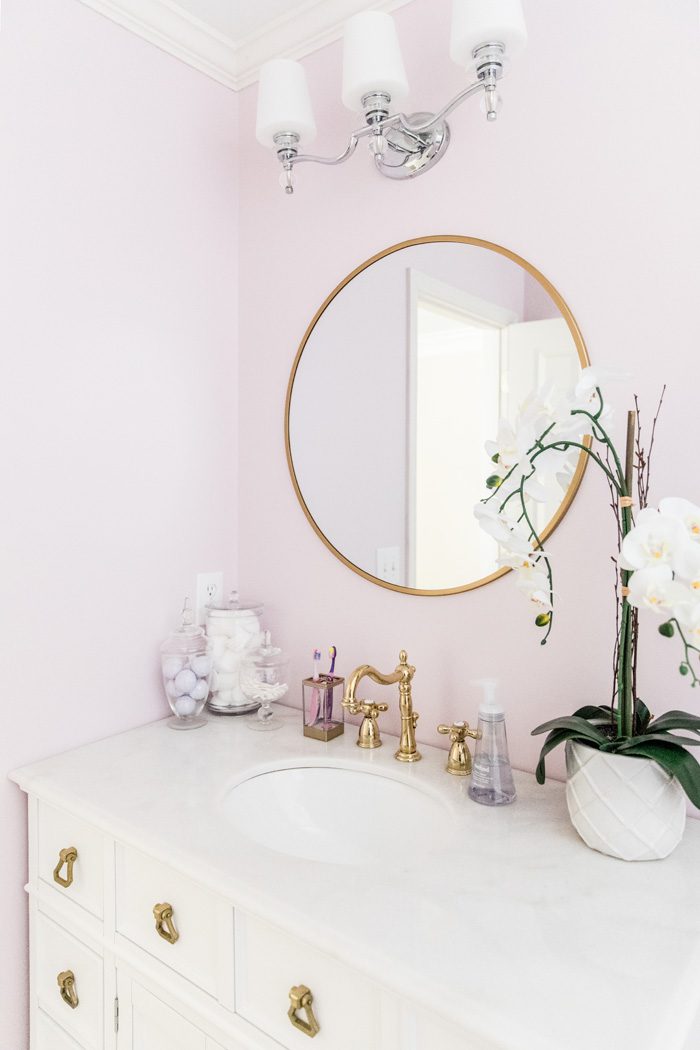 5. Add Built In Storage
A bathroom remodel is a great way to add value to your home. But if you're looking for bathroom remodel ideas that will really wow your guests, then you need to think outside the box. One of the best ways to do this is by adding built-in storage. Especially if you can incorporate it within a single or double vanity.
Whether it's a bathroom vanity with plenty of cabinet space or a medicine cabinet that can hold all of your bathroom essentials, built-in storage is a great way to make your bathroom more functional and stylish. Plus, it's a bathroom remodel idea that won't break the bank. So if you're looking for ways to improve your bathroom design on a budget, consider adding built-in storage.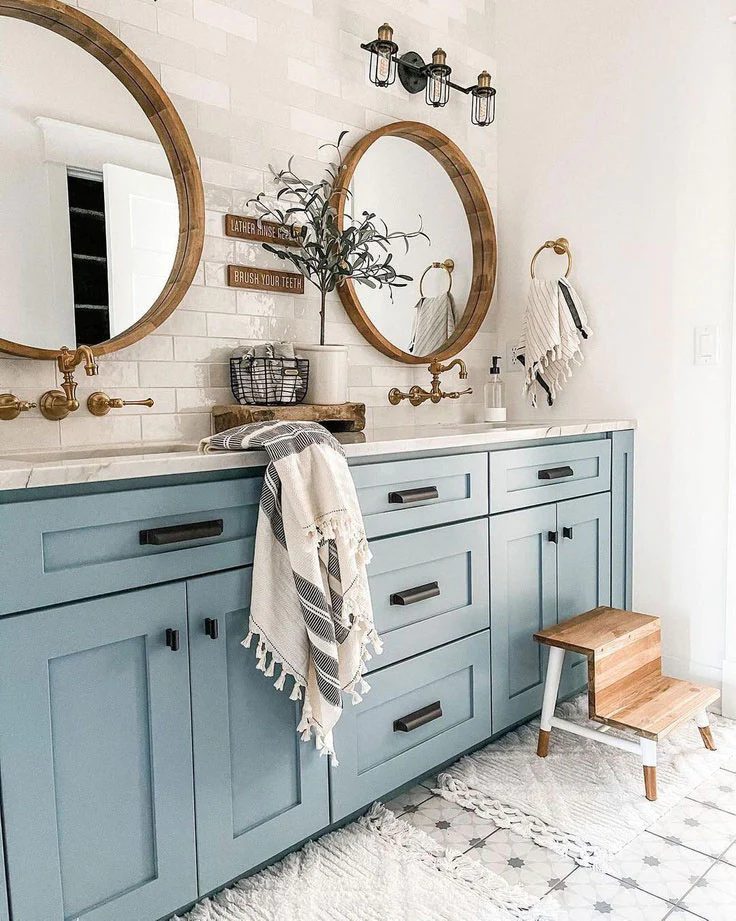 6. Give it a Refreshed Look
If your bathroom is in need of a refresh, there are a few remodel ideas that can help breathe new life into this essential space. This can be a great way to make the most of limited space and can be much less expensive than a full-scale renovation.
If you have a bit more room to work with, consider adding some new fixtures a double vanity, or even expanding the bathroom layout and square footage. Additionally, new tile, paint, or wallpaper can go a long way toward giving your bathroom an updated look. Whatever route you choose, with a little planning and effort, you can give your bathroom design the refresh it deserves.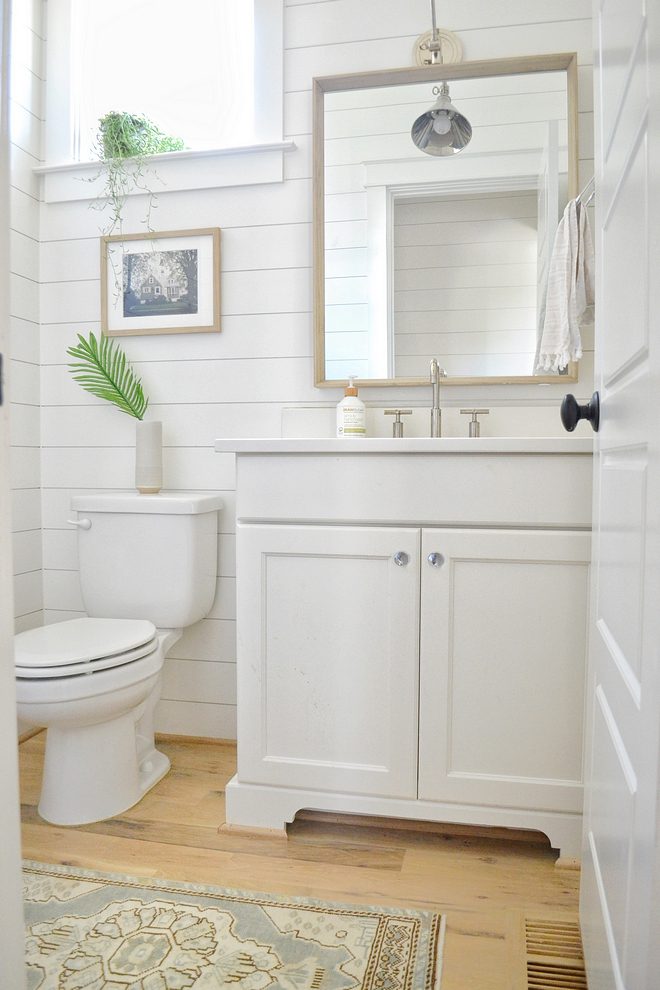 ---
SHOP SIMILAR DECOR

---

7. Bathroom Decor and Accessories
There are a few essential accessories that can make all the difference. For instance, a tiny bathroom might benefit from the addition of a floating shelf to store toiletries. Or, for a more spa-like feel, consider adding a tray with eucalyptus, Epsom salt, a candle, and some luxurious towels. The trick is that with the right accessories, any bathroom decor can be transformed into a stylish and functional space.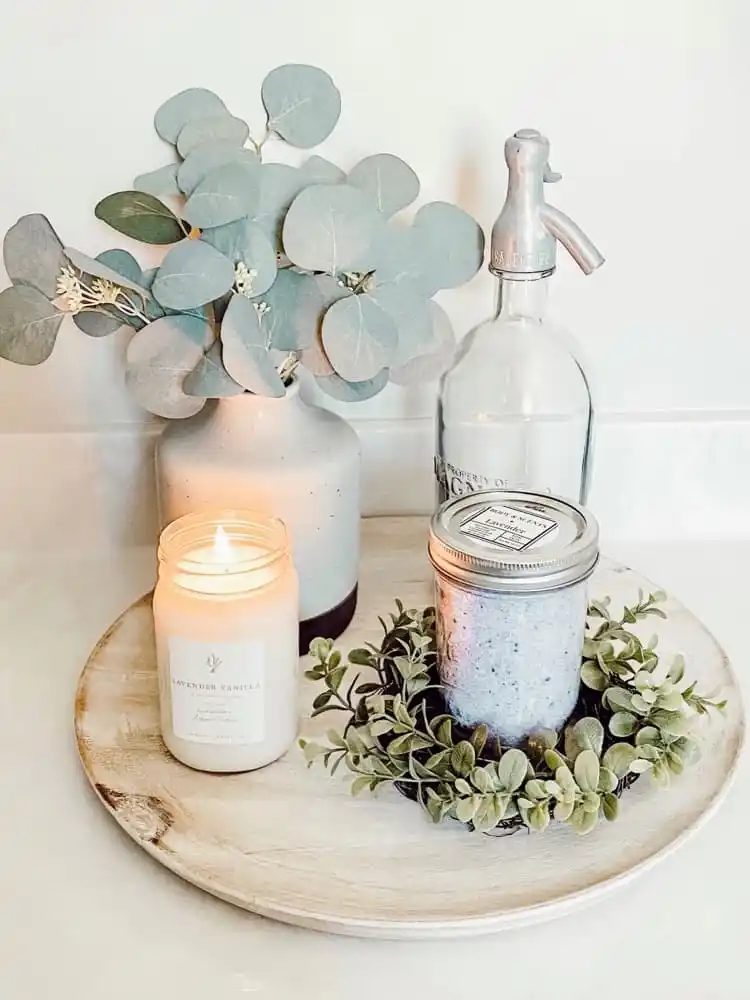 8. Luxury Looking Finishes
Remodeling your bathroom is a great way to add value to your home and make it feel more luxurious. But with so many design options available, it can be difficult to know where to start.
If you're considering changing your bathroom design, here are a few ideas to get you started.
One popular option is to replace your old bathroom decor fixtures like your faucets, shower heads, towel racks, and lighting fixtures with new ones in a luxury finish. This can give your bathroom an updated look without having to do a complete overhaul. Another option is to add accents like glass tiles, marble, quartz, or stone mosaics to give it a more high-end feel. Or, if you're working with a tinier bathroom, you can focus on making the most of the space you have with thoughtful storage solutions and careful layout.
No matter what route you choose, remember that the sky's the limit when it comes to bathroom design. You don't have to be an interior designer to make it look elegant. So don't be afraid to get creative and make your bathroom into the luxurious oasis you've always dreamed of.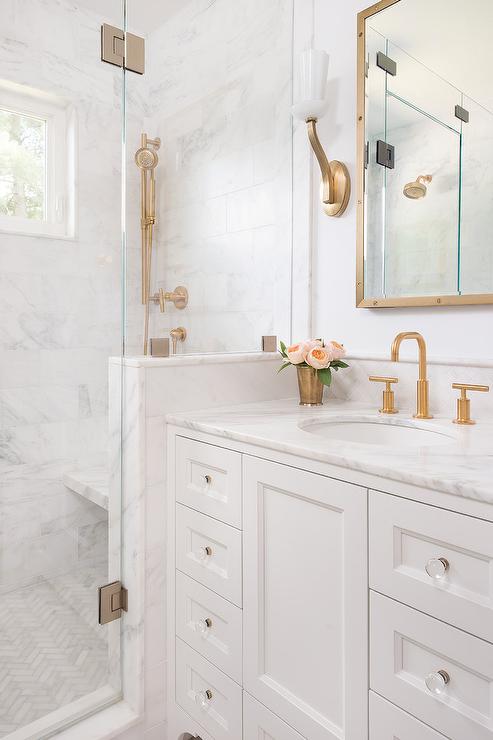 ---
SHOP LUXURY FINISHES

---

9. Add Vibrant Colors
Are you tired of your bathroom design looking like a sterile hospital room? Are you ready to add some life to your bathroom remodel? Then consider adding some vibrant colors! Bathrooms are often small and cramped, so adding a pop of color can help to make the space feel more open and inviting.
And there's no need to stick to traditional white or cream colors; bathrooms are the perfect opportunity to experiment with brighter hues.
From sunny yellow to rich jewel tones, adding a touch of color can transform your bathroom into a stylish oasis. So don't be afraid to experiment – after all, it's your bathroom, and you should love the way it looks!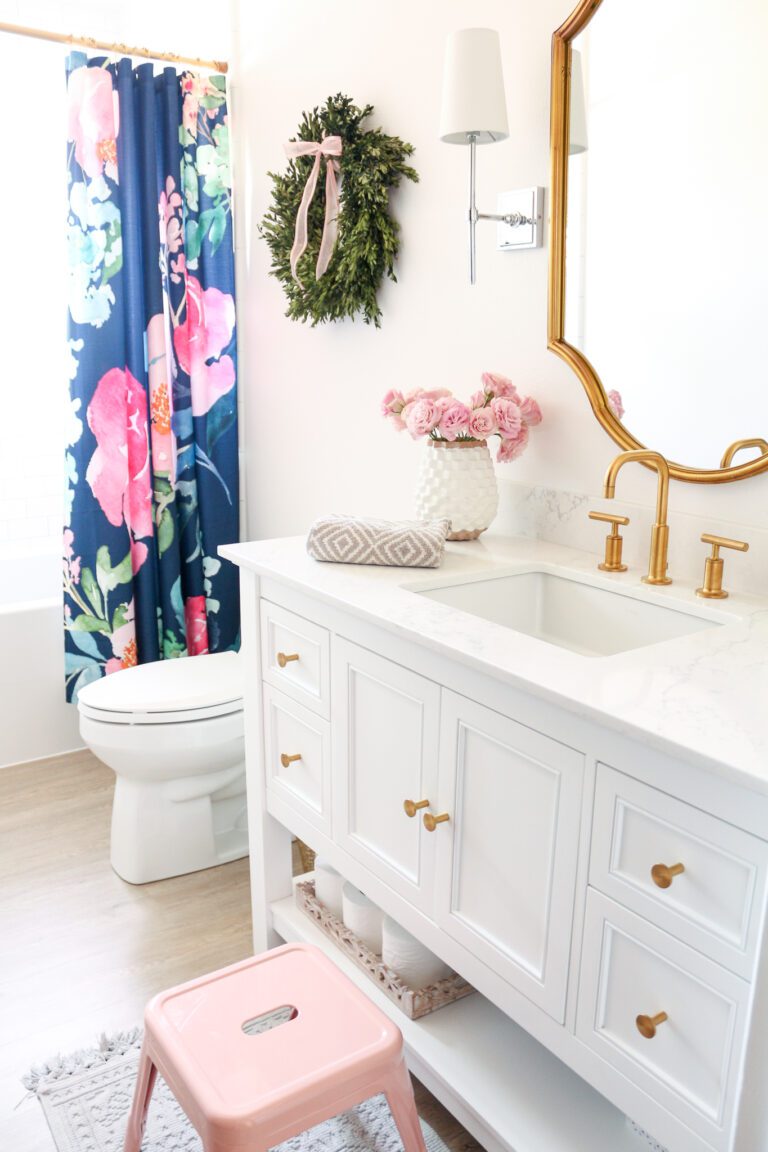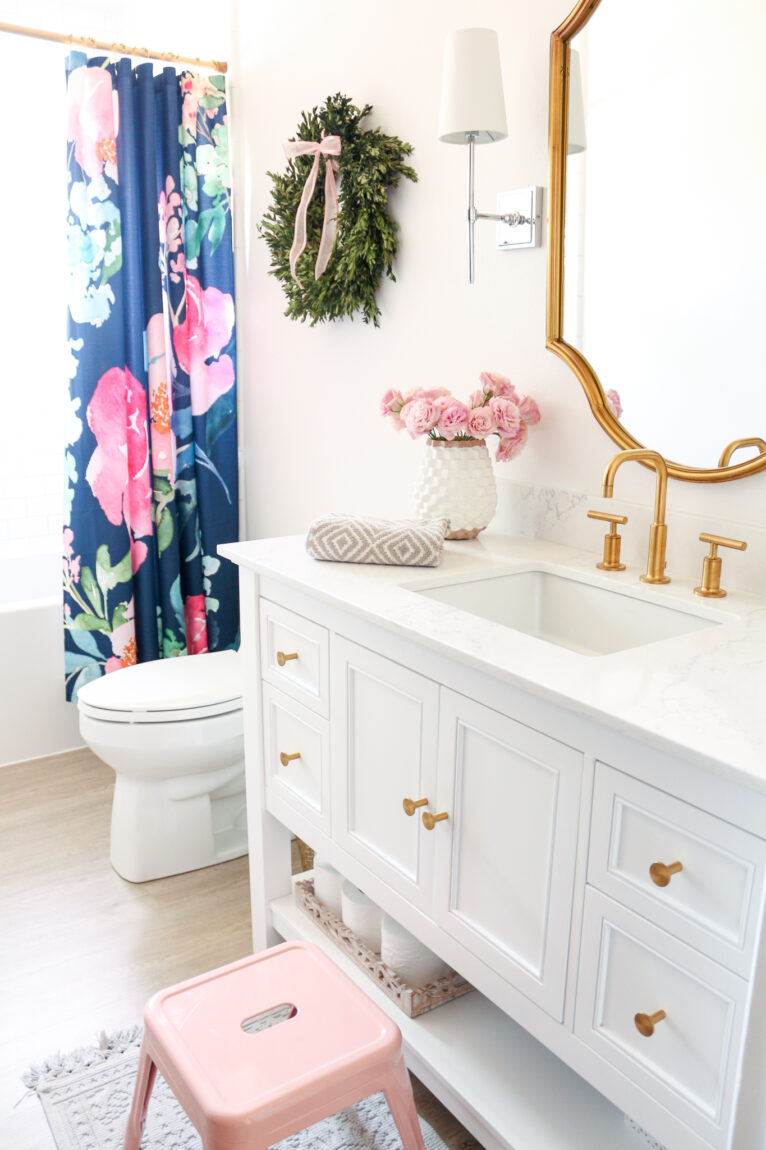 ---
SHOP COLORFUL BATHROOM DECOR

---

10. Add Biophilic Design
By adding plants, water features, and natural materials, you can create a space that is not only beautiful but also good for your health.
Here are a few bathrooms ideas that will help you bring the outdoors inside:
Add a green plant or two: Plants purify the air and help to reduce stress levels. They also add a touch of nature to any space.
Use natural materials and decorative finishes: Wood, natural stone, glass mosaic tiles, and bamboo are all great choices for bathroom remodels. Not only do they look beautiful, but they also help to create an earthy ambiance.
Add glass doors: This will give the illusion that the bathroom design is much larger and more open. Throw in a rain shower head and you are living your best life with a mini spa in your own home.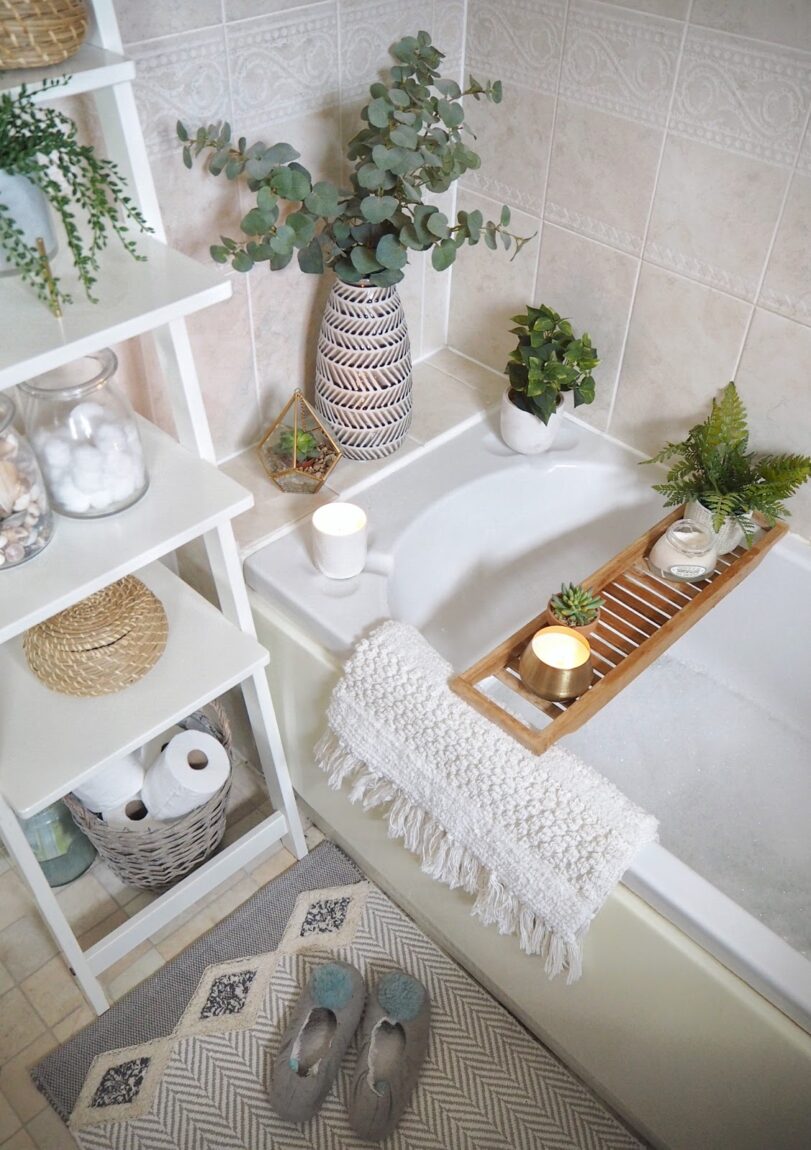 ---
SHOP BIOPHILLIC DECOR

---

11. Use a Stencil or Wallpaper
You may be wondering how to add personality to your bathroom without breaking the bank. One easy way to do this is to use a stencil or wallpaper. This can be with peel and stick wallpaper if you like to change things up often or traditional with a more permanent design. Wallpaper is a great way to add color and pattern to your bathroom, and it can be easily removed if you decide you want to change things up in the future.
Stencils are another inexpensive option, and they offer a lot of flexibility when it comes to bathroom design.
You can use stencils to create a border, accentuate certain features, paint the floor tile, or even create an entire mural. Whatever route you decide to take, adding a stencil or wallpaper is a great way to give your bathroom design some personality.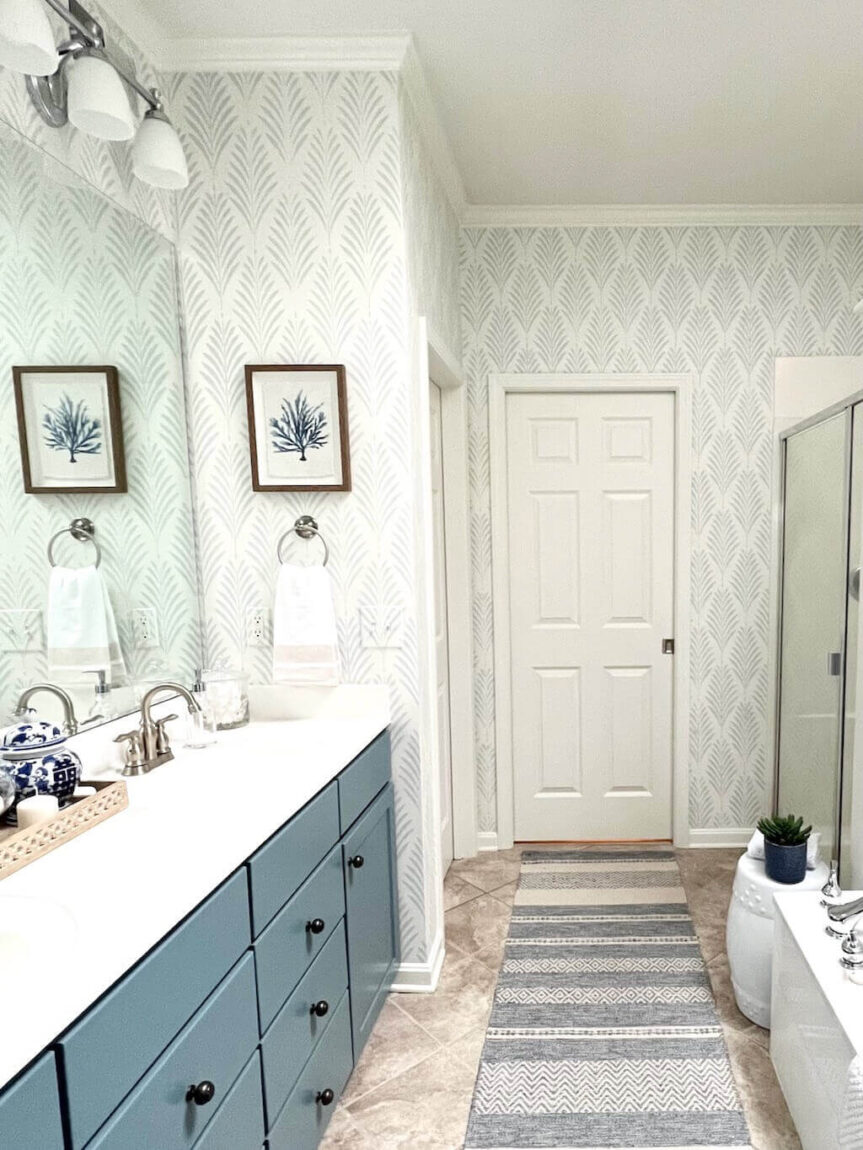 ---
SHOP STENCILS AND PEEL AND STICK WALLPAPER

---

12. Repurpose Old Furniture
Are you tired of your bathroom sink and vanity? If so, then you may be thinking about a bathroom remodel. But before you start rolling up your DIY sleeves, tearing out tiles, and ripping up flooring, consider this: repurposing old furniture as a bathroom sink and vanity.
It's a great way to give your bathroom a unique look without breaking the bank.
Plus, it's a lot easier than you might think. All you need is an old piece of furniture, some plumbing supplies, a new sink, and a little bit of creativity. So why not give it a try? You might be surprised by the results.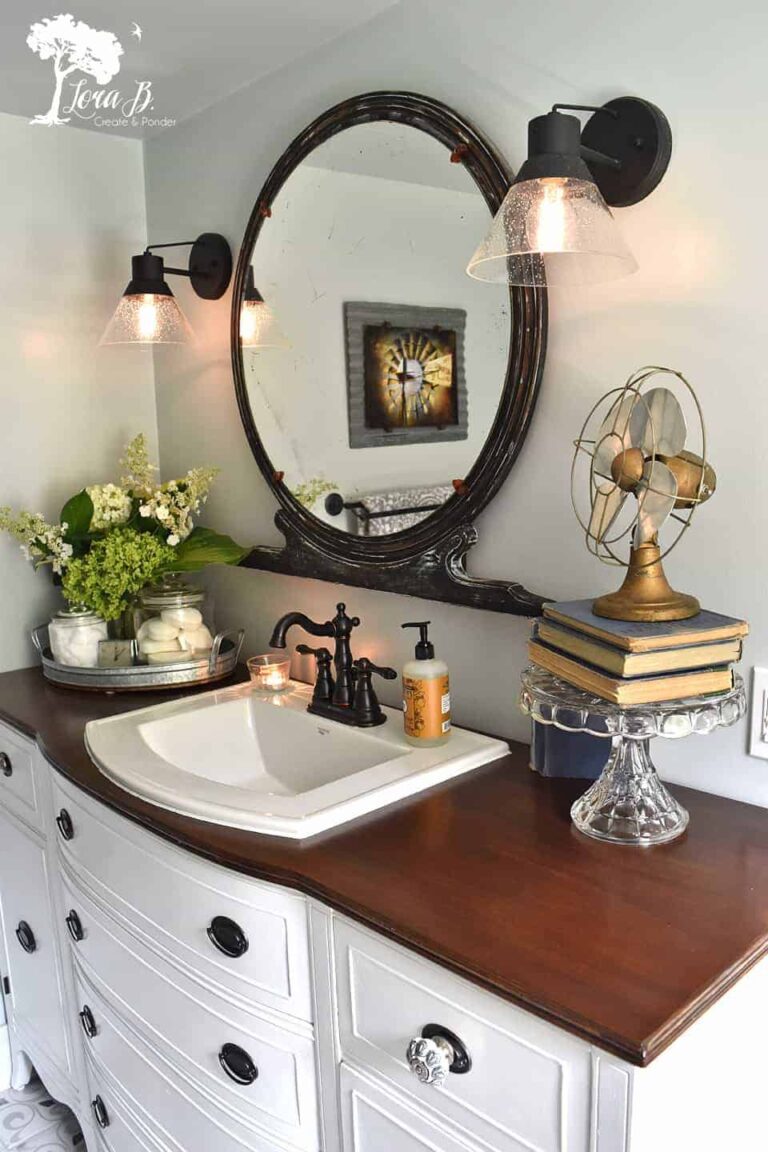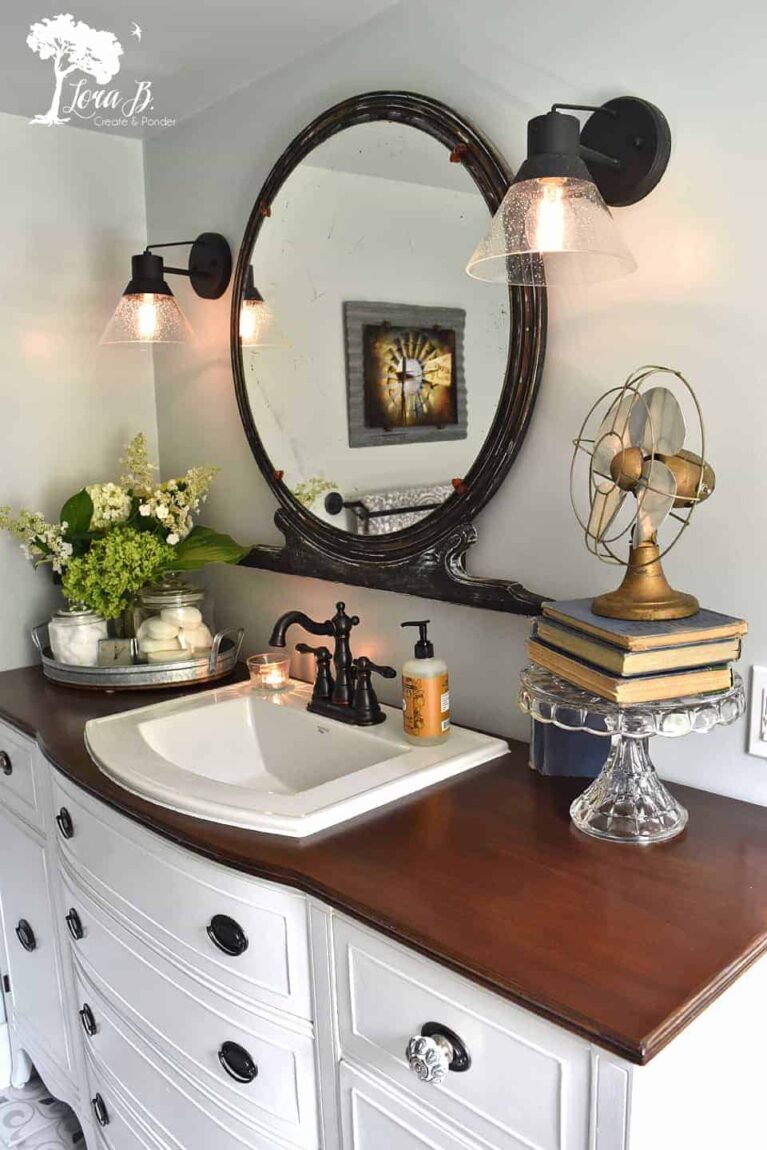 13. Play With Bold Bathroom Wall Colors
When most people think of bathroom remodeling, they imagine a serene oasis with all-white finishes and muted colors. And while that look has its place, it's not the only option out there. If you're looking to add a little more personality to your bathroom, try using bold wall colors.
A statement wall can really help to define the bathroom design and give it some extra pizazz.
So if you're feeling stuck in a rut when it comes to your bathroom remodel ideas, remember that you don't have to play it safe. Be bold and try something new!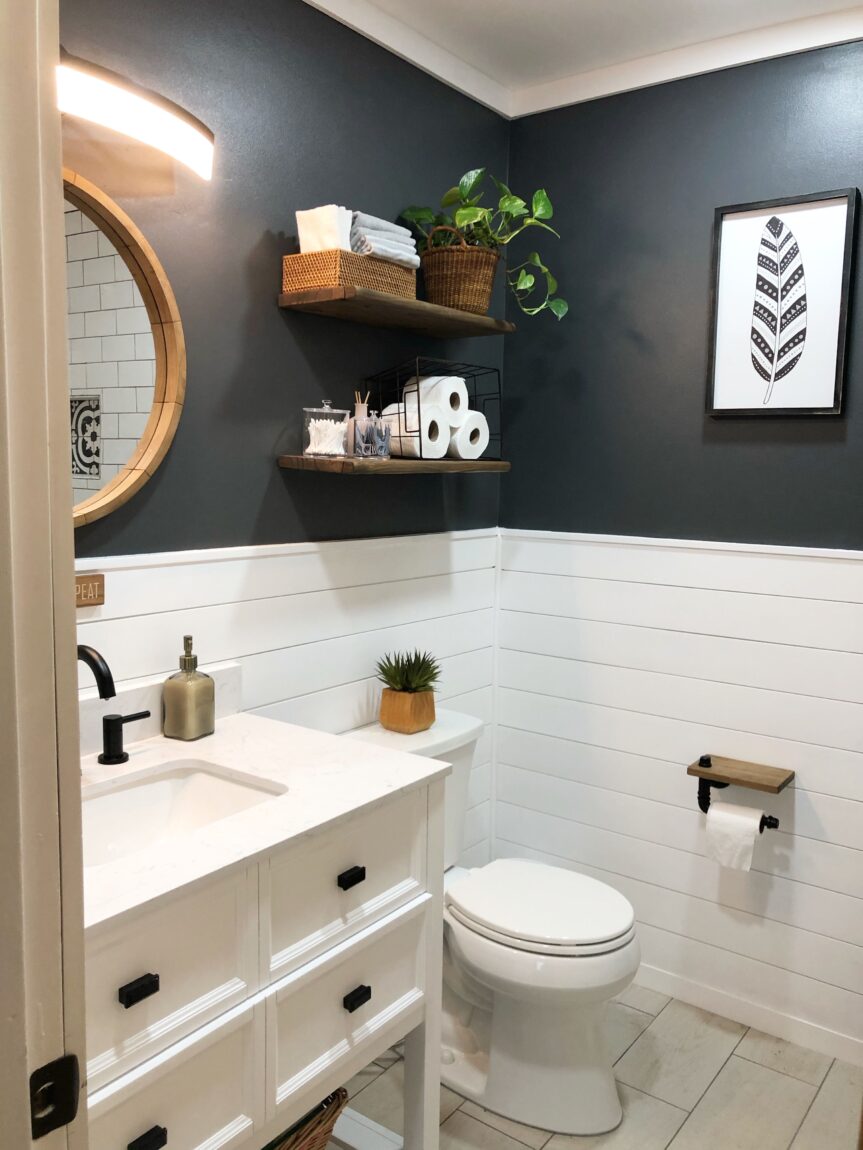 14. Sleek Hidden Storage
There's nothing worse than having your bathroom essentials on full display for everyone to see. But where do you start? Luckily, there are a few clever bathroom ideas that can help you create the perfect hidden storage solution for your space.
One option is to install recessed shelving or drawers in your bathroom built-in cabinets or your walls. This is a great way to add extra storage without taking up any additional space. Another bathroom design idea is to create a false bottom in your bathroom cabinets.
This will give you some extra space to store items out of sight. Finally, if you're really short on space, consider adding a shelf above your bathroom door. This hidden storage hack is perfect for little bathroom remodels. By utilizing some of these clever bathroom ideas, you can easily add hidden storage to your space without sacrificing style or functionality.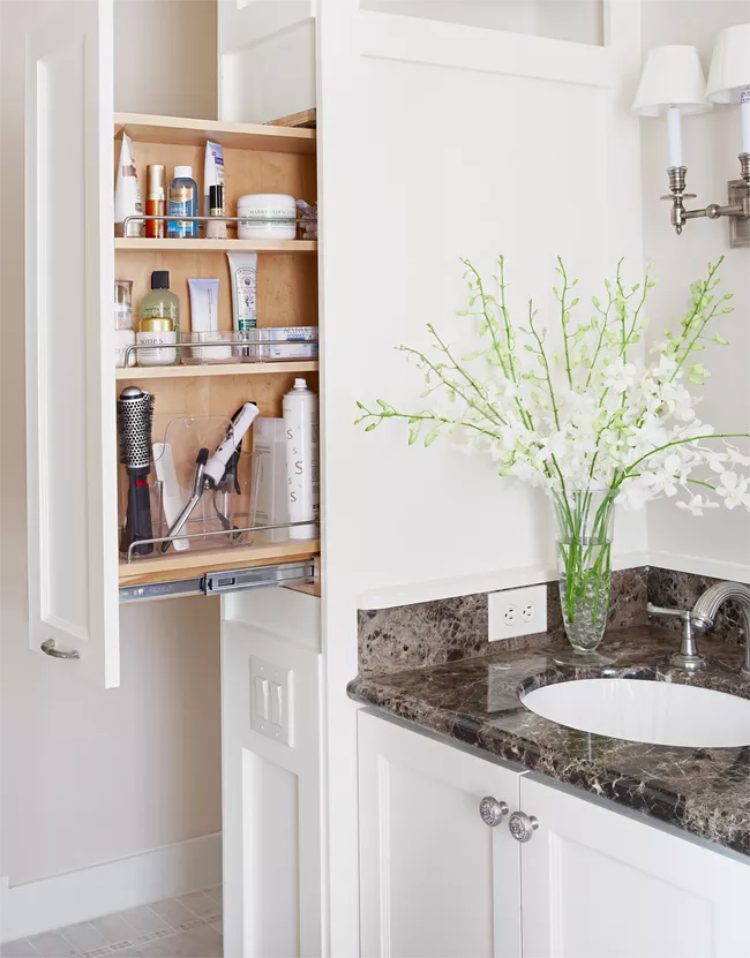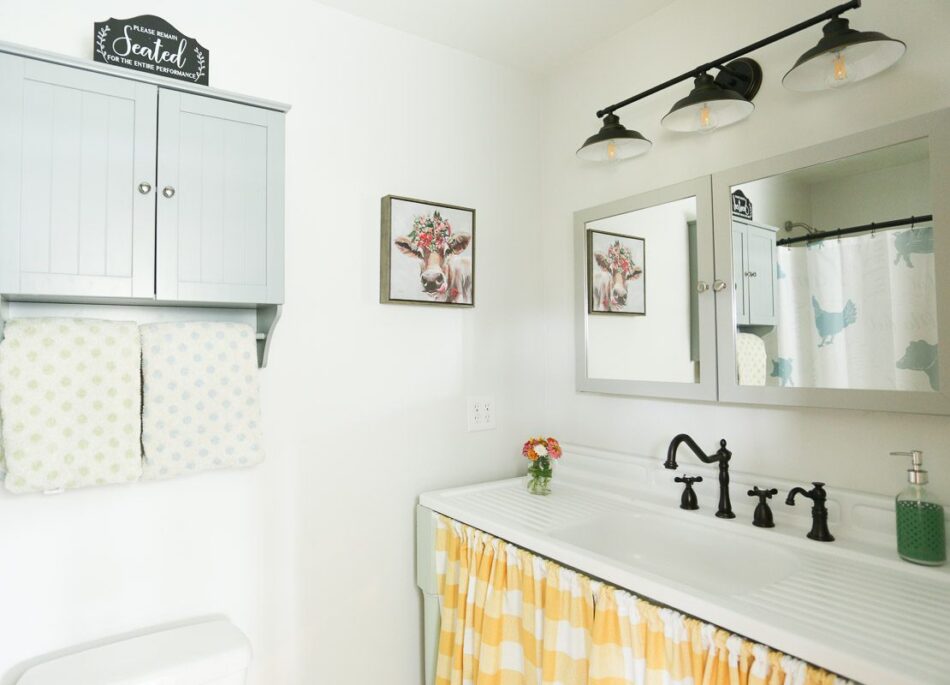 ---
SHOP SMART BATHROOM STORAGE

---

15. Make Your Small Bathroom Design Look Bigger
If you're looking for bathroom design ideas that will make your powder room, shared bathroom, or master bath look bigger, then you've come to the right place. While you may not be able to add square footage to your bathroom, there are plenty of ways to help it feel like a more spacious bathroom. For starters, consider painting the walls a light, bright color. This will create the illusion of more space and make the bathroom feel airier.
Another bathroom design idea is to install mirrors to create visual interest. Mirrors reflect light and make a room appear larger, so they're ideal for small spaces.
Next, pedestal sinks take up less space so going this route can help you make your bathroom feel much bigger than it is.
Finally, declutter your bathroom counters and shelves. Remove any items that you don't use on a regular basis, and store them out of sight. By following these simple bathroom renovation ideas, you can give your small bathroom a big makeover.
So, if you're looking for some bathroom ideas for a smaller space, I hope that this article has given you some inspiration. Remember to think outside the box and get creative with your design – there are no limitations! Be sure to follow me on Instagram, Pinterest, and TikTok for more amazing home decorating ideas.
If you liked this post about small bathroom remodeling ideas, you might also like: