Decorate on a Dime: Creative Spring Decor Ideas for Every Budget!
I am excited to share glam spring decorating ideas on a budget to share with you. I'm always looking for new ways to update my decor, especially as the seasons change. Spring is a fantastic time to update your home or apartment with a few bright pieces or metallic accents.
Decorating for spring doesn't have to be expensive. When you think outside the box (or be strategic) with your decorating you can find accessories for your home that will be easy to swap no matter the season. These budget decorating finds will help you create a beautiful spring decorating look for your home.
This post contains some affiliate links for your convenience. Click here to read my full disclosure policy.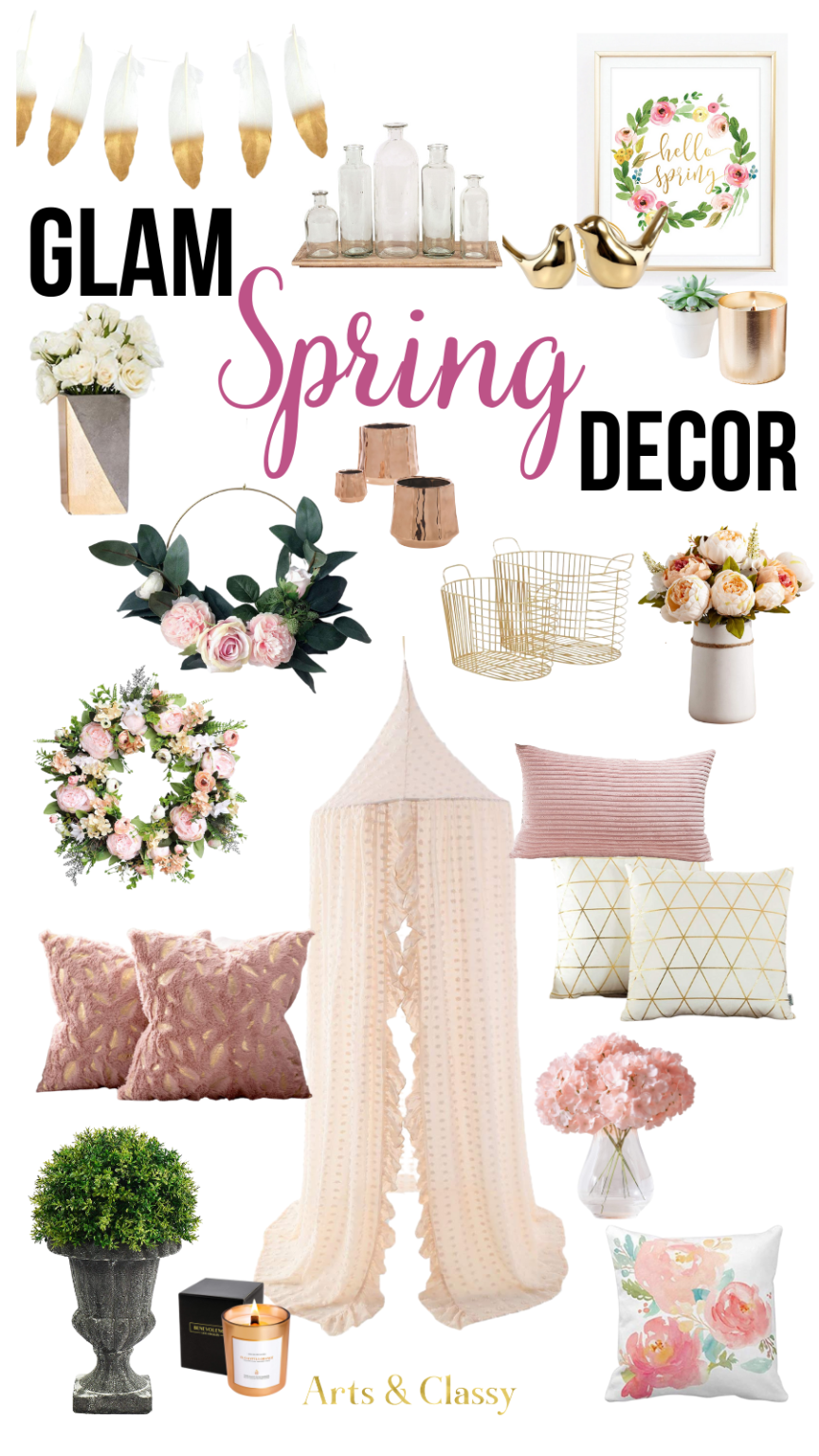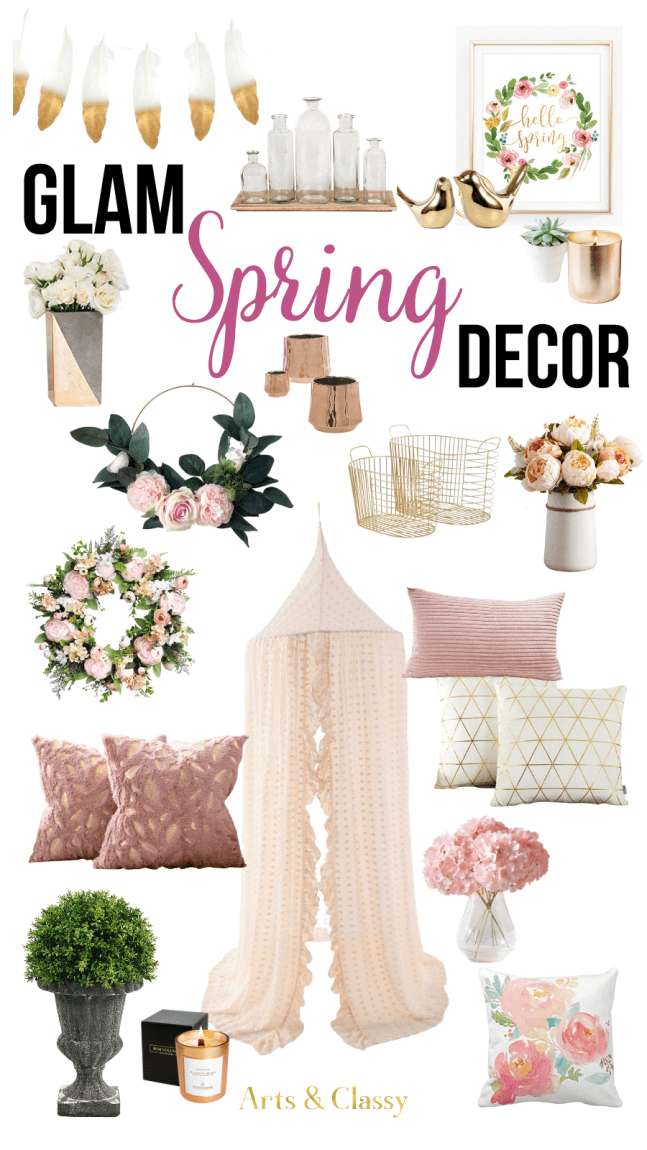 What are the best glam spring home decor ideas to decorate with?
The results are in — 33% of Americans say spring is their favorite season! – 1800Flowers.com
I am excited to share with your several ideas to help you easily transform your home with your budget in mind. You'll love these gorgeous finds that I am sharing today! These are my favorite glam spring decor items that add a lot of texture, pops of color, and elegance to a space.
Flowers
Spring means fresh flowers full of color and greenery stems galore. You can display a vase filled with faux flowers that will last season after season. But if faux flowers aren't your style, snag this unique glass jar vase set and fill a row of glass jars with fresh-cut stems.
SHOP THESE SPRING DECORATING IDEAS SWAPS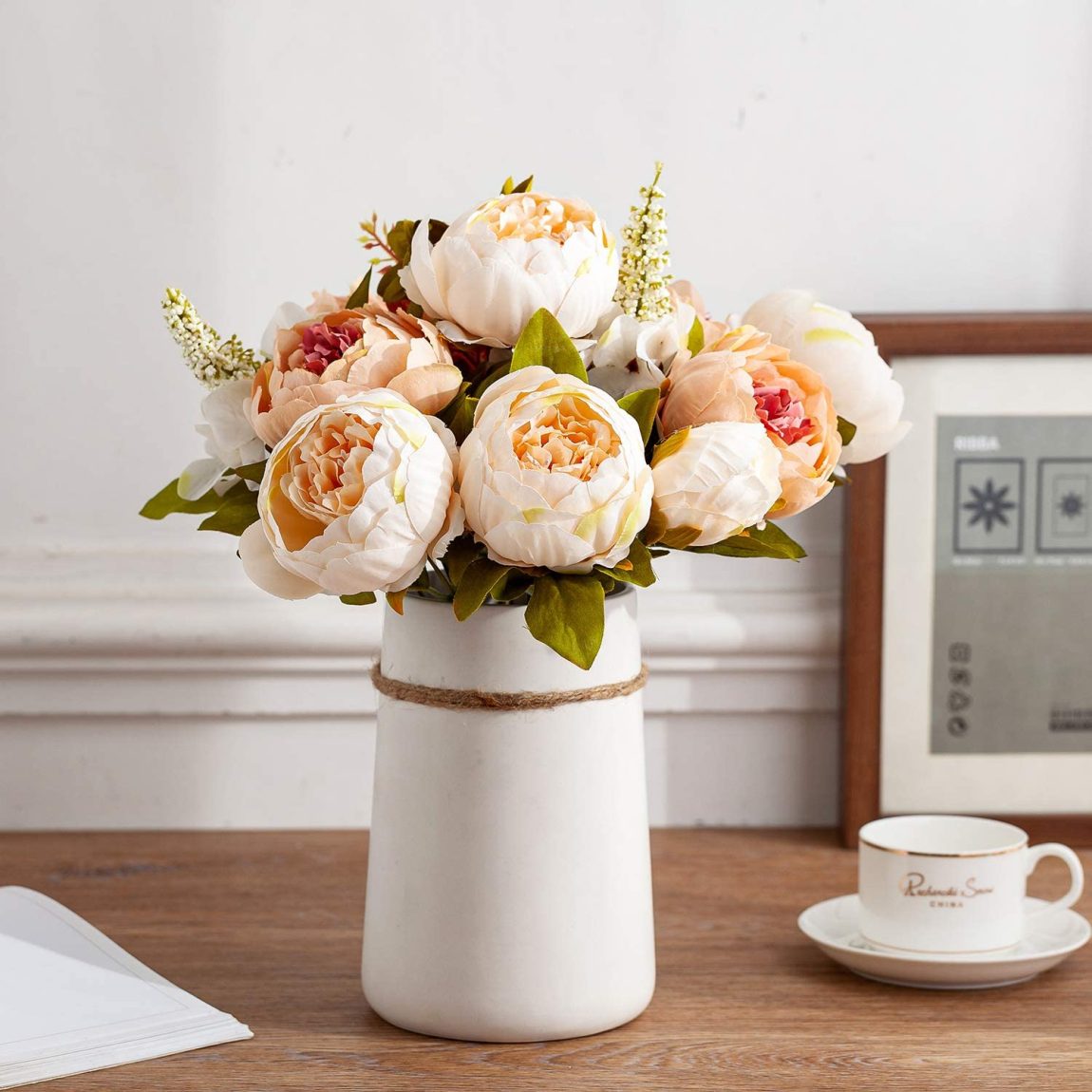 Spring Wreaths
Hoop wreaths are incredibly popular right now, so now would be a great time to give this trend a try. I It would be a great way to brighten and update just about any space!
SHOP THESE SPRING DECORATING IDEAS SWAPS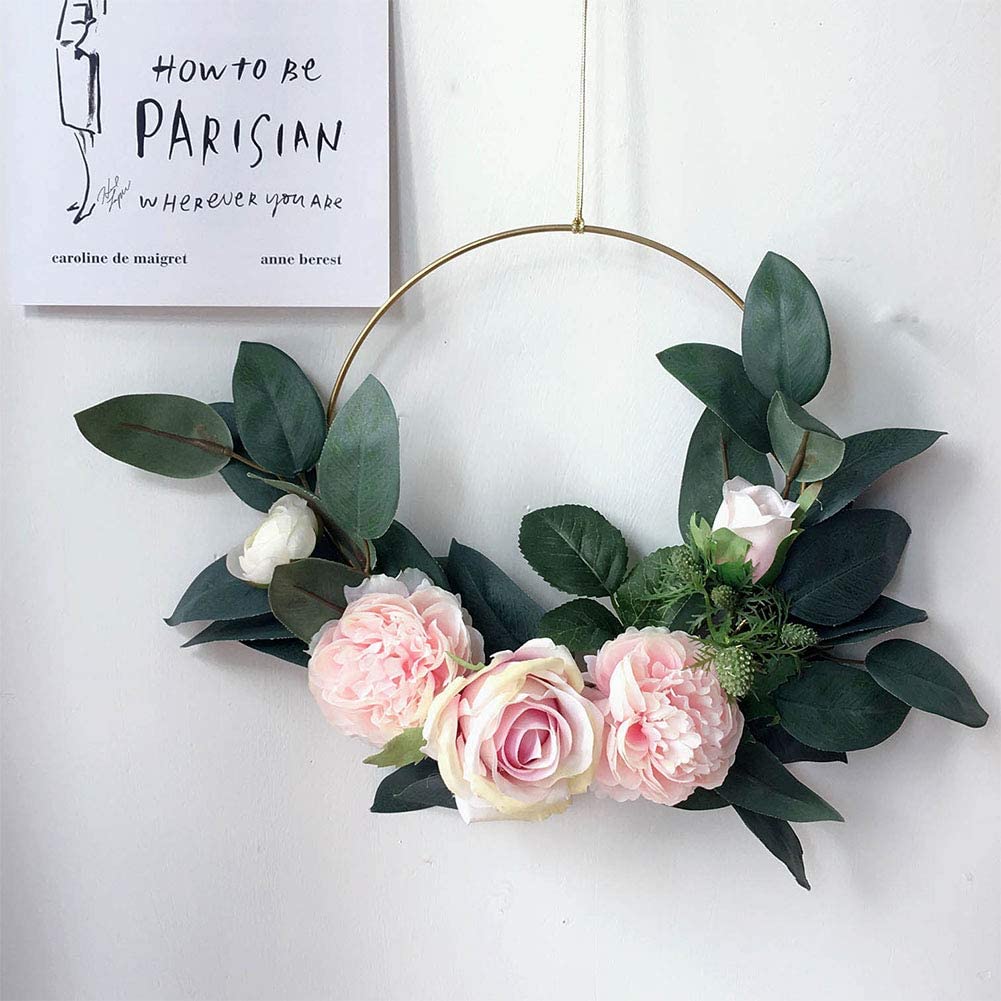 Related: DIY Project – Easy DIY Peony and Eucalyptus Wreath
Feather Garland
Then let's talk about metallics. Nothing says glam like a few pops of gold with our fresh spring decor. Hang gold-dipped feathers across your fireplace mantle or from a bookshelf.
If the feathers aren't really your style, then you will appreciate adding a eucalyptus garland to your space. It will add greenery, but also allows you to incorporate pops of color to give it a "spring has sprung" vibe. This type of neutral decor can help you change with every season. Changing out the decor or florals around it is quick and easy.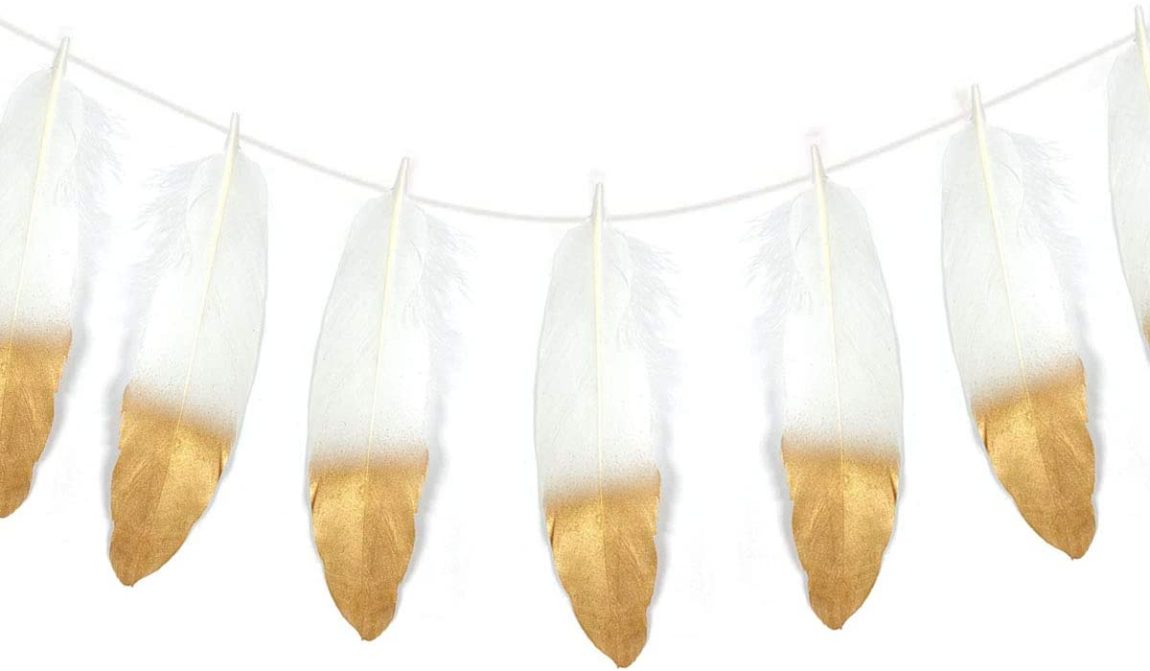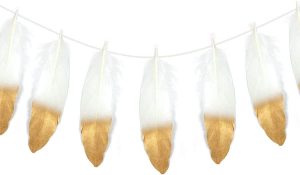 Accent Throw Pillows
Finally, watercolors are an obvious and glamorous choice for spring home decor. A watercolor pillow cover adds spring color, and if you're a renter, pillow covers are a space-saving choice for swapping seasonal decor.
These blush pillow covers are a great example of a different springtime decor path you can take if the watercolors aren't your style. It allows you to add a different hue but still keeps those pops of gold that some of us love in our interior design.
SHOP THESE SPRING DECORATING IDEAS SWAPS
Related: Decorating Ideas – 5 Changeable Home Decor Accents for Spring
Artwork
I'm in love with this home-state watercolor art. This talented creator makes gorgeous watercolor works for most home states, so you're bound to find yours!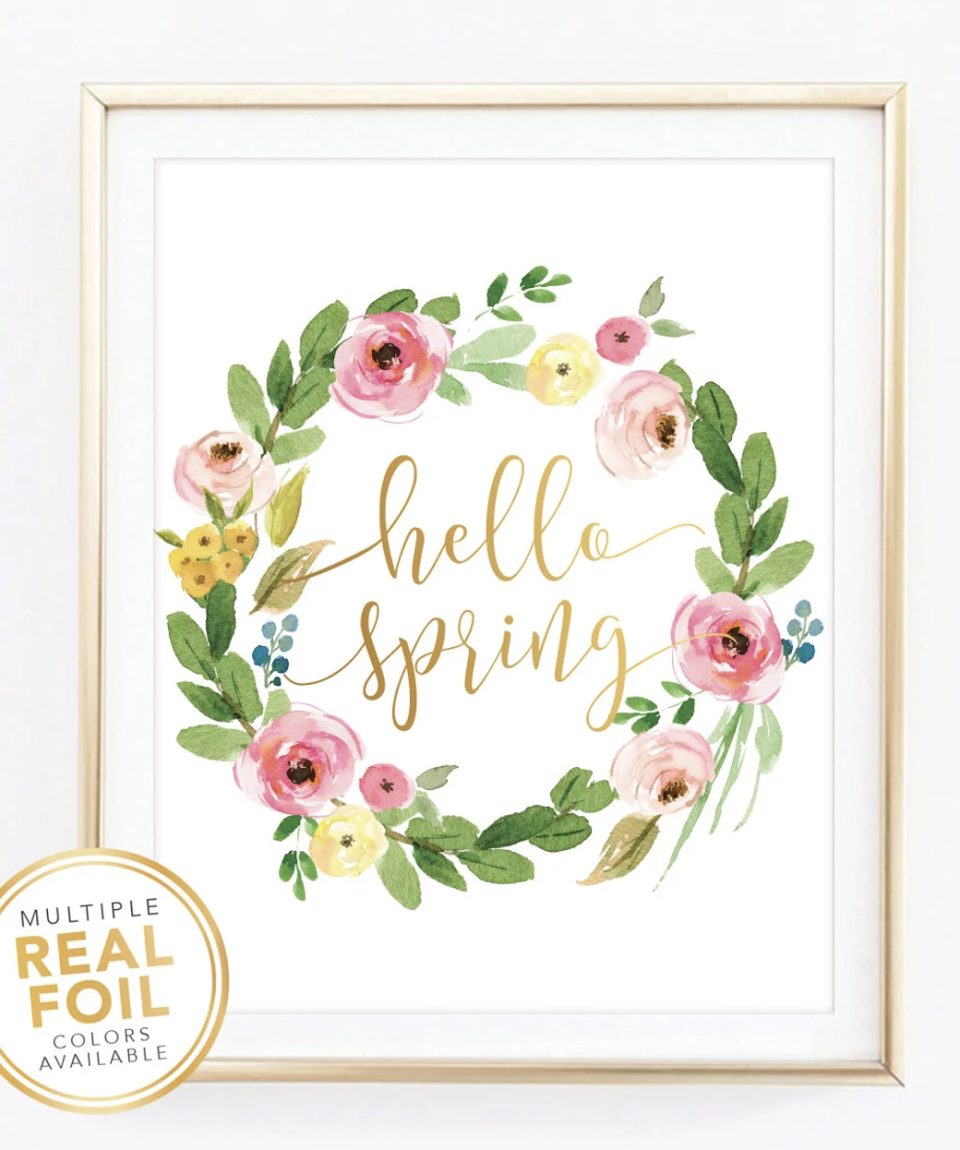 Printables are another example of a budget-friendly way to decorate your home for spring. All you need is a printer and a frame to use. You can also find great frames for super cheap at thrift stores. I created free glam spring printables for you to make your home feel like spring on a small budget.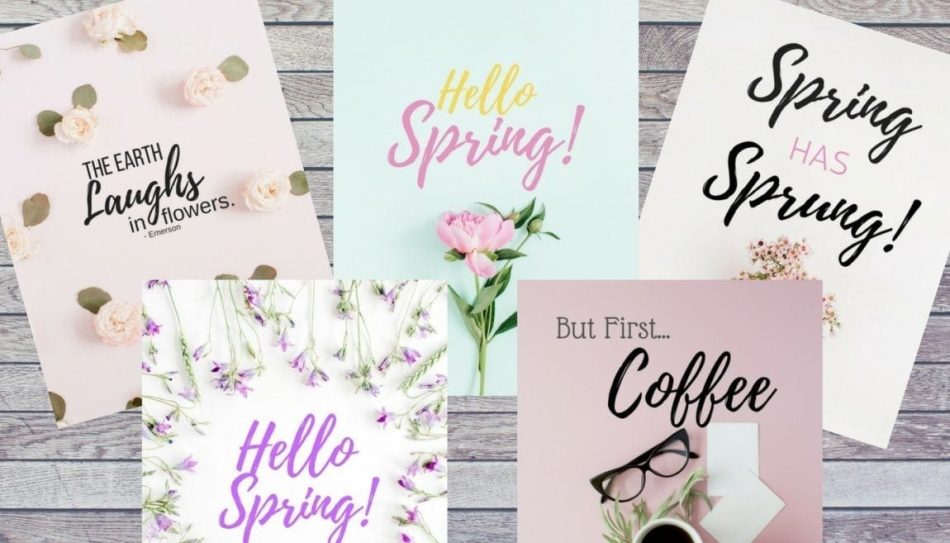 Swap Out Candles
As the seasons change, we can find spring scents to bring into our homes in the form of candles. So swap out your winter candles, and bring in the floral bright spring season scents.
Some examples of scents that are fragrant and non-toxic are:
SHOP THESE SPRING DECOR SWAPS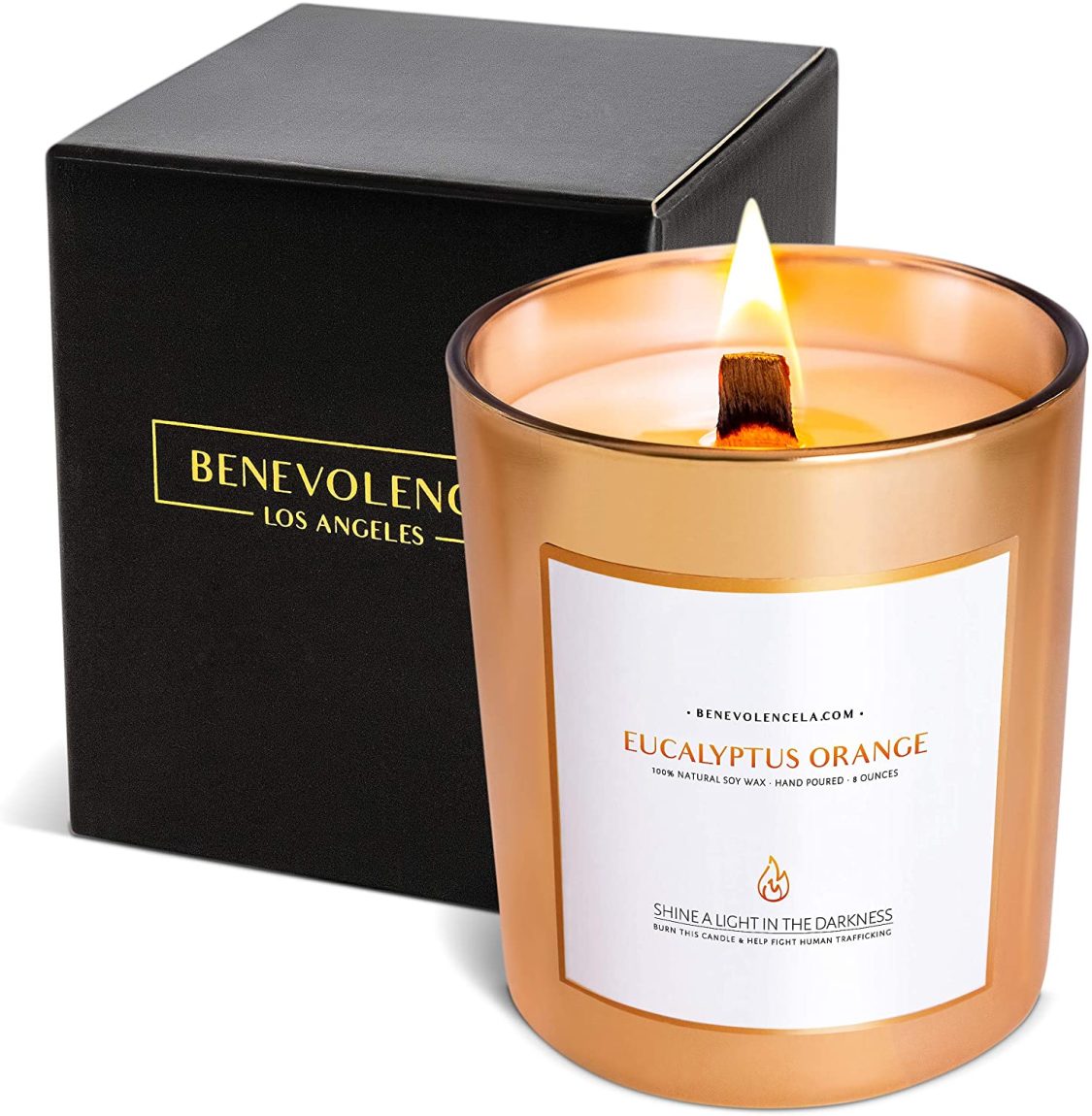 Table Runner
Bring your glam spring decor into your dining room or kitchen by way of your table runner. One of the easiest ways to decorate for spring. You can stick with something more neutral like this golden table runner and bring in bright pops of florals to give it a spring-like feeling.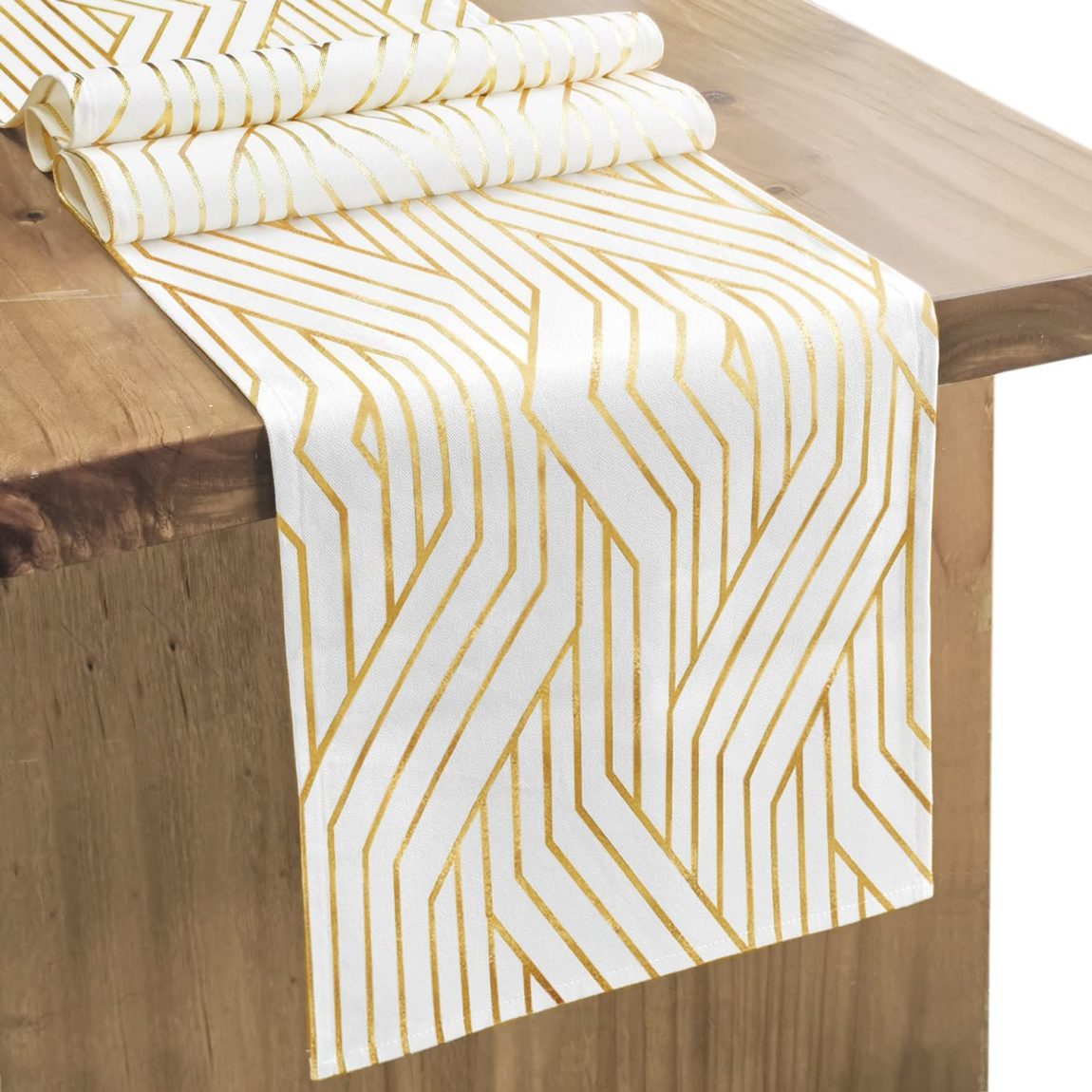 Front Door
Your spring decor doesn't have to stop at your interior. Bring those spring decor ideas and inspiration to your front door with a beautiful wreath or hanging door sign, some topiaries, and a cute spring doormat.
SHOP THESE SPRING DECOR SWAPS

Update Your Bedding
Like I shared above, adding some throw pillows can be a great way to keep up with the seasons in your home. You can swap out your bedding easily too. A lighter comforter, lighter or patterned sheets, and some colorful pillows could help you transform the bedding perfect for winter to the ideal bedding for Spring and even Summer.
SHOP THESE SPRING DECOR SWAPS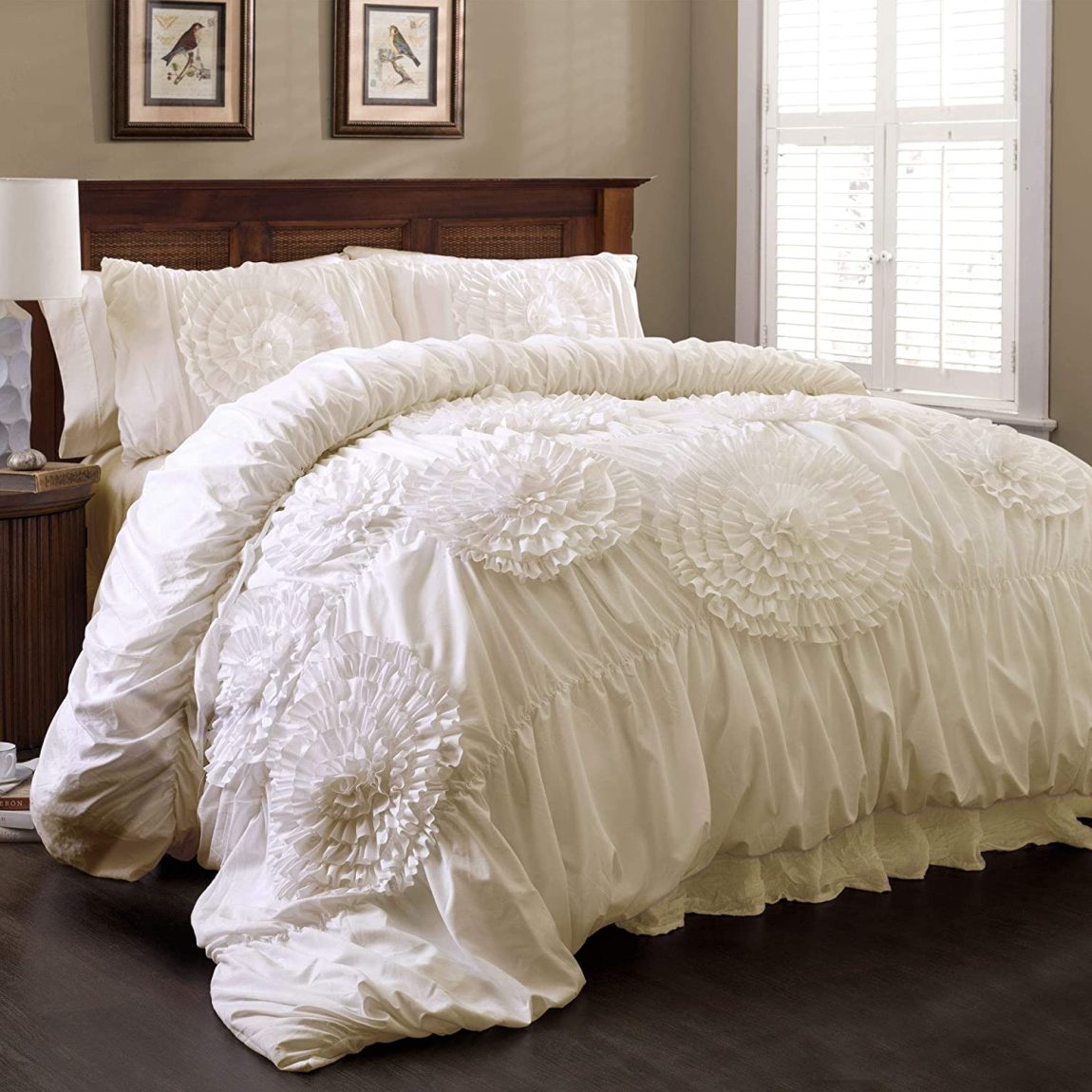 Add Baskets to Reduce Clutter
If you ever feel like clutter has a tendency to build and build in places like your living room or bedroom, then adding baskets would be the solution. You can use storage baskets for things like throw blankets, pillows, remotes, cords, chargers, and other accessories around your home.
SHOP THESE SPRING DECOR SWAPS

Similar Content: Decorating Ideas – How to Get That Spring Farmhouse Decor on Budget
Other Decor Accessories
I wanted to share some other glam home decor accessories that can make your space feel more elegant. Depending on what space your are decorating, I wanted to give your some spring decorating ideas that could be used year round. I'm head-over-heels over that canopy as it can bring a whimsical vibe to any space.
SHOP THESE SPRING DECOR SWAPS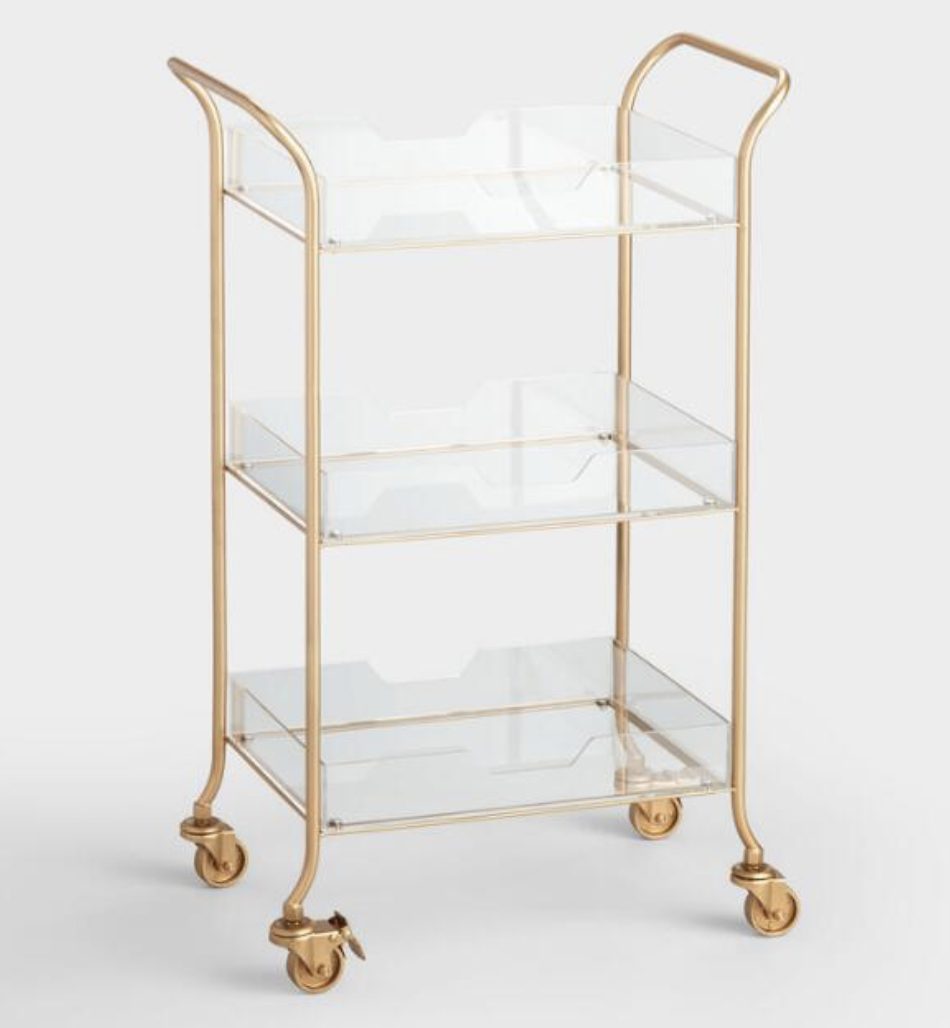 Spring Cleaning
Nothing makes you feel like you are entering a new season like spring cleaning! In addition to making your space look spotless, it's a perfect opportunity to go through items around your house to declutter. This includes decorative pieces, linens, art, and other decors you may not want to use anymore. From there you can sell, donate or toss those items to keep your home looking immaculate.
Budget Friendly Finds
If you see the gallery of products below, you will find some budget-friendly options to redecorate your space on a smaller budget. 
Shop Glam Spring Decor Finds

Now I want to hear from you! What do you think of these glam spring decorating ideas?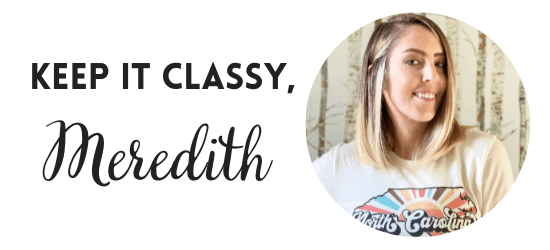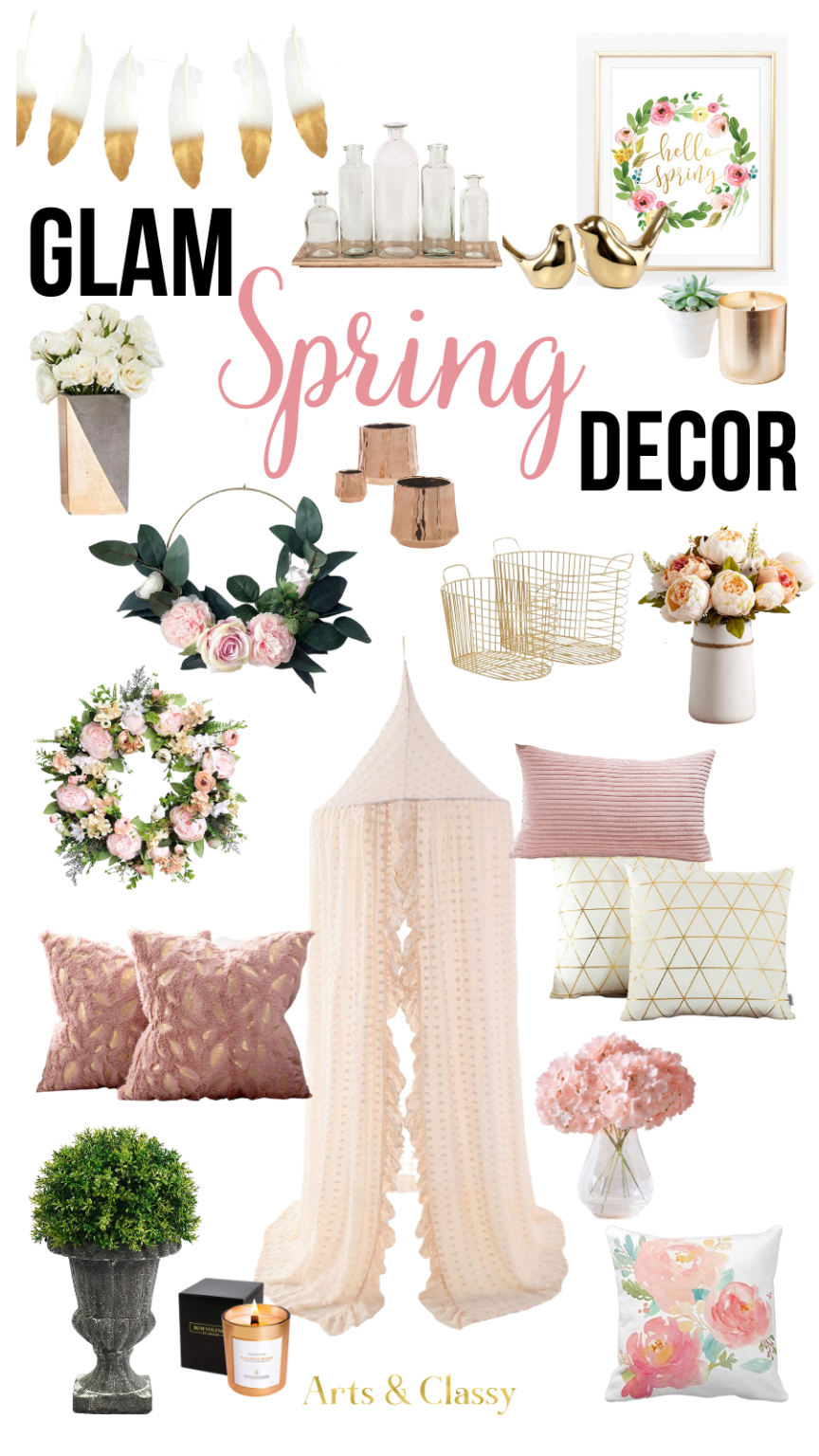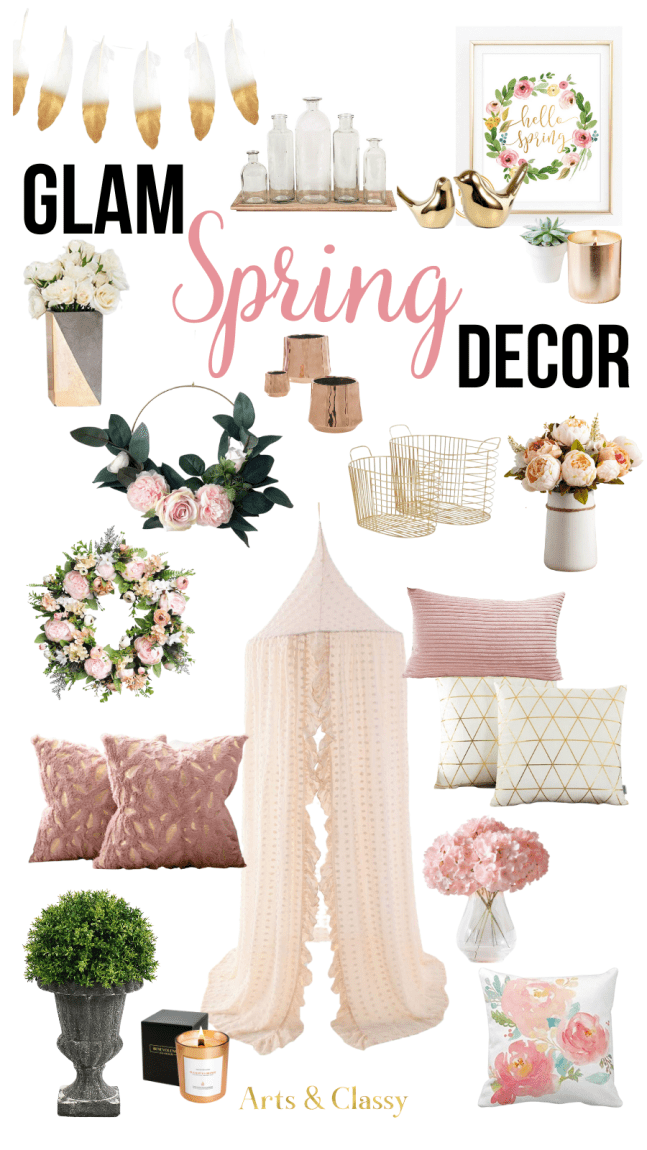 Download your free printables.
Subscribe here to never miss a single inspirational post! And receive your free Spring Printables, too!