Do you crave a relaxing retreat in your own home? I know I do! A modern farmhouse master bathroom may be just what you need. This style blends the warmth of country living with the sophistication of a contemporary space, creating a cozy yet chic ambiance. But where do you start? Fear not, because I am walking the walk as I start to bring this vision together.
My hope is that this will feel like the ultimate guide that has got you covered when you are ready to tackle your master bathroom.
Especially since I am pulling off this modern farmhouse design on a tight budget! Nope, there will be no big renovation, contractors, or interior designers at my home! I will make this DIY bathroom makeover by enhancing and modernizing accessories that I already have. My main purchases will be things like paint, rub n buff, contact paper, and possibly some other elements. Lastly, I am hoping I can use this as an opportunity to collaborate with some brands I love.
Here are a couple of the BEFORE photos of both my vanity and my husband's vanity in our master bathroom.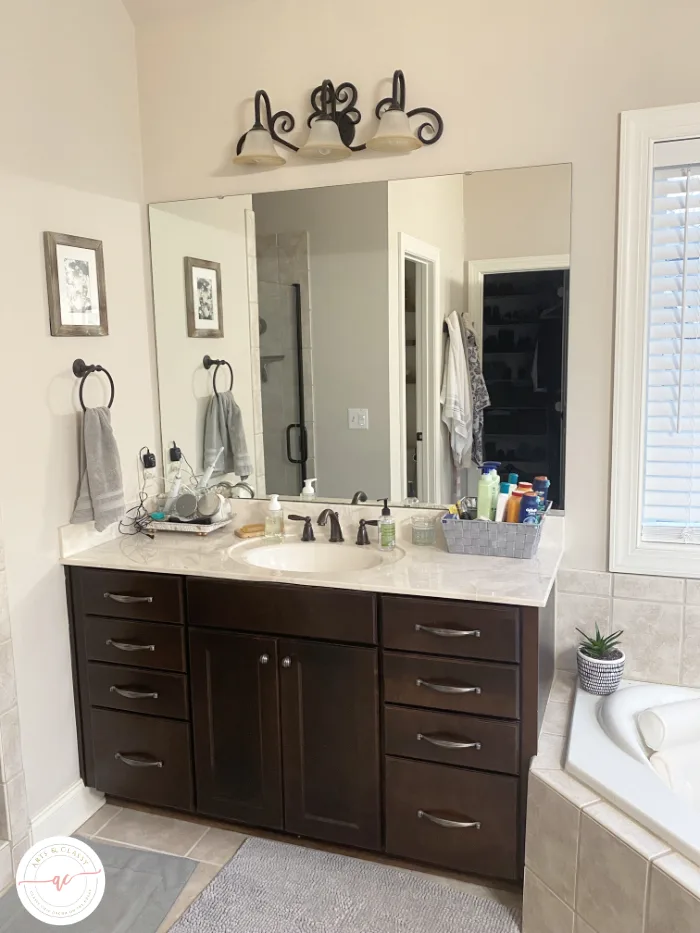 My goal is to keep this farmhouse bathroom design under $250.
From choosing the perfect color palette to maximizing my storage space, I'm walking you through each step of the design process. So grab a cup of coffee or wine and let's get started on creating my dreamy modern farmhouse master bathroom.
Choosing the Perfect Color Palette
When designing a modern farmhouse master bathroom, selecting the perfect color palette is key. You want to create a space that feels both comfortable and elegant. Consider starting with neutral colors like gray, beige, or white as a foundation for my design. Then, I will be adding pops of color with accents like towels or art pieces.
When I was choosing colors, I was thinking about how they will interact with the lighting in the room.
Soft, muted shades work well in rooms with natural light, while brighter colors can add a fun and playful touch to a bathroom with artificial lighting.
The ideas I have found for this project were mainly inspired by Shannon @ Living With Lady! I was very impressed with her master bathroom makeover.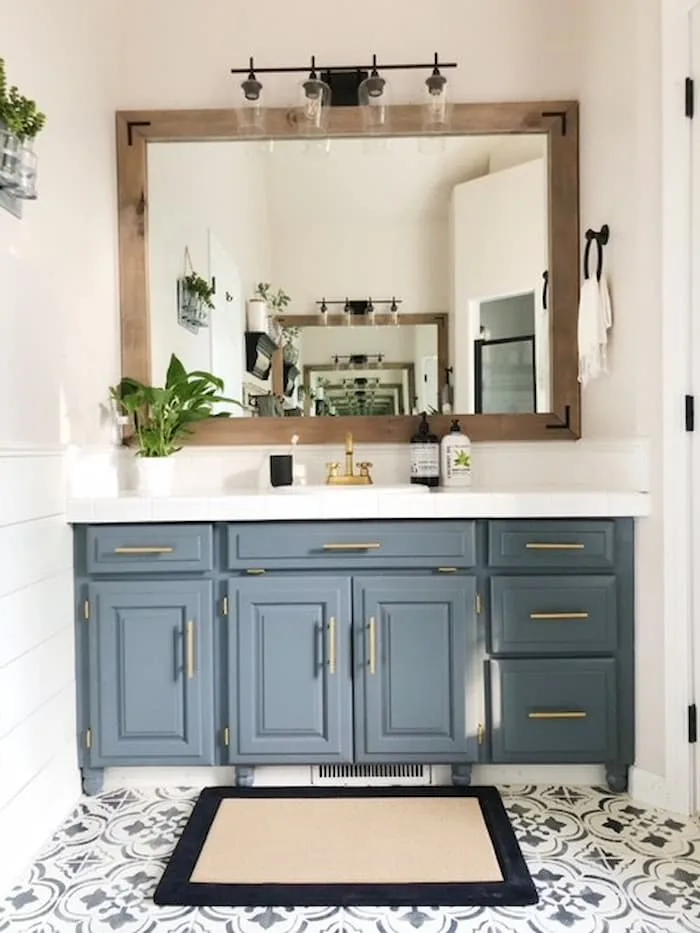 To tie my color palette together, I am considering using a patterned tile stencil for my floor tile and bathtub backsplash. This will hopefully create a cohesive look while adding visual interest to my bathroom. Mixing and matching patterns within my color scheme will add visual interest, just be sure to keep it balanced.
RELATED: 15 Stunning Bathroom Remodels – Make the Most of a Small Space!
Next up, I will be selecting the right fixtures and finishes to complement my bathroom decor color palette. Let's dive in.
Selecting the Right Fixtures and Finishes
When it comes to creating a modern farmhouse master bathroom, the right fixtures I will be choosing will be the lighting fixtures and I have decided my hardware and other finishes will be gold and black. The faucets I have will be transformed with the help of rub n buff, and it matches the overall aesthetic of my bathroom design on a budget.
Matte black, brushed nickel, brass, gold, or oil-rubbed bronze finishes are all popular choices for a farmhouse-style bathroom.
When selecting lighting fixtures, consider adding a statement piece, such as a vintage-inspired chandelier or a set of sleek industrial sconces. For the vanity, choose a cabinet and countertop that complements the color scheme and offers ample storage space for my toiletries.
Another important element to consider when selecting fixtures and finishes is the hardware, such as drawer pulls and cabinet knobs. Opt for hardware in a complementary finish and style to tie everything together.
Painting my Bathroom Countertops
My bathroom countertops are really old-fashioned and kind of unattractive. I think lots of people are in the same boat. So I decided to makeover my ugly countertops into beautiful faux marble countertops using a DIY epoxy technique.
How does faux marble hold up?
You may be asking yourself this question. As was I! From my research, Cultured marble is strong and long-lasting. It won't stain from things like hair dye, shampoo, or other bathroom items. That's because it's non-porous, which makes it more resistant than real marble.
Incorporating Rustic Elements
Now it's time to bring in some rustic elements to complete the modern farmhouse look. Incorporating rustic accents is essential for achieving the dreamy vibe of a modern farmhouse master bathroom.
I will be incorporating these elements by adding reclaimed wood features, such as barn wood finishes, or by combining vintage decor pieces like a weathered ladder for towel storage or an old-fashioned washbasin.
By adding these rustic touches, I am hoping to create a warm and inviting atmosphere in my modern farmhouse master bathroom. The next step is to take it a step further and create a spa-like atmosphere that will make you feel pampered every time you step into my new bathroom haven.
Creating a Spa-Like Atmosphere
To truly relax and unwind in my modern farmhouse master bathroom, it's important to me to create a spa-like atmosphere. This can be achieved by incorporating soft lightings, like dimmer switches or candles, and adding textures like plush towels, rugs, and bathrobes. Also, I plan to install a rainfall showerhead or a steam shower unit to create a luxurious and relaxing experience. These are really inexpensive to purchase and swap out.
How do I make my bathroom a sanctuary?
Another way to enhance the spa-like atmosphere is by implementing aromatherapy. Using essential oils or diffusers can help create a soothing atmosphere and improve my overall mood. I am obsessed with lavender or eucalyptus for a calming effect.
With a combination of rustic touches, spa-like elements, and smart storage solutions, my modern farmhouse master bathroom will be the perfect retreat for relaxation and rejuvenation. Up next, let's explore some creative ways to maximize storage space in my dreamy bathroom.
Maximizing Storage Space
Once I've created a luxurious and serene ambiance in my modern farmhouse master bathroom, my last step will be to focus on maximizing storage space to keep it organized and clutter-free. The key to maximizing storage space is to use every inch of available space effectively.
How do you use dead space in a bathroom?
Here are some creative ideas for utilizing dead space in any modern farmhouse bathroom storage:
Decorative Baskets or Trays: Use decorative baskets or trays to store the bathroom essentials such as toiletries, towels, and washcloths. These items not only look stylish but also add a sense of order to the bathroom.
Wall-Mounted Organizers: Wall-mounted organizers are a great way to save space and keep the bathroom necessities within reach. You can install them on the back of the door or on the wall beside the sink.
Hidden Storage: Furniture with built-in storage is a perfect way to keep the bathroom organized and stylish. Consider adding a stylish vanity with drawers or a bench with hidden storage.
A clutter-free bathroom not only looks good but feels good too.
RELATED: 8 Genius Small Bathroom Ideas for Maximum Storage
All in all, designing my dreamy modern farmhouse master bathroom is a process that requires careful consideration of several key elements. I am typically an impulsive person and this is no different when it comes to my design projects. Thanks, ADHD! lol
By following these steps, I am hoping that I can create a bathroom that perfectly blends rustic charm and modern luxury, personalized to my unique style.
As the saying goes, "home is where the heart is," and my dreamy modern farmhouse master bathroom is no exception. I'm getting creative and letting my imagination run wild to make this space my own. Make sure you are following me on Instagram, Pinterest, YouTube, Hometalk, and TikTok for more ideas on how to decorate your home!
If you enjoyed my inspiration and the starting point of modern bathroom remodel planning post, you. may also like: