Are you not sure what to do with that leftover wallpaper after your apartment redecoration? Have you been searching for fun and creative ways to make use of it, but coming up blank?
Then look no further! In this post, we'll be discussing a plethora of ideas and hacks on how you can reuse any leftover wallpaper in unexpected and stylish ways.
Let's dive into some of the most exciting decorating hacks that are sure to breathe new life into your living space—it won't take a lot of effort or money!
Ready to get inspired? Keep reading to see our top tips on transforming those small pieces of leftover wallpaper into something truly amazing.
Apartment decorating hacks with scrap wallpaper are so popular in home decor. Many peel-and-stick options are temporary, making this the perfect way for renters and homeowners alike to spruce up their space | Rental-friendly decorating with leftover wallpaper.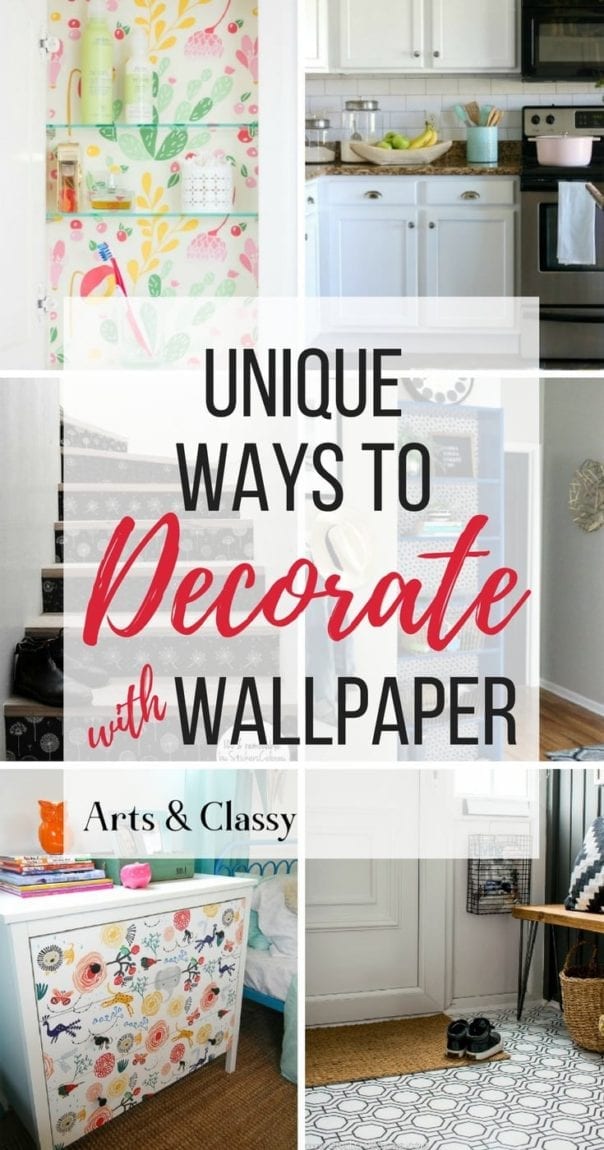 This post contains some affiliate links for your convenience. Click here to read my full disclosure policy.
Leftover wallpaper scraps often despised by anyone who has had the distinct displeasure of having to remove it, aren't what they used to be. In fact, wallpaper has come a long, long way in recent years. It's no wonder that wallpaper is now a major home decor trend! A bonus fact, you can use it in your apartment decorating hacks in a temporary way if you want.
Related: Turn wallpaper into art – 5 Ways to Repurpose Wallpaper into a Modern Aesthetic
See, many of today's new wallpaper options are removable. This makes peel-and-stick wallpaper a fantastic choice for renters or even homeowners who may be a bit non-committal. With so many patterns, colors, and styles to choose from, you'll have a hard time deciding what wallpaper rolls you want to use on your next project.
And if you think wallpaper is just for walls. Think again. These DIY wallpaper projects are so impressive.
Decorating with Wallpaper
Just click on the text link below each image to be taken directly to the tutorial for each of these gorgeous green apartment decorating hacks & furniture flips!
If you're looking for new wallpaper leftover ideas, add pops of color with peel-and-stick wallpaper to the sides of drawers. Taking a cue from Making Manzanita's creative wallpaper projects, this idea is sure to brighten any room and make it feel both fresh and personal.
Not only is it an easy DIY project, but the wallpaper can be switched out as often as you like and makes great use of a wallpaper that would otherwise go to waste! Whether you choose a bold pattern or classic color, this wallpaper addition will bring character to your living space.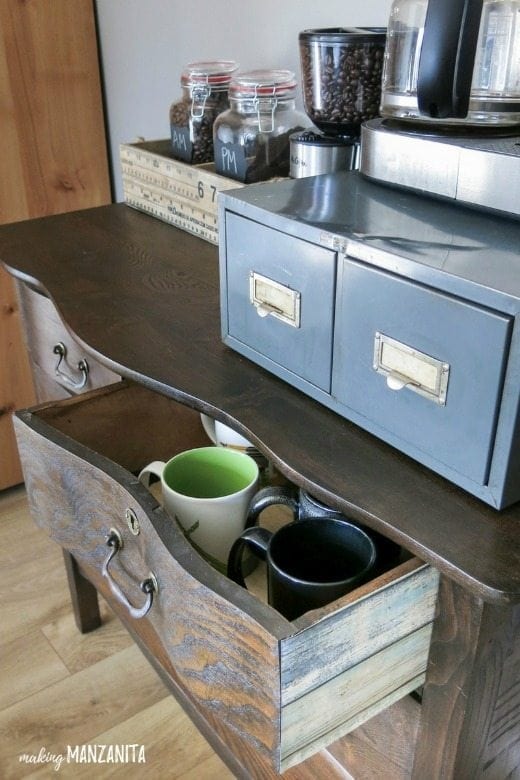 If you are searching for wallpaper ideas that don't involve committing to a long-term wallpaper project, wallpaper your floors! It's the perfect renter-friendly alternative as it is easy to remove and not as damaging to the walls. Plus, wallpaper can be used to instantly update and add a touch of color to any lackluster space.
Wallpapering your floors requires just a few simple steps.
You can buy or source wallpaper that sticks directly onto the floor in place of glue, cut out shapes or patterns if desired, lay them down piece by piece, and enjoy the newfound beauty of your room.
To finish, be sure to use clear sealer all over the wallpaper for protection against wear and tear. No matter what home or office space you have, wallpapering your floors is a great way to give them an instant makeover with the low effort required!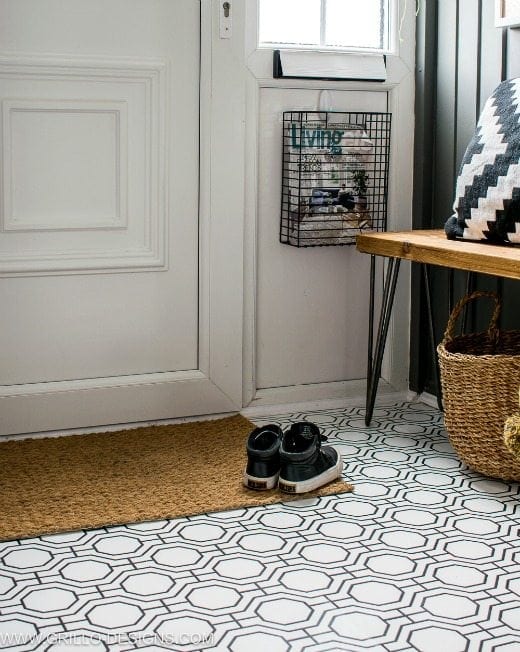 With wallpaper leftovers, you only need a little bit of inspiration to transform a space without breaking the bank. Lolly Jane has definitely come to the rescue! With their faux Subway Tile Backsplash Wallpaper, anyone can create an entirely new look for their home. It's perfect for accent walls and kitchen backsplashes. Installing is easier than ever since it needs no glue or paste.
You just have to use wallpaper, tear it off then peel and stick it to the wall.
There's even adhesive water-resistant lining if you're feeling extra creative and want that extra security. Check out Lolly Jane's amazingly realistic designs now and get inspired to give your home a unique twist with wallpaper leftover ideas!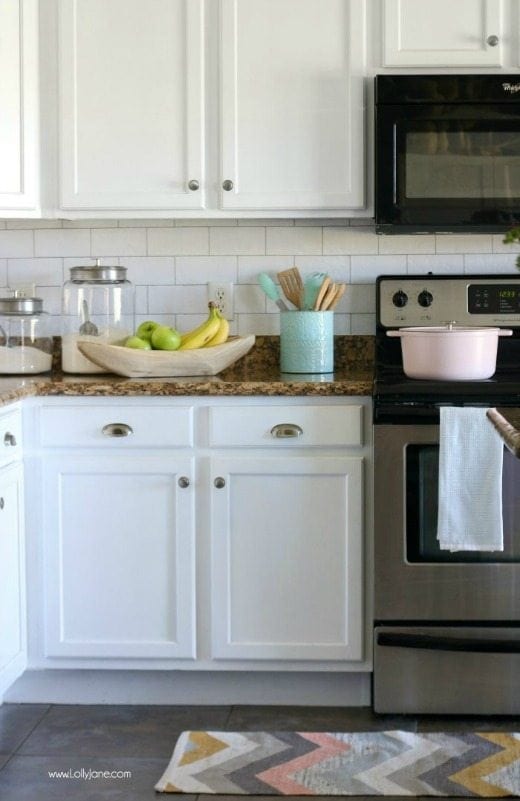 If you're looking for wallpaper leftover ideas that are a piece of cake, the 15-minute Ikea dresser hack from Remodelaholic is definitely the way to go. The absolute easiest way to jazz up an ordinary dresser? Cover the drawers in wallpaper!
The wallpaper reduces having to paint and cover each drawer.
Just cut the wallpaper to size, adhere it with wallpaper paste or mod podge, and voila—a stylish new look in less than 15 minutes! It's a simple yet effective solution for giving cheap furniture a chic makeover.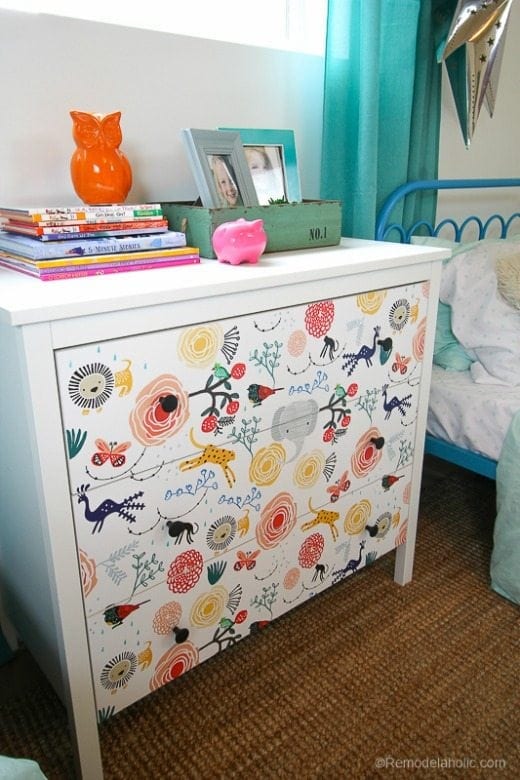 If you're looking for an easy and fun way to spruce up your staircase, look no further than this fun project! Instantly transform your ascending staircase into a delightful wallpaper display with minimal effort.
Choose between several designs and upgrade the ordinary to extraordinary by applying wallpaper pieces of your choice directly onto each riser. It's a simple change that will certainly add some happiness to your daily life as you climb the stairs.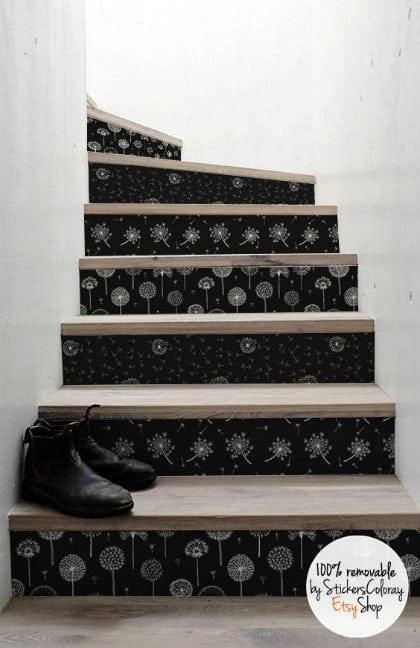 Have you been looking for bookcases or bookshelf ideas? Look no further than IKEA hack wallpaper + a pop of color from This Is Our Bliss! With this creative project, you can easily spruce up a bookshelf with any leftover wallpaper you may have lying around.
Not to mention, you can use their wallpaper suggestions to draw the eye directly to your bookcase.
Feel free to create some imperfections and make it your own – additional knick-knacks and photos look great too! With IKEA hack wallpaper, you can make something boring into something beautiful.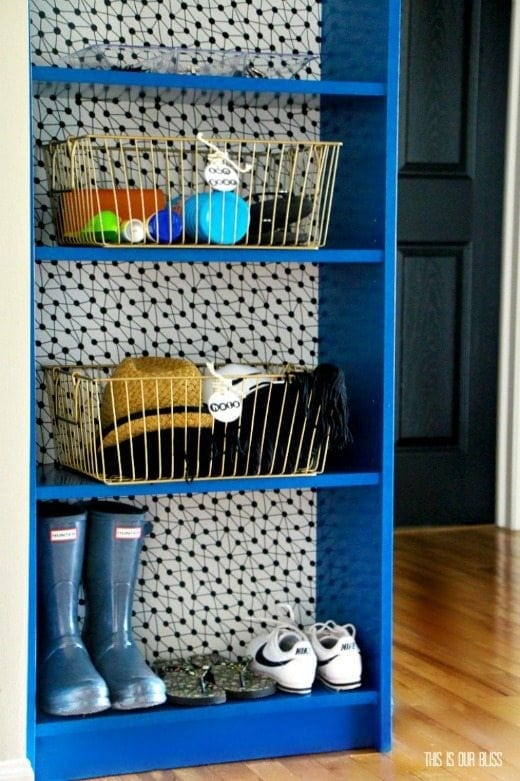 Isn't it time for your medicine cabinet to step up its style game? Transform a nook or alcove in your bathroom just by adding wallpaper remnants, as suggested in Design Improvised.
Smaller pieces of leftover paper can be used to give any area some extra character, and it is an easy way to get a big impact!
Think of the creative possibilities by using different colors, designs, and textures. You won't believe what an updated look you can achieve with such little effort–it's almost magical! So why not have some fun and give that old nook or alcove some personality today?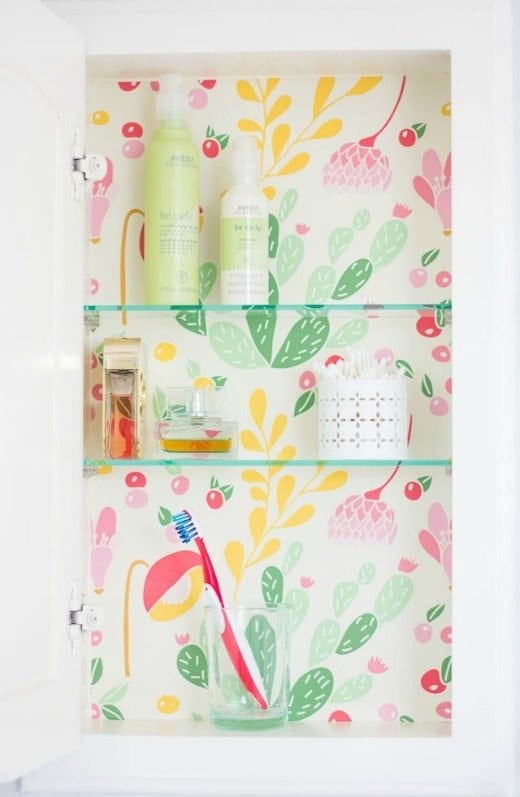 Looking for Peel-and-Stick Wallpaper?
Here are some of my FAVORITE patterns:

Here are a Few More Apartment Decorating Hacks and Rental-Friendly Blog Posts you May Enjoy: