How to Decorate Your Home on a Small Budget
Decorating your home doesn't have to break the bank. I want to share how to decorate your home on a small budget with you today.
In fact, the reason this blog now exists is that I was struggling to decorate my apartment with pretty much no budget to speak of. I've learned a lot along the way since then on how to decorate on even the smallest of budgets. You would be amazed at how much I have created.
The name of the game is getting CREATIVE and thinking outside of the box.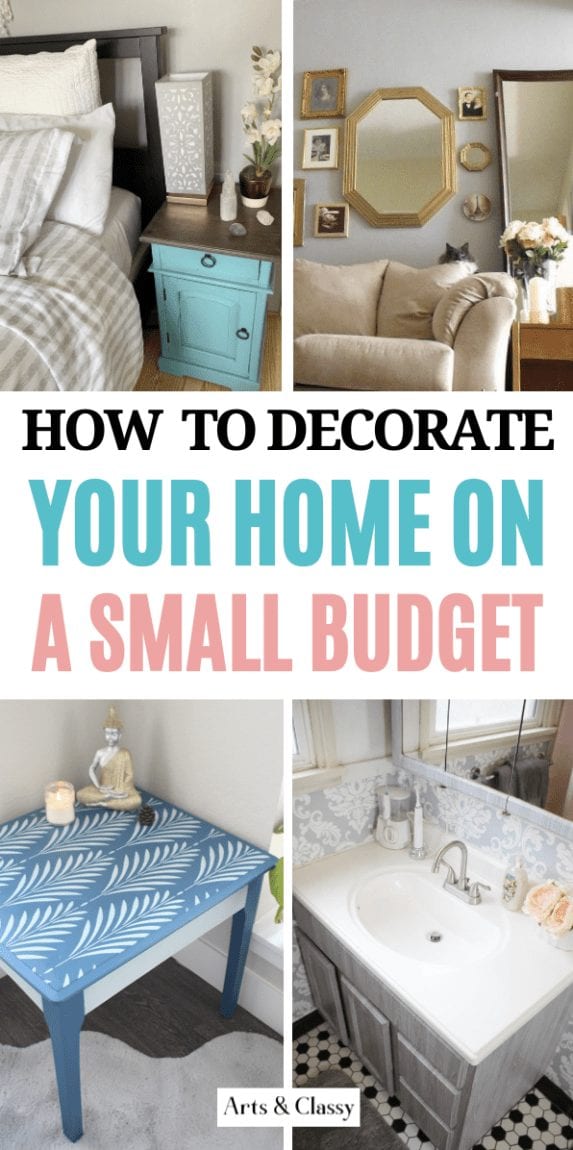 *This post contains affiliate links. Please see my disclosure policy for more information.
1. Use mirrors to add light
Mirrors can be a cost-friendly alternative to works of art. Use mirrors to add light to your space, or mix and match different styles to bring elegance and personality to even the smallest of spaces.
Mirrors can really help to make space appear larger as well. Especially if it is a large wall mirror. The larger the better. A collage of smaller mirrors would be a clever budget-friendly way to achieve that look.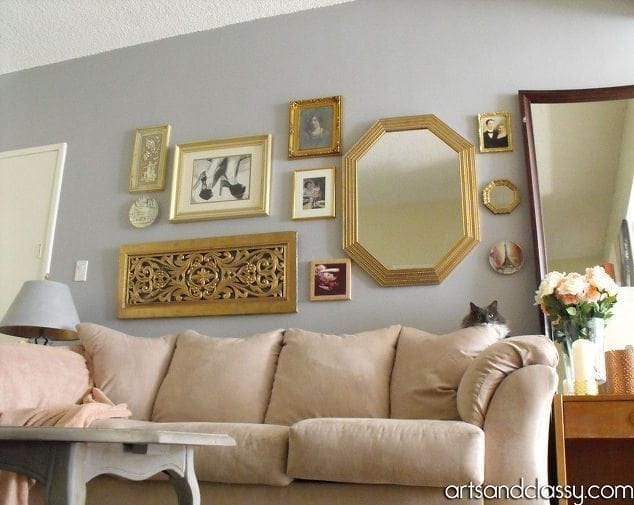 This was a an old hand-me-down dated octagon mirror that I gave a touch of glam.
Check out my other recent post, Budget-Friendly Glam Mirrors Get Glamorous Style for Your Walls.

2. Bring nature into your home
Plants are one of the most affordable ways of home decor. Buy some basic green plants for both indoors and outdoors potted in solid-colored pots. Do a little research on what plants work better for indoors versus outdoors. Also, research what plants do well in whatever natural light your home gets.
Plants will make your home eye-catching and add color to your decor. If you have pets (like I do), then I recommend fake plants. One of my cats loves to eat flowers, and plants (you name it) so I have to always be mindful of the real plants I bring in my home. Having plastic prevents my cat from destroying the look of nature in my apartment.

Check out my small bedroom makeover project!
3. Accessorize your bathroom with affordable decor
Towels, shower curtains, rods, and bath mats are easy and inexpensive ways to bring color and a theme to a boring bathroom. You can shop all these items on a budget at stores like TJ Maxx, Ross, Marshalls, Big Lots, and Home Goods.
If you have the ability to paint your walls a new color, use that as a palette to accessorize your bathroom with new items.

You have to see my recent rental bathroom makeover project in its entirety!
4. Stencil your walls
Instead of dropping a ton of cash on an expensive print, craft your own with paint and a pretty stencil. Stenciling your walls is the most budget-friendly way to decorate your home to achieve that wallpaper look. You can even DIY your own stencil if you are really on a tight budget.

Check out this rental kitchen stenciled accent wall I did a while back.
5. Update your pillows
Can't afford a new sofa? Not a problem! Just get some fabreeze your fab skills to bring life to your sofa cushions.
There are dozens of affordable, fabulous accent pillows or pillow covers that will complete your space instantly. If you''re not sure what colors to go for, take inspiration from your other decor pieces. Find one piece that you want to draw inspiration from.

6. Display your children's art or your own
Display your kid's drawings or even your own in a colorful frame, or in a white frame with a colored mat. Hang them in a space that doesn't have enough personality. Use a unifying color frame to bring several frames together into a collage of art for the space.
7. Accessorize with Books
Stack artsy, design, gardening, travel books or whatever you collect on a table. Books are everyone's favorite accessory because they're so personal they reflect your interests. They are such fun conversation-starters in my home.
8. Paint your old furniture
When you are OVER your bed or other pieces of large furniture that your own, consider painting over the existing finish instead of dumping your stuff.
A new coat of paint on an old dresser can drastically change a piece without costing very much! I highly recommend chalk paint as the type of paint to use.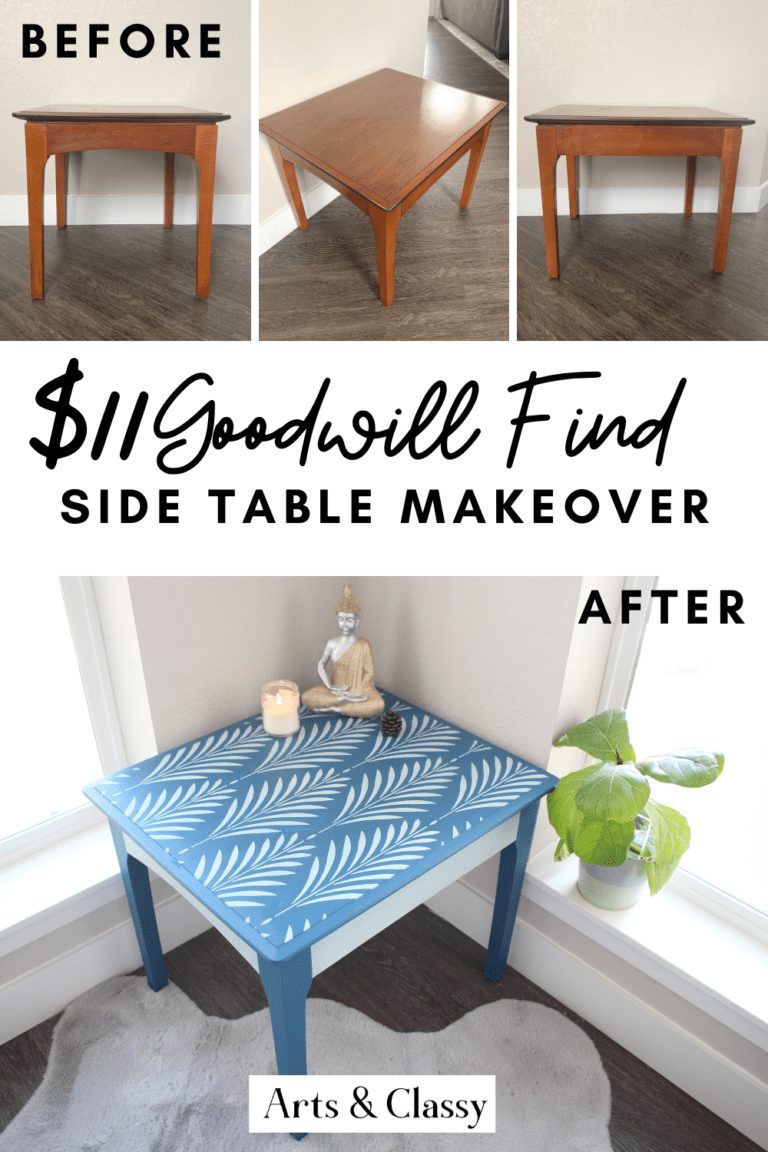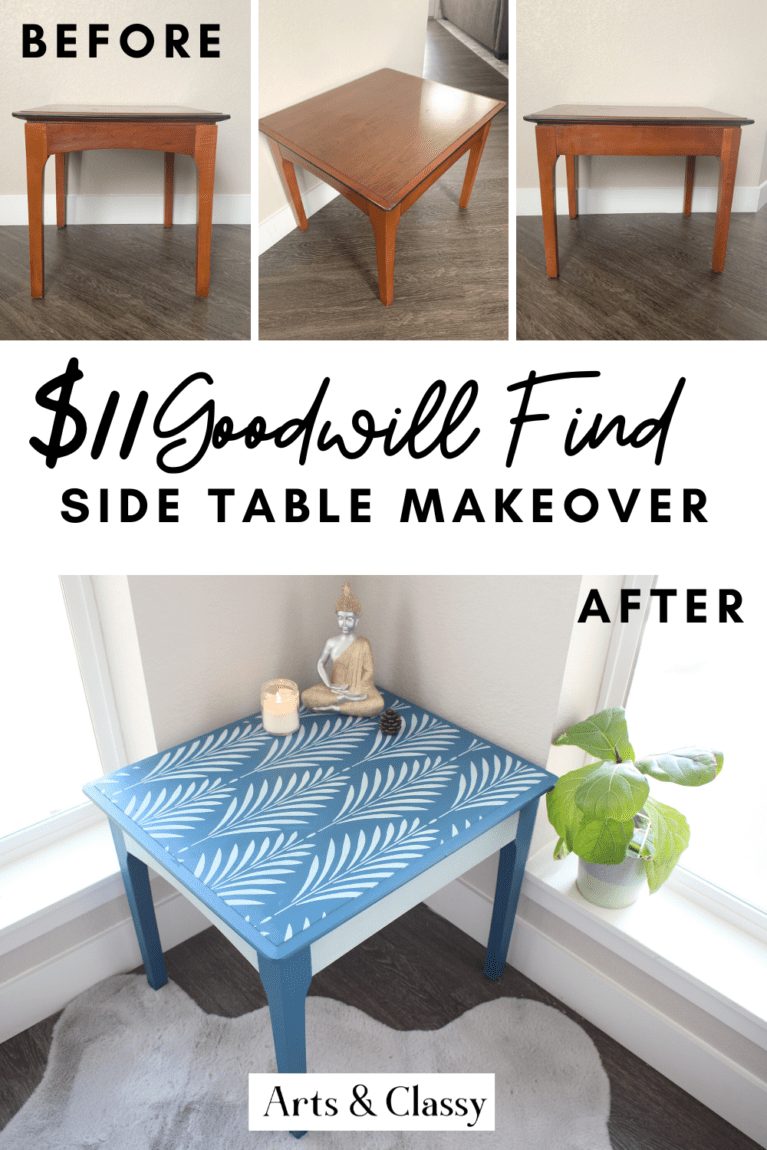 You will love this $11.99 Goodwill side table project that I gave an elegant stenciled makeover to.

It can be pricey, but I have a much cheaper recipe that you can use with any acrylic latex paint you choose.
Check out many pieces of furniture I have flipped with chalk paint!
9. Change the hardware on door handles and furniture
New drawer handles or door knobs can transform old furniture. Plus, it's cheaper than buying something brand-new. If you rent, this is an amazing way to transform your rental kitchen cabinets and drawers without having to paint anything.

10. Use removable wallpaper
Permanent wallpaper is not always an option, plus it's a pain to put up and remove. If you are renting, you need a more temporary solution like temporary wallpaper. This is also a great solution for commitment-phobic designers! You can add color and personal style to a room and not fear wanting to change it up with the seasons. It allows for more options throughout the year.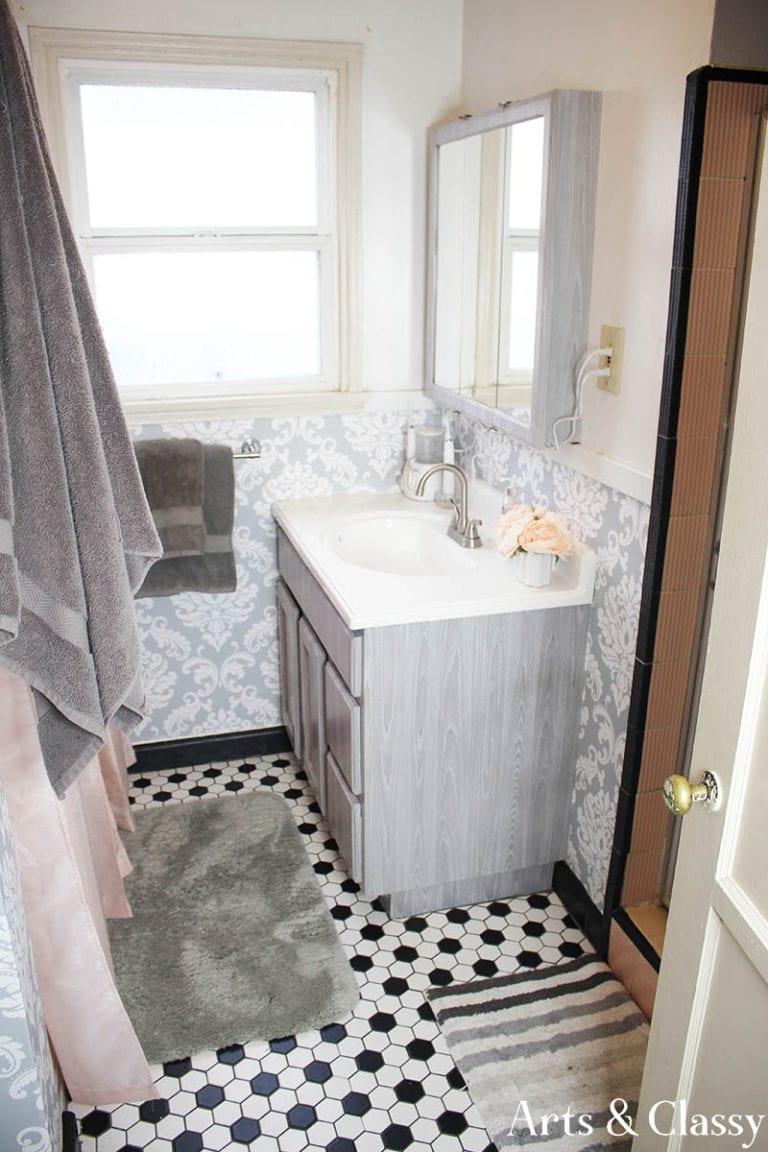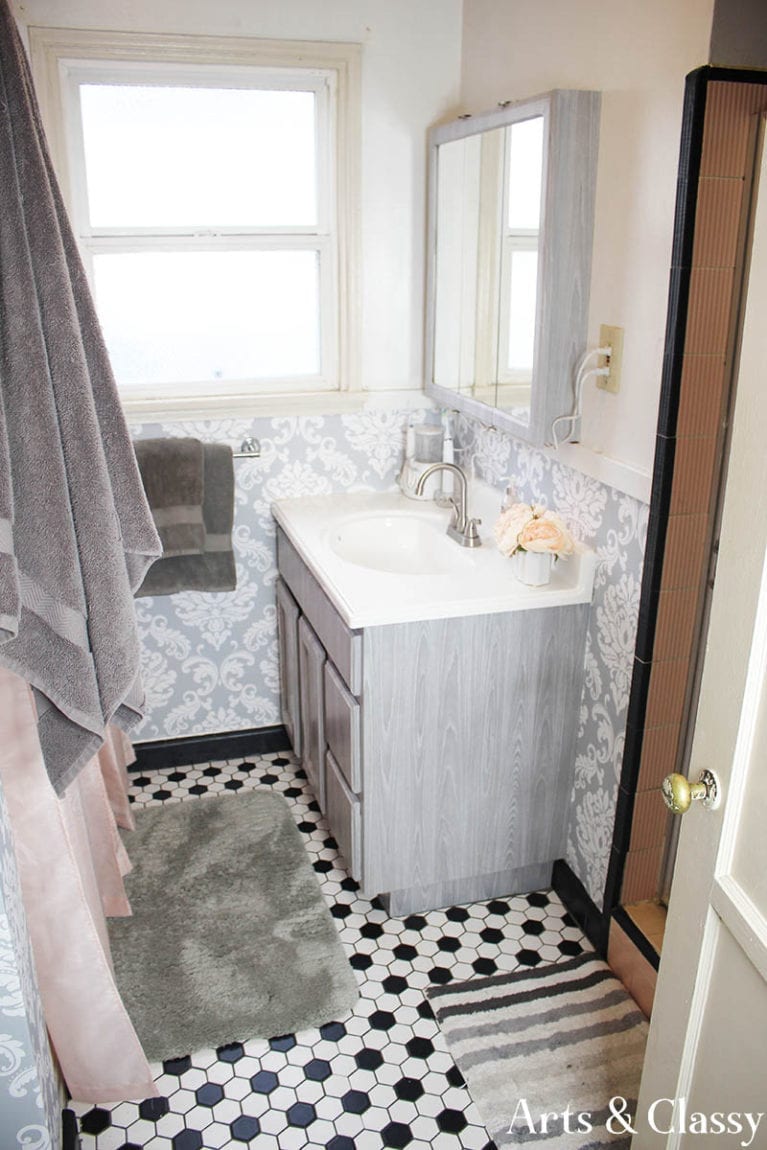 I recently added some contact paper and temporary wallpaper to my bathroom makeover and I loved how it turned out.

What did you think of all these tips and suggestions on how to decorate your home on a small budget? Did you find them helpful? Which tips would you try in your home?