Bold and Beautiful: Adding Statement Pieces to Your Modern Farmhouse Kitchen
Welcome to our blog post where we'll explore the art of infusing bold and beautiful statement pieces into your modern farmhouse kitchen. Blending modern kitchens and farmhouse style is all about creating a harmonious blend of rustic charm and contemporary design elements.
By incorporating statement pieces, you can elevate your kitchen's aesthetic and add a unique touch that truly showcases your personal style. Join me as we delve into inspiring ideas and practical tips to achieve a captivating modern farmhouse look that exudes both warmth and sophistication.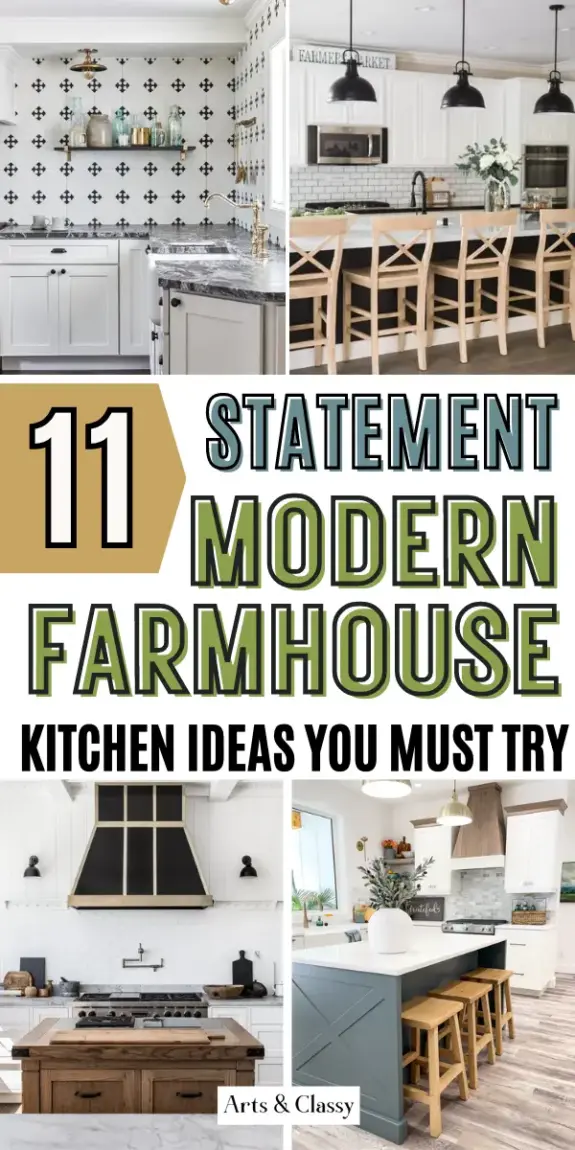 This post contains some affiliate links. I may earn a small commission if you make a purchase through one of these links. See more information in my full disclosure policy.
1. Embrace the Power of Contrasts
Incorporating modern design elements into your farmhouse kitchen creates a captivating blend of styles that are visually striking. Embrace the power of contrasts by combining sleek, modern elements with rustic touches. For example, pair a sleek stainless steel range hood with distressed wooden open shelves, complemented by charming shiplap walls and exposed wood beams. The dynamic interplay between these elements adds depth and character to your kitchen, delivering a farmhouse feel with a modern twist. It's the perfect recipe for a truly captivating modern farmhouse kitchen design that will leave a lasting impression.
You have to see the full tour of Lindsay's beautiful modern farmhouse kitchen at The White Buffalo Styling Co.!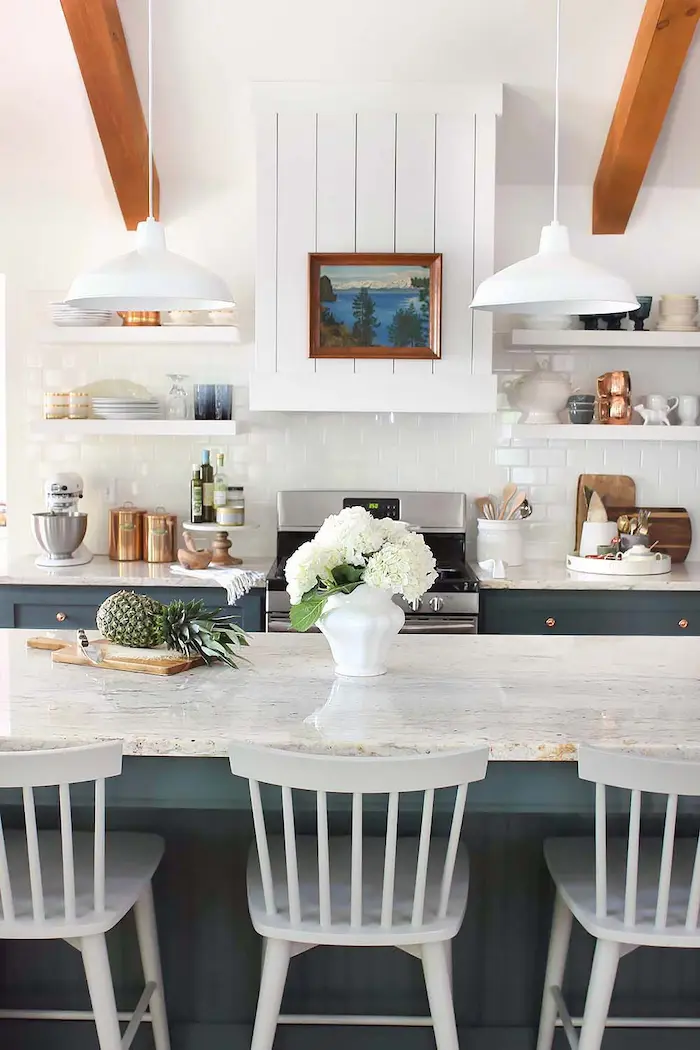 2. Incorporate Eye-Catching Lighting Fixtures
Lighting fixtures play a crucial role in setting the ambiance of any room, and the modern farmhouse kitchen is no exception. Opt for eye-catching fixtures that serve as statement pieces. Consider pendant lights with vintage-inspired Edison bulbs or a chandelier with a rustic metal frame. These bold lighting choices will not only illuminate your kitchen but also become focal points that enhance the overall design.
You have to see the full tour of Justine's beautiful design of this modern farmhouse kitchen at The Pear Tree Drive!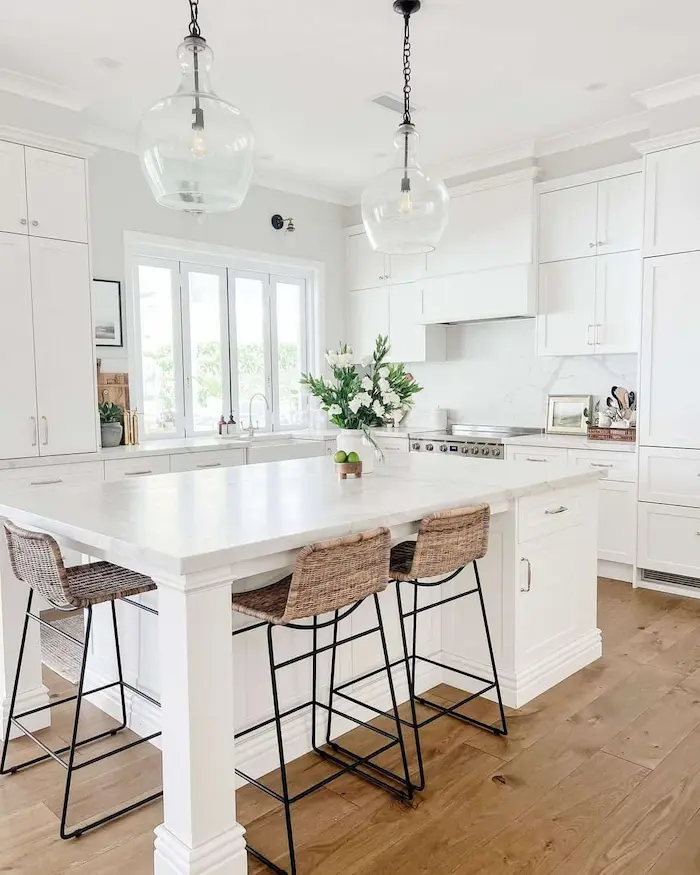 3. Install a Striking Farmhouse Sink
A farmhouse sink is a quintessential element of modern farmhouse design. Its large, deep basin and apron-front sink create a charming focal point while offering functionality. Choose a bold option such as a fireclay or copper farmhouse sink to add a touch of luxury and visual interest to your kitchen. The contrasting textures and materials will elevate your space while staying true to the farmhouse aesthetic.
You have to see the full tour of Mindy's beautiful design of this modern farmhouse kitchen at Mindy Gayer Design Co.!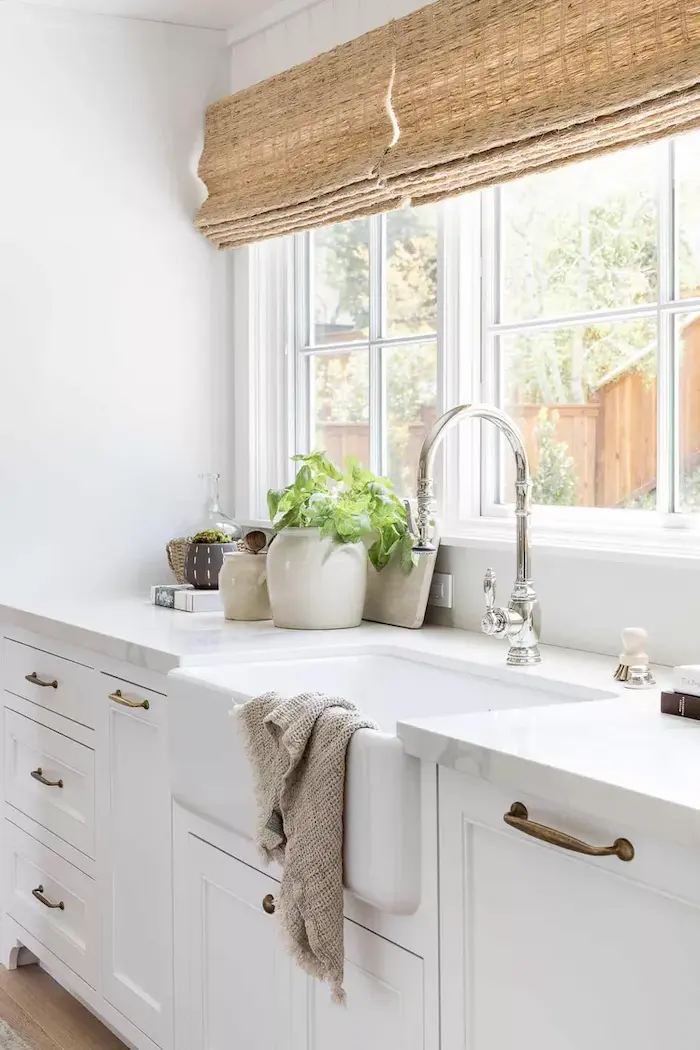 RELATED: 10 Budget-Friendly Interior Design Ideas That Will Transform Your Home
4. Showcase Artistic Backsplash Tiles
A backsplash is an excellent opportunity to infuse personality into your modern farmhouse kitchen. Whether you're a renter or homeowner, you have options. You can choose Peel & Stick backsplash for flexibility or opt for traditional installation. To make a statement, consider bold and beautiful backsplash tiles. Options include subway tile backsplash, patterned cement tiles, geometric designs, or hand-painted ceramic tiles. These artistic choices not only create a visually stunning backdrop but also become conversation starters in your kitchen.
You have to see the full modern farmhouse kitchen design by Tyler Karu!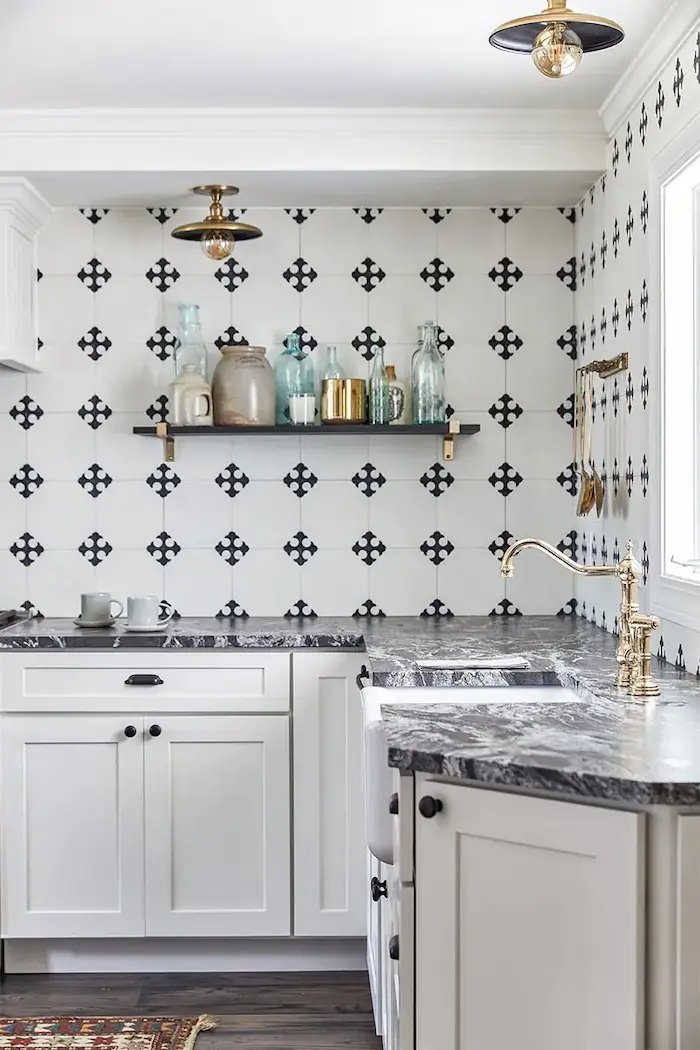 5. Integrate Open Shelving with Decorative Items
Open shelving is essential in modern farmhouse kitchen design, providing functionality and displaying captivating statement pieces. Arrange curated vintage dishes, unique pottery, and eye-catching accessories, incorporating beige porcelain accents. Pair with white cabinets for a traditional look, letting curated items shine as focal points. Thoughtful hardware choices create a captivating focal point, showcasing your modern farmhouse style.
You have to see the full tour of Shannons's modern farmhouse kitchen at Homemade Lovely!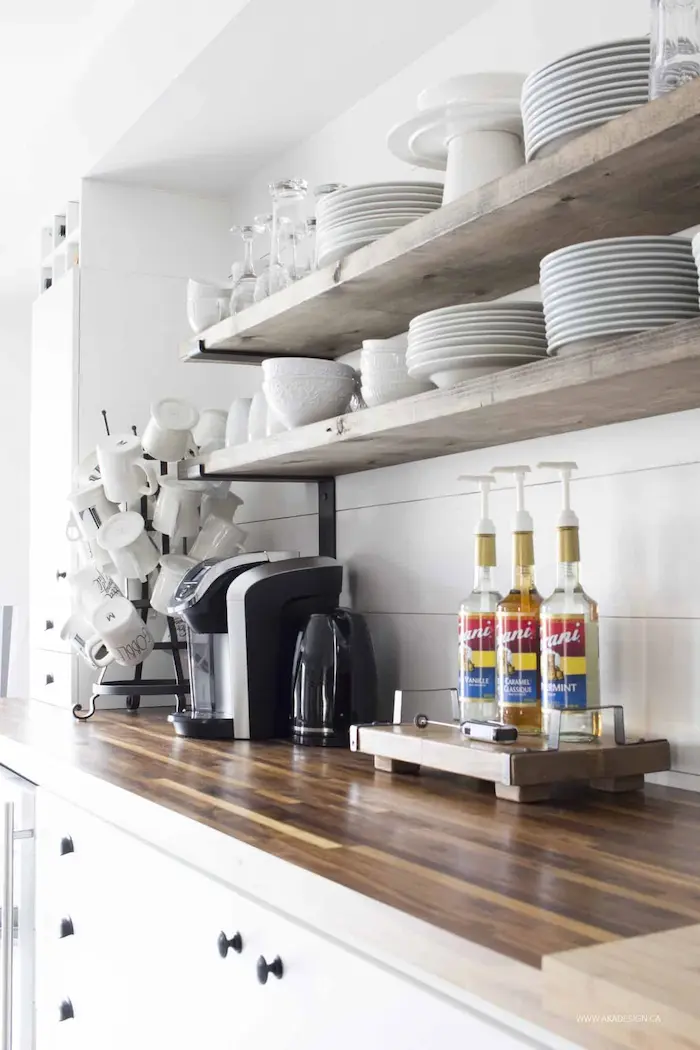 6. Incorporate an Eye-Catching Range Hood
Elevate the visual appeal of your kitchen by choosing a captivating range hood that becomes a standout feature in your modern farmhouse design. Choose sleek stainless steel or bold black iron hoods that complement your style perfectly. For an added touch of rustic charm, opt for a wood range hood that brings warmth and natural beauty to your space. Moreover, whichever statement piece you choose, the range hood will add a touch of drama and sophistication, ultimately becoming a focal point that enhances your overall kitchen design.
You have to see the full tour of Nicki's beautiful modern farmhouse kitchen at Cottonwood & Co!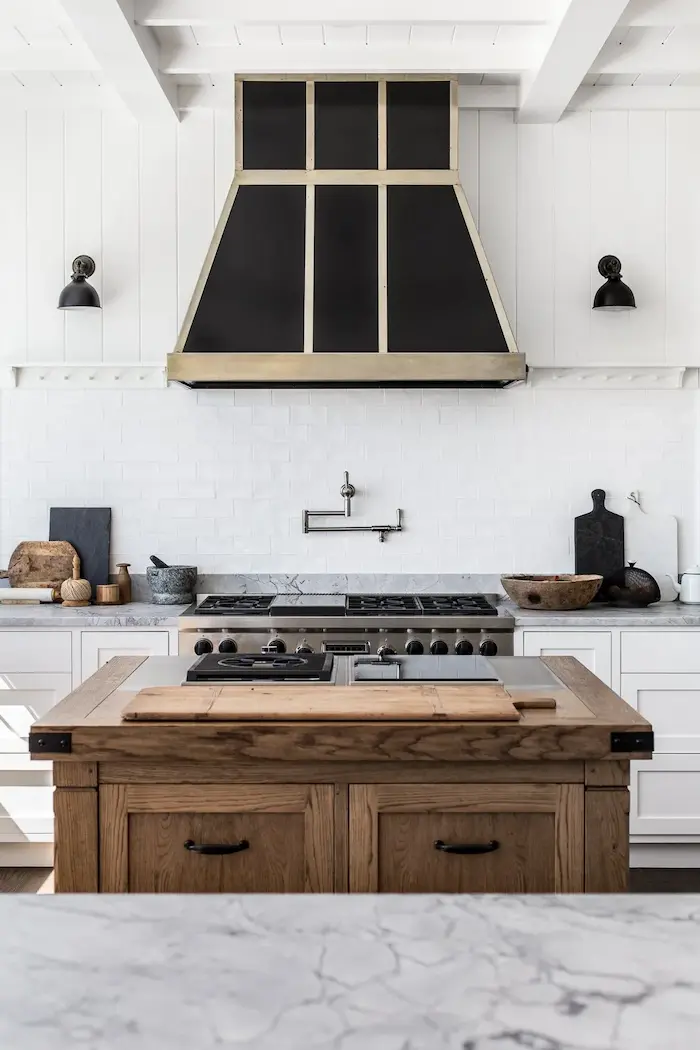 7. Add a Pop of Color with Vibrant Cabinetry
While the modern farmhouse aesthetic often incorporates neutral color palettes, don't shy away from adding a pop of color through your cabinetry. If you decide to add color, consider bold hues like deep navy, forest green, or even a rich burgundy. These vibrant cabinet colors create a striking contrast against the rustic elements and bring a modern twist to the farmhouse feel.
You have to see the full modern farmhouse kitchen design of Jeffrey Alan Marks!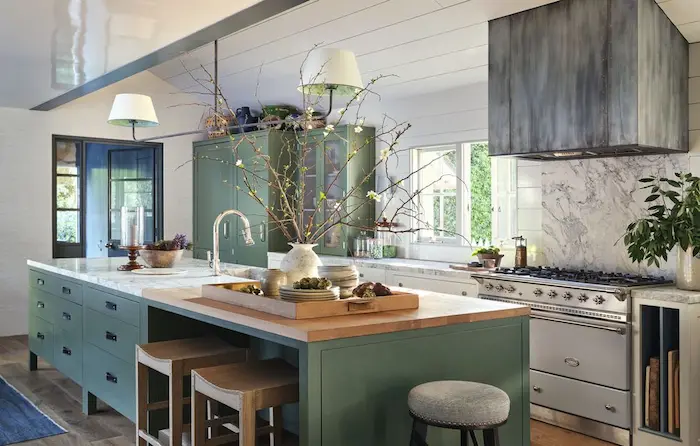 8. Incorporate a Statement-Making Kitchen Island
A kitchen island serves as the centerpiece of your kitchen, making it an ideal spot for a statement piece. Choose an island with a unique design or incorporate eye-catching materials like reclaimed wood, butcher block wood countertops, quartz or marble countertops, or a distinctive stone countertop. This bold choice will anchor your space and become a conversation starter for family and guests.
You have to see the full tour of Krista's beautiful modern farmhouse kitchen at The Happy Housie!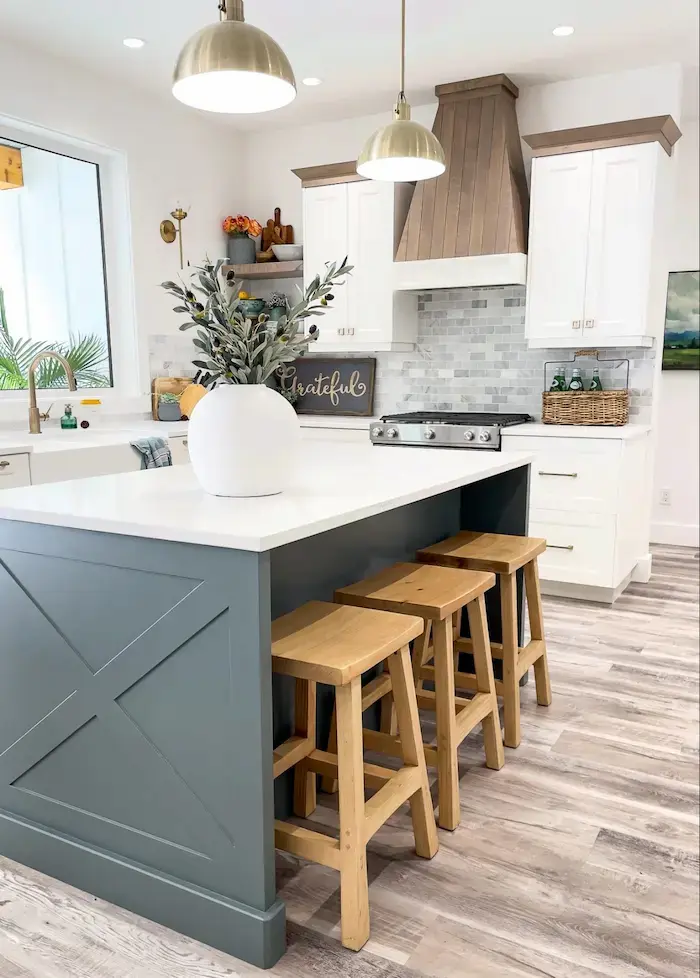 9. Create an Accent Wall
Create an accent wall in your modern farmhouse kitchen using shiplap or reclaimed barn wood. Add character and charm. Shiplap evokes a rustic ambiance, while barn wood brings history. Install on a single wall for a focal point. These natural textures provide depth and richness. Enhance with floating shelves, vintage signs, or decorative hooks. Showcase your style and captivate with the accent wall.
You have to see the full tour of this beautiful modern farmhouse kitchen at The Styled Nest Blog!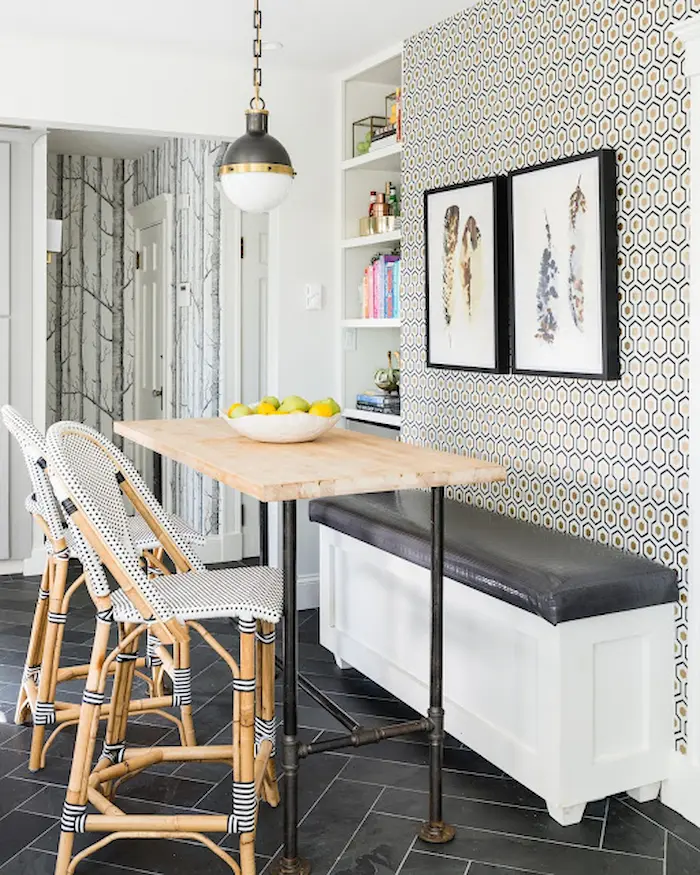 10. Integrate Farmhouse-Style Seating
Enhance your modern farmhouse kitchen with the addition of farmhouse-style seating. Opt for either a rustic wooden bench or vintage-inspired chairs to create a cozy and inviting atmosphere. Transitioning to the bench, it offers communal seating and a weathered look, perfect for gathering friends and family. On the other hand, vintage-inspired chairs bring a nostalgic flair with their unique designs. Consider chairs featuring distressed finishes, charming spindle backs, or cozy woven seat cushions. By integrating farmhouse-style seating, you not only enhance the aesthetic appeal of your kitchen but also elevate its functionality. With a warm and welcoming seating area, you can gather and entertain guests in style.
You have to see the full tour of Rebecca's beautiful modern farmhouse kitchen at Rebecca Rollins Interiors!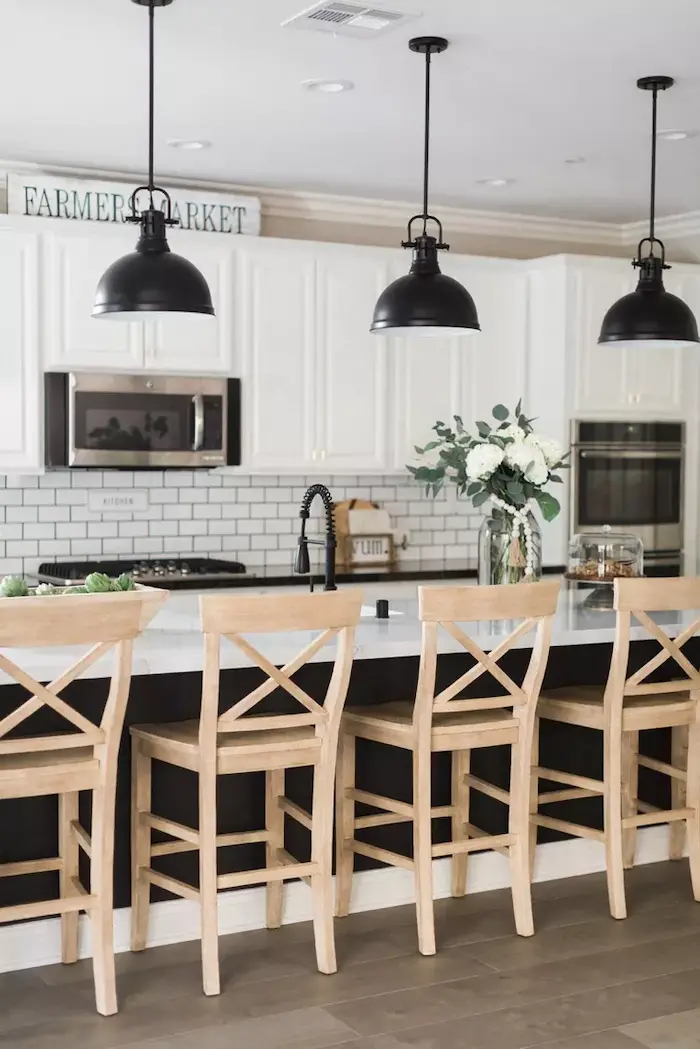 11. Enhance Visual Appeal
Elevate the visual appeal of your modern farmhouse kitchen with the addition of large-scale artwork and rustic farmhouse signs. Transitioning to creating a focal point, choose statement pieces that capture attention. Consider nature-inspired motifs, vintage landscapes, or abstract designs that complement your kitchen's aesthetic. Additionally, incorporate farmhouse signs adorned with inspiring quotes or charming farm-themed imagery. By doing so, you infuse your kitchen with whimsy and personality. Moreover, these artful additions spark conversations and serve as reflections of your unique style. In conclusion, complete your kitchen's captivating and personalized look with thoughtfully selected wall decor that enhances the overall ambiance.
You have to see the full design of Caitlin & Manda's beautiful modern farmhouse kitchen at The Merry Thought!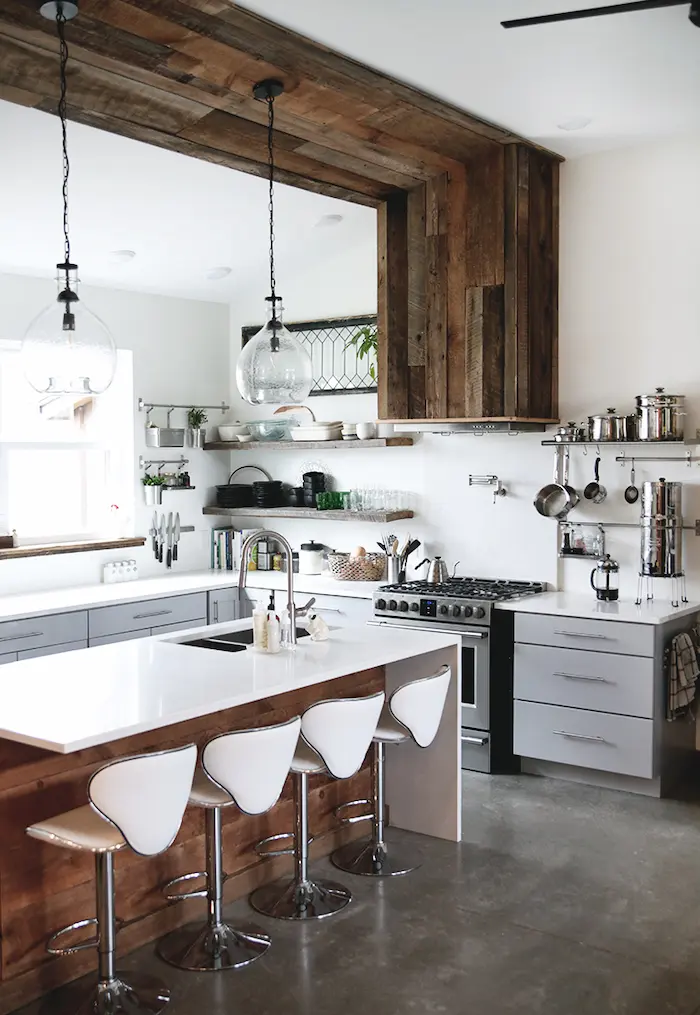 RELATED: Frugal Farmhouse Bedroom Bliss: 15 Affordable Ways to Capture the Style
Revamp your modern farmhouse kitchen with captivating statement pieces for a bold and beautiful space.
Embrace contrasts, add lighting, sinks, tiles, and curate shelving for exceptional modern farmhouse kitchen design. Infuse personality and charm while maintaining balance.
Don't forget to add pops of color, select a captivating range hood, and incorporate a statement-making kitchen island. With these creative ideas and practical tips, you'll be on your way to creating a modern farmhouse kitchen that effortlessly combines rustic warmth with contemporary style. Get ready to enjoy a space that truly stands out as a testament to your unique design vision.
Make sure you are following me on Instagram, Pinterest, YouTube, Hometalk, and TikTok for more ideas on how to decorate your home!
If you liked this post, you might also like: