Shop all of these Boho throw pillows and pillow covers. You can quickly and easily add a bit of Bohemian style without breaking your decorating budget. I've gathered cheap and chic decorative pillows for every style, from colorful to neutral, simple to elaborate. Boho throw pillows for every space in your home with floor pillows, sofa pillows, and bedroom pillows galore!
When you think of Bohemian design you probably picture warm golds, bright colors, geometric prints, patterns and mandalas. But I there is so much more out there to satisfy your taste and desire to infuse the bohemian look to your home. I am happy to share its more than tasseled throw pillows and other embellishments. Plus, you can find some beautiful boho decor in many affordable ways online (through Amazon, World Market, Target, Ross, TJMaxx, etc).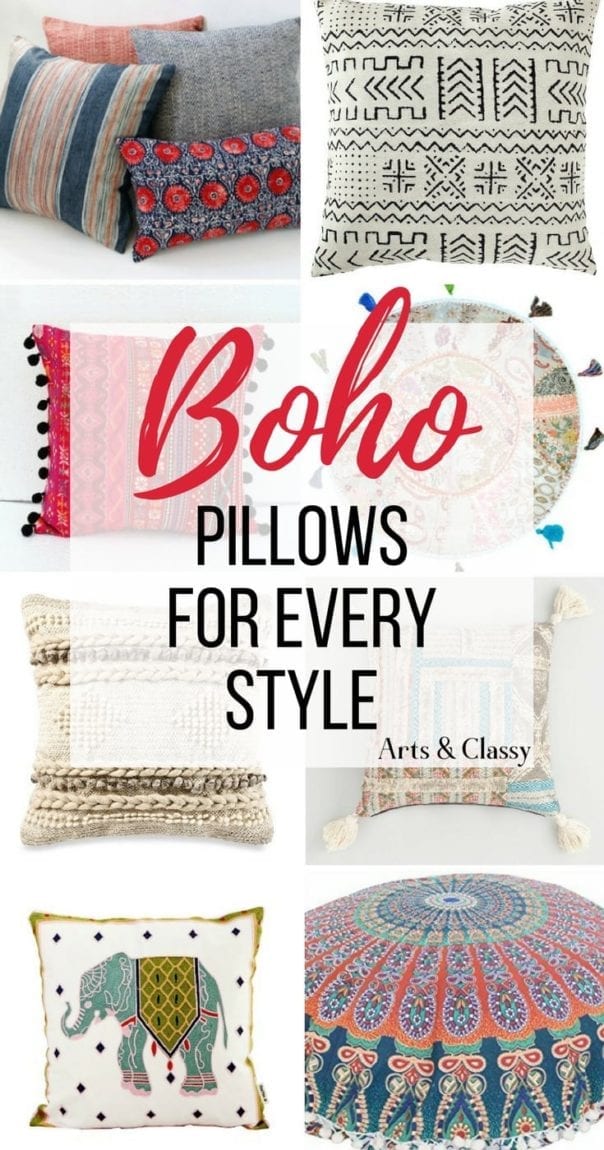 This post contains some affiliate links for your convenience. I may earn a small commission for any purchases made through my links. Click here to read my full disclosure policy.
I think that the Boho style can mean different things to different people. Whether you want a full Boho room theme or just a little bit of Boho influence, pillows are a great way to complete any space. Accent pillows and pillow covers are honestly the most inexpensive way to decorate your home on a budget. If you have pillow inserts, you are primed and ready to add some boho pillows to your home.
Related: Find gorgeous gold home accents and accessories for your decor. These are some of my favorite gold home decor pieces, all at very affordable rates. A little pop of gold really makes a space more high end. It adds some razzle-dazzle.
Here are some of my favorite Bohemian throw pillows, all at affordable rates – many are under $20, under $15, and some are even under $10! Now, that's what I call style!
Grab a few pillows for your couch, in the living room or bedroom, or even try a few floor pillows. Let's get shopping!
My Favorite… and the BEST Boho Throw Pillows

If you loved this post, here are a few more shopping guides that I think you'll enjoy:
Now I want to hear from you! Which boho pillows did you love most? Are there any that I missed? Please let me know in the comments below.