If you haven't seen my last post about how I originally made my headboard for $20, you will want to check that out before this post. My Bedroom Makeover ends today and I am so excited to show you all what I did as a whole.
I wanted to show you how I updated my $20 DIY headboard and how did it for free!
I am all about using things that you have around the house to try and accomplish the look you desire.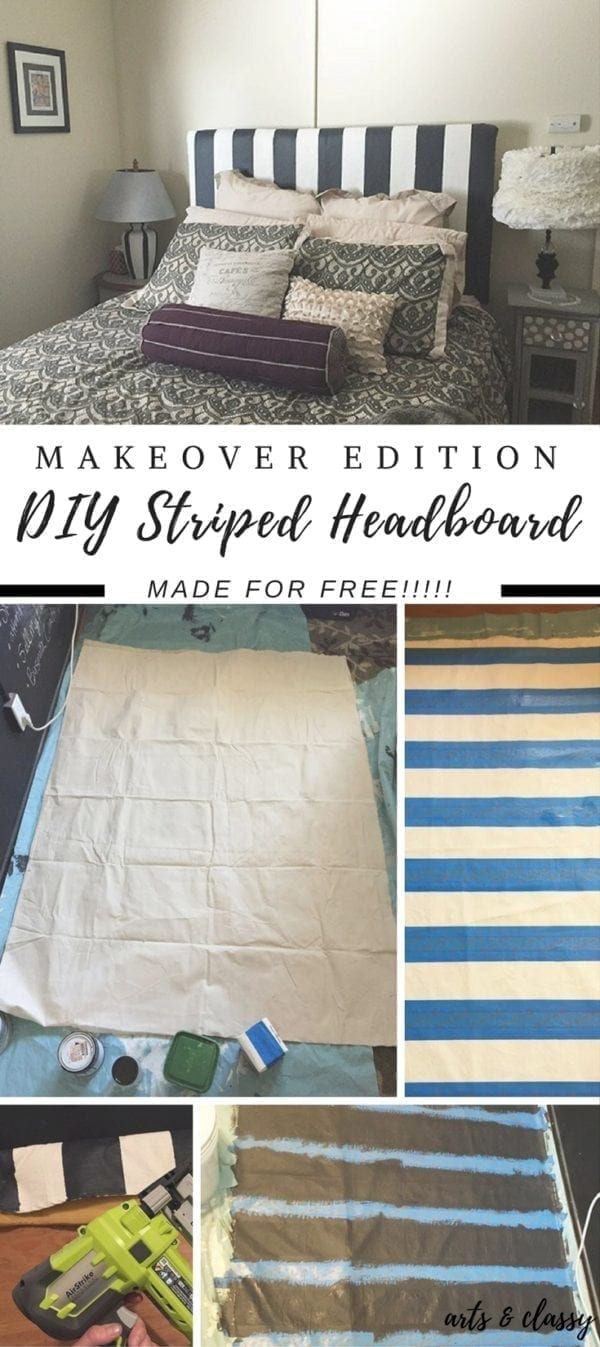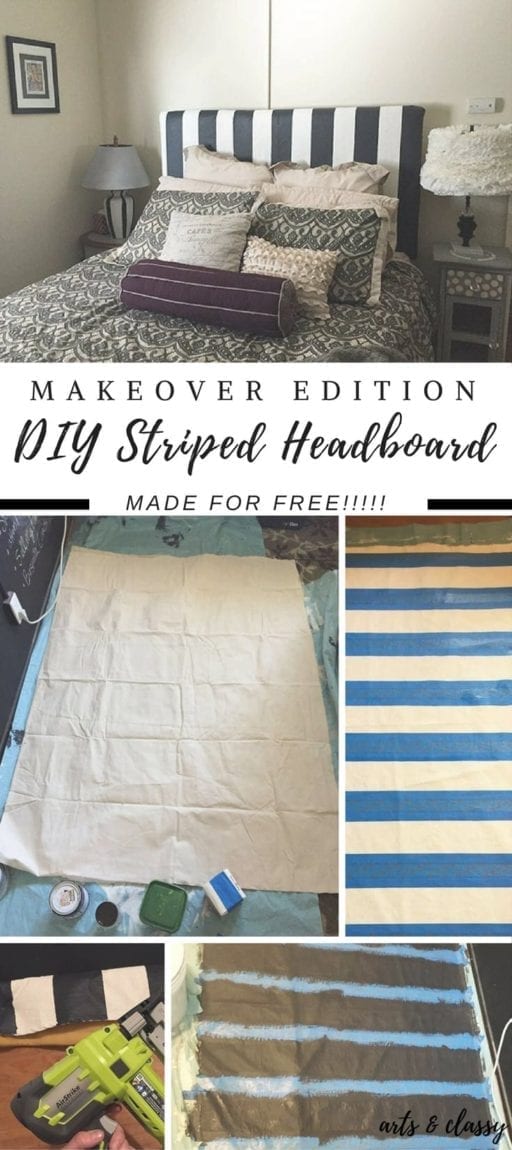 For me, I had one of these heavy canvas drops* that are used for masking the floor when painting the walls or ceiling.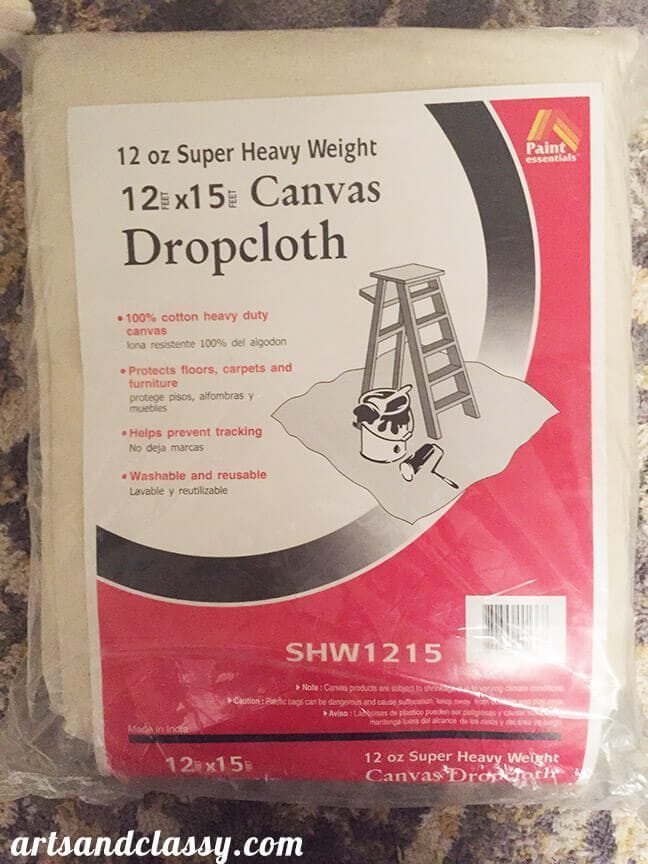 I decided that I could use this canvas* as the fabric on my headboard to achieve the striped pattern I wanted.Ever since I flipped my yard sale find Cane Arm Chair I have be obsessed with stripes!
With a little creativity and some supplies like painters tape, spray adhesive, & chalk paint I was able to create my beautiful new patterned headboard for FREE!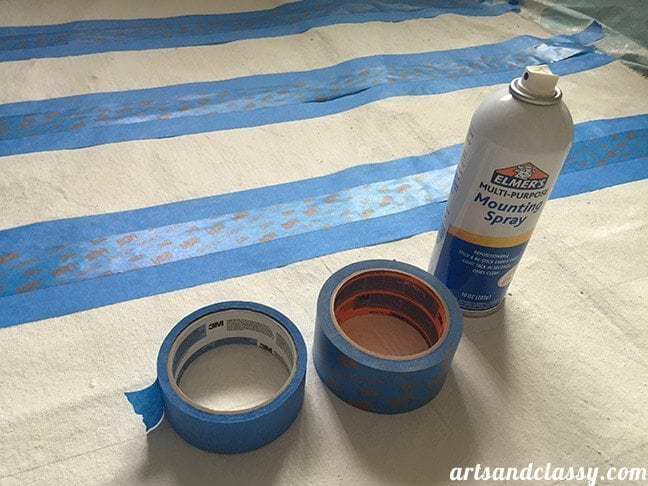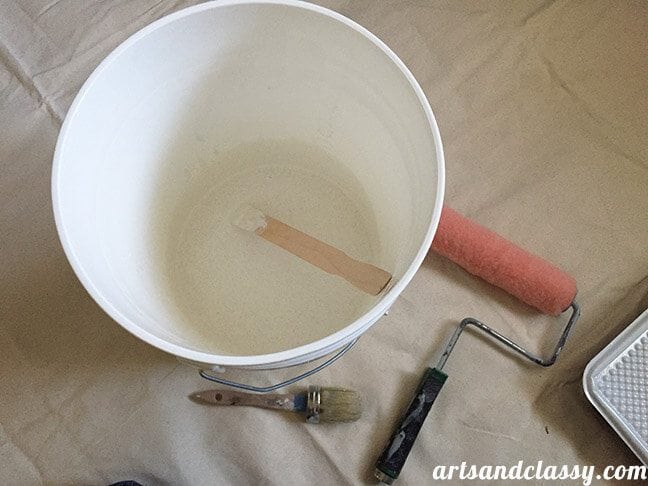 The Official Supply List: (If you don't have one of these supplies see my links to the appropriate product, for your convenience)
I began by measuring my current DIY headboard to figure out how much fabric I needed to completely wrap the padded plywood. I have a queen size bed, so I measured about 60″ wide but I wanted to add some inches in case I needed it. I added about 4 inches on each size.
I measured out my fabric and cut it with scissors. This canvas also ripped easily in a straight line, like muslin fabric.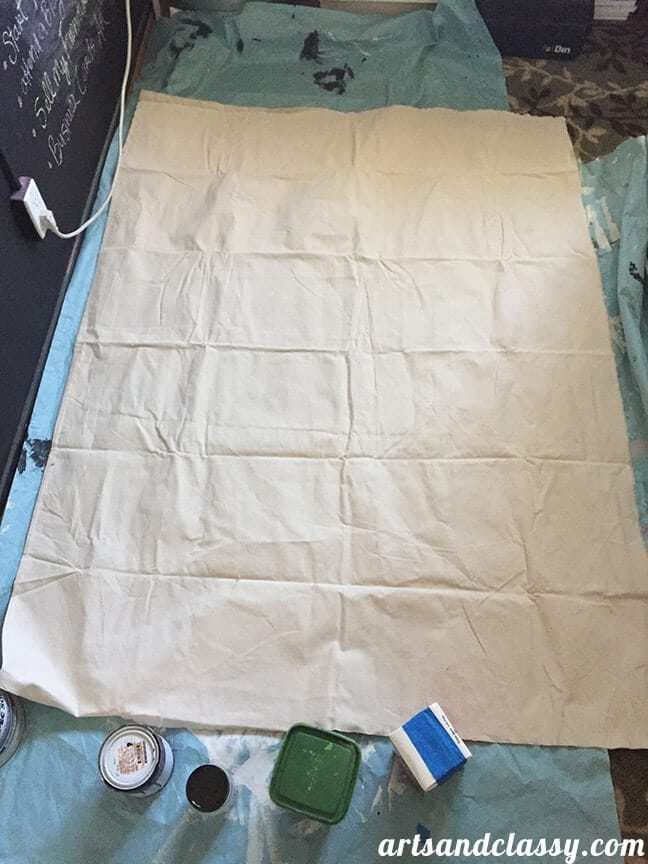 The second step was to paint the entire piece of canvas white! That is where my existing chalk paint that I used on my french provincial dresser makeover came in handy.
Once the canvas was dry from about 2 coats of white paint (the paint roller was vital for this part of the process.)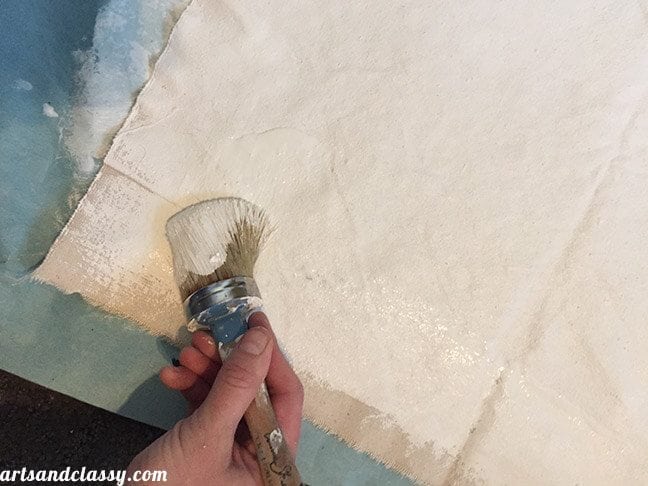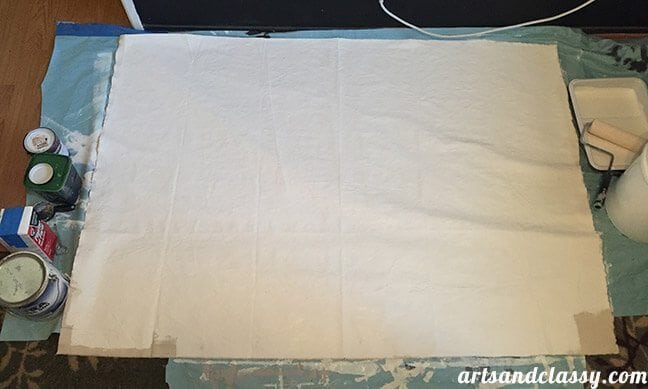 Then I measured the amount of **fabric I had and divided it by how many *stripes I wanted.
**68 inches divided by *15 stripes = Each stripe will be 4.53 inches wide which I went ahead and rounded to 4.5 inches.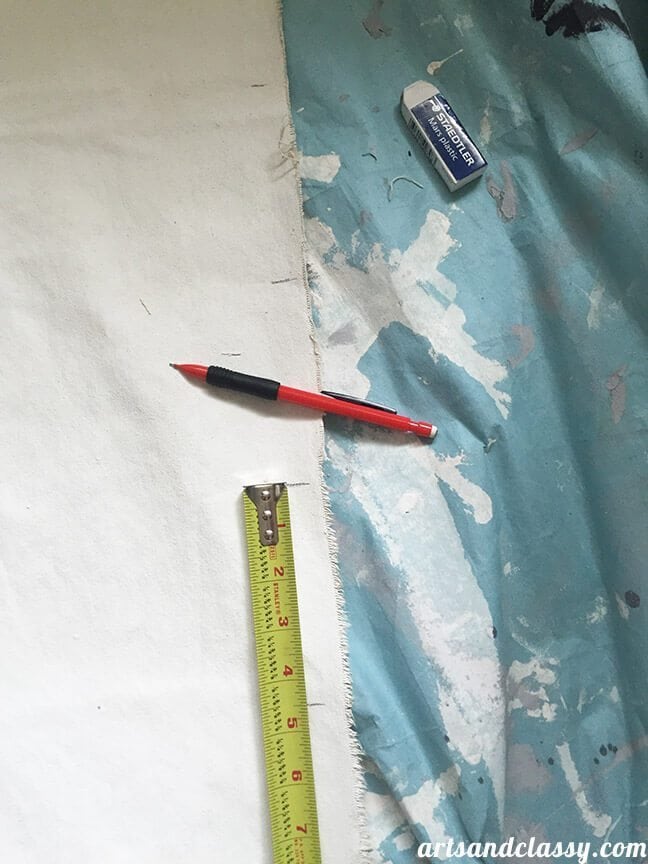 After marking two sides… I took a piece of chair rail (that I also had in my office) to act as a ruler to help me draw my lines straight with a pencil.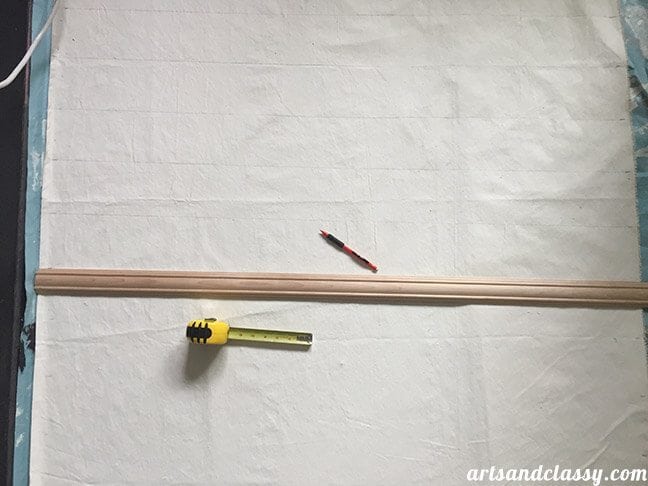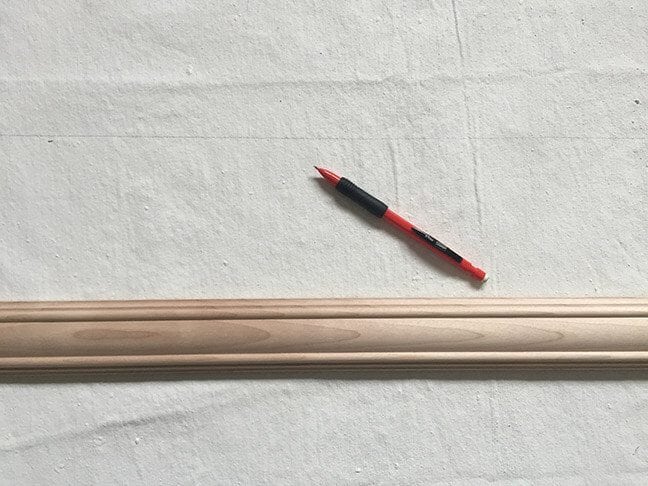 After drawing my lines, I pulled out my painter's tape to mask the areas I wanted to keep white. I am not going to lie to you… this was easier said than done. I had a lot of difficulties getting the tape to stay stuck to the fabric.
To troubleshoot I pulled out my spray adhesive and lightly sprayed the fabric before sticking the tape. It helped keep the tape in place and from popping up on the sides.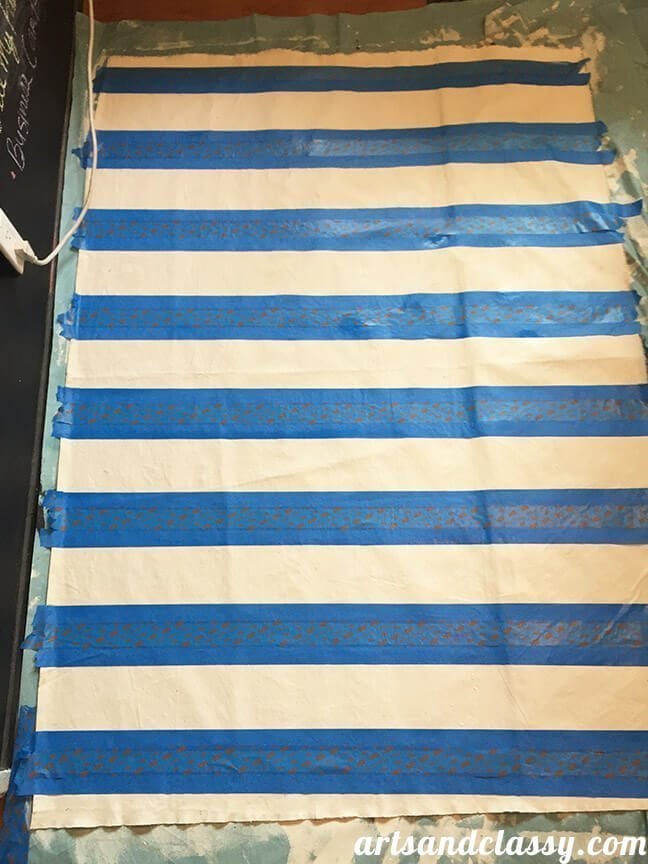 After the tape was secure, I pulled out my clear spray paint and sprayed a layer over the drop and let that dry for about 10 min.
Once that clear layer was dry, I began painting the exposed area with the darker color chalk paint I made using Behr "Night Club." I simply applied the paint with a brush.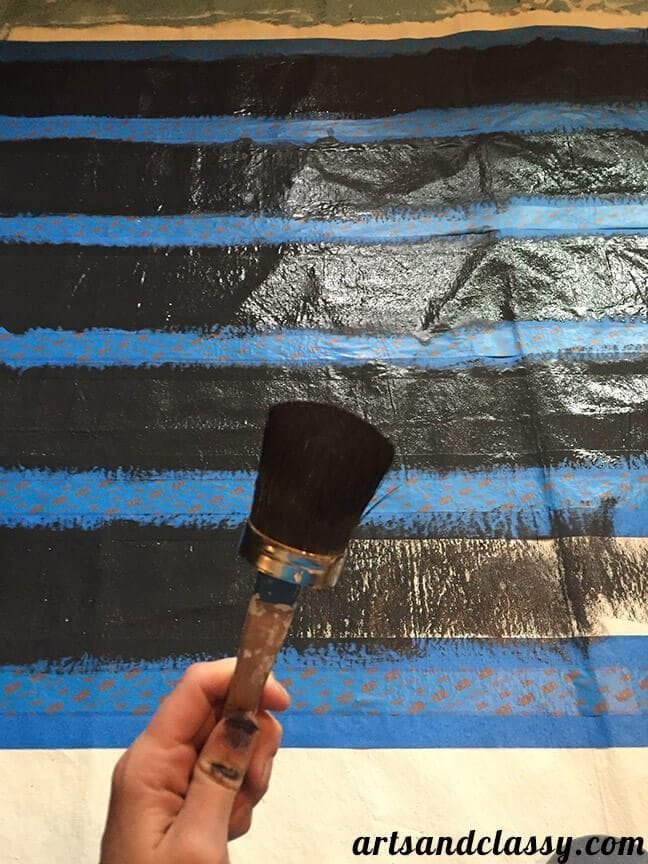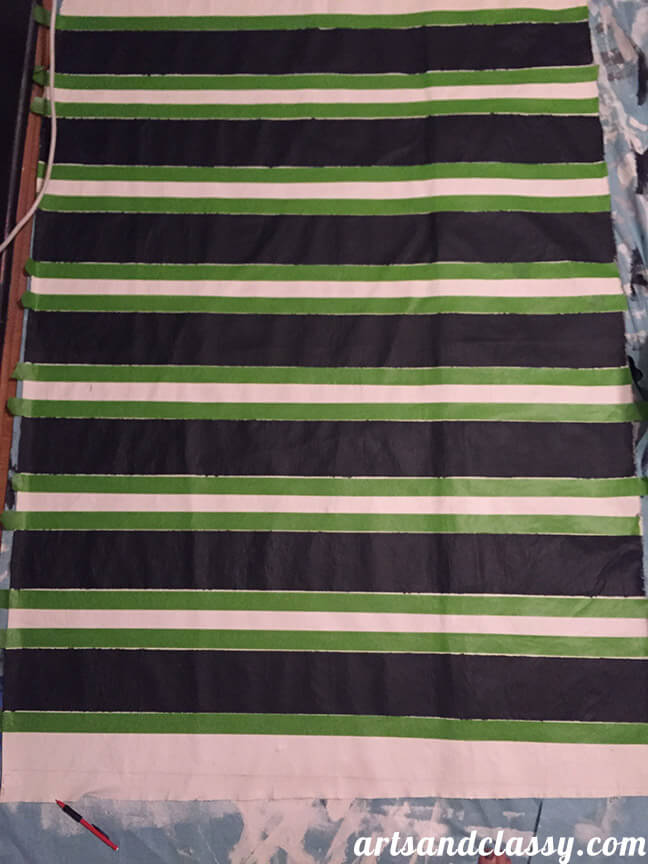 I was a little bummed to find that was still some bleeding of dark paint into the light paint.
I broke out the big guns, Frog Tape to see if their paint lock technology could help me out while I used a small artist paint brush to fill in to keep a straight black line.
Even after doing this and letting it dry completely, there was still a little bleed. So I put my metaphorical fine artist hat on and created straight lines by hand.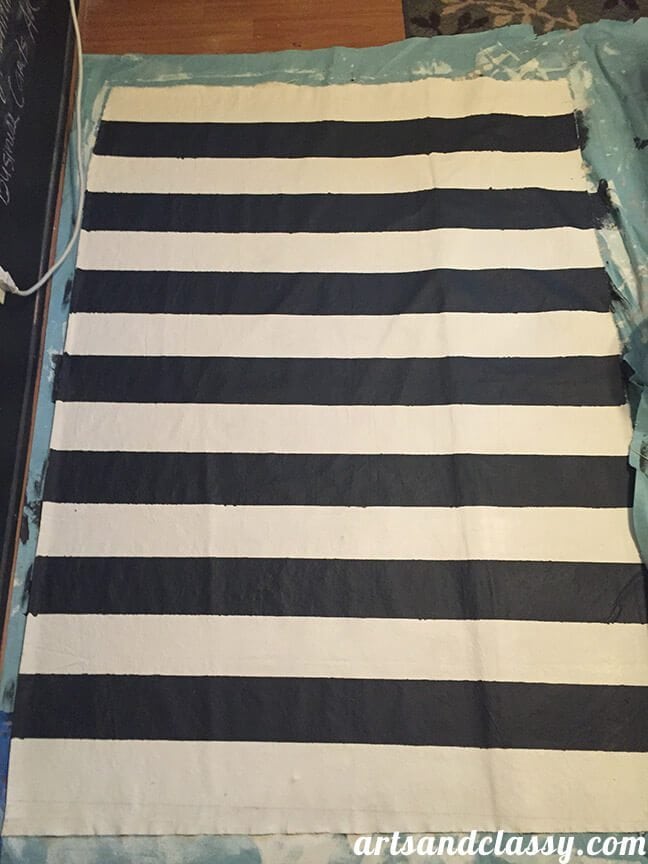 I am so happy to say that it worked!! To see how to assemble and wrap this DIY headboard, refer back to my first DIY headboard post.  I used a combination of my Ryobi Airstrike stapler and a hand stapler.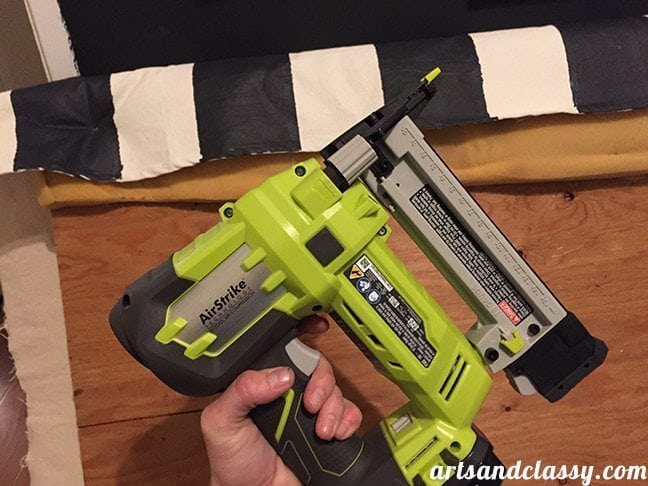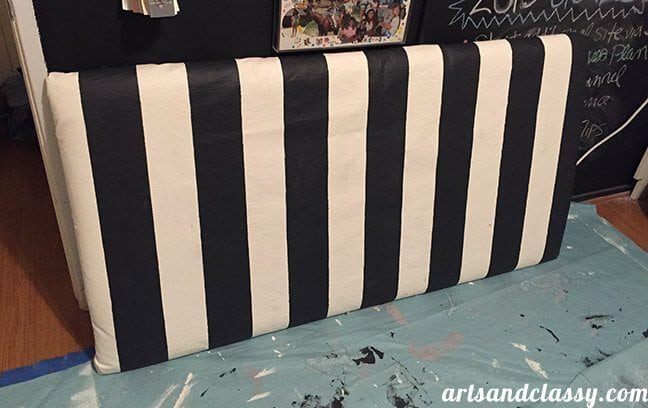 I am very pleased with how this came out!
It was exactly what I wanted and I didn't have to make a trip to downtown LA to buy fabric.
When in doubt. Work with what you have.
Every time I look at this headboard now, I am super proud of finishing it and not quitting when I hit a couple speed bumps with the black lines.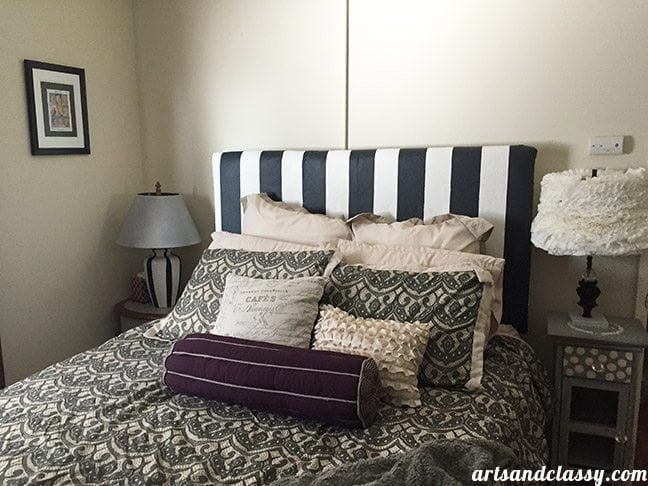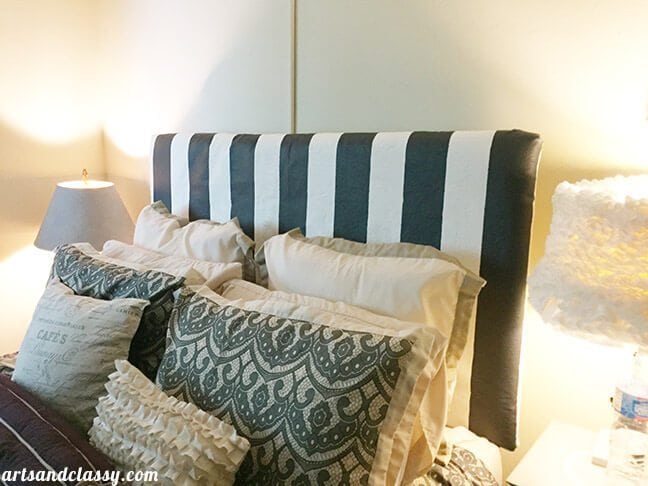 Let me know what you think of this project? Would you try it? Let me know in the comments below.
 
Get The DIY-ers Must Have Tool Checklist
Subscribe to gain instant access to the must-have DIY-ers guide to the essentials for you to build tool collection.