My furniture flips keep on coming. I have flipped & sold a coffee table, 2 sets of end tables within the past few weeks. Now I am working on a set of nesting tables. I also have a kitchen table makeover in the works as we speak.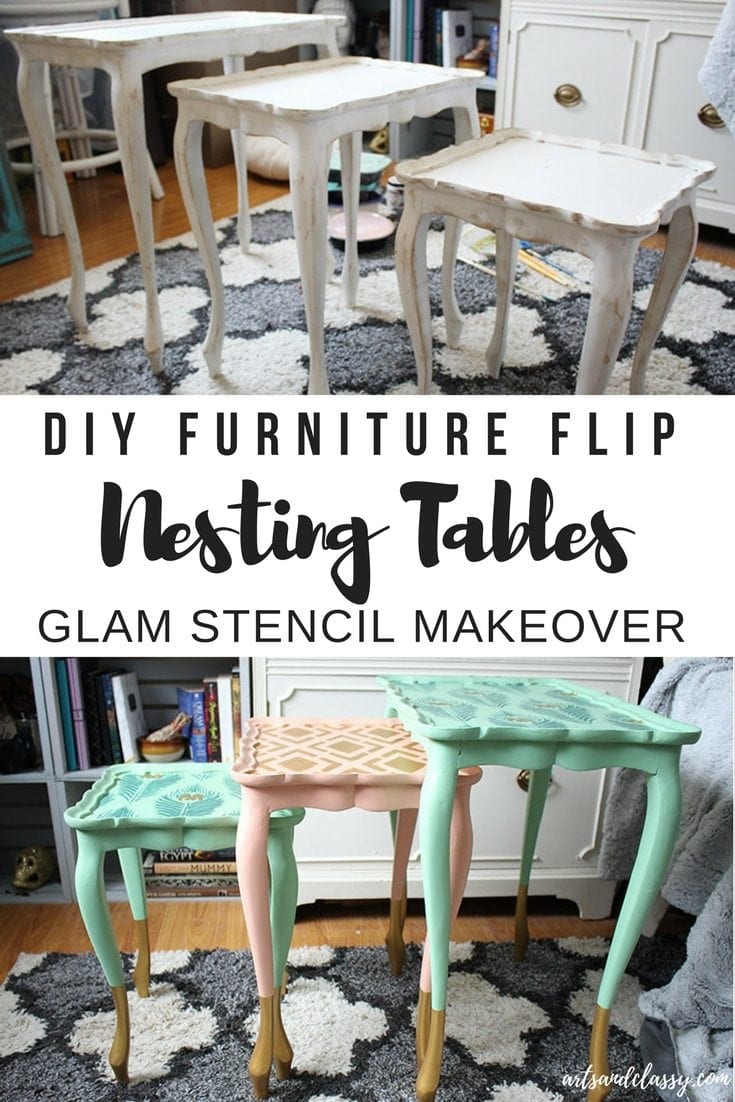 But first, let's get to this fun nesting table makeover. Here are the before photos of this piece.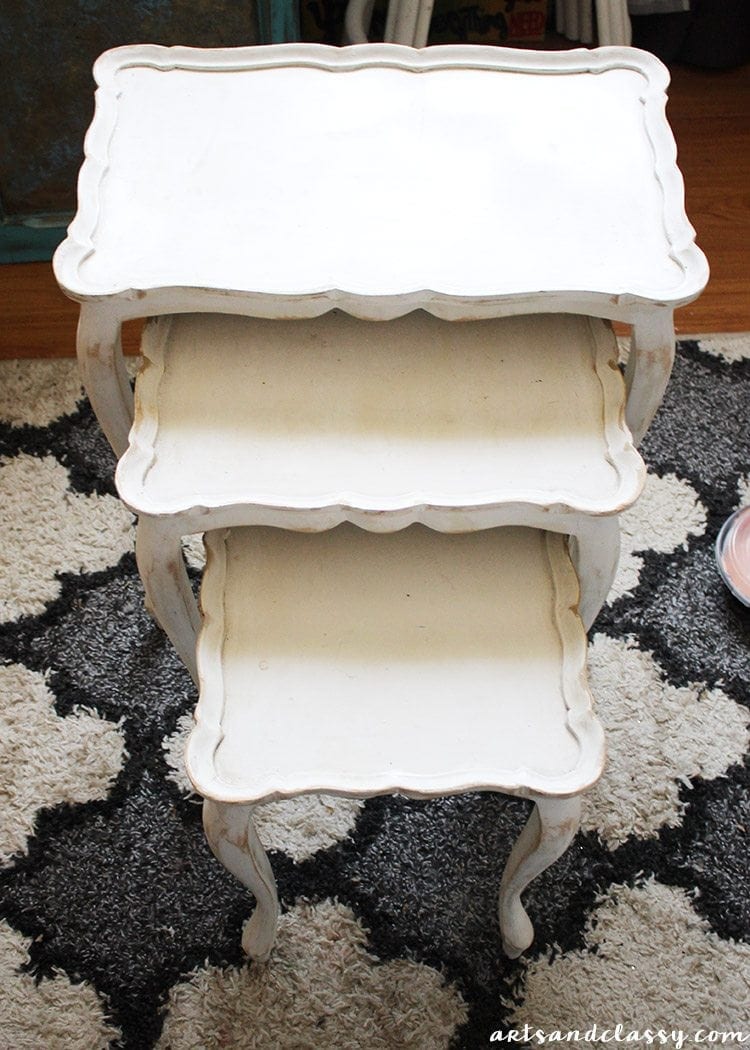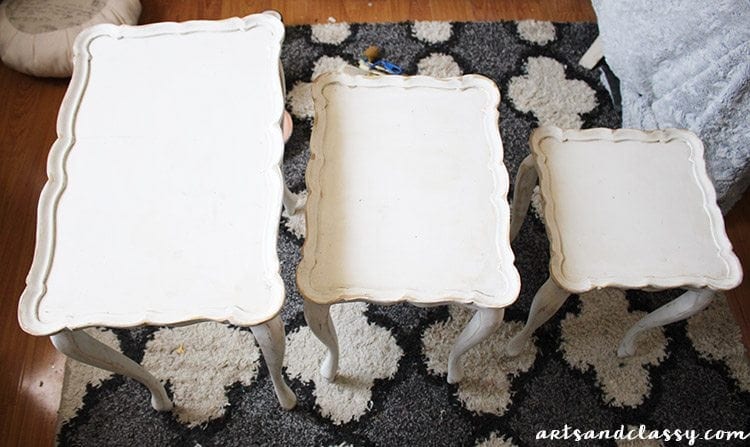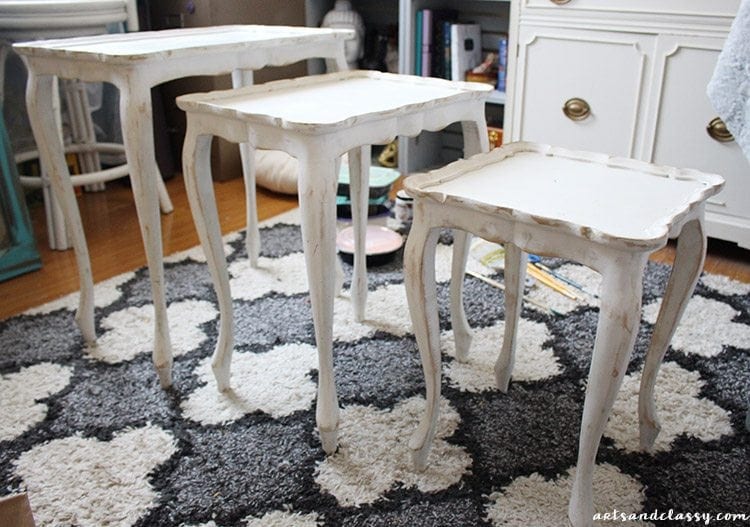 *affiliate links included in this post.
Supplies I used for this project:
Behr Paint – In colors Brookview and California Coral
DIY Chalk paint ingredients – Plaster of Paris + warm water (check out the directions to make your own chalk paint)
Cutting Edge Stencils "Paint a Pillow" Collection – Peacock Feathers + Geometric pattern.
First, I decided on the color of all 3 tables.
I decided to make the largest and smallest table the same color my Behr paint in "Brookview." The middle table would become the "California Coral" color I used on my last end table project.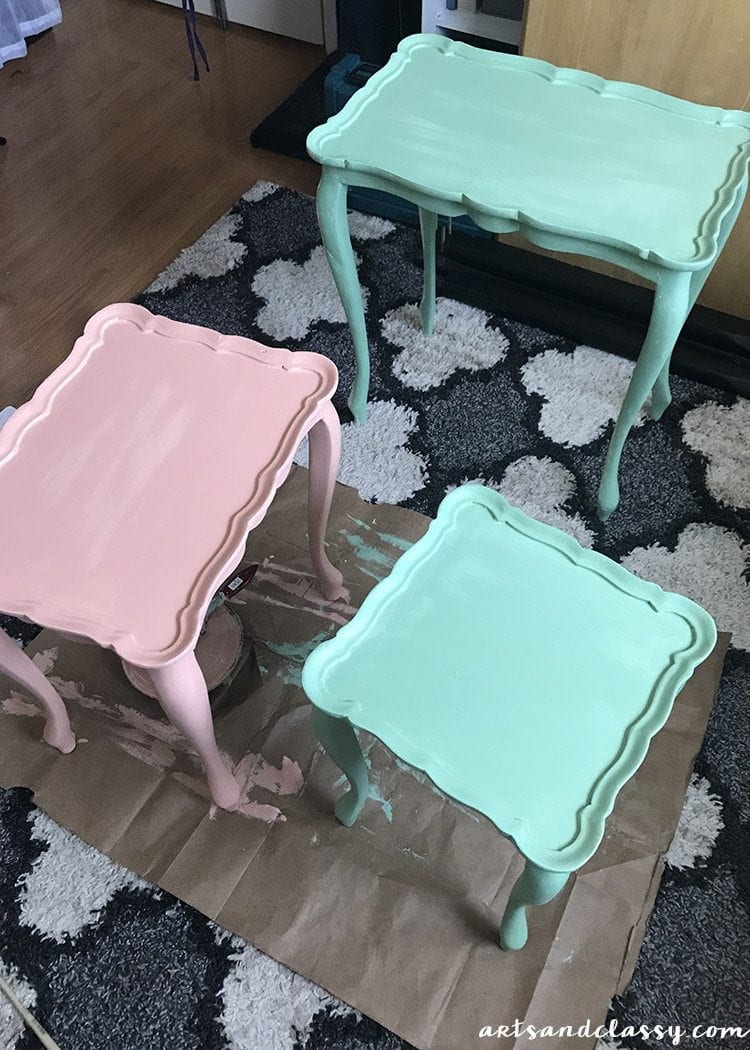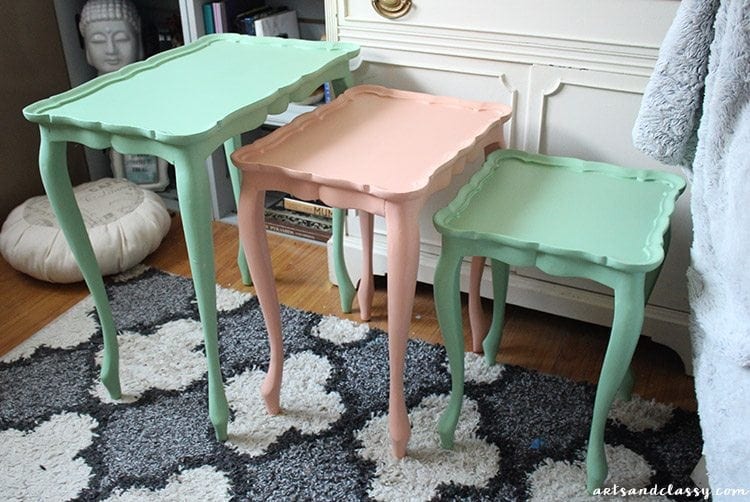 After painting couple of layers of on each nesting table, I moved on to taping off the bottom portion of the legs. I love that gold dipped effect on furniture legs.
I used my Modern Masters "Olympic Gold" paint to make these table legs pop!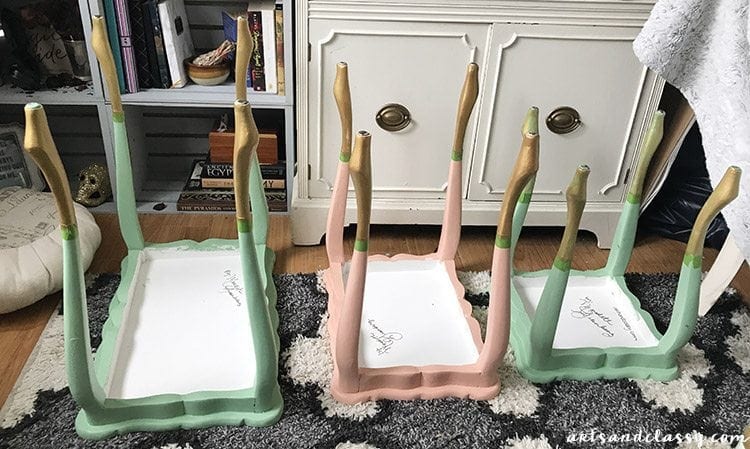 Last year, I was sent 2 stencils from Cutting Edge Stencils for their Paint-A-Pillow brand of stencils. I loved the stencils and kept them after the project in case I could make use of them again.
The day finally came to break them out. I thought they would make perfect additions to the tops of these nesting tables. I used a blunt stenciling brush to apply the Royal Stencil Creme I used in "Patina Green."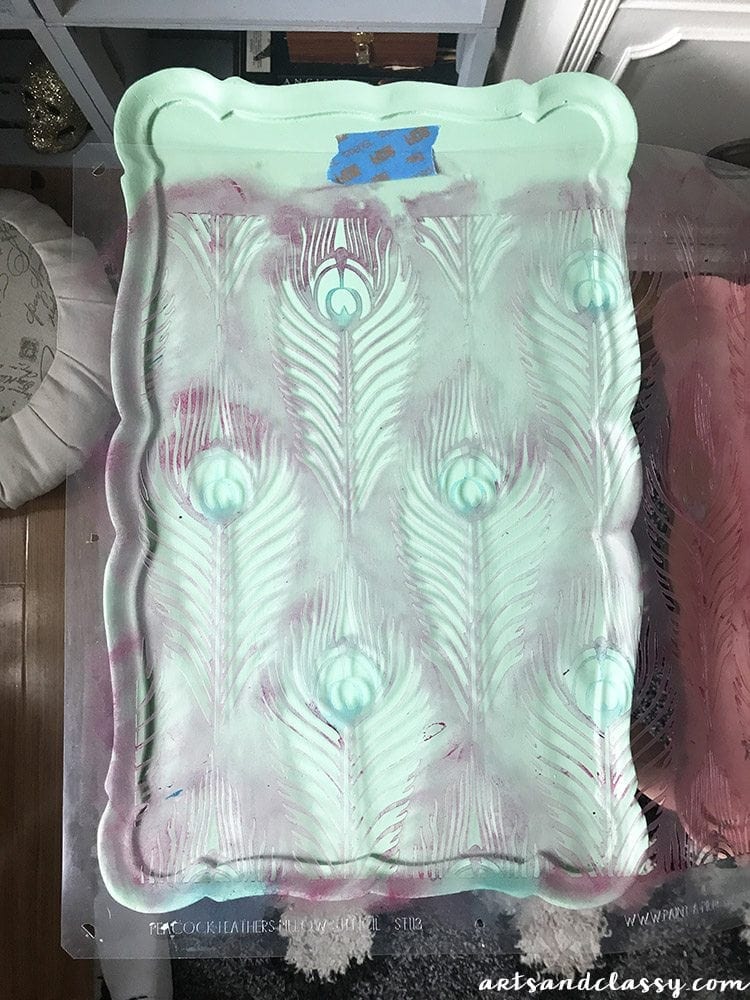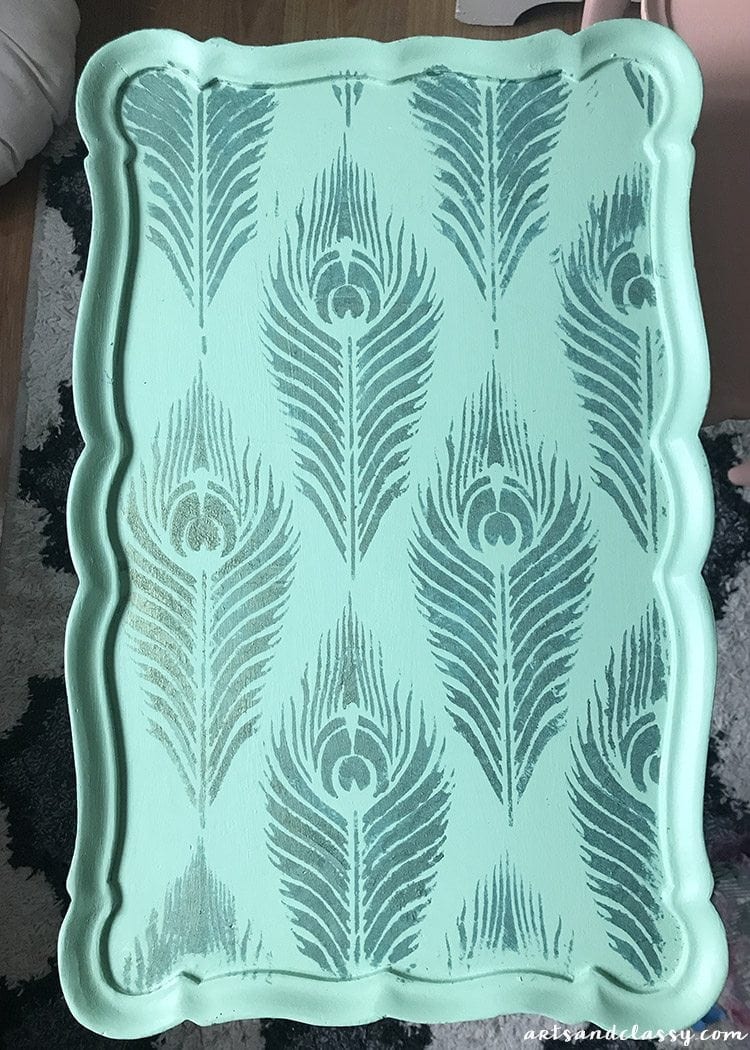 The process of stenciling these tables didn't take very long… thank goodness! The past couple ones have taken much longer than I thought they would.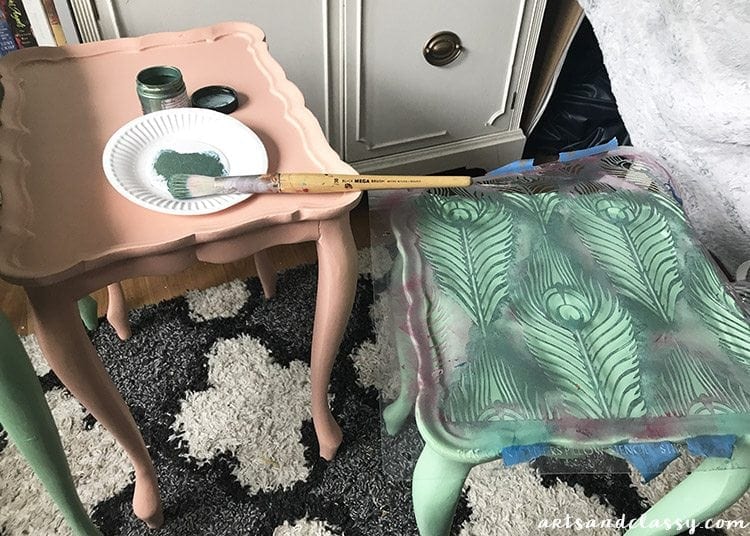 Once I finished the feathers I moved on to my geometric stencil on the middle table.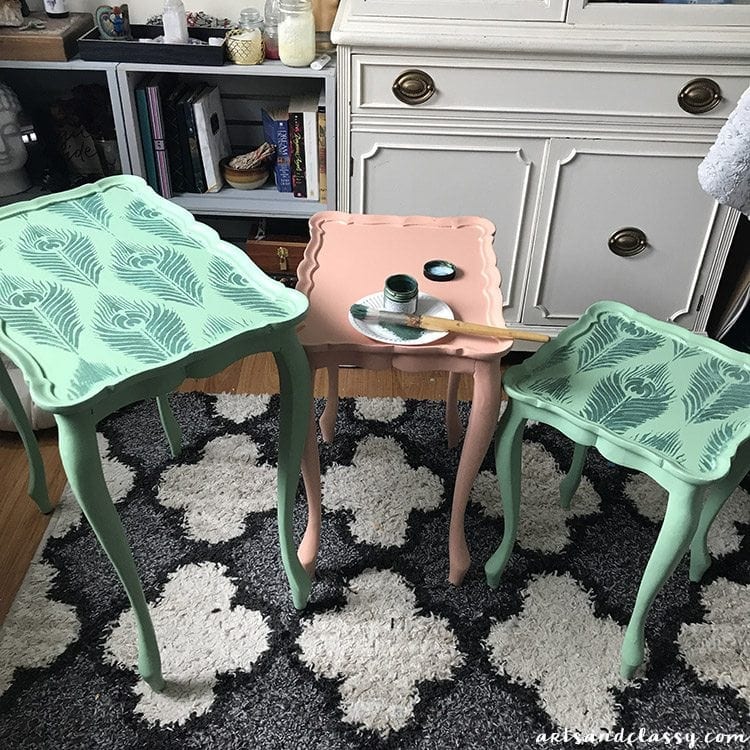 I decided to use the Modern Masters "Olympic Gold" paint to make this table shine.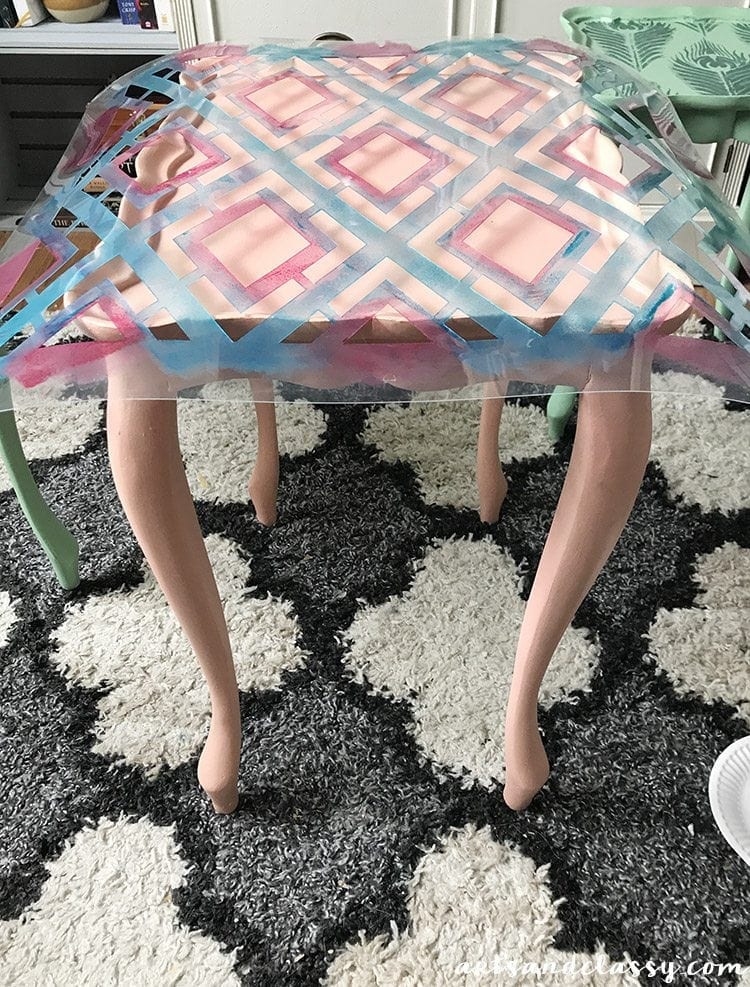 I even went back over the centers of the Peacock feathers to add gold. I am very very happy with how these tables came out!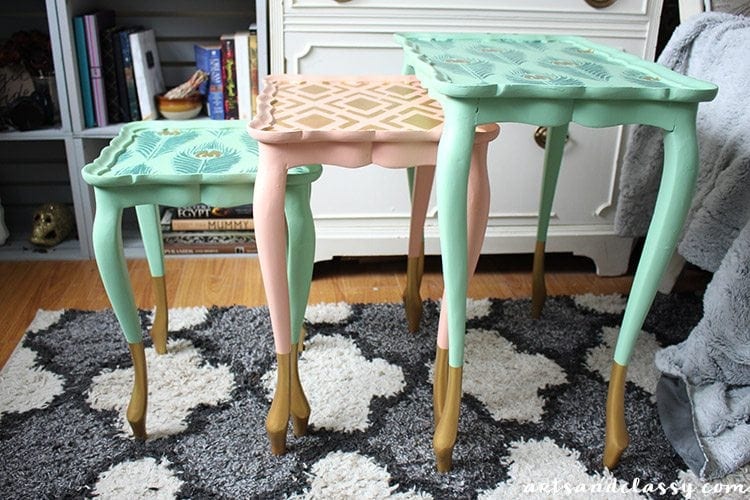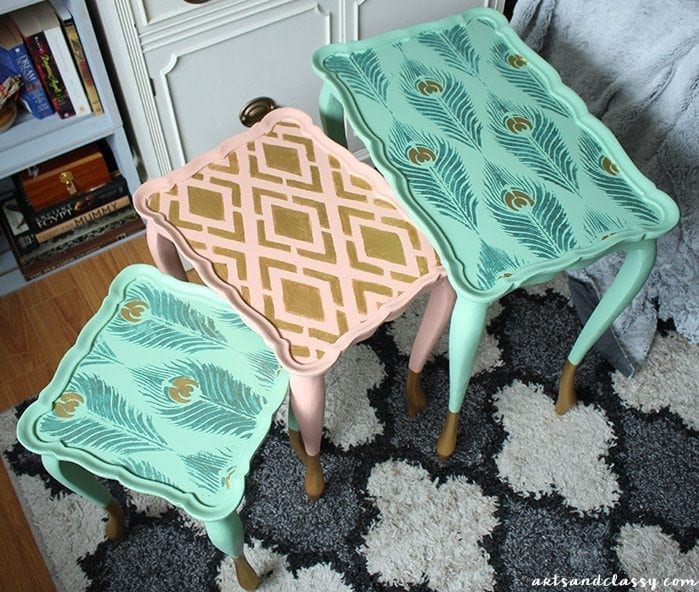 What do you think of these nesting tables? Where would you put them in your home? I would love to know! Let me know in the comments below.
Also, if you live in the Los Angeles area, and are interested in purchasing… they are FOR SALE!
Make sure you check out these tutorials if you enjoy this one.
Join the DIY Lovers Digest + Gain Access to 7 Days To Home Ebook
Subscribe to get amazing DIY projects and tips on saving money when you DIY by email + gain free access to my ebook 7 Days To Home.