5 Simple DIY Ways to Transform Your Home for Halloween
[vc_row type="in_container" full_screen_row_position="middle" column_margin="default" column_direction="default" column_direction_tablet="default" column_direction_phone="default" scene_position="center" text_color="dark" text_align="left" row_border_radius="none" row_border_radius_applies="bg" overlay_strength="0.3″ gradient_direction="left_to_right" shape_divider_position="bottom" bg_image_animation="none"][vc_column column_padding="no-extra-padding" column_padding_tablet="inherit" column_padding_phone="inherit" column_padding_position="all" background_color_opacity="1″ background_hover_color_opacity="1″ column_shadow="none" column_border_radius="none" column_link_target="_self" gradient_direction="left_to_right" overlay_strength="0.3″ width="1/1″ tablet_width_inherit="default" tablet_text_alignment="default" phone_text_alignment="default" column_border_width="none" column_border_style="solid" bg_image_animation="none"][vc_column_text]
If you're planning a Halloween party this year, or want to take your DIY decorating to another level, take a look at some of these amazing ways to transform your home into a spooky, fun home.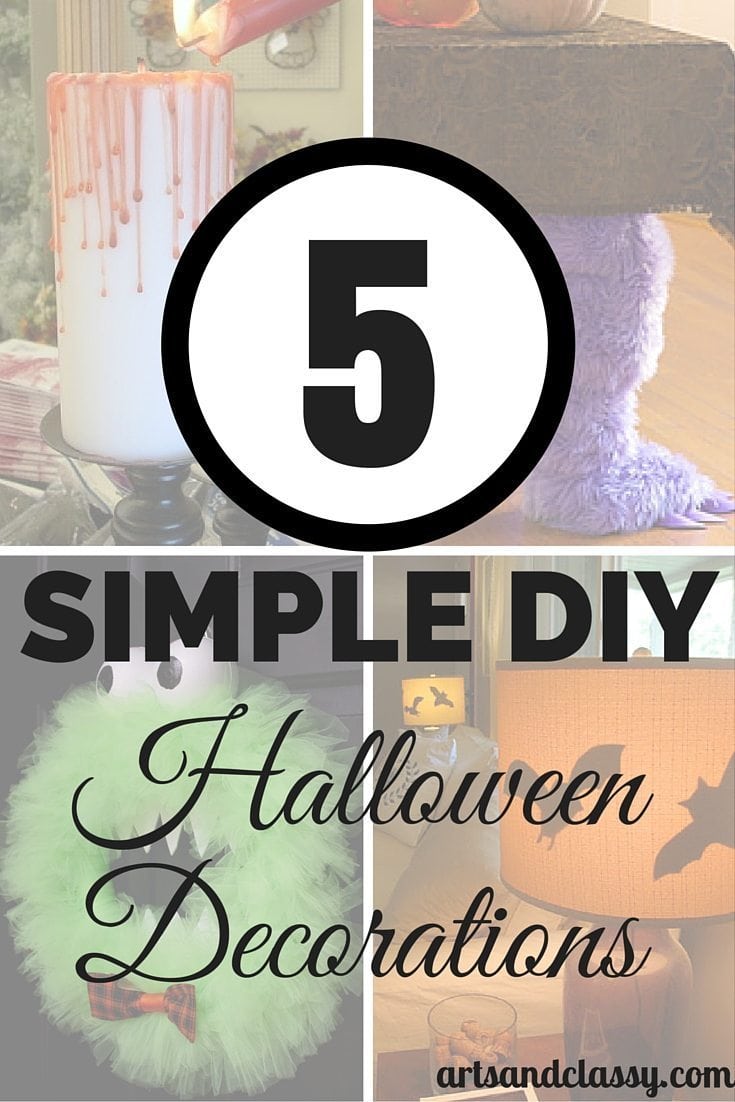 1.Candy-Filled Headstones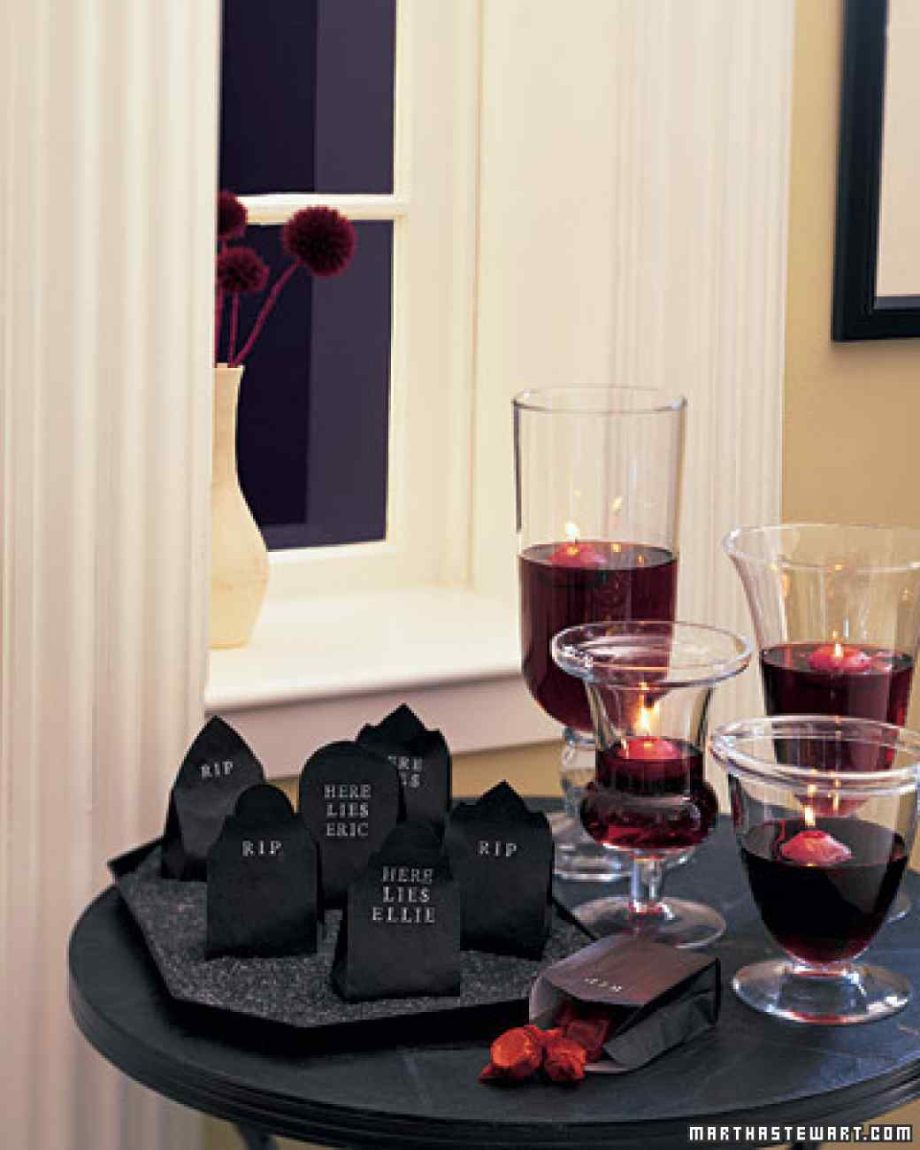 All you need for these spooky party favors is a black paper bag (or black construction paper if you're feeling extra crafty), candy, glue, and a stamp with white ink or a white sharpie.
You can find a template for the headstone shapes on Martha Stewart's site, or you can trace your own and cut the top of the paper bag to make it look like a headstone.
Then either stamp a spooky message or write your own on the front of the black bag. Fill it with yummy candy and seal it up with a glue stick. Now you have a wonderful party favor for all your ghouls and goblins.
2.White Bloody Candle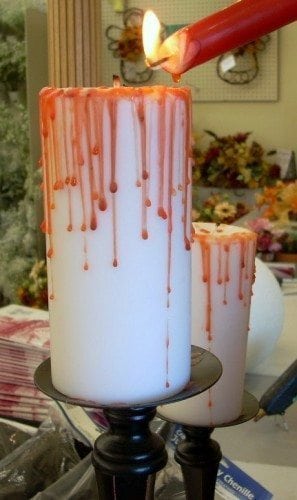 For an extremely simple and quick Halloween decoration, try the white bloody candle. All you need is a white pillar candle, a red candle (any size is fine) and a match or lighter.
Light the red candle and hold it over the white pillar so it drips the red wax on the top of the white candle and let it drizzle down the sides as well. It's that easy.
3.Tulle Monster Wreath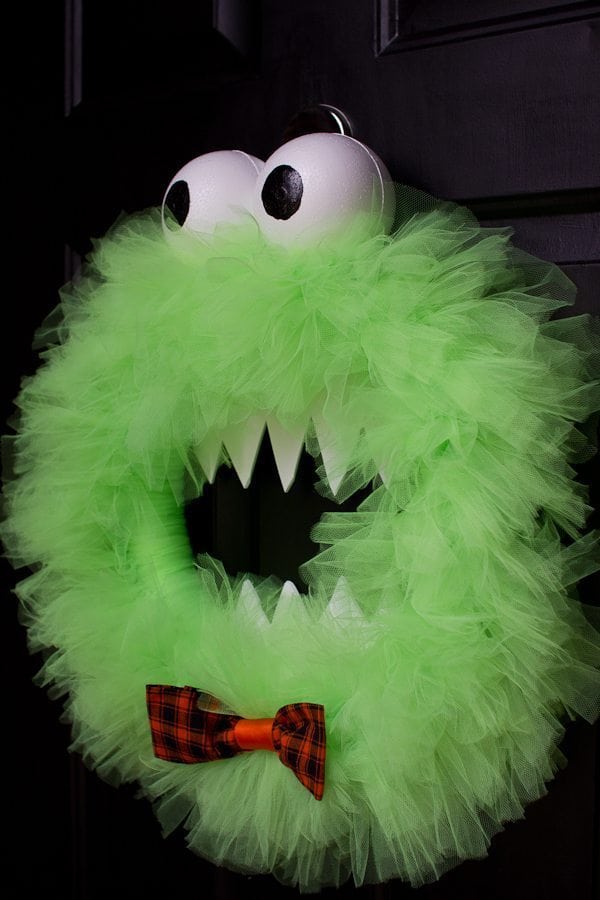 If you have young ones who might be afraid of some of the traditional Halloween decorations, try this cute-but-spooky monster wreath.
You'll need a styrofoam wreath, 2 styrofoam balls for eyes, about 100 yards of tulle, black paint, a paintbrush, a sheet of white foam, fabric and ribbon for the bow-tie, a hot glue gun, and two toothpicks.
First, paint the eyes by using the black paint to make pupils on the white styrofoam balls and let them dry (putting them in cups to dry works best so they don't roll around).
Then, cut your tulle strips. You can wind the tulle around a flat shipping box and cut the edges to make equal-length strips.
Tie the tulle around the styrofoam wreath and knot it with a square not. Use the two toothpicks to attach the eyes to the tulle-covered styrofoam wreath.
Lay the wreath face-down and cut the foam sheet to make a mouth. Then use some fabric you like and some matching ribbon to make a little bow-tie and glue it to the front of the monster wreath. It makes a cute and fun way to celebrate the Halloween season.
4.Monster Table Legs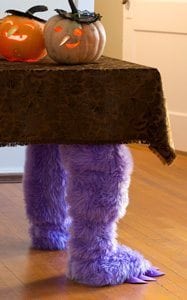 Most people use a Halloween-themed table runner or tablecloth to dress up their dining room table, but why stop there? Give your table a Halloween costume of its own with these adorably spooky monster legs.
Wrap each table leg with plastic bags or newspapers to create the leg shape. Measure and cut one yard of purple fun fur for each leg.
Wrap the fur around the bags or newspaper and tie it securely with a matching yarn. Let the fur slough at the bottom to create a paw shape.
Use craft foam triangles to create claws.
5.Bat Lamp Shades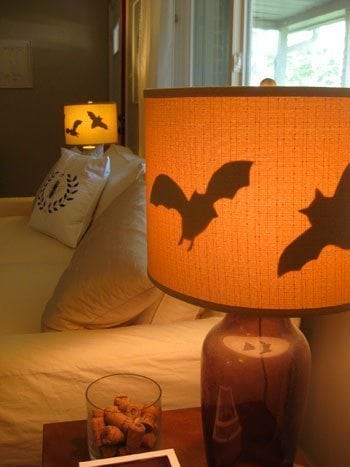 For a super easy way to decorate your home for Halloween, use this quick and simple trick.
Sketch out bat shapes on white pieces of paper (you can use printer paper if you want). Then cut out the bat shapes to use as stencils.
Trace the bat stencils onto black construction paper and cut them out. Attach the bat shapes to the inside of the lampshade with scotch tape (a loop on each wing should work).
And you're done! Happy Halloween!
---
Article was written by Kelly Mahan, also a writer for homeyou.com, a company that connects homeowners to reliable and professional contractors for their home improvement projects, remodeling, and interior design. Check more on Instagram, Pinterest, and Twitter.[/vc_column_text][/vc_column][/vc_row]