How to Decorate a Room without Windows
Are you decorating a room without windows? There are easy ways to make it seem bigger, brighter, and more open. If you find yourself in the basement bedroom with no windows, don't despair. There are plenty of ways to make the space feel bright and airy. Here are a few basement bedroom ideas, or perhaps it's a spare room, and even windowless office decorating ideas to get you started.
I know as a renter from time to time you come across places that may not have EVERYTHING you want in your home.
Normally things that are on the checklist of needs are things like a washer and dryer in the unit, parking, dishwasher, etc. You wouldn't think that you would need to specify that you want windows in your home. But sometimes you do. Don't worry I have some ideas to help solve this problem.
While I know technically a room without windows can be a major problem and classified as a fire hazard (in the US), I realize sometimes we work with what we have.
This is the fun part. With some room inspiration, it requires a lot of planning & lighting, but with this project, it will be less stressful. This will be fun!!!
If it works budget-wise then "you gotta do what you gotta do." I was raised making it work. Do the best with what you have.
This post contains some affiliate links. I may earn a small commission if you make a purchase through one of these links. See more information in my disclosure policy.
1. Create a faux window
To make up for the lack of windows, window treatments will be your best friend for this tip. You can create the illusion of a window simply by hanging a curtain rod and come curtains around the entire room. This adds a layer of texture to a space that gives it more dimension and makes the room feel like it has windows that would allow natural light in.
2. Add plants to your space
By adding some greenery to your room's decor, you bring life to it. If you use real house plants (that don't require much natural daylight), then you are adding a new source of clean air oxygen flowing in your room. But if you are like me and have a kitty that enjoys eating potted plants and flowers, then fake greenery would be the best choice. You can fins some that definitely look real.
---
SHOP FAKE PLANTS

---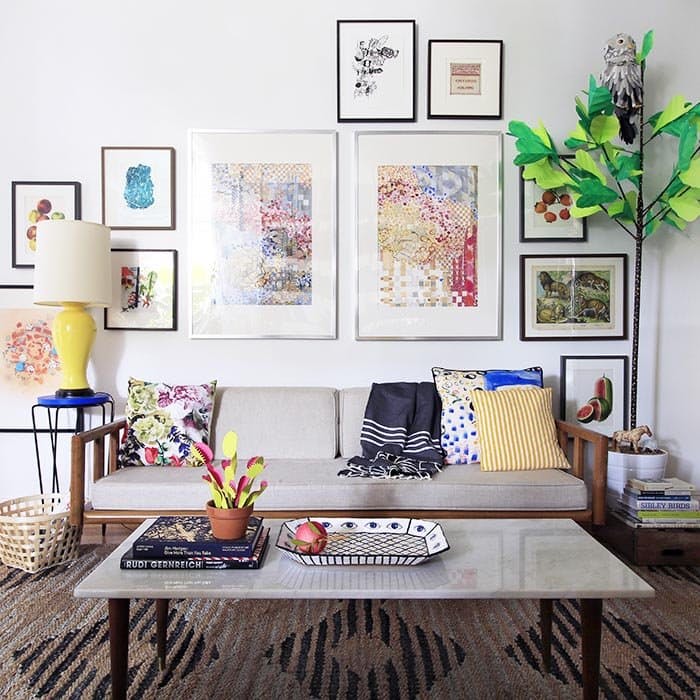 3. Hang a painting of a landscape or something outdoorsy.
By hanging a photo or a framed piece of artwork with a beautiful view, it can look like a window in a windowless room. You definitely get that natural sunlight feeling with the example below.
4. Hang twinkle lights in fun formations in the room.
Twinkle lights are a great way to direct the attention as overhead light to the focal point of the room you are decorating. Plus, they add a whole new level of ambient lighting to a room at night. I love twinkle lights!
---
SHOP TWINKLE LIGHTS

---
Another approach and definitely something to consider is adding a lot of table lamps and floor lamps to brighten up the room. Candles would also add a level of ambience, but I would keep it to battery powered candles to avoid making this room even more of a fire hazard.
---
SHOP CANDLES

---
5. Paint your walls
But here's a hot tip. Keep your colors light like beige, light gray, and bright shades of white to keep the room looking larger, more colorful, and full of fresh air.

6. Use mirrors to brighten up your space with the light existing in the room.
The reflection of lighting in mirrors helps to give a natural lighting feel to the room. Large mirrors can make a big impact, but you can also make a collage of smaller mirrors to add a light source reflector.
---
SHOP MIRRORS

---
7. Upcycle old window frames & turn them into art.
Using old window frames on the wall with some added artistic creation. Personal touches make these rooms without windows a conversation starter when guests are over.
8. Storage space.
Now, this is important for spaces like a small spare bedroom or windowless office ideas. Utilize your space efficiently and make sure it clutter-free. Dual-purpose storage space like a sofa bed, built-in cabinets, or seating that also holds storage is a great place to start when trying to pull a space together.
Not sure about you, but a windowless room doesn't seem so bad.
It seems like a fun decorating challenge to tackle to make your living situation more positive. What other ways or different points do you have to decorate a room without windows?
Did you like this post? Then you might like these…
If you found this post helpful in any way, let me know in the comments below and pin this post to your Pinterest boards.