How to Easily Decorate Rental Apartment Walls with 9 Creative Ideas
I am really excited to be talking about this topic today because it is something I have struggled with as a renter my entire adult life. Decorating rental apartment wall ideas and other inspiration is part of why Arts and Classy exists.
I know if you are reading this you are either a renter or a homeowner who needs some creative ideas to help reinspire their space on a budget.

There are many different temporary approaches to decorating your apartment walls.
The following ideas I am sharing with you will not only help you spruce up your apartment, but they will also help you get your deposit back with little effort when you move. I will say up front that most of these apartment decorating wall ideas require effort to make them happen. Get ready to roll up your sleeves and do some work work work.
This post contains some affiliate links for your convenience. Click here to read my full disclosure policy.
1. Fabric
Angela from Unexpected Elegance impressed me with her use of patterned fabric to create wallpaper-inspired accent walls. The cool thing is that this can peel right off when she wants to change this wall up. No damage was done.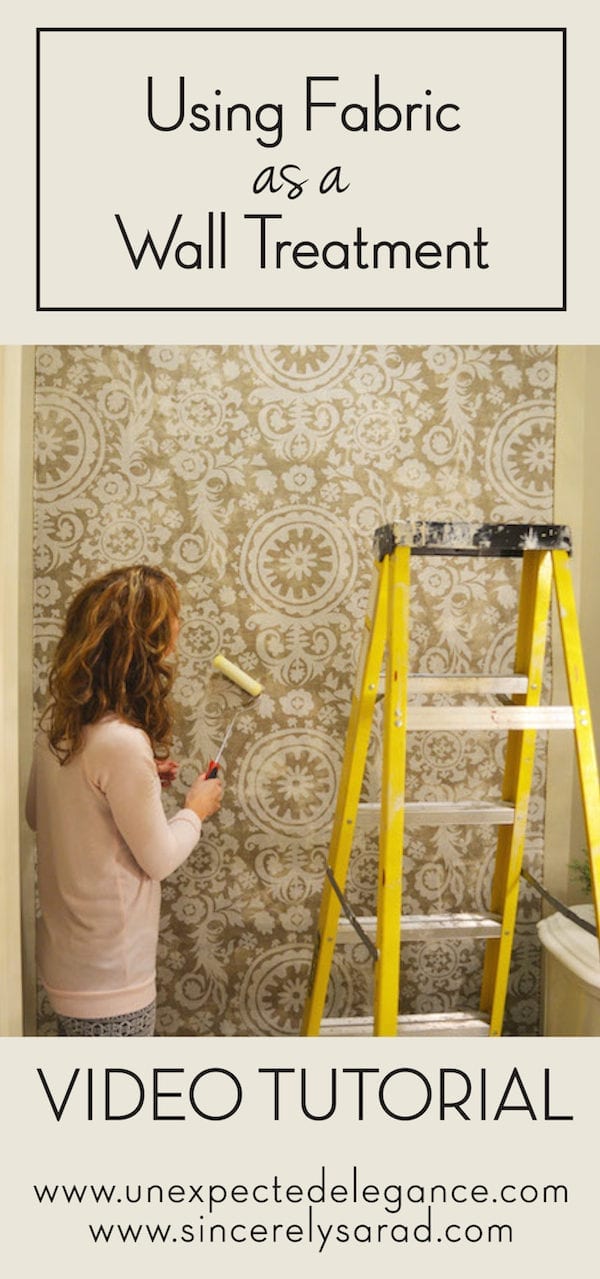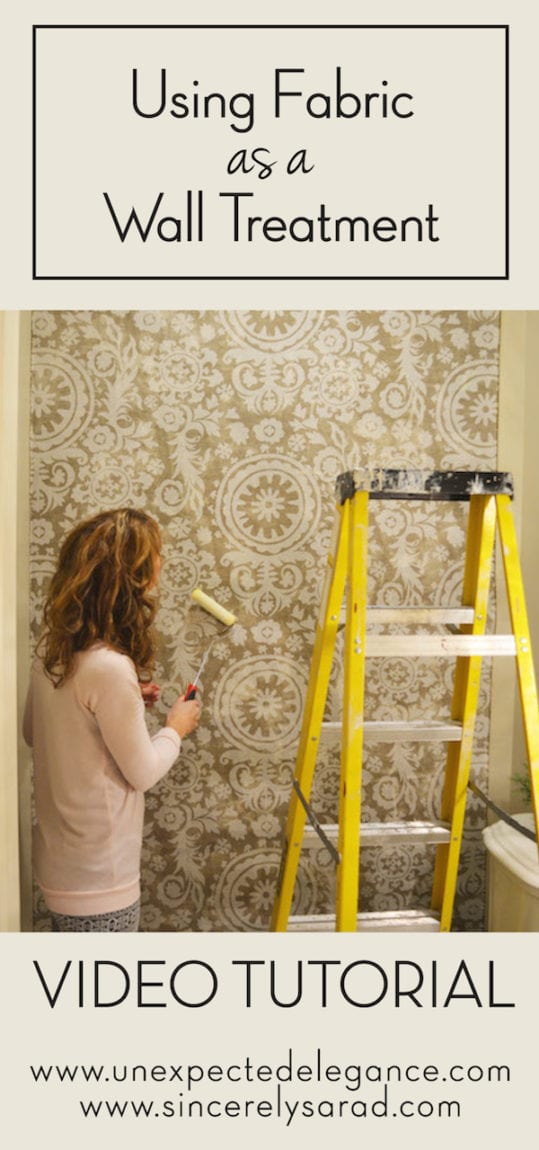 Kristen had the same idea over at Silver Linings, but she chose a solid fabric. I think adds a bold pop of color just like painting a wall would do with less effort.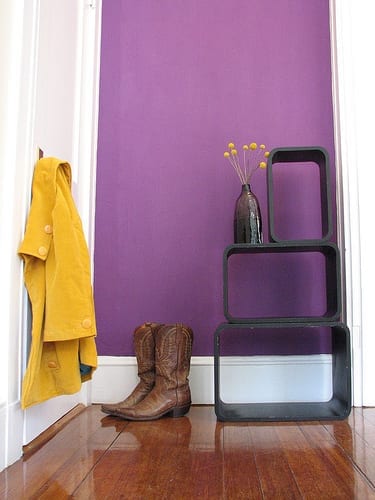 You can also go another way with fabric as an apartment decorating wall idea in tapestry form. All it requires is hanging. This cactus tapestry is $14.99 and looks similar to the one available on Urban Outfitters' website for $49.00.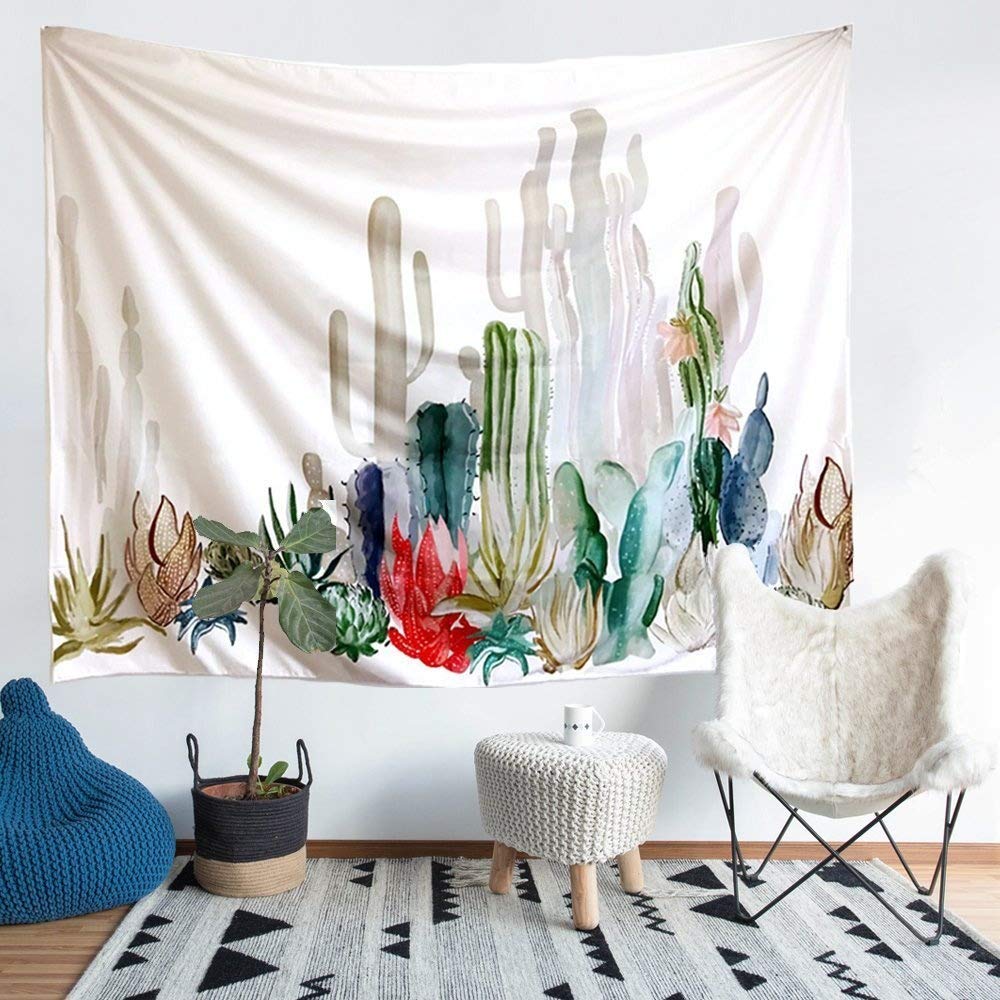 2. Wall Decals
Think of wall murals and decals like stickers. There are so many varieties of patterns, shapes, and sizes. Here is one I am a big fan of easy to apply and inexpensive. These dot decals come in different colors but gold is my favorite.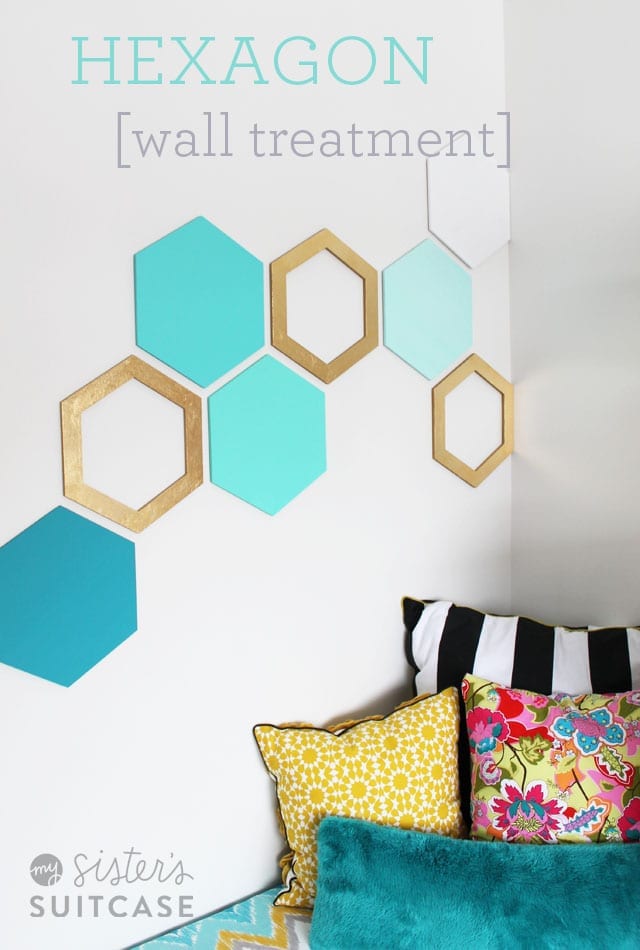 Holly and Nat over at the My Sister's Suitcase blog applied these cool hexagon wall treatment decals to a wall and it adds some fun color and texture to this room.
3. Temporary Wallpaper
Temporary wallpaper is a great way to create color and texture in a room without damaging the walls. It does require some elbow grease to apply it, but it is so worth it! I just recently started working with and I am amazed at how much it transforms a space. This diamond print is available at $34.99 per roll.

Image Source + Credit: Amazon
Jess at Domicile 37 was inspired to create this faux wallpaper by all the many Fornasetti wallpapers she had been seeing online. There was one picture in particular that made me jump and do it and it was featured in Rue Magazine inspired her to make her own on a budget.

Image Source + Credit: Domicile 37
Amy at The Crazy Craft Lady blog took temporary wallpaper to a whole new level with wood plank print in a bedroom. It looks so real and is a great way to get a shiplap wall in the renter-friendly way!

Image Source + Credit: The Crazy Craft Lady
What is fun about temporary wallpaper is all the different prints you can find. It's one of my favorite ways of decorating rental apartments. Plus, they are very reasonably priced to fit any budget like this chevron print at $24.99 a role.

Image Source + Credit: Amazon
4. Washi Tape
Washi tapes are where I began with my decorating journey in my apartments. It started with me applying washi tape to my boring room doors. I love how other talented creatives have used it in their spaces. Decorating rental apartment creativity gives you the option to think outside the box. You have more options than you think.
I am a sucker for black and white stripes and this bathroom accent wall spoke to me. Diana at Usually Lovely really nailed this project.
If you are interested in finding the same larger washi tape like the one in the photo, I found it on Amazon and it's about $15 a roll.

Image Source + Credit: Usually Lovely
Sammy at Solebich shared this washi tape masterpiece and I love how colorful it is. This pattern looks a little complicated to replicate but with a little time and energy, you can make one like this one too.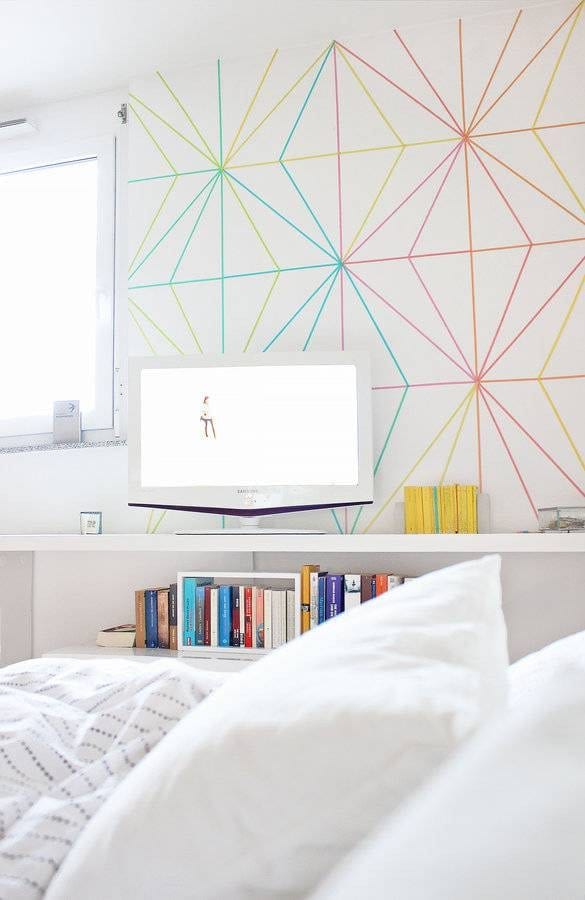 Image Source + Credit: Solebich.de
Elsie and Emma really know what they are doing over at A Beautiful Mess. Decorating rental apartment ideas are their specialty. They share this beautifully decorated arch in one of their homes adorned with a colorful washi tape pattern.

Image Source + Credit: A Beautiful Mess
5. Framed Art
This traditional approach is a cool twist over at Postcards from the Ridge. Angie took actual wallpaper in different patterns but the same color scheme and made a uniform wall collage in her home. Decorating rental apartment ideas can be as creative as possible.

Image Source + Credit: Postcards From The Ridge
6. Mirrors
Katie from the Crafty Blog Stalker did a great job being thrifty while creating a mirror wall with mirror tiles. I found some mirror tiles on Amazon that you can get 4 per set.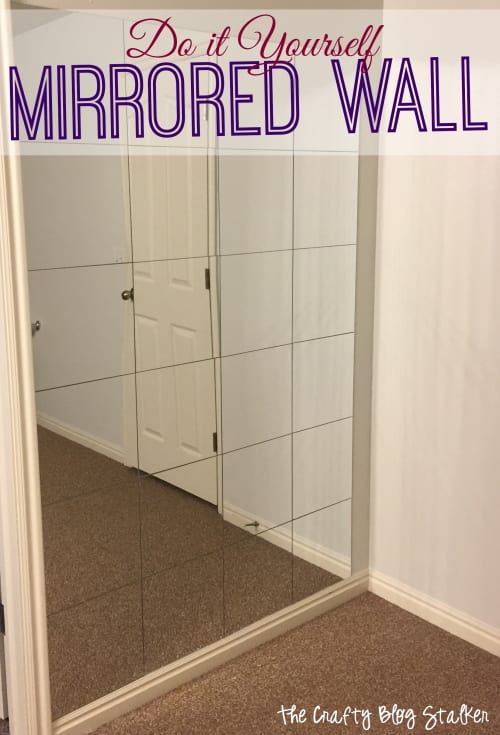 Image Source + Credit: The Crafty Blog Stalker
7. Paint and Stencils
If you want to be traditional in the sense that you will be painting at least put a fun pattern spin on it. A great example of what I am talking about is Jen from Made By Girl. She handpainted this pattern on the wall which she said was "super tedious but so worth it."

Image Source + Credit: Made By Girl
Another spin on a painted wall is to create your own stencil and your own custom accent wall! This Moroccan stencil was easy to make but took a long time to hand paint on the wall. But as Jen said above… it was so worth it. Decorating rental apartments give you so much more flexibility than originally thought.

Image Source + Credit: Arts & Classy
8. Paper
Not only can this be super creative, but it can also add some 3D features to your walls. Megan from The Home's I Have Made created this fun pop of color paper mountain for her walls.

Image Source + Credit: The Home's I Have Made
9. Nature
I never really thought of adding a spark of nature to a space other than actual indoor plants.
The Honeycomb Home thought outside the home by adding some nature to their space with a eucalyptus branch in their living room as wall decor.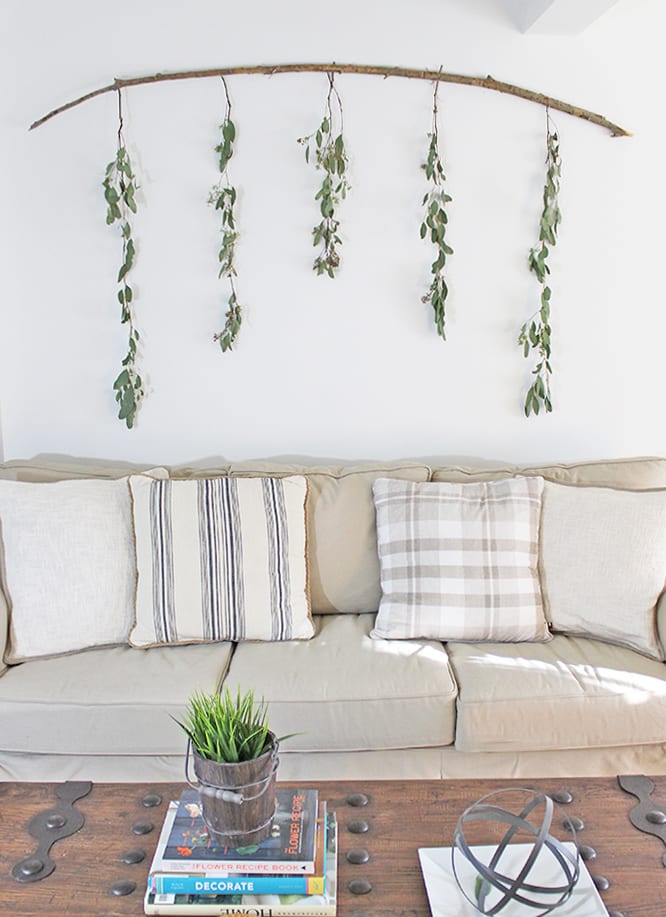 Image Source + Credit: The Honeycomb Home
If you aren't inspired by all this creativity, then you need to read this post again. The point is that you aren't as limited as you may think you are when decorating a rental apartment. There are so many options these days that cater to the renting community. Don't lose hope. Start small with an accent wall and then work towards a bigger project.
You may also be interested in these posts:
Let me know what you think of this post in the comments below. I would love to hear which idea is your favorite.