14 DIY Bedroom Closet Storage Hacks that You've GOT to See
Keep your clothes and accessories in line with these Bedroom Closet Storage Hacks. I'm sharing 14 favorite DIY organizing solutions to keep your closets tidy while on a budget.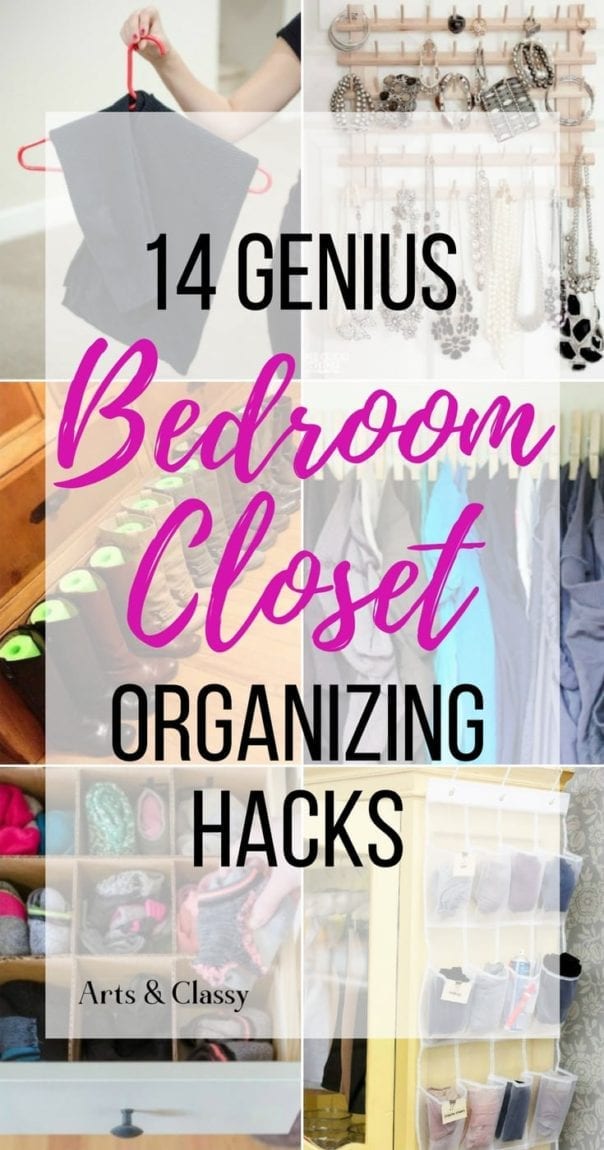 Clothing, shoes, and accessories can quickly take over not just your closet, but your entire bedroom if not kept in check. Here are some of my favorite organizing "hacks" to help keep your bedroom closet organized.
Many of these tips involve DIY and budget-friendly solutions. After all, you shouldn't have to spend a ton of money on a fancy organizing system in order to have a tidy closet.
Related: Clutter is something we all deal with on a daily basis. Check out these 7 Surprising Ways to Get and Stay Organized.
Bedroom Closet Storage Hacks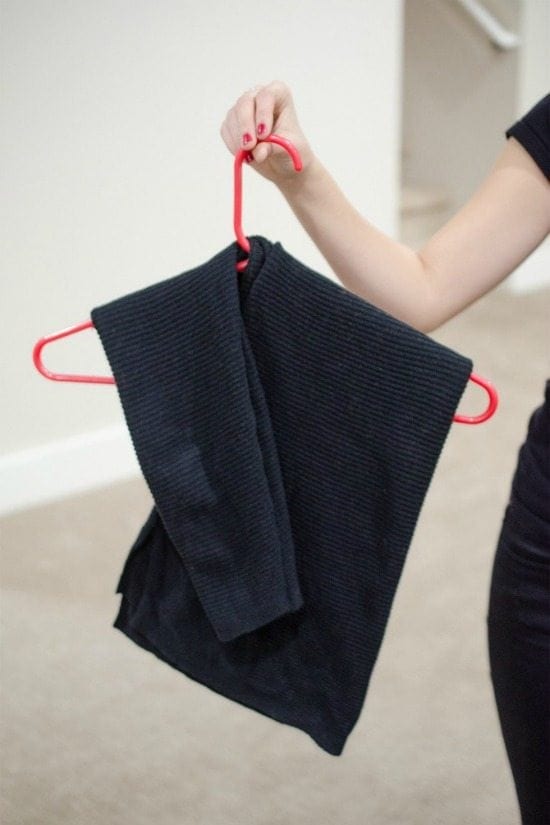 See how to hang a sweater on a hanger, without wrinkling or stretching the fabric. (image source: The Krazy Coupon Lady )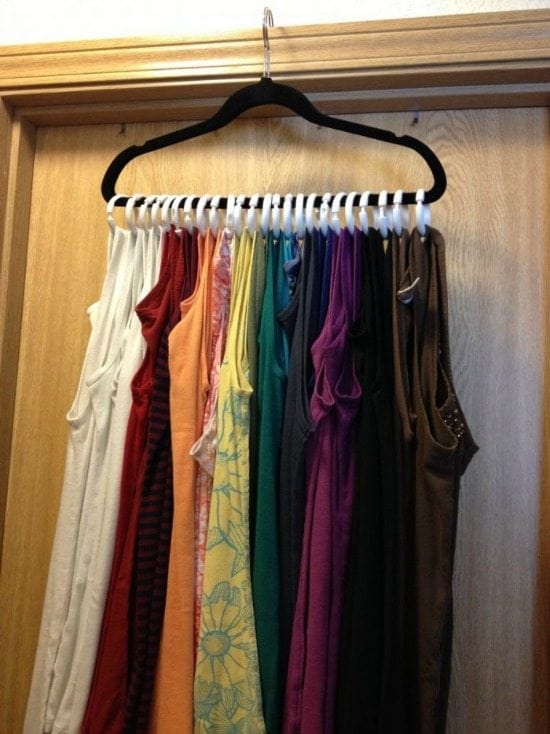 Hang tank tops on a hanger with shower curtain rings. (image source: Storage Geek )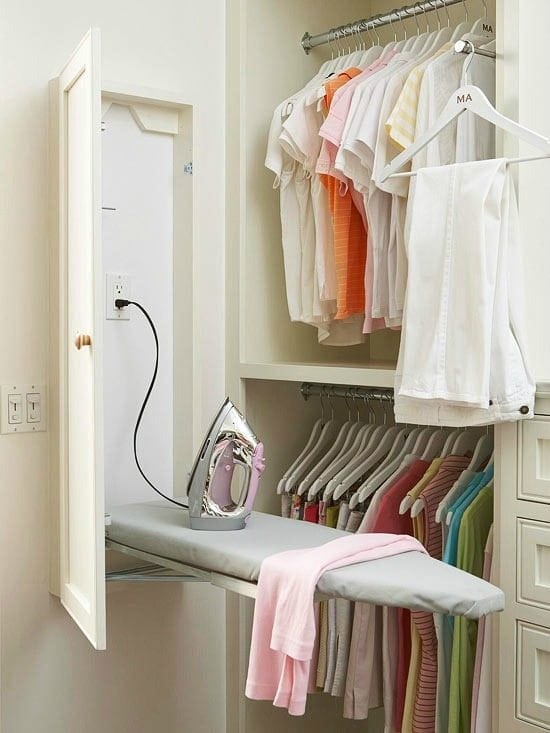 Mount an ironing board in your closet, so that you never have an excuse not to iron again. (image source: BHG )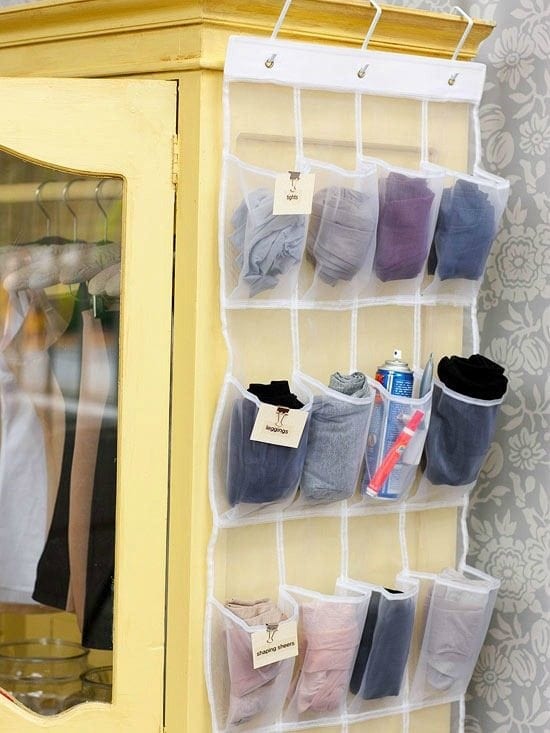 Hang a plastic shoe organizer on the side of your closet or on the back of a door to store leggings and tights. (image source: BHG )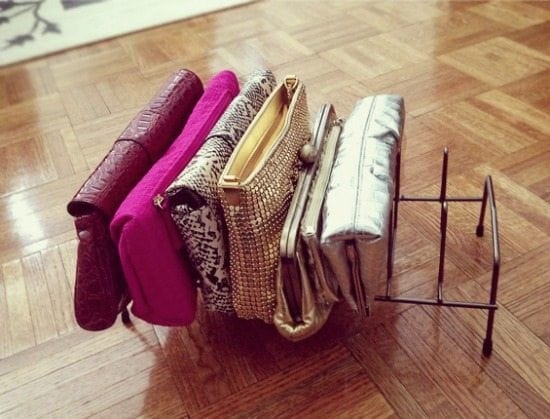 Use a kitchen lid rack to organize clutch purses or wallets. (image source: Fabulous Fashions )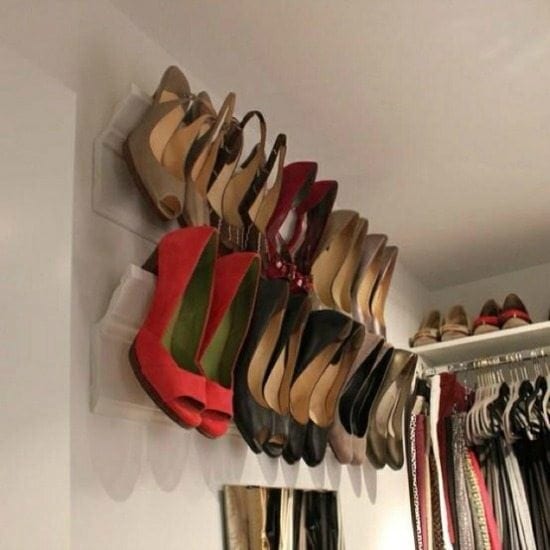 Install a DIY crown molding shoe organizer. (image source: Home Stories A to Z )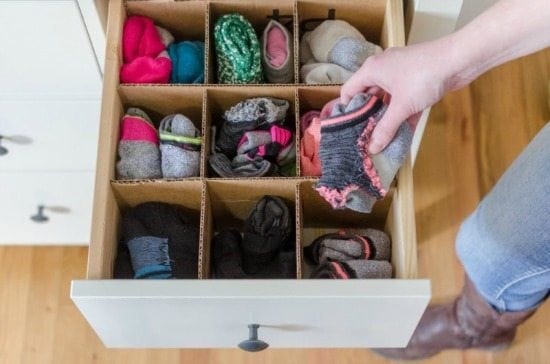 Make our own DIY drawer dividers from cardboard. Make them pretty by covering them with scrapbook or wrapping paper. (image source: The Kraz Coupon Lady )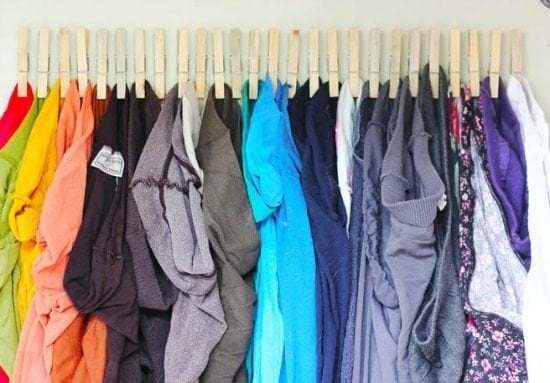 Maye a DIY hanger rack for tights/leggings from a ruler, hot glue, and clothespins. (image source: Lana Red Studio )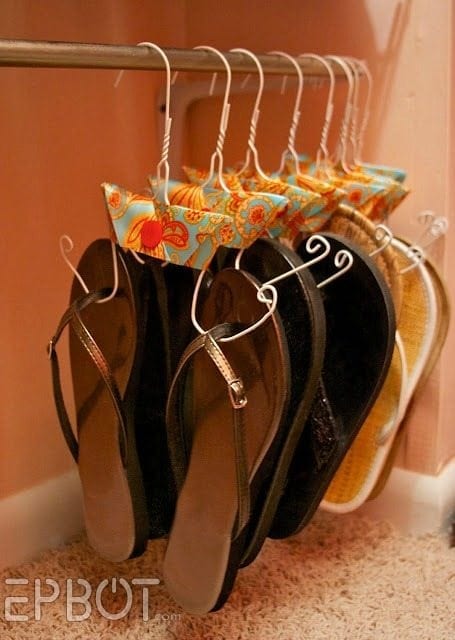 Make DIY flip flop wire hangers. (image source: EPBOT )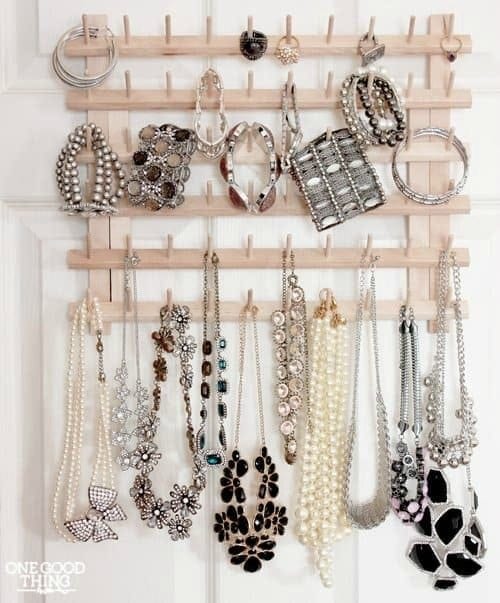 Use a thread organizer as a jewelry rack. (image source: One Good Thing by Jillee )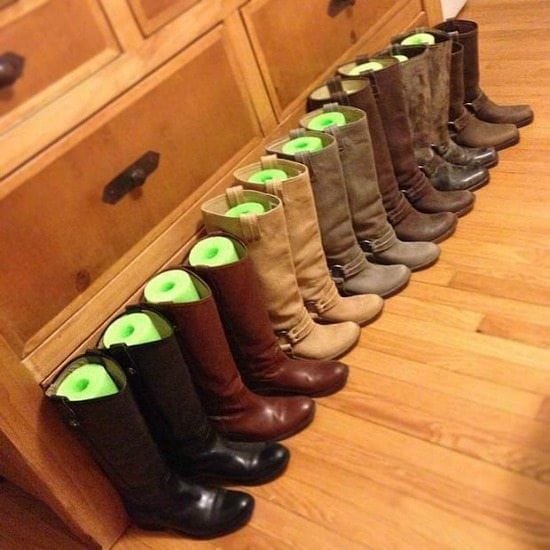 Make your own boot inserts from inexpensive pool noodles – check your local dollar store during the summer. (image source: Instagram )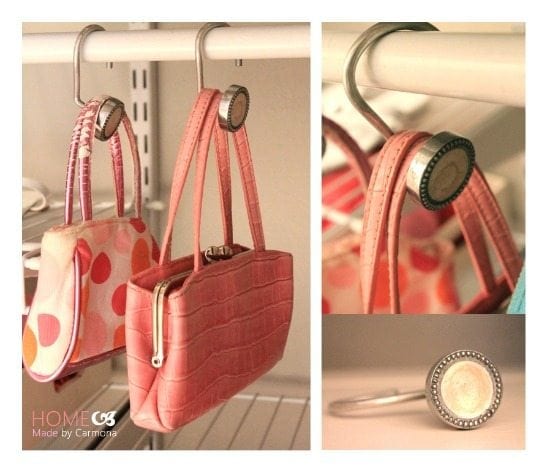 Use shower curtain hooks as purse hangers. (image source: Home Made by Carmona )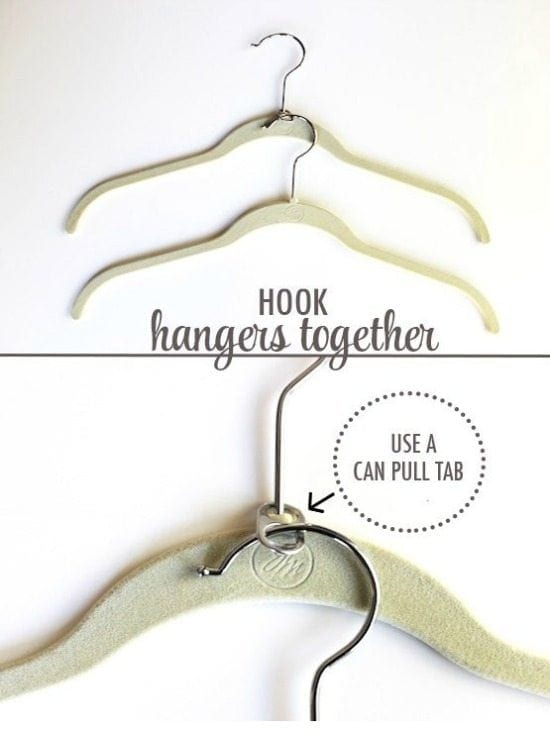 Double up and hook two hangers together with a pop tab. (image source: The Chic Site )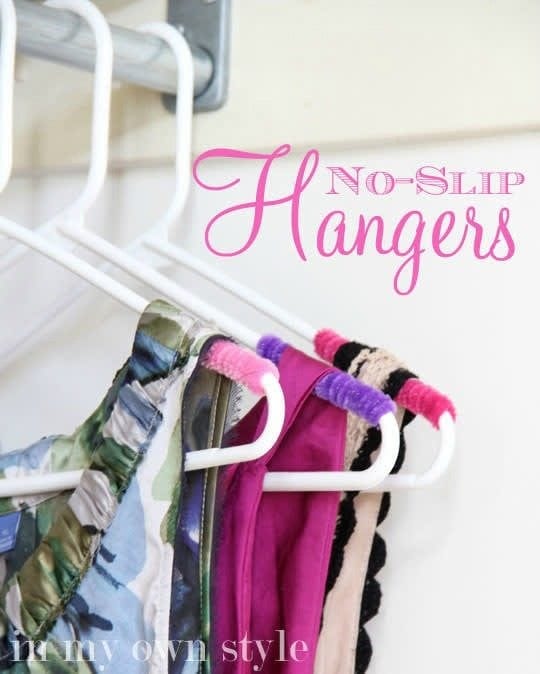 Easily make your own no-slip hangers with a pipe cleaner. (image source: In My Own Style )
There you have it. What do you think of these 14 organizing and storage tips?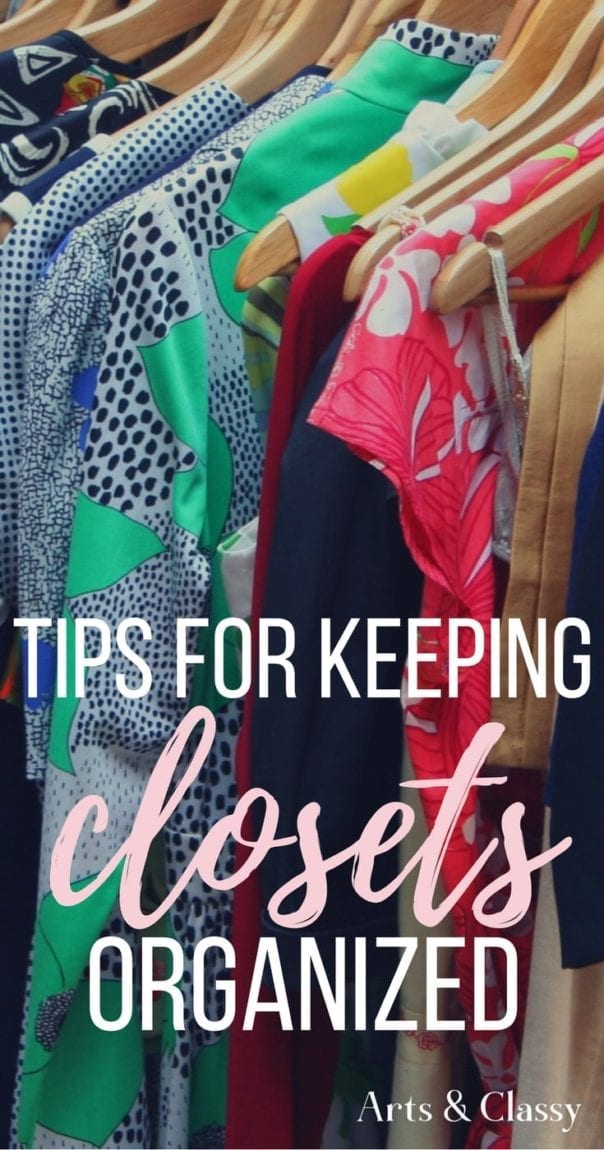 Here are a few more organizing tips I think you'll enjoy: