Why DIY? Master How to Make a Nautical Mason Jar Lamp in 7 Easy Steps
Are you looking to add a personal touch to your outdoor space without spending a lot of money? A DIY mason jar lamp made from affordable Dollar Store items is a fun and easy way to bring a coastal-style look to your porch.
With just a bit of time and creativity, you can create unique outdoor light fixtures that bring a charming, inviting glow to your outdoor oasis. In this post, you'll learn how to make a stylish mason jar lamp in seven simple steps. Plus, I'll give you ideas and tips for customizing this project to make it your own. So let's get started!
Can you use a Mason jar as a light fixture?
With a few inexpensive materials and a little bit of creativity, you can craft a beautiful, unique, and nautical mason jar lamp that requires no electrical wiring. This DIY crafts project is easy to do and can be achieved in just 6 simple steps. Read on to learn how you can make your own Mason Jar Lamp and discover the joys of do-it-yourself (DIY) projects!
This post contains some affiliate links. I may earn a small commission if you make a purchase through one of these links. See more information in my full disclosure policy.
What supplies are needed for this tutorial to make this mason jar light fixture project?

Now onto the step-by-step instructions to make your own nautical mason jar lamp!
1. Shop supplies needed to make a nautical mason jar lamp
Channel your inner beach babe with this amazingly easy and affordable coastal lantern project! Visit your local dollar store for mason jars, wood pallets, rope, and coastal decors. Then, simply follow the steps below to upcycle your porch with a sea-inspired lantern. You'll bring a touch of the shorefront to your home in no time!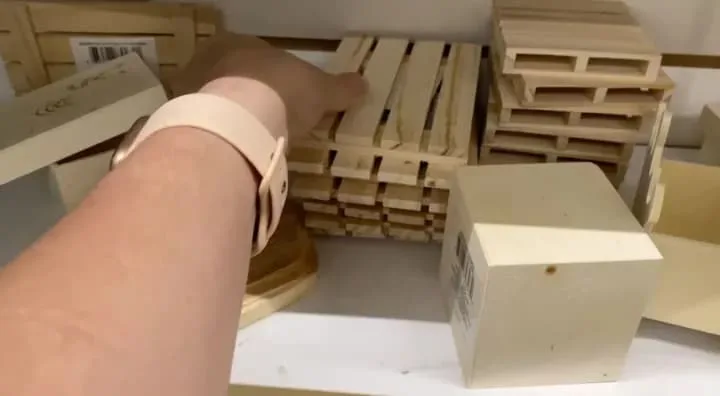 2. Glue mini pallets together
Transform your mini pallets into something spectacular with a little help from hot glue! Simply glue two of them together and let them sit for a minute so they can dry. With this easy and affordable mason jar light ideas hack, you can create something special to add an inviting touch to your home décor or give it as a delightful, handmade gift!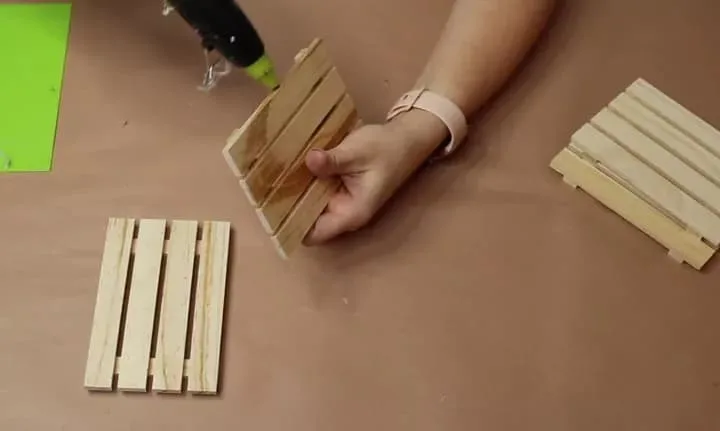 3. Add rope
Next, take a rope and lay it across the back side of your pallet. Flip your pallet so the front is facing forward, then pull the rope up through the gap just above the bottom slat. Make sure to draw each side of the rope through the same slit.
Continue by passing both sides of the rope over two slats, then slipping them into the next slit, and drawing them back toward the back again. Finally, run the rope down the backside under two slats, and then pull it back up through the next slit towards the front. Now you've got a stylish, functional piece for your home – all thanks to two wood pallets and a few yards of rope!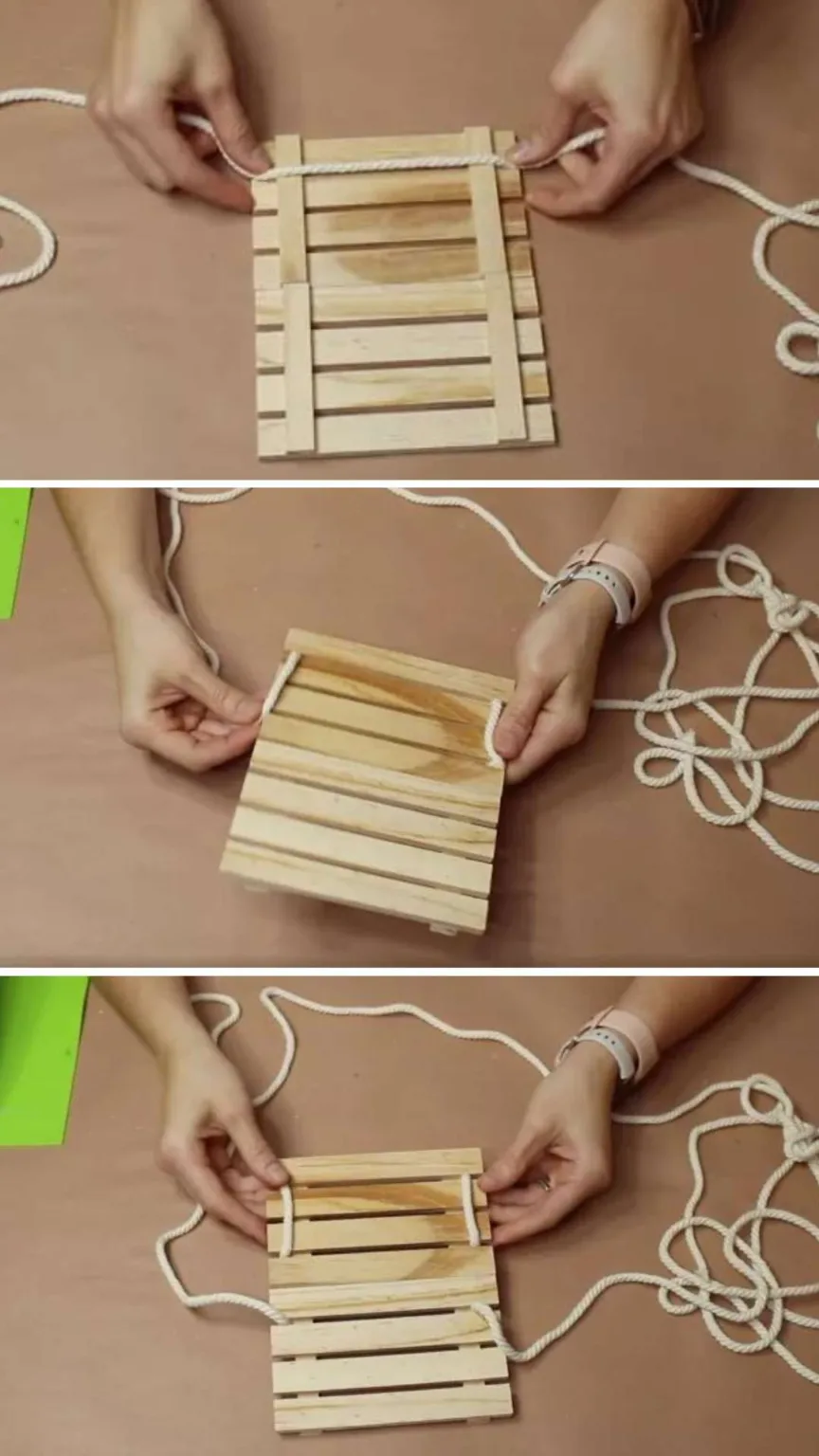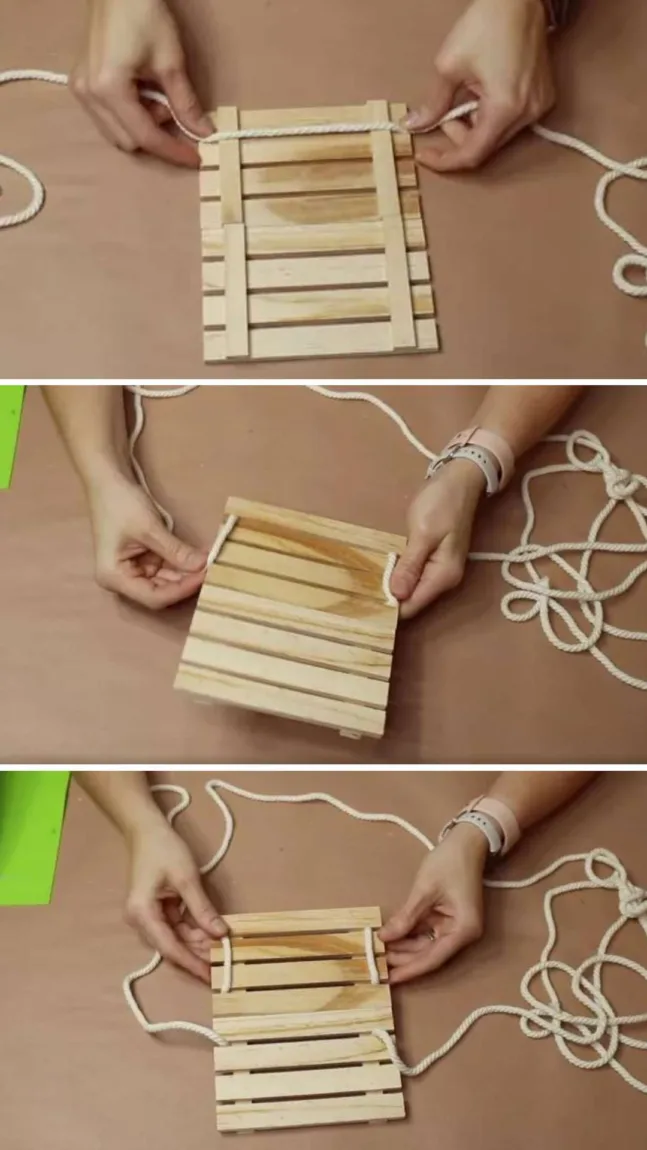 4. Attach the mason jar
Secure your mason jar to the pallet for a stylish, rustic accessory with a few easy steps. Begin by adding a bead of hot glue to the back of the jar and affixing it to the middle of the pallet. Make sure the lip of the jar is lined up with the slat from which the rope is coming out. Then, pull one side of the rope tight across the jar lip and secure it in place with hot glue. Repeat this step with the other side of the rope. Have fun creating a stylish and timeless craft that is sure to be the envy of all your friends!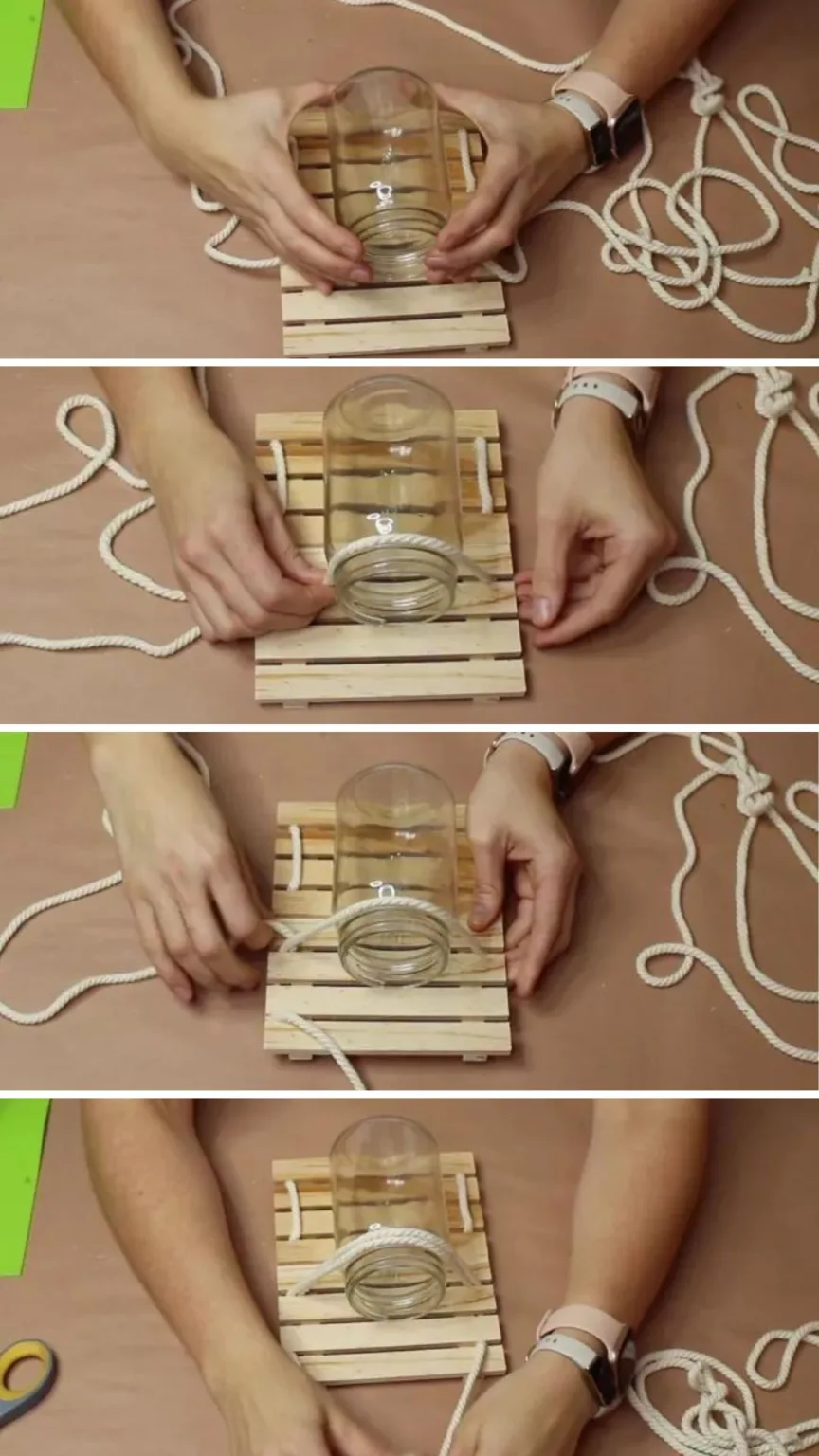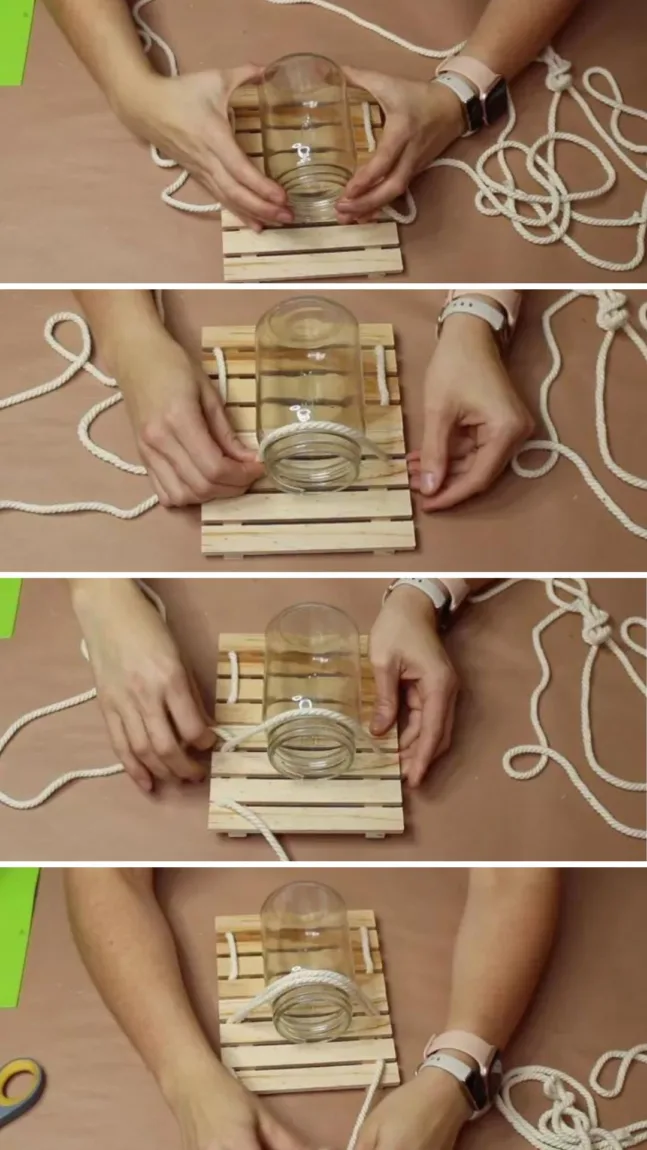 5. Knot the rope and make a bow
Secure a jar, then attach a rope to the back of a pallet, weaving it through two slats. Pull the rope out to just below the last slat and knot it in a feminine bow to hang a light. Cut the tails to the desired length and add a dab of hot glue to the ends to keep them from fraying. An easy and stylish way to brighten up any room – perfect for the creative woman!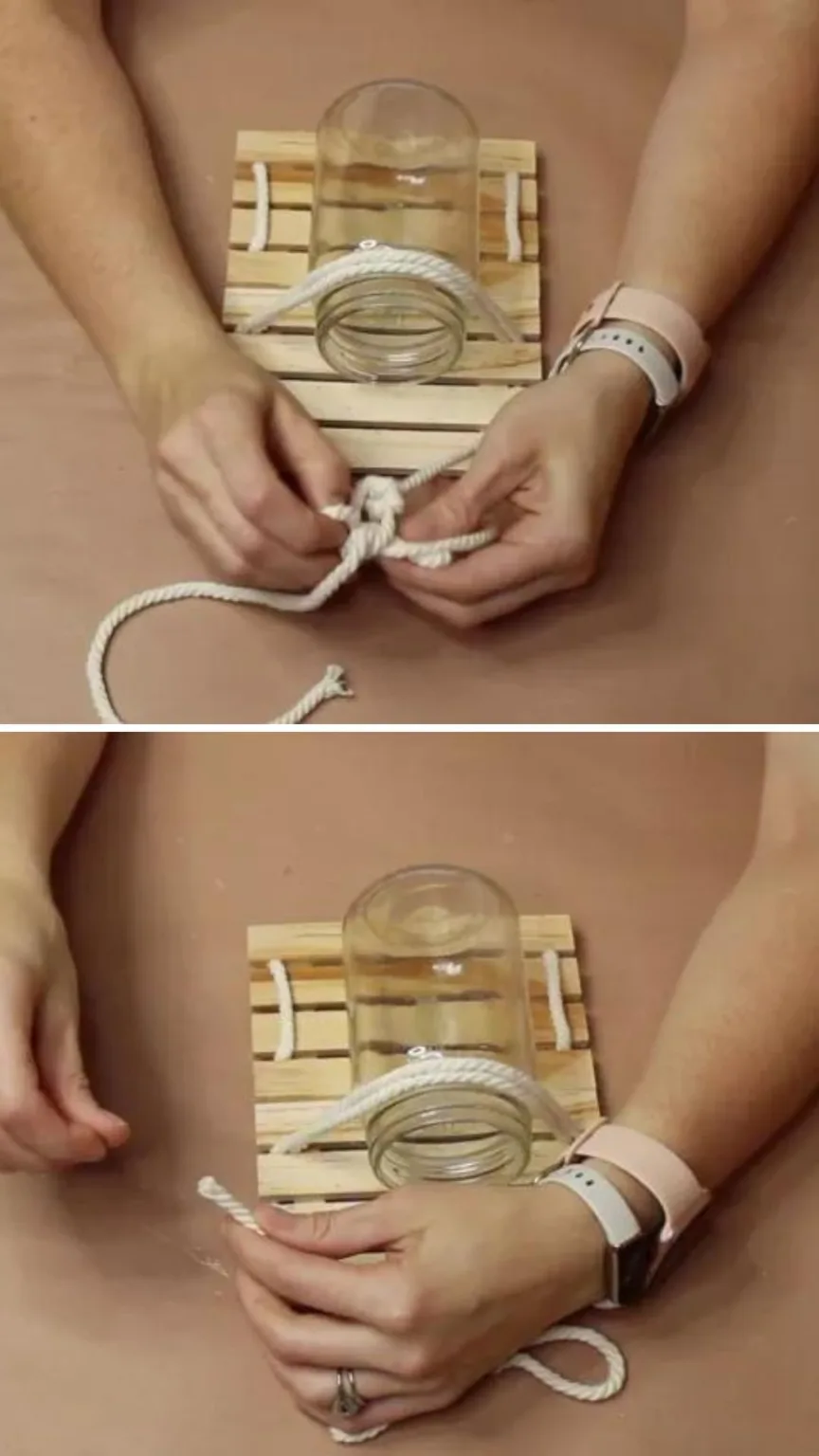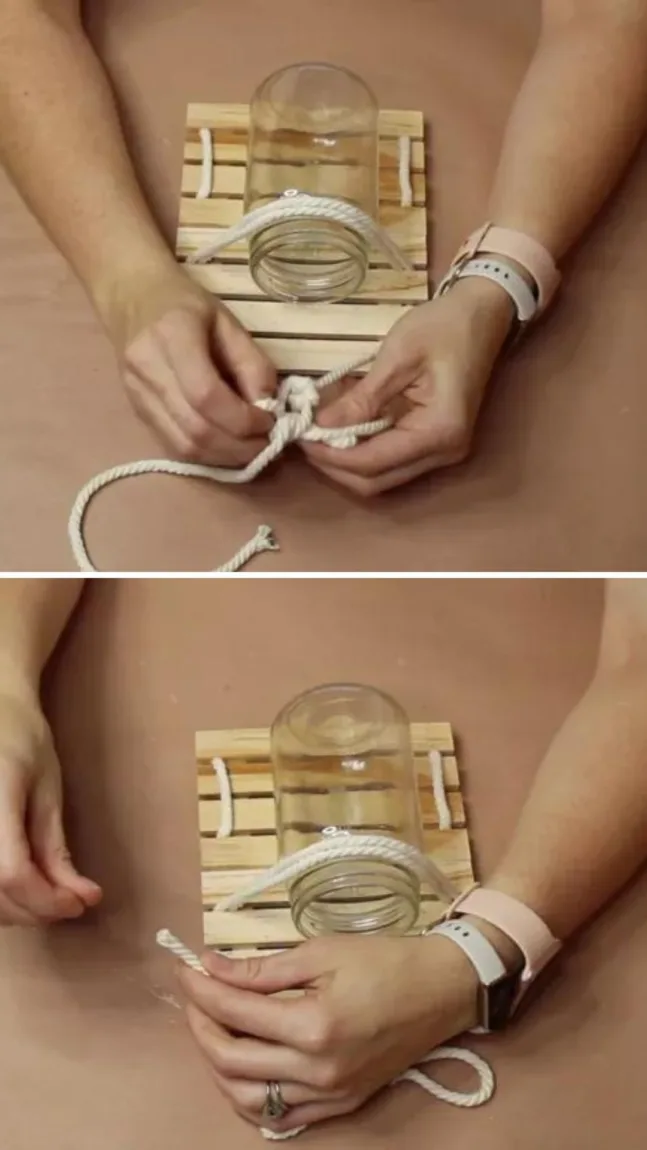 6. Add embellishments
Bring the beach vibes inside with this easy, coastal craft: start by adding a little white sand and small seashells to the inside of a jar.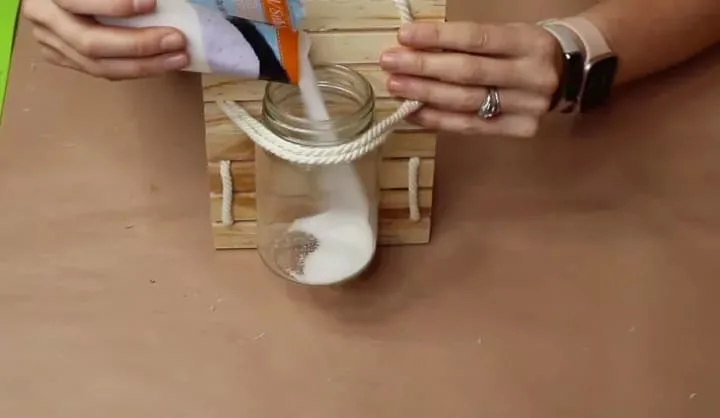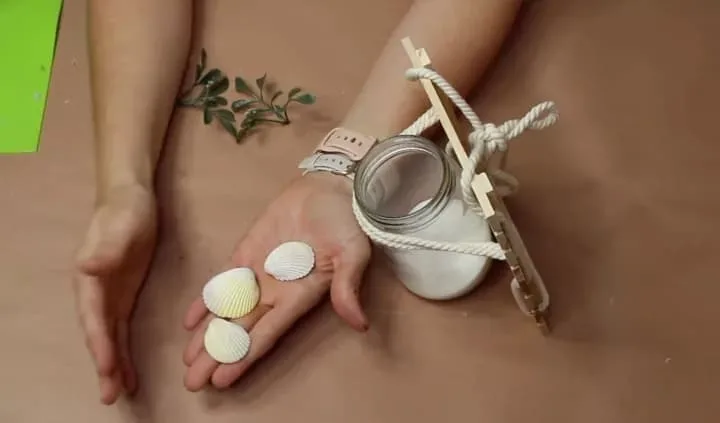 Then, use a pair of scissors to push some faux seaweed into the sand to hold it in place.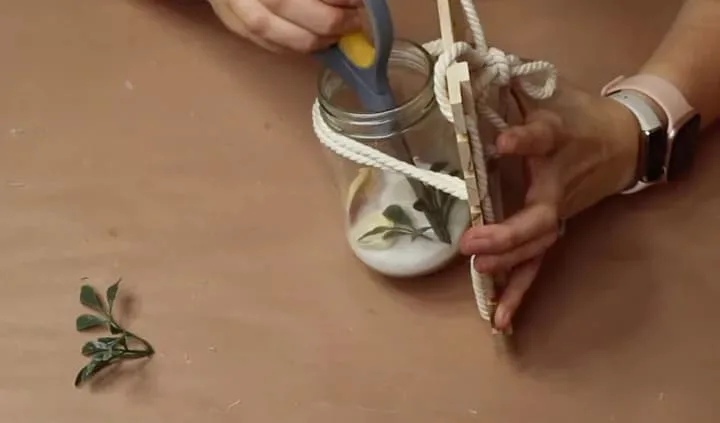 For added flair, glue a few white flowers with snipped ends and extra seaweed to the top of the jar. Finally, finish off the look with a Styrofoam starfish glued to the front. Perfect for the seaside-loving woman, this craft is sure to bring a little piece of the shore indoors!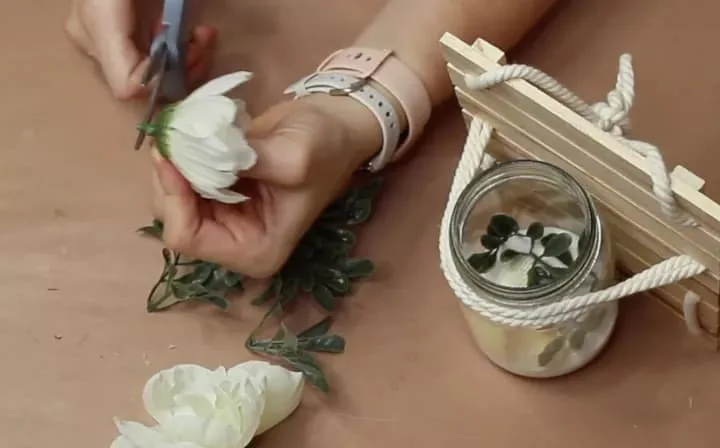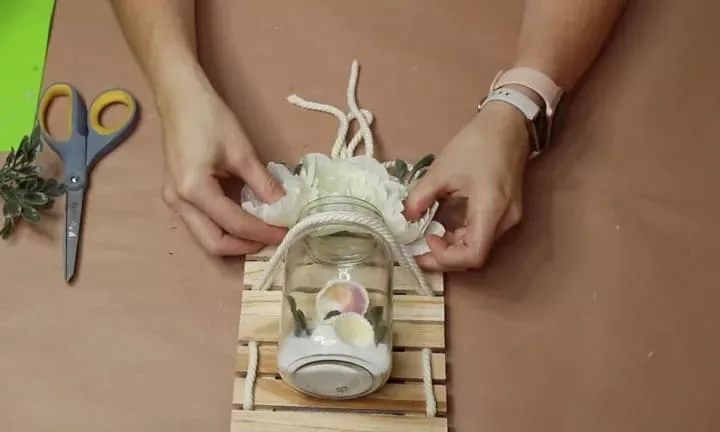 7. Finish with fairy lights or a battery-powered candle
Add some finishing touches to your new porch lights with a touch of whimsical charm! Fill a jar with string lights and attach a lightbox to the back of a pallet with hot glue to create a magical ambiance perfect for any special occasion. DIY mason jar lights can be used from around the house or if you wish to head down to your local Walmart or simply order on Amazon.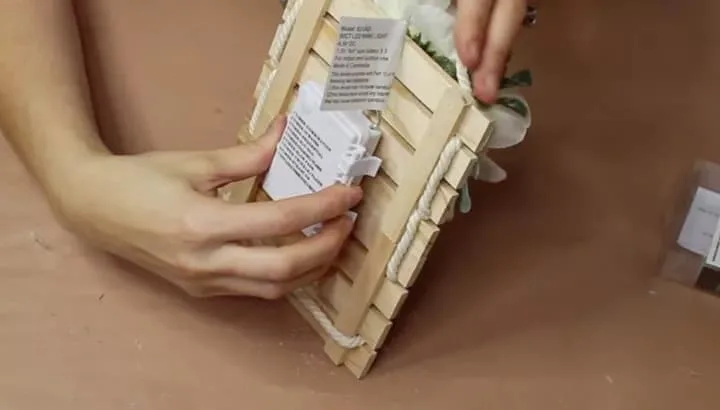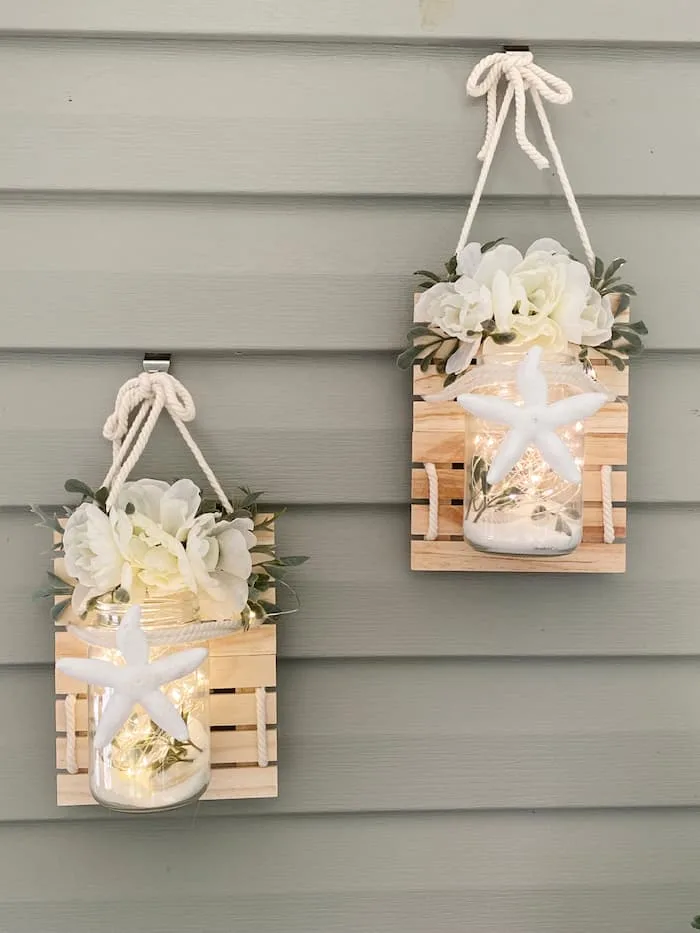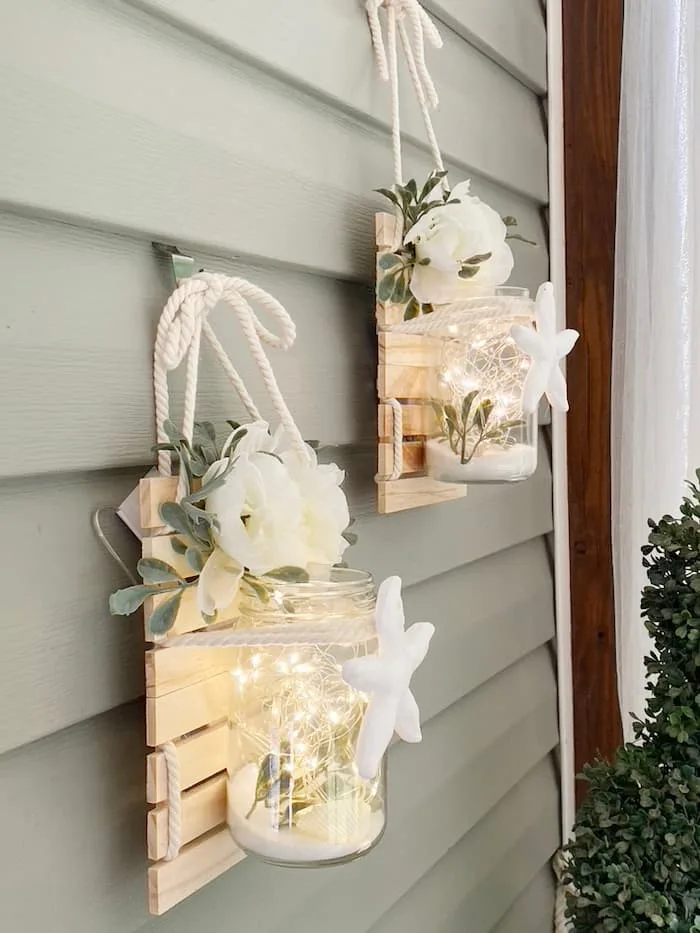 Take your mason jar crafts and turn them into decor for the outdoors. Mason jar lamps take upcycling and repurposing to the next level!
Have fun with this budget-friendly home decor project! Transform your outdoor space with a unique mason jar lighting project! By simply blending materials and attractive design you can add a touch of coastal style to your home, creating an inviting ambiance in your outdoor space. And the best part? These mason jar lanterns won't take a lot of effort to create this stunning seaside retreat.
So, get your supplies ready and have fun with this elegant project. If you give it a try, I'd love to hear about it in the comments. I'm sure you won't regret it!
You can make your own DIY nautical mason jar lamp in no time. This project may seem intimidating, but with a few simple steps and a little creativity, anyone can make this beautiful and unique lighting piece. So why not DIY? Get creative and start crafting your own mason jar light ideas today!
If you like easy DIY projects like these mason jar lighting ideas, you might also like these other creative ways to decorate:
You can also shop for similar farmhouse glass jar light decor: