11 Essential Elements of Farmhouse Kitchen Decor
Greetings! Are you yearning for a kitchen that radiates warmth, charm, and timeless allure? Look no more, as the enchanting realm of farmhouse kitchen decor awaits you! In this engaging blog post, we will unveil the secrets to creating a farmhouse-style kitchen that will endure the passage of time. Whether you're embarking on a kitchen renovation or seeking to revitalize your current space, we will delve into the vital elements that define the captivating farmhouse style. Prepare to be inspired and discover the key ingredients for crafting a kitchen that captures the essence of farmhouse charm.
Get ready to discover the rustic materials, decor ideas, vintage-inspired fixtures, neutral color palettes, and more that will transform your modern farmhouse kitchen into a cozy haven. Let's dive into some gorgeous rustic and modern farmhouse kitchen ideas
Key Elements for a Timeless Farmhouse Kitchen Look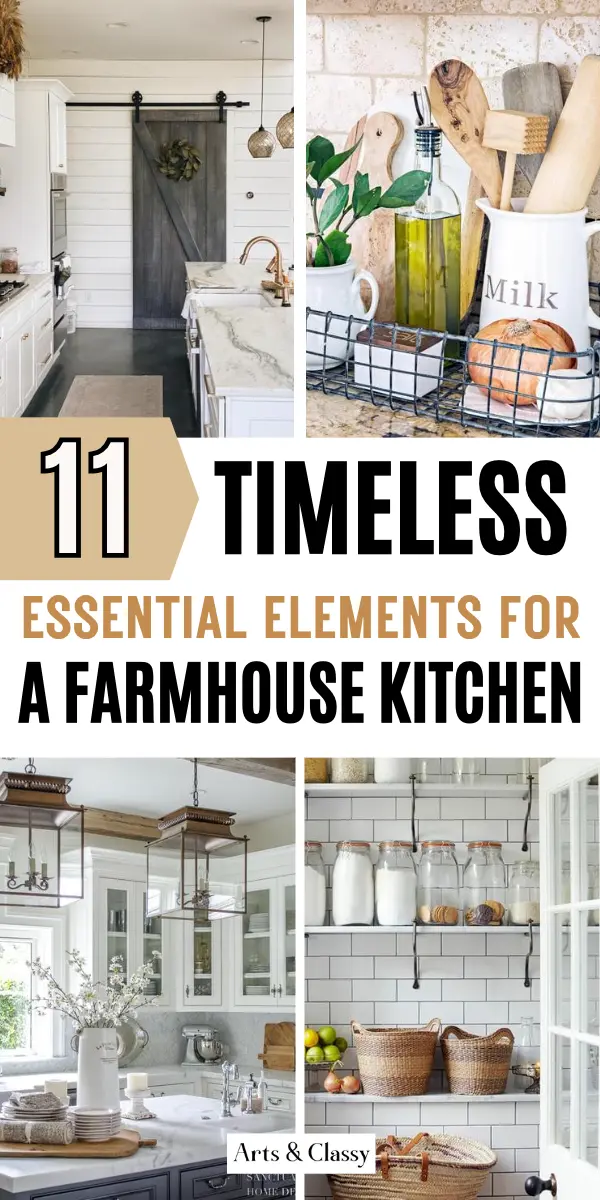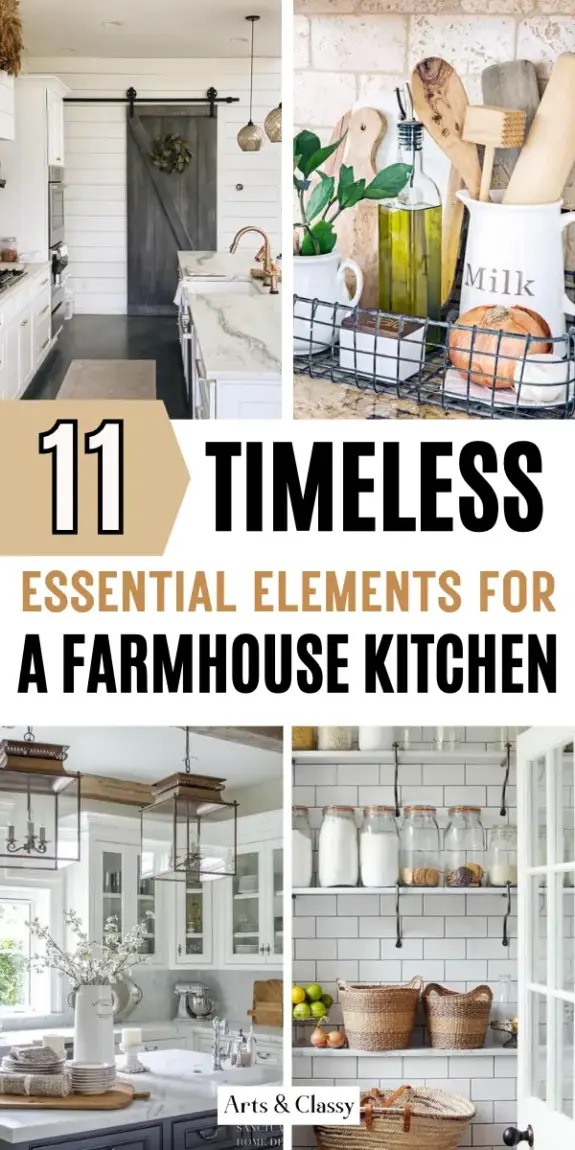 This post contains some affiliate links. I may earn a small commission if you make a purchase through one of these links. See more information in my full disclosure policy.
1. Rustic Materials and Finishes
One of the hallmarks of farmhouse kitchen decor is the use of natural materials that exude warmth and authenticity. Embrace the beauty of wood and stone to create a rustic foundation for your kitchen. Consider farmhouse-style wooden cabinetry and wood beams that showcase the natural grain and texture of the wood.
Another great contender would be wood countertops or stone. For the backsplash, opt for stone surfaces like granite, marble, subway tile backsplash, or quartz to add a touch of elegance. By incorporating these rustic materials, you'll infuse your kitchen with a sense of timeless charm that will never go out of style.
Annette at the "Azure Farm" shares her incredible modern farmhouse look in her kitchen that changes beautifully with each season. Aren't these marble countertops gorgeous?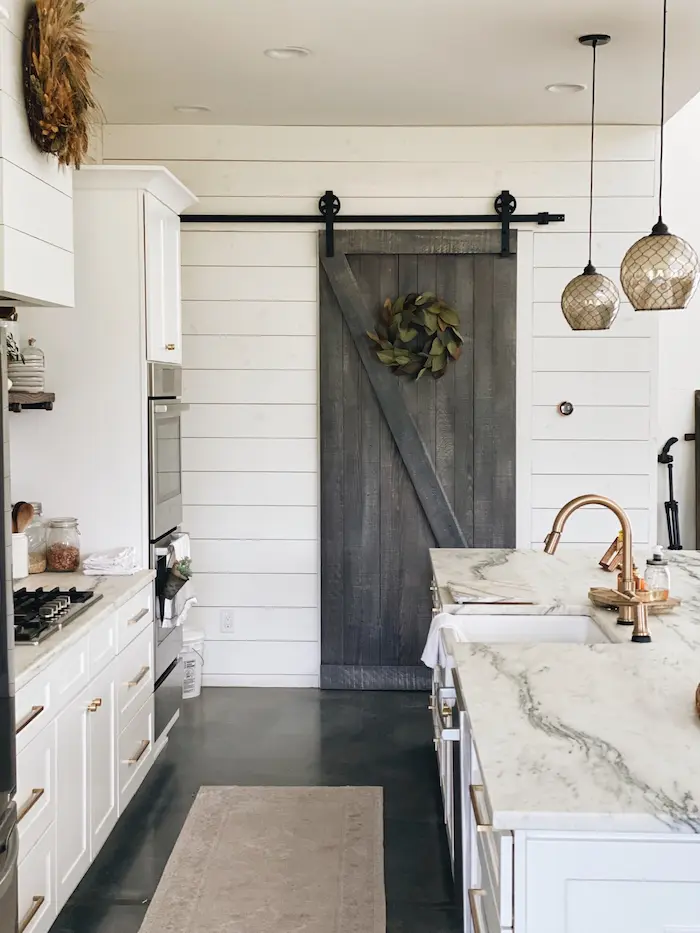 SEE RELATED: Warm Your Heart with These Stunning Neutral Fall Decorations
2. Neutral Color Palette
To attain a timeless farmhouse kitchen look, prioritize a neutral color palette. Opt for crisp white paint, soft creams, and warm beige tones. These shades establish a serene backdrop, allowing other kitchen elements to stand out. Install a white ceramic farmhouse sink that adds vintage charm and complements the neutral color scheme. Combine it with cream-colored subway tiles for a classic yet contemporary appearance. By maintaining a neutral color palette, you'll create a space that feels fresh, airy, and perpetually stylish.
Liz at "Love Grows Wild" shares some amazing examples of the farmhouse decorative finishes in her white kitchen.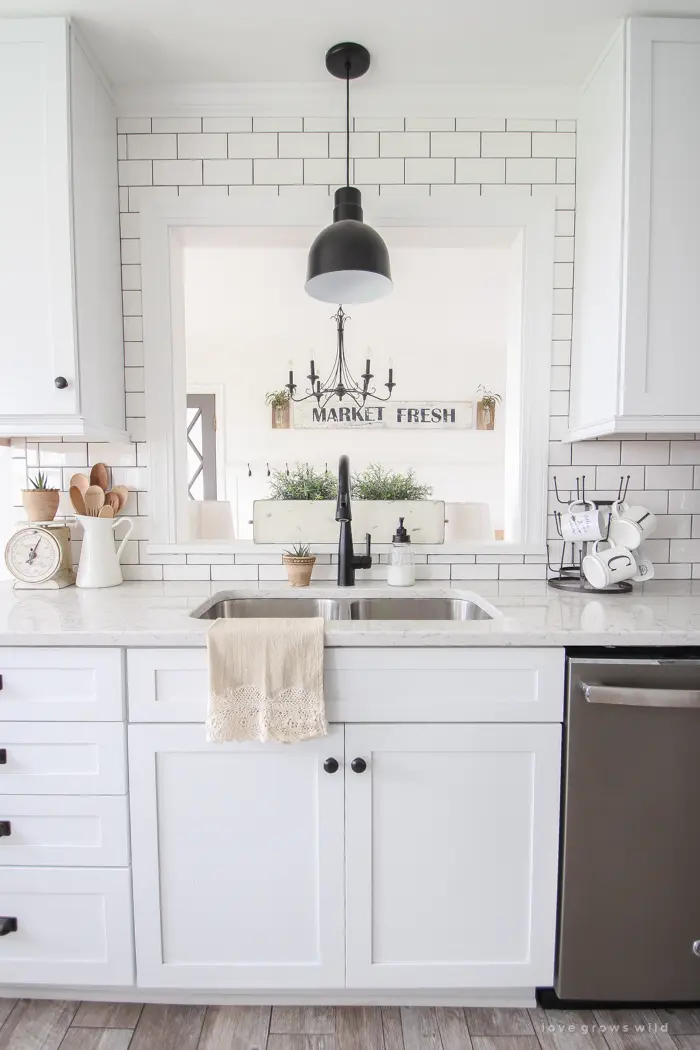 3. Vintage-Inspired Fixtures and Hardware
To truly capture the farmhouse aesthetic, embrace vintage-inspired fixtures and hardware. Antique brass faucets exude a sense of old-world charm and add a delightful focal point to your kitchen. Think about swapping out your ordinary drawer pulls for wrought iron handles that evoke a sense of history and character. Consider vintage-style pendant lighting to illuminate your space while adding a touch of elegance. By incorporating these vintage-inspired elements, you'll infuse your kitchen with a unique personality and an unmistakable farmhouse allure.
I love the pendant lights and the vintage-looking faucet that Nicole at "The Inspired Hive" created in her cute farmhouse kitchen.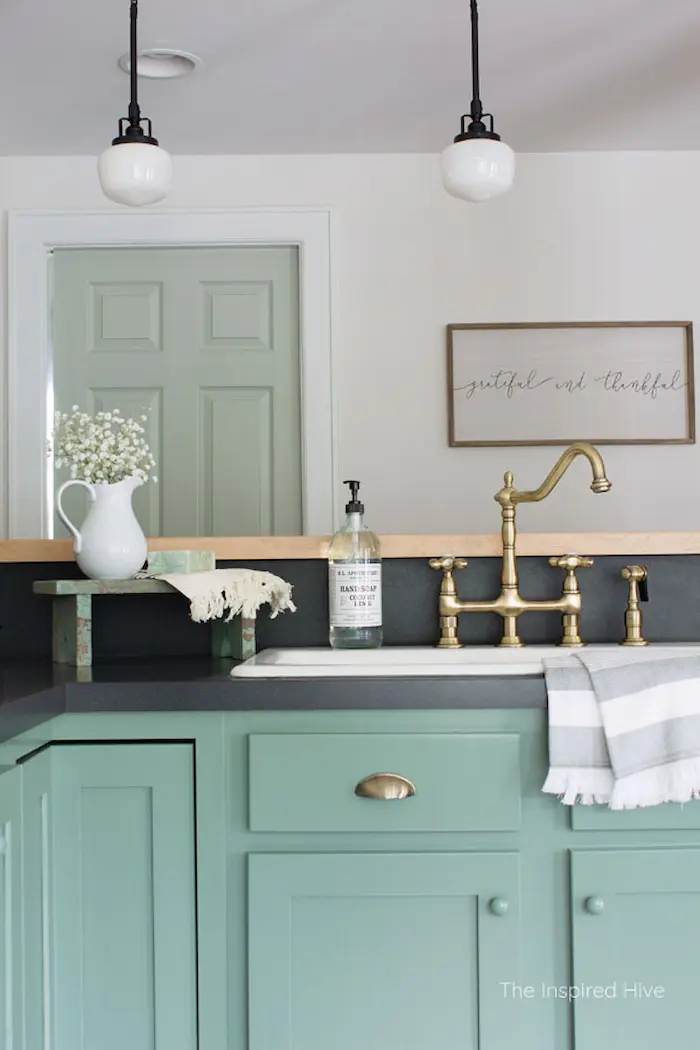 4. Open Shelving and Display Areas
Open shelving and display areas are essential in farmhouse kitchens. Install rustic wooden floating shelves to showcase dishes, vintage kitchenware, and decor. These shelves create openness, inviting you to display cherished items. Add decorative utensil holders made of woven materials, like rattan or wicker, to infuse a cozy, country-inspired vibe. Seize the opportunity to showcase your personal style and create a visual story with your treasures on your open shelving or add a vintage hutch.
Jenna at "Jenna Kate At Home" shared "Our Vintage Home" which is a site that no longer exists. So I am linking to Jenna's post instead.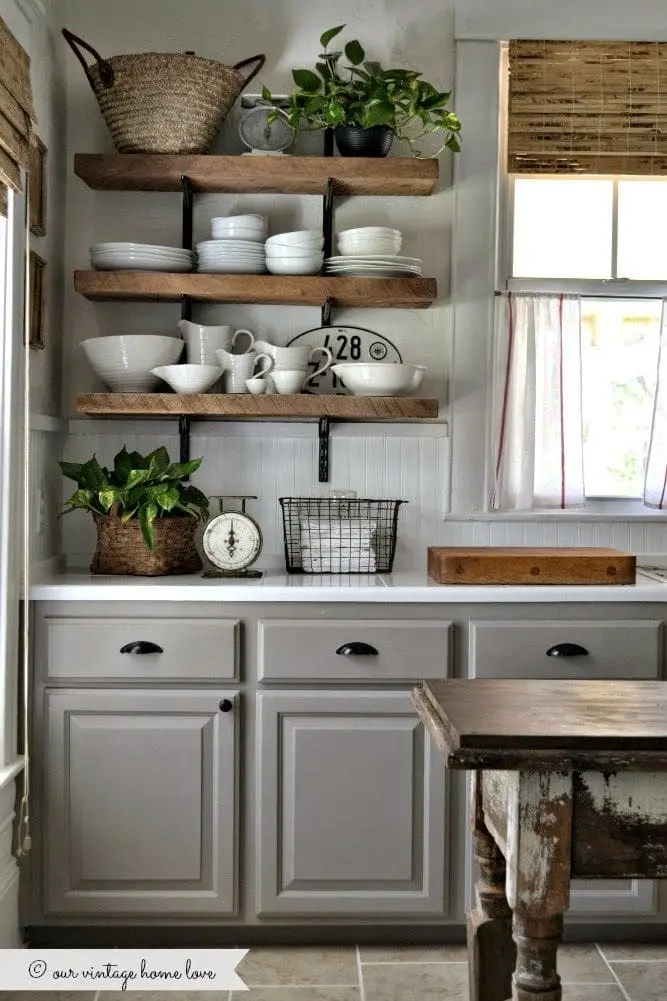 SEE RELATED: Get Ready to Feel the Coziness: 10 Inviting Farmhouse Decor Ideas
5. Farmhouse-Inspired Decor and Accessories
To complete your timeless farmhouse kitchen look, sprinkle in farmhouse-inspired decor and accessories. Hang decorative signs with charming phrases that evoke a warm, welcoming atmosphere. Incorporate woven baskets for storing fruits or showcasing fresh flowers, adding texture and a touch of nature to your space. Embrace vintage-inspired kitchen tools, such as wooden cutting boards and ceramic canisters, to add authenticity to your farmhouse decor. By thoughtfully selecting these decor pieces, you'll add the finishing touches that bring your farmhouse kitchen to life.
Karen from "Sanctuary Home Decor" shared her beautiful modern design for her farmhouse kitchen and all the farmhouse elements she infused in her kitchen and throughout her home.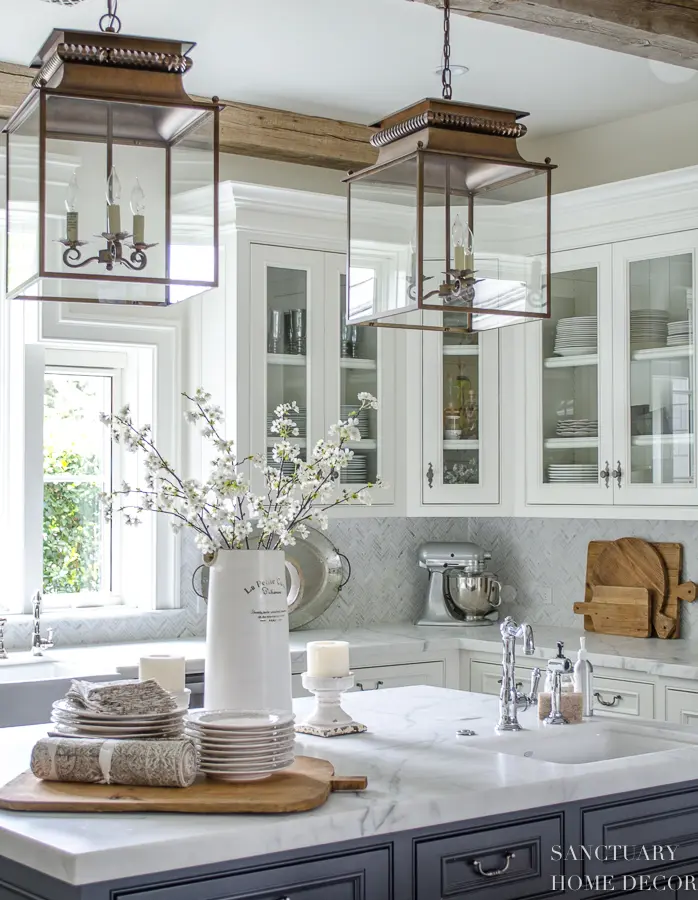 6. Barn Door Pantry
Incorporating a sliding barn door as a pantry entrance can be a charming farmhouse touch. Choose a natural texture like a distressed wooden door with rustic hardware to add character and create a focal point in your kitchen. This not only adds a farmhouse aesthetic but also maximizes space and adds a touch of nostalgia.
Bre at "Rooms For Rent Blog" shares her beautiful farmhouse kitchen with a gorgeous painted barn door as a focal point.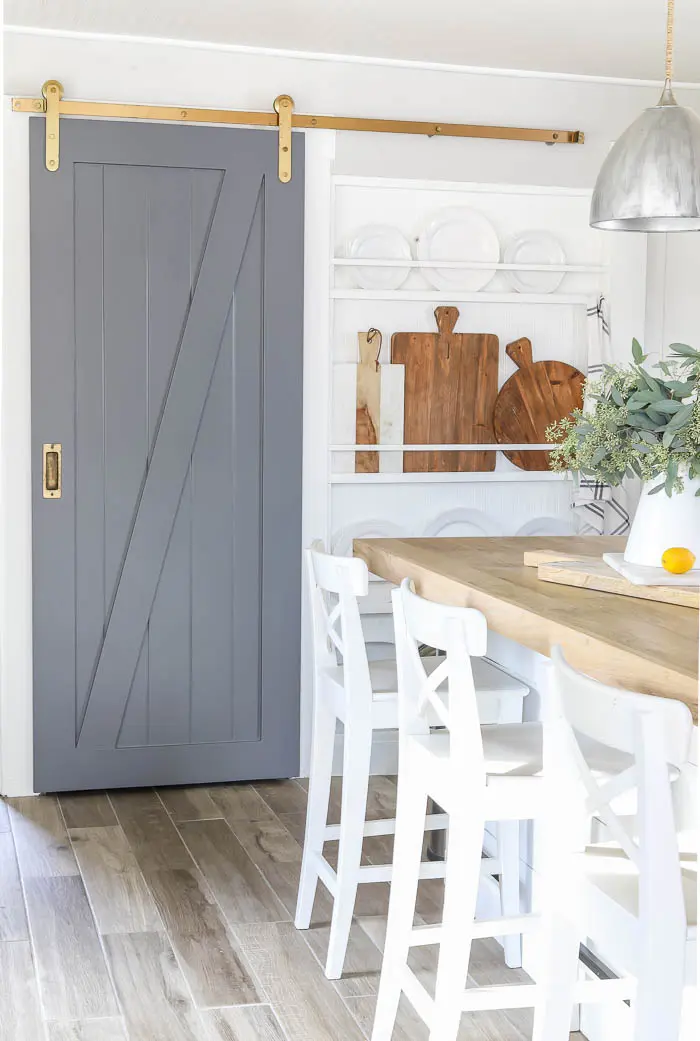 7. Farmhouse Apron Sink
A classic farmhouse apron-front sink is a quintessential element of farmhouse kitchen decor. Opt for a deep, white porcelain sink with an exposed front panel that adds a vintage feel to your kitchen. This style of sink is not only visually appealing but also highly functional and practical for everyday use.
Sara at "Sara Jane Interiors" shares her beautiful light and airy farmhouse kitchen with an apron sink and vintage-looking hardware.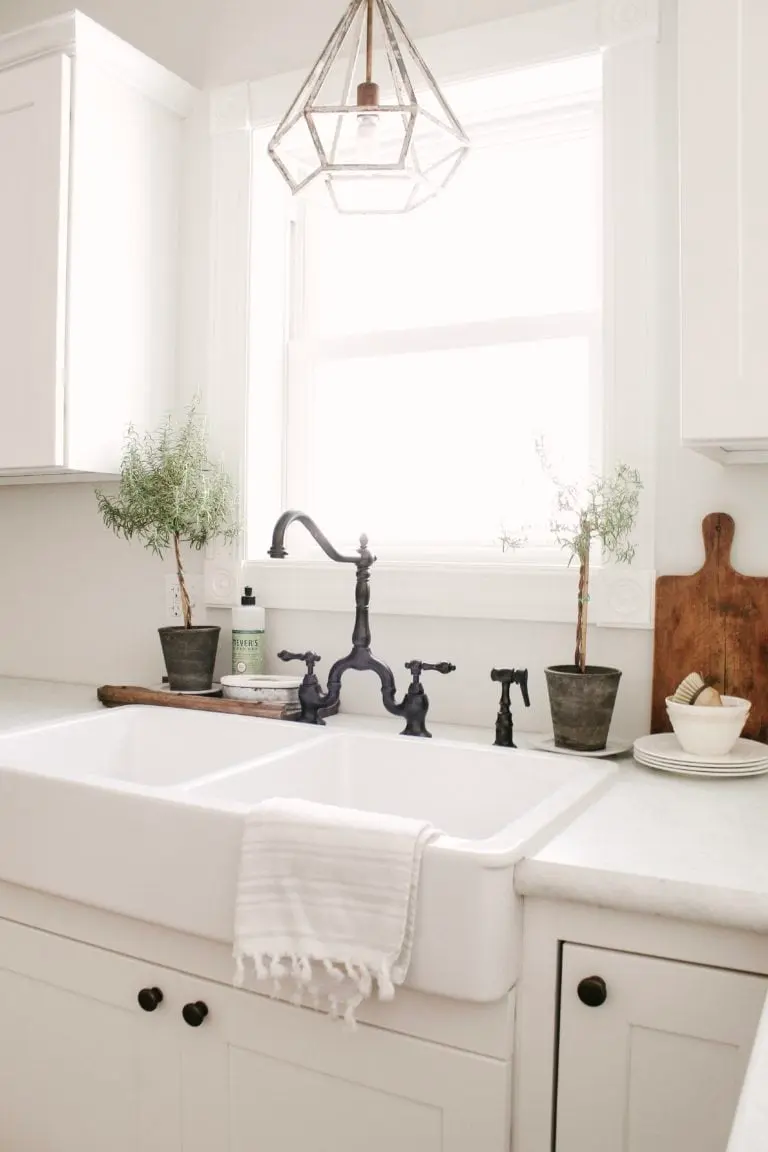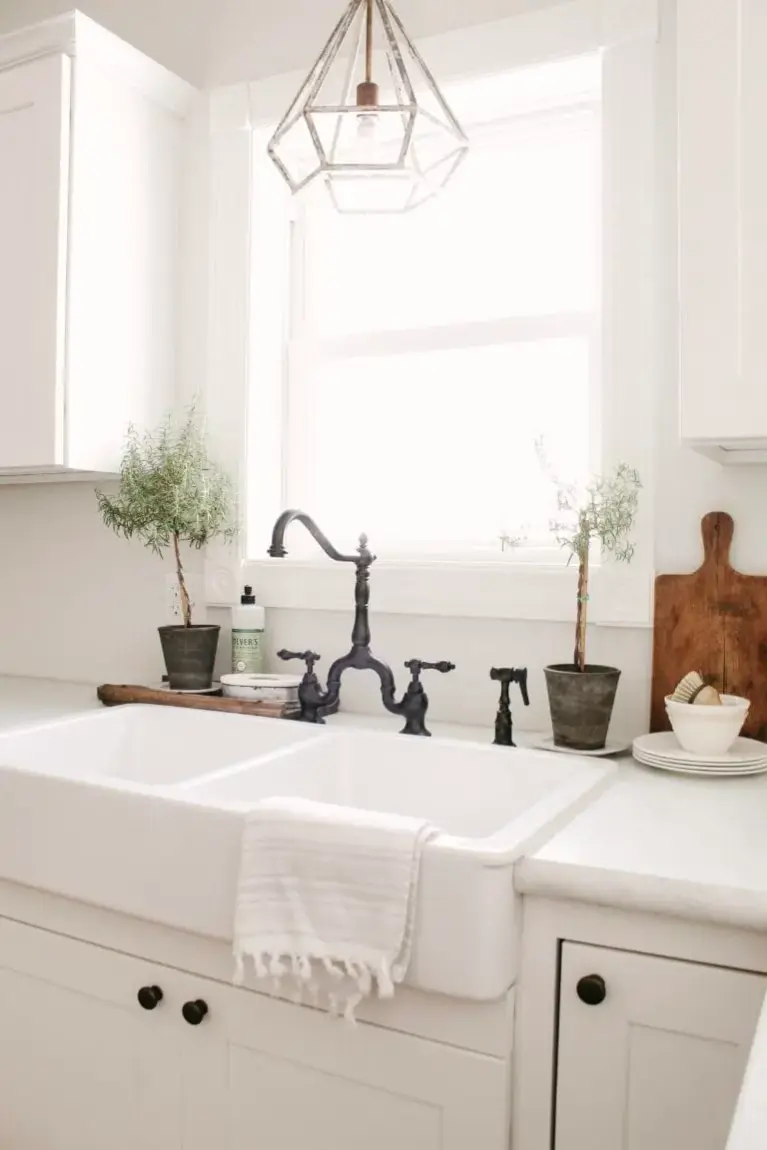 8. Mason Jar Storage
Utilize the timeless appeal of mason jars for storage in your farmhouse kitchen. Fill them with dry goods like grains, beans, or herbs and display them on open shelves or countertops. You can also repurpose mason jars as drinking glasses or use them as vases for fresh flowers, adding a touch of rustic charm to your kitchen decor.
Ann at "Our Sutton Place" shares some great ideas of ways you can use mason jars for storage in the kitchen.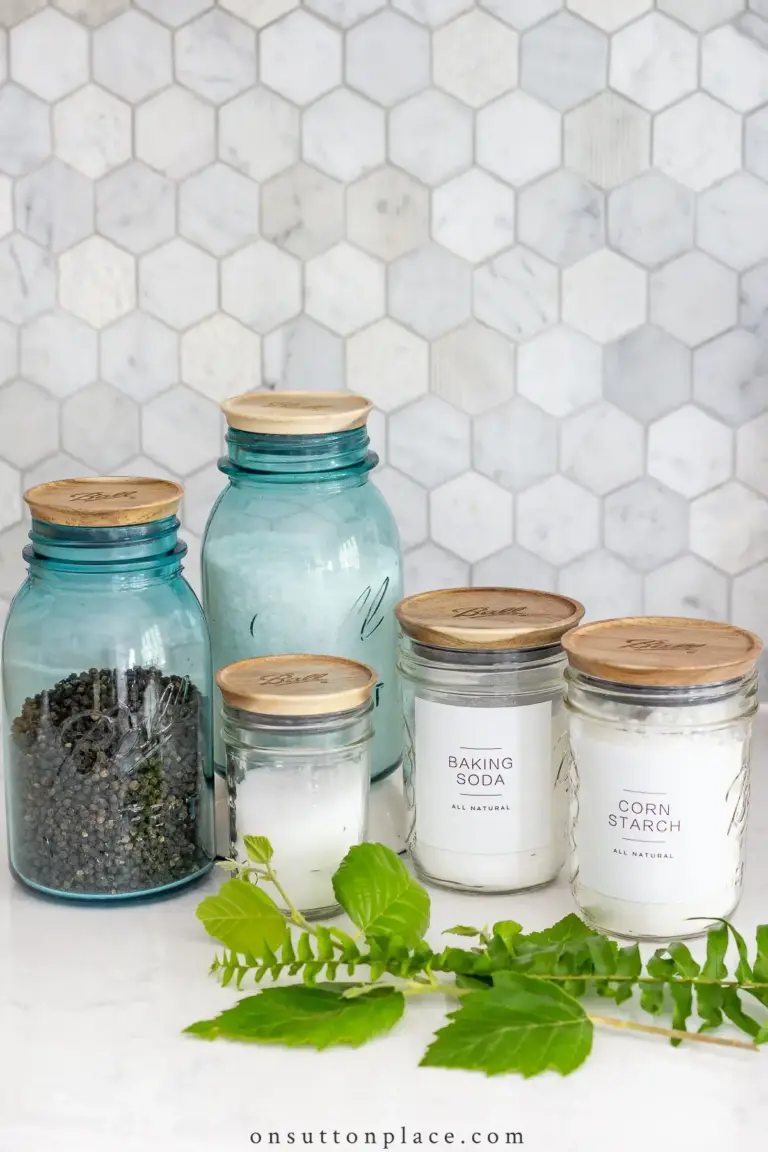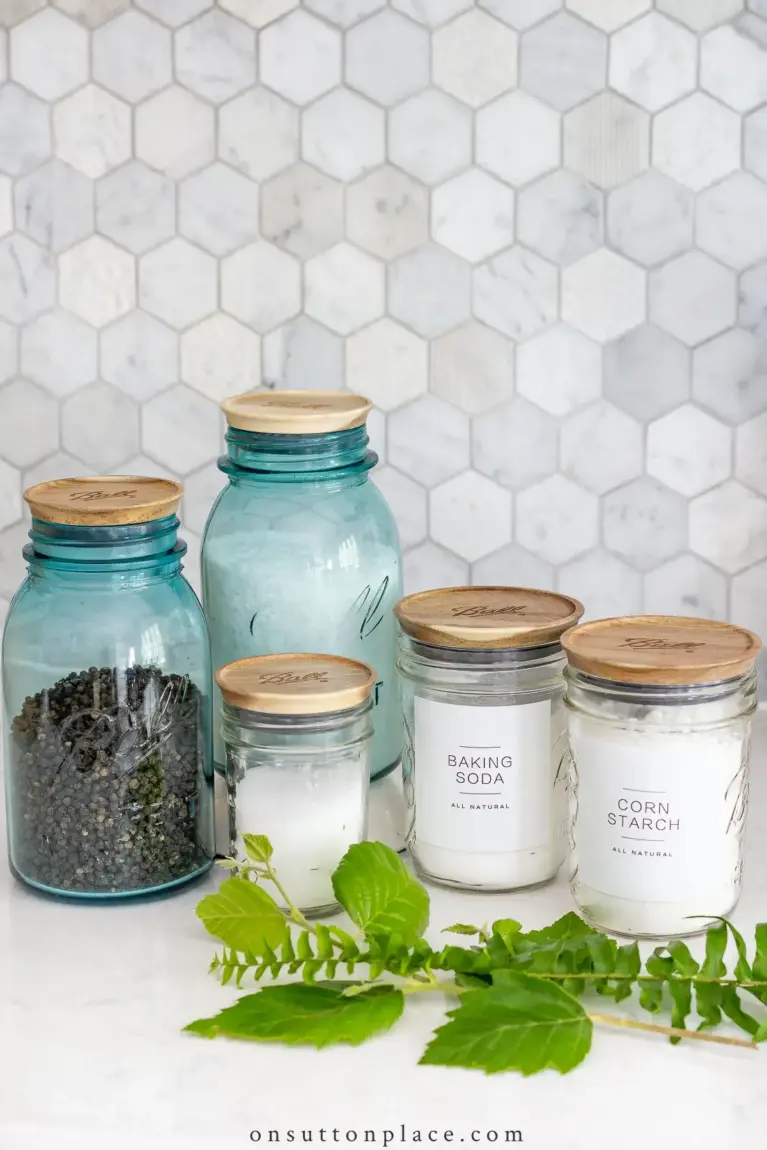 9. Reclaimed Wood Accent Wall
Elevate your farmhouse kitchen with a breathtaking focal point—an accent wall crafted from reclaimed wood. Transform a single wall by installing weathered, repurposed wood planks, and create shiplap walls infusing the space with an inviting blend of rustic charm and warmth. This natural element introduces texture and a touch of history to your kitchen, elevating it to the status of a true modern farmhouse style masterpiece.
Anna at "Making Home Matter" shares a beautiful reclaimed wood accent wall for her vegetable storage.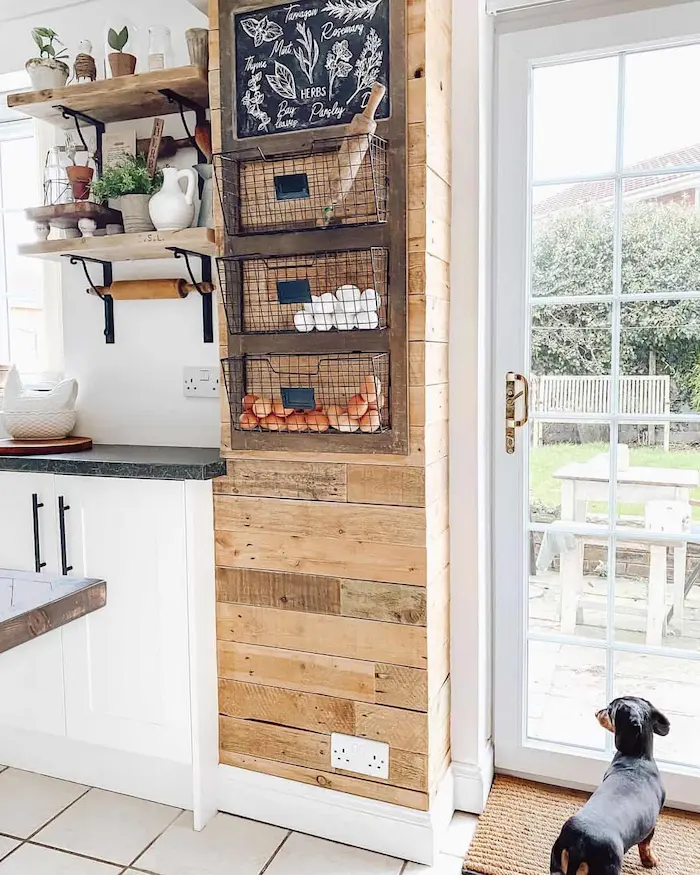 10. Vintage Kitchen Tools Display
Showcase your collection of vintage kitchen tools as functional decor pieces. Hang antique utensils, such as handcrafted wooden spoons, vintage rolling pins, and metal egg beaters, on the wall or display them on an open shelf. These unique items add an authentic farmhouse vibe and serve as a reminder of simpler times.
Kim at "Tidbits & Twine" shares some of her beautiful kitchen displays in her home!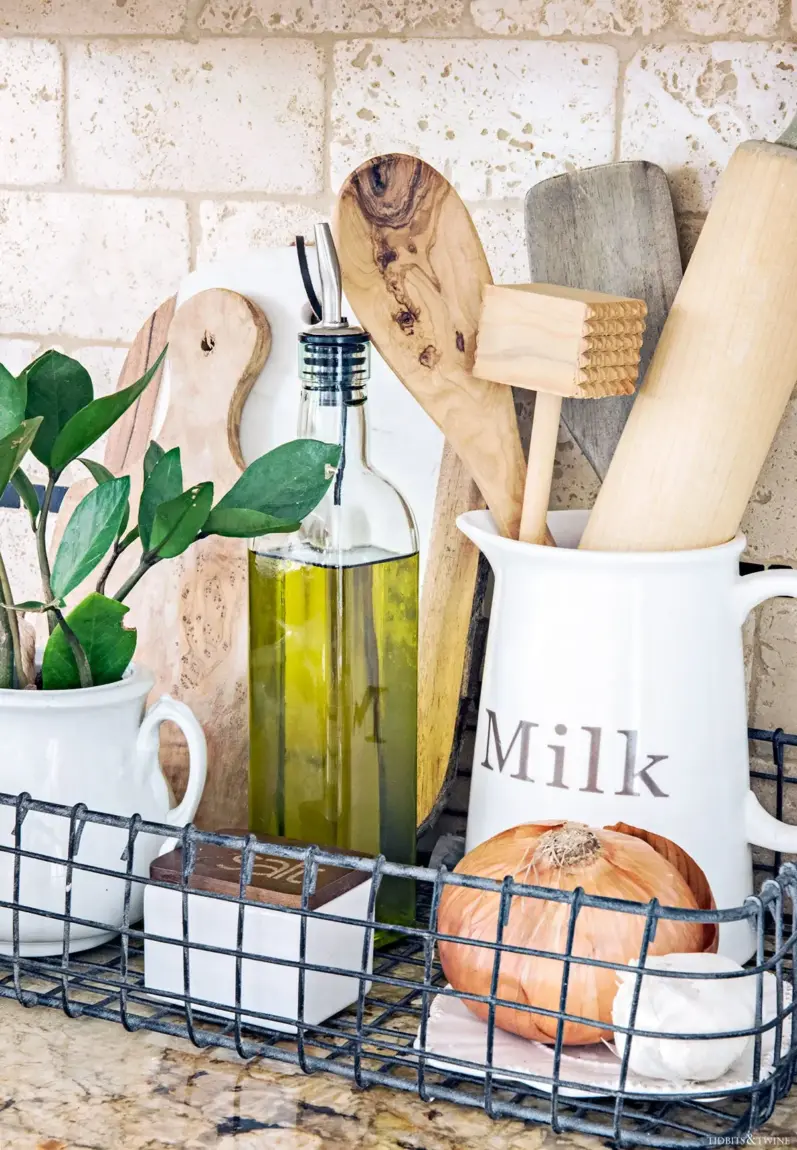 11. Farmhouse Chalkboard Wall
Incorporate a large chalkboard wall in your farmhouse kitchen for a versatile and practical decor element. Use it to write down grocery lists, recipes, or inspirational quotes. This functional and charming addition allows for creativity and personalization, adding an authentic farmhouse touch while keeping you organized.
Sarah at "Thrifty Decor Chick" shares a cute framed chalkboard she made for her kitchen.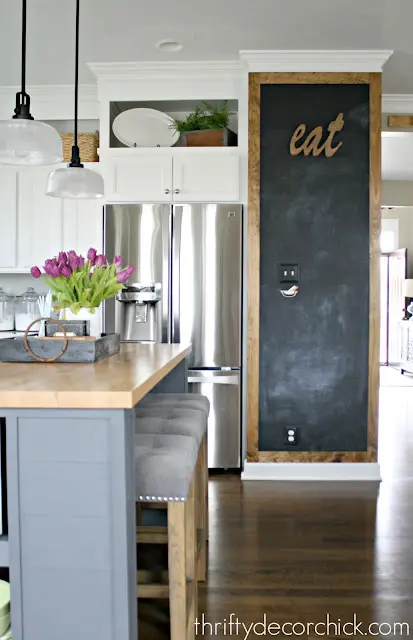 SEE RELATED: Incredible DIY Upgrade: How to Easily Paint Your Stair Railing and Banister Black
Tips for Incorporating the Essential Elements
Creating a Harmonious Farmhouse Kitchen Design
Now that we have delved into the essential elements of a timeless farmhouse kitchen look, it is time to discuss the process of harmoniously integrating them into your overall interior design. Allow me to share a few tips that will assist you in achieving a cohesive and captivating farmhouse kitchen aesthetic:
Balance the Elements
When integrating rustic materials, vintage fixtures, open shelving, and farmhouse decor, it becomes crucial to strike a delicate balance. It is essential to ensure that each element complements the others without overpowering the space. For instance, if you have prominent rustic wooden cabinets, it is advisable to pair them with more understated vintage-inspired fixtures. This harmonious blend allows for a cohesive and well-rounded farmhouse aesthetic. By maintaining a sense of proportion and harmony among the various elements, you can create a visually pleasing and balanced farmhouse kitchen decor.
Coordinate Colors
While establishing a neutral color palette serves as the cornerstone for achieving a timeless farmhouse kitchen look, it is imperative to carefully coordinate the colors across different elements. Strive for a cohesive color scheme that effortlessly ties everything together. For instance, if you have cream-colored subway tiles, employing drawer pulls or pendant lighting in a similar shade can foster visual unity. By using consistent hues throughout your kitchen decor, you can create a seamless flow and harmonious aesthetic.
Embrace Simplicity
Renowned for its simplicity and understated elegance, farmhouse kitchen decor embraces a less-is-more philosophy. Avoid overwhelming your space with excessive accessories or overcrowded shelves. Instead, allow each element to shine and breathe, fostering a timeless and uncluttered ambiance.
Incorporate Personal Touches
While essential elements play a vital role in creating a farmhouse kitchen, don't forget to infuse your personality and personal touches. Consider incorporating family heirlooms, handmade items, or DIY projects that reflect your unique style and story. These personal touches will make your kitchen feel even more special and truly yours.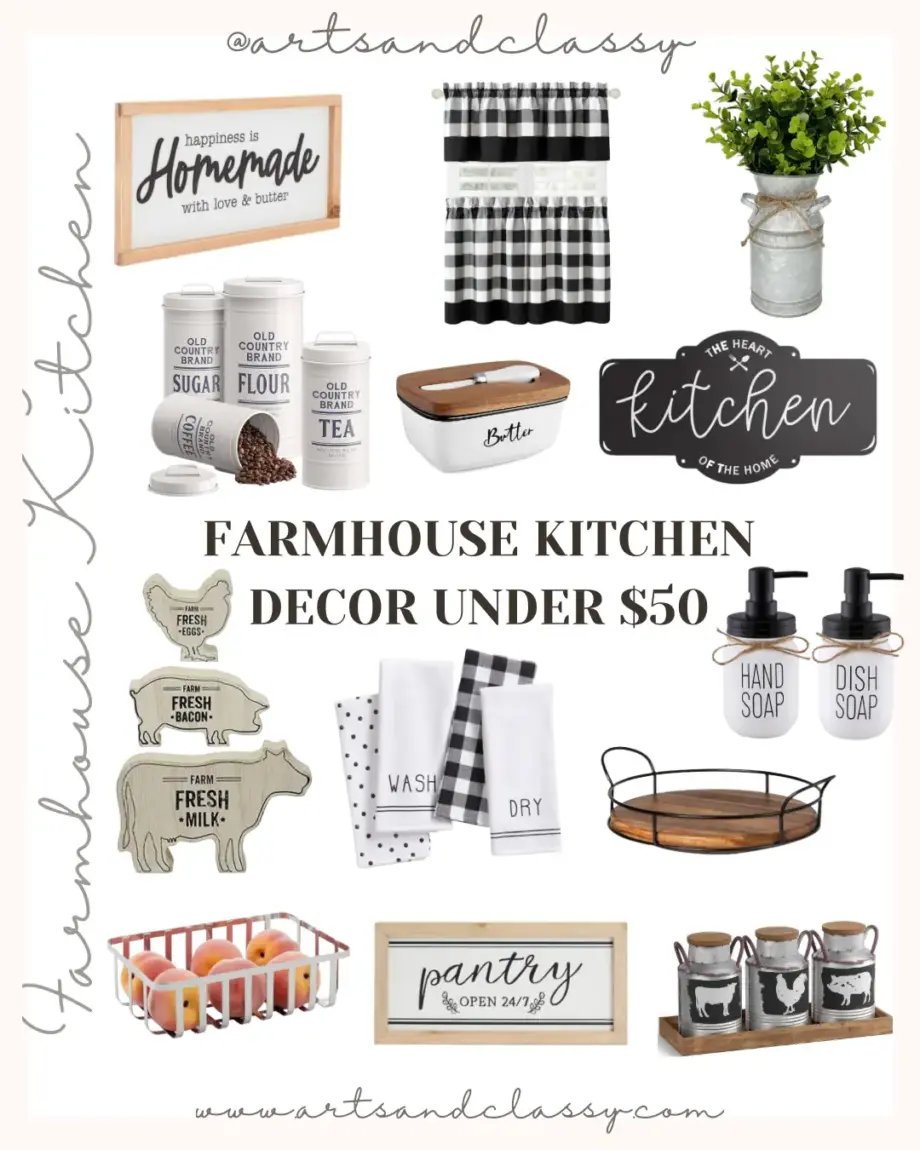 You can shop these decorations below:
Congratulations! You're now equipped with the knowledge of the essential elements needed to create a timeless rustic charm farmhouse kitchen look.
Embrace the art of harmonizing rustic materials, a soothing neutral color palette, vintage-inspired fixtures, open shelving, and farmhouse decor to witness a remarkable transformation of your kitchen into a cozy haven. Along your journey of farmhouse kitchen decor, remember the significance of striking a balance between elements, coordinating colors seamlessly, embracing simplicity, and infusing your personal touch to create a space that reflects your unique style. With renewed enthusiasm, embark on this creative adventure, fashioning a sanctuary that radiates warmth, undeniable charm, and timeless beauty.
If you enjoyed this post, you may also like these other articles: