A move can be very overwhelming and that's why I wanted to share tips on packing to move on a budget.
I am in the process of moving into my with my boyfriend. My next destination/home is a 3 bedroom house from a one-bedroom apartment. Pretty stoked to have my own home office, backyard, garage, and outdoor space for DIY projects in this new setup.
Decorating our house is something I am really looking forward to. As I began the moving process, I thought I would share my favorite tips on packing to move on a budget.
I'm an "on a budget" kind of gal and I always have been. Somehow I always manage to pull it off. My move count is over 16 times in my life and this move will be lucky #17.
I had to share some tips on packing to move on a budget. Sharing some wisdom from my experiences. 
This post contains some affiliate links for your convenience. Click here to read my full disclosure policy.
1. Submit your 30 Days notice (if you are a renter)
Whether it's to your landlord or property management office, refer to your lease to see the preferred way to submit your 30 notice. Either email, form on a website, or via snail mail.

2. Start Packing as ASAP 
If you know that you're planning to move, it just makes sense to start planning as early as you can.
Taking action early will allow you to do more and have a better-organized move. It will make finding boxes without having to purchase them easier.  FREE is my favorite price.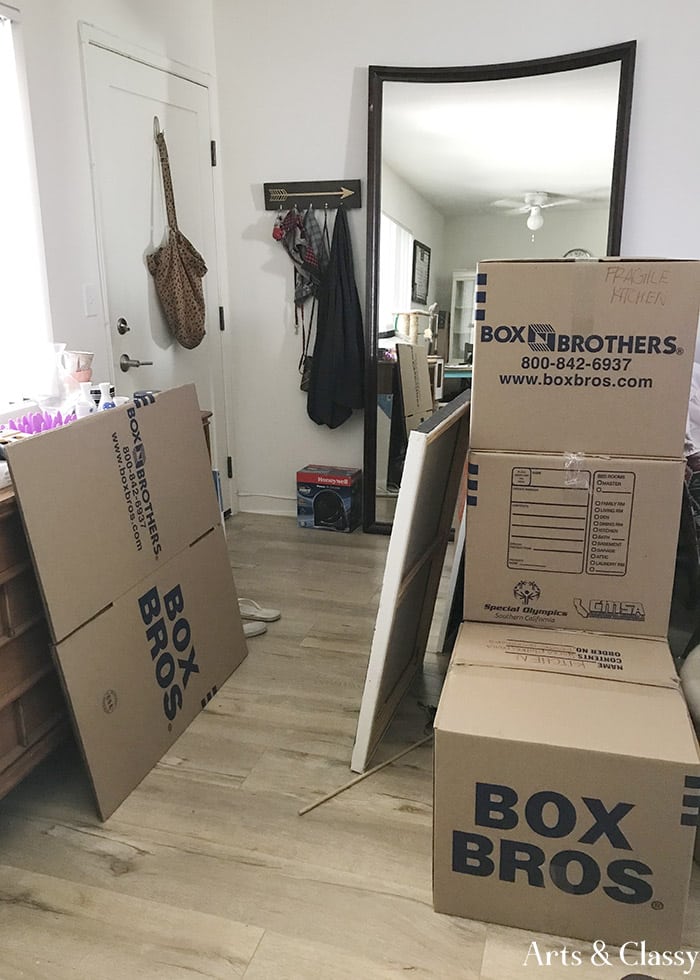 You will also have more time to price out moving companies or vehicles and search for any other deals that you may want to make this move happen.
Don't forget to forward your mail to USPS.

Image + Credit: Bright Green Door
3. Make a Moving Budget
Have a plan. I find that creating a budget helps when planning a move. I find creating a list and being able to check things off the list to be super gratifying. There is also a lot to remember… so I made you something to help you!
The Essential Moving Checklist (So you don't forget anything)
Financial plan – Old Home, New Home, Travel Costs
Calendar – to help you map out your move.

4. Make a List of Utilities you Need to Cancel
Map out all your current utilities. What needs to be canceled and when? You can typically do all of this online. But you may have to call and inquire if any equipment needs to be returned.

5. Donate and sell
Get rid of stuff you don't need and do not want to move. You can do this in a variety of ways. If you are looking to donate, I recommend donating to a charity that you want to support. You can also donate to disaster relief, Salvation Army, Goodwill, etc.
There are multiple options.
Facebook Marketplace. (I have had a lot of success.)
Craigslist is also still a good option to list items to sell. It is also a great platform to use when advertising a yard/garage sale. 
Have a yard/garage sale. Make sure you make signs directing people to your yard sale. Make sure to advertise the week of the sale.
6. No Heavy Boxes
You are not the Hulk and injuring yourself is not worth it. Trust me. When you are packing boxes remember this guideline… Keep it under 50 pounds.
Even if you decide to hire movers, there are some things that just can't be picked up. Be realistic when packing because it will help you save time in the long run.
So how do you pack your heaviest items you ask?
I would advise you to pack them inside a suitcase, which you can wheel right in and out of the room (and into the moving van). Easy on the back and transportation is a breeze.
7. The "Trashbag" Packing Method for Clothes
Your closet can be one of the most overwhelming rooms in the apartment to pack up. I learned a trick a few years back on how to pack and transport hanging clothes. I call it the trash bag method. I like to use bigger black trash bags for this because they are typically more durable.
Step 1 – Tear a hole in the bottom of the bag.
Step 2 – Feed 10-15 hangers through the hole.
Step 3 – Make sure the bag is covering your clothing and tie the ends together at the bottom.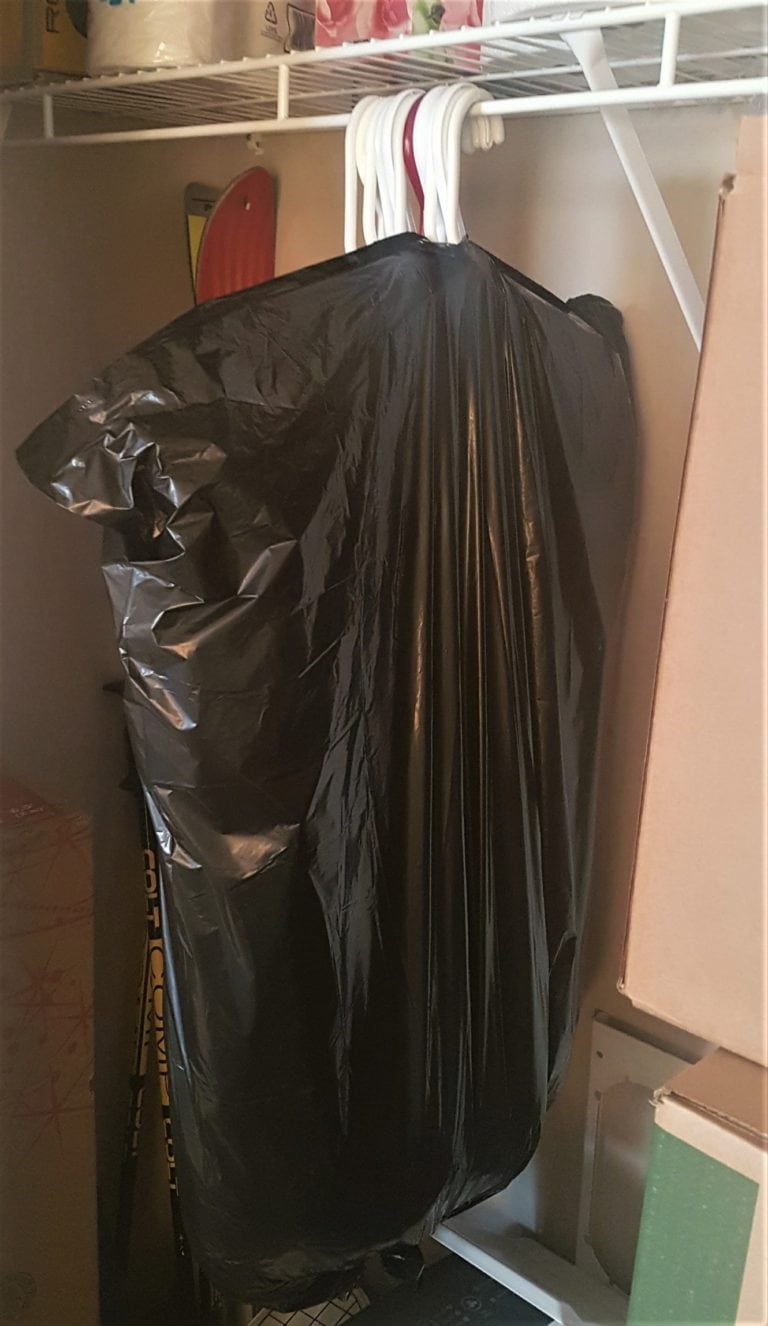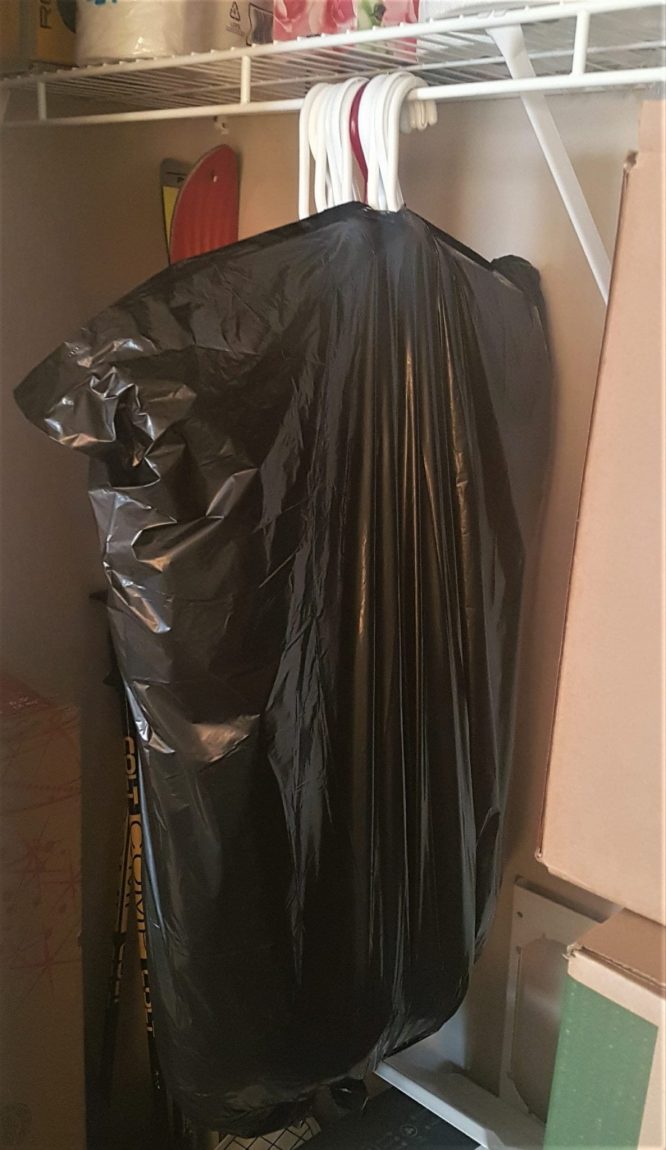 Image + Credit: Maybe Jamie
8. Don't Buy Bubble Wrap
Bubble wrap is pricey and not good for the environment. Instead of investing in this strange puffed-up plastic wrap, just use old T-shirts, sweatshirts, and towels to safeguard your breakables.
Not only does this probably keep them safer in the long run, but it also eliminates the need to find– you guessed it– more boxes.

9. Label Everything
After you pack up one of these boxes, throw a label on it. You can be specific (e.g., "Glassware – wine glasses") or you can just go with the name of the room.
10. Fill Holes in Walls
Use spackle to fill nail & screw holes. You can also try using bar soap if you don't have spackle handy.

Image + Credit: Refresh Restyle
11. Don't Forget the Fridge
What's even easier to forget to clean than your stove? Your refrigerator. I found a super helpful post that teaches you how to clean your fridge in 20 minutes.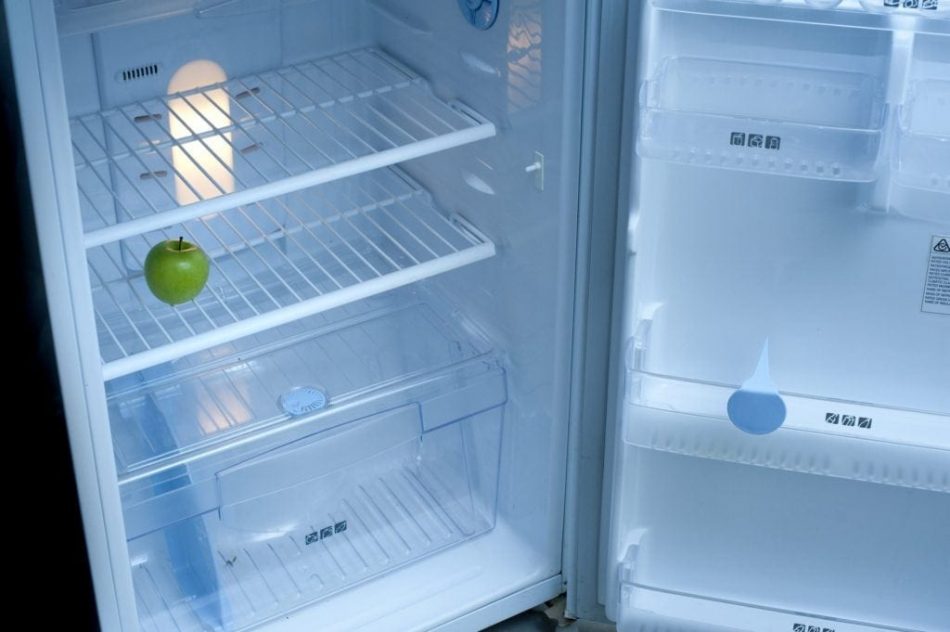 12. Be Prepared with an Overnight Bag
The first thing to pack (and tuck into the passenger seat of the moving van) should be an overnight bag of sorts, as it will probably take you a few days to unpack totally. Your toothbrush, shampoo, face wash, makeup, and a change of clothes are a good start, but feel free to personalize it to fit what works for you.
Any expensive electronics (like a tablet or a laptop) should also go in this bag so you don't crush and/or lose them. Pro tip: Do not, under any circumstances, forget your phone charger.

13. Utilize a Dolly
4 wheel furniture dolly has been my favorite tool to use for all my moves.
If you don't know what a dolly is, we used one similar to this foldable one
and this more heavy-duty one
. But basically we just load up our boxes onto the dolly and cart it down the elevator to the vehicles, and it makes it so much easier to move them. Get one, borrow one, find one somewhere. You'll thank me later.
14. Enlist The Help Of Your Friends & Family
Know someone who has a truck or a van? Offer them a few bucks to help you move instead of paying for a moving truck if you are on a super tight budget.
Yes, you're still paying out of pocket, but the cost will be a lot less than paying a moving company or renting a moving truck.
15. Hire Movers (if possible)
For me, this is a must. In my past 3 moves, I have invested in a moving company to assist me the day of. It just makes this so much easier.
Make sure to do your research. 
I like to use yelp for this part and phone calls for estimates. You will find out the company's policies when conducting business on the day of your move.
Make sure you book your movers asap so it is less expensive in the long run. I have worked it out with Groupon during my last two moves and paid $50 for a $120 voucher for my moving company. This ended up cutting the bill down the day of. I ended up spending significantly less than I anticipated.

What did you think of this post on tips on packing to move and the printables I made you? Let me know in the comments below.
Want updates when new posts go live, as well as fun tidbits about my life? Find me on Facebook, Pinterest (@artsandclassy) & Instagram(@artsandclassy)!
If you enjoyed this post with tips on packing to move and found it helpful! Please share it on your Pinterest boards.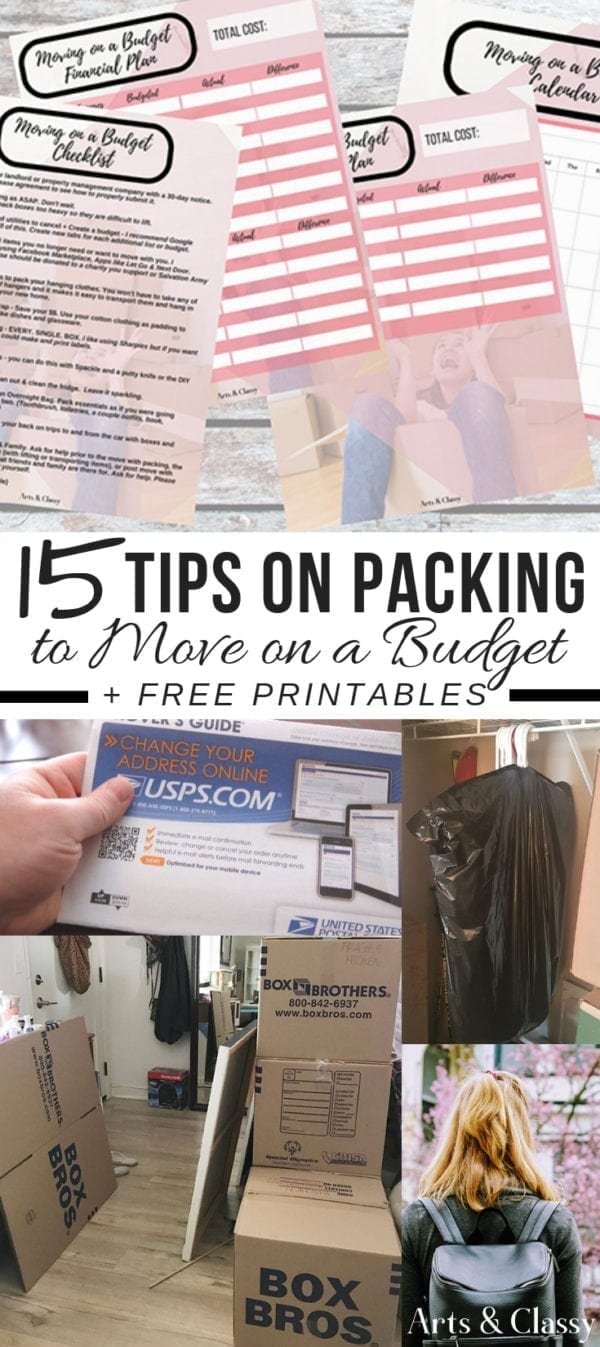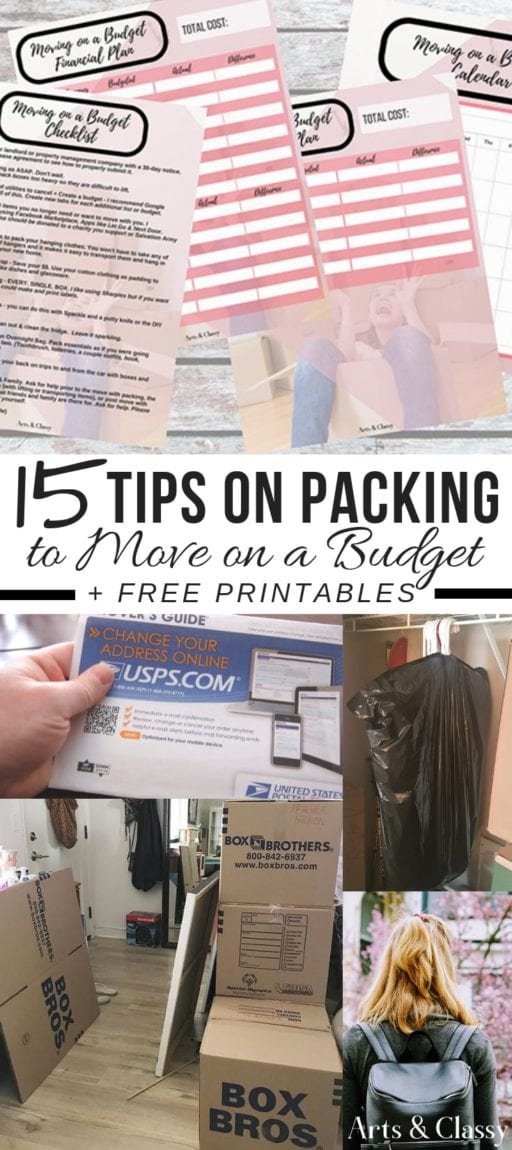 [/vc_column_text][/vc_column][/vc_row]