Turning Trash into Treasure: A Step-by-Step Guide to a Successful Garage Sale.
Hey there! Welcome to my DIY Home Blog, where I'm super excited to share the ultimate guide on turning your trash into treasure! If you've ever found yourself looking around your home, wondering how to declutter while also making some extra cash, I've got the perfect solution for you: hosting a successful garage sale.
In this step-by-step guide, I'll walk you through the whole process of transforming those unwanted items into real gems that people will be eager to snap up. And guess what? It's not just about making money; it's about creating an unforgettable experience for both you and your customers. From planning and organizing to setting the right prices and making a killer presentation, I've got your back every step of the way. So, let's roll up our sleeves, dust off those forgotten belongings, and get ready for a fantastic journey of decluttering and profiting together.
Are you ready to master the art of hosting a remarkable garage sale? Let's do this!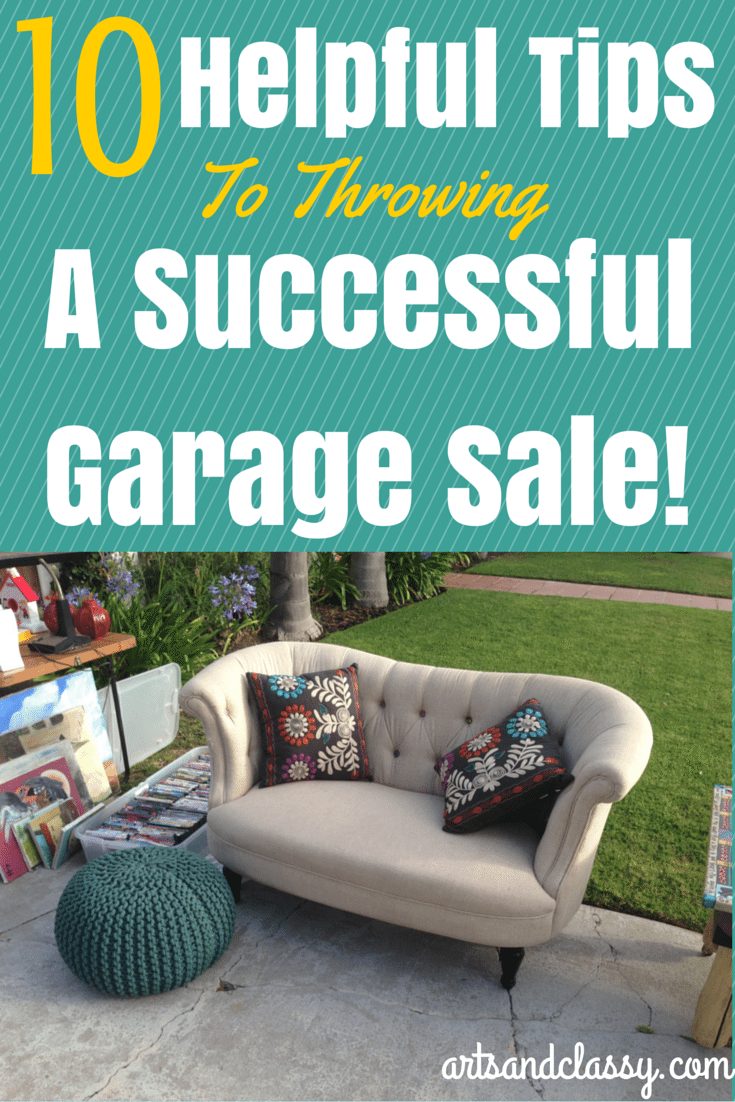 Just a week ago, I had the fantastic opportunity to team up with some friends for my friend Anna's moving sale. Let me tell you, it was an absolute blast prepping for this yard sale together. The whole experience got me thinking, why not share some of my top-notch garage sale tips with you all?
From using a trusty permanent marker to label prices clearly, to attracting eager bargain hunters and choosing the perfect day to host your sale, I've got you covered. So, if you're ready to make your next garage sale a smashing success, stick around for some expert tips and tricks to get those Fridays filled with happy customers and big smiles!
1. Marketing
Signs Signs Signs aka advertising!! I think for this quadruple sale we made about 15 signs and posted them on major streets and cross streets in the area the day before the sale. We brought out all of our arts and crafts for this, such as construction paper, scrapbook paper, cardboard, poster board, sharpies, stickers, and decorative scissors.
As for hanging the signs, we used twine and string along with packing tape and a one-hole punch to attach around the neighborhood on telephone poles and other sign bases! The next steps in marketing include Craigslist, Facebook Marketplace, Twitter, and Instagram (people love pics!!)
RELATED:26-Yard Sale Furniture Flips That Will Make You FLIP!
2. Price Tags
When it comes to throwing a successful garage sale, price tags are your best friends – make sure to put them on EVERYTHING!! You'd be surprised that some folks actually prefer not to haggle and are more than willing to pay the listed price. So, unless someone offers you a different amount (especially during the early morning rush), stick with your marked prices.
Speaking from personal experience, I decided to get creative and use my arts and crafts supplies to make unique price tags instead of boring stickers. And let me tell you, it added a delightful charm to the wholesale. Sold most items at asked prices. Price tags are essential, like little helpers for a smooth shopping experience. Happy pricing! And don't forget to set up a clothing rack if you have a lot of clothes to sell, it makes a big difference in organizing your closet and maximizing sales!
3. Handling Haggling
Handling haggling is an inevitable part of hosting a garage sale – embrace it! I get it; some folks struggle with it, especially when it comes to determining an item's "worth" or its original purchase price. But here's the thing, if haggling makes you uncomfortable, consider selling everything on eBay instead.
However, if you're ready to dive into the world of face-to-face negotiations, I've got some valuable tips for you on how to throw a successful garage sale. Saturdays are often the best time for sales, and as you declutter your closet and home, setting reasonable sale pricing will attract more buyers. So, be prepared to engage with friendly hagglers and turn those interactions into positive experiences, making your garage sale an enjoyable and profitable event!
4. Re-Arrange Frequently
When you're hosting a successful garage sale, one of the essential strategies is to re-arrange frequently. As shoppers browse and buy items, take a moment to refresh the setup and display. Utilize racks and clever organization to prevent clutter and ensure everything is easily visible. This little effort can make a massive difference and help your customers spot all your fantastic sale items effortlessly.
So, in your journey to mastering how to throw a successful garage sale, remember the power of a well-arranged display!
5. Hang up Clothes
Making it easy for your shoppers to find those adorable clothes you're selling is key! Here's a fantastic tip: consider hanging a sturdy rope or wire between trees to create a charming display for your garments. Alternatively, if you have a picket fence, that works like magic too! We tried it ourselves, and let me tell you, it was amazing for showcasing our clothes and drawing shoppers in. So, if you want to know how to throw a successful garage sale, don't forget to utilize this smart and stylish method to showcase your cute clothing collection!
RELATED: Craft a Professional-Grade Aged Driftwood Finish DIY Storage Basket in 7 Easy Steps
6. Accept Cash and Electronic Payments
When it comes to knowing how to throw a successful garage sale, having a well-stocked cash bank is an absolute must! Picture this: you've got your trusty Fanny pack loaded up with at least $60 in small bills and quarters, and you're all set to welcome early birds with their larger bills. It's a game-changer! Don't make the mistake of being unprepared and missing out on potential sales because you couldn't make a change.
Having a stash of cash on hand will keep the transactions flowing smoothly, and you'll be ready for any buyer who prefers the old-fashioned way of paying. Plus, in today's digital age, offering electronic payment options is a smart move too. Whether it's Venmo, PayPal, or a card reader connected to your tablet, embracing electronic payments will attract even more customers and boost your sales. So, make sure you've got both cash and tech covered to create an unforgettable garage sale experience!
7. Have a Free Pile/Box 
One indispensable tactic to throw a successful garage sale is to have a Free Pile/Box with toys prominently displayed. This brilliant strategy not only attracts more customers (alongside eye-catching signs and effective social media postings) but also adds an entertaining element for kids while their parents are busy shopping. So, if you're wondering how to throw a garage sale that leaves everyone satisfied, don't forget to incorporate this ingenious Free Pile/Box idea into your setup!
8. Donate things that don't sell
Once the sale was over, we didn't have a ton left to take to Goodwill, but I strongly believe in the power of giving back. So, we made sure to donate the items that didn't sell. It's all about building good karma and spreading positivity by giving to others. Plus, knowing that our pre-loved belongings could find new homes and bring joy to someone else made the whole experience even more rewarding. Remember, every small act of kindness can make a big difference in someone's life!
9. Make Vignettes
Let's talk about creating stunning vignettes! When displaying your items, it's essential to arrange them in a way that exudes charm and freshness. By doing this, you'll give your customers a clear visual of how those pieces could beautifully fit into their own homes. Remember, visuals are absolutely crucial in capturing their attention and sparking their imagination. So, get creative, make those vignettes stand out, and watch how your customers' eyes light up with excitement!
10. Celebrate
My great friend Lisa Anderson's birthday was 2 days after the sale. So… we decided a celebration was in order. Even though we were exhausted, sore, and a little sunburned… we partied!! I think that should be something to include after your sale! Reward yourself for all of your hard work!
In conclusion, mastering the art of staging captivating vignettes can be a game-changer for the success of your garage sale. By presenting your items in an alluring and fresh manner, you invite customers to envision these treasures in their own homes, making them more likely to make a purchase. Remember, visuals are a powerful tool in connecting with your buyers on an emotional level and helping them see the true potential of each item. So, as you prepare for your next garage sale, don't forget to unleash your creativity, craft eye-catching vignettes, and get ready to welcome happy customers who can't resist taking a piece of your curated magic home with them! Happy selling!
Hope these tips help you in your next garage sale! If you enjoyed this post, you might also enjoy: