One week ago I was able to pair up with some friends for my friend Anna's moving sale. It was a wonderful experience prepping for the yard sale as a team. So I thought I would share my tips for putting together a successful experience!!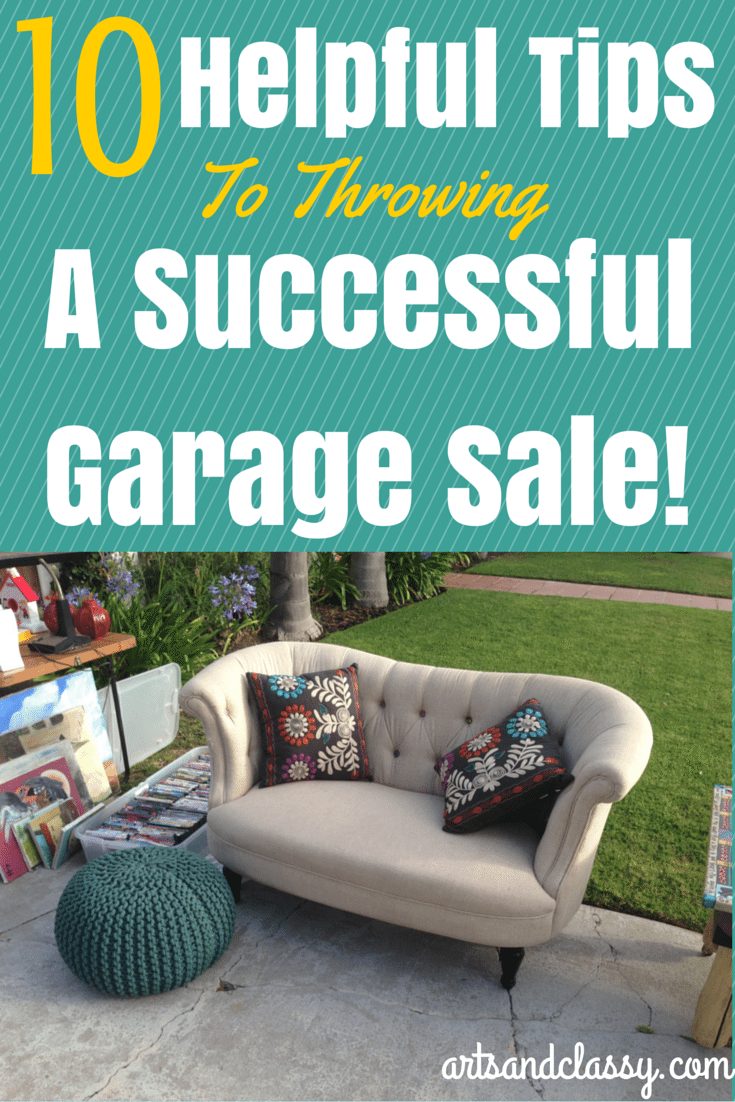 1. Marketing
Signs Signs Signs!! I think for this quadruple sale we made about 15 signs and posted them on major streets and cross streets in the area the day before the sale. We brought out all of our arts and crafts for this, such as, construction paper, scrapbook paper, cardboard, poster board, sharpies, stickers, and decorative scissors. As for hanging the signs, we used twine and string along with packing tape and a one hole punch! The next steps in marketing include, Craigslist, Facebook, Twitter, and Instagram (people love pics!!)
2. Price Tags
PUT THEM ON EVERYTHING!! There are in fact some people that come to garage sales not expecting to haggle. They will pay what you are asking for. Soooo…unless someone makes you a different offer (especially earlier in the morning) stick with that price. For me… I decided to use some of my arts and crafts supplies to make price tags instead of sticker price tags. I think they added some fun charm because I sold a lot at almost all the prices I was asking for.
3. Handling Haggling
IT'S-A GARAGE SALE! HAGGLING IS PART OF IT. Sorry guys… but some people have a hard time with this based on how much an item is "worth" or however much they paid for it originally. If you are going to have a hard time with this… then I say sell everything on ebay. You may get a better deal on your items.
4. Re-Arrange frequently
As people buy items, make sure to re-arrange them to display more effectively! It may seem like a lot but it helps your shoppers see everything you have!
5. Hang up Clothes
It's much easier for your shoppers to find the cute clothes you are selling! I suggest hanging a rope or wire between trees to display this. Or hang them on a picket fence… We found that to amazing for hanging clothes.
6. Have a cash bank of at least $60 in small bills and quarters
Having change for $20's is essential because you will get early birds with larger bills! Don't make the mistake of not having a bank (of cash) for your sale!
7. Have a Free Pile/Box
This helps draw customers in (along with signs and social media postings). It can also entertain kids while their parents are shopping!
8. Give all things

that don't sell

to Goodwill (or any other

charity

organization)
For my sale, we didn't have too much to take to goodwill, but I think it builds good karma if you do that after your sale! Give unto others!
9. Make Vignettes
Stage your items in a fashion that makes them look presentable and new! This will give your customer more of a visual of how that item could work in their home. VISUALS ARE IMPORTANT!!!
10. Celebrate!!
My great friend Lisa Anderson's birthday was 2 days after the sale. So… we decided a celebration was in order. Even though we were exhausted, sore, and a little sunburned… we partied!! I think that should be something to include after your sale! Reward yourself for all of your hard work!
Both of my friends in this photo are amazing at their crafts. Samantha Singer my amazing hair stylist, but she is also a fabulous makeup artist. I always feel like I have had a makeover when I see her. She makes me look so pretty! Check out her website!
Lisa Marie Anderson is a fabulous photographer specializing in weddings, bar and bat mitzvah, baby photos, photo booth rentals, and pregnancy photos!! She will make your memories eternal!
Hope these tips help you in your next garage sale!