7 Ways to Incorporate Emerald Green Room Ideas into Your Home Design
I have been on a roll with these fun color-trend mood boards. I love gathering rich colors and textures and arranging them into something beautiful and hopefully inspiring. Emerald green room ideas is on the rise this year and I can totally understand why.
Even if you live in a smaller home, you can still pull off an accent wall or two if you like this color trend. If you want to learn more about how color affects your mood in your home I have a post called the beginner's guide to color psychology for interior design.
What is a gorgeous emerald color interior design palette? My goal with this article is that you will able to identify this rich color, and how it works perfectly with the dark stained woods and metallic accents.
*This post contains some affiliate links. I may earn a small commission if you make a purchase through one of these links. See more information in my disclosure policy.
There is also a new type of home decor style evolving called Future Past. This style is very steampunk Tim Burton-inspired. Future Past emerald green room ideas take their cues from steampunk merging with modern design – creating a new version of the old. Deep and decadent traditional hues are made modern with the addition of mustard, pink and purple.
What do you think of those emerald green room ideas style? Interesting right? I had never heard of it before.
It reminds me of a futuristic apocalyptic movie set. Do you know what I mean? With the blending of antiques with very industrial dilapidated fixtures.
Here are some other beautiful examples of rooms jumping on the emerald green interior design train! I am a bit smitten with this color palette.
Pantone Color of the Year
Back in 2013, the National Colour Supplies website claimed, "Pantone 17-5641 Emerald is a lively, radiant, lush green and is the Pantone Colour of the Year…A vivid verdant green, Pantone Emerald enhances our sense of well-being by inspiring insight as well as promoting balance and harmony."
1. Make For Malachite Designs
If you aren't familiar with what Malachite stone is, I wanted to give you some information about it. It is a mineral that is based on copper carbonate. The emerald green color comes from the copper oxidizing in the air. The mineral forms close to the surface of the Earth. It is generally found in caverns and caves. It's a really bright and beautiful green color that emerald green is similar to.
2. Bring In Emerald Pillows or Throw Blankets
Bringing in affordable decor swaps like accent throw pillows in the dark green emerald color is an easy way to stay on trend as the seasons and trend cycle progresses. You can also intermix green shades with your pillows to add some dimension.
YOU CAN SHOP THROW BLANKETS AND PILLOWS (CLICK ON THE IMAGES BELOW)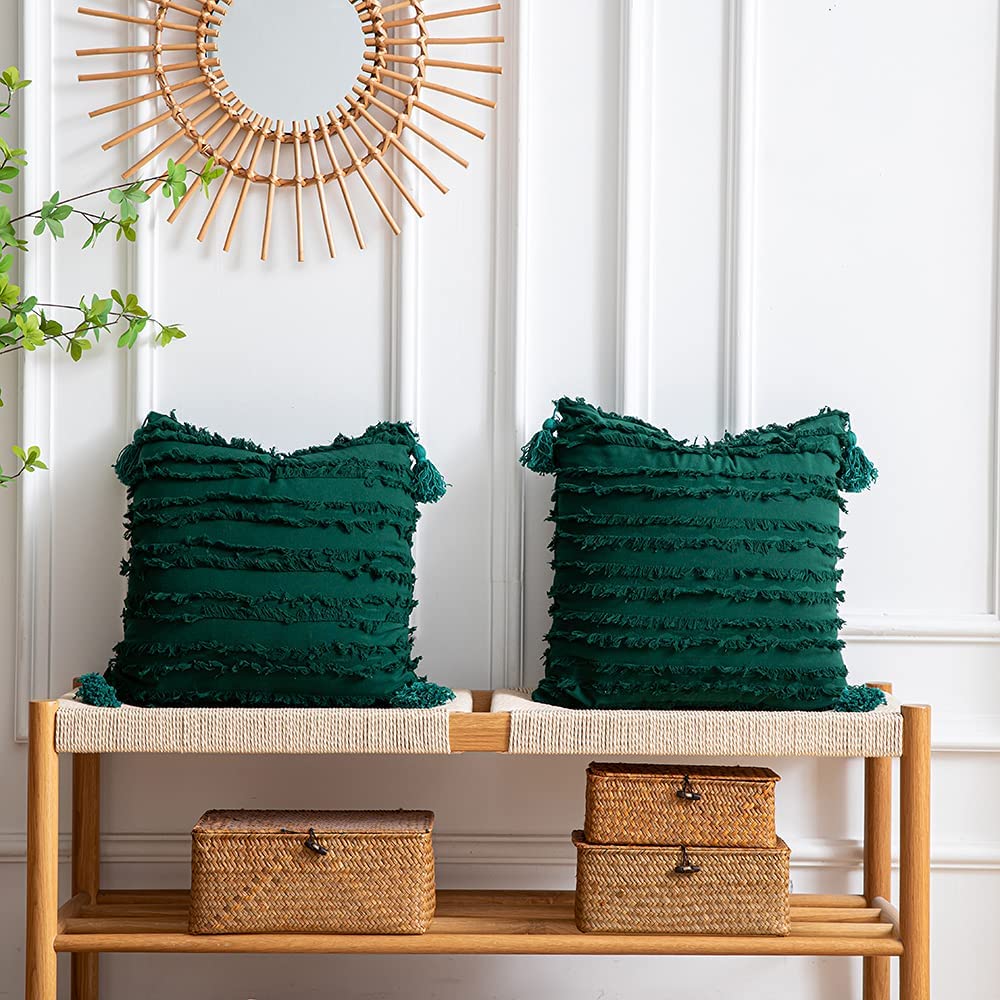 3. Go All in With Emerald Green Cabinetry
Some of the interior design ideas I am sharing with you today allow you to swap things out as trends come and go. For this suggestion, it's a little more of a commitment. But not a bad one. It would take a little more effort to change up by adding deep green to your cabinets. I love the richness this green color adds to cabinets. It helps to make a space seem taller by drawing the eye up.
4. Establish Coziness With Emerald Green Walls
Finding the perfect shade of emerald green will be key for this interior design tip. Instead of painting you could also work with wallpaper. I am a big fan of temporary wallpaper so you don't have to make as serious of a commitment to the color. You can easily peel and try another design trend that you are interested in. No matter if you decide to paint or use wallpaper, get ready to cozy up in that space when you are done. Green is such a rich but calming color.
SHOP TEMPORARY WALLPAPER (CLICK ON IMAGES BELOW)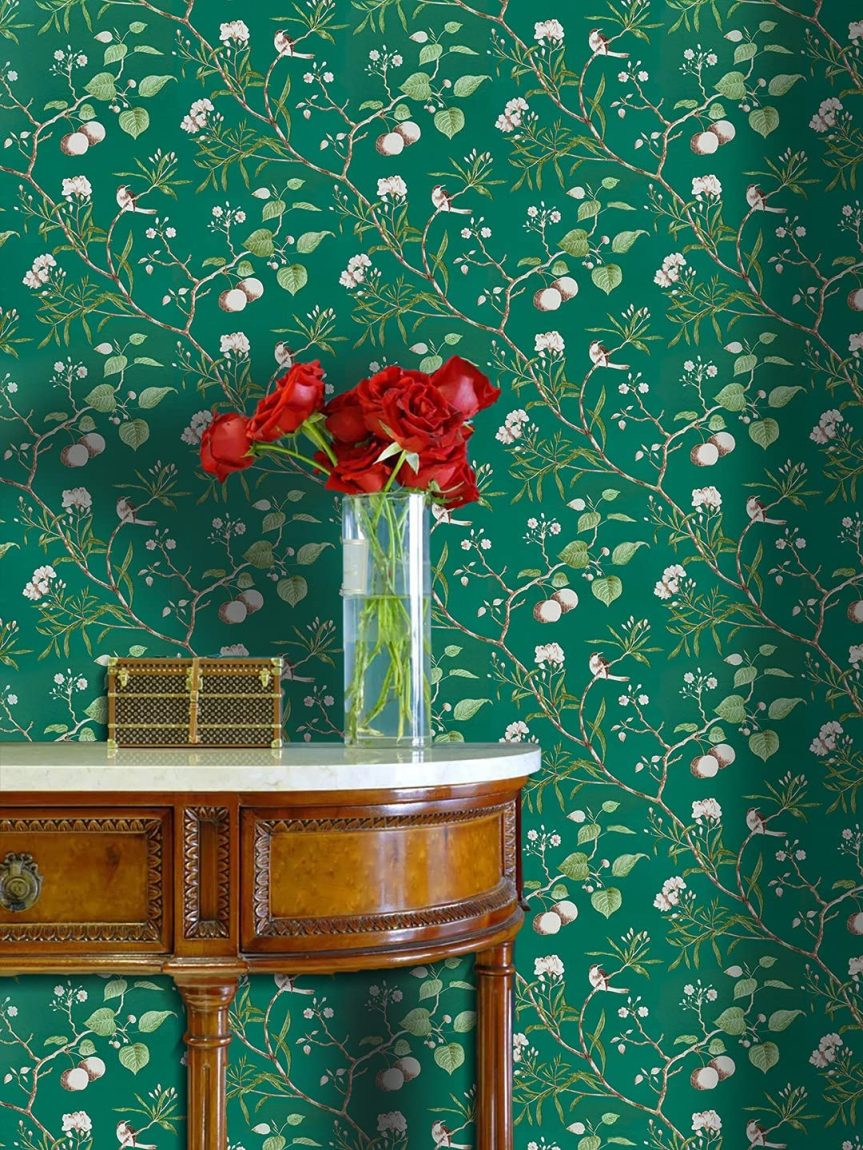 4. A Pouf of Color
Like throw pillows and other accessories, a pouf or an ottoman is a great way to incorporate this trend into your home. Pair it with neutral colors or other complementary colors to add different shades of design to your home.
SHOP POUFS + OTTOMANS (CLICK ON IMAGES BELOW)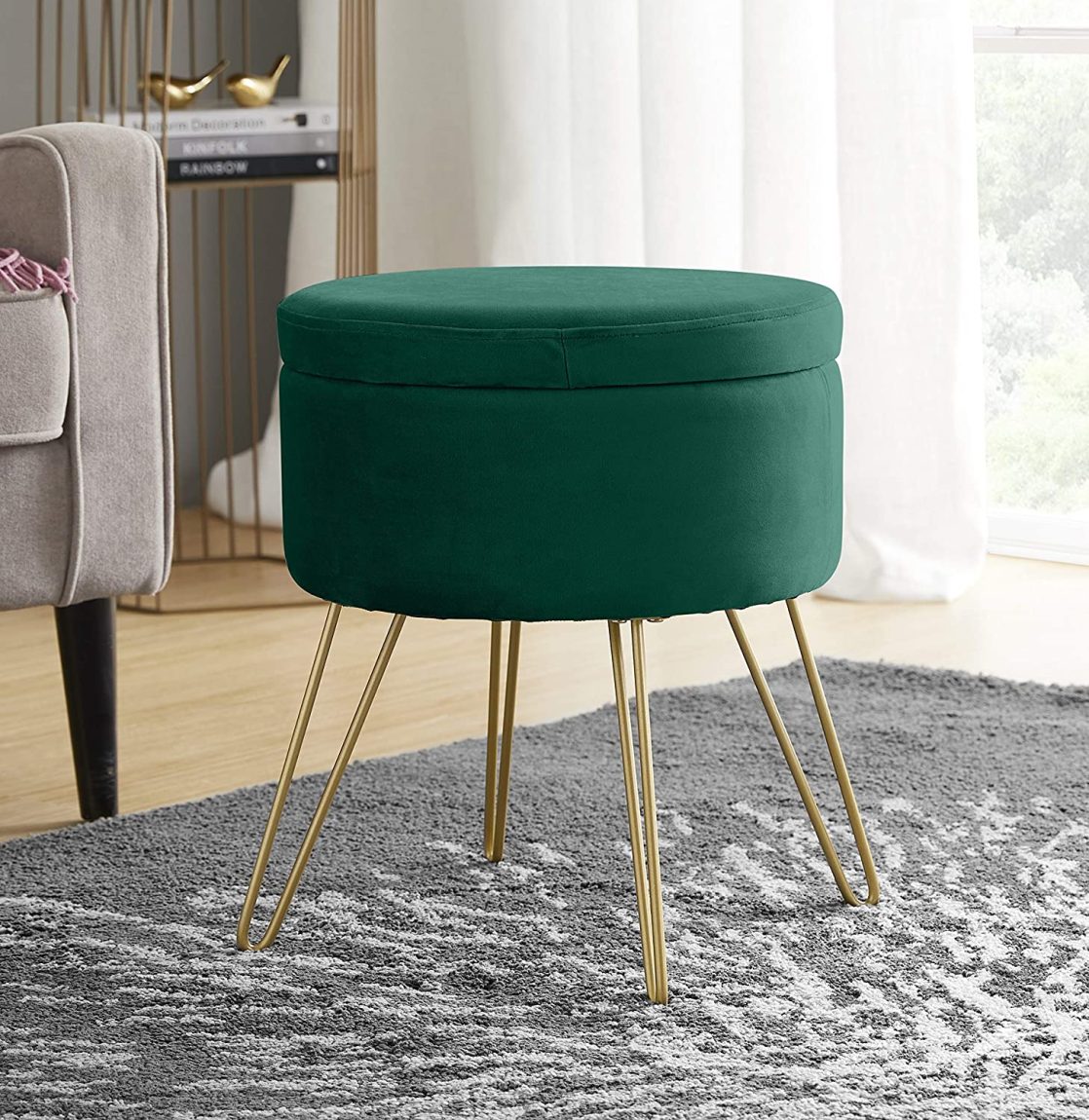 5. Sophisticated Sofa or Accent Chair
Maybe I am partial to a dramatic sofa or accent chair because it can really be a conversation starter. As a former renter of 15+ years, using furniture to create focal points in my home was my only option (at the time). If you are not wanting to paint walls or add wallpaper, try getting a beautiful and plush velvet emerald green sofa or armchair to follow this trend. It really gives a touch of glam in a room!
SHOP SEATING (CLICK ON IMAGES BELOW)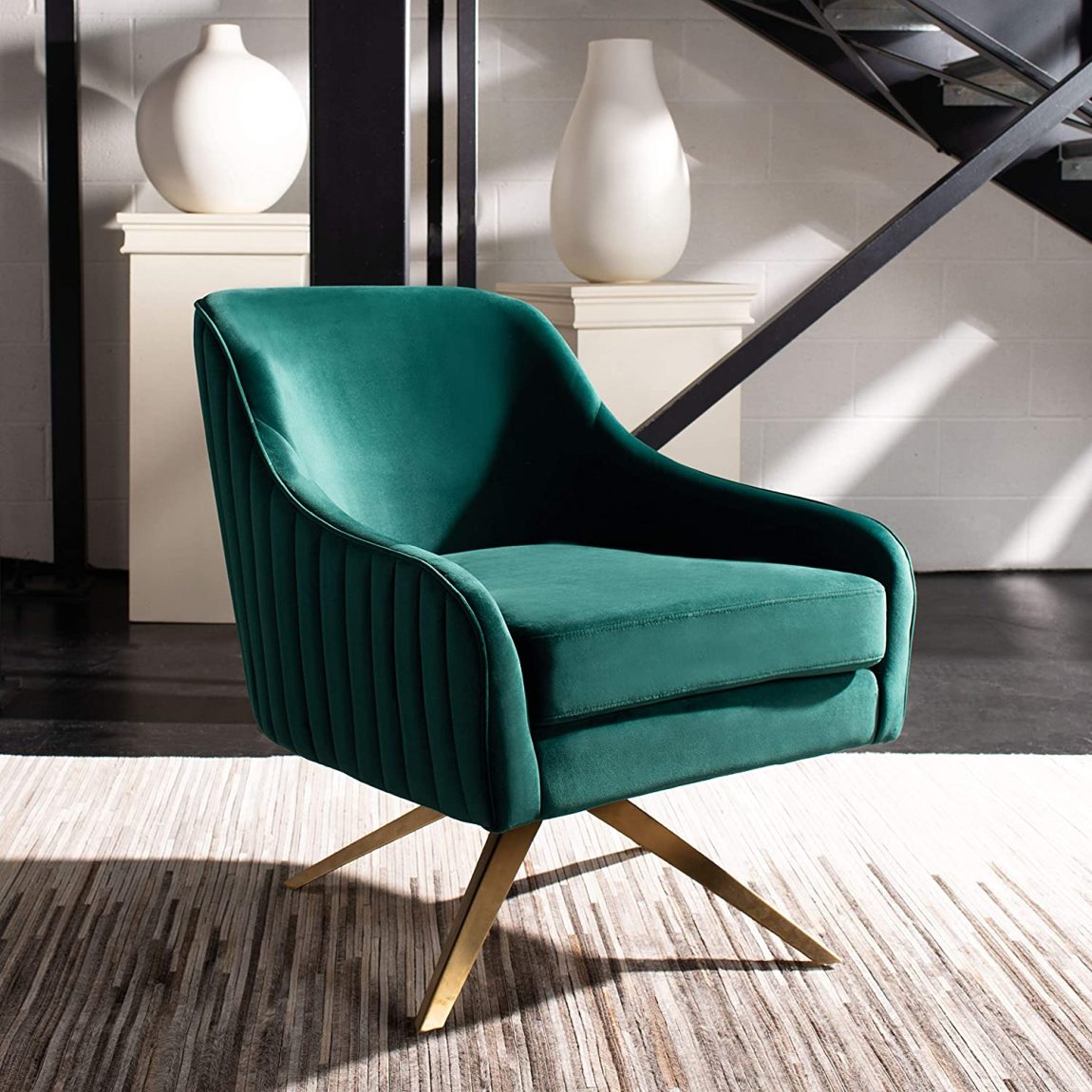 6. Giant Rug
Area rugs are a great way to complement this design trend. They are easy to swap in and out and can offset a neutral color palette without overwhelming a space. Some people are nervous about adding too much color to a space, and that is okay. If you fall into that category, know that you can find the perfect green or pattern that would pair in your space beautifully.
SHOP AREA RUGS (CLICK ON IMAGES BELOW)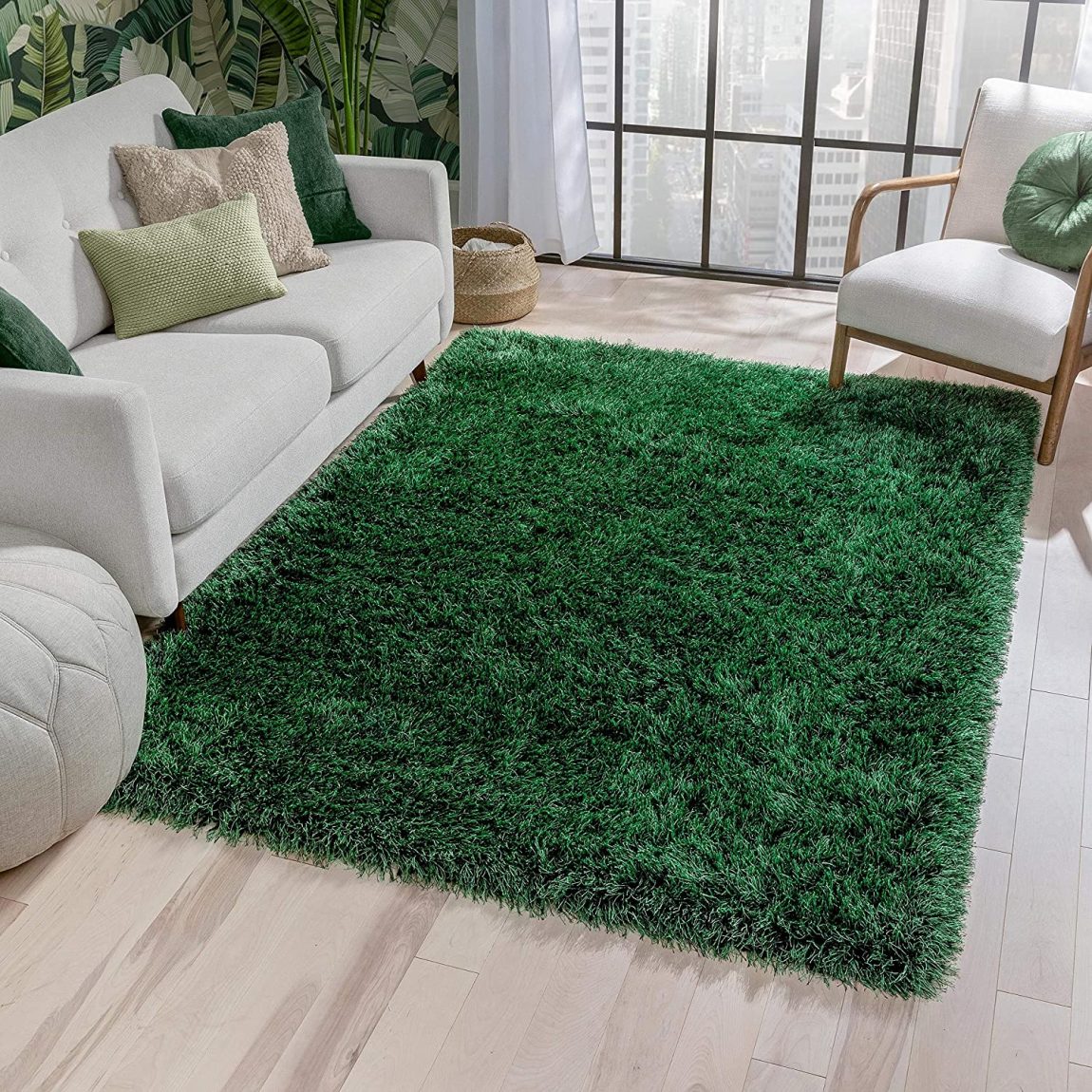 7. What Shades Go With Emerald Green?
Here are some examples of different hues that range from neutral to bold colors. My goal is to show you the range that emerald green interior design can work in a room.
Yellow
Pink
White
Orange
Gray
Purple
Blue
Wood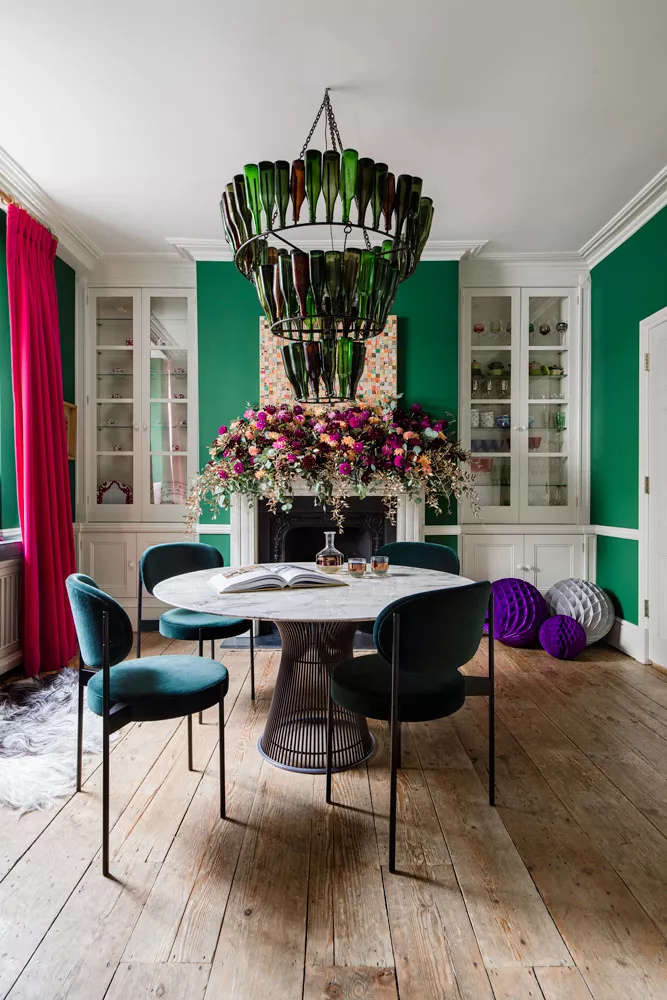 What do you think of that style? Interesting right? I had never heard of it before. I love how rich the emerald green interior decor pops into any space. It brings some nature back into a room. That is for sure.
I would love to know what you think of the style Future Past! Which one of these emerald green interior design photos is your favorite? Let me know in the comments below.
If you enjoyed this emerald green room ideas post, you will also enjoy:
SHOP THIS TREND