Pendant Lights and Chandeliers for Under $100
Are you looking for cheaper ways to upgrade your home decor? Do you dream of transforming your living space with some elegant lighting? I have just the thing!
First, I have to start with the fact that chandeliers or pendant lights add a touch of elegance to even a small room. It feels like having a chandelier is a very grown-up thing to have. Without spending a fortune, of course! Look no further because today I'm bringing you 26 of my favorite chandeliers and pendant lamps that cost less than $100.
From modern to minimalist to classic styles, the options are endless! Which is your "right style"?
Amazon offers the best options with so many choices in different sizes, shapes, and colors that are sure to bring great lighting and style into any space. Trust me, after going through all my favorites, you won't be able to resist the temptation – these chandeliers and pendant lamps under $100 are too gorgeous not to get for yourselves!
Have you seen the prices of chandeliers and pendant lamps at most stores? Both online and brick-and-mortar options.
They can be crazy expensive! Being the lady on a budget, I did a lot of research to find some pretty, modern ceiling chandeliers and pendant lights all listed under $100.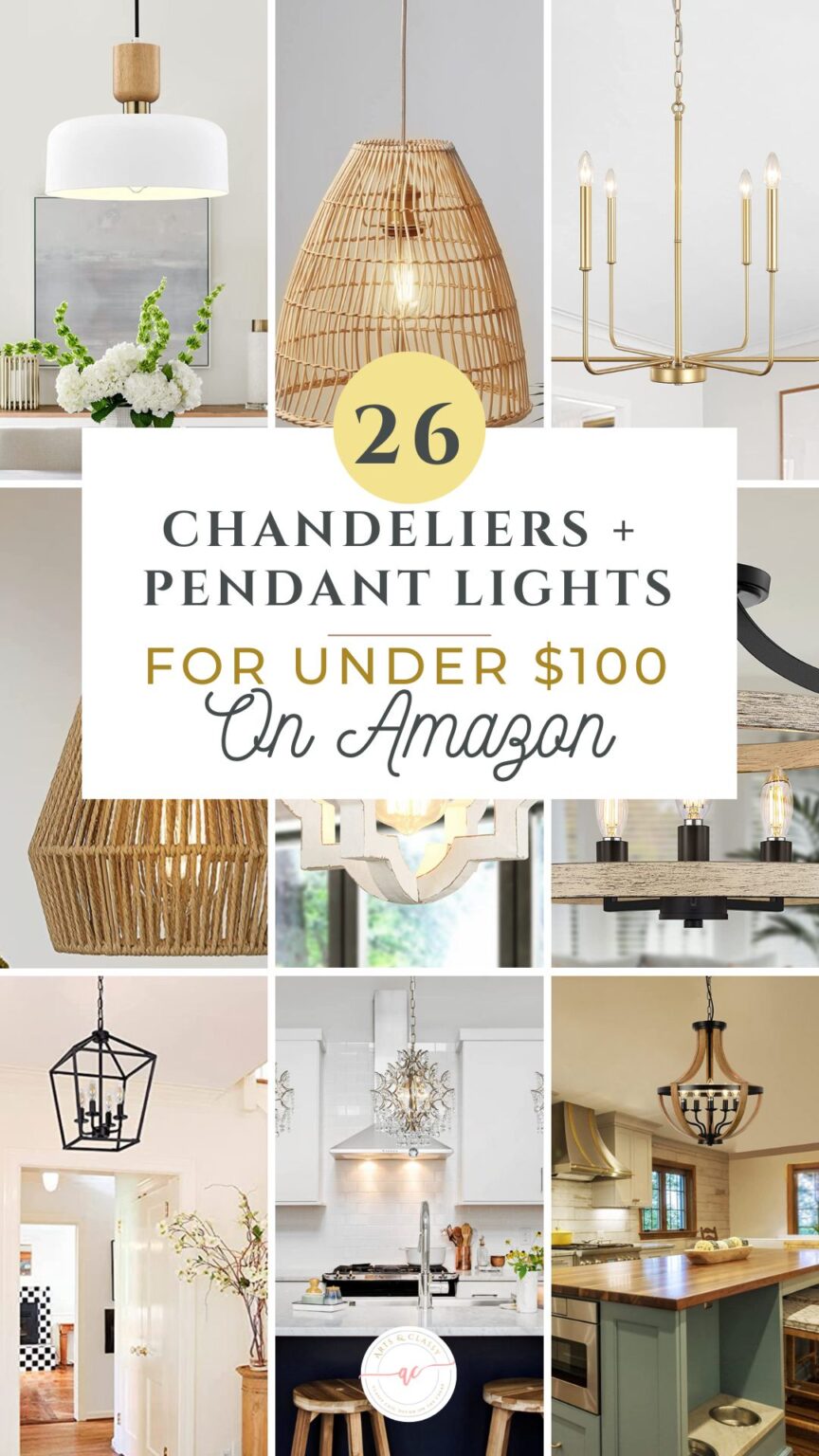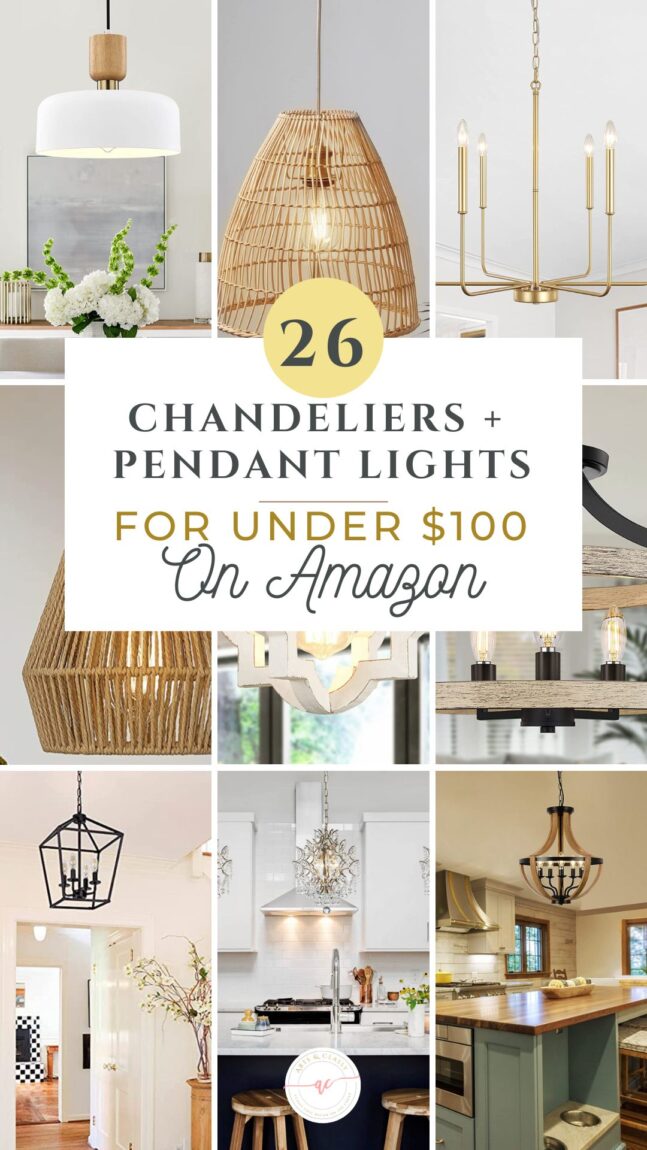 This post contains some affiliate links. I may earn a small commission if you make a purchase through one of these links. See more information in my disclosure policy.
1. Lights Wagon Wheel Chandelier | 2. Antique House White Chandelier Crystal Chandeliers | 3. 4-Light Farmhouse Wood Chandelier | 4. Modern Farmhouse Chandelier | 5. Crystal Chandelier | 6. Miluolan Gold Chandelier | 7. Rustic Farmhouse Pendant Hanging Light | 8. 4-Light Branch Crystal Chandelier | 9. Modern Farmhouse Chandelier | 10. 9-Light Matte Black Farmhouse Chandelier | 11. Brushed Brass Chandelier | 12. Black Gold Sputnik Chandelier | 13. Modern Farmhouse Chandelier
1. Woven Pendant Lights | 2. Modern Pendant Light | 3. Industrial Dome Pendant Light | 4. 3-Light Pendant Light | 5. GLOBAL Modern Pendant Lights | 6. Wood Hanging Light Metal Shade Pendant Light | 7. Mid Century Modern Globe Pendant Light | 8. | 9. Rustic Orb Pendant Lighting Fixture | 10. Farmhouse Metal Cage Geometric Hanging Light | 11. Rattan Light Fixture | 12. Black Metal Vintage Industrial Hanging Lamp | 13. Tomons Pendant Light Modern
Shopping for chandeliers under $100 has never been easier!
With a wide range of modern chandeliers (including mid-century and contemporary style) to choose from, you can find the perfect lighting solution that expresses your style and elegance. From contemporary chandeliers with industrial looks to sleek ones with a soft glow, browsing these inexpensive options will make you feel like you hit the "goldilocks zone" with your shopping spree. Just right! Whether your room needs a romantic touch or an edgy industrial look – you can trust that you'll find exactly what you're looking for. Have fun!
Now that you have all the information you need to find the perfect pendant lights and/or chandeliers under $100, it's time to get shopping!
Shopping for lighting has never been easier! With inexpensive chandeliers under $100, you can easily switch out the old living room with a more contemporary look. The Industrial look has become quite popular lately and they can be found in many décor styles from modern to farmhouse. Plus, you can get creative and find lighting suited anywhere in the home like over your kitchen island or even by your closet or hallway for just the right amount of light.
It's not hard at all to find lighting that will fit into your budget and lifestyle; just remember my tips about size, variety of materials, color, and installation when you select your chandelier.
And make sure you're following me on Instagram, Pinterest, and TikTok for more ideas like this one – I'm constantly updating my accounts with inspiring home decor ideas and DIY projects!
If you are looking for more posts like this one: