Thank you Angel Soft® for sponsoring this post on how to save money and make the home look fab. Ditch the spray and switch to Angel Soft® with Fresh Lavender-Scented Tube.
Arts & Classy was created to save money while making my home look chic.  In fact, it has been one of my main goals in my adult life. All the makeovers you will ever see me do in my home will always be thrifty with a tight budget in mind.
Making my home look nice is important to me, but I am not about to break the bank to do it.
Plus, when you are forced to think resourcefully, you work your creative brain to problem solve. That is so my jam.
If this is your first time here, hi… I am Meredith! I have been blogging since 2012. I am the creator if Arts & Classy. This site began with the hope that I could document my experience decorating my home. As a renter with little to no budget, I had to learn how to decorate my home with things and furniture I already had or could get for free. 
Since I am a big fan of life hacks, I decided to share my knowledge with you on what I have learned since 2012.
Here are 5 hacks to save money while making your home look fabulous. (This is especially great advice for renters.)
1. Upcycle, Upcycle, Upcycle
Upcycling wine bottles, plastic, metal trays, old sheets, and other items can be turned into unique decor that you use in your home. This is my #1 tip to help you save money. Looking for inspiration online excites me when I am thinking of what I want to create.

2. Shop at thrift stores and yard sales
Thrifting and scanning yard sales have been my favorite way to shop for home decor. To see all the possibilities with dated and decor people ditched, it's like a treasure hunt. Sometimes all you need is a little spray paint to make a piece work perfectly in your home. Plus, you save a ton of money shopping like this.
If you have inspiration in your mind before your shop, you may be able to find items that can help you create what you want to make. It makes me so happy when I see people find an expensive piece of designer decor that they love and find a way to make a hack version on their own budget.

3. Find ways to make your home smell nice
Back in my twenties, I was obsessed with scented candles. In fact, a majority of my decorating budget went to candles because I had 3 cats. How my home smelled when I had guests over was very important to me at the time.
Now that I am in my thirties, I am much savvier, both financially and around my home. I have 1 cat and 1 dog and a fiance' to think of in my home, and I can't be leaving candles burning all of the time!
Angel Soft® with Fresh Lavender-Scented Tube was worth giving a try in my bathroom and I am very pleased with the results. Every time I walk into my bathroom, there is a subtle relaxing hint of lavender that I smell. A toilet paper roll is a discreet way to add freshness to the bathroom. These tubes were the perfect solution for making a room smell nicer. It has a dual function and to me, that is one less thing to think about. Check out my rental bathroom makeover that went viral on Youtube.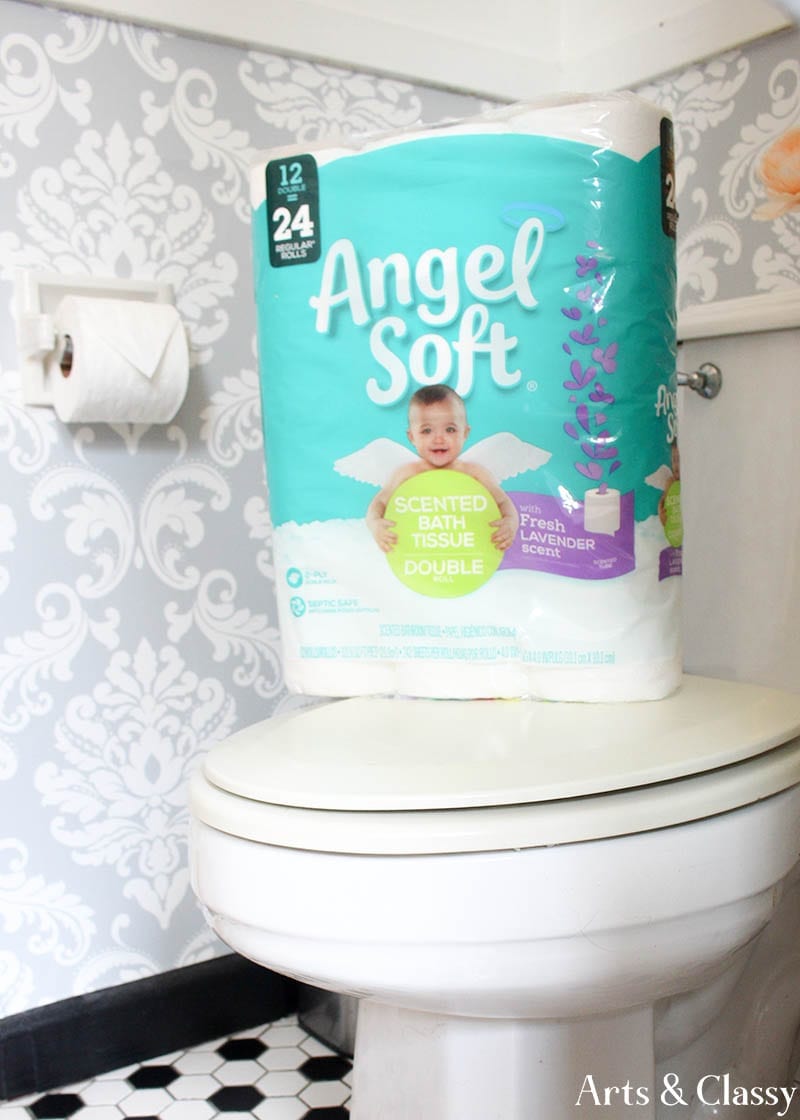 4. Clear the clutter
Clutter can build up quickly, and when it's cleared, your home will feel less chaotic and full of more possibilities. This may be something you do weekly to maintain a clutter-free look that will help you save money. No cleaning lady required. 
Something I do in my home is a weekly sweep. The routine consists of picking up unopened mail, items that piled up during the week, refresh the pillows on my sofa, make my bed, and hang up clean laundry to help me maintain my clutter-free home. Check out my bedroom makeover that really transformed this space. 

5. Less is more
When you find a design style you like, don't think in terms of how much decor you can fit in a room. Think in terms of functionality. You don't want to overcrowd the surfaces in your home with a bunch of stuff. Keep it simple. Whether it's a gallery wall or adding decor to a side table, stick to fewer items to keep it looking fresh and chic.
Think of items that can change with the seasons. Examples would be pillows, throw blankets, photos, rugs, and other small decor accessories. Let me know if these 5 hacks help you save money & make the most out of your home on your budget! Make sure to check out Angel Soft® with Fresh Lavender-Scented Tube in your home.