As I get settled in my home more and more, I am learning how I want to style each room, and finding the right Farmhouse wall art is something that has been hard for me. Why… you ask?
My husband and I have slightly different styles and text-style art isn't his favorite.
So in the spirit of compromise, I am trying to think outside the box to find cool and eclectic farmhouse-style art that we will both love. After a lot of hunting online for the perfect piece of Farmhouse wall art, I found this really cool Georgia wood modern farmhouse decor that looked promising.
But, I am still a girl on a budget, and justifying the cost of this piece of art was not something I could do.
I am a creative DIYer, but I was stumped at that moment.
After some daydreaming and more research online, I found a way to make my own farmhouse wall art that will fit my budget and my desire to be creative! So this is my "Look-For-Less" version of this artwork I found on Etsy as part of a modern farmhouse collection.
This post contains some affiliate links. I may earn a small commission if you make a purchase through one of these links. See more information in my disclosure policy.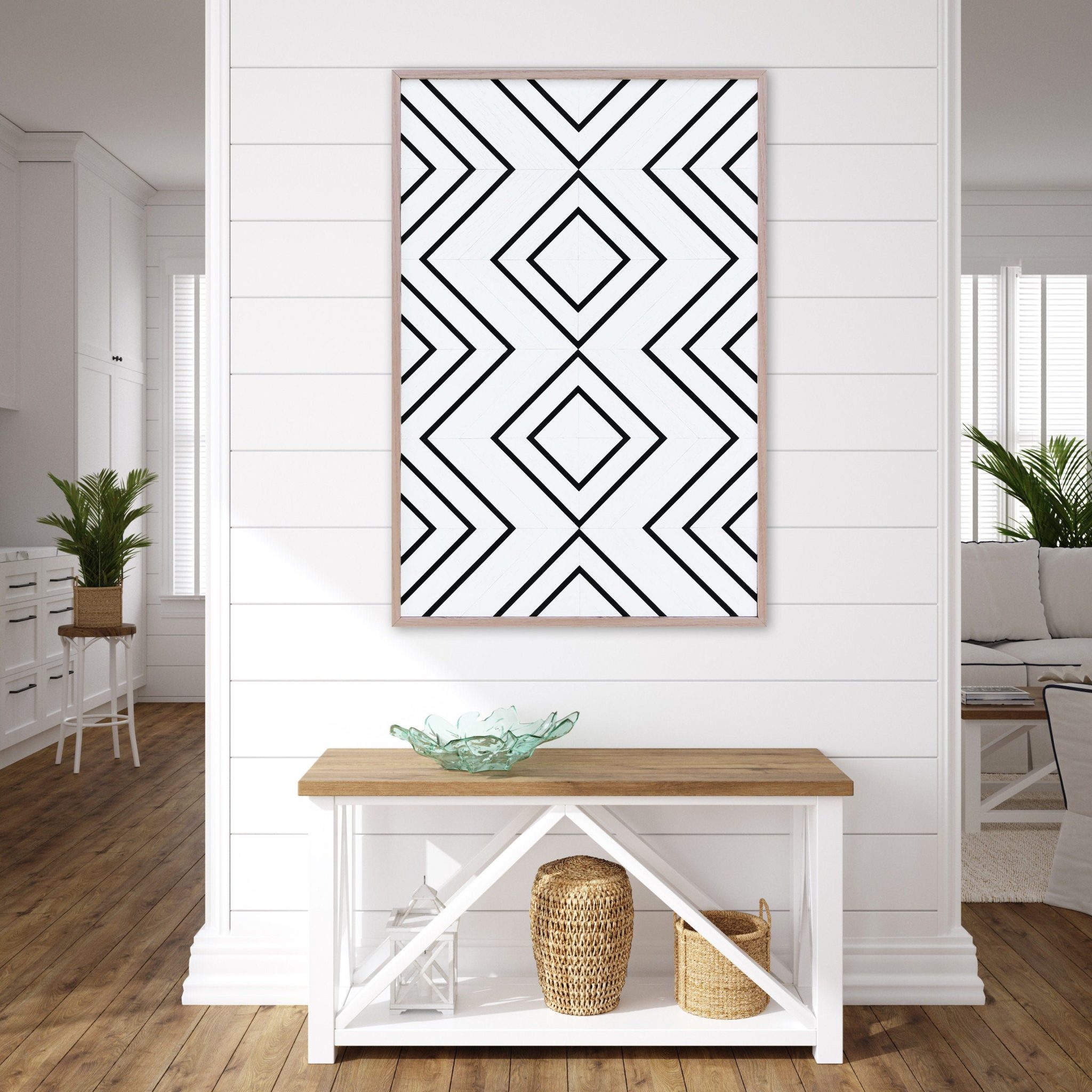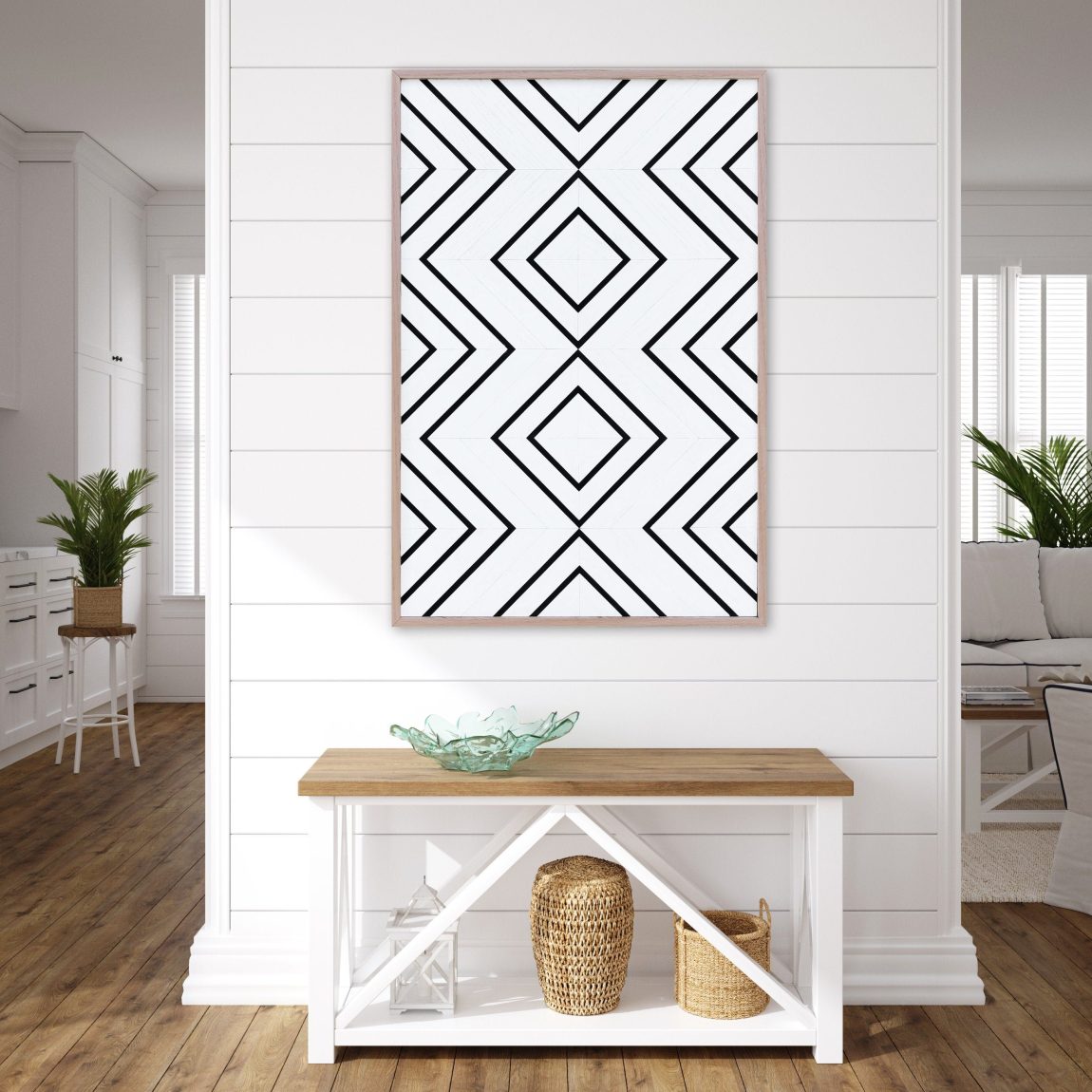 What you will need for this project:
A larger piece of art with a farmhouse frame (or frame of your choosing)
Black acrylic paint (I got my at Dollar Tree)
Pencil
Step 1: Source Thrift Store Art
Thrift stores are such a great way to find canvas, expensive frames, and other types of art for A LOT less. I found this quote for rustic wall decor for $5.99 at my local Goodwill. I decided it would be the perfect size farmhouse wall art for this one empty space on one of my living room walls.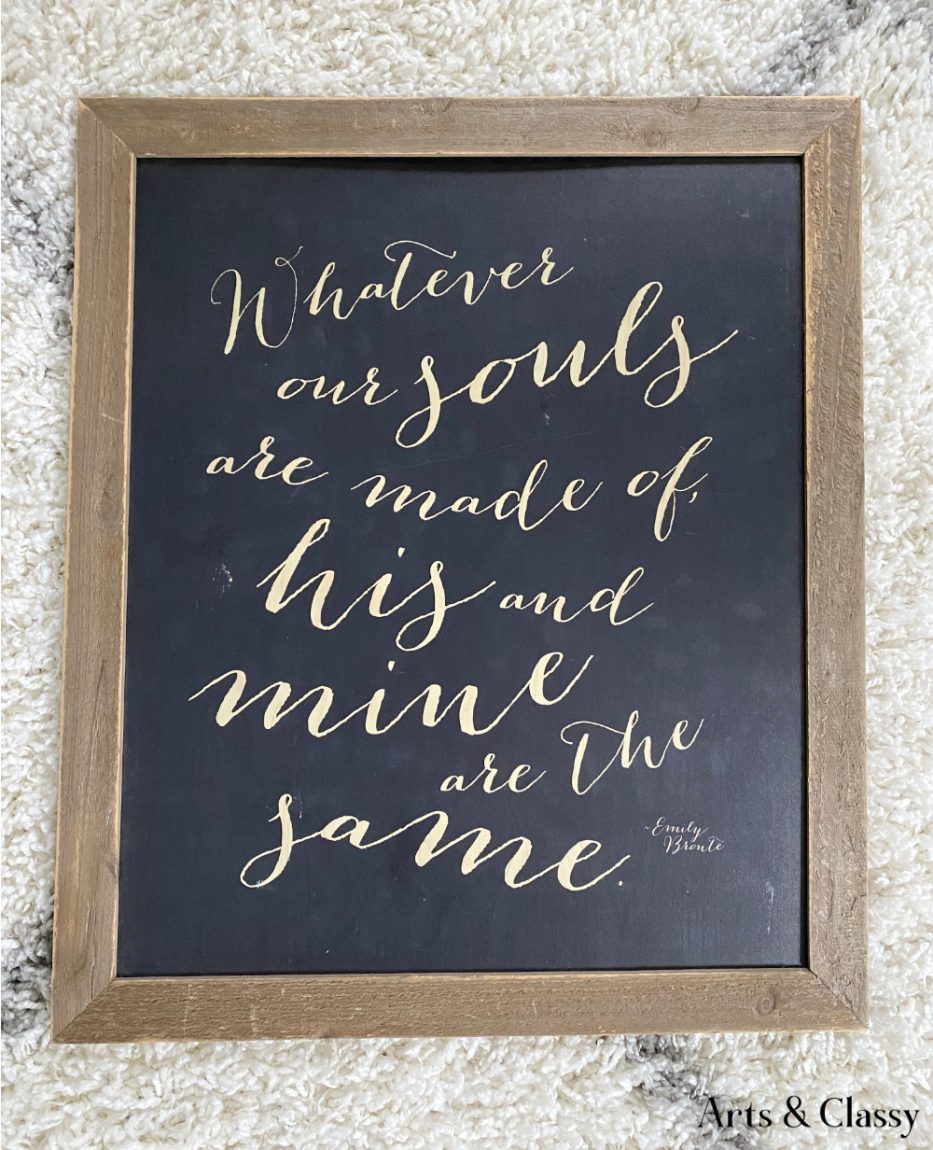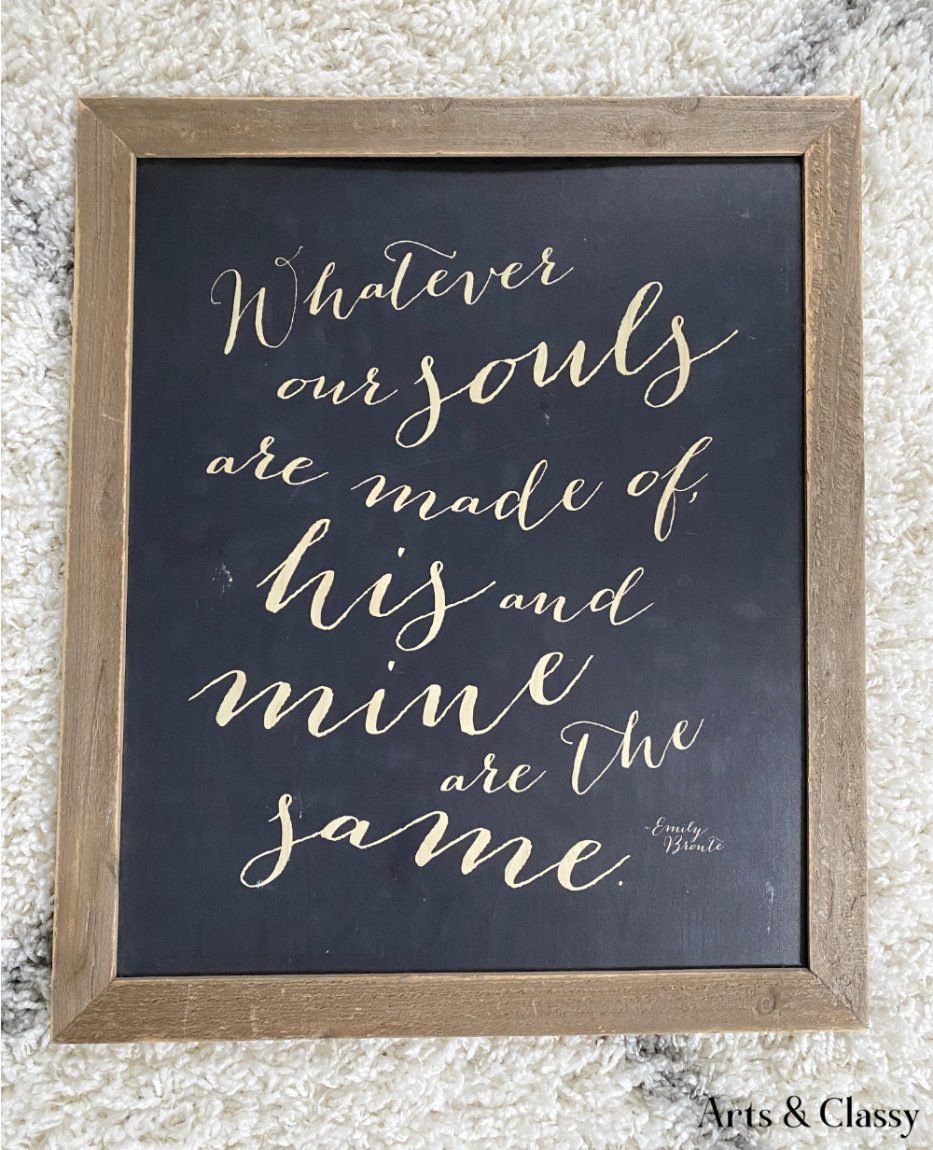 Step 2: Painted It White
After removing this chalkboard piece from the frame, my first step was to clean it off and then paint it white with my Rustoleum chalk paint. I love chalk paint because of the matte finish but the thickness of the paint. I decided I wanted to give this surface a little more texture so that from afar it could be perceived as wood like my inspiration.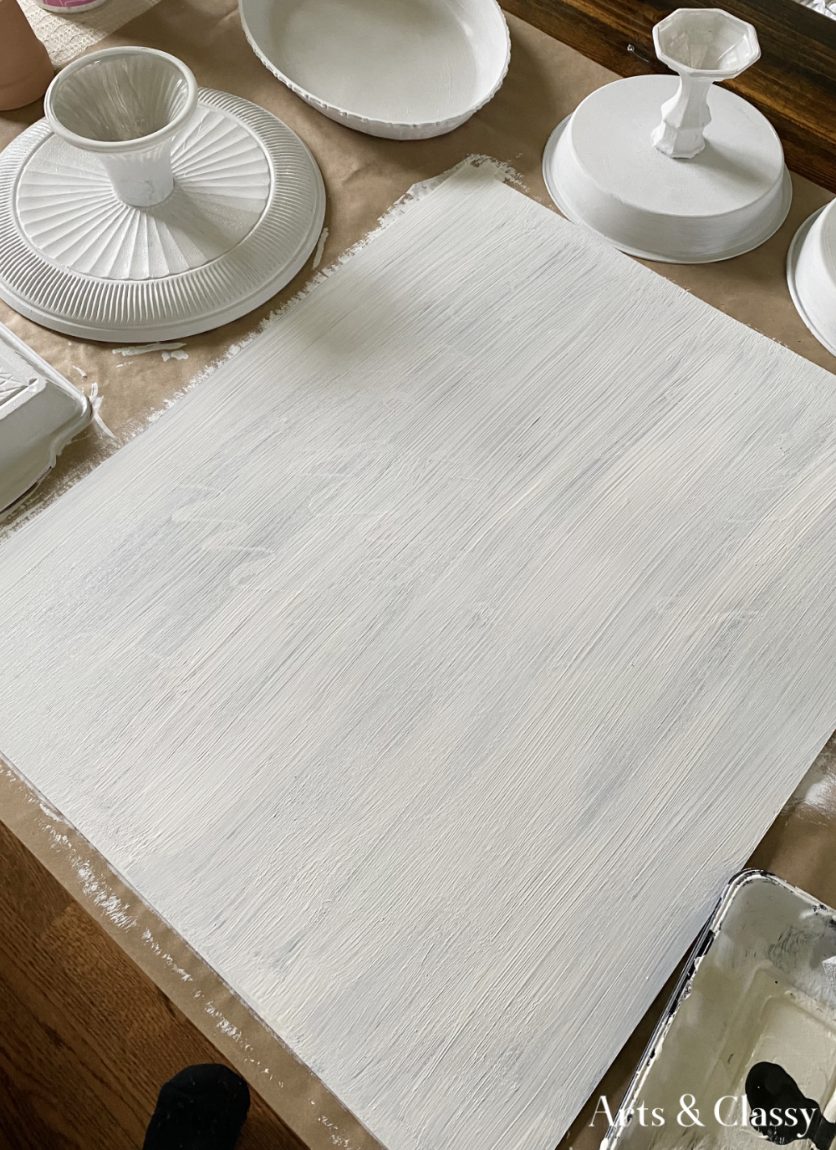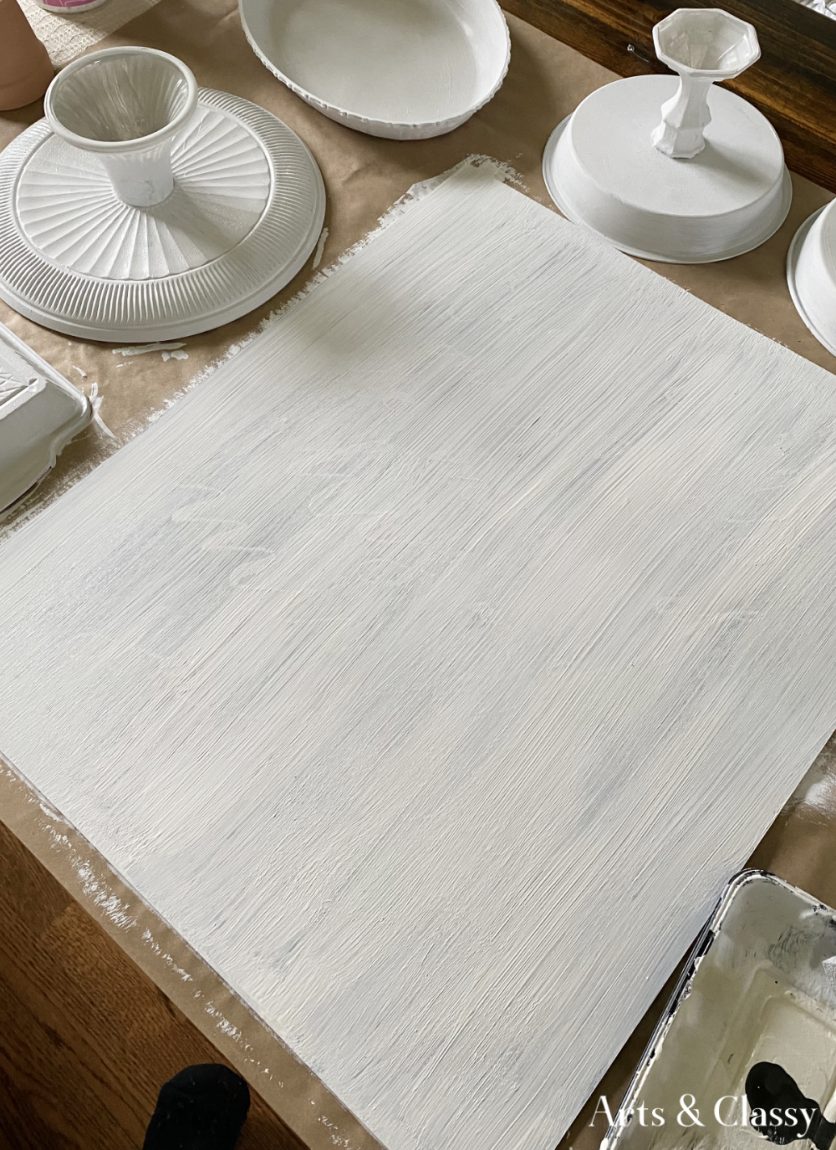 RELATED: EASY-TO-MAKE FARMHOUSE GALLERY SIGN
Step 3: Draw the Pattern
I used my ruler and pencil to measure and draw out my pattern. The best method I could see was to start on the top and work my way down. I did have some mess up moments that I had to erase and redraw. Let's face it. This was totally trial and error so I encourage you to go for it and not fear mistakes. You can just paint over any as they happen.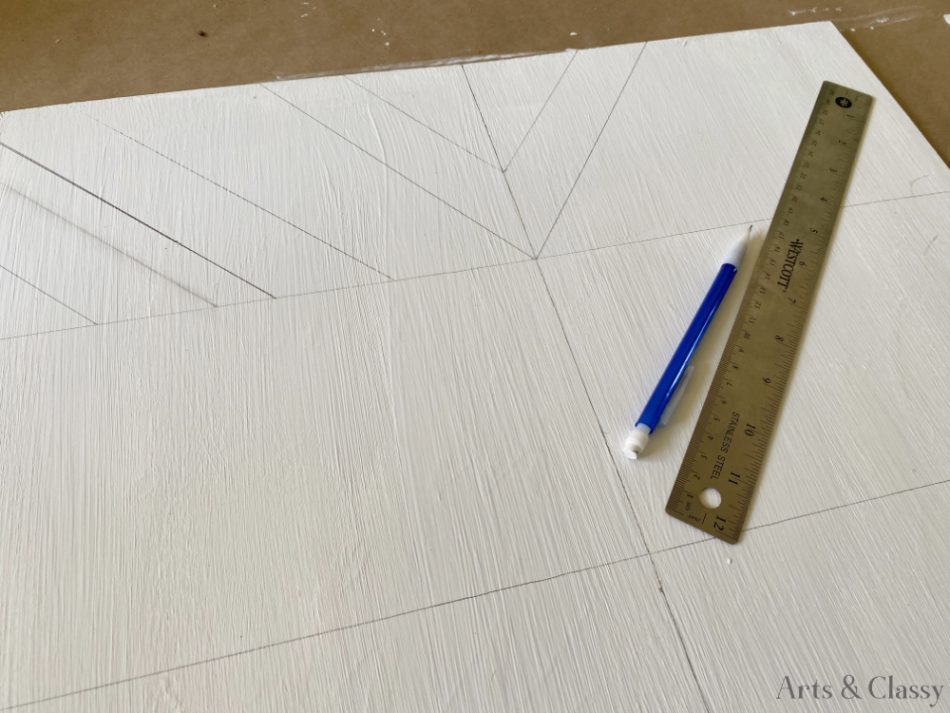 Step 4: Paint the Pattern On
I first tried hand painting this pattern with an artist's brush. After this approach, I realized that painter's tape would be a staple in getting these pattern lines just right. From there, I used tape to mask off the white stripes so that I could make the black pattern edges as precise as I could. This was the most tedious step of the entire process but I am happy I took my time with it because it really paid off with the final product.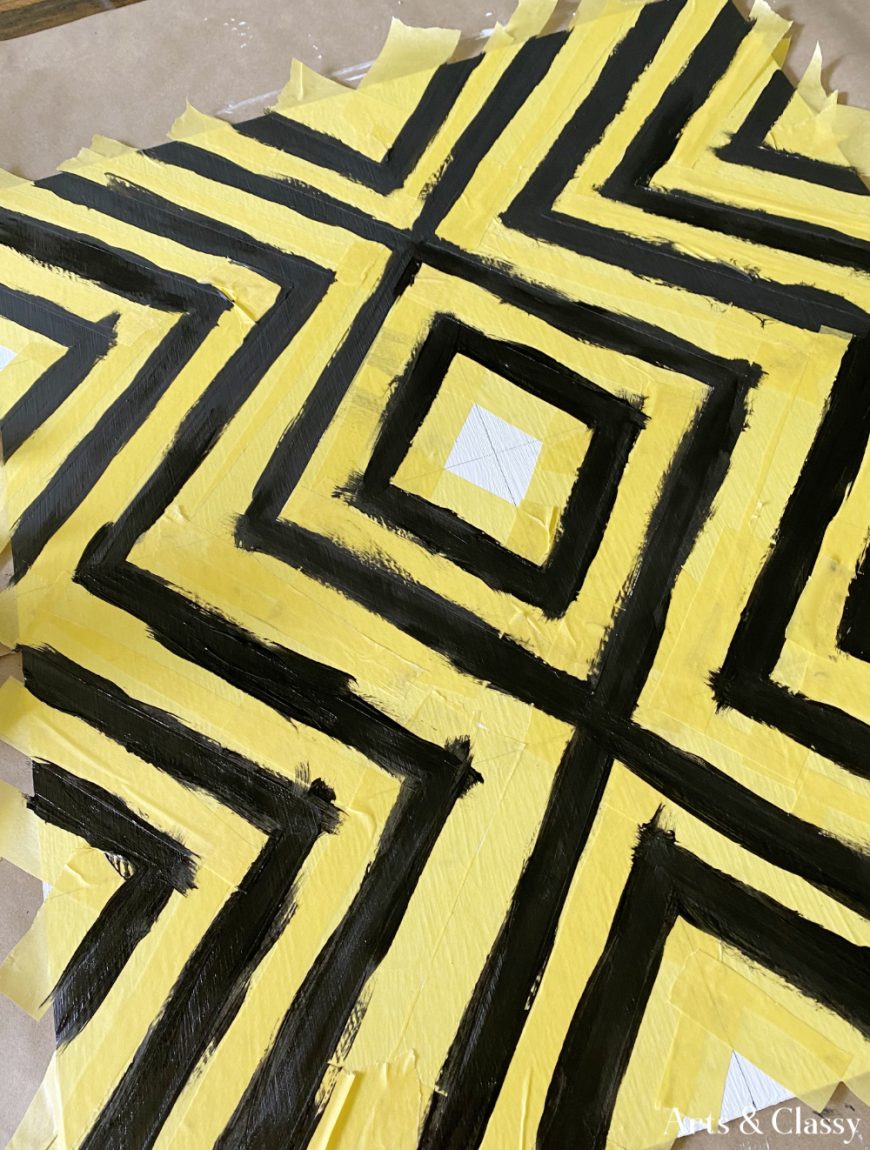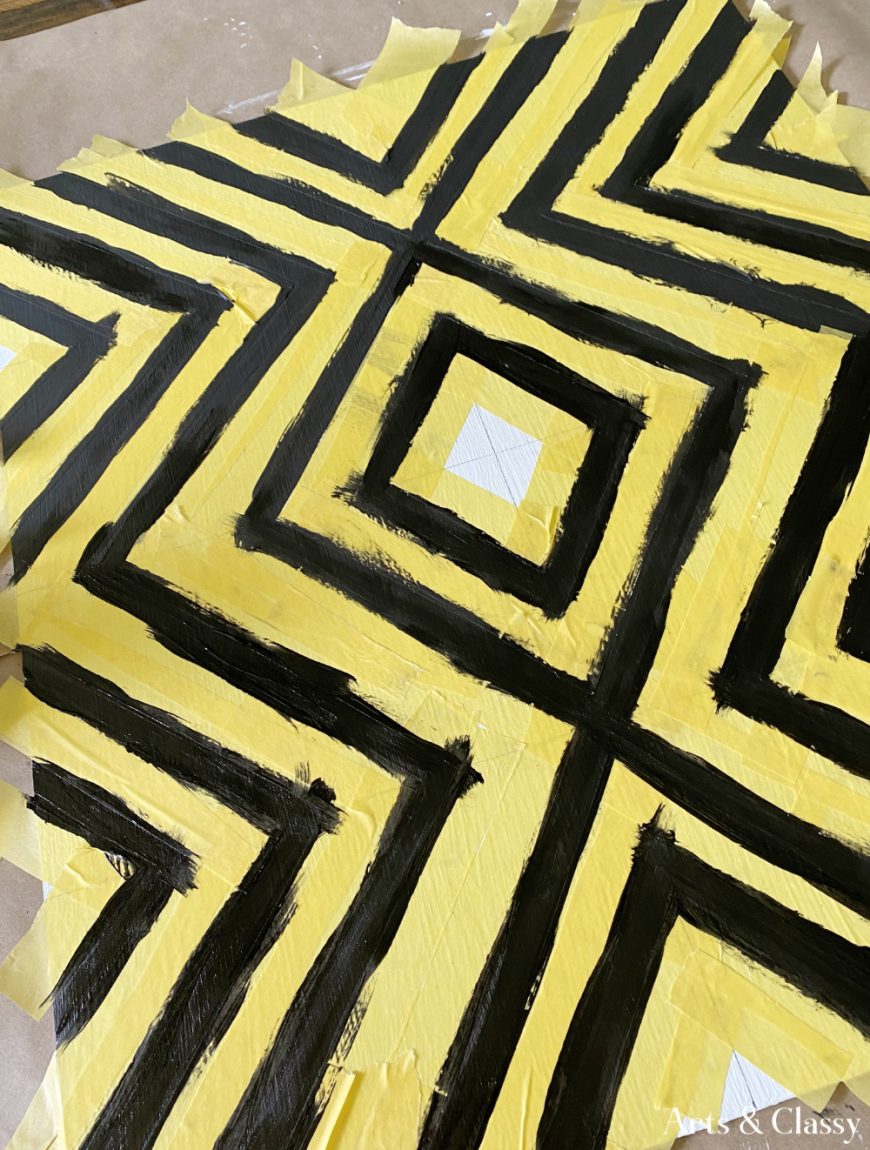 RELATED: DIY FARMHOUSE WALL DECOR TUTORIAL
Step 5: Re-assemble and Hang
I popped the board I painted back into the frame and now it is a lovely modern farmhouse wall art piece hanging in my living room. While it isn't perfect, I am really proud of the work I put into this art piece and that I spent only $10 total to make it a reality.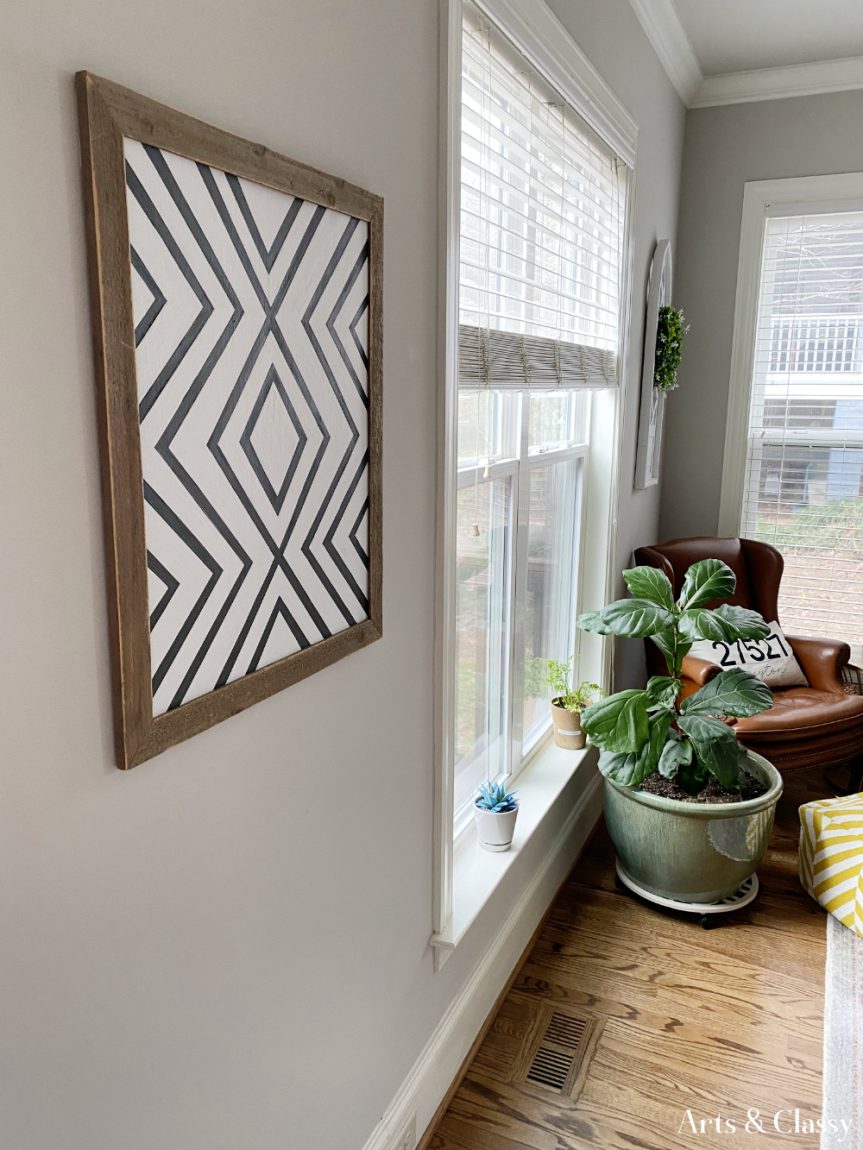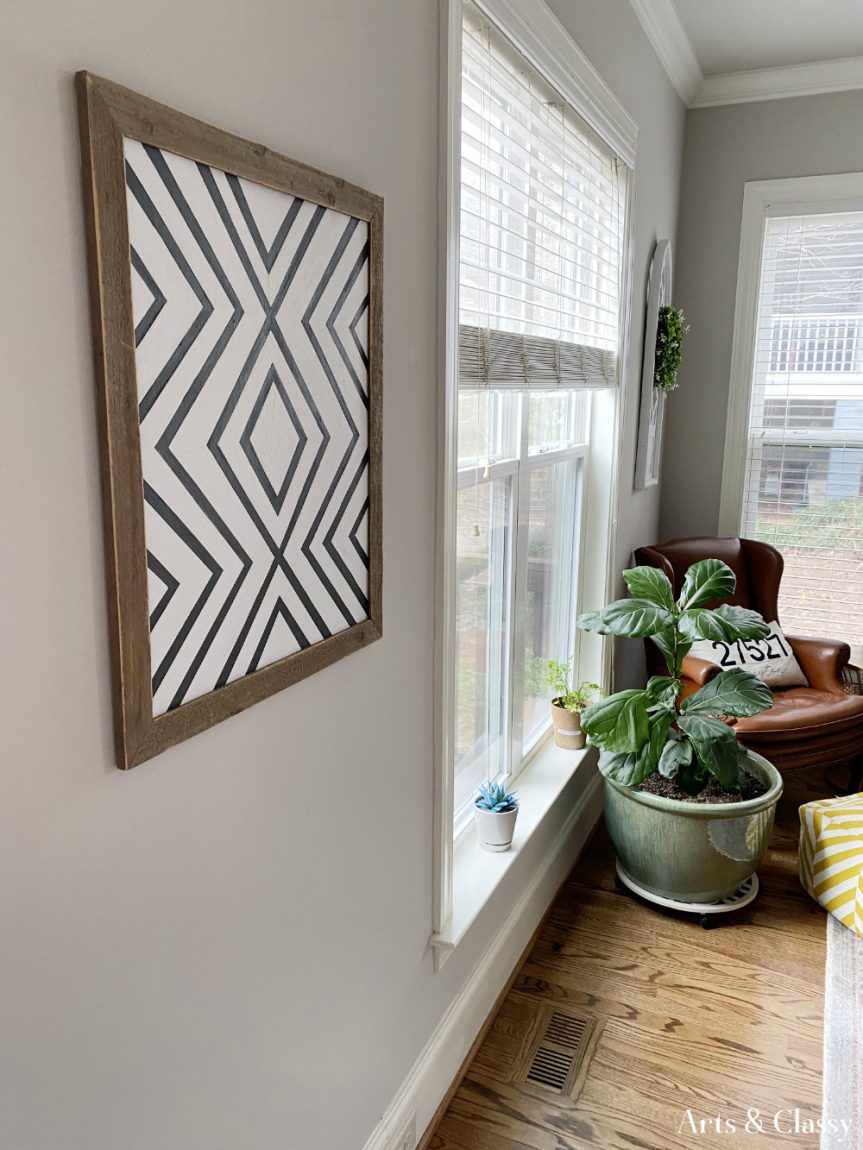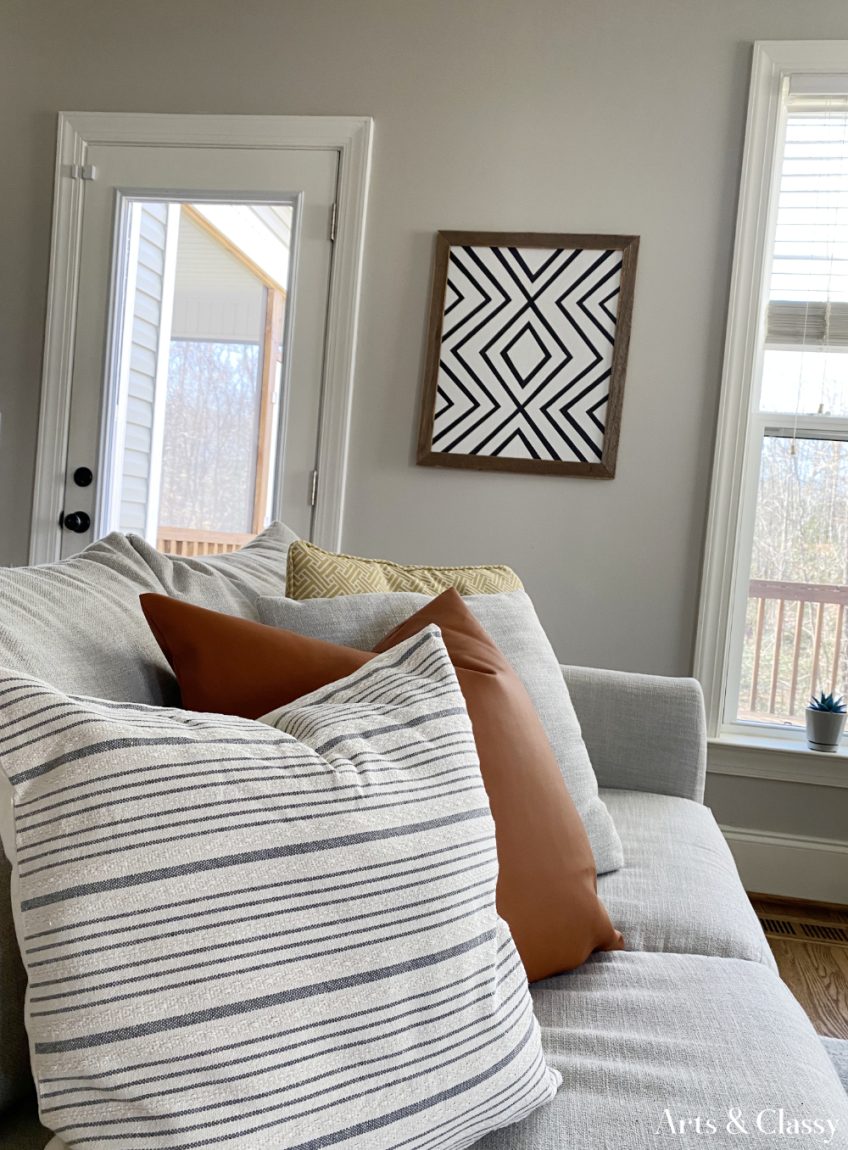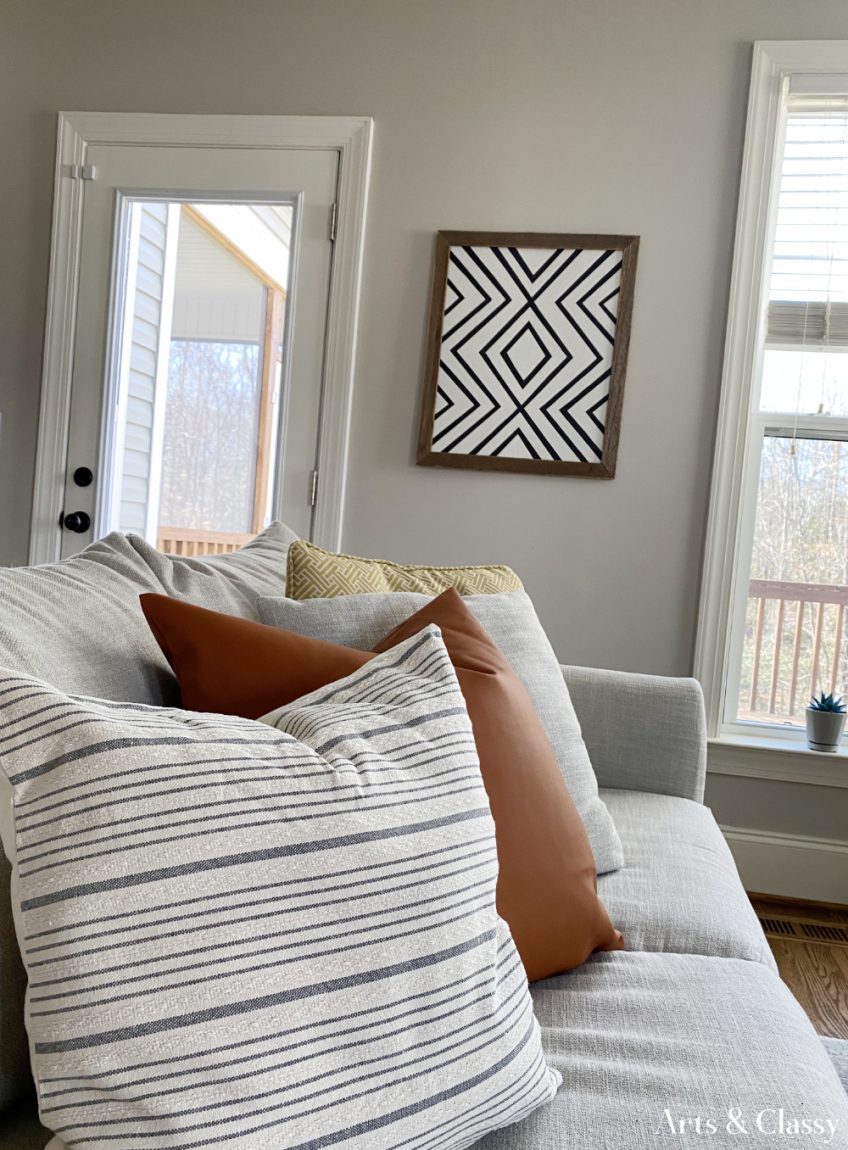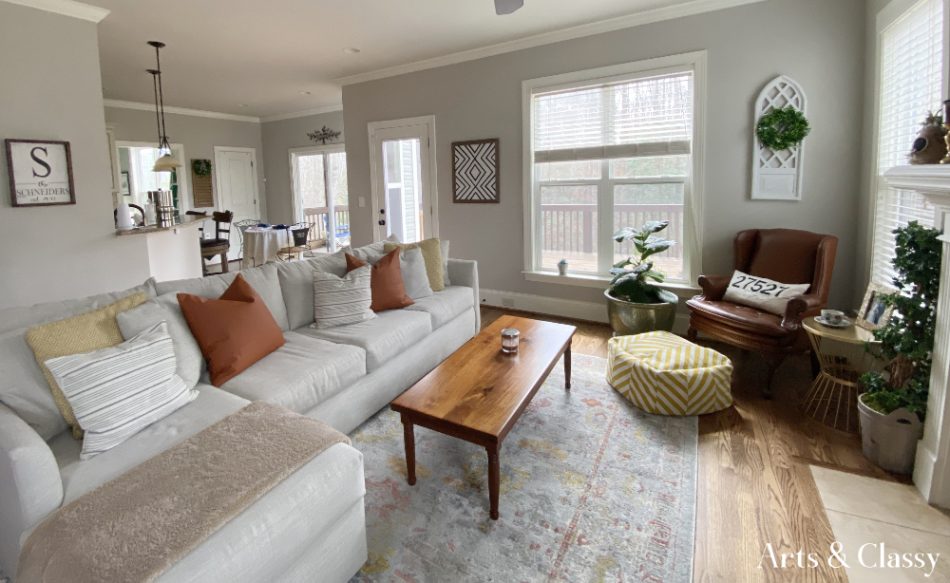 Easily shop the supplies used for this project:
I am really happy with how this unique piece of wall art turned out. It has added some modern farmhouse charm to my home and cost less than $10! What do you think of this rustic wall art? Would you try this project? Let me know what you think of this project by commenting below.