Small but Mighty: 19 Clever Powder Room Ideas for Limited Spaces
Hey there, fellow DIY + Decor enthusiasts! Today, I'm thrilled to dive into an exciting topic—powder room ideas for those limited spaces. You know, powder rooms may be small, but they pack a powerful punch when it comes to enhancing your home's overall aesthetic.
Whether you're living in a compact apartment or a cozy house, I've got some clever design ideas that will help you create a small bathroom, half bath, or powder room that's both stylish and functional, making the most of every precious inch. Make your powder room feel bigger and better without an interior designer's help. Get ready to feel inspired to start your powder room makeover!
So, why do they call it a powder room?
The term "powder room" has an interesting history behind it. Back in the 18th century, it was a designated space where women would retreat to freshen up and apply face powder to achieve a desired complexion. It served as a private sanctuary where they could touch up their makeup and ensure they looked their best. As time went on, the term "powder room" became more widely used to describe a small bathroom or restroom, often found on the main floor of a house. It's a convenient space for guests to use and has retained its name, reminding us of its origins in the world of beauty and personal care.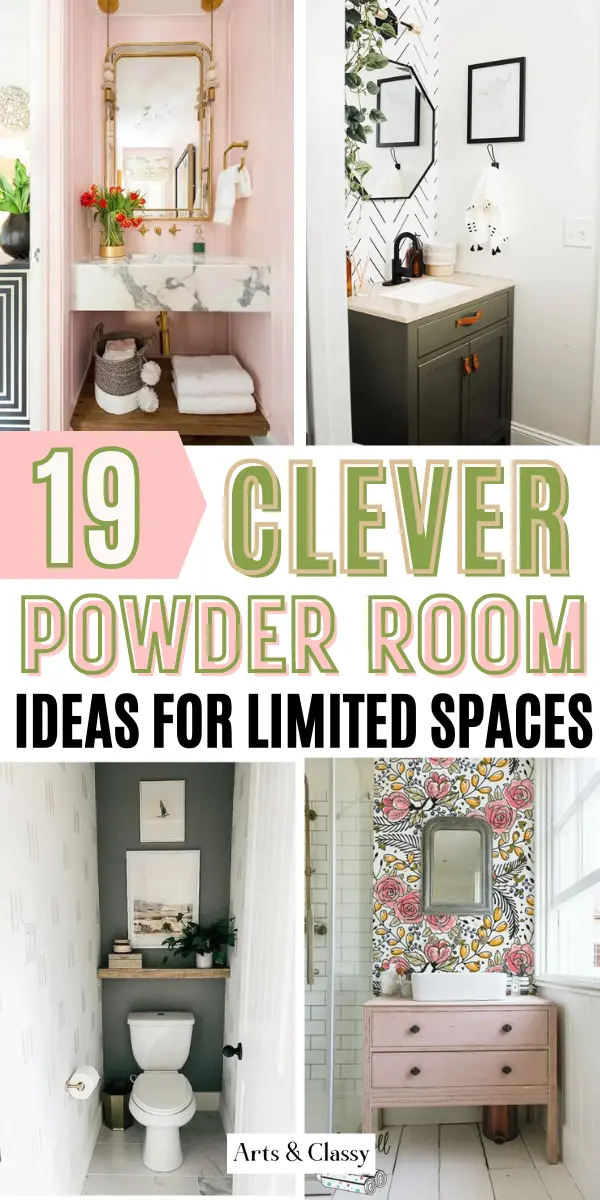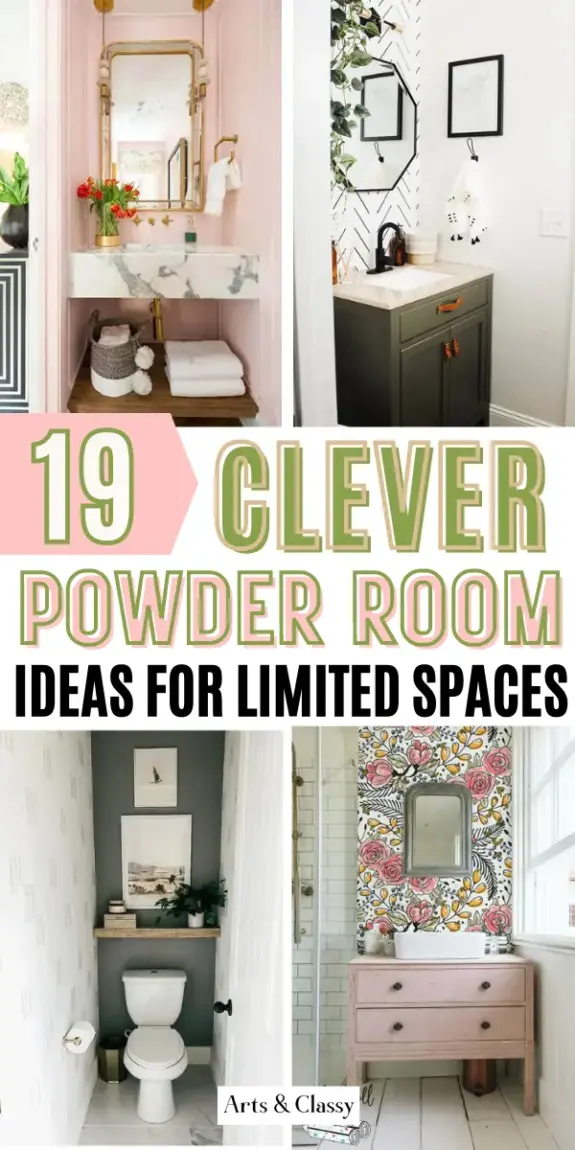 Let's get to the 19 powder room ideas for limited spaces to get more inspiration flowing.
This post contains some affiliate links. I may earn a small commission if you make a purchase through one of these links. See more information in my full disclosure policy.
1. Let's Embrace Wall-Mounted Fixtures
When space is at a premium, we can count on wall-mounted fixtures to be our best buddies. Consider opting for a sleek floating vanity, a space-saving corner sink, or a practical wall-mounted toilet. These fixtures not only give your powder room a modern and streamlined look but also free up that valuable floor space.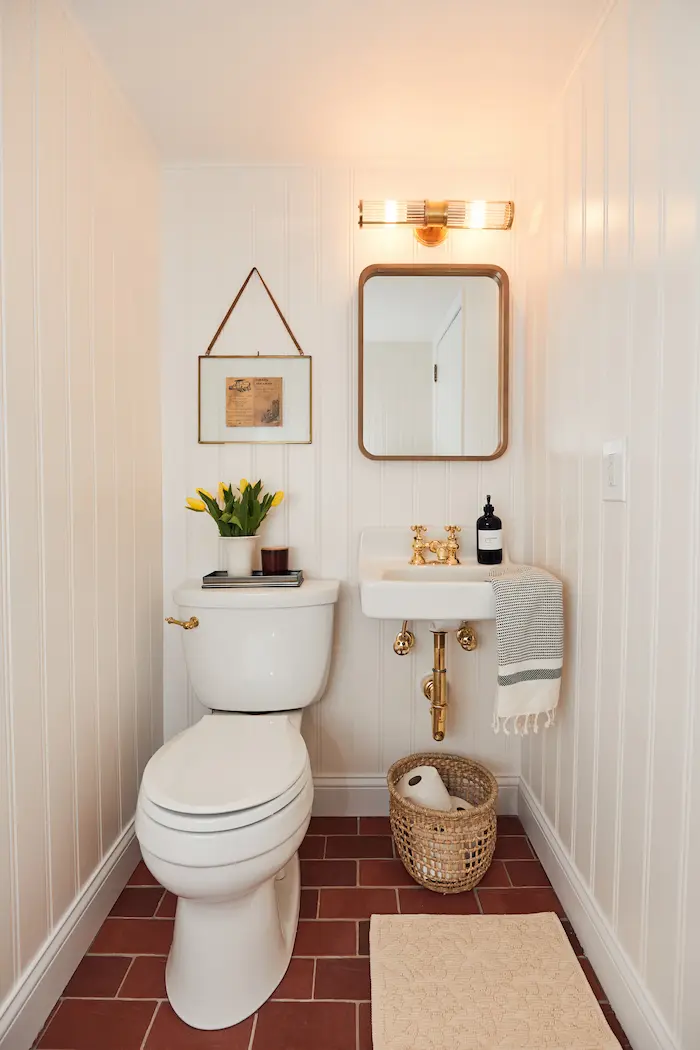 2. We Can Play with Mirrors
Mirrors are an absolute must-have in any powder room, especially when dealing with a small space. Let's install a large mirror that spans the entire wall above the sink—it creates an illusion of a bigger room. And hey, how about adding some mirrored cabinets or mirrored backsplashes to add depth and reflect more light? It'll make the space appear even more open and inviting.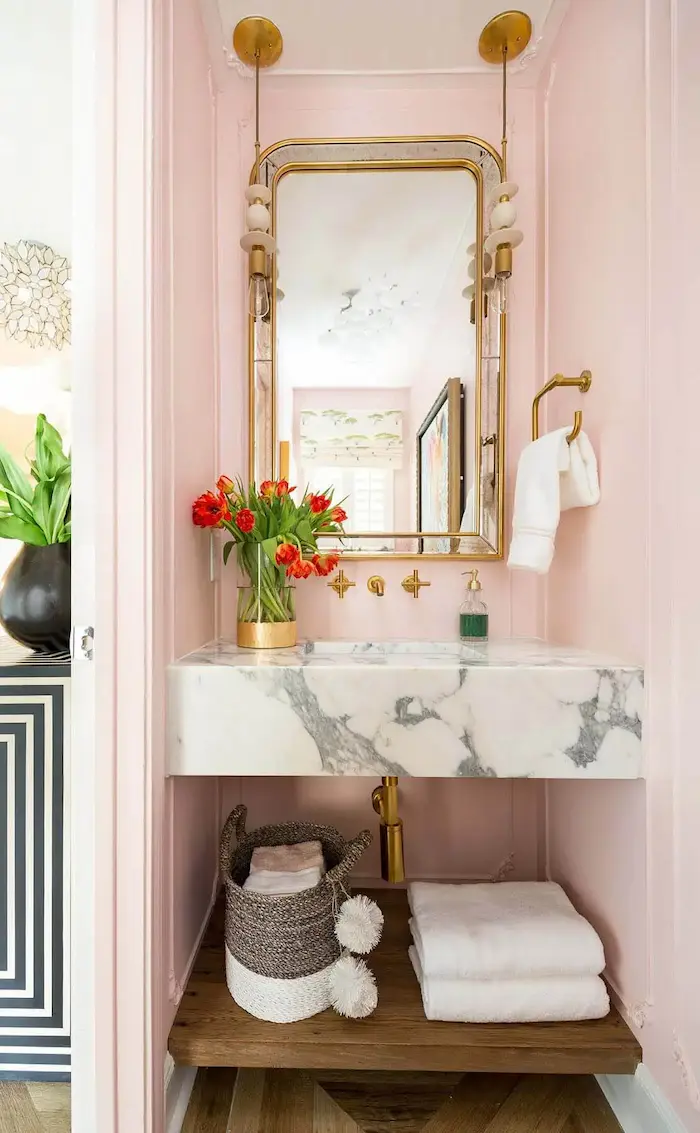 3. It's Time to Go Vertical with Storage
Storage space is everything in a small bathroom design. Limited floor space calls for some vertical thinking, my friend. We can install open shelves or floating shelves above the toilet or next to the vanity. Don't forget to grab some nifty baskets, jars, or wall-mounted organizers to keep all your toiletries and essentials neatly organized without gobbling up that precious counter space.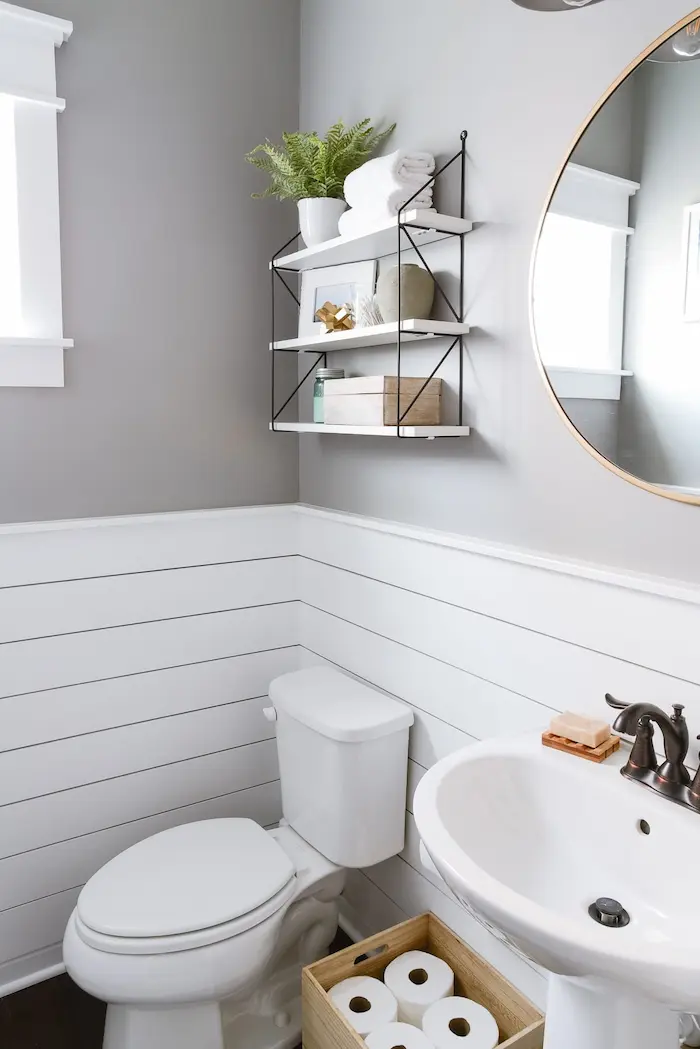 RELATED: 15 Stunning Bathroom Remodels – Make the Most of a Small Space!
4. Let's Choose Light Colors
To create the illusion of more space in a small powder room, we'll want to lean towards light and a neutral color palette. How about considering soft pastels, crisp whites, or light grays for the walls and flooring? And for that added touch of elegance and visual expansion, we can opt for light-colored tiles or wallpapers with subtle patterns.
5. We Can Install Pocket Doors
If space permits, why not give pocket doors a shot? They're an excellent alternative to traditional swinging doors. With pocket doors, we'll be sliding into space-saving glory!
They free up valuable floor space and provide a seamless transition between rooms. Trust me, this simple change can make a world of difference in both functionality and aesthetics.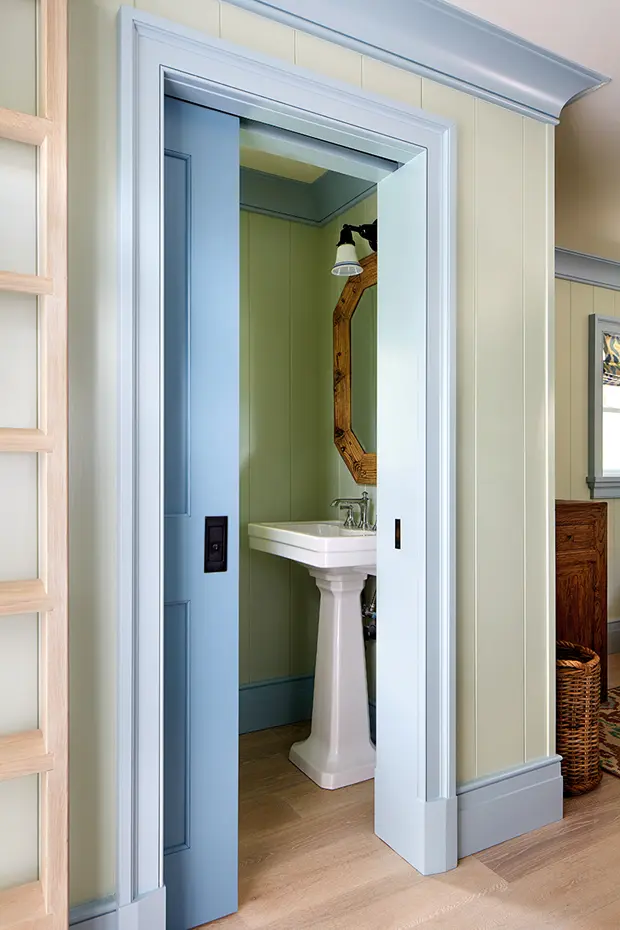 6. Utilize Creative Lighting
Good lighting is key to creating the perfect ambiance in your powder room and making it feel more spacious. Let's shed some light on the matter! If your powder room doesn't get a lot of natural light, then adding some is key. Start by installing recessed lighting to evenly illuminate the entire space. Then, add a statement light fixture like a pendant light or some chic wall sconces to infuse your personal style.
And here's a pro tip: why not incorporate a dimmer switch? That way, you can adjust the lighting to match your mood, whether it's a relaxing bath or a bright and energizing morning routine. Trust me, the right lighting can truly transform your powder room into a cozy sanctuary.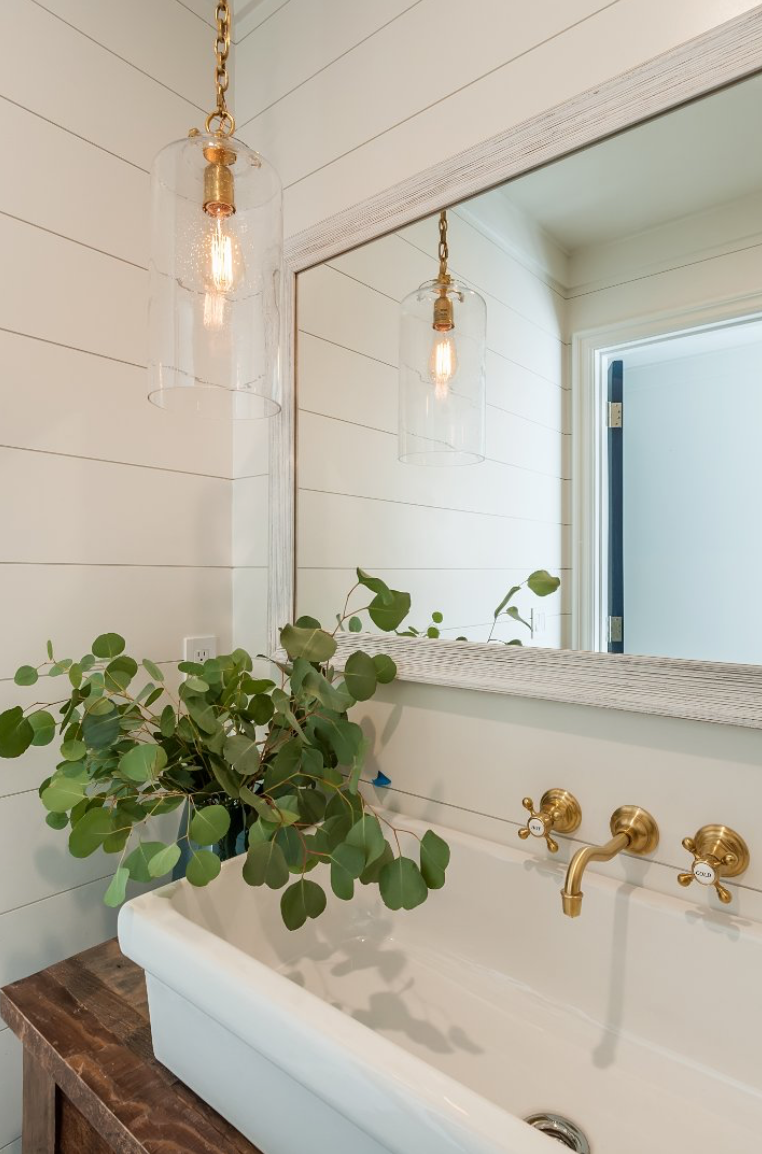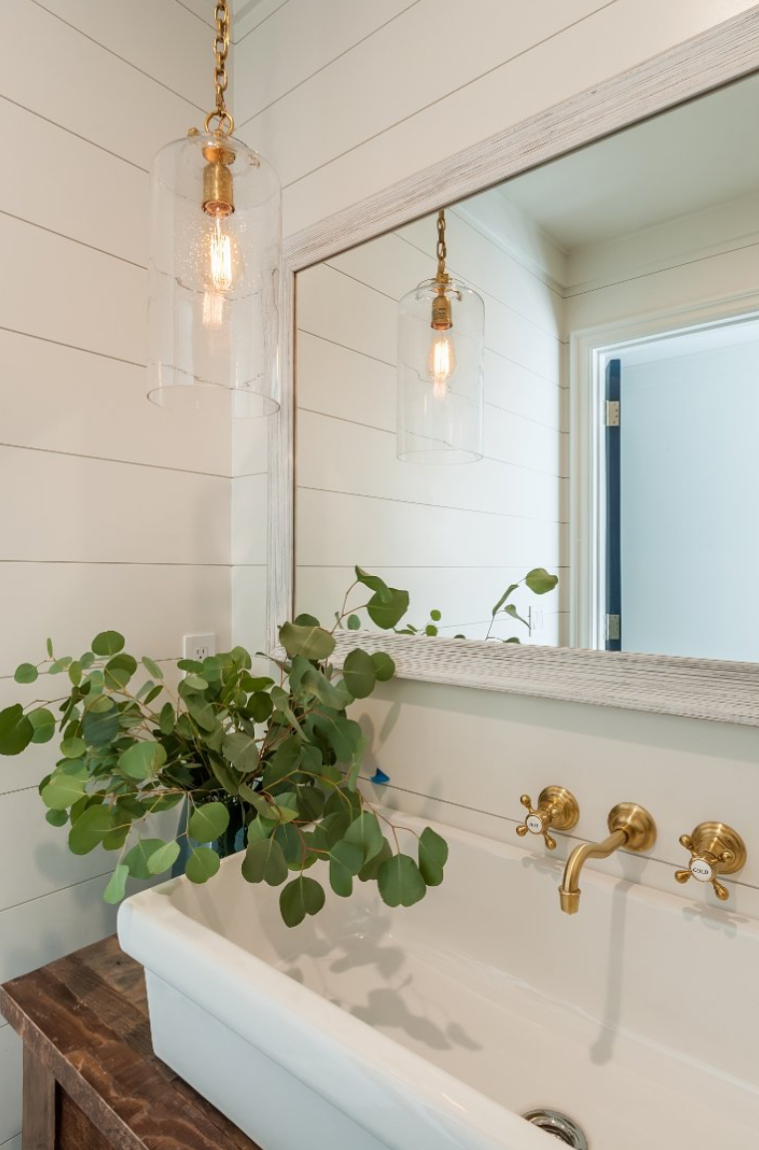 RELATED: Unbelievable: 13 Tried & Tested Ways to Transform Your Apartment on a Budget!
7. Opt for Compact Fixtures
When you're dealing with a small powder room, trust me, every single inch matters. That's why it's crucial to seek out those specially designed compact fixtures that perfectly fit limited spaces.
Picture this: compact toilets that cleverly tuck away, narrow sinks that pack a punch in style, and slim-profile vanities that effortlessly blend fashion and functionality. With these space-saving gems, you can create a powder room that's both practical and oh-so-stylish. Who says you have to compromise when it comes to your small but mighty space?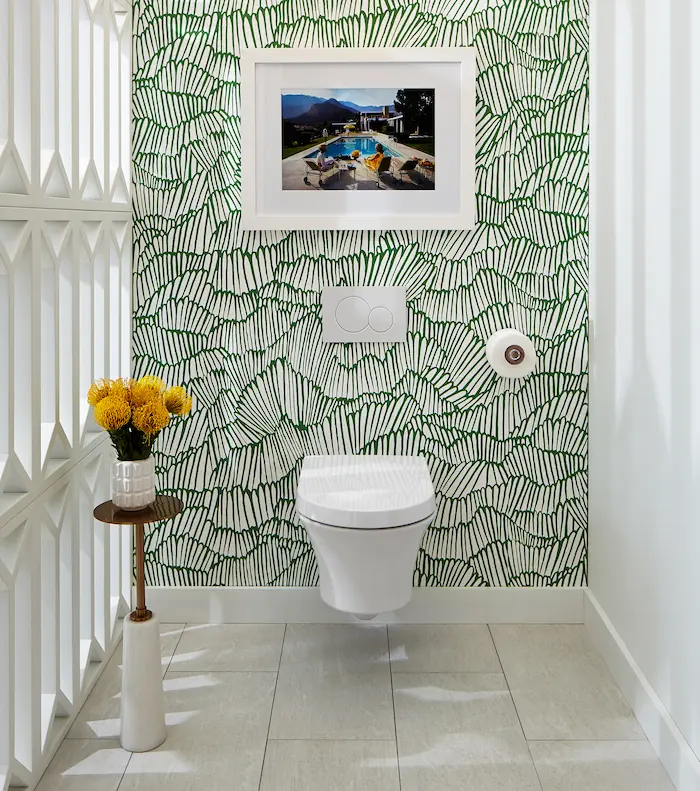 8. Create an Accent Wall
Let's talk about the power of an accent wall in your powder room. It's like injecting a dose of personality and depth into the space, making it truly unique. Now, when it comes to choosing the perfect accent, you've got options galore! How about a bold and captivating patterned wallpaper that demands attention? Or maybe some textured tiles that add a touch of luxury?
Oh, and let's not forget about a vibrant paint color that brings energy to the room. Trust me, this focal point will effortlessly draw the eye and take the focus away from the room's limited size. It's all about creating that wow factor in your powder room that leaves your guests in awe.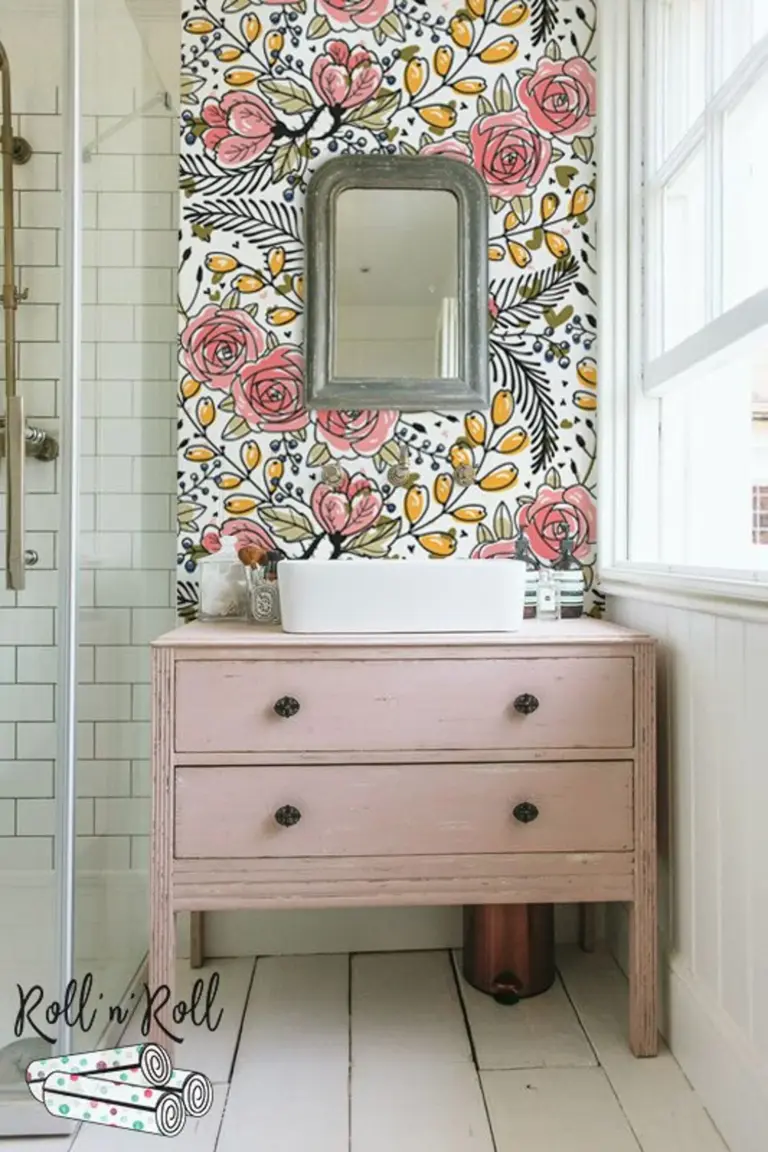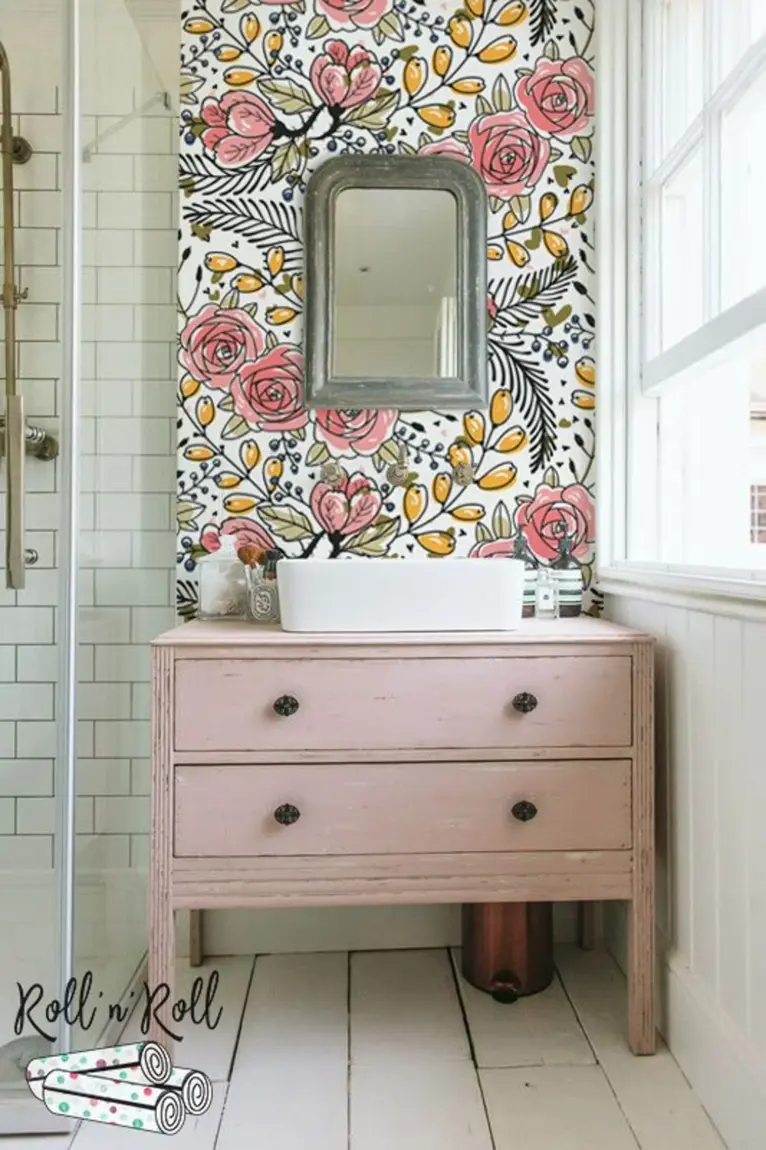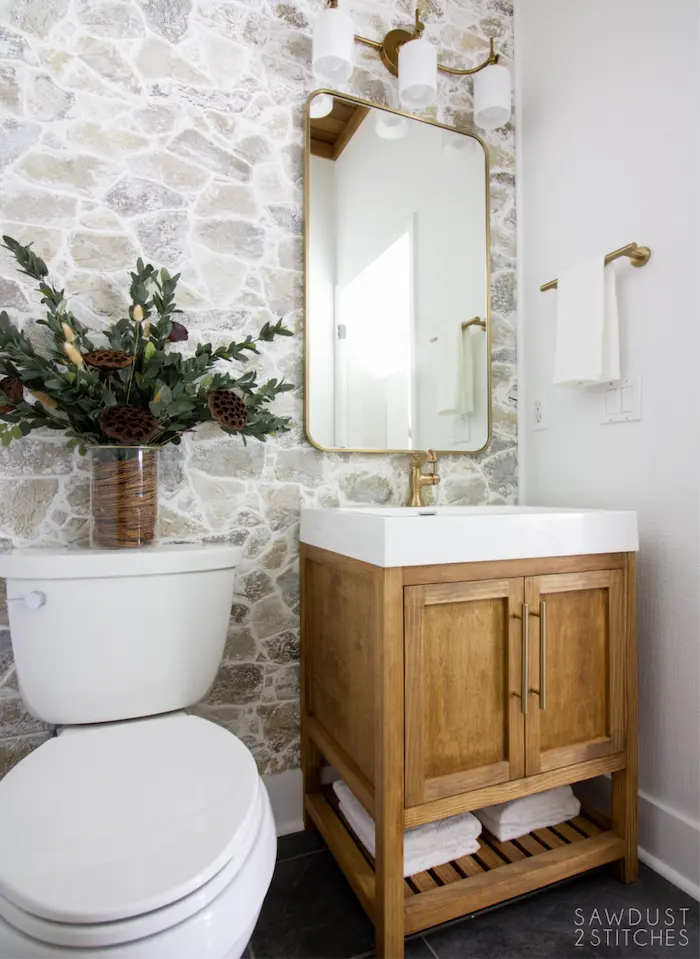 To keep clutter from taking over, let's bring in some hidden storage solutions. How about installing a recessed medicine cabinet discreetly tucked behind the mirror? It's the perfect spot to stash away all those little essentials. And if that's not enough, opt for a vanity with built-in drawers.
Trust me, these sneaky storage options work wonders in maximizing your space while keeping your powder room oh-so-organized and tidy. No more searching for misplaced items like toilet paper. Overcome feeling overwhelmed by a cluttered counter!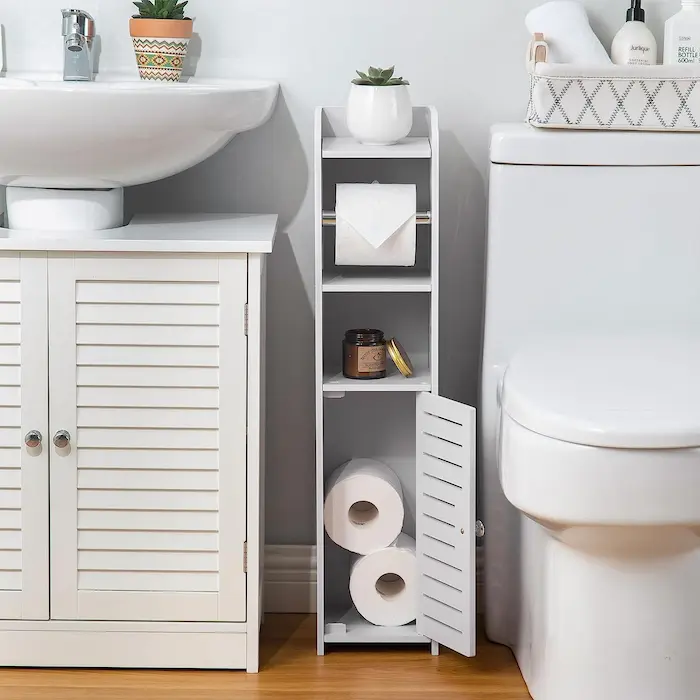 10. Use a Round Mirror
Want to create a sense of openness in your powder room? Choose a trendy round mirror! With its soft curves and absence of sharp corners, it not only adds a modern flair but also helps the room flow better. Plus, it's a great opportunity to make a stylish statement.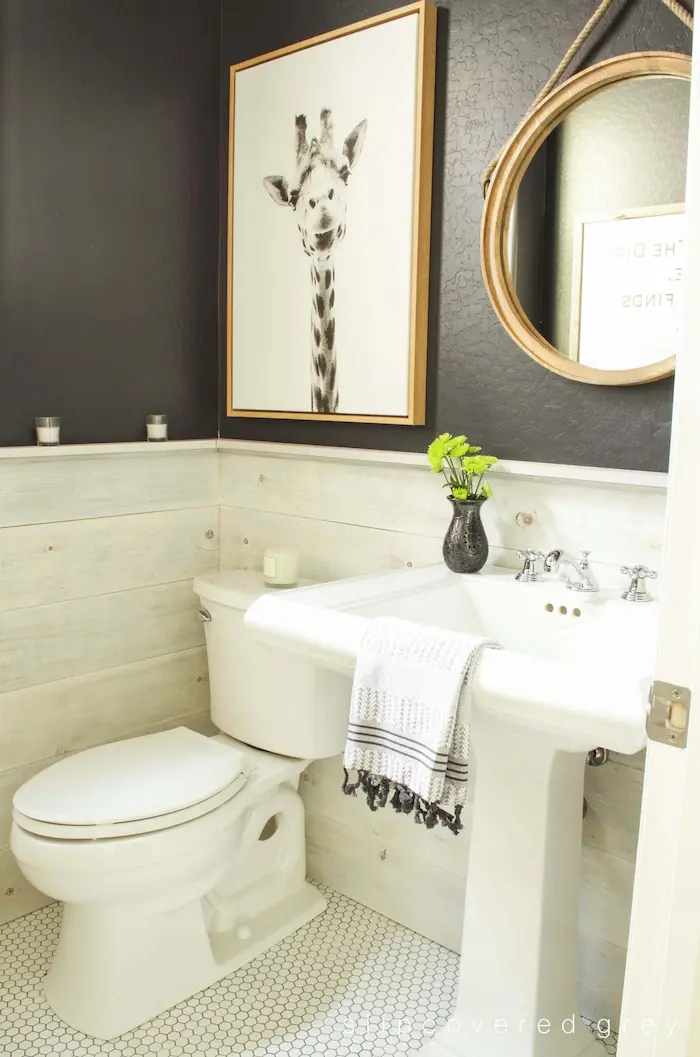 11. Add a Statement Wallpaper
Let's talk about making a statement in your powder room! One of my favorite ways to do this is by choosing a bold wallpaper that truly stands out. Imagine walking into your powder room and being greeted by a vibrant, eye-catching design. Think patterns, geometric shapes, or even botanical prints—whatever speaks to your personality and adds that extra touch of visual interest. Oh, and here's a pro tip: make sure the wallpaper you choose complements the overall style of your home. It's all about creating a cohesive and harmonious look that will leave a lasting impression on anyone who steps foot in your powder room.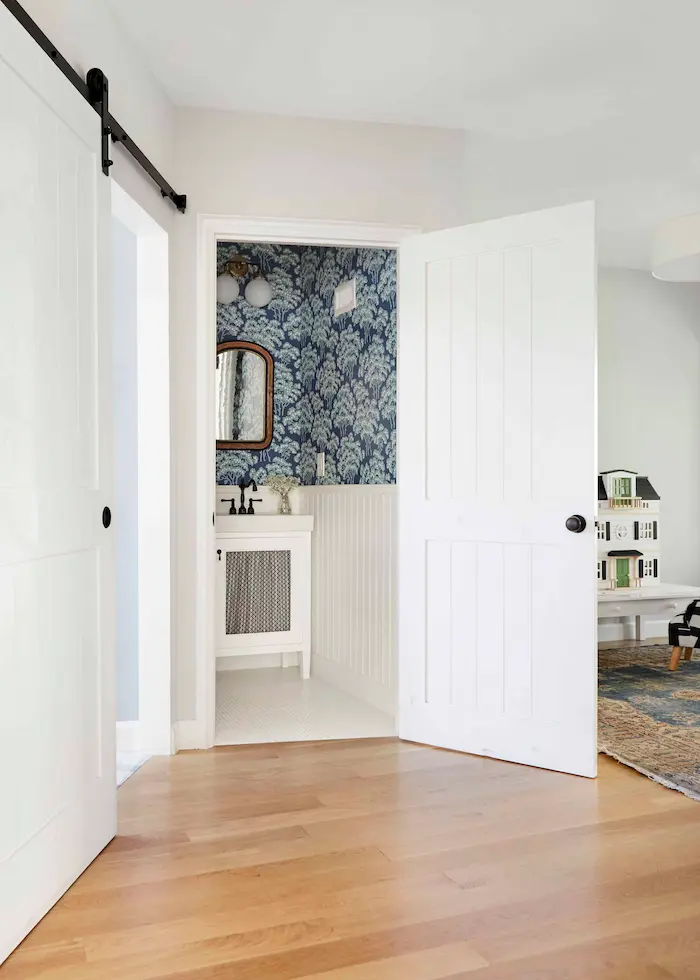 RELATED: 8 Essential Tips for Decorating a Navy Blue Bathroom on a Tight Budget
12. Install a Floating Shelf
To really make the most of your space, why not install a floating shelf right above the toilet or next to the vanity? It's a small addition that can pack a punch when it comes to storage and display. You can use it as the perfect spot to showcase decorative items like charming candles, vibrant plants, or even small pieces of artwork. Just make sure to pick a stylish shelf design that perfectly matches the overall theme and vibe of your powder room. It's all about adding that extra touch of personality and functionality!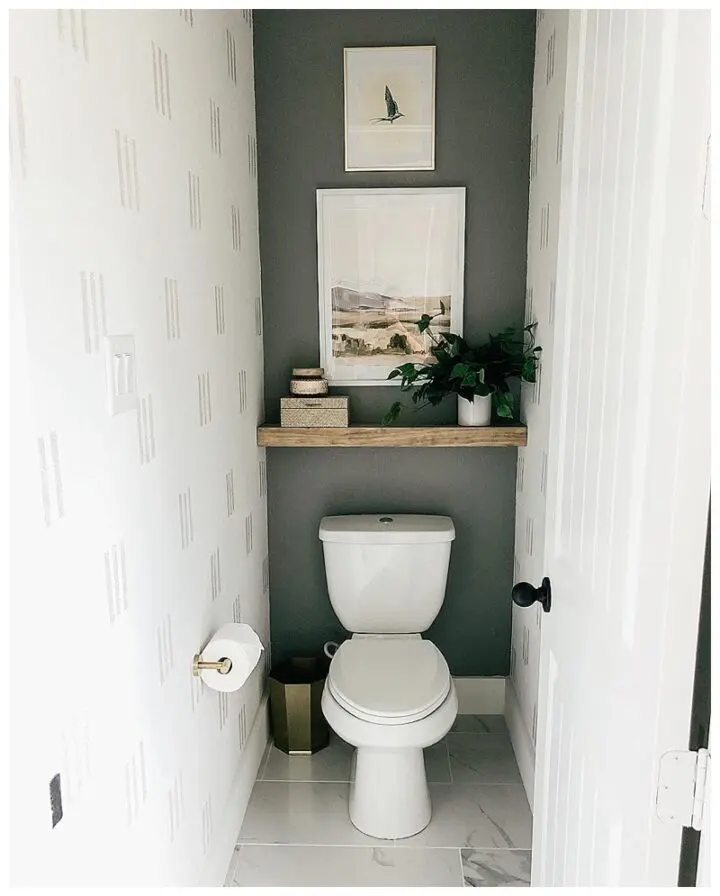 13. Utilize a Pedestal Sink
If you're yearning for an inviting and breezy atmosphere in your powder room, why not give a pedestal sink a shot? This timeless fixture brings a touch of elegance to the space without hogging up valuable room. Just imagine how stunning it would look when paired with a chic mirror and some tasteful wall-mounted accessories. It's the perfect recipe for a complete and polished look that will surely impress your guests. This is one of the most popular powder room ideas!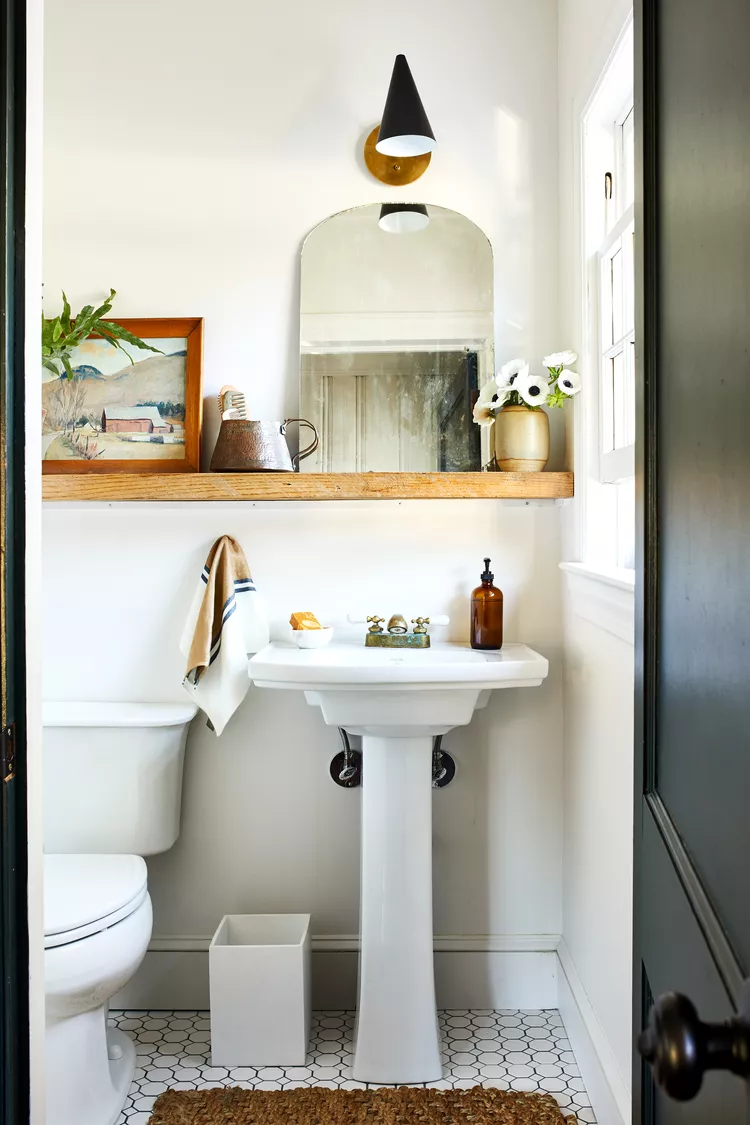 RELATED: Small Space, Big Style: Top 15 Home Decor Trends for 2023
14. Incorporate Natural Elements
Why not bring a breath of fresh air into your powder room by embracing the beauty of nature? Imagine stepping into a space adorned with pebble tiles that massage your feet as you walk, bamboo accents that exude a sense of tranquility, or a live edge wooden countertop that brings a touch of rustic charm.
By incorporating these natural textures and materials, you'll infuse your powder room with warmth, serenity, and a delightful connection to the great outdoors. It's like having a mini sanctuary right in the comfort of your home!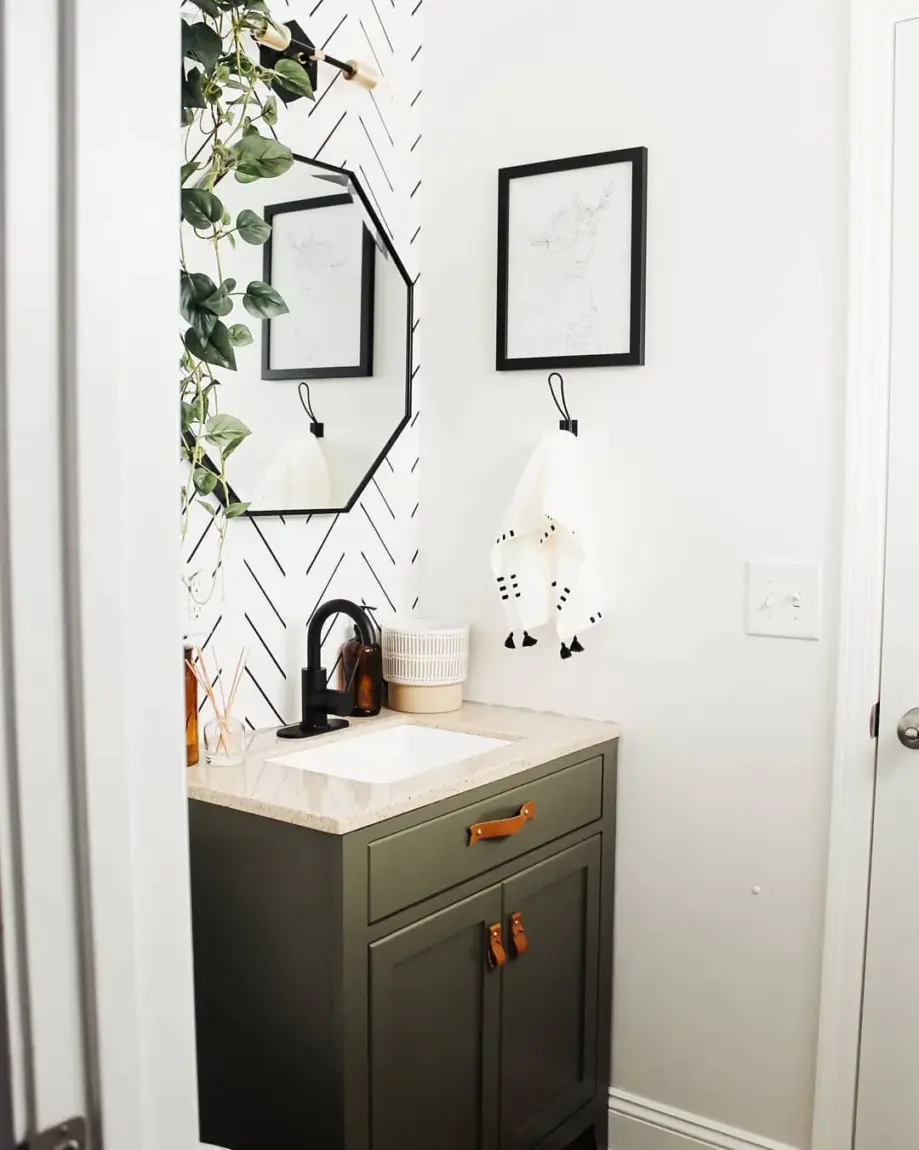 15. Use Clever Storage Solutions
When you're dealing with limited space, it's all about thinking outside the box and finding clever storage solutions. Get creative and explore options like recessed shelves, built-in niches, or even over-the-door organizers to make the most of every inch. And let's not forget about the power of stylish containers!
Use baskets, trays, and decorative boxes to keep all your essentials neatly organized while adding that extra touch of flair to your powder room. Trust me, a well-organized and stylish space can truly make a difference!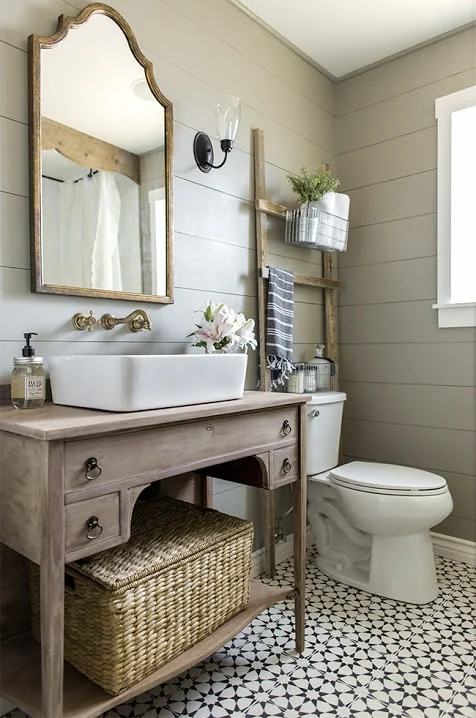 16. Incorporate Open Shelving
Embrace the beauty of open shelving to maximize storage without overwhelming your limited space. Install a couple of floating shelves and watch them transform into functional and decorative displays. Showcase your essentials and add personality to your powder room with carefully chosen items.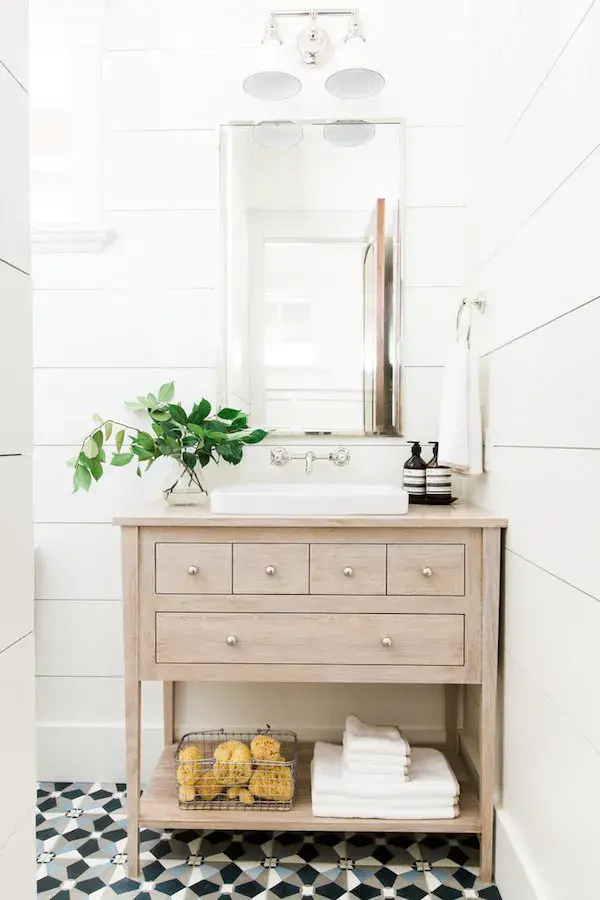 17. Utilize Pocket Organizers
Let's not forget about the often underutilized space on the back of your door. Attach some handy pocket organizers to keep your toiletries, hand towels, or other small items organized and easily accessible. It's a practical solution that saves precious floor and wall space.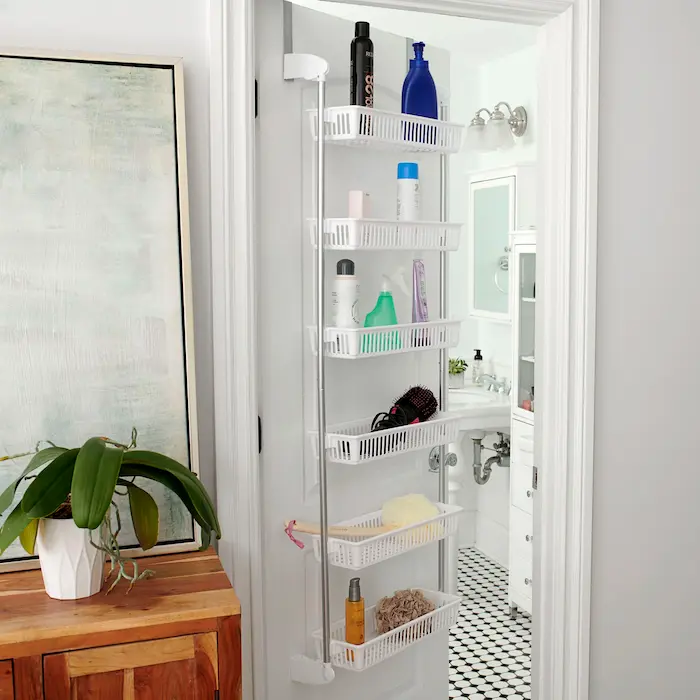 18. Use Wall-Mounted Storage Baskets
When floor space is limited, take advantage of vertical storage options. Install wall-mounted storage baskets to keep your essentials organized and within reach. These baskets not only serve a practical purpose but also add a charming and rustic touch to your powder room decor.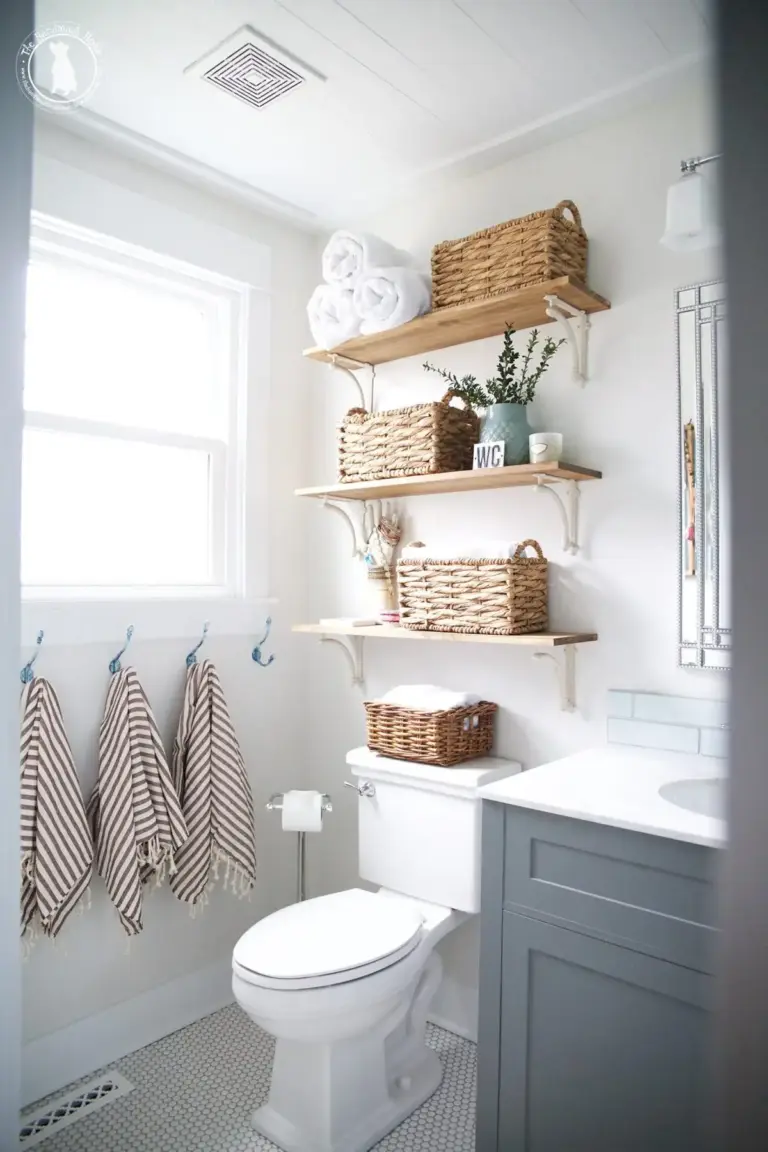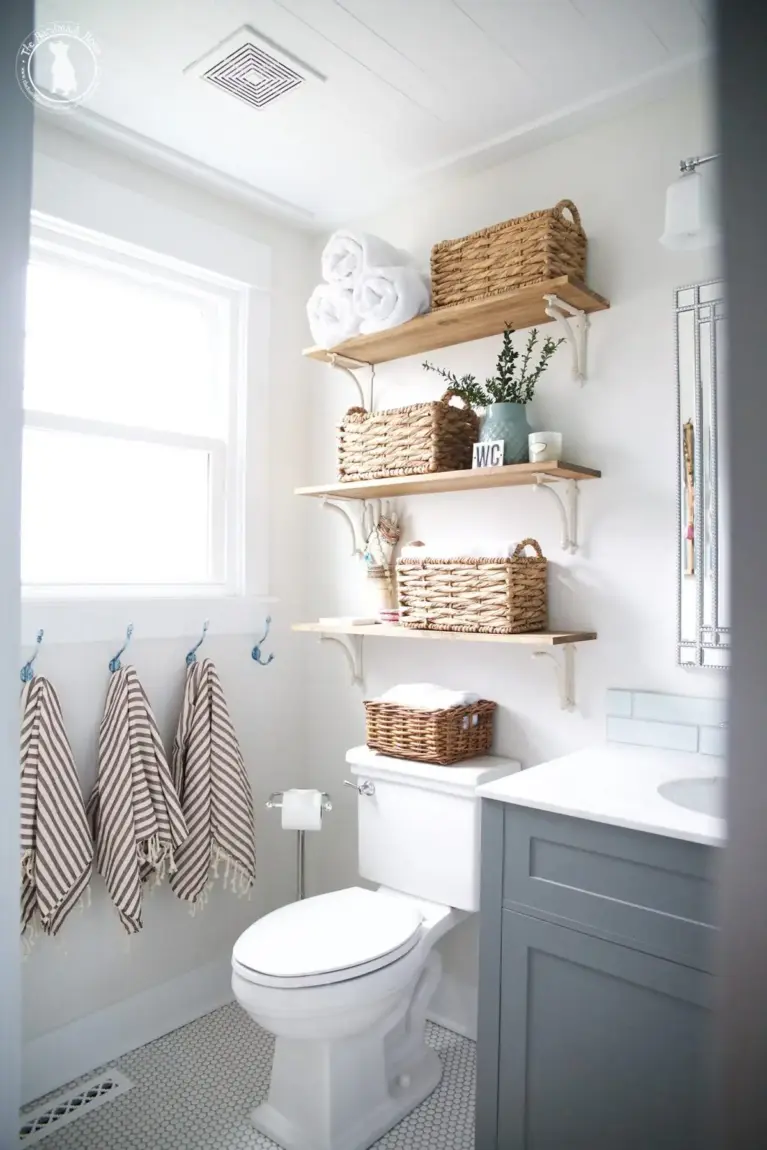 19. Opt for a Sliding Barn Door
Save space and add a touch of rustic charm by swapping out a traditional swinging door with a sliding barn door. This space-saving solution creates a seamless transition between rooms while adding a unique focal point to your powder room.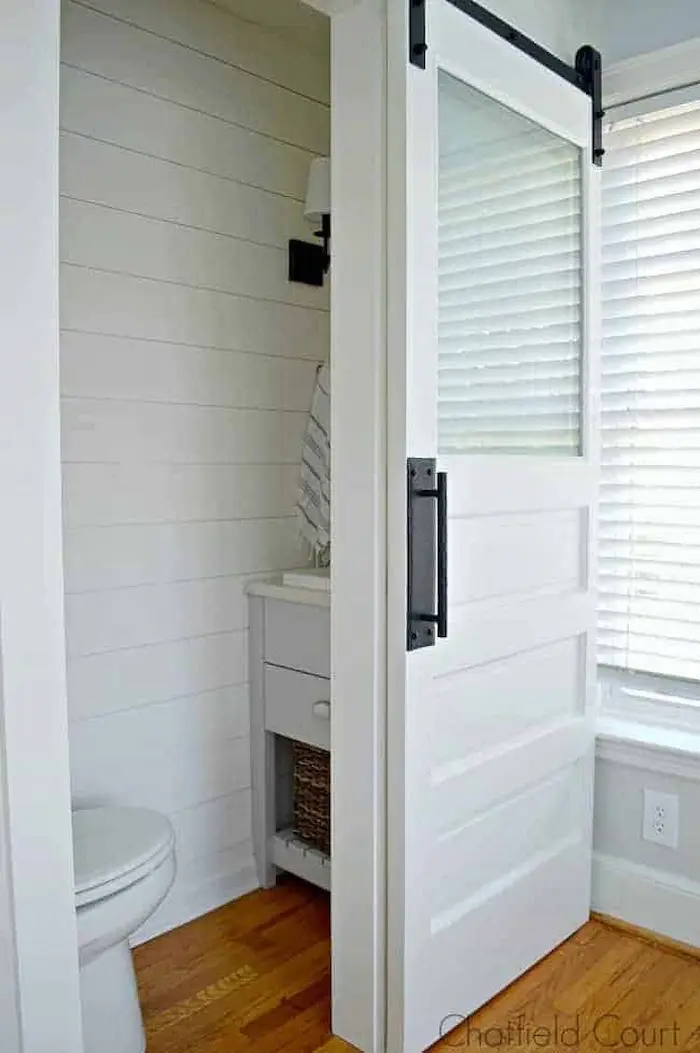 Limited space doesn't mean you have to compromise on style and functionality in your powder room.
By implementing these clever design powder room ideas, you can transform your small powder room into a stylish oasis that leaves a lasting impression. Experiment with wall-mounted fixtures, mirrors, vertical storage, and creative lighting to make the most of every inch. Remember, small can be mighty when it comes to powder room design!
I hope you found these ideas helpful for your powder room project.
Stay tuned for more exciting DIY home improvement tips and tricks. Make sure you are following me on Instagram, Pinterest, YouTube, Hometalk, and TikTok for more ideas on how to decorate your home! Happy decorating!
If you liked these powder room ideas, then you might also enjoy: