Are you ready to completely transform your small kitchen but believe you don't have the design skills or access to do it? You're not alone. Over the last decade, rental kitchens have been neglected or forgotten as homeowners focus on bigger projects and DIY home bloggers take on even bigger challenges.
Today, I will show you that a rental kitchen can be beautiful and that you don't need major demolition or design skills to transform it without hurting your chances of getting your security deposit back.
You will learn how to make small but impactful changes and how to choose the correct lighting to make your kitchen instantly brighter.
We'll discuss how the right lighting can improve how you feel about the space and how you can use DIY and budget-friendly solutions to make the transformation. By the end of this blog article, you'll have all the tools you need to make your rental kitchen look like a designer space without breaking the bank.
I tackled this space shortly after moving in back in 2014, but then I moved on without really adding a wow factor to it. I really needed more natural light but since this was an awkward space, I had to start from within to create lighting really help set some ambiance.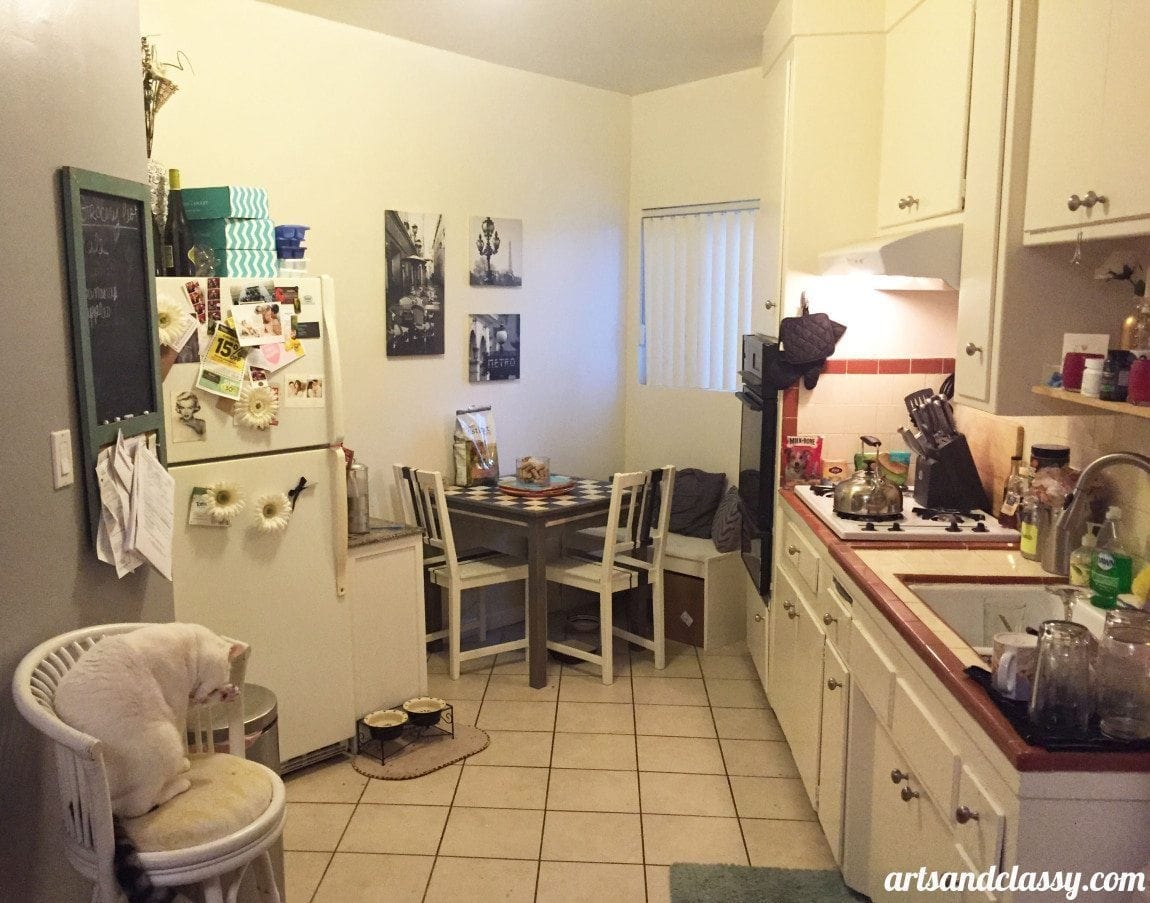 To make this makeover happen, I needed a few supplies and a bit of elbow grease! From thrift store finds and a DIY project or two to use my creativity to make this makeover happen on a tiny budget.
What supplies did I use for this small rental kitchen makeover?
I am so happy you asked! Here is a list breakdown of supplies I used or some that are similar to the ones I used.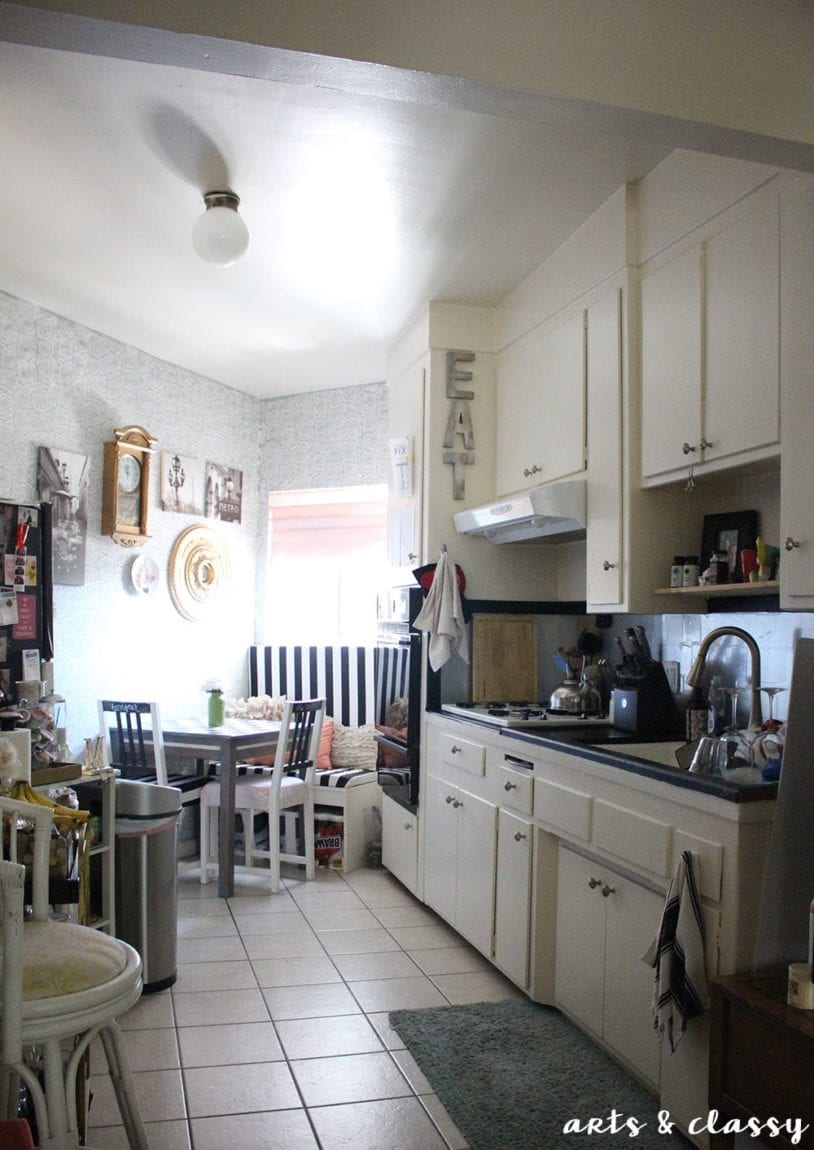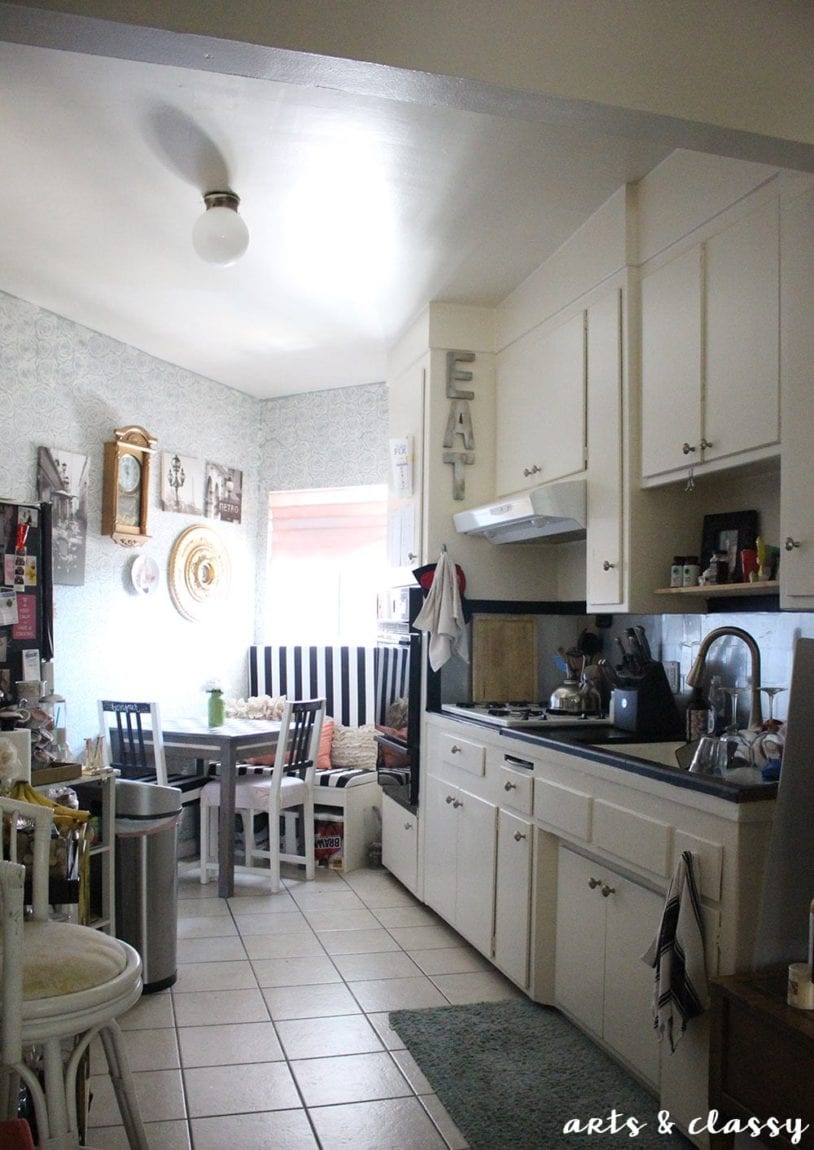 Ready to upgrade my rental kitchen with a mini refresh makeover, I decided to take a unique approach. Being a renter in a small apartment in Los Angeles gave me the freedom to get creative.
String lights, like the stylish Enbrighten Cafe Lights by Jasco, seemed like the perfect way to give my rental kitchen makeover a French cafe vibe and warm it up with a cozy glow.
Plus, it gave me the opportunity to turn my rental into a space that totally reflects my personality. Now, my kitchen is the perfect spot to have friendly conversations and feel at home.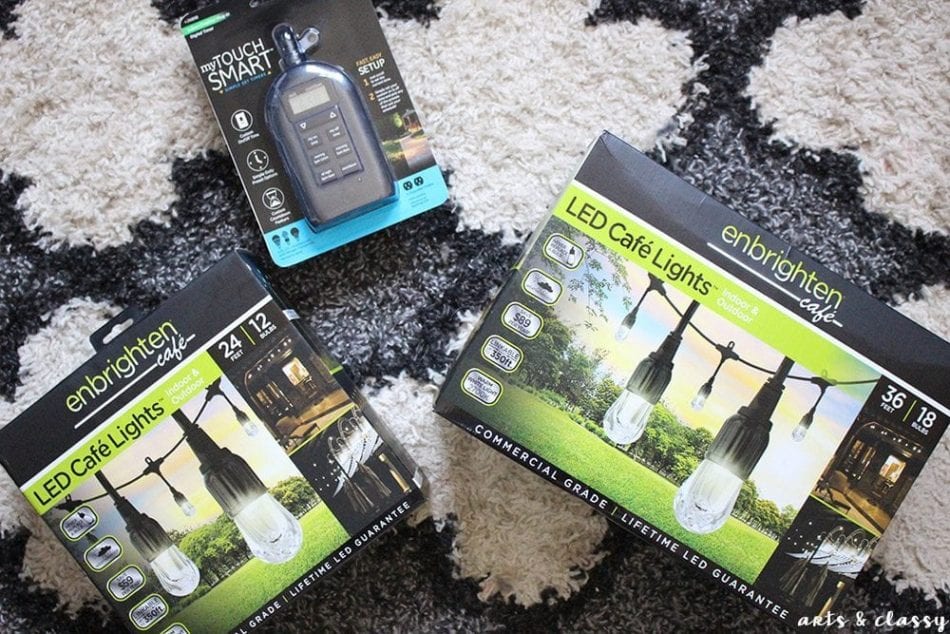 I incorporated the TouchSmart Timer with my light setup so that I never have to come home to darkness! I felt safe hanging them indoors because of the fact that they are LED, and energy efficient so you never have to replace a bulb.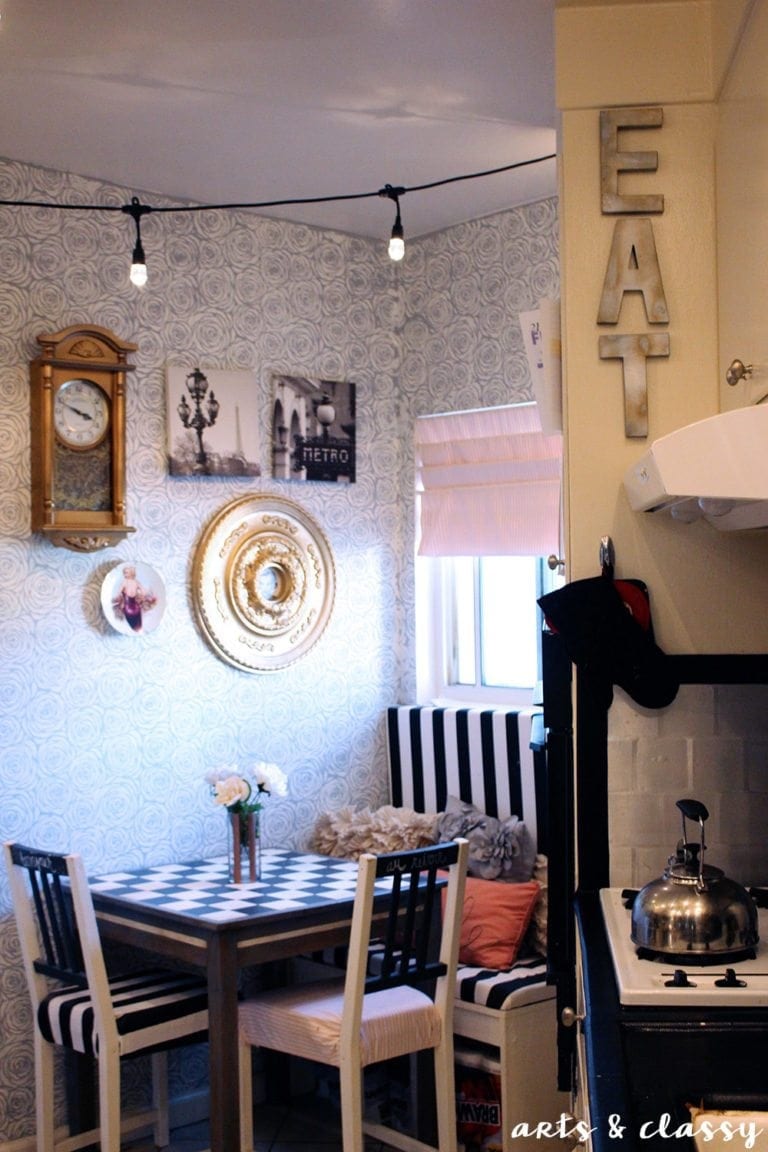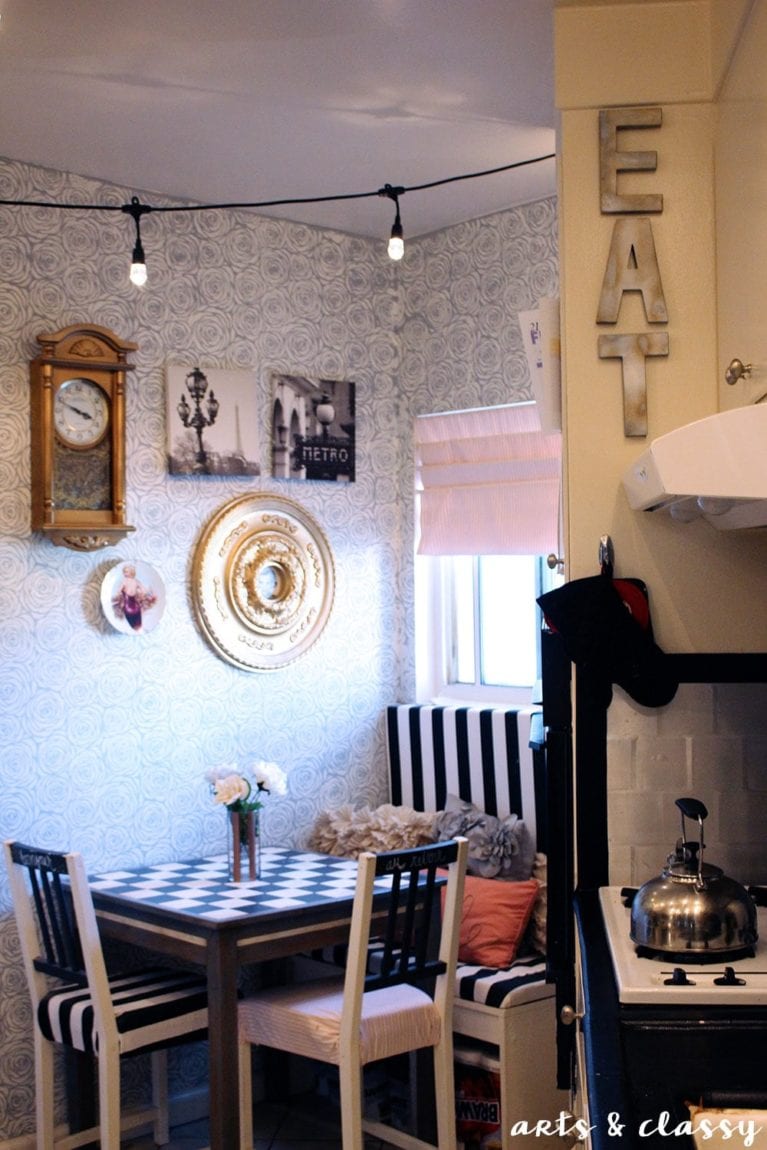 It doesn't take a design degree to completely transform your rental kitchen.
With the right lighting, DIY solutions, and a frugal attitude, you can make your DIY kitchen makeover look like a stunning designer space. Being a renter doesn't mean you have to be tied to an ugly, dark kitchen.
You can make your rental kitchen the envy of your friends and family by taking the time to understand what materials and techniques work best. With some creativity and know-how, you can make your rental kitchen the heart of your home, without breaking the bank!
So, what are you waiting for? Get ready to make your rental kitchen shine! They work in really any space and are built to last year-round continuance outdoor use. They are extremely durable.  Now, I want to challenge you to get creative! Where would you put your cafe lights in your home? Let me know in the comments below!
If you enjoyed this rental kitchen makeover that is landlord approved, you will also enjoy: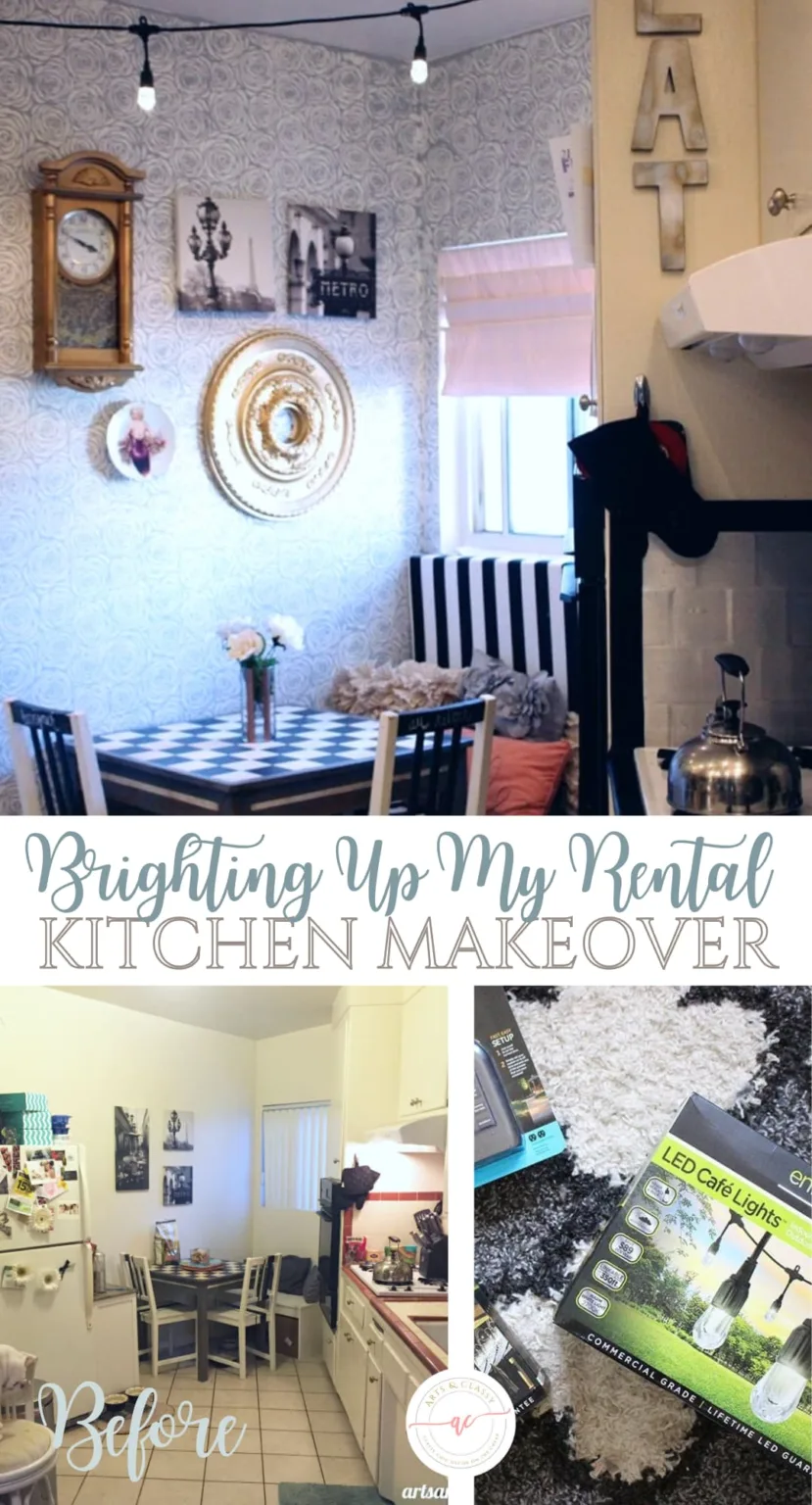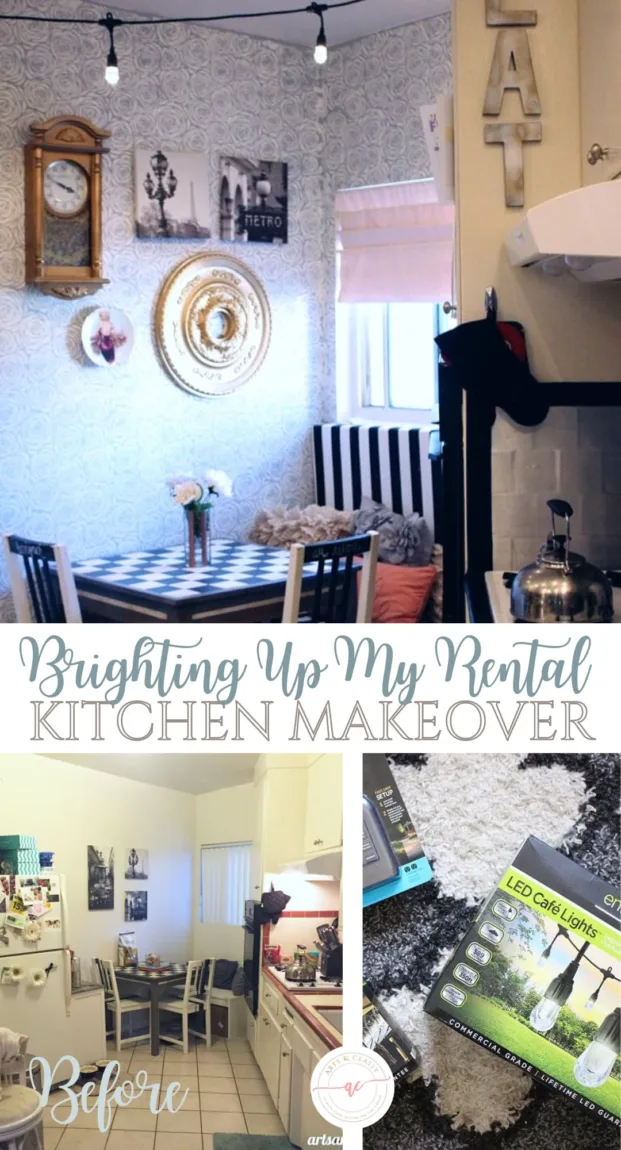 *This post has been sponsored by Enbrighten Café String Lights by Jasco and Acorn Influence. However, the opinions expressed in this post are entirely my own.