Are you living in a rental and dreaming of a nicer kitchen faucet? You don't have to settle for the outdated fixtures your landlord provides – you can upgrade your old kitchen faucet in just a few easy steps! In this article, I'll provide simple and straightforward recommendations from expert DIYers on how to swap out your existing faucet and install an updated one without breaking the bank – or your landlord's rules. Whether you're looking for a new finish, an extended reach, or an extra feature like a pull-down sprayer, we'll show you how to find the perfect kitchen faucet for your space and make it happen. Upgrade your rental kitchen faucet to make it yours – without compromising your rental agreement.
As a renter, I understand the struggle of finding the perfect place to call home.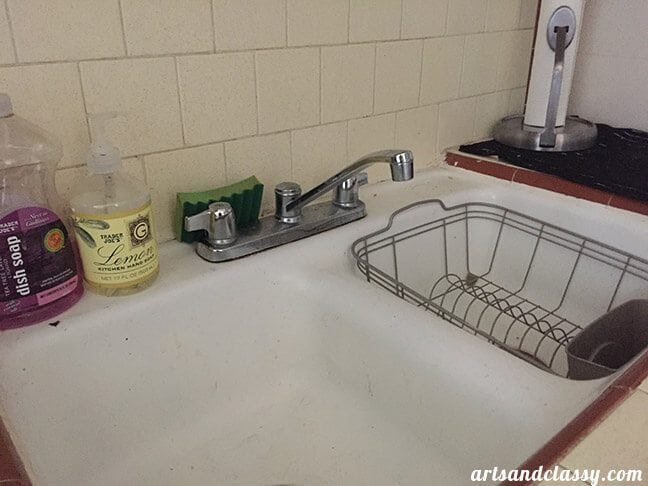 I wanted the convenience of a stackable washer and dryer and a dishwasher, but in the end, the location was the deciding factor. With the lack of a dishwasher, I was left with the least favorite of all chores – doing the dishes!
Washing dishes has become tedious and time-consuming so I took action and decided a new faucet was the perfect solution.
I keep a Brita water pitcher that I fill up daily, and the 'before' fixed faucet – without an extender – made my task all the more challenging. With a new faucet, I'm able to pour my water and save precious time and energy.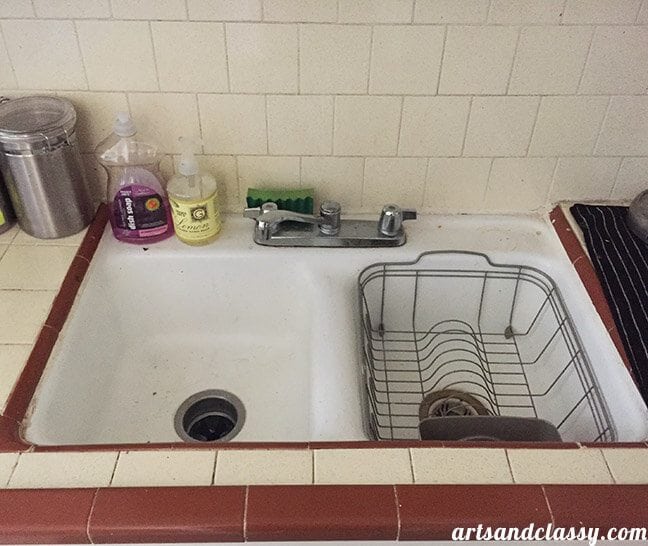 The only requirement from my landlord was that I picked something from a reputable brand like Moen, Delta, or Pfister.
I have never purchased a faucet before and wanted to make sure I chose the right kitchen faucet upgrade for me!
Before purchasing a new faucet for my kitchen, I took a crucial step: measuring the height from the base of my current faucet to the floating shelf above the sink. I kept a tape measure handy for this task, and it proved very helpful in avoiding a kitchen faucet that was too tall.
Knowing I wanted a gooseneck style single handle faucet with a retractable nozzle, I was able to narrow down my search and pick the perfect kitchen faucet upgrade for my needs.
As a renter, it's important to stay prepared and informed when making home improvement decisions. Based on that information, I was able to narrow my selection down to 6 different faucets that would fit my sink. She even emailed me a direct link to a cart she created for me that I could use to compare and help me decide which faucet would be right for my kitchen.
My choice ended up being the Moen Spot Resist Stainless Single Handle Pullout Spray Kitchen Faucet with Reflex.
Here are some similar kitchen faucet upgrades that you may like!
Here is a fun video on why this kitchen faucet upgrade was the perfect choice for me.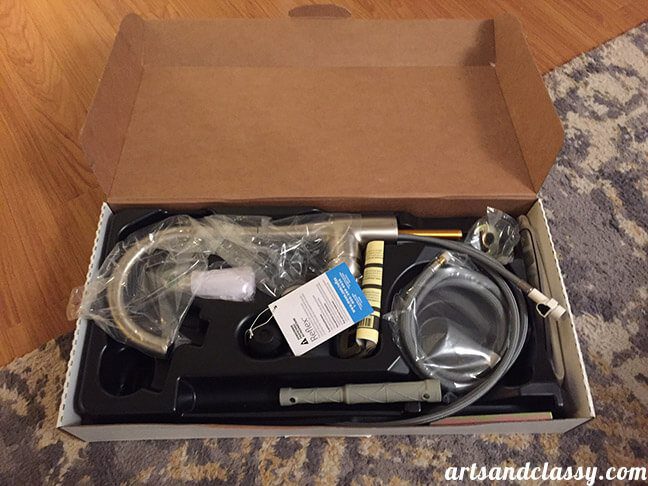 Installing was something I didn't feel like I should take on since I do not own the apartment. My landlord happily had his fix-it guy, come install this faucet for me.
I did discover that I had to purchase some compression adapters to fit my plumbing because the hoses on the faucet were 3/8″ and my plumbing was 1/2″. These adapters were easy to find in the plumbing section of home depot for a couple of bucks each.
What do you need to install a kitchen faucet?
Phillips and Regular Screwdrivers.
Adjustable Wrench (or basin wrench for hard-to-reach areas)
Flashlight
Channel-locking Pliers
Plumber's Putty (not required on all installations)
Thread seal tape.
Allen Wrench (not required on all installations)
Basin wrench
New or replacement Faucet
Flexible Supply Lines
Basin Wrench
Tape Measure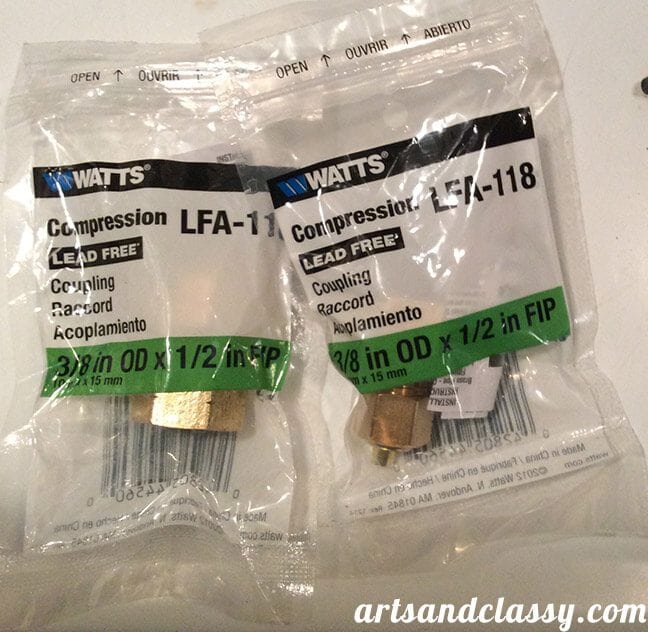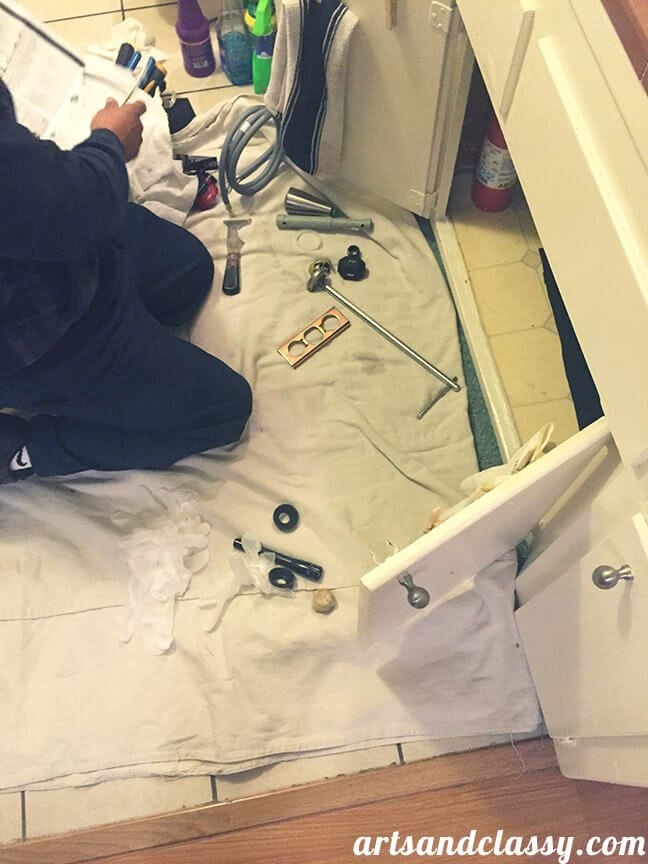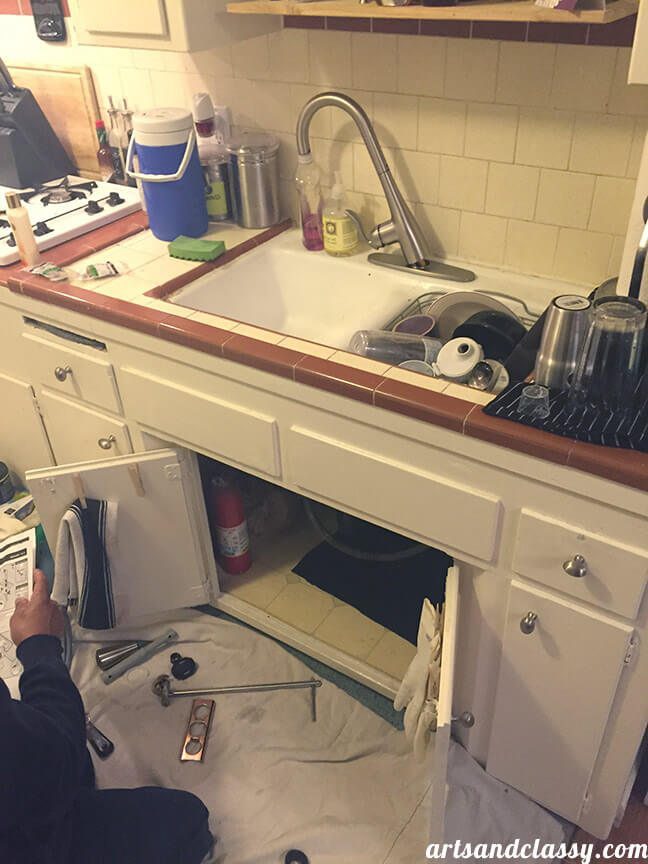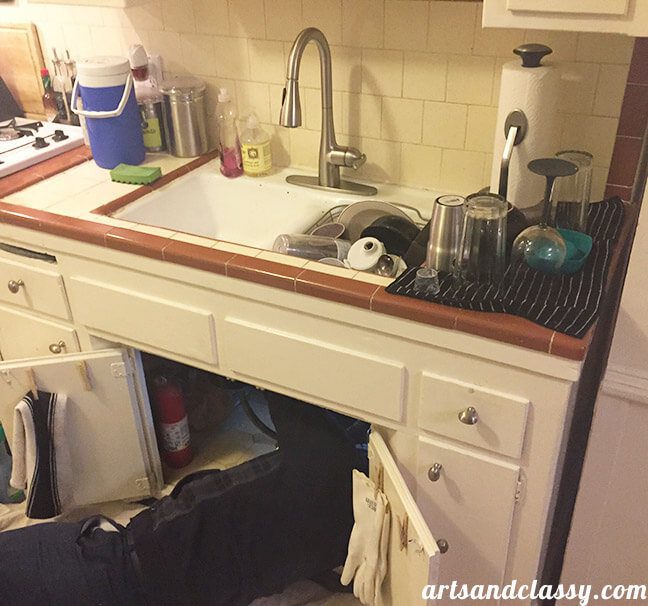 Too busy for a DIY installation? No problem! With Moen's comprehensive installation instructions on YouTube, you can sip a glass of wine and watch in comfort as a professional install the Moen Reflex faucet for you. Easy and worry-free – what could be better?
My installer tech did an amazing job and my kitchen faucet was set up within an hour! No leaks! I was so happy!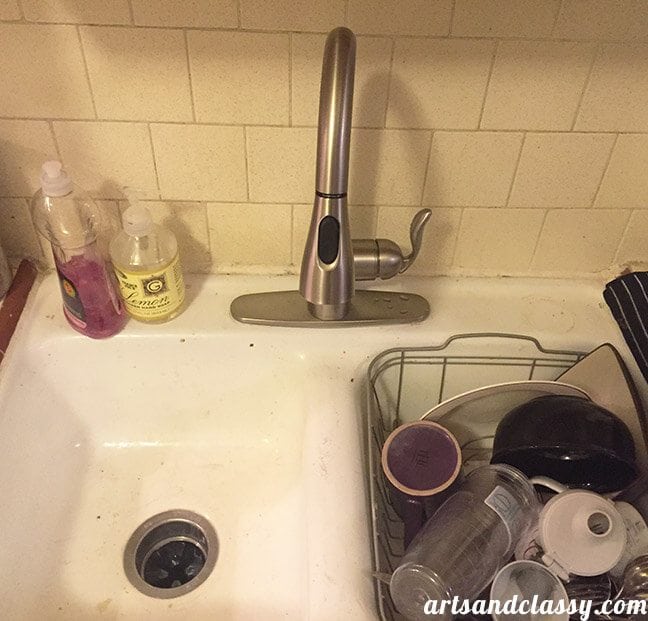 RELATED: Unbelievable: 13 Tried & Tested Ways to Transform Your Apartment on a Budget!
Goodbye ugly old faucet. I will not miss you!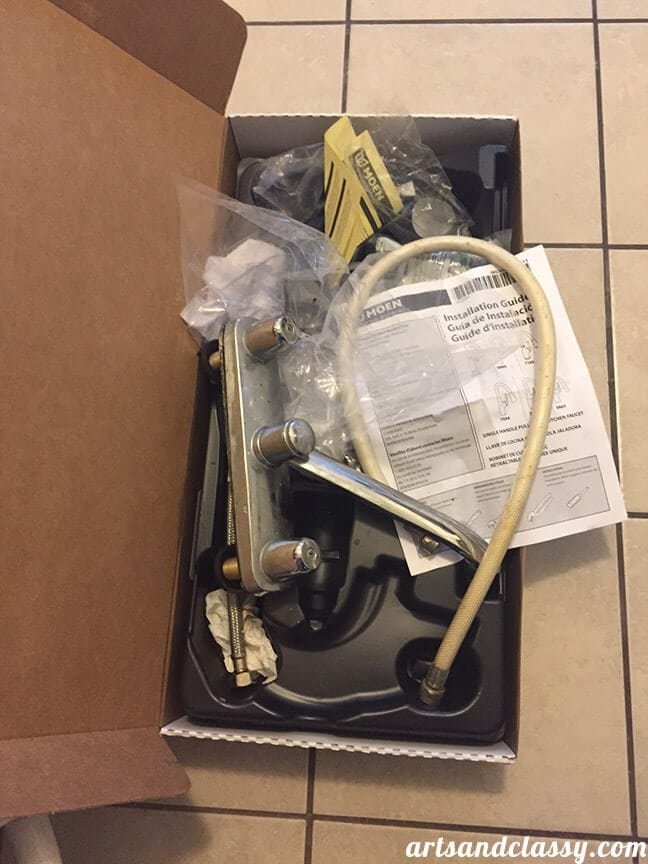 I'm loving my newfound addition to my home: it's made doing the dishes a breeze! The dated countertop has been brought back to life with this modern and classy faucet. It's definitely a game-changer for renters everywhere.
Overall, I found the right faucet with a sink sprayer for me and was able to upgrade my dated rental. I am so happy with the finished results!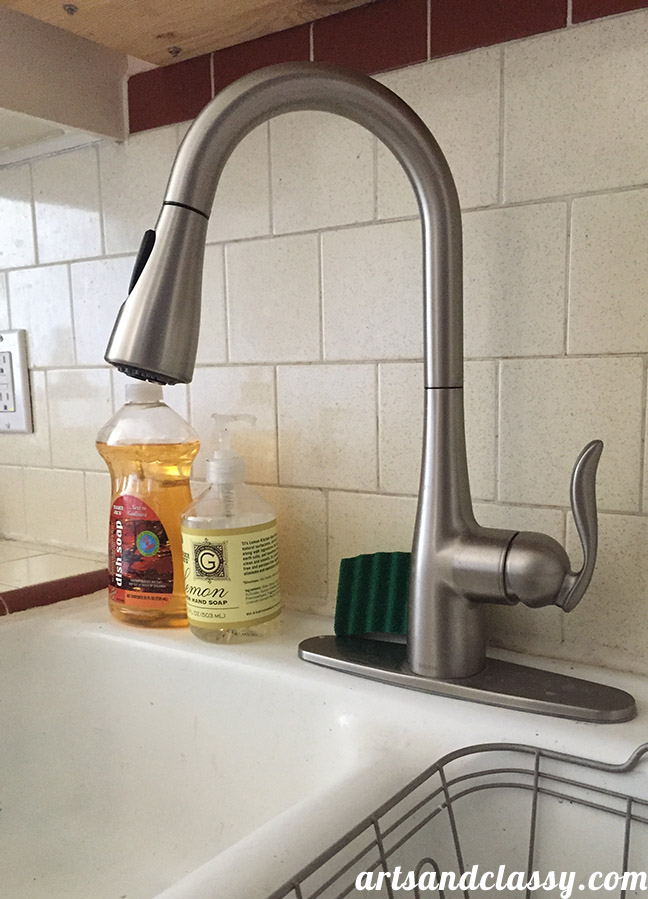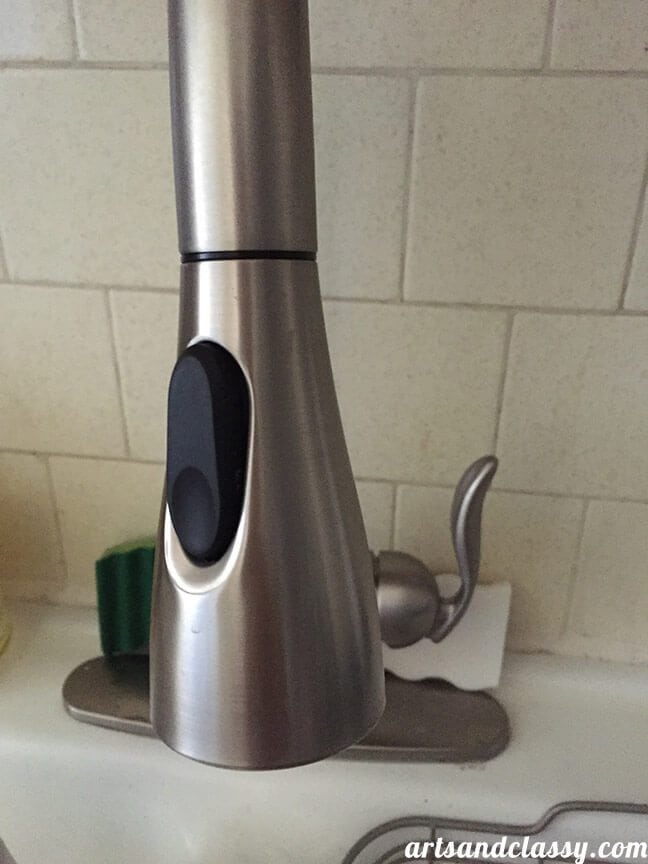 RELATED: DIY Rental Kitchen Makeover: Maximize Your Kitchen's Charm on A Budget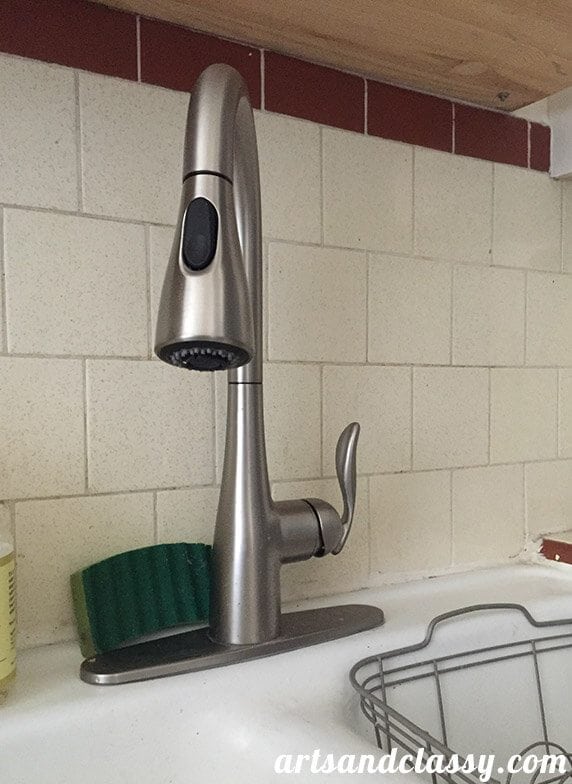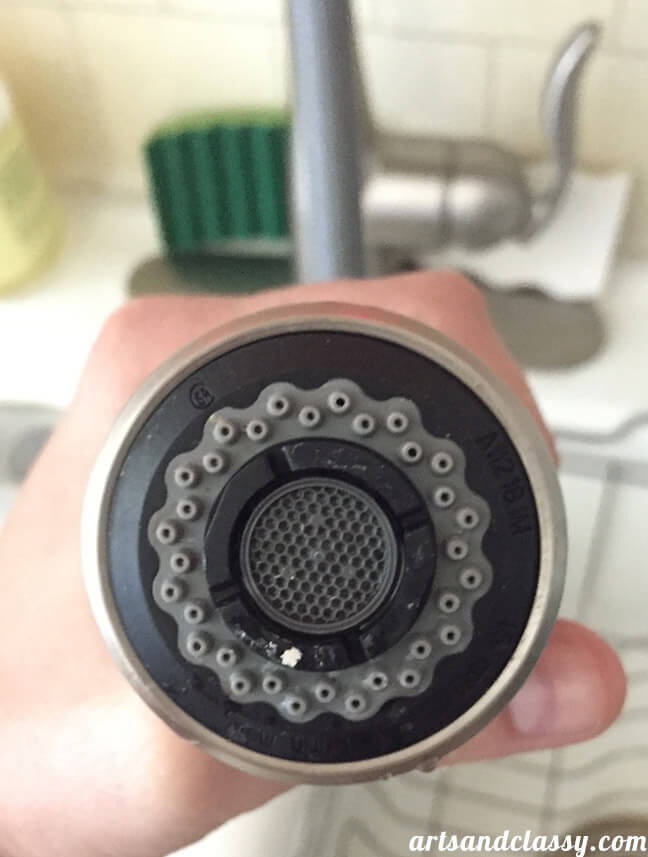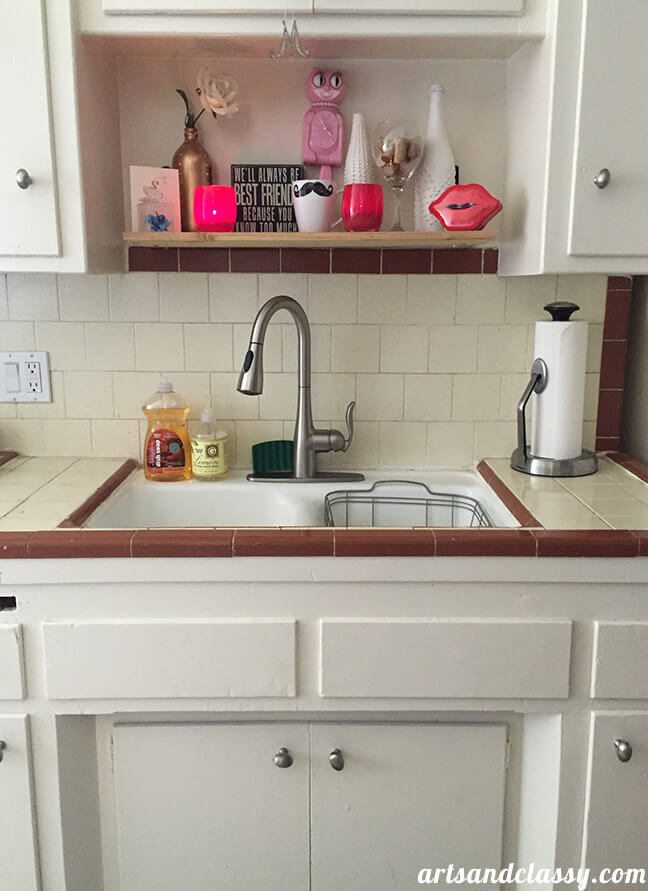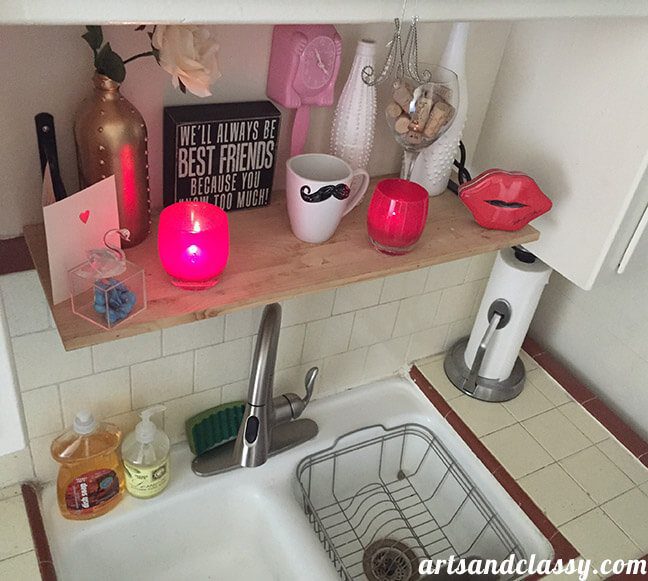 With a few simple steps, I've now successfully upgraded your kitchen faucet. It's amazing what a small change can do to transform an entire room. Not only does the new faucet look better, but it also functions better too, providing you with the convenience of the latest technology.
Keep in mind that when it comes to kitchen upgrades, small changes can make a big impact. And remember, if you ever have any questions along the way, don't hesitate to call a plumbing professional. Now, get out there and take on your next kitchen upgrade!

What do you think of the final result? I would love to hear your thoughts! Let me know in the comments below!
If you enjoyed this kitchen faucet upgrade, you will also enjoy these posts: