Frugal Farmhouse Bedroom Bliss: 15 Affordable Ways to Capture the Style

Welcome to Arts & Classy – Classy chic decor on the cheap! In this post, we will embark on a journey of affordable creativity, discovering 15 ingenious ideas to effortlessly turn your bedroom into a cozy and enchanting farmhouse retreat. Whether you're starting with a blank canvas or seeking to infuse your current bedroom with rustic allure, rest assured that I have the perfect solutions for you. So, get ready to immerse yourself in a world of affordable farmhouse bliss and let your bedroom become a haven of style and comfort.
What are the key elements of farmhouse style?
The farmhouse decor style is defined by key elements such as natural materials like weathered wood, distressed finishes, and neutral color palettes. Vintage-inspired decor, antique furniture, floral patterns, and soft textiles add warmth and charm. This style achieves a welcoming and lived-in feel through simplicity, nostalgia, and comfort.
What makes a farmhouse bedroom?
From rustic accents to cozy textiles, a farmhouse bedroom not only combines vintage charm with a touch of simplicity but also exudes a unique ambiance. Discover how weathered wood, neutral color palettes, floral patterns, and antique-inspired furniture harmoniously come together to create a serene and inviting atmosphere in this popular interior design style.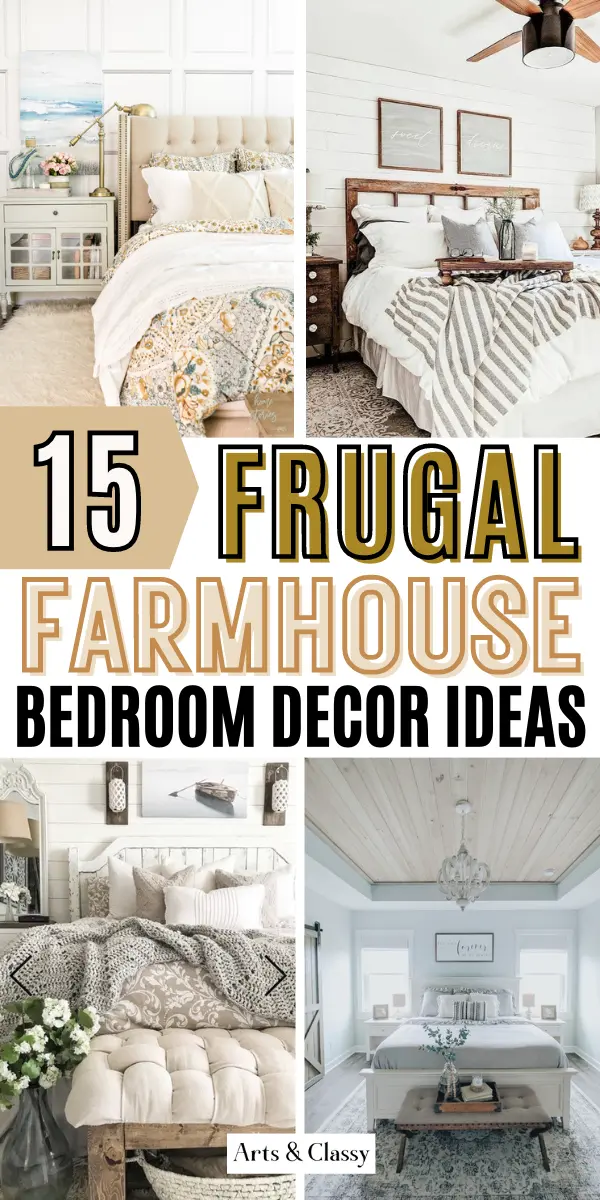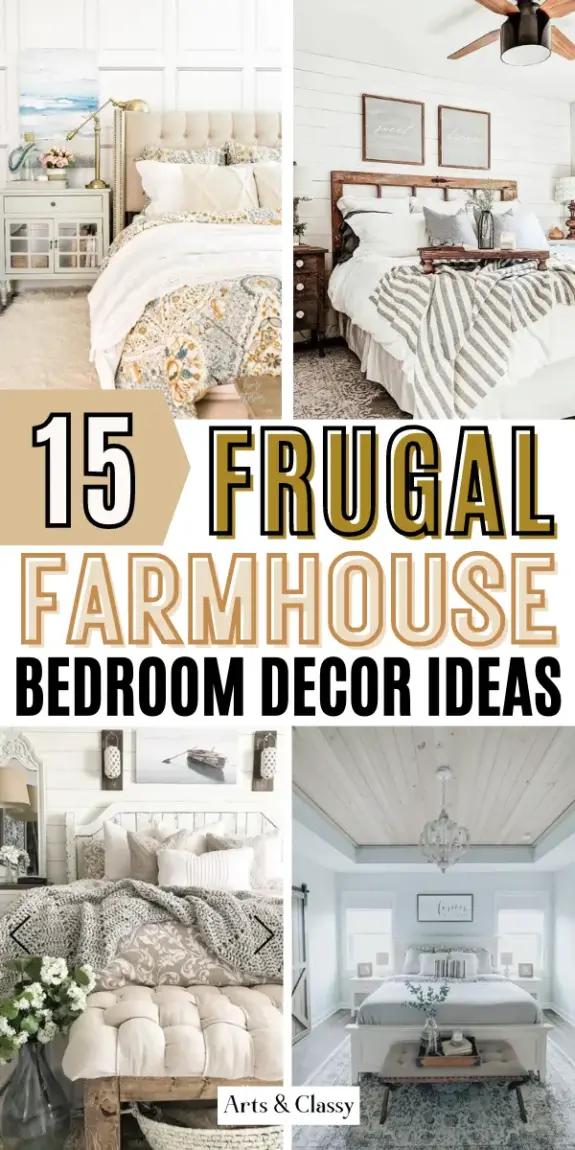 Prepare to design a tranquil and hospitable sanctuary that radiates timeless charm, all while keeping your wallet intact. Let's dive right in and unlock the secrets to achieving a captivating farmhouse bedroom without breaking the bank!
Plus, this post contains some affiliate links. Furthermore, I may earn a small commission if you make a purchase through one of these links. For more information, please refer to my full disclosure policy. Don't miss out—read now!
1. Embrace Neutral Color Schemes

For a perfect bedroom color scheme, start by selecting a soft, relaxing, and soothing neutral color palette for your farmhouse bedroom. Firstly, opt for neutral shades like white, cream, beige, or light gray to create a serene atmosphere reminiscent of country living. Additionally, choose shades that Joanna Gaines from Fixer Upper would be proud of.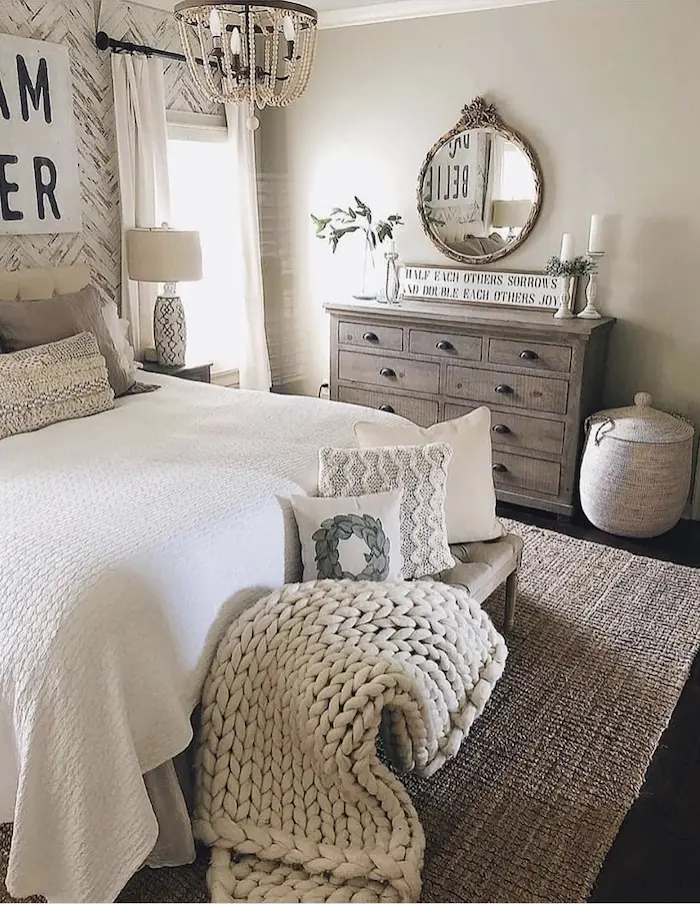 2. Rustic Bed Frame

Invest in a rustic bed frame or give your existing one a farmhouse bedroom design makeover. Weathered wood, a metal bed frame, or a wrought iron design with simple lines can instantly bring that desired farmhouse charm to your bedroom.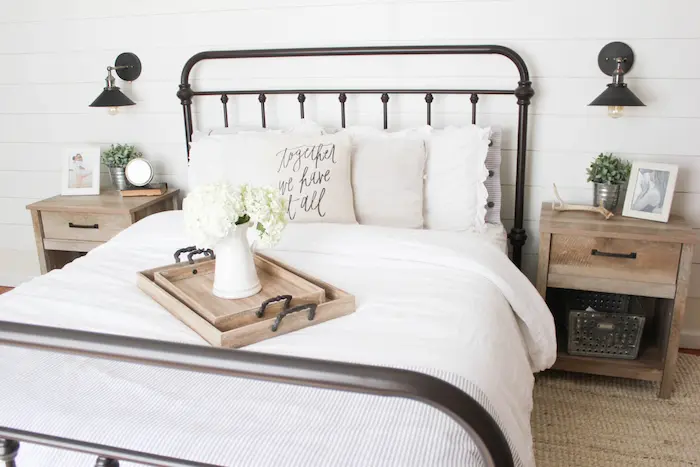 RELATED: Get Ready to Feel the Coziness: 10 Inviting Farmhouse Decor Ideas
3. Cozy Bedding

Layer your bed with cozy, textured, or linen bedding in natural fabrics like linen or cotton. Additionally, choose a combination of soft neutrals, subtle patterns, and a touch of gingham or ticking stripe for an authentic farmhouse look. Moreover, these types of bedding would work well with a classic farmhouse style or a modern farmhouse style bedroom.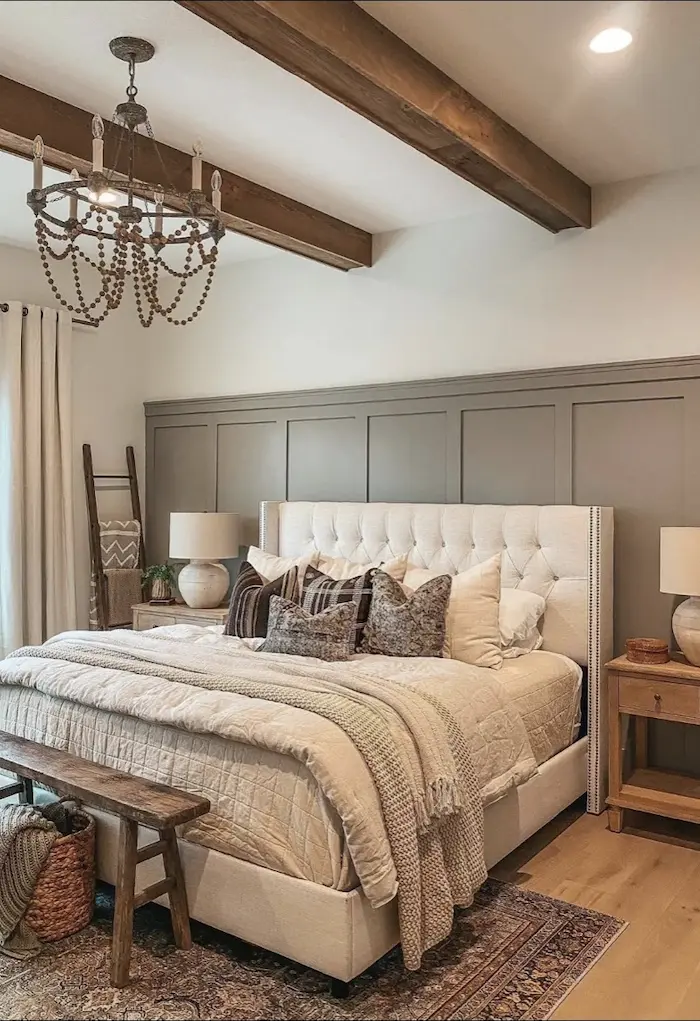 4. Vintage Accessories

Scour thrift stores or flea markets for unique vintage accessories to adorn your bedroom. Additionally, antique frames, distressed mirrors, and repurposed items like old ladders or window shutters can add a touch of rustic elegance to your space.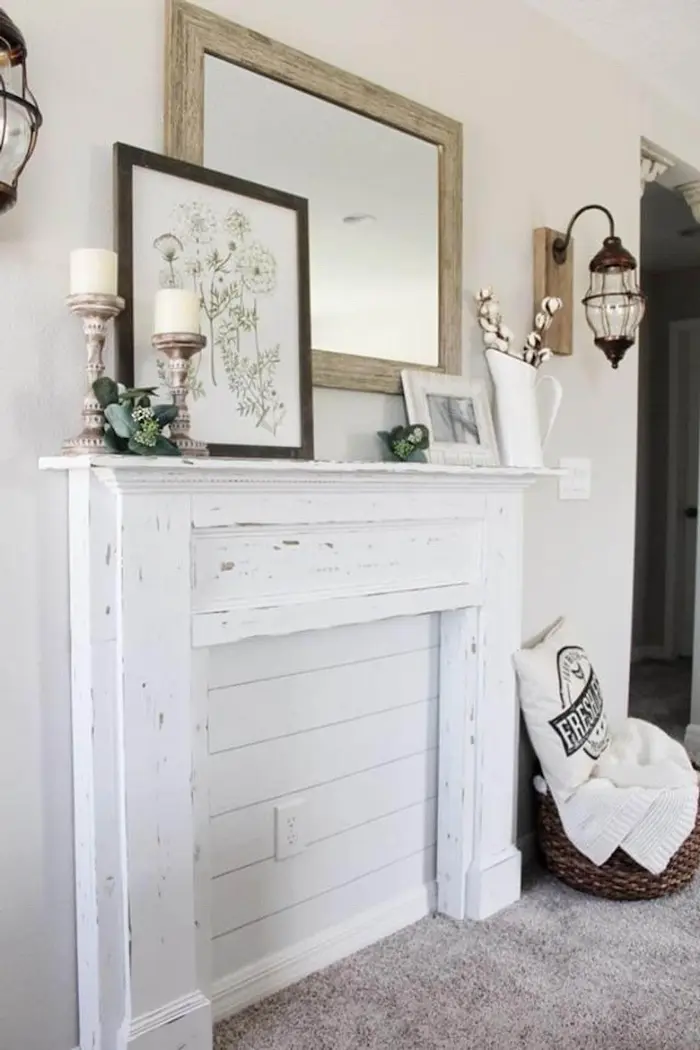 5. Farmhouse Lighting
Elevate your farmhouse bedroom by swapping out your current lighting fixtures with farmhouse-inspired options. Upgrade to vintage-style pendant lights, wrought iron sconces, or charming mason jar chandeliers. These choices will infuse your space with a warm and inviting ambiance.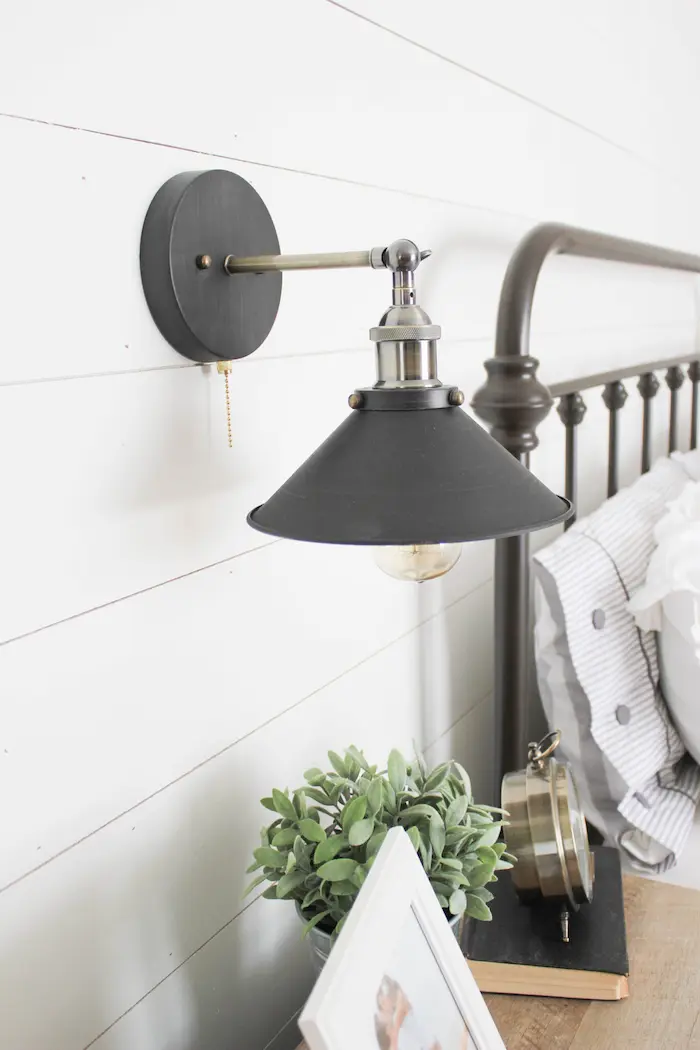 6. Salvaged Wood Accent Wall

Create a focal point in your bedroom by installing a salvaged wood accent wall or white shiplap walls. Additionally, you can use reclaimed barn wood or pallets to add rustic charm and texture, instantly transforming the space into a farmhouse haven.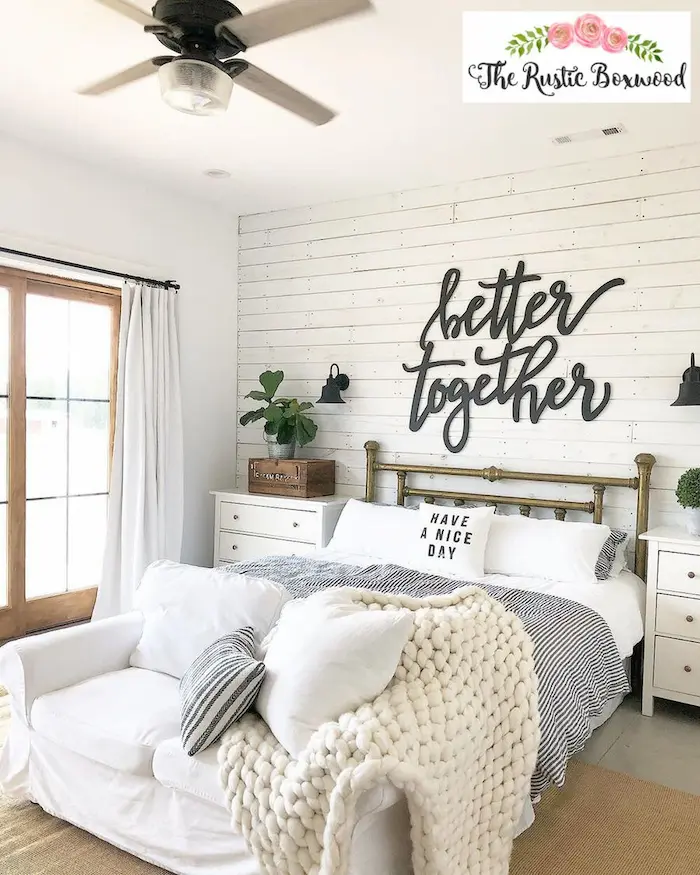 7. DIY Farmhouse Headboard

Transform your space into a rustic haven without breaking the bank by crafting a DIY farmhouse headboard using reclaimed wood or even a repurposed old door. Moreover, with just a few basic tools and some creativity, you can easily achieve a unique and personalized focal point for your bedroom.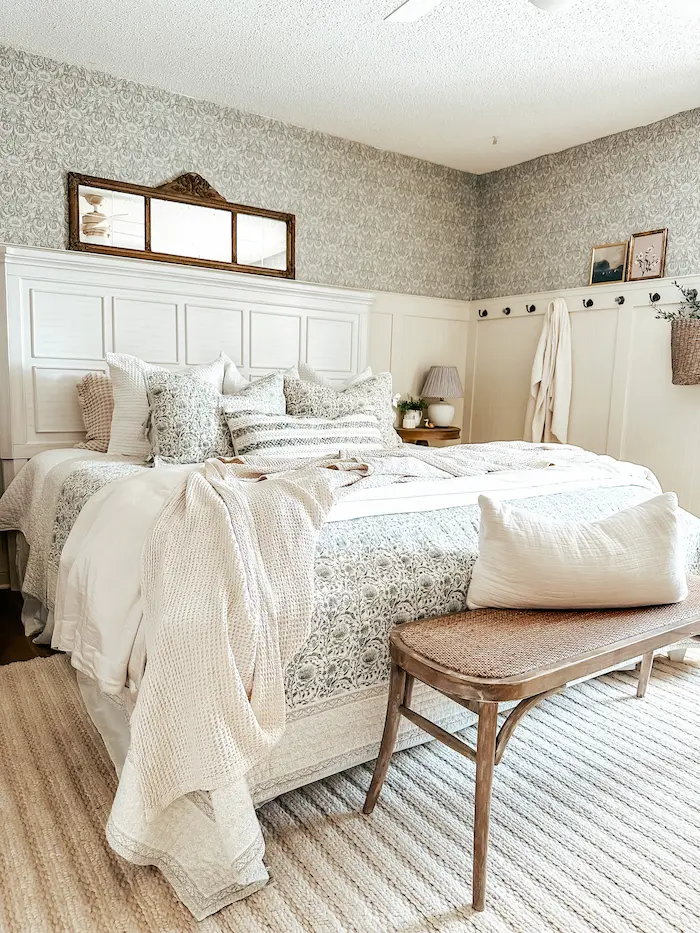 8. Vintage Wall Art

Enhance your farmhouse bedroom's aesthetic with vintage-inspired wall art. Furthermore, look for botanical prints, farmhouse signs, or framed antique postcards to infuse character and history into the space.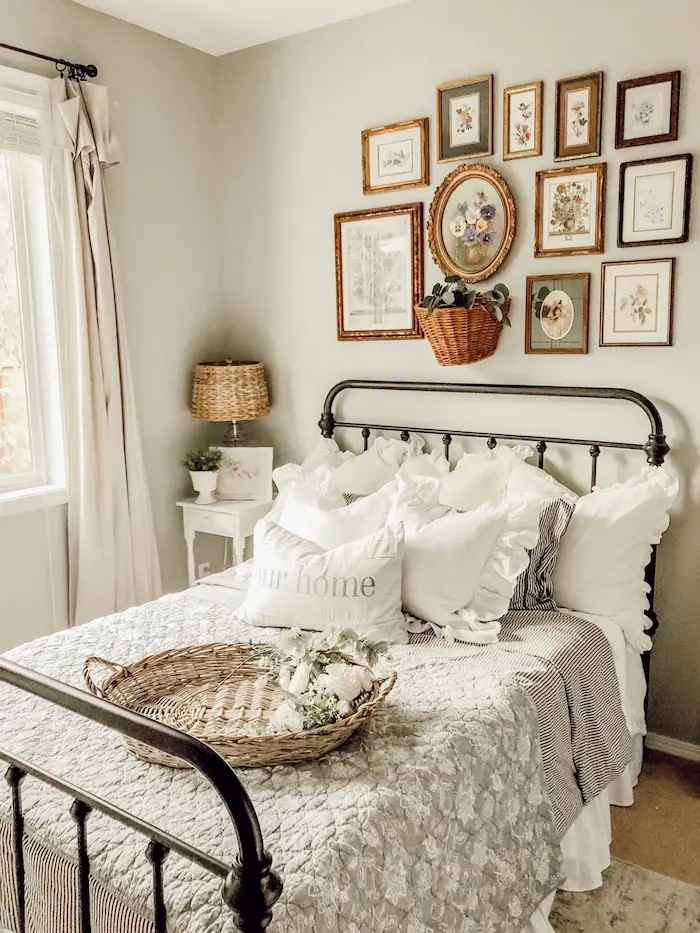 RELATED: Tired of Bland Walls? Discover How to DIY Farmhouse Wall Decor
9. Farmhouse-Style Furniture
Elevate your bedroom with farmhouse flair by incorporating furniture pieces that exude rustic simplicity. Enhance the charm with a distressed dresser, a vintage vanity, or a weathered trunk, adding both storage functionality and captivating visual appeal.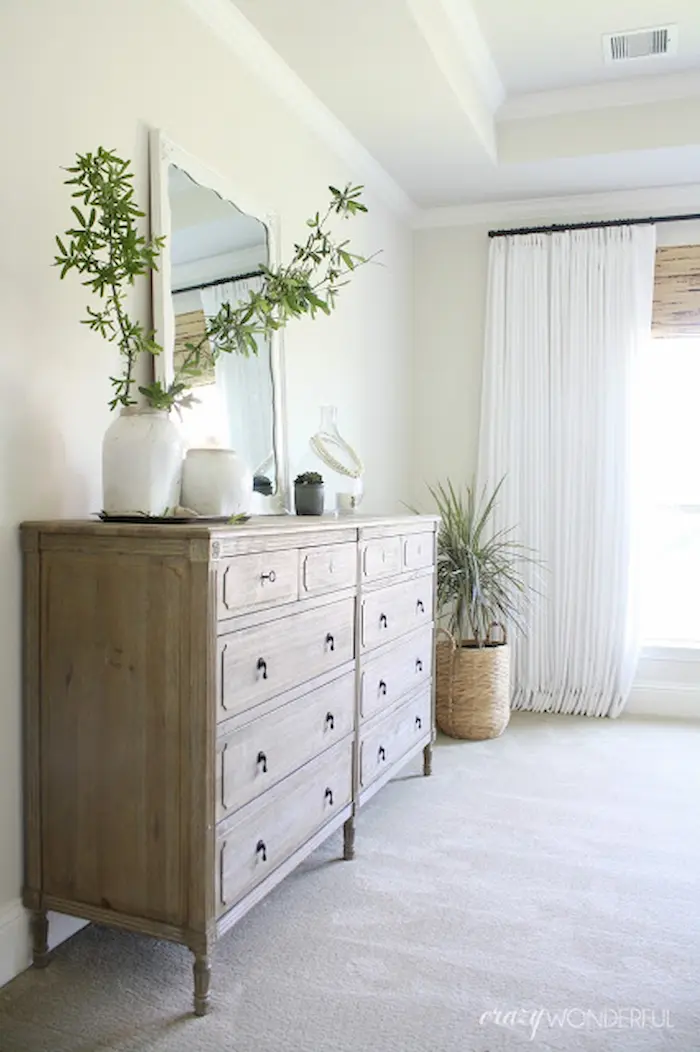 10. Floral Accents

Bring the outdoors inside with a lovely bouquet of fresh or dried flowers, elegantly arranged in a charming mason jar. Additionally, enhance the ambiance with floral-patterned throw pillows and curtains, seamlessly blending natural elements into your cozy sanctuary.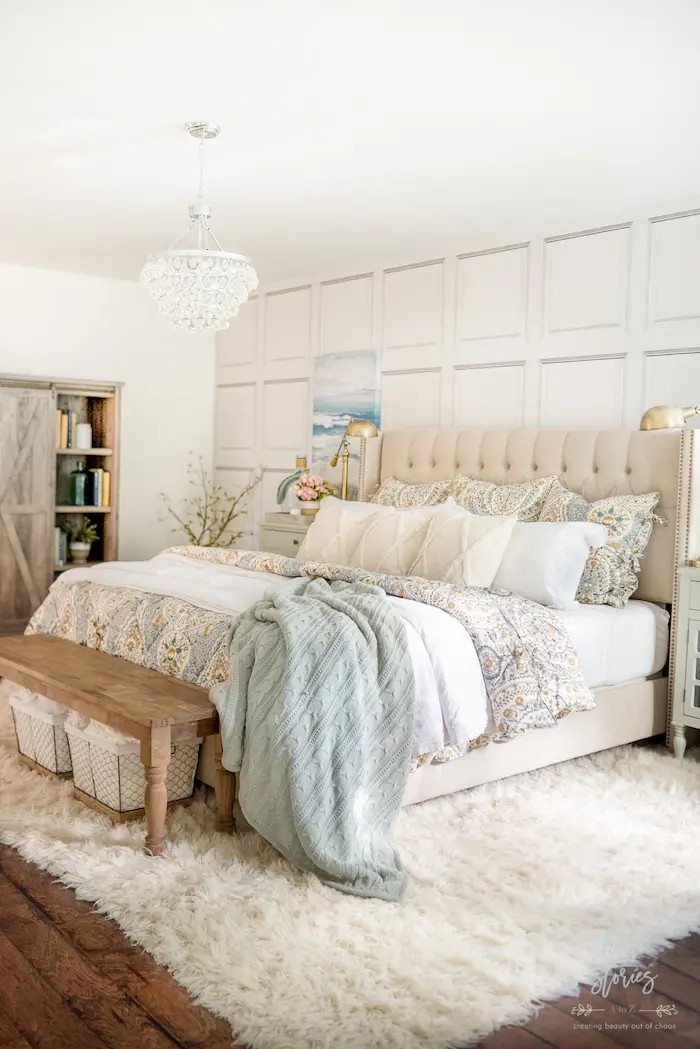 11. Farmhouse-Style Area Rugs

Lay down a farmhouse-style rug to anchor your bedroom's design. Additionally, choose a natural fiber rug with a vintage-inspired pattern or a simple braided rug for a cozy and authentic farmhouse look.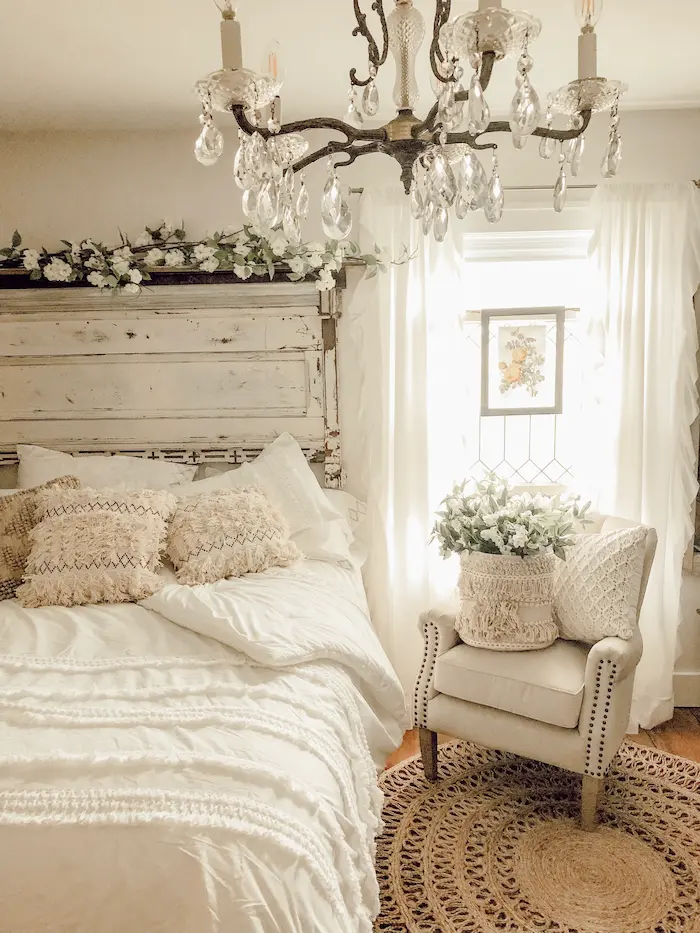 12. Repurposed Decor

Get creative with repurposed decor ideas. Not only will you add unique touches to your farmhouse bedroom, but you'll also contribute to sustainable living. Transform an old wooden ladder into a blanket or towel rack, repurpose vintage crates for storage, or give new life to a vintage sewing machine table by using it as a nightstand. Embrace the charm of upcycled pieces and elevate your farmhouse style effortlessly.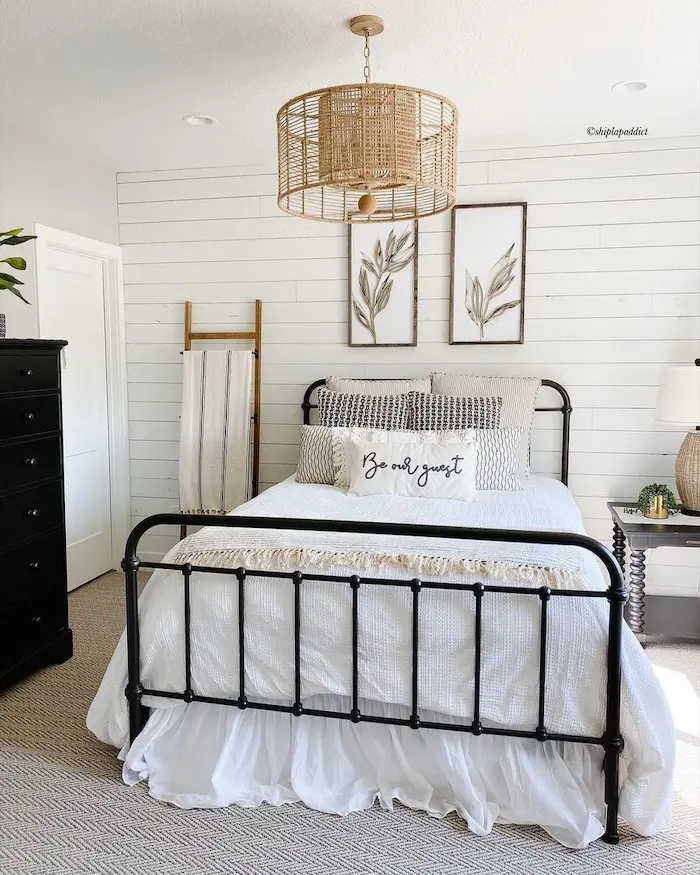 13. DIY Farmhouse Shelves

Install DIY farmhouse-style shelves on empty walls to showcase your favorite decor items. Then, utilize distressed wood planks or repurpose old barn doors to create rustic and functional display spaces. Transform your space into a rustic haven without breaking the bank. Discover the perfect balance of simplicity and comfort.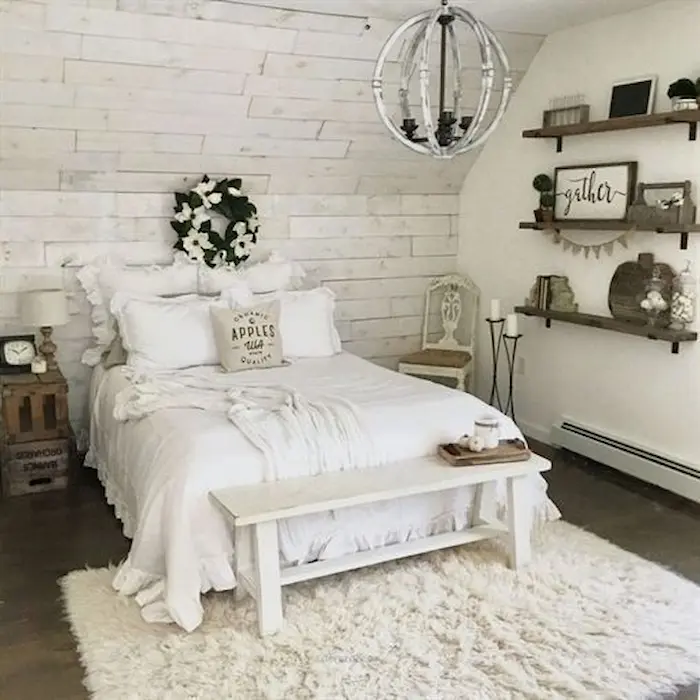 14. Textured Window Treatments

Dress your windows with textured curtains or woven blinds for a farmhouse touch. Opt for fabrics such as burlap, linen, or cotton in soft hues to maintain a light and airy ambiance.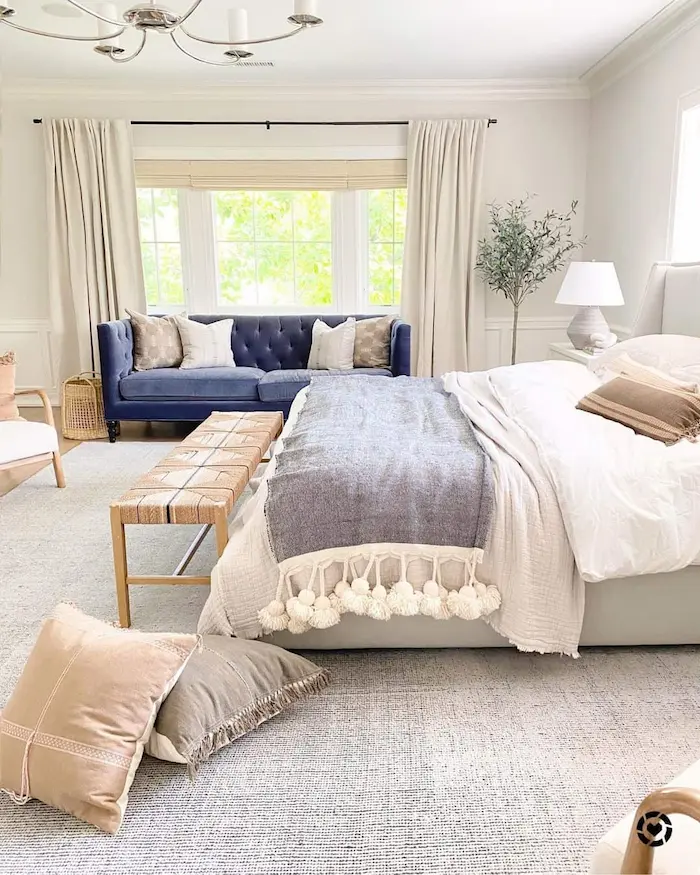 15. Farmhouse Accessories

Complete your farmhouse bedroom transformation with carefully selected accessories. To add the finishing touches, consider decorating with galvanized metal accents, Mason jars, vintage books, or woven baskets. These charming elements will perfectly complement your rustic theme and enhance the overall aesthetic. Elevate your space with these delightful farmhouse-inspired additions.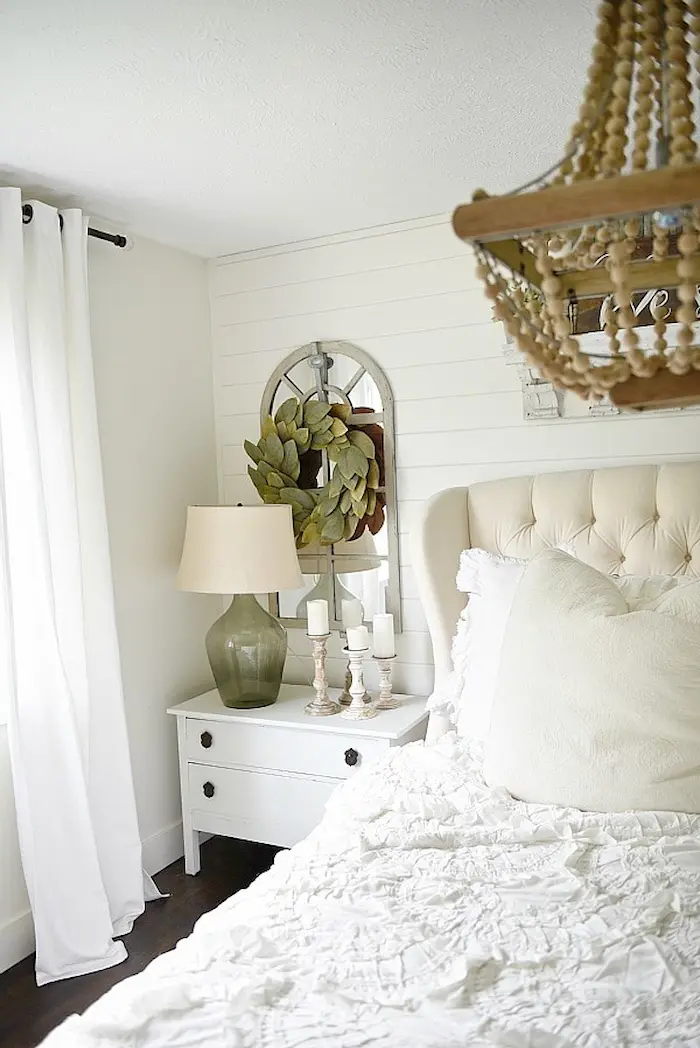 Creating a charming farmhouse bedroom on a budget is entirely achievable with a little creativity and resourcefulness.
Moreover, by incorporating these 15 budget-friendly ideas, you can effortlessly transform your bedroom into a tranquil and rustic sanctuary. Inspired by the timeless beauty of farmhouse style, these tips will help you achieve the desired aesthetic without breaking the bank.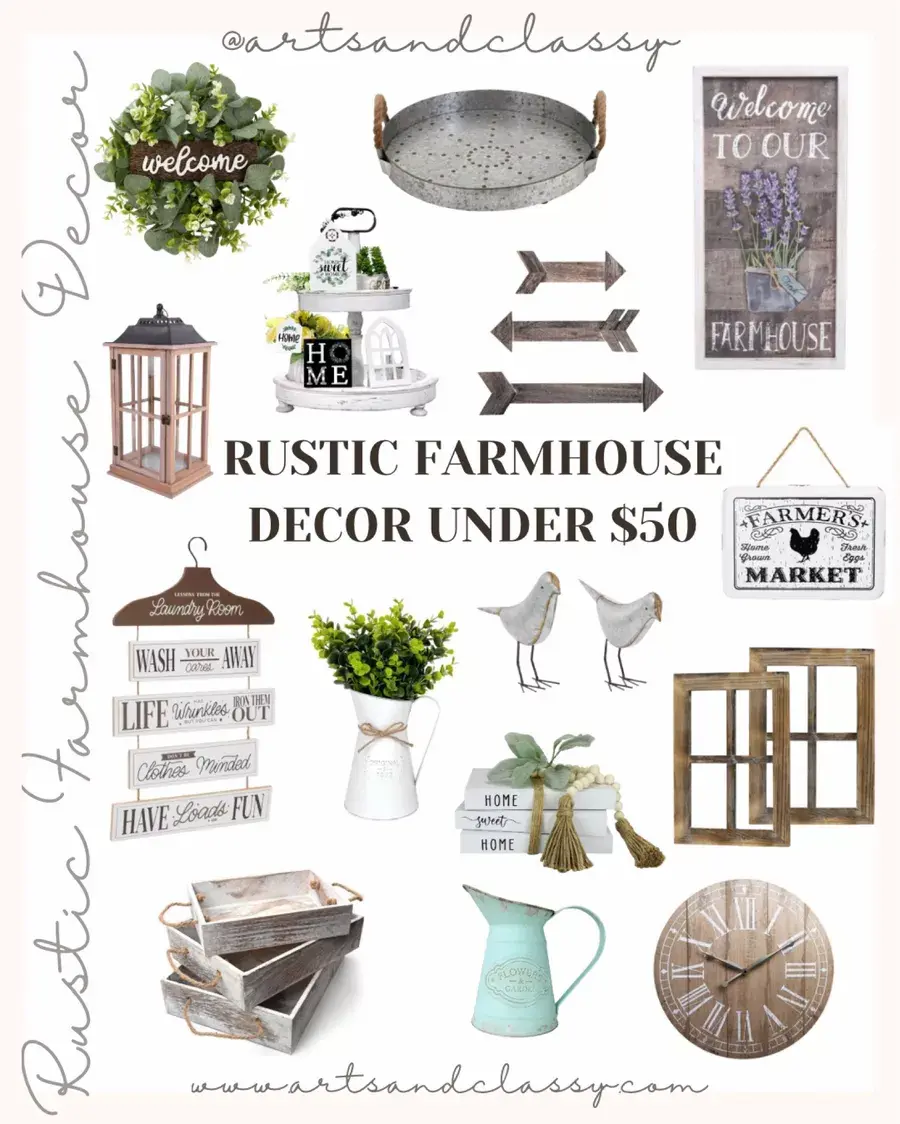 Shop Decor:
Embrace the simplicity, warmth, and timeless appeal of farmhouse design to effortlessly achieve the bedroom of your dreams without breaking the bank. With these budget-friendly tips, you can transform your space into a rustic haven that exudes charm and comfort. So, why wait? Start implementing these ideas today and experience the affordable bliss of a farmhouse-style bedroom. Make sure you are following me on Instagram, Pinterest, YouTube, Hometalk, and TikTok for more ideas on how to decorate your home! Happy decorating!